Last week, on a much-needed grocery shopping trip, I couldn't help but spy, tucked into the corner of the produce section at Whole Foods, a ton of fresh rhubarb.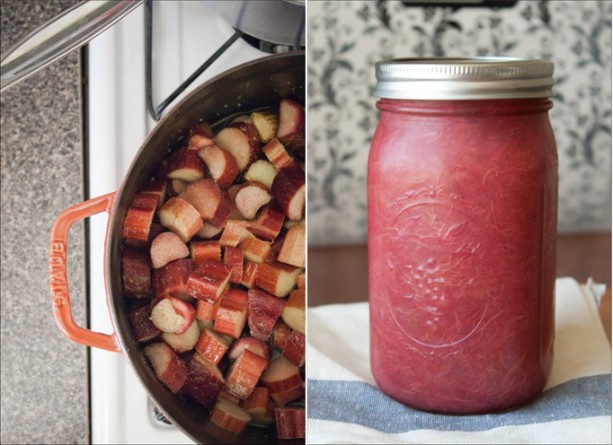 It was just sitting there, silently willing me to pick it up and take it home with me.  Fully expecting it to cost a small fortune, I searched for the price (on a side note: does anyone else's Whole Foods make finding produce prices uncannily similar to a game of 'hide and seek'?) and was pleasantly surprised to see that it was only $2.49 a pound.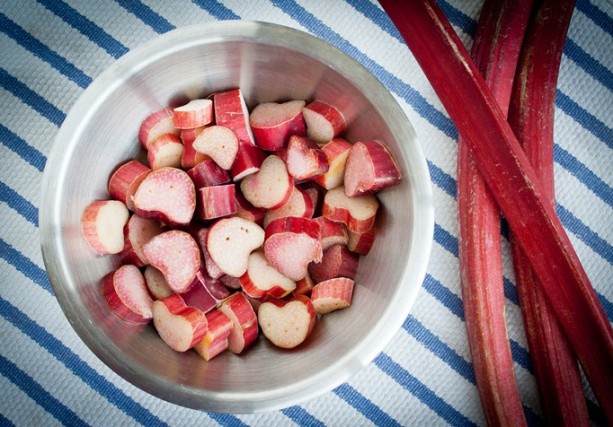 Not cheap in the grand scheme of things, but for rhubarb, practically a steal!  I took it as a sign.  Without any sort of plan or recipe in mind, I snatched up a lot of it.  About two pounds to be precise.
I could have made a pie, a crumble, and any other number of delicious creations.  But after a bit of deliberation, I ended up preparing it one of my favorite, go-to ways.  A ridiculously simple rhubarb compote made with just four ingredients: rhubarb, lemon peel, sugar, and vanilla.  It is delicious as a topping on yogurt for breakfast, tastes even better on steel-cut oatmeal, or can even be swirled into ice cream.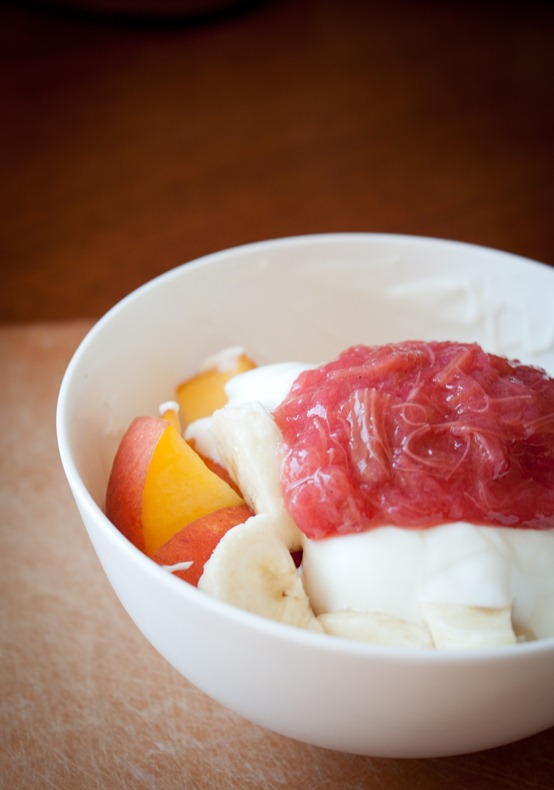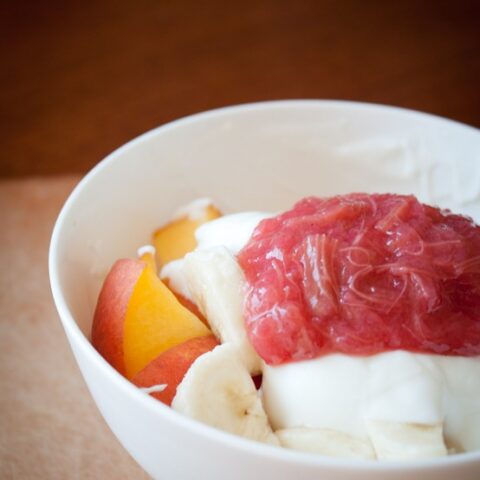 Simple Rhubarb Compote
Yield: 1 Quart
A simple recipe for rhubarb compote. Serve with yogurt or ice cream for a great seasonal treat!
Prep Time: 10 minutes
Cook Time: 20 minutes
Total Time: 30 minutes
Ingredients
2 lbs fresh rhubarb, roughly chopped
1/2 cup water
3/4 cup granulated sugar
peel of half a lemon/orange
1/2 teaspoon vanilla bean paste (or 1/2 teaspoon vanilla extract)
Instructions
Combine all ingredients (excluding vanilla) in large sauce pot.
Heat to medium-high and stir occasionally until rhubarb begins to break down completely.
Remove from heat, stir in vanilla bean paste (or extract), and allow to cool to room temperature. Refrigerate and use as desired.
Notes
This recipe has just the right amount of sugar, so that the rhubarb still maintains its distinct tart flavor, without being too overpowering. However, if you find it too tart for your liking, feel free to add a bit more sweetness with sugar, maple syrup, or whatever else your heart desires.
Nutrition Information:
Yield: 12
Serving Size: 1
Amount Per Serving:
Calories: 65
Total Fat: 0g
Saturated Fat: 0g
Trans Fat: 0g
Unsaturated Fat: 0g
Cholesterol: 0mg
Sodium: 4mg
Carbohydrates: 16g
Fiber: 1g
Sugar: 13g
Protein: 1g
A Beautiful Plate provides nutritional information, but these figures should be considered estimates, as they are not calculated by a registered dietician.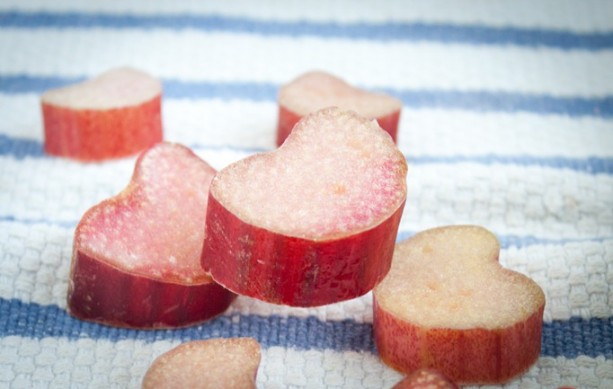 I heart you too, rhubarb. Yes, yes I do.