Smitten in DC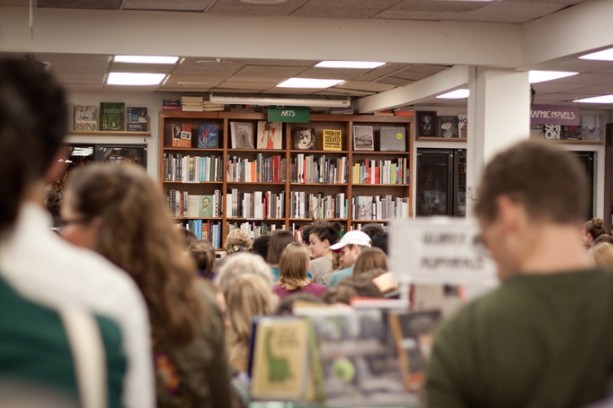 This past Monday was an eventful one.  For starters, it marked my third—and last—culinary school class (don't worry, a full post on the details is on the horizon).  Inevitably, these classes always coincide with a day off from working at the restaurant, which meant my entire evening was free.
Usually, Connor and I end up relaxing at home and, hopefully, depending on how much energy I can muster up, make a nice dinner.  However, this Monday coincided with, believe it or not, the opportunity to have a chance to head over to Politics and Prose, an independent bookstore in DC, for a book signing from the one-and-only Deb Perelman, the creator of one of my favorite blogs, Smitten Kitchen, and author of my favorite recent cookbook addition, The Smitten Kitchen Cookbook.  
I was definitely expecting a turnout, as she is a pretty big deal. But I'm not sure I, or Deb herself, was fully prepared for how busy it would actually end up being—the entire bookstore, which is a pretty big space—was completely packed. In fact, the store pre-ordered more than 800 copies and they sold out almost immediately. Luckily, I ended up receiving the cookbook as a surprise Halloween gift from my parents (cue immense guilt when I had to tell the store salespeople that I didn't need to buy a copy at their store).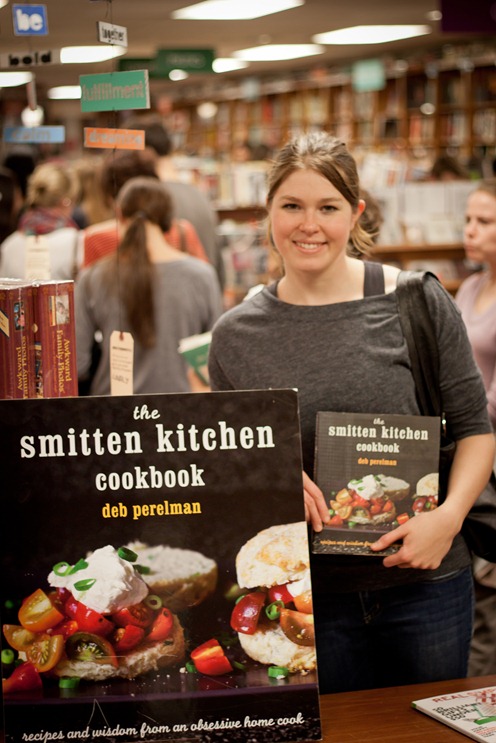 It was a bit hot and sweaty in there, but luckily Connor, my mom, and I were able to snag a spot within eyesight of the podium.  About 30 minutes later, Deb walked into the store, gave us a quick introduction to the book, as well as how she got started with her website, and filled the rest of her time with a fun Q&A directed by the audience. 
Deb answered everything—and I'll paraphrase here– from what her favorite recipe in the cookbook is" (A: roasted chicken with grapes & olives and the apple cider caramels), what her day to day schedule is like (A: my favorites are a mixture of toddler-ing and cooking), to where she finds inspiration for her posts and recipe creations (A: hunger mostly).
I can honestly say that she comes across exactly as she does in her writing—witty, sarcastic, and a very down-to-earth person who is passionate about food, as well as perfecting and simplifying recipes for the home cook.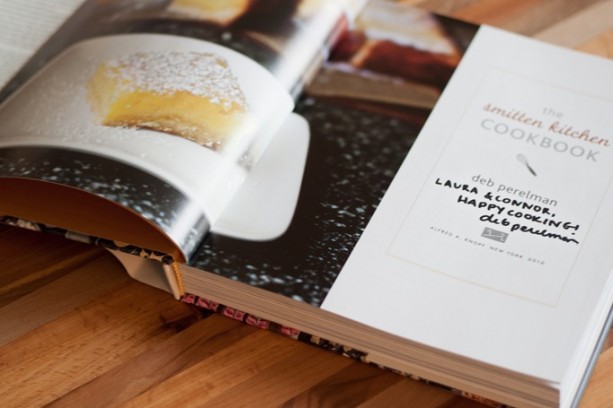 I only hope that I accomplish just a bit of what she does on this site!
After the talk and Q&A, there was an opportunity to get your book signed.  Let me tell you, I have never seen a crowd move that fast.  Despite the bookstore staff trying to organize everyone (they fully assumed we would cooperate respectfully and fairly…to their later dismay), it was pretty much a mad dash to get to the front of the line.  After attempting to stand in line for about 20 minutes or so and seeing very little movement, Connor and I decided that we might as well grab dinner and come back later (yes, the line was that long!).
Politics & Prose is conveniently located just a short walk from Comet Ping Pong, which offers some of my favorite pizza in all of DC.  Unfortunately, I am not the only one who feels that way, as the lines and waits can be as long as 2 hours, depending on the day.  Luckily, since it was a weekday, we only had to wait about 20 minutes.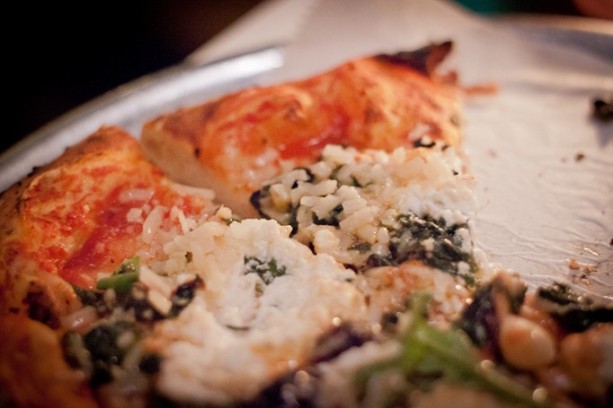 We ended up ordering and sharing the Steel Wills (spinach, fresh ricotta, garlic, parmesan, kalamata olives, tomato sauce) and Stanley (house-made Italian fennel sausage, tomato sauce, mozzarella, roasted Peppers) pizzas, as well as a nice and refreshing arugula salad topped with shaved parmesan.  Their crust is great, but their tomato sauce is what really stands out—I'm fairly confident they cook it down for hours and add a bunch of parmesan cheese to make it extra flavorful.  Hmm…I think I could eat great pizza everyday of my life.
After eating dinner, Connor and I headed back to the bookstore thinking (brilliantly) that we must have missed the majority of the line at that point…um, WRONG!  I'm pretty sure there was at least an hour's wait left.  We contemplated staying, but in the end, decided to call it a (week)night and head home.  I did have the chance to leave my book to be signed…so it was pretty much a win-win.
Overall, it was a really nice night out!  I've already made one recipe out of the cookbook (hopefully I'll have a chance to make more of them over the upcoming weeks) and hope to share it with you all soon!
This post contains affiliate links, which means that I make a small commission off items you purchase at no additional cost to you. Please read my
privacy policy
for more information.