Molecular Gastronomy Class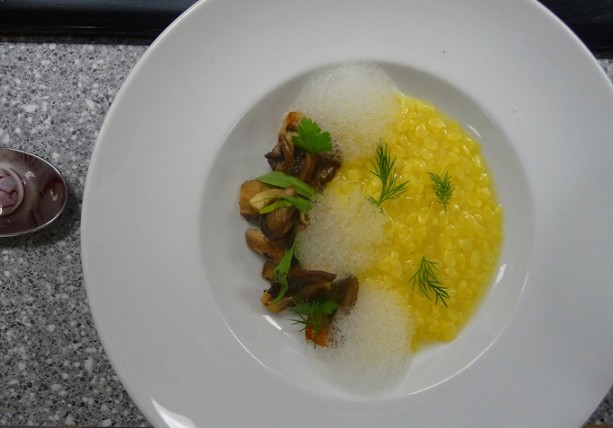 Zucchini "Risotto" with Zucchini Foam & Wild Mushrooms
Last Monday, I headed back to school for my last culinary school class.  Devoted entirely to molecular gastronomy, we learned how to make everything from chocolate cake in the microwave, cocoa bubbles with a fish tank air pump, to 'risotto' made entirely of zucchini seeds.  It was basically the complete opposite of the classic, French old-school techniques we learned while in school.  For this reason, it was a fun change of pace!
During my restaurant externship, I've definitely used some more unfamiliar ingredients such as agar agar, tapioca maltodextrin, and made dish components such as "soils" and foams.  But, for the most part, we don't delve into the molecular gastronomy world all that much.  I think chefs are generally on one side of the fence or the other in terms of using it and whether or not they like it.  For this reason, everything we learned was mostly foreign to me.  I've always been intrigued by molecular gastronomy though—since it is so science and presentation oriented.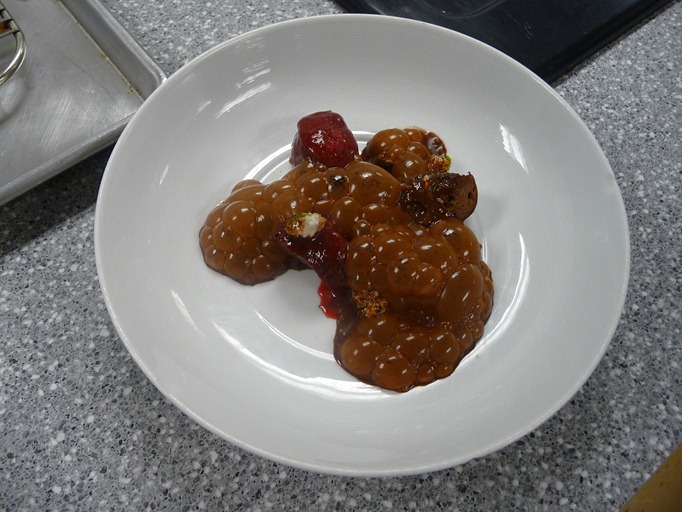 Chocolate (30-Sec Microwaved) Sponge Cake with Raspberry Sheets & Cocoa Bubbles
Our instructor for the day was very familiar with these techniques having worked at Jose Andres's Minibar in DC for more than 7 years.  Although there were a few recipes and dishes that we saw (and made ourselves) that might be able to be re-created in the home kitchen, for the most the part, almost everything we made requires either special equipment or ingredients that are difficult to get your hands on.  In addition, everything was pretty labor intensive, so recipe yields are very small.
We started the day with a demonstration of all the dishes, took a short break for lunch, and ended the afternoon in the kitchen with time to re-create any of the dishes that we had seen earlier that morning.  Since this sort of cooking is very scientific, it is much less intuitive and very much based on calculated recipes, scales, and weighing ingredients down to as much as a single gram.
I think the craziest dish of the day was the zucchini risotto.  A play off traditional creamy risotto, this dish was made entirely of the seeds of the zucchini.  If you're thinking this sounds labor-intensive, I assure you it was.  Basically, the technique involved boiling whole zucchini until soft (one word = bizarre), cutting it lengthwise, and literally removing the seeds one by one.  I couldn't help but think of the poor extern who was once given this task for work….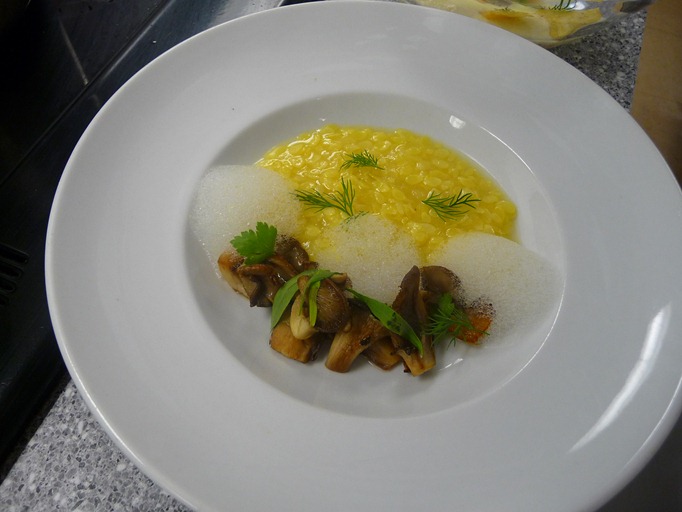 The most depressing part is that with almost three whole zucchinis, you probably end up with maybe 3-4 tablespoons of seeds or "risotto".  Quite depressing!  Since many molecular gastronomy dishes involve re-inventing traditional components of a dish, this dish also involved making "parmesan water" (equal parts parmesan and water brought to a simmer, cooled, and skimmed), a risotto based made of rice flour and water, as well as zucchini froth.  It was very fascinating to watch the dish come together…
This is probably the part where you're curious as to what it ended up tasting like!  Unfortunately, I must admit that the final dish wasn't nearly as impressive to eat, as it was to look at.  Granted, I didn't get a chance to eat it until about 20-30 minutes after it was made—which might have had something to do with that.  While the texture and look definitely resembled risotto, my taste buds were not deceived and I ended up wishing I was eating real risotto (oops!).  Maybe I would have been more impressed if I was served it while dining out, who knows!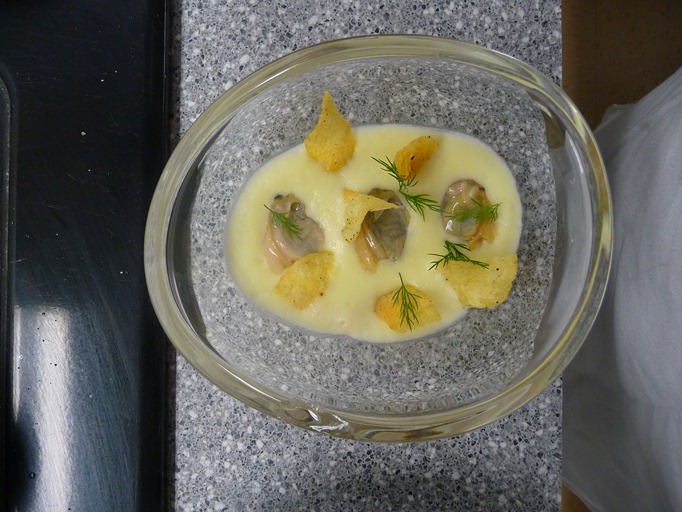 Another dish we created during the day was clams with potato mousse, bacon cream, and sweet onion puree.  This is probably the dish that would be most "re-creatable" at home, but probably still pretty difficult.  The potato mousse was made similarly to mashed potatoes (but much creamier and less stiff)—however the mixture was put in an iSi bottle.  It was then "creamed", using gas chargers to make fluffy, airy mashed potatoes.  I can definitely see how this technique could be helpful in restaurants, as it eliminates the issue of holding mashed potatoes (whic  inevitably get worse and worse over time).  Instead, you can simply keep the bottle warm and pipe it out as needed, as well as keep it over a day or two.
The bacon cream was made simply by pureeing cooked bacon and cream.  The sweet onion puree made by blending caramelizing onions until smooth.  For texture, our instructor garnished the dish with kettle potato chips for some crunch—weird, huh?
The highlight of the day, as usual, was just seeing and catching up with my classmates!  We are all doing very different things at our externships, but I think we are all shocked that we only have a month to go before the program is officially over and we graduate.  While it definitely feels like a long time since Day One, a day devoted entirely to the singular task of making French onion soup, the entire experience has gone by fast!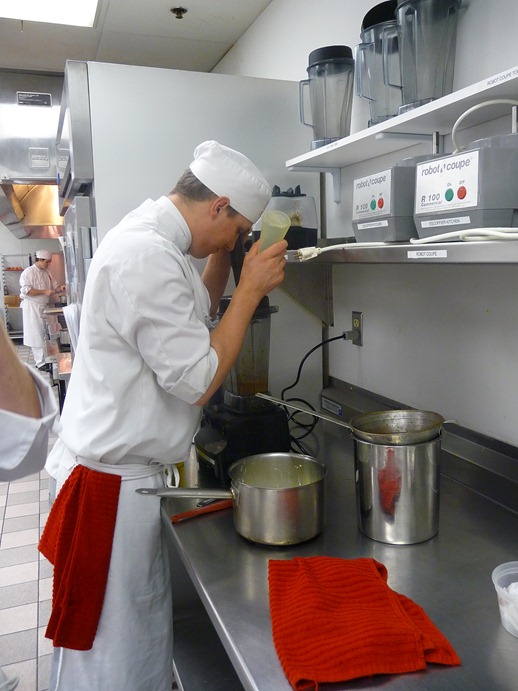 This post contains affiliate links, which means that I make a small commission off items you purchase at no additional cost to you. Please read my
privacy policy
for more information.