Sorbet Prosecco Floats with Muddled Raspberries and Fresh Mint
A refreshing, easy summer cocktail made with lemon sorbet, prosecco, fresh raspberries, and mint.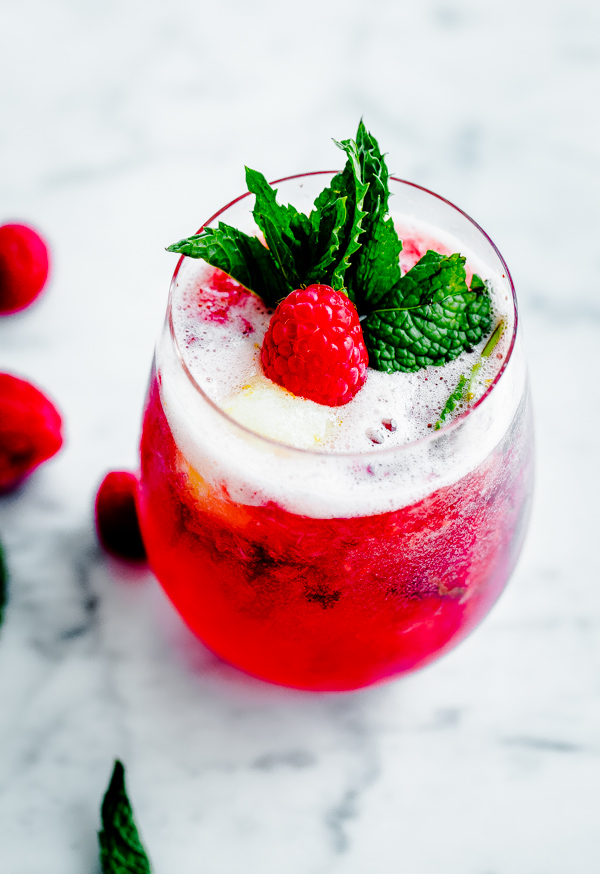 Meet my new favorite summer cocktail: lemon sorbet prosecco floats with muddled raspberries and fresh mint. It doesn't get much easier than this.
I'm having a major mint moment right now. I'm basically putting fresh mint in everything. Savory foods, sweet things, drinks, you name it and I'm figuring out a way to put mint in it (on that note, I'm sharing a new ice cream flavor soon and word of warning, it probably definitely involves fresh mint).
But let's talk about cocktails for a second.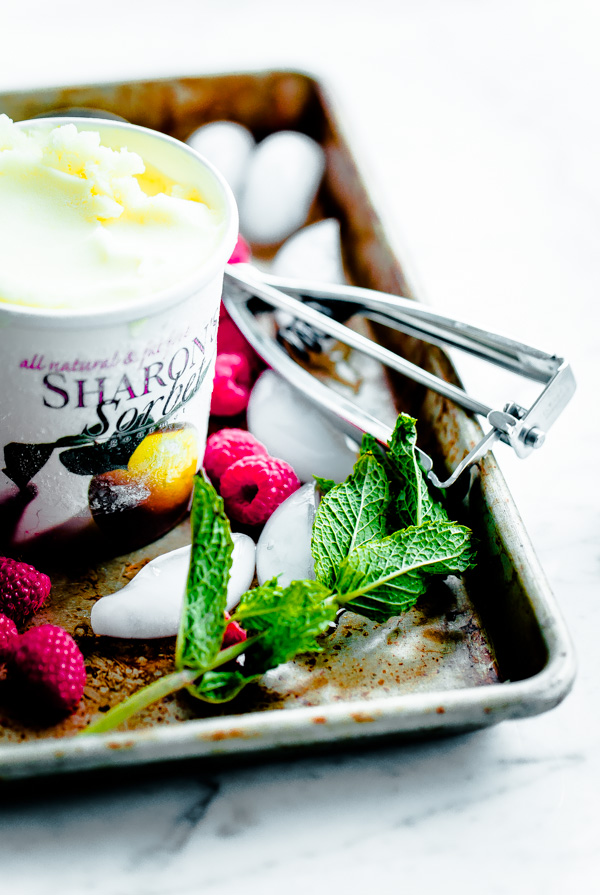 As you all know, I'm kind of a wimp when it comes to cocktails. I'm beginning to get more adventurous (Moscow mules are my favorite), but wine, beer, and sparkling wine cocktails are definitely my drink of choice.
The other weekend, Connor and I visited City Winery's Chicago Riverwalk location for a drink and some snacks–essentially Connor accidentally went to work on his one day off that weekend and drinks/charcuterie/cheese are helpful in these situations–and I noticed a super simple dessert on their menu.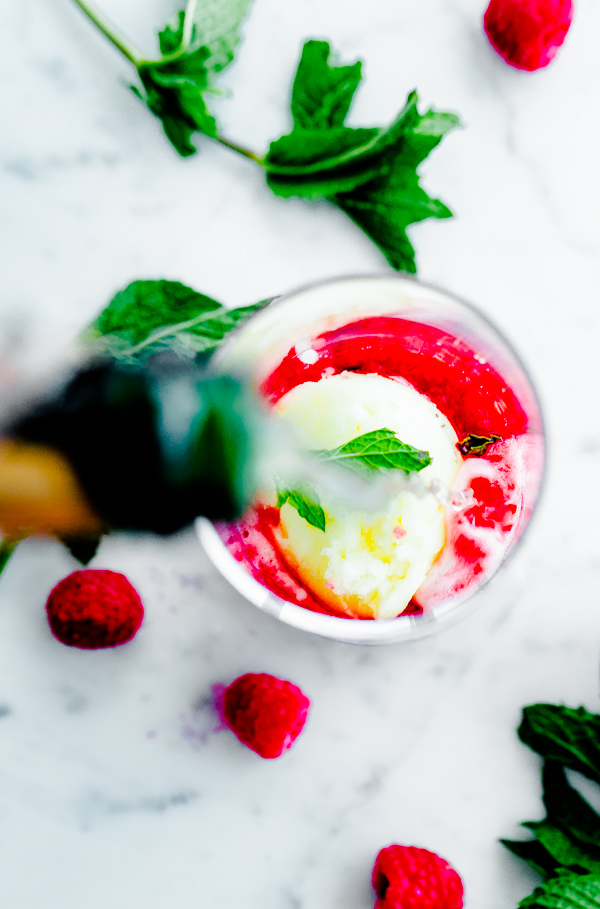 Macerated raspberries and mint with lemon sorbet. Simple, fresh, and perfect for summer.
I didn't actually end up ordering that dessert that day, but it did spark the idea for this sorbet prosecco float. Prosecco floats are not a new idea, by any means, but they are extremely tasty and refreshing.
To make things even easier, I made these with good-quality store-bought lemon sorbet (Sharon's is a great brand, if you're looking for suggestions–as it has less sugar added and is made with all-natural ingredients). If you want to get extra fancy, you can totally make homemade sorbet, but if we're being completely honest, I'm not sure if it would be worth the extra effort.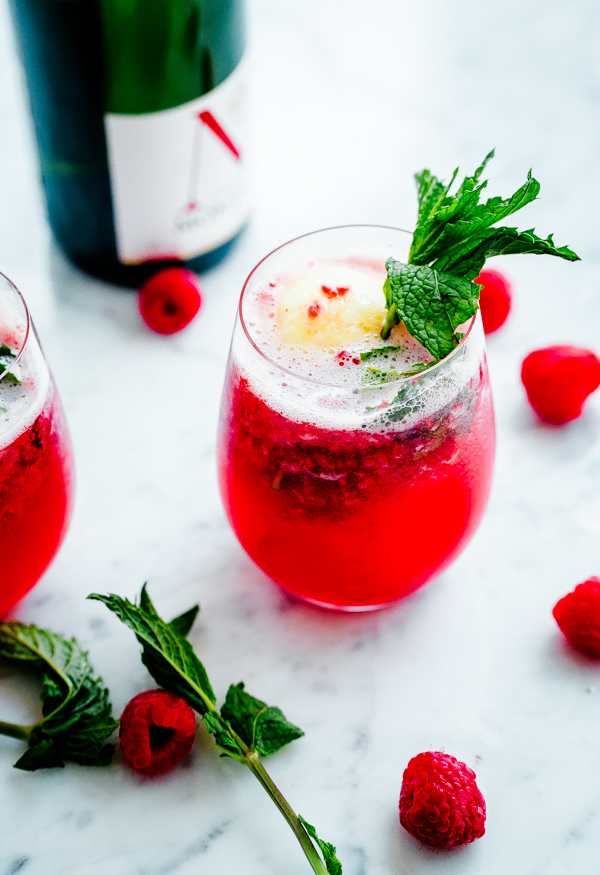 Instead of macerating the raspberries and mint, I muddled the fresh raspberries and mint in the cocktail glasses before adding a large scoop of lemon sorbet and, finally, topping the glass with dry prosecco.
The floats have just enough fresh mint flavor, without it being totally overpowering, and the fresh raspberries have the added bonus of making this cocktail a gorgeous shade of bright pink. Even better? The lemon sorbet slowly melts into the prosecco and helps keep your drink cool all at the same time.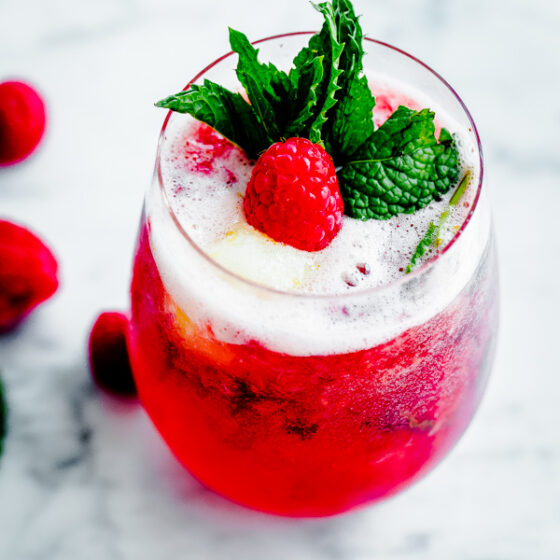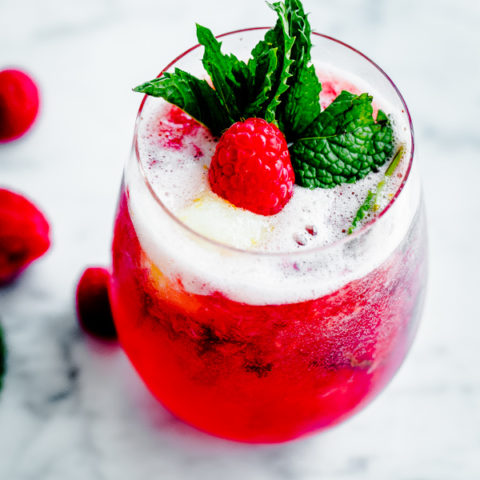 Sorbet Prosecco Floats with Muddled Raspberries and Fresh Mint
Yield: 1 Serving
A refreshing, easy summer sorbet prosecco float cocktail made with lemon sorbet, dry prosecco, fresh raspberries, and mint.
Additional Time: 5 minutes
Total Time: 5 minutes
Ingredients
1/2 cup fresh raspberries
3-4 large mint leaves, plus more for garnishing
1 large scoop good-quality lemon sorbet
6-7 ounces dry Italian prosecco
Instructions
Place the fresh raspberries and mint leaves in a stemless (or other sturdy cocktail glass of choice) wine glass. Place the muddler into the glass, and gently twist the raspberries and mint together until the raspberries are mostly mashed and the mint is fragrant. Add a large scoop of lemon sorbet and top the glass with dry Italian prosecco. Serve immediately.
Nutrition Information:
Yield: 1
Serving Size: 1
Amount Per Serving:
Calories: 325
Total Fat: 0g
Saturated Fat: 0g
Trans Fat: 0g
Unsaturated Fat: 0g
Cholesterol: 0mg
Sodium: 24mg
Carbohydrates: 26g
Fiber: 2g
Sugar: 18g
Protein: 1g
A Beautiful Plate provides nutritional information, but these figures should be considered estimates, as they are not calculated by a registered dietician.