Zucchini Cardamom Bundt Cake with Lemon Glaze
Zucchini Cardamom Bundt Cake made with freshly grated zucchini, whole-fat ricotta cheese, and topped with a tart lemon-cardamom glaze.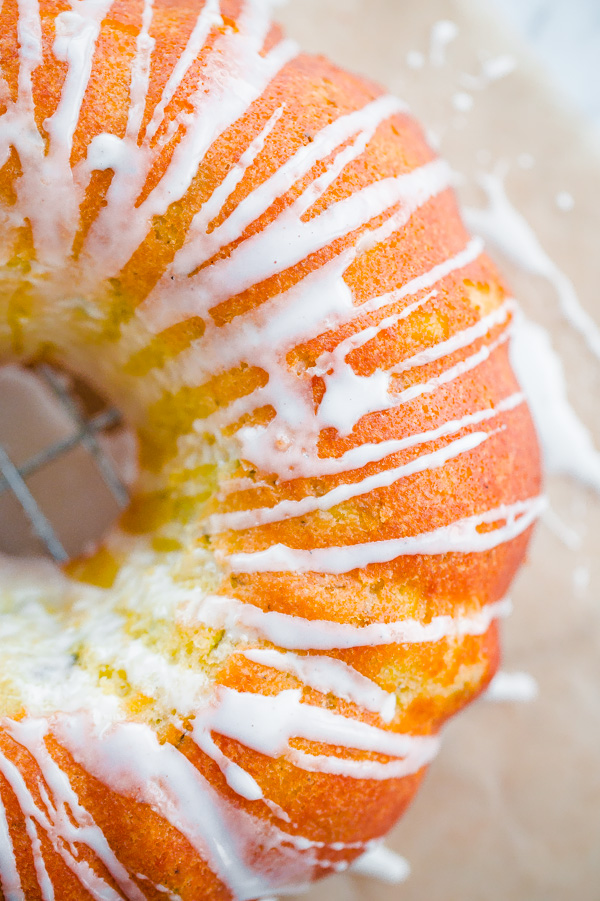 This is my first zucchini blog cake! How is that even possible? I feel like the internet is basically at capacity when it comes to zucchini cakes, breads, and muffins, and here I am, adding another one to the mix. If any more of them get added to the mix, it will explode or something.
BUT! There's room for one more, right? This one is a little different because 1) it's a bundt cake, 2) cardamom–basically my favorite baking spice ever–is involved, 3) it is actually a zucchini cardamom ricotta bundt cake.
All sorts of good things are happening here.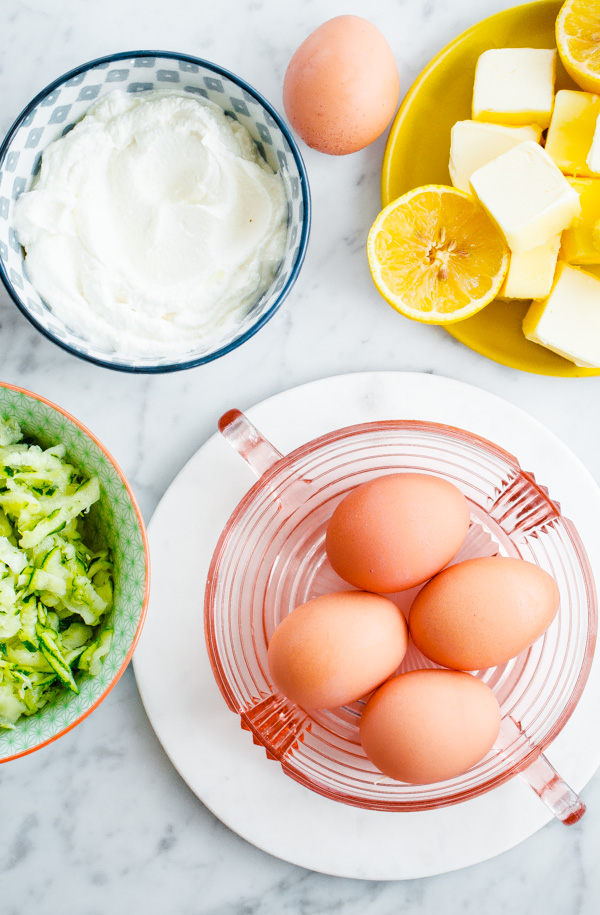 If you've been watching me make a fool of myself on Snapchat these last few weeks (my username is @blogoverthyme), you might have already gotten a sneak peek of today's cake.
You might have also watched me freak out at the following kitchen hack discovery: you can store a glazed bundt cake in a salad spinner. It sounds a little crazy, but remove that basket thing and you have yourself a perfectly proportioned bundt cake holder. I shared the video on my Facebook page.
One of my better moments in life.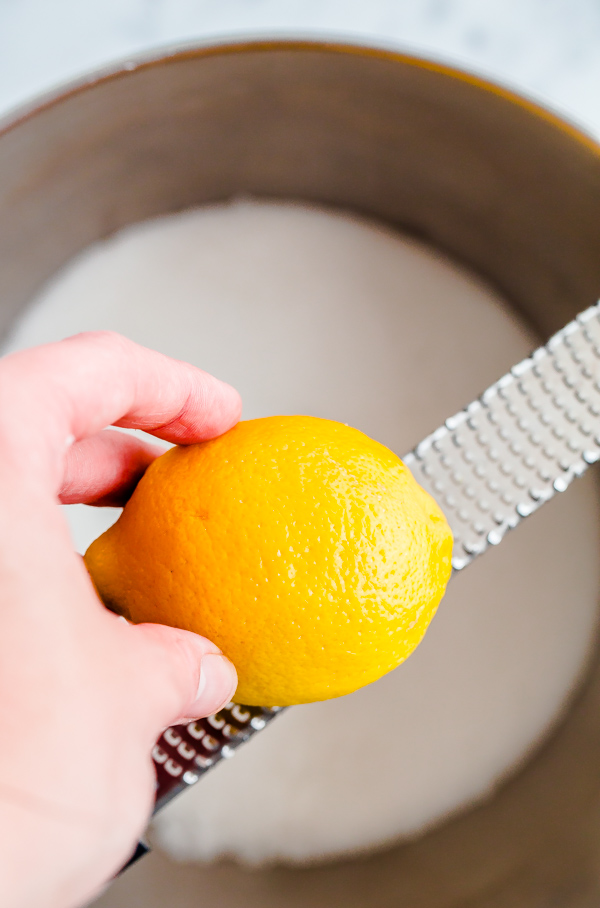 Let's get back to this zucchini cardamom bundt cake though. It was actually inspired by this lemon yogurt pound cake that I shared many months ago.
The original lemon yogurt cake was lightly adapted from lemon yogurt pound cake and it remains one of my favorite bundt cake recipes to this day.
My dad actually made it for my mom for her birthday and so forth. It's easy to prepare, comes out great every time, and is quite addictive.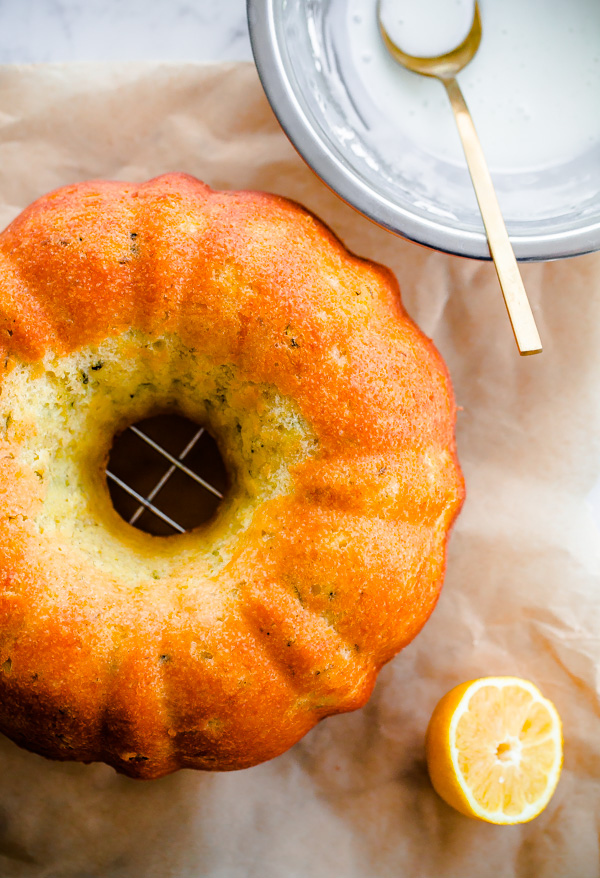 For today's recipe, I made a few big changes. I used whole-fat ricotta instead of whole-fat Greek yogurt (which helped lighten the texture of the cake just a bit) and I added freshly grated zucchini, as well as ground cardamom to the cake, as well as the lemon glaze.
Side Note: If you're ever baking with grated zucchini, make sure to squeeze out all of the excess moisture from the grated zucchini. My favorite way to do this is to place the grated zucchini in a clean (old) dish towel, twist it into a ball, and squeeze out the zucchini over the sink.
I loved everything about the cake, but the cardamom stole the show for me. If you're a cardamom fan, you'll love this! If you've never tried cardamom, buy a container of it (it's expensive, but it will last a long time and it is a game-changer!) and get baking. Oh, and don't forget the salad spinner storage tip. Totally works.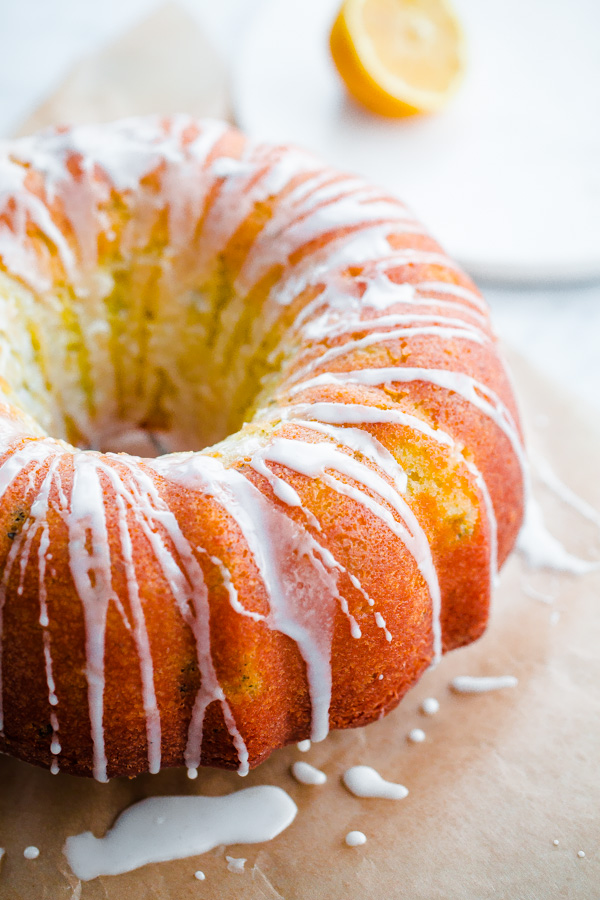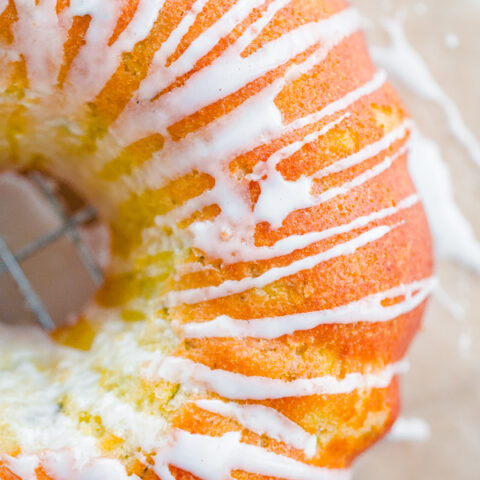 Zucchini Cardamom Bundt Cake with Lemon Glaze
Yield: 12 Servings
Prep Time: 20 minutes
Cook Time: 1 hour
Additional Time: 1 hour
Total Time: 2 hours 20 minutes
Ingredients
Zucchini Cardamom Bundt Cake:
2.5 cups (500 grams) granulated sugar
1 cup (225 grams) unsalted butter, softened
2 tablespoons grated lemon zest (from about 3 to 4 lemons)
1/4 cup fresh lemon juice (about 2-3 lemons)
6 large whole eggs
2 1/2 (315 grams) cups all-purpose flour, plus more for dusting
1 and 1/2 teaspoons ground cardamom
1 teaspoon salt
1/2 teaspoon baking soda
1/2 teaspoon baking powder
1 cup (240 grams) whole fat ricotta cheese
1 cup (200 grams) coarsely grated zucchini (roughly 1 medium/large zucchini), packed
Lemon Glaze:
3/4 cup (95 grams) powdered sugar
2 tablespoons fresh lemon juice
pinch of ground cardamom
Instructions
Preheat oven to 325° degrees Fahrenheit. Butter and lightly flour a 12-cup bundt pan; chill in the refrigerator. Set aside.
Using a box grater, grate the zucchini. Place the grated zucchini in a clean kitchen towel (that you don't particularly care about), clump the ends, and squeeze out the moisture into your kitchen sink. Squeeze several times to remove any moisture. Place the grated zucchini in a bowl and set aside.
In a stand mixer bowl (fitted with a paddle attachment), combine the granulated sugar and lemon zest. Using your fingers, rub the sugar and lemon zest together until very fragrant. Add the softened butter, and beat mixture together at medium speed 4 to 5 minutes or until fluffy. Add 1/4 cup lemon juice; beat until blended. Add the eggs, one at a time, beating just until the yellow disappears.
Whisk together the flour, ground cardamom, salt, baking soda, and baking powder in a medium bowl. Add the flour in three additions alternately with two additions of ricotta cheese, beginning and ending with the flour mixture. Beat at low speed just until blended after each addition. Fold in the grated zucchini.
Pour the batter into the prepared bundt cake pan. Bake 55 minutes to 1 hour or until a long wooden pick inserted in center comes out clean. Cool cake in pan on a wire rack for at least an one hour. Transfer cake to a plate, and cool completely (another hour or so).
Whisk together the powdered sugar, lemon juice, and ground cardamom until smooth. Drizzle glaze over cake.
Nutrition Information:
Yield: 12
Serving Size: 1
Amount Per Serving:
Calories: 488
Total Fat: 20g
Saturated Fat: 11g
Trans Fat: 0g
Unsaturated Fat: 7g
Cholesterol: 140mg
Sodium: 309mg
Carbohydrates: 71g
Fiber: 1g
Sugar: 49g
Protein: 9g