Sourdough Pizza Dough
This post contains affiliate links.
A step-by-step guide on how to make sourdough pizza dough, including a recipe for a classic Margherita-style pizza.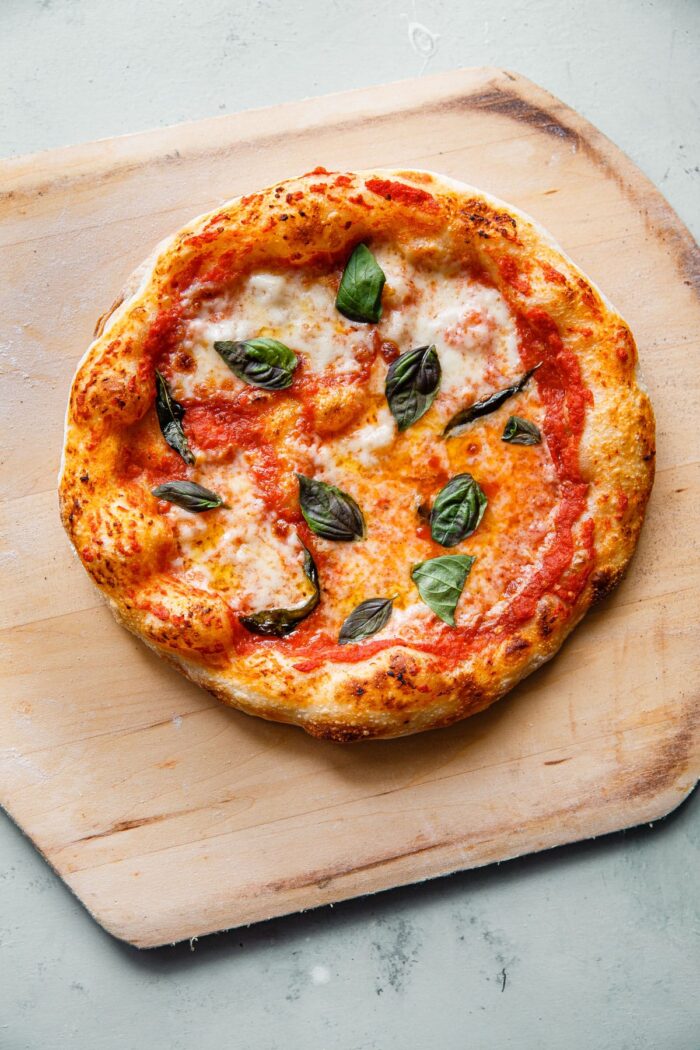 Despite my passion for sourdough bread, homemade sourdough pizza is undoubtedly the biggest perk of maintaining a sourdough starter. Not only is sourdough pizza much easier to master, it will transform your dinner game.
This irresistible sourdough pizza dough is naturally leavened and prepared with a combination of Type "00" flour (strong, finely ground flour typically used for pizza and homemade pasta) and high-protein bread flour.
This makes a delightfully crisp and chewy, yet tender crust with a signature sourdough tang. So much flavor in every bite.
After testing various pizza recipes over the years, this is the formula that we come back to over and over again. It is easy to make and produces consistently delicious restaurant-worthy pizza.
In fact, you'll quickly become spoiled for life. It is a bit of a problem.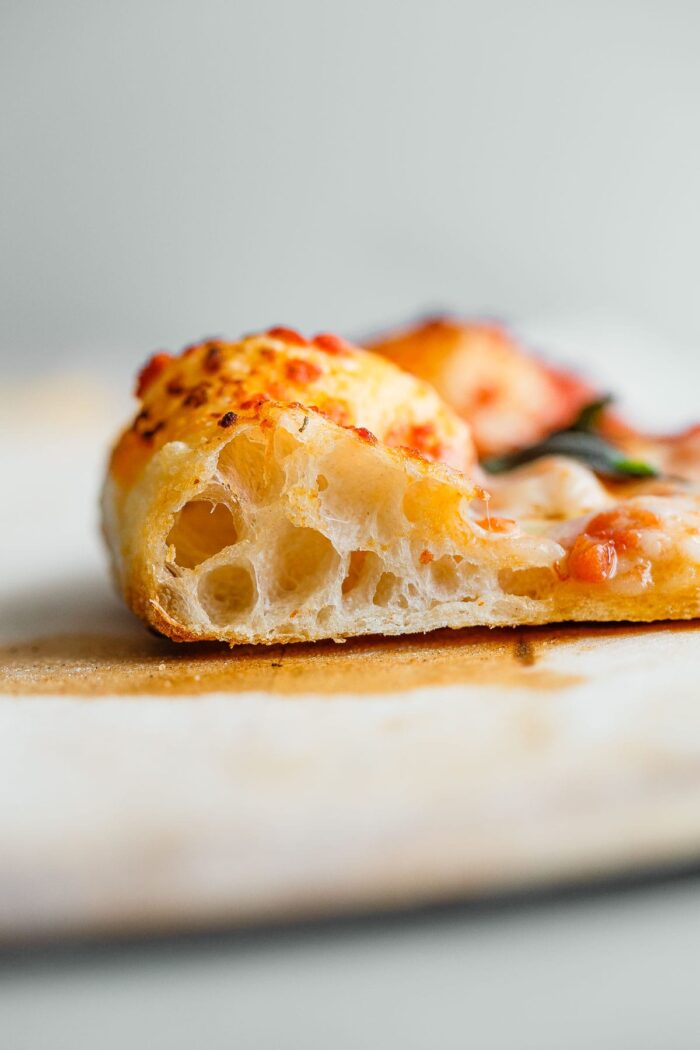 Sourdough Pizza Dough Ingredients:
Yields Three (10-Inch) Pizzas
225 grams 90°F-95°F filtered water (32°C-35°C)
15 grams salt
250 grams ripe sourdough starter (100% hydration)
250 grams type "00" flour  I've tested this formula extensively with Central Milling and on occasion Caputo
125 grams high-protein bread flour I recommend King Arthur brand
How to Make Sourdough Pizza Dough:
For in-depth instructions, equipment recommendations, and an example baking timeline, please reference the full recipe at the bottom of this post.
Step 1: Combine the water and salt together in a large mixing bowl. Mix until the salt has completely dissolved. Add the ripe sourdough starter. Using your hands, pinch the starter into the water mixture until it is broken into small clumps throughout.
Step 2: Add the "00" flour and bread flour to the bowl. Using a Danish dough whisk or your hands, mix the ingredients together until thoroughly mixed, and no dry bits or lumps remain. The dough will be shaggy. Cover the bowl and rest at room temperature for 20 minutes.
Step 3: Transfer the dough to a lightly floured countertop and knead for 1 minute or so, or until the dough is mostly smooth. Lightly grease the mixing bowl with olive oil and place the dough back into the bowl. Cover and proof at room temperature for about 3 hours. It should have risen about 50% and be smooth and rounded on the edges.
Step 4: Transfer the dough to a clean countertop. Using a bench knife, divide the dough into three equal pieces (roughly 280 grams each).
Step 5: Shape the pizza dough pieces into balls. Working with one piece of dough at a time, grab the top portion of dough, stretch upwards, then fold back into the center. Repeat from the opposite edge. Continue along the outer edges of the dough, folding them back into the center to form a tightly seamed package.
Step 6: Flip the dough seam-side down and use your hands to gently shape into a round, using the countertop to build tension into the surface of the dough. Repeat with the remaining dough pieces.
Transfer the dough balls into a flour dusted proofing box (or rectangular pan with lid or large plate), setting them apart. Dust with flour. Cover and rest at room temperature for a minimum of 5 to 6 hours or until ready to assemble or bake pizza that evening. The dough will hold for 3 to 4 additional hours after proofing.
See full recipe and notes for make-ahead instructions.
Step 7: After the final proof, the dough balls should have expanded considerably – they will most likely be touching – and nearly doubled in size. Shape and bake using the instructions and recipe below.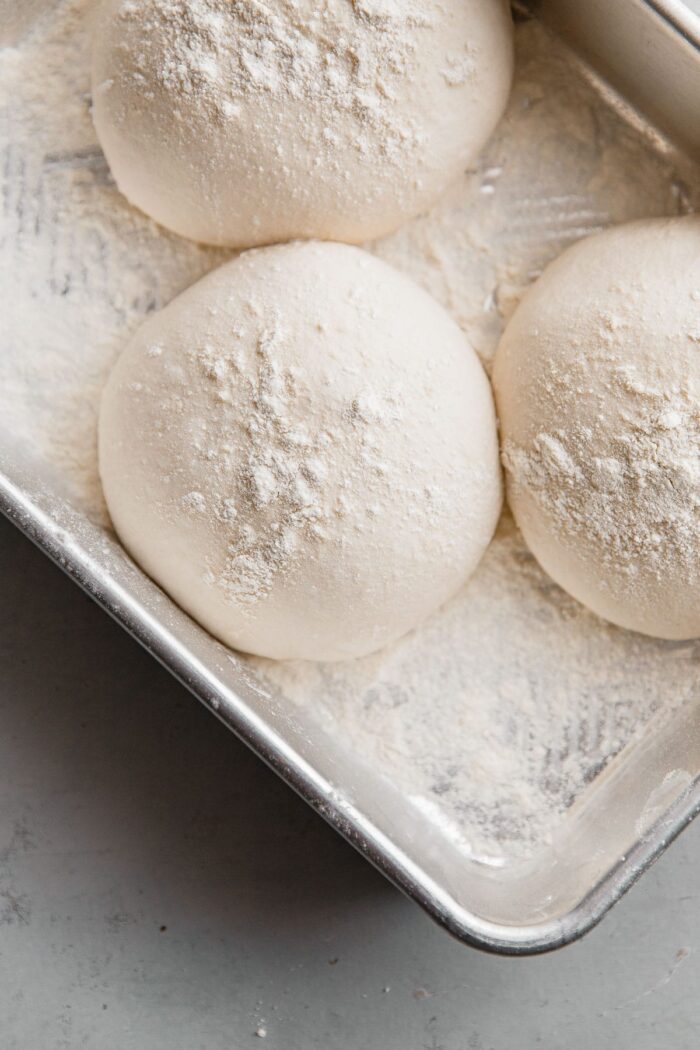 How to Shape and Make Sourdough Pizza:
Once you've prepared the sourdough pizza dough, it's time to make pizza!
To make a Margherita-style pizza, you'll need only a handful of ingredients: homemade pizza sauce, fresh mozzarella cheese, fresh basil, and extra virgin olive oil. This produces a classic pizza, which is absolutely irresistible.
For additional guidance on shaping pizza dough, watch this quick step-by-step video series.
Step 1: Set a baking steel on a rack in the upper third of the oven, roughly 6 to 7 inches below the broiler element. Preheat the oven and steel to 500°F (260°C) for at least one hour. Prepare the pizza sauce, toppings, and set out for easy assembly.
Step 2: Lightly dust a pizza peel with flour and sprinkle with semolina flour. This mixture will keep your dough from sticking and help with transferring. Use your hands to spread the mixture into a thin layer across the surface of the peel.
Step 3: Just before assembling pizza, turn the oven broiler to high for 10 minutes. This will blast your steel with an extra dose of heat. Generously sprinkle your countertop with flour. Carefully lift one pizza dough round from the proofing container (covering the remaining dough once again) and set on the flour. Dust the top with flour.
Step 4: Using both hands, press the dough with your fingers, starting from the center and pressing outwards toward the edges, rotating the dough as you go while maintaining the edges.
Step 5: Once the disc is about 6 to 7 inches in diameter, lift the dough with both hands, allowing the center of the dough to rest on your knuckles. Gently stretch the dough by pushing your knuckles outwards, rotating the dough continuously, while maintaining the rounded edges of the crust. Allow the outer edges of the dough to hang off your hands, allowing gravity to help stretch the dough into a thin disc, roughly 10-inches in diameter. Gently transfer the dough onto the dusted pizza peel.
Step 6: Drizzle the surface of the dough with extra virgin olive oil. Use your hands to brush it over the surface of the dough, concentrating on the edges. Spoon roughly ⅓ to ½ cup of pizza sauce in the center. Use the back of a spoon to spread the sauce into an even thin layer, leaving a ¾-inch border on all sides.
Step 7: Distribute torn mozzarella pieces (roughly ⅓ of the 8-ounce mozzarella ball) over the sauce and top with several torn basil leaves.
Step 8: Transfer the pizza onto the hot baking steel. Immediately turn off the broiler and set the oven to 500°F (260°C). Cook the pizza for 4 to 5 minutes, rotating it on the steel once or twice if needed, or until the bottom is crisp and lightly spotted. Finish the pizza under the broiler, watching carefully, or until the edges of the crust have gained color.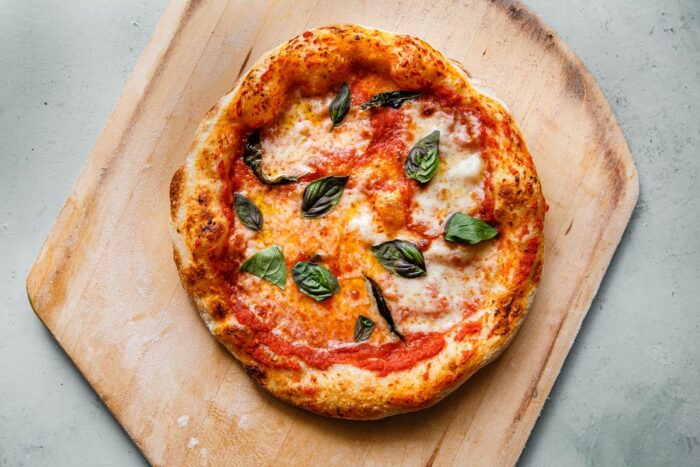 Step 9: Remove from the oven, place on a wooden cutting board. Lightly drizzle with extra virgin olive oil, fresh basil leaves, and freshly grated parmigiano-reggiano cheese (if desired). Cut into quarters and serve immediately.
Set the oven back to temperature and repeat with the remaining pizza dough, assembling and baking each pizza before serving.
Pizza Topping Variations:
Use the classic pizza topping formula below, including our favorite pizza sauce, as a base and mix up the toppings as desired.
Personal Favorites: Calabrian chiles, roasted mushrooms, anchovies, Calabrese salami, kalamata olives, and fresh arugula, just to name a few. Or use sourdough pizza dough to elevate this mushroom pizza or lemon truffle arugula pizza.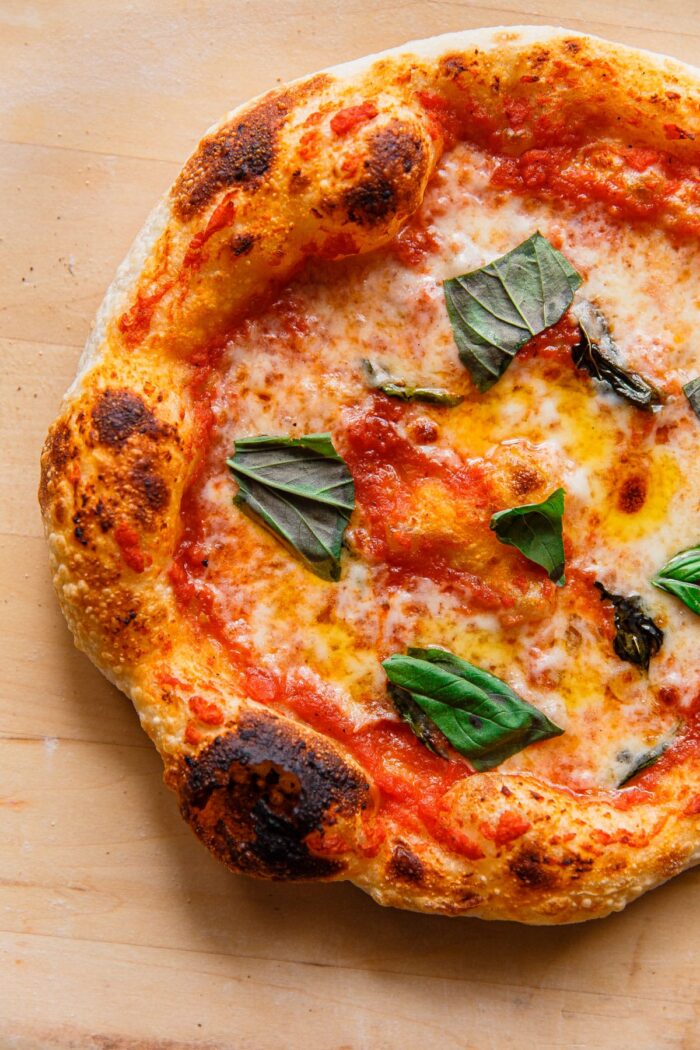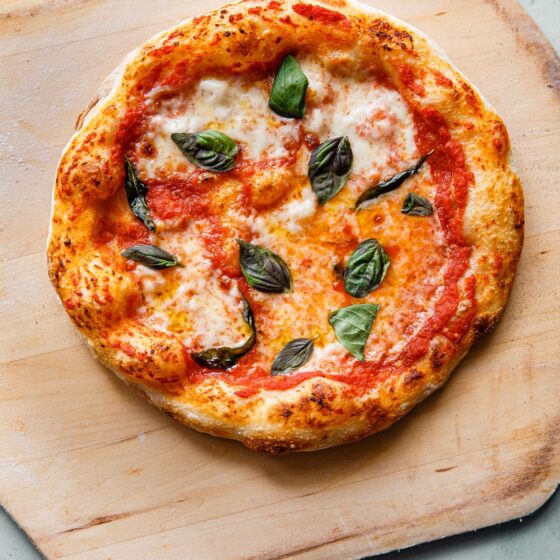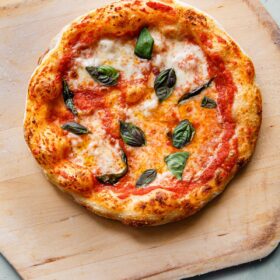 Sourdough Pizza Dough
Serving: 1serving, Calories: 758kcal, Carbohydrates: 113g, Protein: 35g, Fat: 17g, Saturated Fat: 8g, Polyunsaturated Fat: 1g, Monounsaturated Fat: 4g, Cholesterol: 41mg, Sodium: 2435mg, Potassium: 203mg, Fiber: 4g, Sugar: 1g, Vitamin A: 458IU, Calcium: 573mg, Iron: 4mg
This post contains some affiliate links, which means that I make a small commission off items you purchase at no additional cost to you. Please read my
disclosure policy
for more information.