Where to Eat in Paris
Where to Eat in Paris – a comprehensive Paris travel guide with our most memorable bites, pastry shops, and restaurant recommendations. For a custom, navigational Google map containing all of these spots and more, click here.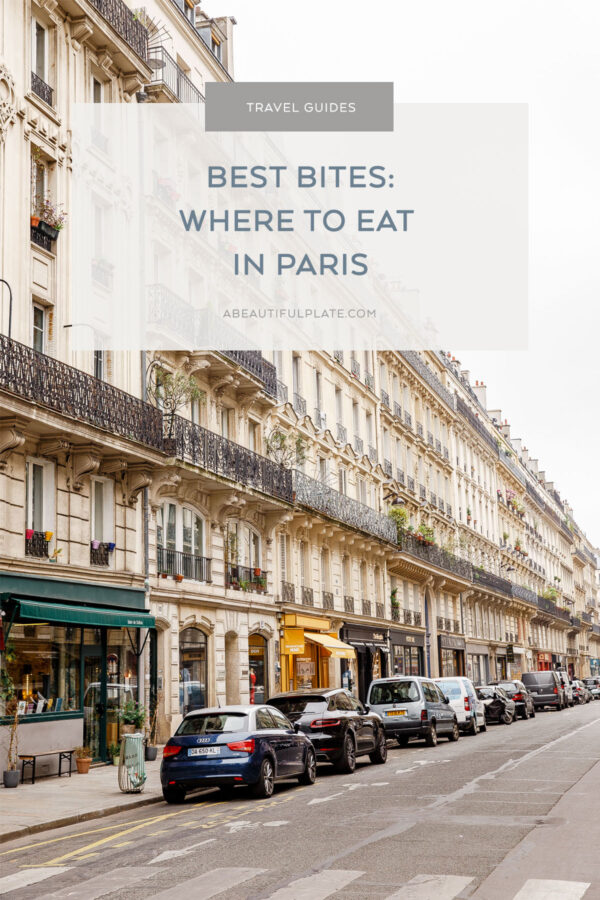 Back in May, Connor and I spent three glorious, food-filled days in Paris, France. It always takes me a while to sift through the photos and put these guides together, but today I'm (finally!) sharing our best bites and recommendations!
Since Connor has a very intense work schedule, we strive to plan at least one big trip together every year. Travel is one of our greatest passions, so in lieu of anniversary, birthday, or holiday gifts, we go places.
On a side note, Connor has become a pro at accumulating free airline miles, which helps make this possible! If you ever want a post about this, please let me know in the comment section and we'll share our tricks.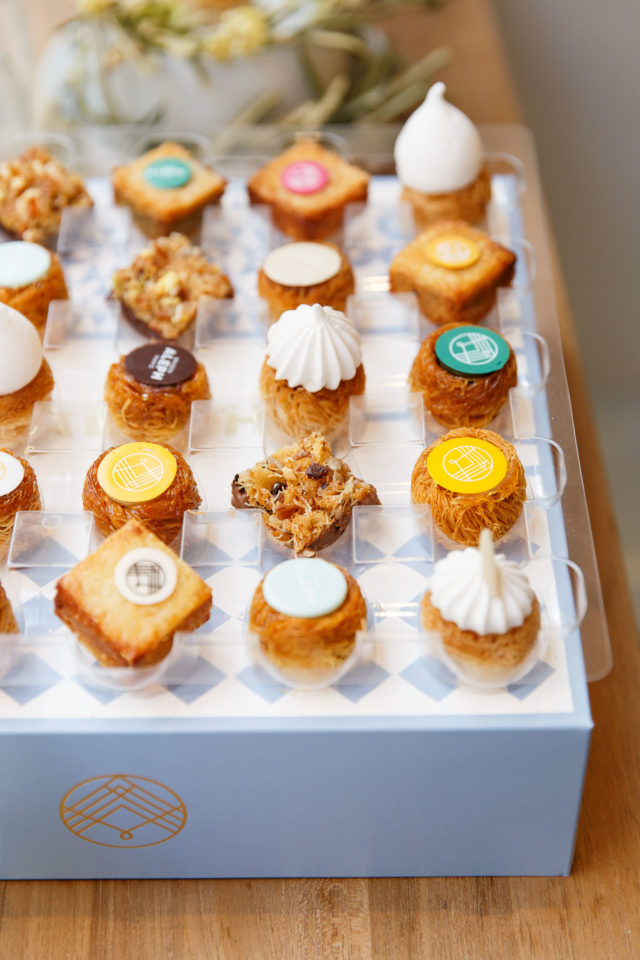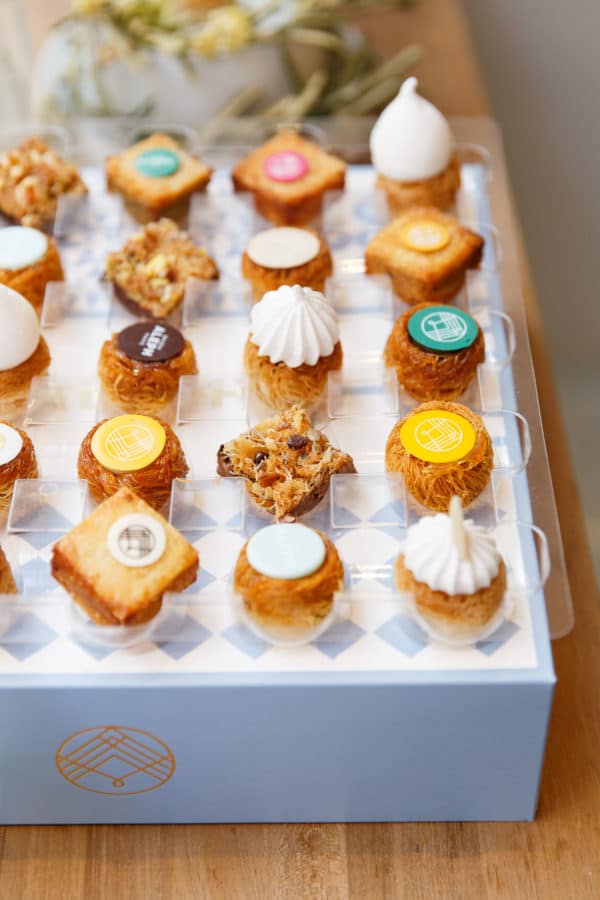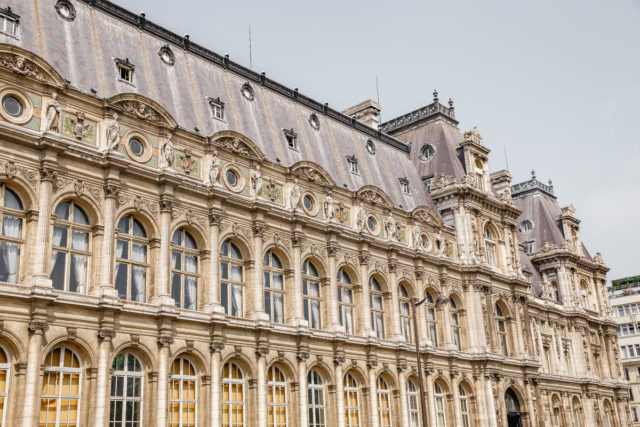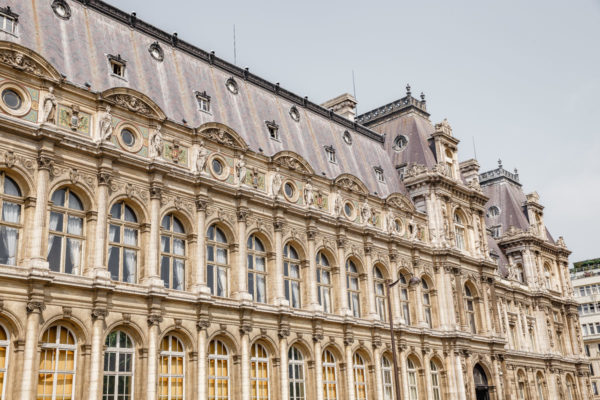 Paris has been at the top of my travel bucket list ever since I graduated from French culinary school five years ago. My first trip to France was over 20 years ago, and let's just say, my palate has improved dramatically since those days.
For this trip, we spent the first five nights in the sleepy village towns of Provence France and then headed to Paris for the final leg of the trip.
We stayed in a studio apartment airbnb in the popular Marais district for the entirety of our trip, and it was a great home base for exploring the city on foot. It also happens to be home to many excellent restaurants and pastry shops.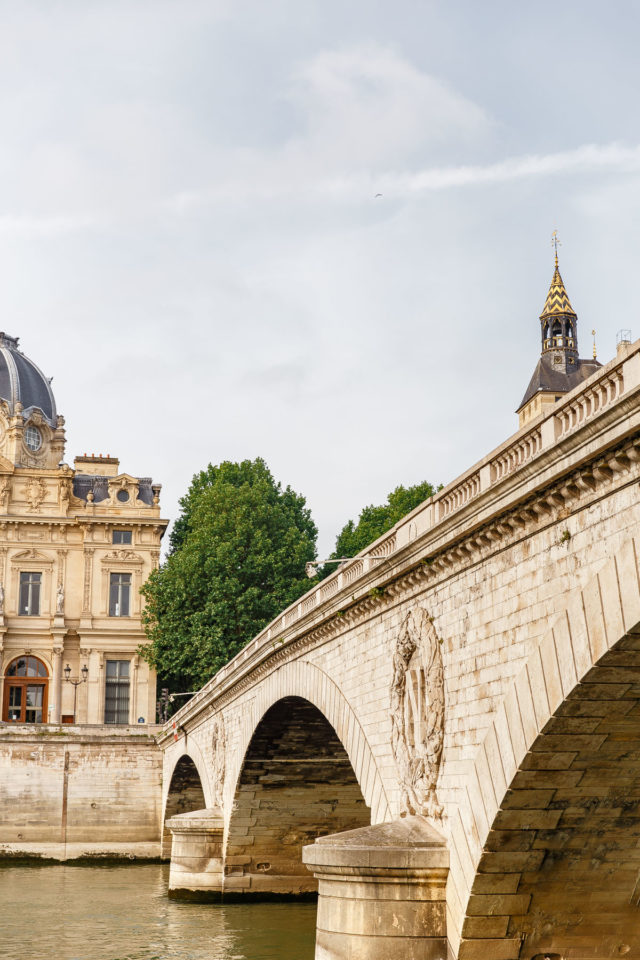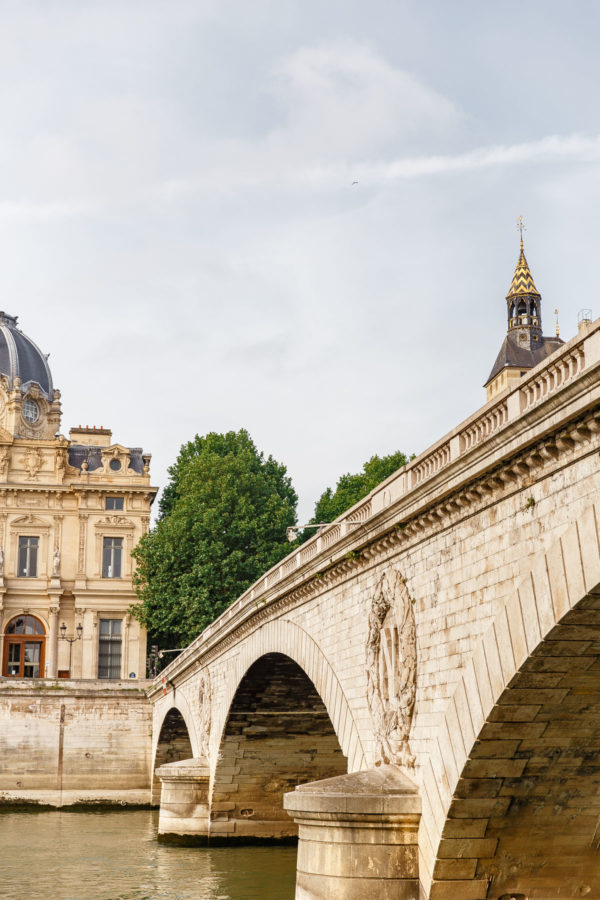 Our time in Paris was food-filled to say the least. We practically ate our way through the city. Thankfully we walked everywhere, which helped make up for some of it. I always like to do a fair amount of research leading up to any trip, and this one was pretty extensive.
I'm almost embarrassed to admit how many pastry, chocolate, and food establishments were flagged on our custom Google map – but it payed off.
Access a free, navigational 'Best Bites Paris Edition' Google map by clicking here. It includes more places than shared in this post (including ones that we didn't have a chance to visit), but is a wonderful starting point.
For more resources on where to eat and what to do in Paris, see the bottom of this post.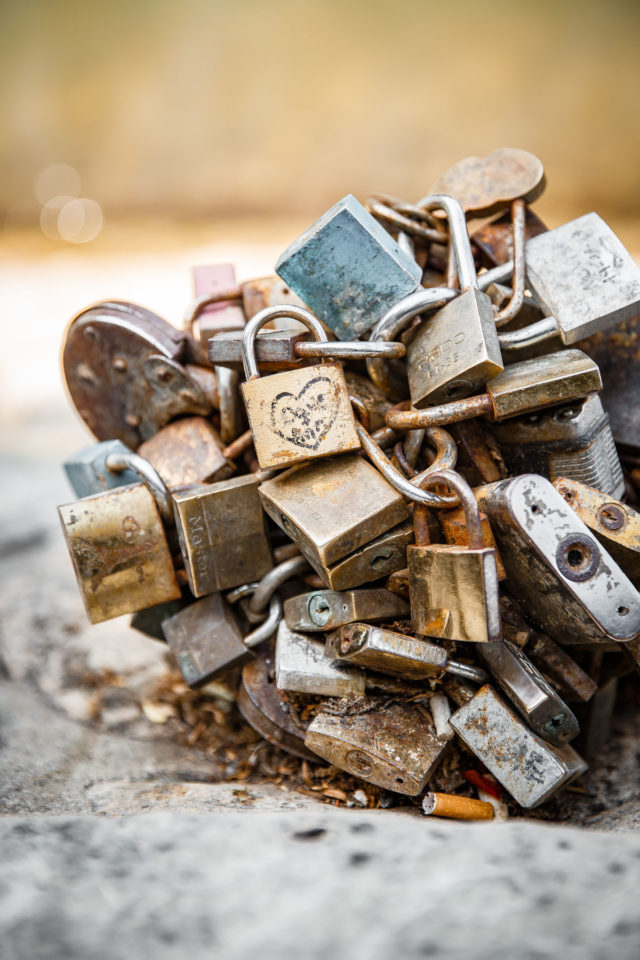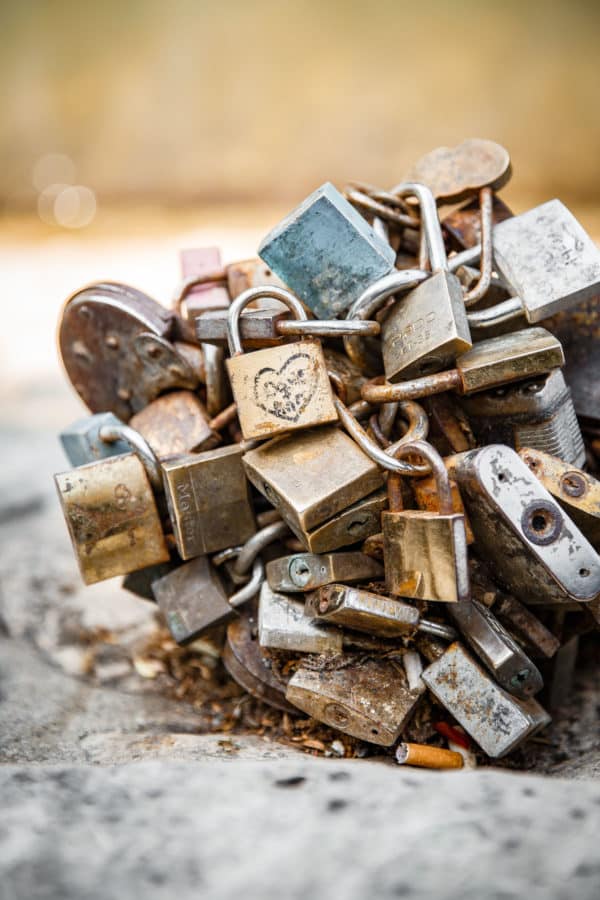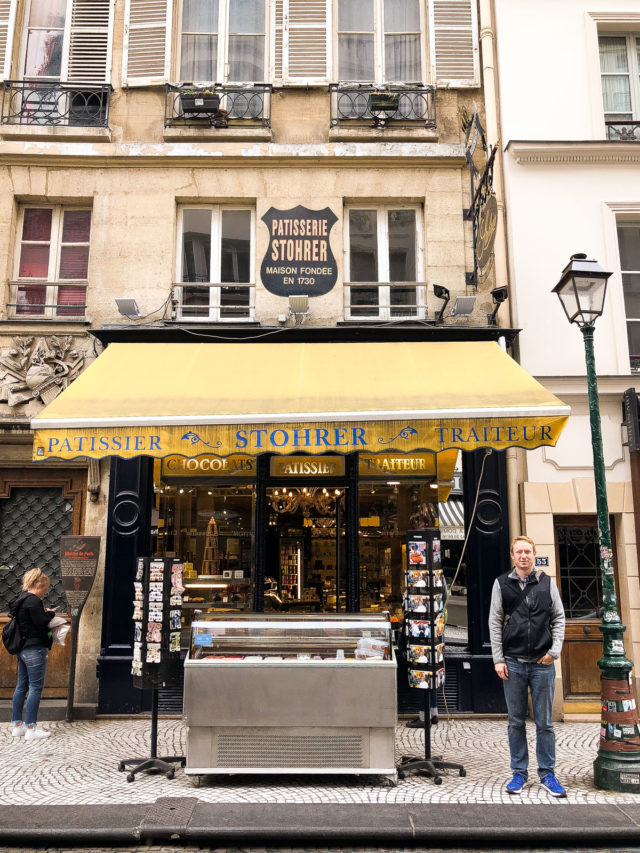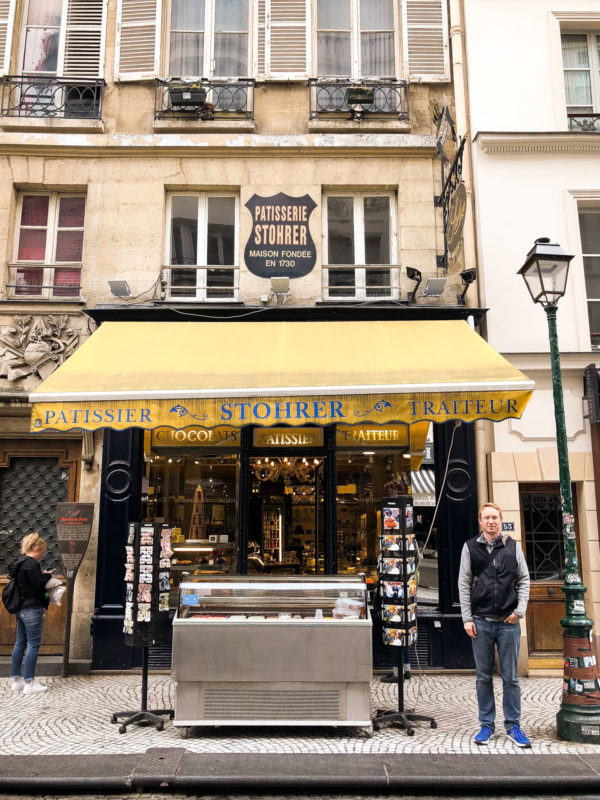 While this list isn't exhaustive by any means, I highly recommend visiting at least one or more of these spots if you are planning a trip to Paris anytime soon.
Pastry Shops and Bakeries:
Travel Tip: I highly recommend making your way to most of these pastry shops by 10 am at the latest in order to snag the freshest pastries. Your efforts will be rewarded!
Stohrer – (51, rue Montorgueil, 2nd) – one of the oldest bakeries in Paris (established in 1730), Stohrer is worth a visit even if it's just to poke your head in the door to oggle at the beautiful interior and impeccable pastries. While their baba au rhum is famous, Connor and I indulged in a fresh-out-of-the-oven kouign-amann and it was one of the best bites of our entire trip. Earth shatteringly flaky. One of the best pastries I've ever had. You really can't go wrong with anything here.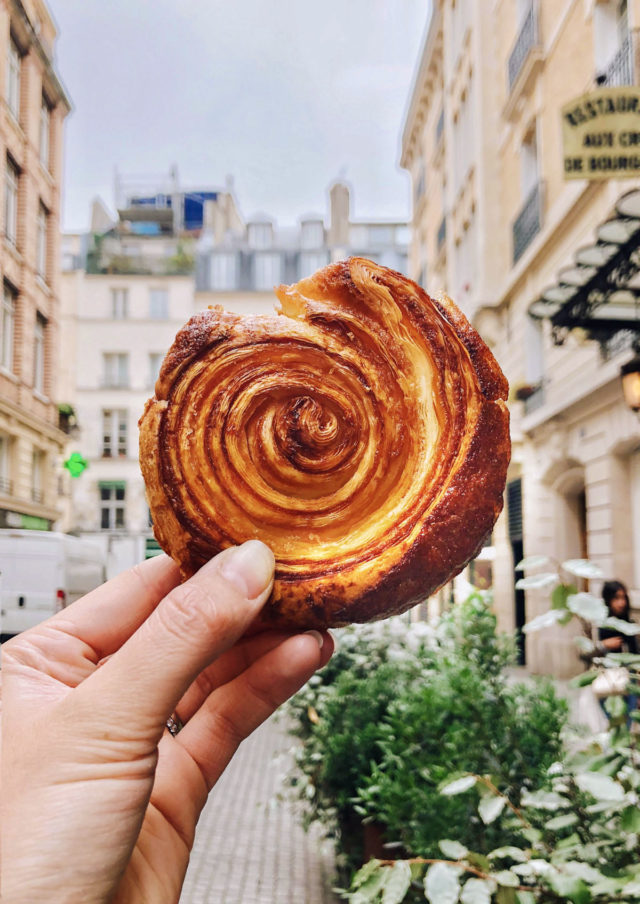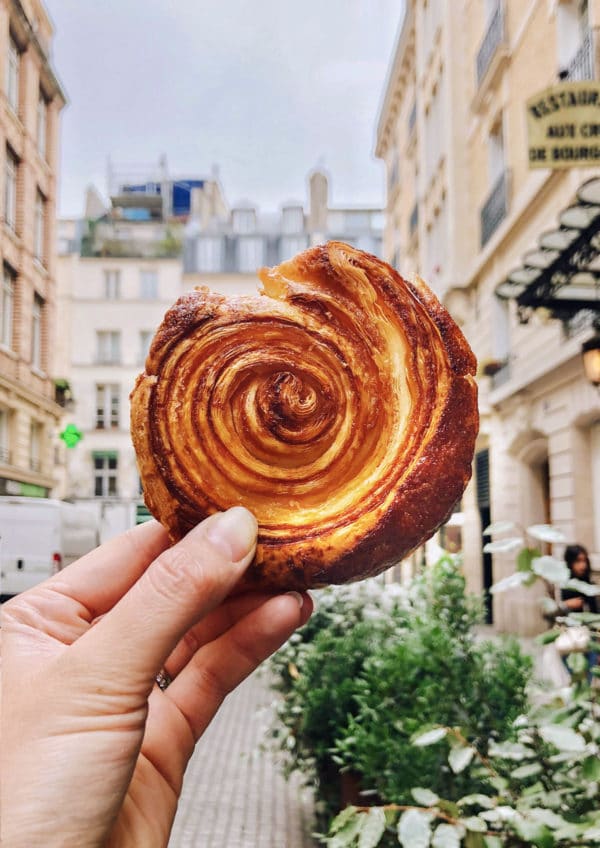 Du Pain Et Des Idees – (34, rue Yves Toudic, 10th) – another incredibly beautiful, famous Parisian bakery (established in 1889) that is known for their homemade breads (particularly their pain de amis, cereal bread), croissants, and pistachio escargot pastries. I highly recommend visiting this spot early in the morning as the pastries will be freshest at this time. We had better pastries elsewhere, but I'm glad we visited. The interior is tiny, but stunningly beautiful and classic. It also happens to be within blocks of Holybelly Cafe, one of our favorite breakfast spots in the city.


Pain Pain – (88 rue des Martyrs, Montmartre) this bakery shop was an unexpected discovery as we walked back from Sacré-Coeur (one of the reasons why walking everywhere pays off!). Unlike many of the other bakeries in this guide, Pain Pain has only been open since 2012, but since that time has won the prestigious Grand Prix de la Baguette award twice. If you're making your way over to Montmartre, I definitely recommend popping in for a quick visit. I wish I had tried some of the beautiful pastries in this shop, but we did enjoy a delicious slice of quiche lorraine and cornichon saucisson sandwich for lunch.
Maison Aleph – (20 Rue de la Verrerie, Marais) – this unique pastry shop, which specializes in bite-sized Middle Eastern inspired pastries, was one of the most memorable stops in Paris. Most of the pastries in this shop are made from crisp kataifi (shredded phyllo dough) and are filled with a variety of fillings from fresh mango (the purest mango flavor ever!) to cardamom lemon curd, strawberry orange blossom, rhubarb almond, and everything in between. They're then topped with various flavors of normandy cream. Incredibly delicious and unlike any other pastries we had! I loved the smaller size of these pastries, because it allowed us to get a variety of flavors. Highly, highly recommend.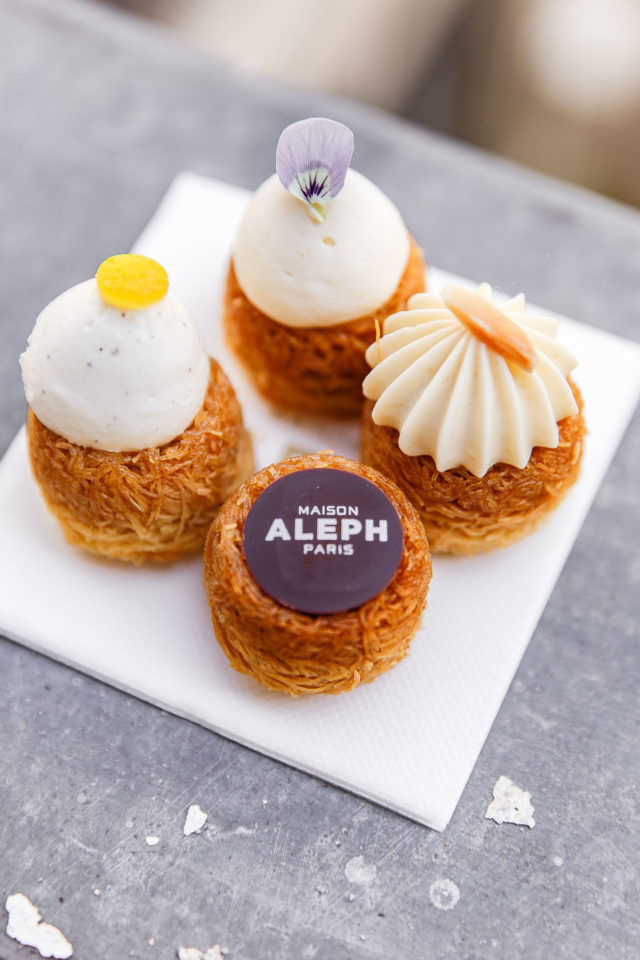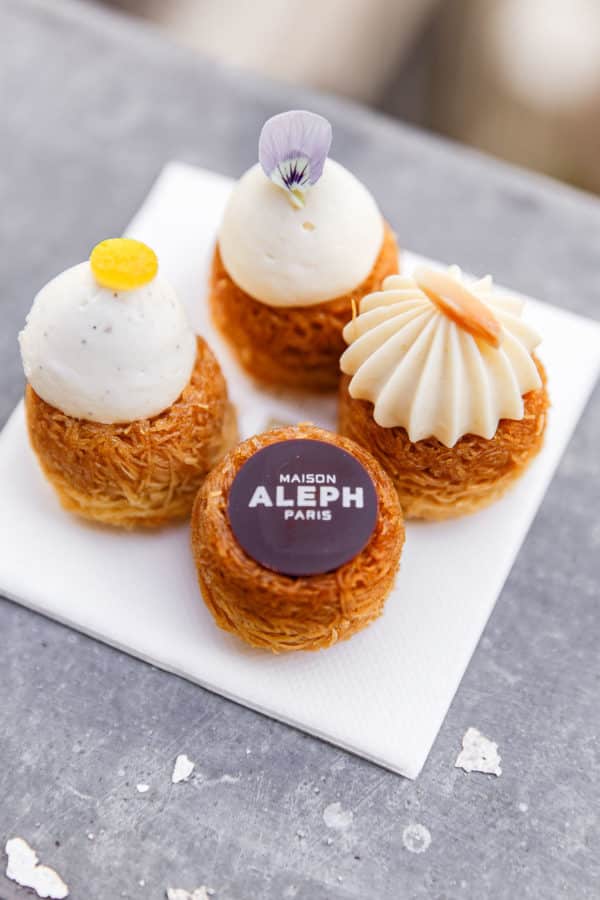 Pierre Herme (72 Rue Bonaparte, 6th) – a classic not to be missed, Pierre Herme is unequivocally thought to be home to the best and most creative macarons in the city. As someone who has never been obsessed with macarons, I can fully declare that these were incredible and worth the price tag/visit. I highly recommend picking up a box in order to try a variety of flavors (they come in odd numbers). You could even time your visit so that you could bring a box home with you.
We tried everything from their signature rose, lychee, raspberry (excellent) to jasmine wild strawberry, passion fruit milk chocolate (so good), hazelnut asparagus (we couldn't detect the asparagus, but it was delicious) to fresh mint (one of my unexpected favorites). In hindsight, I wish we had tried some of their other beautiful pastries as well, since they are considered some of the best in the city!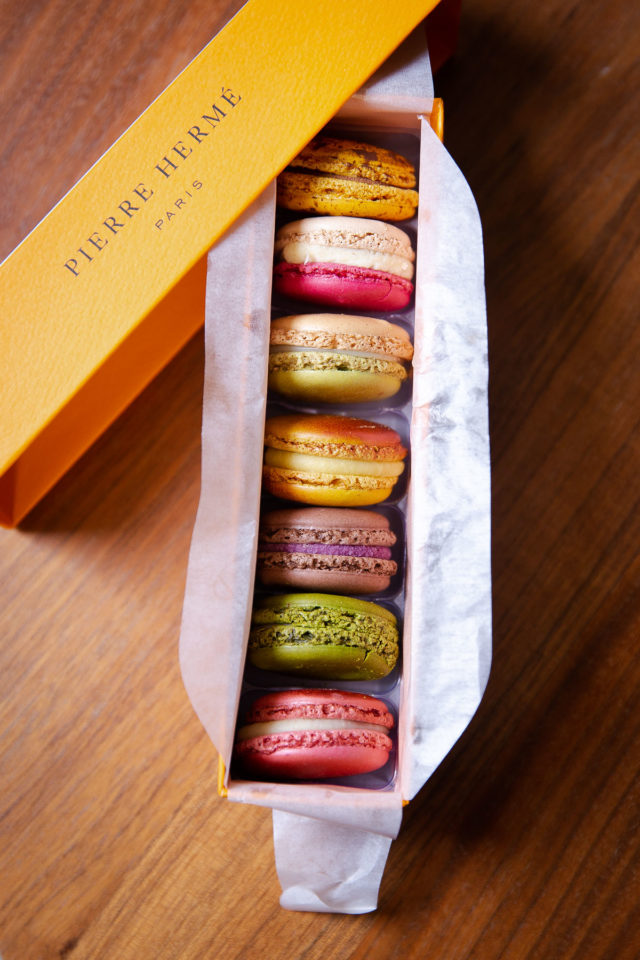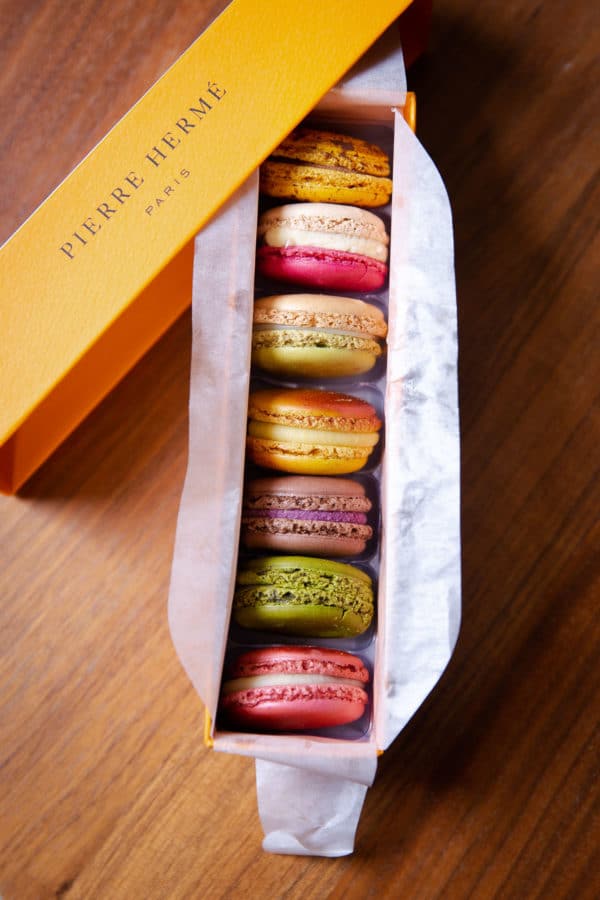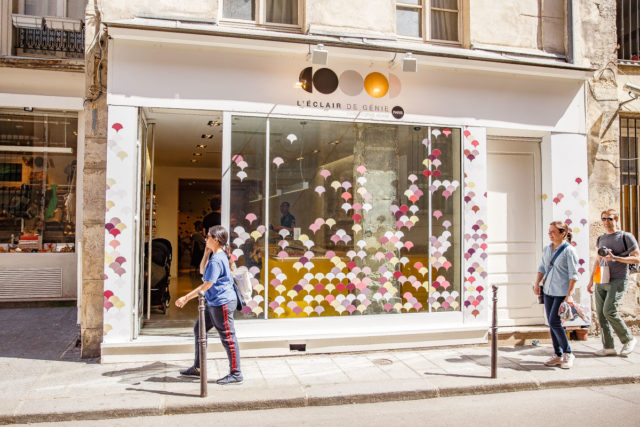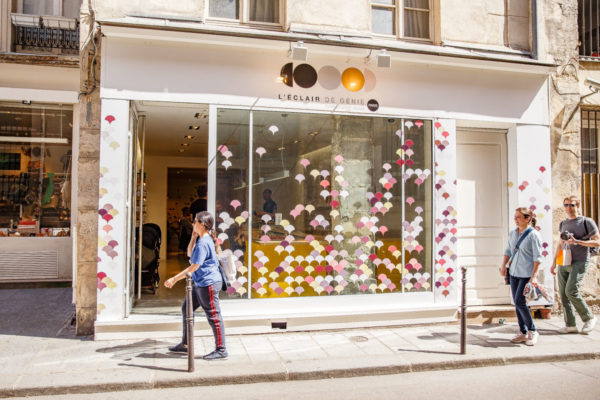 L'Eclair de Genie (14 rue Pavee, Marais) – this modern bakery is famous for its stunningly beautiful eclairs. We ended up meeting our friends Lindsay and Taylor – who also happened to be traveling in France at the same time as us – here for a quick afternoon pasty snack one afternoon. We shared three eclairs amongst all of us, which was the maximum that I could handle at that point in the trip. While I preferred the pastries above more, this spot is worth a visit if you're in the mood for impeccable, beautifully decorated eclairs.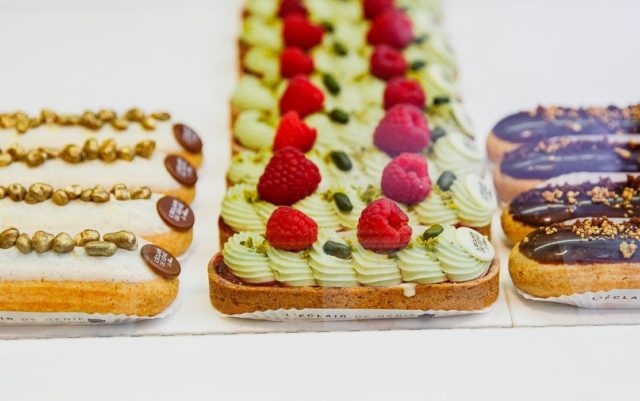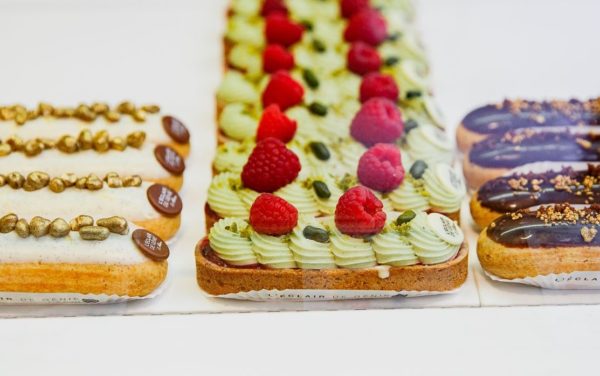 Jacque Genin – (133 Rue de Turenne, Marais) – the beautiful caramels, chocolates, pate de fruit, and other candies at this famous chocolatier are displayed like fine jewelry. It is worth stepping into this shop just to appreciate how seriously the French take their cuisine, particularly pastries and chocolate. While we didn't end up purchasing any of the chocolates from this store (be prepared for high prices), I really wish we had brought a few home with us to try! The caramels are particularly famous.
Berthillon – (29-31 Rue Saint-Louis en l'Île, Ile Saint Louis) – this gelato shop is one of the most famous in the city and rightfully so. While many restaurants and shops sell Berthillon gelato, I highly recommend visiting the actual gelato shop on Ile Saint Louis. Not only is it fairly centrally located in the city (particularly if you are visiting famous sights such as Notre Dame or Sainte-Chapelle) but the island is worth a visit for the beautiful views and casual stroll. The gelato was some of the best that we've ever had! Try to time your visit at an off-hour in order to avoid long lines.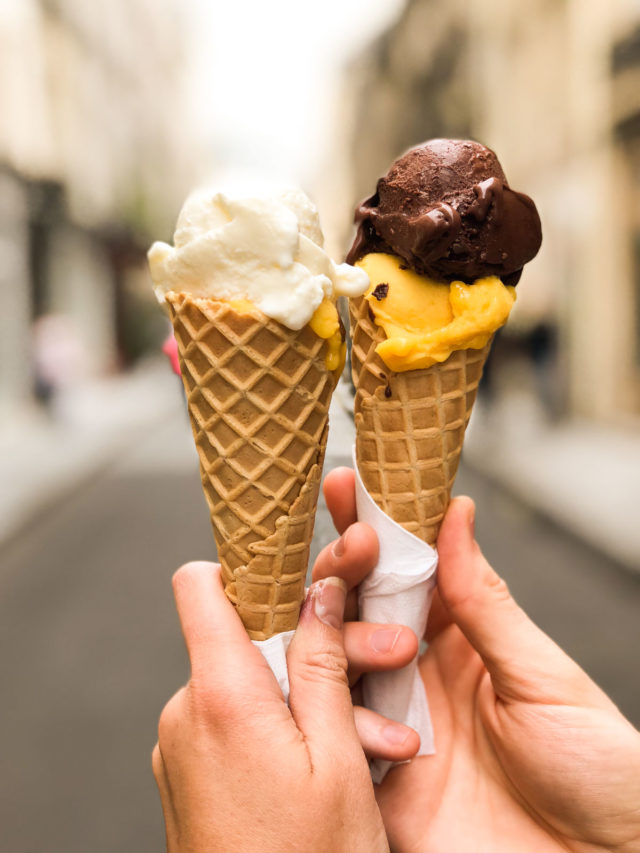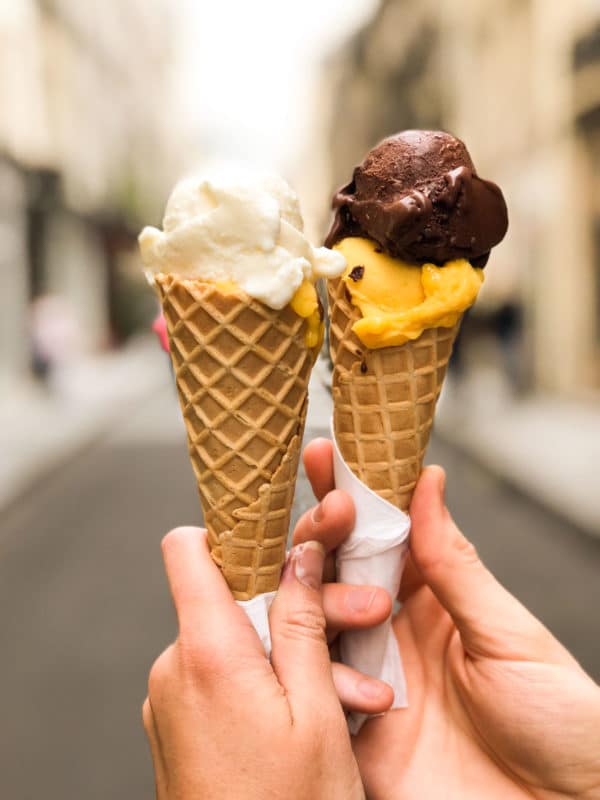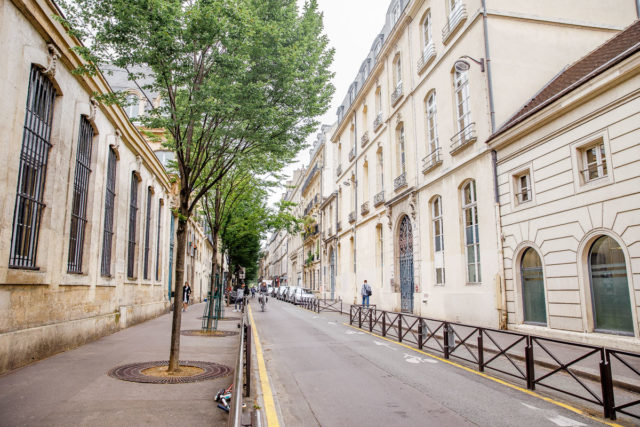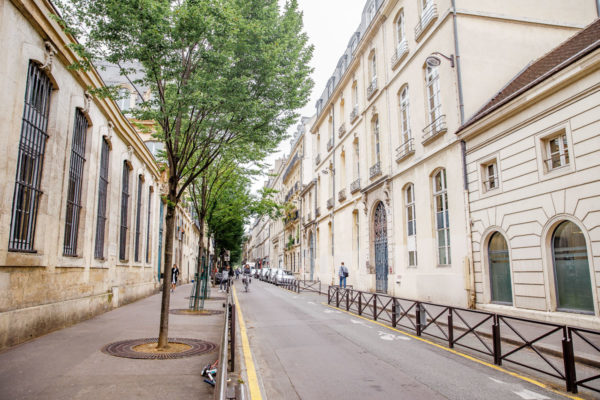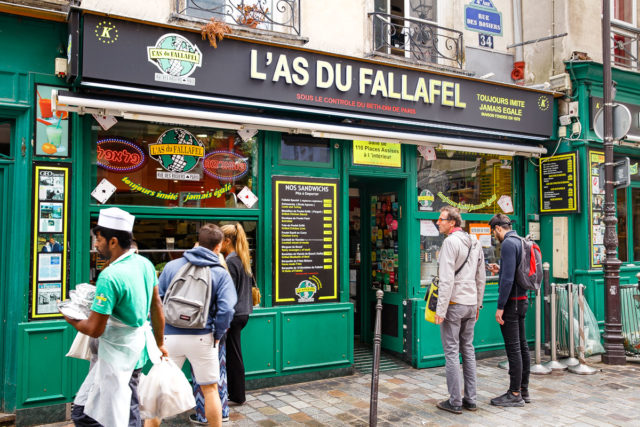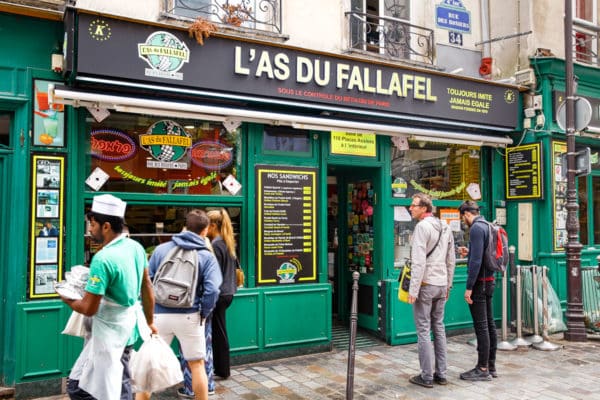 Casual Food and Breakfast Spots:
L'as Du Fallafel – (32-34 Rue des Rosiers, Marais) – this famous falafel shop in the Marais District is often teeming with lines. Our Airbnb apartment was located within just 100 feet of this spot, so we did make time to grab one of their famous falafel sandwiches topped with spicy sauce. While the price tag was unbeatable and the falafel was very good (and extremely generous in serving), we felt it was slightly overrated for the hype. However, it's definitely worth a visit if you are in need of a quick lunch, can avoid the lines, or are already in the area!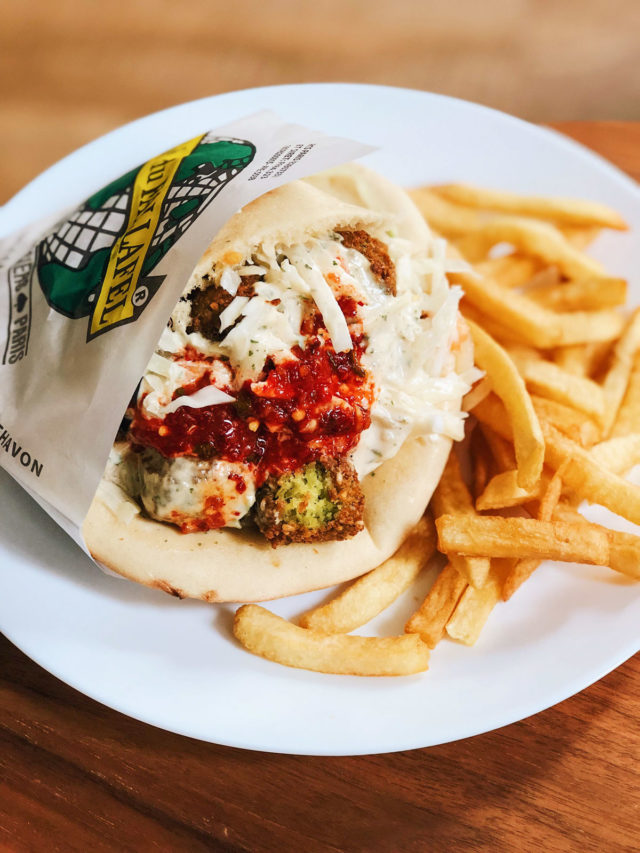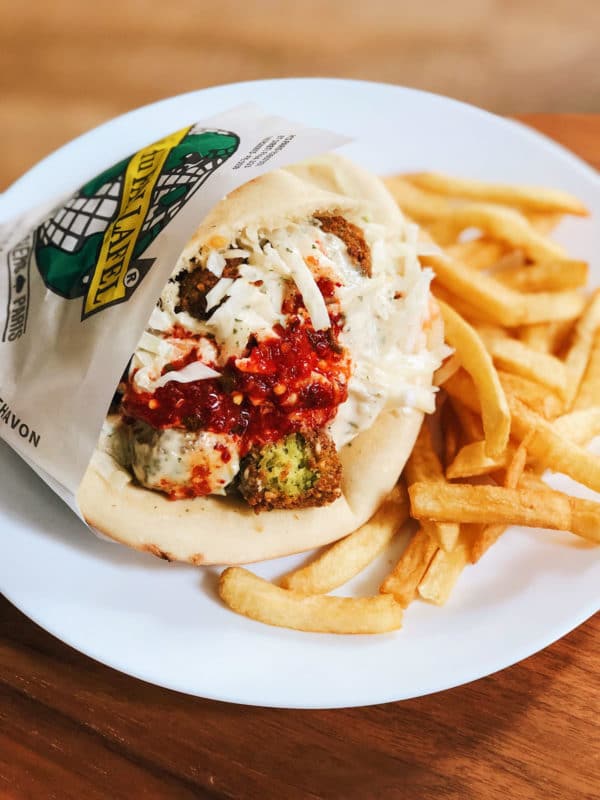 Frenchie To Go – (9 Rue du Ni, 2nd) – This casual breakfast and lunch spot, founded by one of Paris's most popular chefs, is located in a quiet, nondescript alley in the 2nd arrondissement. I received a recommendation for this spot from a friend, and we shared a great breakfast of eggs Benedict with spinach and a delicious homemade granola yogurt bowl. Be sure to spend a few minutes exploring the fish market, speciality food market, and other Frenchie restaurants and shops on the street while you're in the area.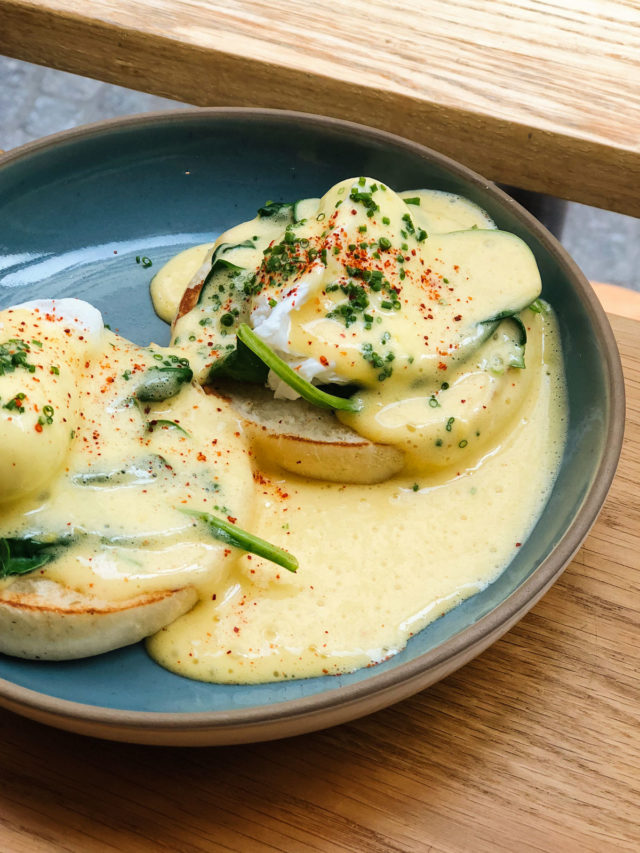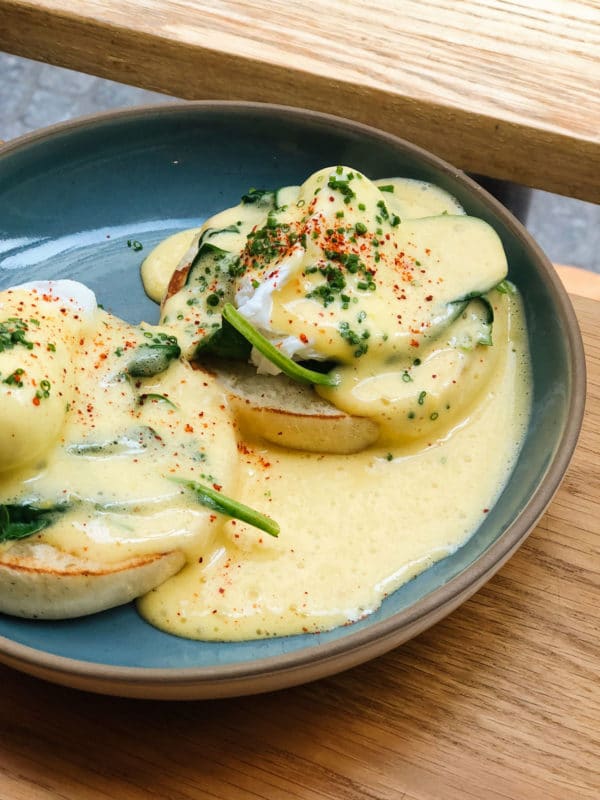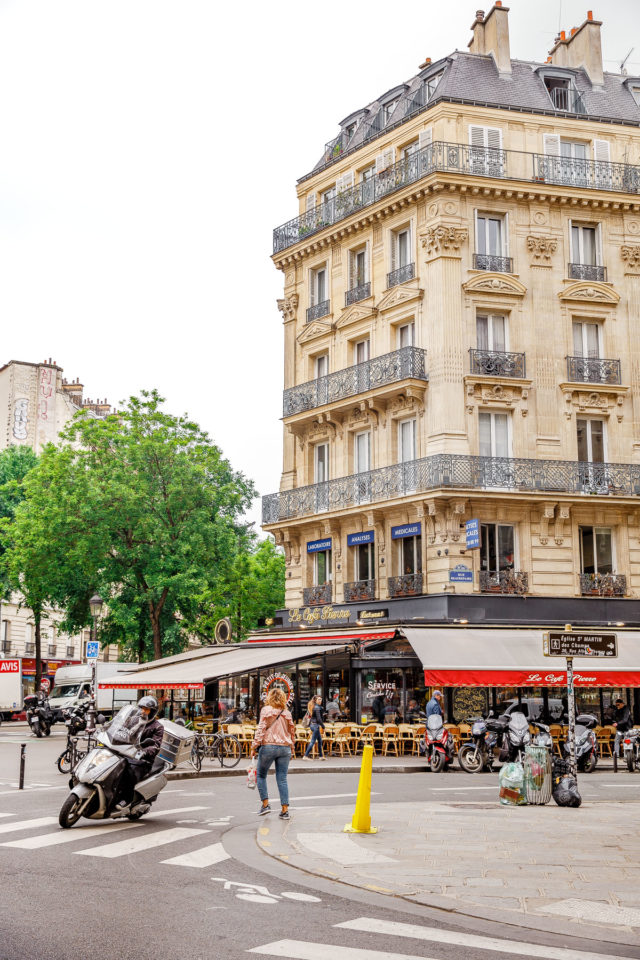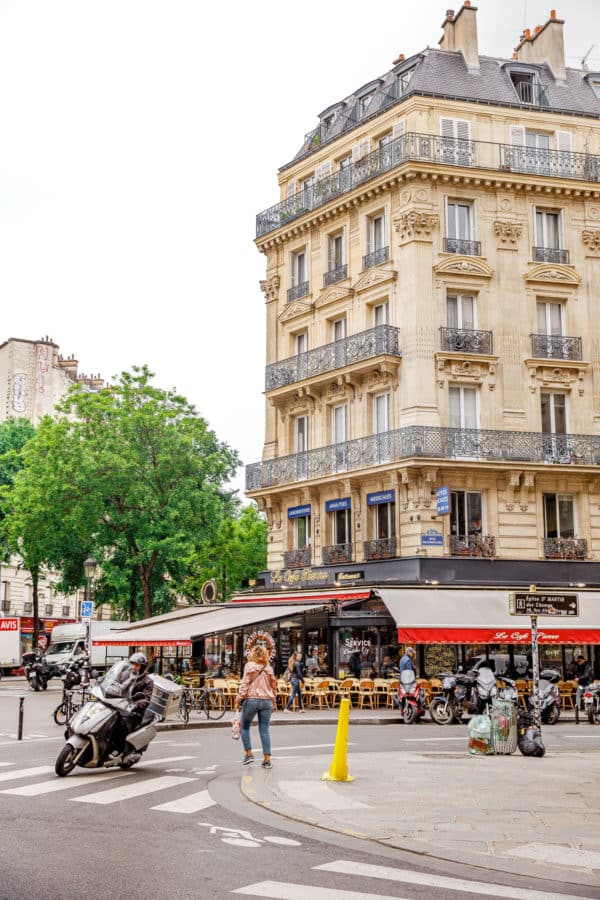 Holybelly Cafe – (5 Rue Lucien Sampaix, 10th) – our favorite breakfast (and one of our favorite meals) in Paris! This trendy, Instagrammable cafe is known for it's excellent American-style pancakes (some of the best that I've had!) and egg dishes. The coffee was also some of the best that we had in the city (sadly, most of the coffee we had in France was horrible). I highly, highly recommend taking time to visit this spot while you're in the city. The food is great and the atmosphere is wonderful.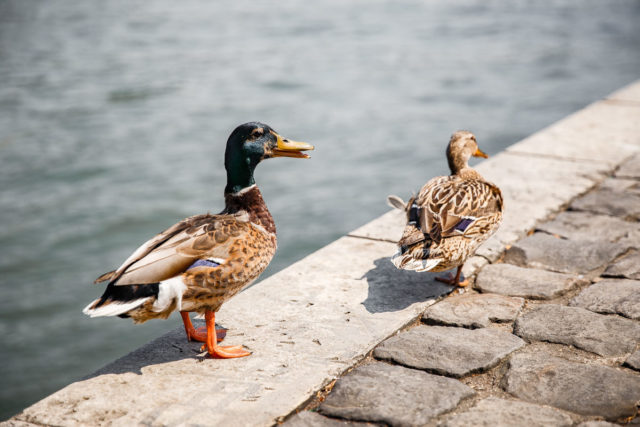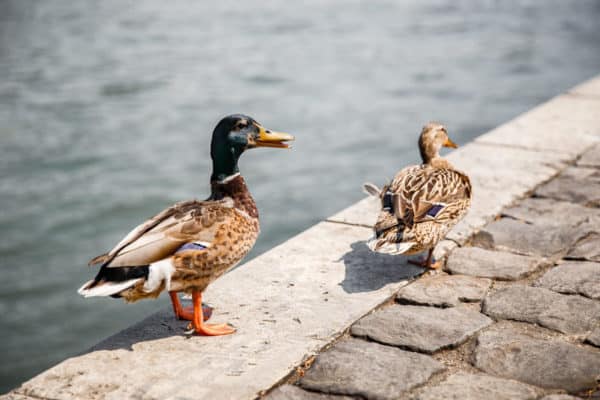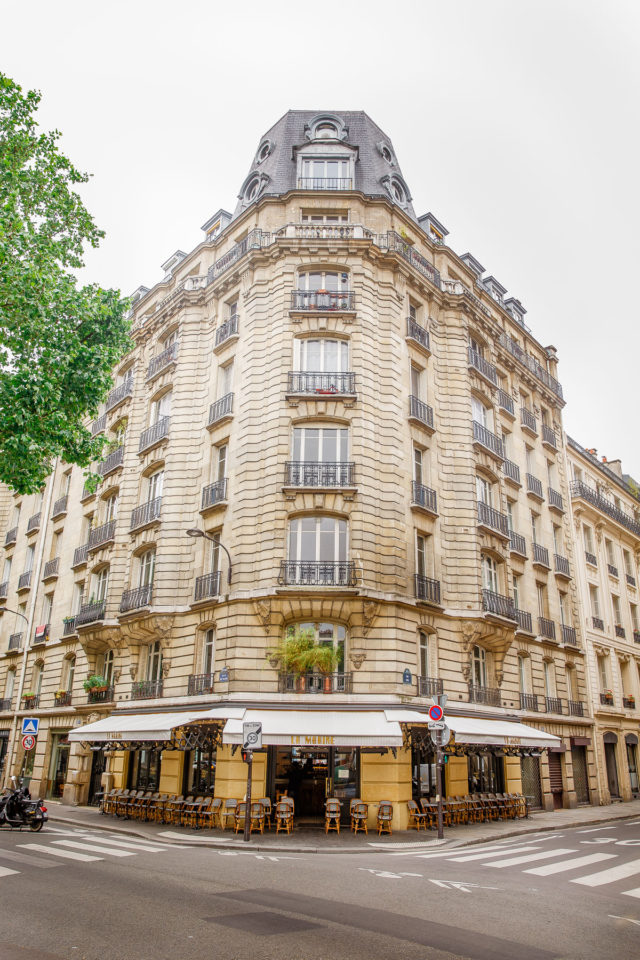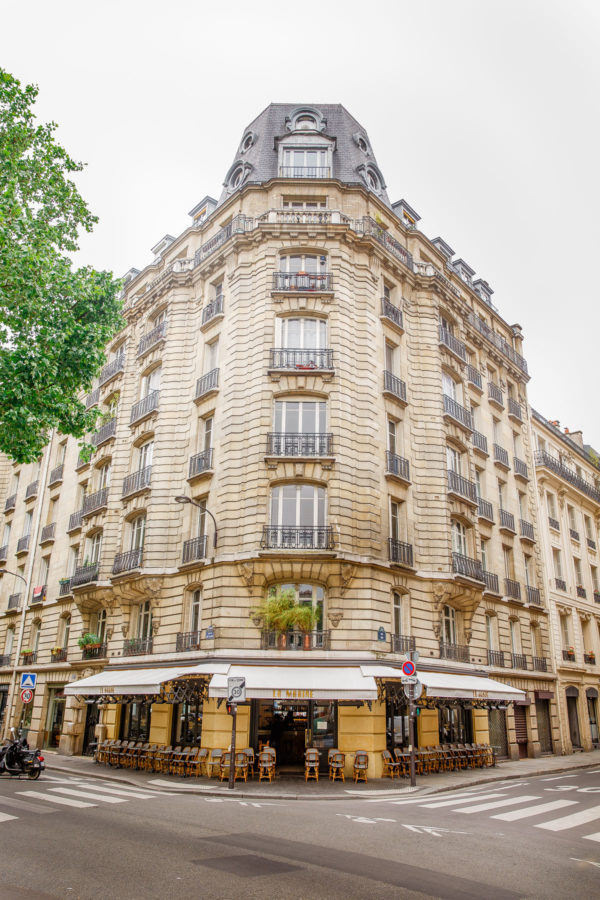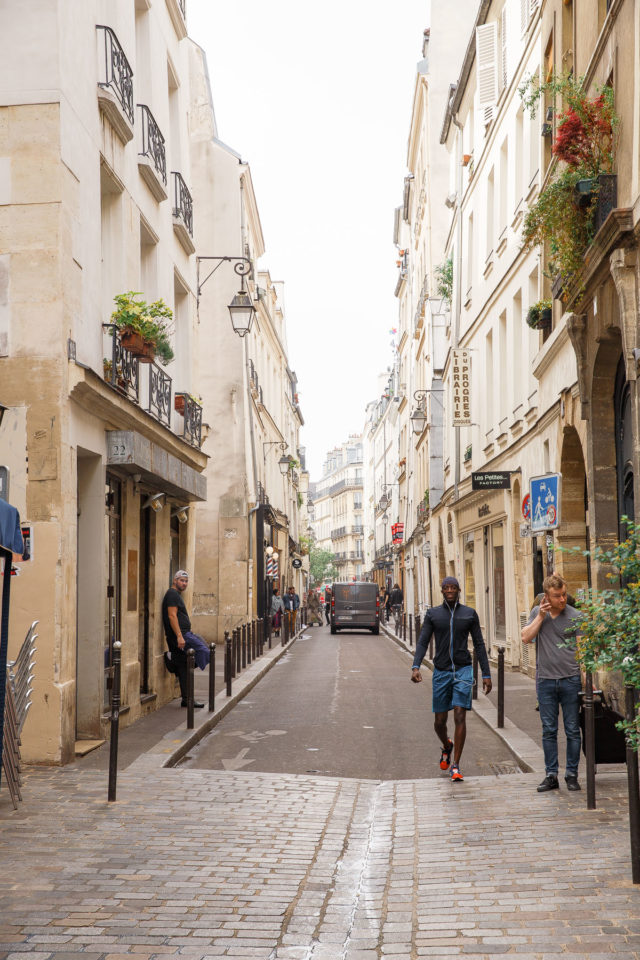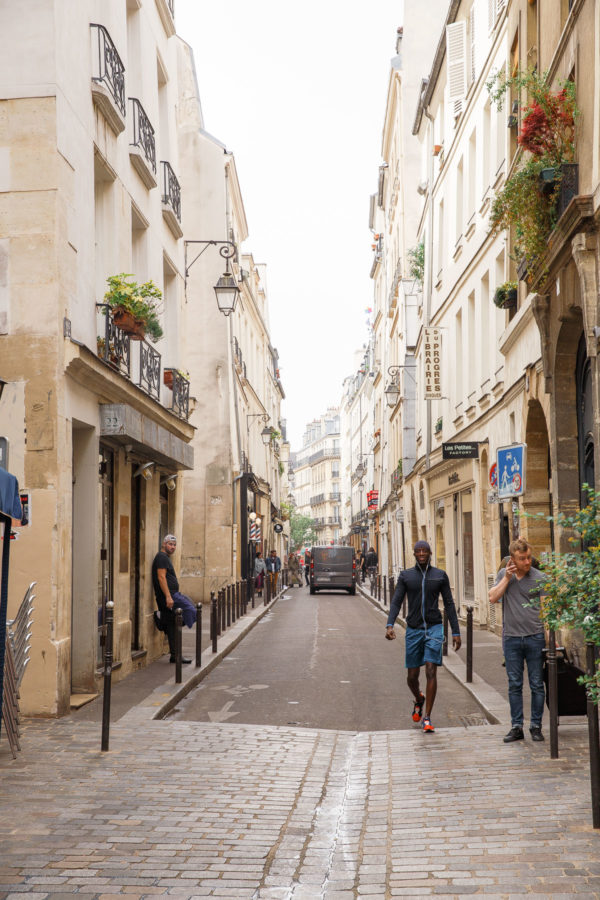 Restaurants and Bistros:
Travel Tip: We chose more casual, bistro-style restaurants for our dinners in Paris (in lieu of expensive, multi-course Michelin-star spots!) during this trip, but I've included helpful resources at the bottom of this post with additional recommendations if you are looking for additional ideas. As a general tip, remember that it is easier to snag reservations at slightly earlier dining times (6:30-8:00 pm) in Paris than later in the evening (8:30 pm and onwards), as eating fairly late is common in France.
Bistrot Paul Bert – (22 Rue Paul Bert, 11th) – the best meal that we had in Paris. Bistrot Paul Bert is considered one of the best bistros in the city, and in our opinion, lived up to all of its expectations and then some. The general menu changes daily, but they always offer their famous steak au poivre (peppercorn steak). All of the dishes that we had here were excellent (their seafood is incredibly fresh too), but the steak was incredible. It lived up to the hype and it was literally one of the best things that I've ever tasted. The atmosphere, service, and ambiance is lovely too. Since this spot is fairly popular, I highly recommend booking a reservation a week or two in advance of your visit (you cannot do this online, so be sure to call!).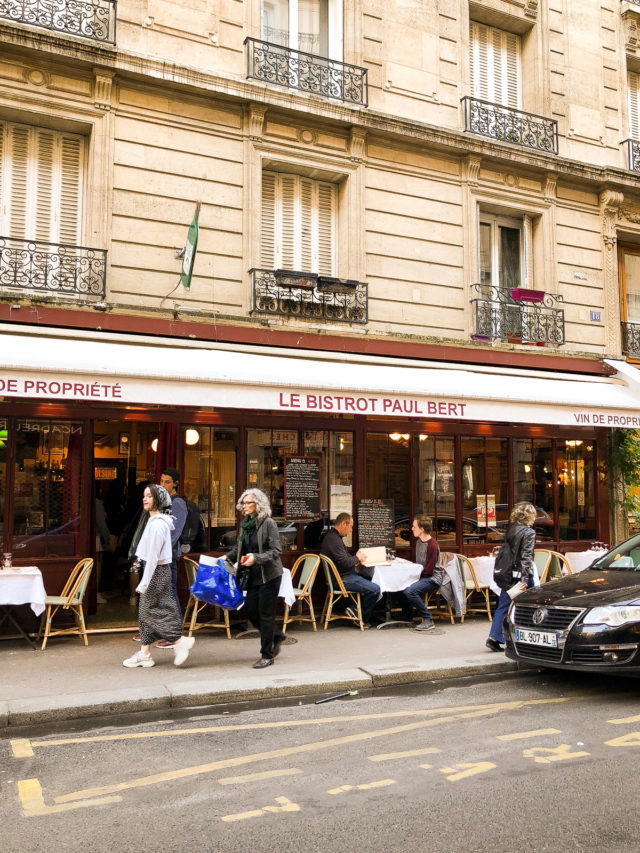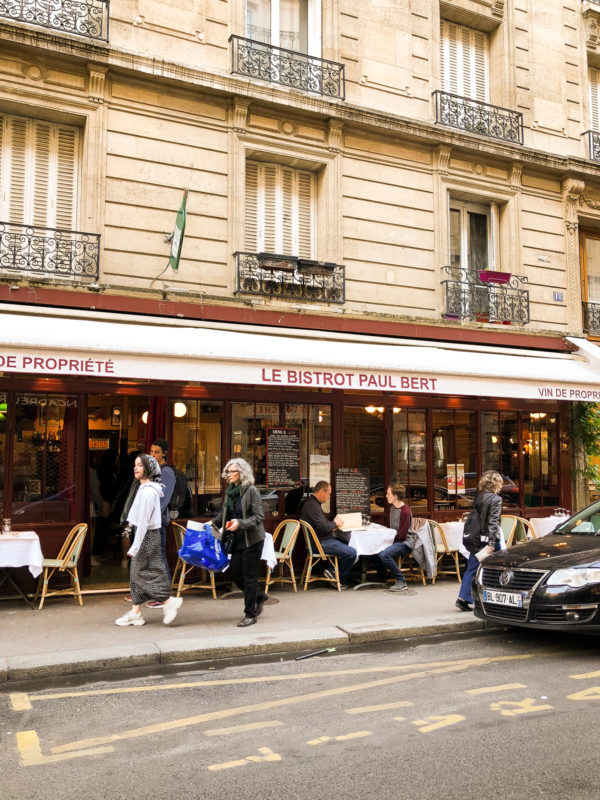 Breizh Cafe – (109 Rue Vieille du Temple, Marais) – it is worth noting that this casual restaurant (which has several locations!) actually started in Tokyo, Japan. Although the atmosphere isn't overly memorable, this eatery is famous for it's savory and sweet buckwheat crepes. We enjoyed a low-key casual diner here one night and really enjoyed it. The crepes were excellent and were offered with a large variety of fillings (below: classic Parisian combination of smoked herring, potatoes, creme fraiche, and herring caviar) to choose from. Definitely worth a visit for lunch or dinner if you are looking for a casual dining option. Reservations are recommended and can be made in advance online.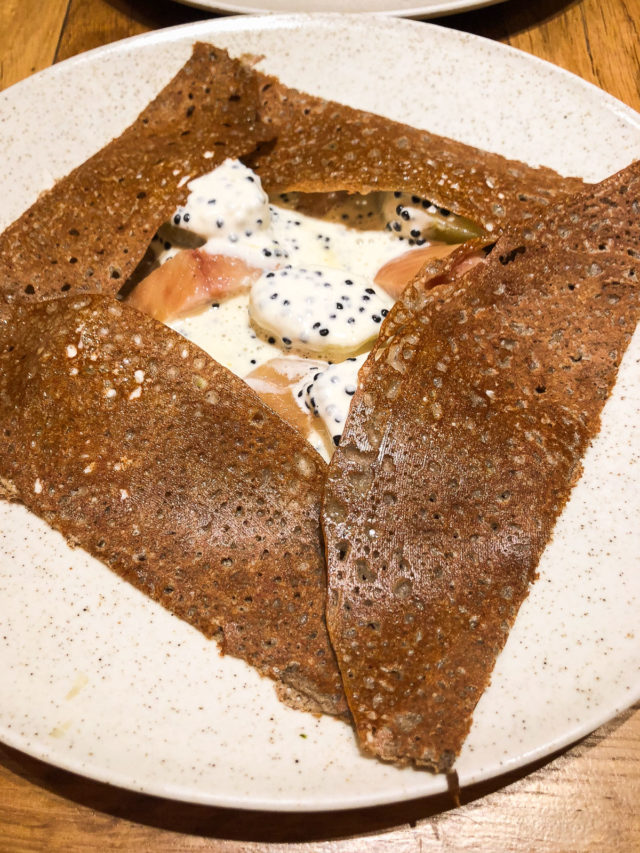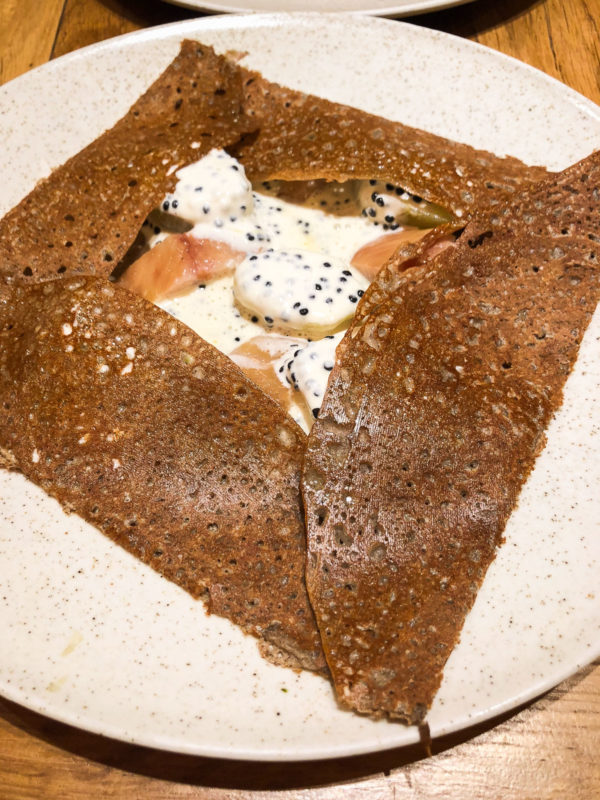 Au Passage – (1bis Passage Saint-Sébastien, 3rd) – this unique restaurant, which was started by a Texan chef, is known for it's creative, seasonal small plates. The atmosphere is lively, fairly casual, and friendly, and the dishes are artfully presented and reasonable in price. The menu is constantly changing, which makes this a really fun spot to visit if you're looking to mix up your dinners! It was a nice change of pace from our more traditional bistro style meals. Reservations are recommended and can be made online on their website.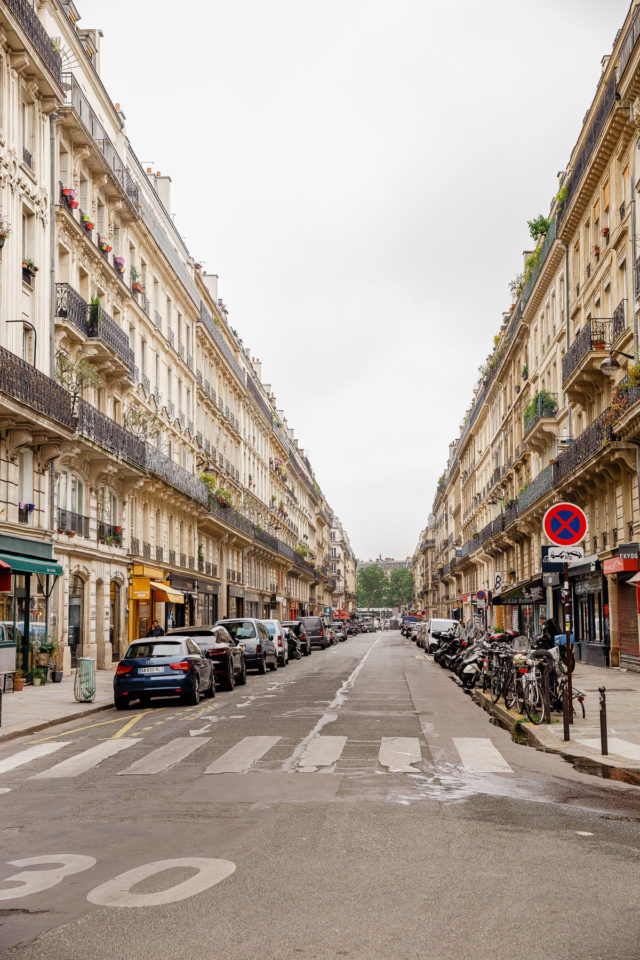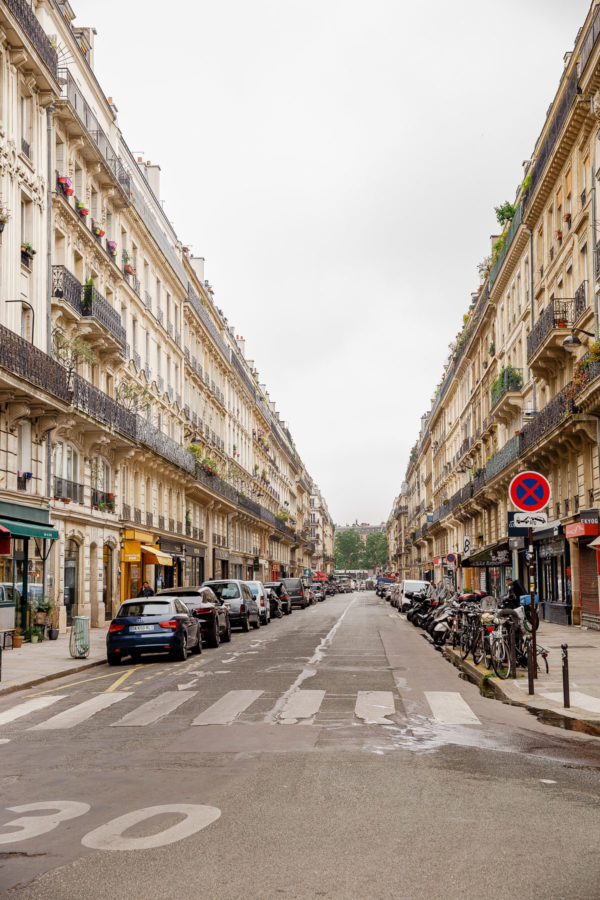 Bistroy Les Papilles – (30 Rue Gay-Lussac, Latin Quarter) – a well-regarded classic bistro in Paris, which offers a very reasonable (31 euros) pre-fixe 4-course menu (which changes daily) featuring generously portioned family-style French cuisine in an intimate, cozy setting. While this spot might not be best if you prefer having a choice of dishes, we enjoyed our meal here. Be prepared to buy a bottle of wine from their generous selection on sale or bring your own (expect a corkage fee). Reservations recommended and can be made online on their website.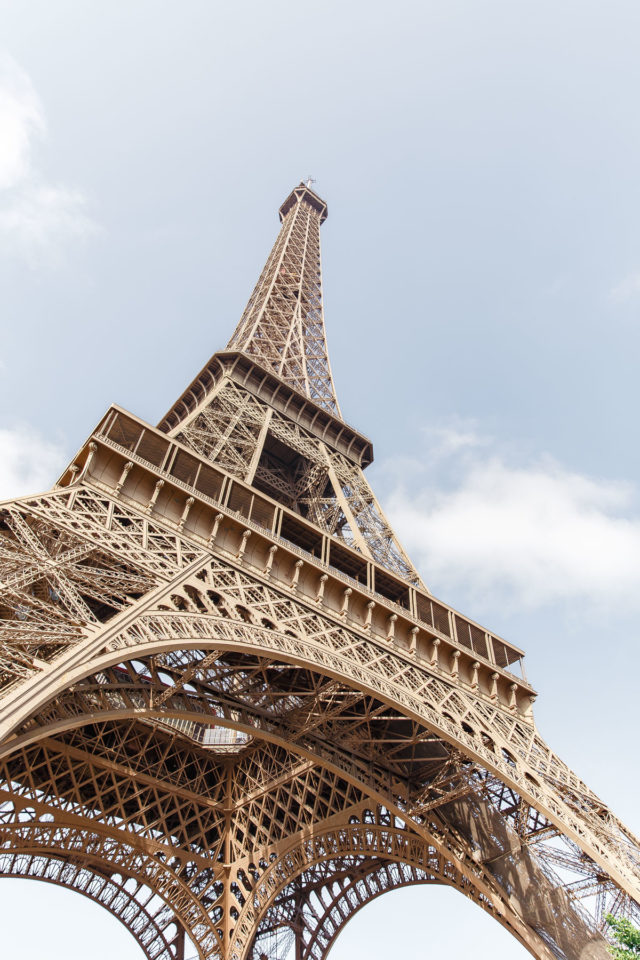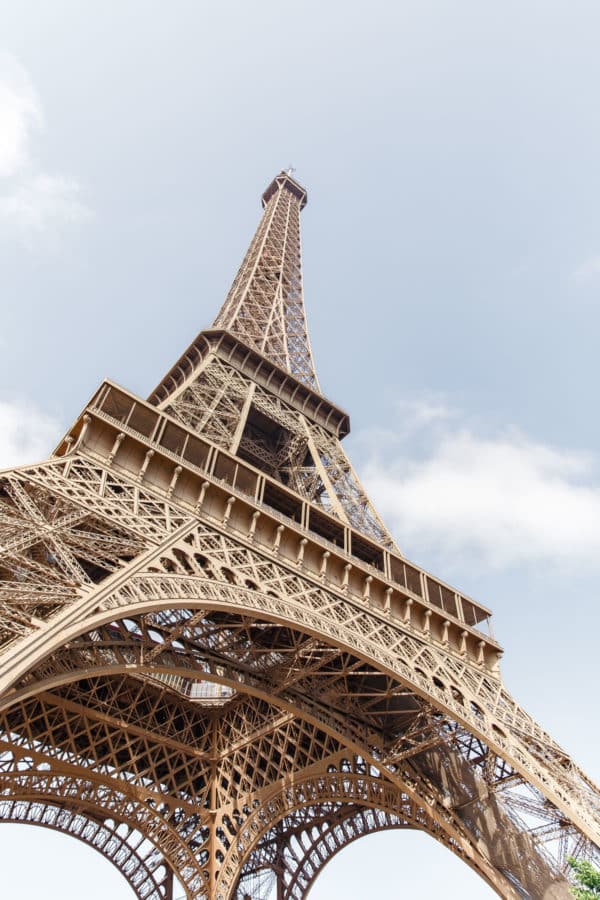 Specialty Food Shops and Stores:
E.Dehillerin – this famous cookware shop is known for its large selection of copper cookware. The atmosphere is classic and old school (be prepared to look up prices of items by code in a large binder). You'll find almost every pastry mold and tool that you can imagine too. Tip: if you do make a large purchase, the shop provides a very easy-to-use refund tax form to scan at the airport on your way home.
Libraire Gourmande – if you're looking for French cookbooks, magazines, or food-related publications, this bookstore is a fun place to pop into!
Shakespeare and Company – this unique, squirky bookstore is home to a huge selection of English publications. If you happen to be in the area, I recommend peeking into this store just for a few minutes! Just remember that no photographs are allowed.
Other Favorites:
Saint-Chapelle – if you can visit only one church or basilica during your time in Paris, I would pick Saint-Chapelle over every other option! It is stunningly beautiful on the inside – pictures can't do it justice – and well worth the admission price (which has an added bonus of keeping away some tourists). Be sure to pick a clear sunny day in order to see the stained glass at it's most beautiful!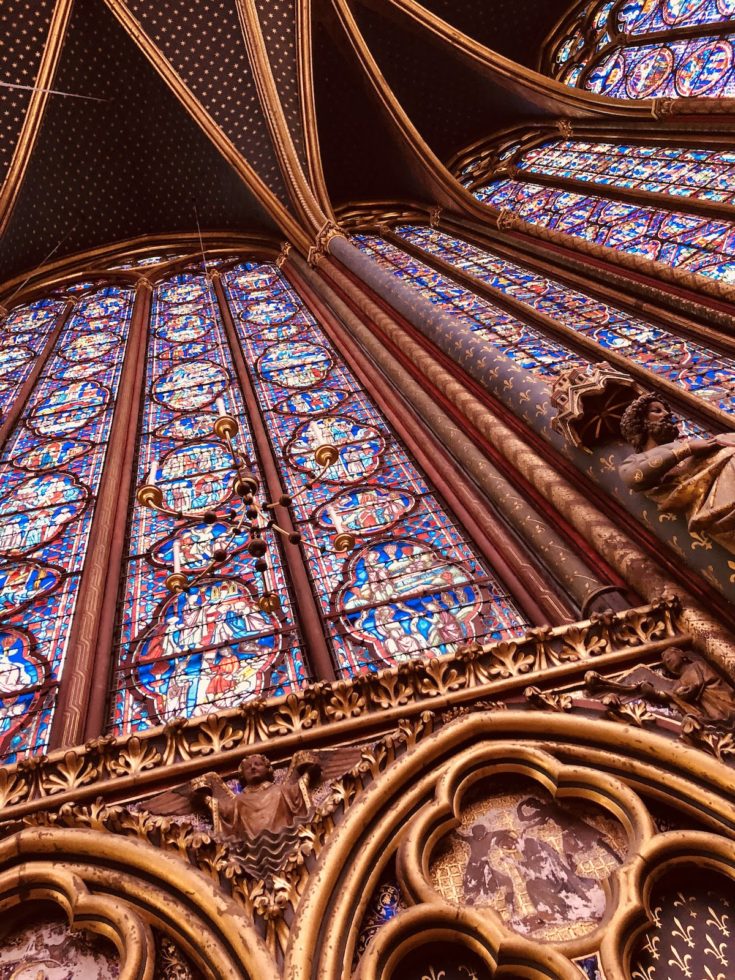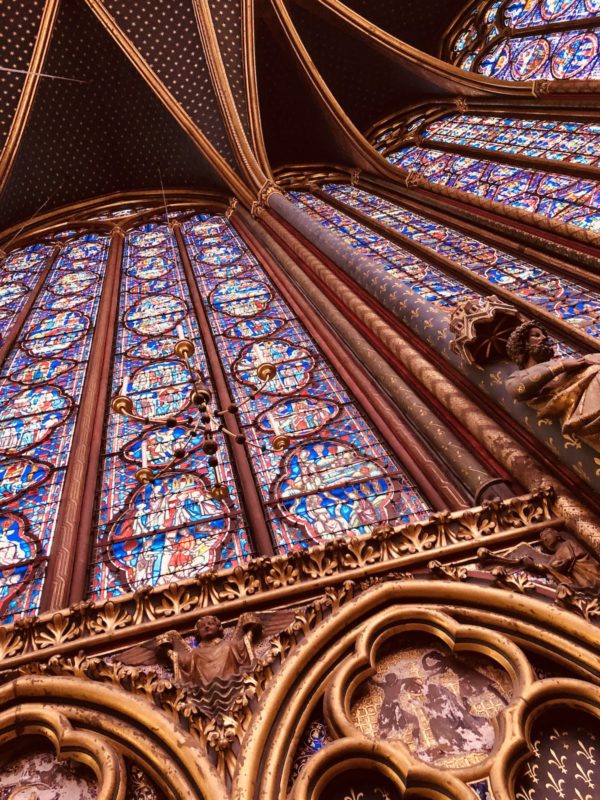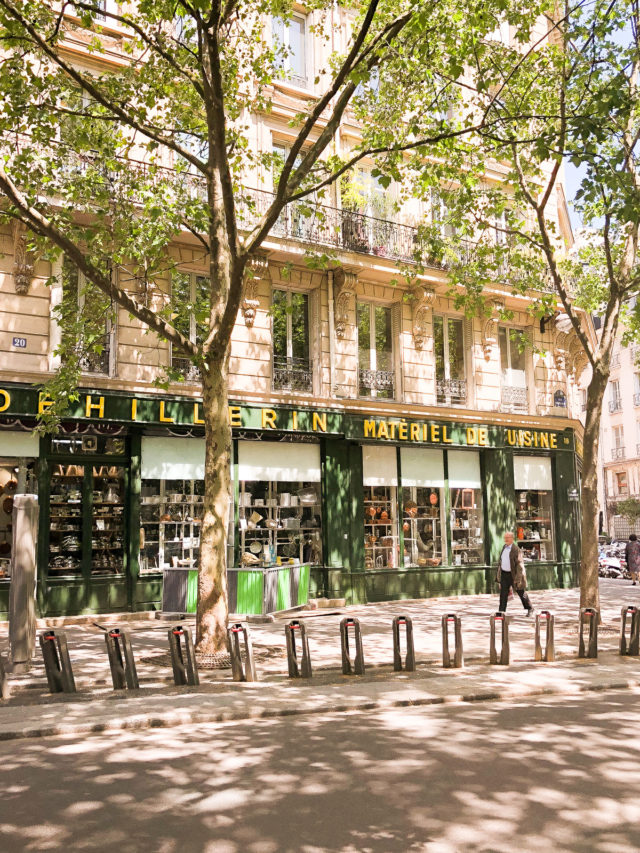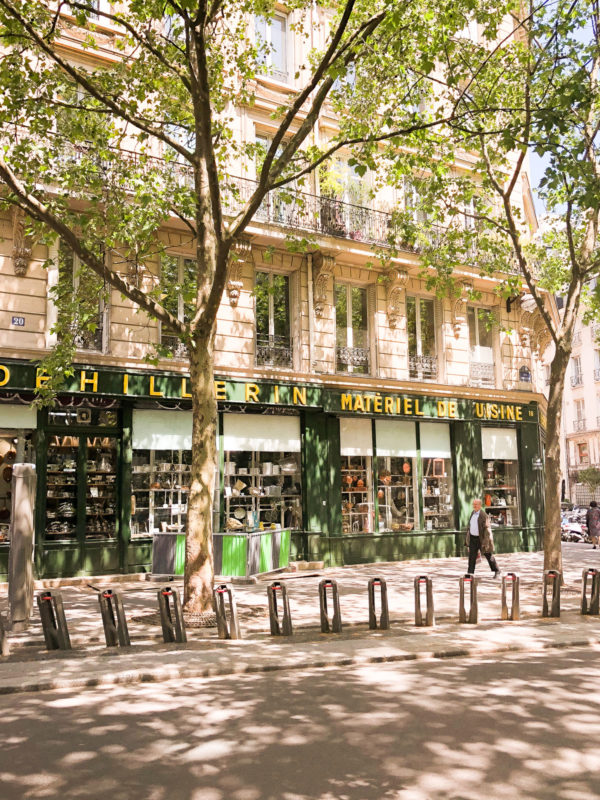 Additional Resources:
For a custom Google map (containing all of the places listed above, and more!), click here.
This post contains affiliate links, which means that I make a small commission off items you purchase at no additional cost to you. Please read my
privacy policy
for more information.