Spaghetti Squash with Homemade Tomato Sauce and Meatballs
This post contains affiliate links.
Spaghetti squash is one of the neatest fruit-vegetables out there.  Unlike any other type of squash, once roasted or baked, the flesh transforms into perfect strands, which can hold up to hearty sauces, yet still remains perfectly twirl-able like the pasta it is so well named after.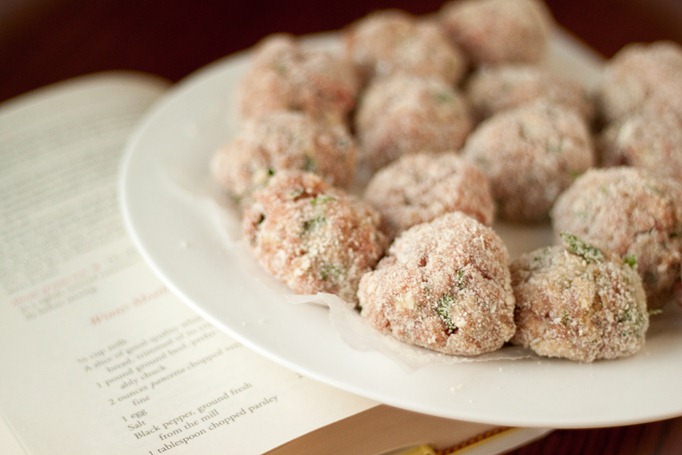 For whatever reason, last week was the first time that I've ever cooked spaghetti squash at home, but most certainly not the last .  The hardest part of cooking this vegetable is splitting it open with a knife (always a nerve-wracking moment, even for those of us accustomed to yielding a large chef's knife on a daily basis).  Once that task is accomplished, the rest is a breeze.
Then comes the fun part…raking it with a fork and watching it miraculously produce it's "spaghetti" strands.  I couldn't help but wonder as I did this, who was the first person to ever figure this out?!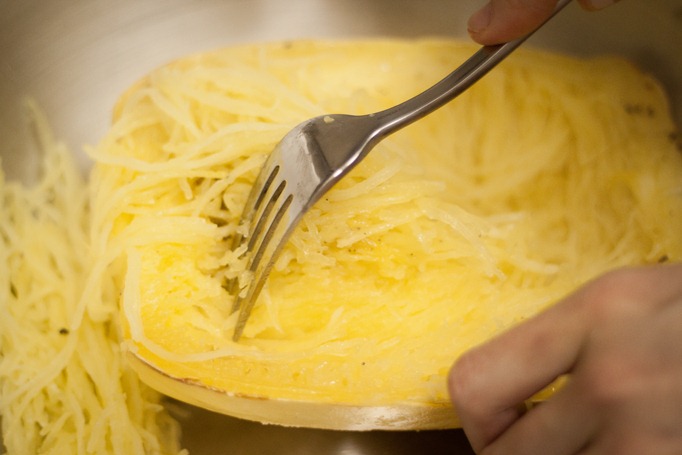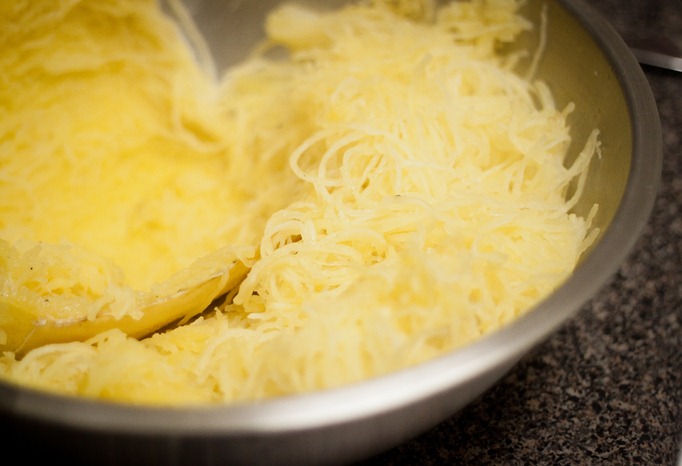 To make this dish a bit more substantial, I paired the spaghetti squash with my favorite homemade tomato sauce, passed on from my mom (and pretty much the first thing I ever learned how to cook on my own) with classic meatballs, adapted lightly from Marcella Hazan's The Essentials of Classic Italian Cooking. 
While the meatballs are quite easy to put together, this entire meal is definitely more of a weekend, I-have-some-time-to-spend-in-the-kitchen, sort of meal.  Though the actual active cooking time is very minimal, the entire meal takes about two hours to put together.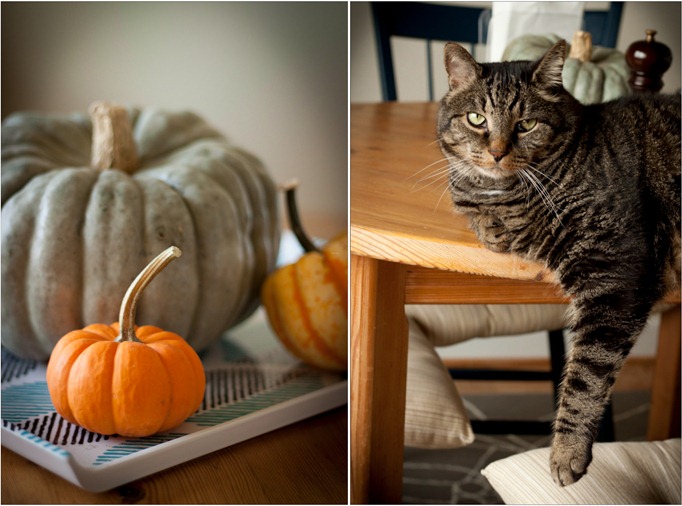 The tomato sauce is best when left to slowly simmer and thicken on the stove for between 1-2 hours. About an hour into cooking the sauce, preheat the oven to roast the squash which, depending on the size, should take anywhere from 40-50 minutes to cook. 
Part-way through cooking the squash, start putting together the meatballs.  These meatballs are quick to assemble and are made up of a simple mixture of ground beef, chopped parsley, parmesan cheese, nutmeg, and bound with an egg and bread, which has been soaked in milk.  Be sure not to squeeze or knead the mixture as you're putting them together!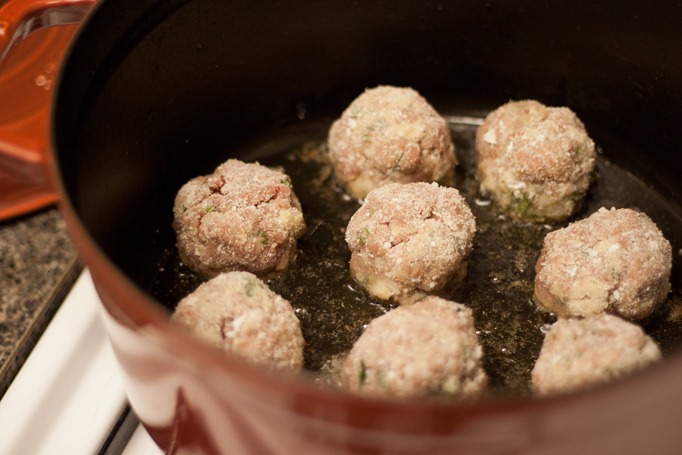 Once seared on all sides, the meatballs are then placed into the slowly simmering tomato sauce, to continue to cook all the way through for additional 10-15 minutes.  A large Dutch-oven is great for this, but any large heavy-bottomed saucepot will do. 
At this point, you will become very hungry…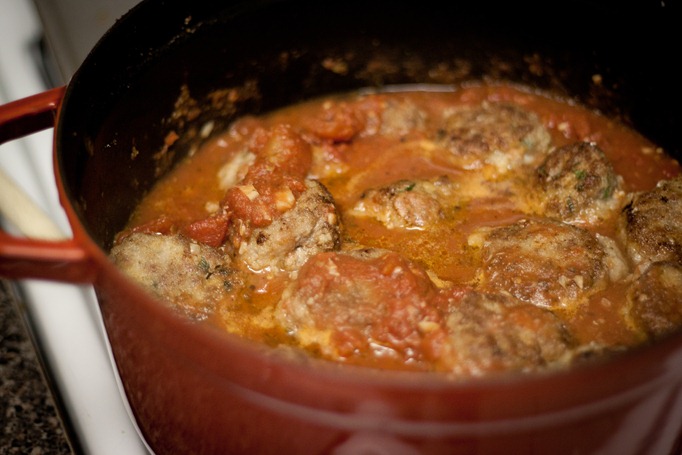 Don't worry, you will soon have this delicious dinner to sit down to and enjoy.  Top with a generous spoonful of parmesan cheese, enjoy with a glass of red wine (in my case, courtesy of my sister's wedding reception leftovers), and life is good. 
Definitely one of my favorite meals I've made as of late.  Bon appetit!
Also, be sure to check out this old post about how to pick out and store winter squash!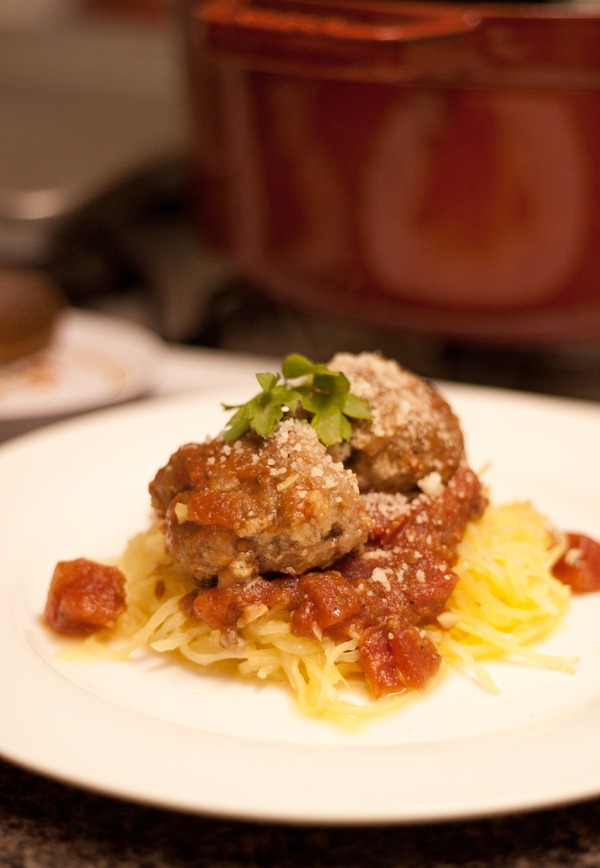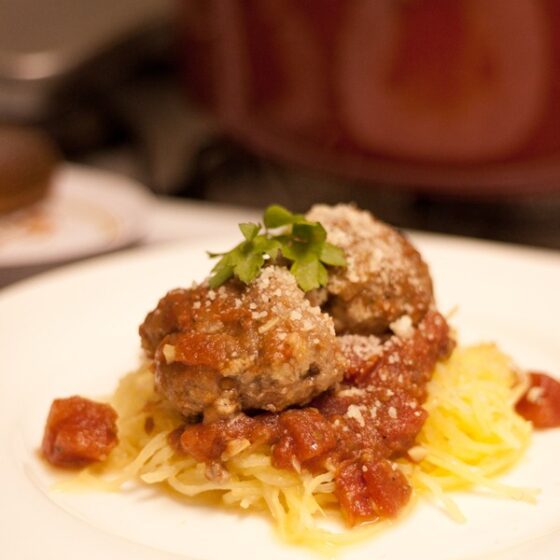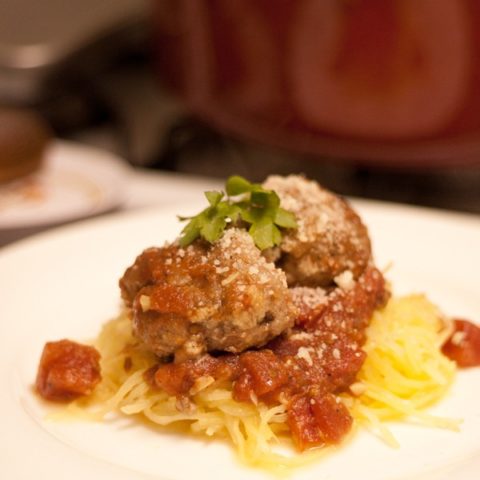 Spaghetti Squash with Homemade Tomato Sauce & Meatballs
Yield: 4-6 Servings
Prep Time: 20 minutes
Cook Time: 2 hours 30 minutes
Total Time: 2 hours 50 minutes
Ingredients
Tomato Sauce:
1-2 tablespoons extra virgin olive oil
4 medium sized garlic cloves, finely minced
2 dried bay leaves
2 tablespoons dried oregano
2 (28-ounce) cans of diced tomatoes (I used San Marzano)
kosher salt
freshly ground black pepper
Roasted Spaghetti Squash:
~5 lb whole spaghetti squash
extra virgin olive oil
kosher salt
freshly ground black pepper
unsalted butter
Meatballs:
1 slice whole wheat sandwich bread, crust trimmed
1/3 cup low-fat milk
1 lb ground beef (85% lean/15% fat) (preferably grass-fed/organic)
1 whole egg
2 tablespoons finely chopped flat-leaf parsley
3 tablespoons grated Parmigiano-Reggiano or Grano Padano cheese
1/4 teaspoon freshly grated nutmeg
kosher salt
freshly ground black pepper
roughly 1 cup regular or panko breadcrumbs (processed finely in food processor)
safflower oil
Instructions
Prepare Tomato Sauce: Heat olive oil in large saucepot or Dutch oven over low-medium heat.
Add minced garlic and sauté quickly, stirring frequently with a spoon to prevent from burning. Add
Add diced tomatoes, season lightly with salt and pepper, and allow to simmer slowly for 1-2 hours, slightly covered. Stir occasionally.
Spaghetti Squash (To see a step-by-step tutorial, click here): Preheat oven to 375 degrees Fahrenheit.
Carefully slice off bottom of spaghetti squash. Cut vertically in half (be very careful!) and remove seeds with large spoon.
Lightly coat inside of cut squash with olive oil and season with salt and pepper. Place cut-side down on parchment-lined baking sheet.
Bake for 40-50 minutes (depending on size). Outer skin should be slightly darker once ready. Remove from oven and test doneness by turning squash cut-side up and lightly raking with fork. If strands easily are removed, squash is ready.
Place one half in large bowl and using fork, rake inside of squash to produce long spaghetti-like strands. **It will be very hot, so hold one side down with an additional fork, while raking with the other hand**. Repeat with other half until all flesh has been removed.
Toss spaghetti squash with small pat of butter, taste, and season with salt and pepper as necessary. Top with sauce and homemade meatballs, garnish with cheese, and serve immediately!
Prepare Meatballs: In small saucepot, combine milk and bread and bring up to low heat. Once bread has fully absorbed milk, remove from heat, place in small bowl and mash with fork until consistent. Set aside.
Place breadcrumbs on sheet of wax paper. Meanwhile, in separate bowl, combine ground beef, egg, parsley, nutmeg, salt and pepper (tip: season and cook small patty to test seasoning and adjust as necessary!), and cheese. Using finger tips, carefully combine ingredients together, without pressing or squeezing. It should be very loose and moist.
Carefully shape mixture into 1-inch diameter balls (without squeezing—they should be loosely held together, not tightly compact) and lightly roll in breadcrumbs and set to side.
In heavy-bottomed cast iron skillet or sauté pan, heat small layer of safflower or vegetable oil over medium-high heat. Once heated, place meatballs carefully into pan (you may have to do this in two batches, depending on size of pan—do not overcrowd!). They should sizzle when you place them in the pan!
Sear until brown on all sides. They will be delicate, so flip carefully with a spatula to prevent them from falling apart. Once brown, remove onto paper-towel lined plate. **It is ok if they are not cooked all the way through, because they will be added to simmering tomato sauce.**
Once all meatballs have been seared, place carefully into lightly simmering tomato sauce. Cover and continue to cook for an additional 10-15 minutes or until meatballs are cooked thoroughly.
Notes
Inspired by Marcella Hazan's The Essentials of Classic Italian Cooking.
Nutrition Information:
Yield: 6
Serving Size: 1
Amount Per Serving:
Calories: 472
Total Fat: 29g
Saturated Fat: 9g
Trans Fat: 1g
Unsaturated Fat: 17g
Cholesterol: 111mg
Sodium: 667mg
Carbohydrates: 25g
Fiber: 4g
Sugar: 5g
Protein: 28g
A Beautiful Plate provides nutritional information, but these figures should be considered estimates, as they are not calculated by a registered dietician.
This post contains some affiliate links, which means that I make a small commission off items you purchase at no additional cost to you. Please read my
disclosure policy
for more information.