Spicy Oven Baked French Fries with Cucumber Raita
Crispy oven-baked French fries are spiced up with cumin and a touch ground cayenne and served with a cool and refreshing cucumber raita for dipping.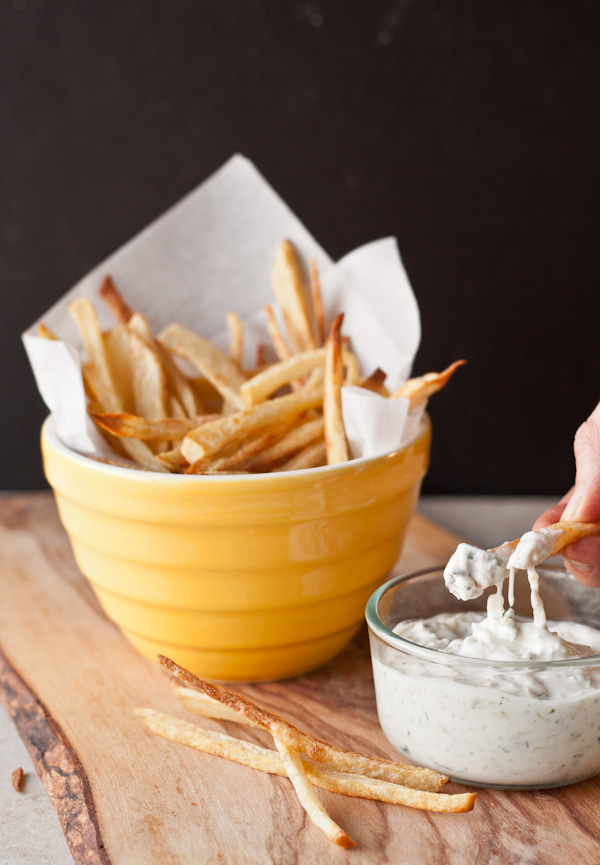 If I was going to list my all-time favorite comfort foods, french fries would definitely be close to the top. Along with pasta, chocolate anything, burrito bowls, and crispy pork spring rolls (from my favorite Vietnamese restaurant). Not necessarily in that order. And this past weekend, I was in desperate need of some (in this case, lightened up) comfort food. In fact, I'm still a little traumatized by everything that went down. Care to indulge me? OK, thanks.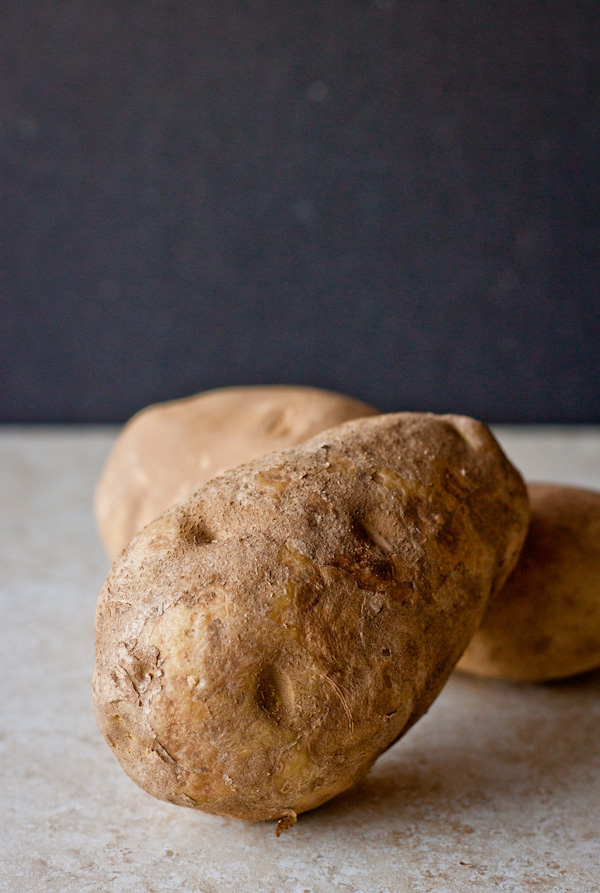 You see…we had been planning on taking Max (the cat) to the vet for a routine check-up all week. Connor had scheduled an 8:00 am appointment on Saturday morning, something I wasn't particularly thrilled about, but decided to go along with–or at least, attempt to go along with depending on how tired I was that morning. When Saturday morning arrived, I decided to be a good cat mom and go with them. We easily tricked Max into the crate (a feat in and of itself) and had everything ready to go. Despite a little bit of loud whining on Max's part, things were looking good…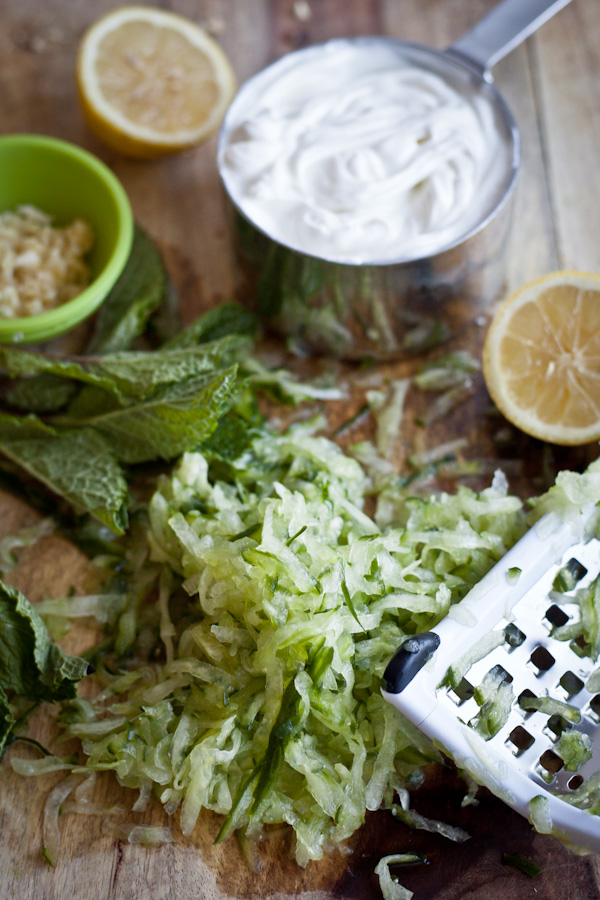 Just as we reached the car and I was setting down the crate to grab my car keys, I heard a loud snap. What happened next seemed to occur in slow motion. The top of the pet crate snapped away from the bottom, which fell onto the ground (along with the cat), and Max, understandably, took off sprinting. Fast. And aside from knowing the general direction in which he ran, I lost sight of him within seconds. Thankfully, Connor immediately took off after him. Despite being in a state of complete shock and panic, I managed to think clearly enough to drop everything else on the ground, grab the broken crate, and run after them.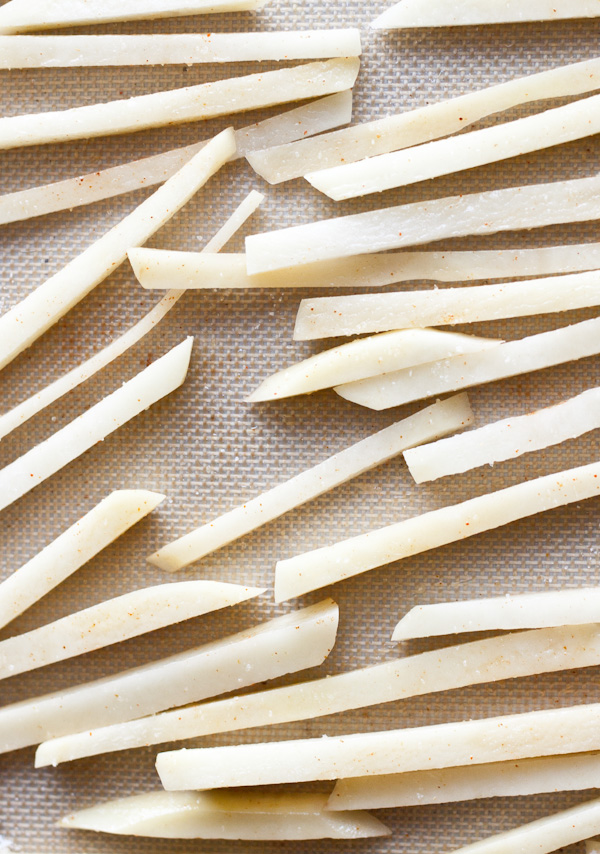 Despite losing sight of him, Connor had managed to see that Max had cornered himself between two sides of our L-shaped apartment building. After looking everywhere, I was able to spot him crouching down, completely terrified, in the grass. At this point, I was already beginning to sob hysterically, whilst calling Max's name, and slowly trying to inch myself toward him.
Meanwhile, Connor was trying to stand back, calm me down, and attempt to piece the crate back together. Max, meanwhile, had moved and edged himself more into the corner, attempted to run into a glass basement window (which led to further sobs from my end), and begun to meow desperately. I was just trying to get closer and closer to him. Eventually, he must have realized that I was trying to help him out, let me pick him up, and carry him quickly back to the car. (Oh yes, and apparently there were several neighbors that were watching this entire fiasco go down from their windows.)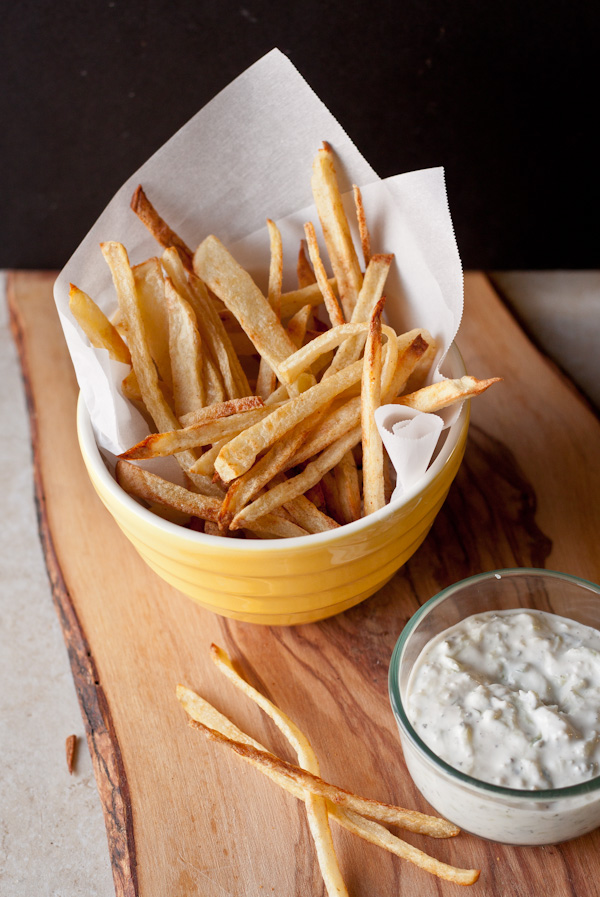 Then we drove to the vet as planned. And yes, I was still crying like a baby. Max donned a cone of shame (which funnily enough, resembles a poncho) and I vowed that I would never carry a pet crate by the handle ever again in my entire life. Then I made these fries and stuffed my face. The end.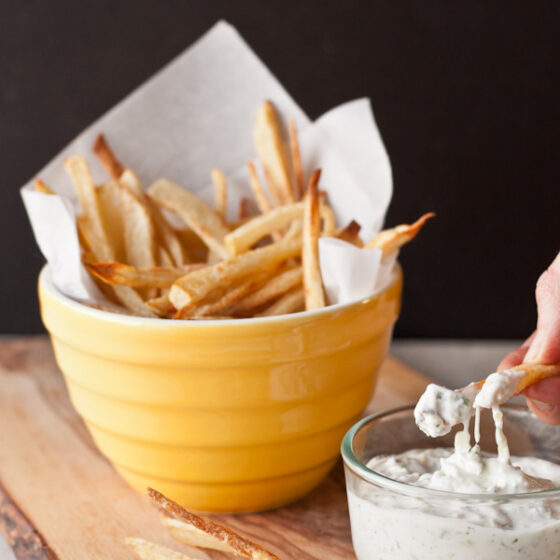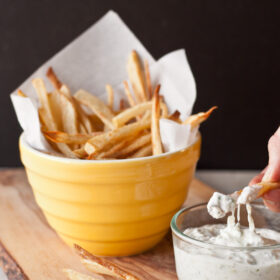 Spicy Oven Baked French Fries with Cucumber Raita
Crispy oven-baked French fries are spiced up with cumin and a touch ground cayenne and served with a cool and refreshing cucumber raita for dipping.
Ingredients
Cucumber Raita:
1 cup whole fat Greek yogurt
⅓ English cucumber grated and squeezed to discard excess liquid
2 ounces finely crumbled feta cheese
juice of one lemon
1 tablespoon finely chopped fresh mint
1 garlic clove finely grated with a microplane
freshly ground black pepper
Fries:
2 large russet potatoes scrubbed and peeled
2 tablespoons (30 mL) extra virgin olive oil
1 teaspoon ground cumin
⅛ teaspoon cayenne pepper
Instructions
Prepare Raita: Combine ingredients in a bowl. Season to taste with salt and pepper. Cover with plastic wrap and allow to sit in refrigerator while you prepare the fries (as it sits, the flavor will develop).

Prepare French Fries: Preheat the oven to 425°F (218°C) with a rack in the center position. Line a half sheet pan with parchment paper. Depending on the size of your potatoes, you may need to bake the fries in batches or use a second sheet pan.

Scrub and peel the potatoes. Using a sharp knife, trim ends and slice lengthwise into ¼-inch slices and cut each slice into ¼-inch wide matchsticks. Place in a bowl and cover with cold water. Rinse to remove excess starch. Transfer the potatoes onto a clean kitchen linen and dry thoroughly - pat with additional linens or paper towels as necessary.

Add the oil, cumin, and cayenne pepper in a large mixing bowl or Ziploc half-gallon bag. Add the dry fries and toss until all the french fries are evenly coate in the seasoning.

Carefully transfer the fries to the large baking sheet. Distribute them across the pan, avoiding overcrowding them - you want a little bit of space between each fry - as this will prevent the fries from sticking and help them crisp up in the oven. Season the fries with salt and pepper.

Bake or 15 minutes, flip the fries carefully, and bake for an additional 15 minutes or so. Turn off the oven, keep the fries inside, for an additional 15 to 20 minutes. This step will produce crispier fries. Sprinkle with salt as needed. Serve fries hot with cucumber raita sauce for dipping.
Serving: 1serving, Calories: 576kcal, Carbohydrates: 78g, Protein: 19g, Fat: 22g, Saturated Fat: 7g, Polyunsaturated Fat: 14g, Cholesterol: 32mg, Sodium: 967mg, Fiber: 8g, Sugar: 14g
This post contains affiliate links, which means that I make a small commission off items you purchase at no additional cost to you. Please read my
privacy policy
for more information.