Swiss Chard and Feta Phyllo Purses
Inspired by spanakopita, these Swiss chard and feta phyllo purses are an elegant and delicious vegetarian appetizer.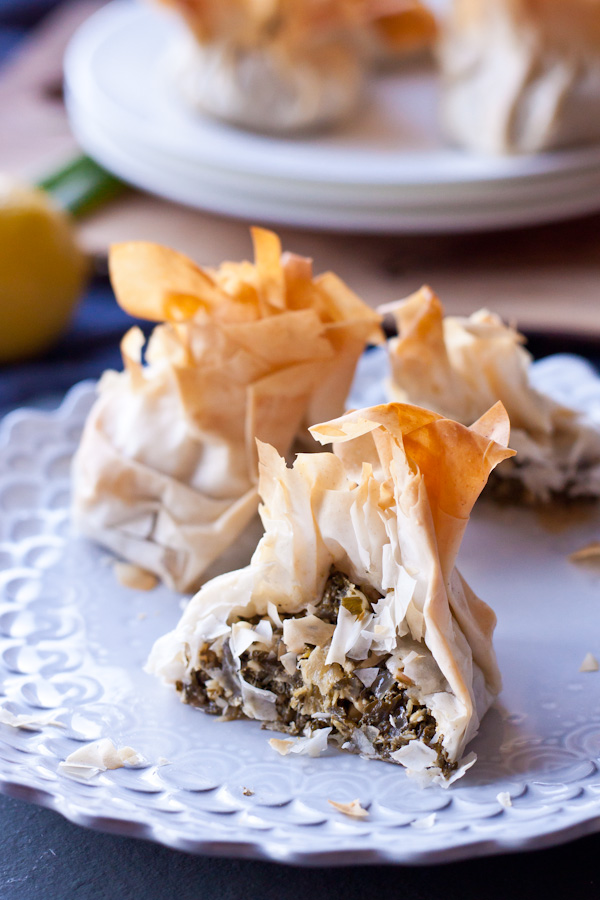 These Swiss Chard and Feta Phyllo Purses were dreamt up a few weeks ago. The filling for these phyllo purses is inspired by classic spanakopita, which usually includes onion or green onion, feta cheese, and lemon juice.
Instead of using spinach, we're using Swiss chard which goes much further and is a bit heartier in texture.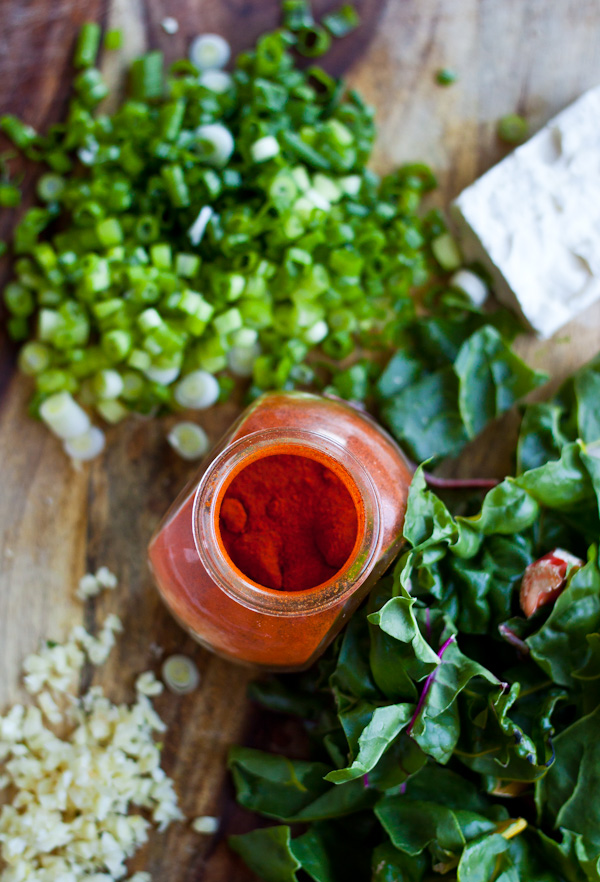 Of course, and this goes without being said, the most important part of this dish is the feta. Hot, just-melting feta with sautéed greens, onion, and garlic encased in a crunchy phyllo purse.
If you're intimidated by working with phyllo dough, you're not alone! It requires some patience.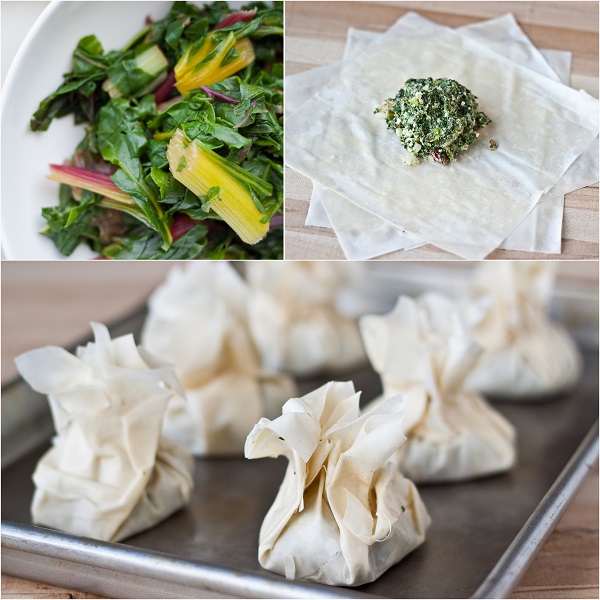 Tips for Working with Phyllo Dough:
Clean off a large working space, preheat the oven, and set up everything you need to prepare the dish. This includes a barely damp kitchen towel (to cover the dough and prevent it from drying), melted butter, a pastry brush, the prepared filling, a lined half sheet pan, and sharp knife.
Last, but not least, don't worry if you break or destroy a sheet of phyllo. This recipe requires about 10 sheets of phyllo dough, but the standard box generally comes with at least 20 sheets, so you have some wiggle room for trial and error.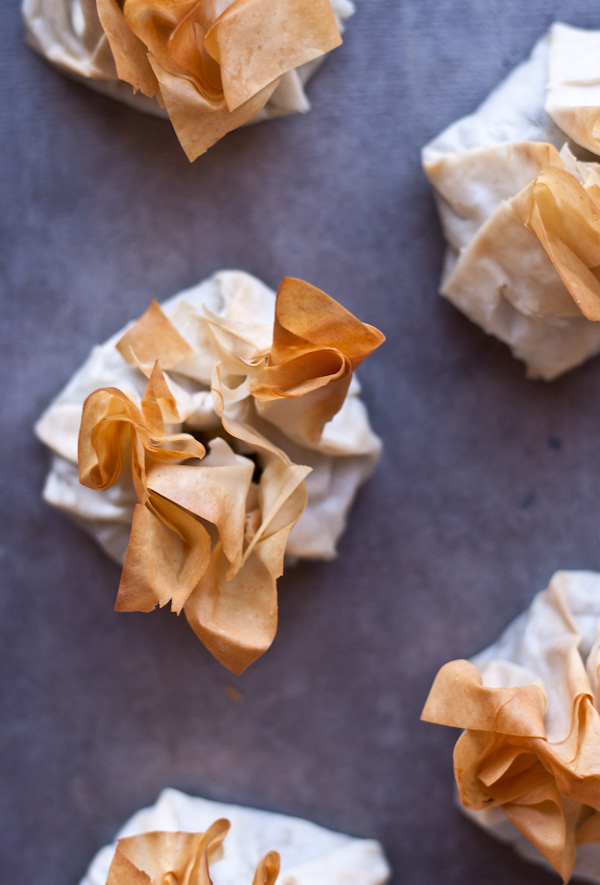 While you don't need an excuse to make these phyllo purses, they make for a lovely and elegant vegetarian appetizer suitable for special occasions or the holiday season.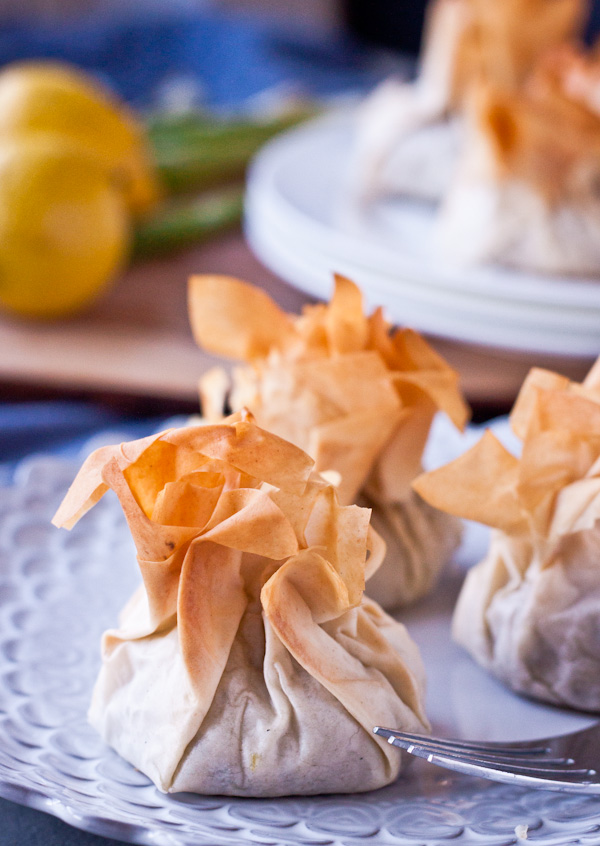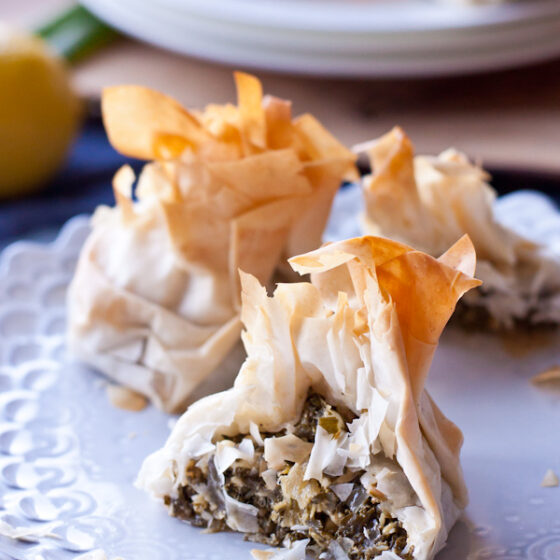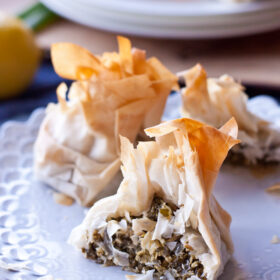 Swiss Chard and Feta Phyllo Purses
Inspired by spanakopita, these Swiss chard and feta phyllo purses are an elegant and delicious vegetarian appetizer. Make Ahead Tip: The filling can be prepared up to 1-2 days in advance and stored in a covered container in the refrigerator.
Ingredients
Filling:
1 lb Swiss chard tough stems removed and leaves roughly sliced
1 tablespoon extra virgin olive oil
½ small yellow onion finely chopped
5 green onions thinly sliced
3-4 garlic cloves finely chopped
7 ounces crumbled feta cheese
1 tablespoon + 1 teaspoon fresh lemon juice
¼ teaspoon freshly grated nutmeg
2 pinches ground cayenne pepper
kosher salt
For Assembly:
10 (13 x 18-inch) sheets phyllo dough thawed (I recommend thawing the entire box to account for some ripped or broken phyllo sheets)
½ cup clarified butter or melted butter
Instructions
Before proceeding, please watch the instruction video included in the article above for additional visual guidance.

Prepare Filling: Bring a large pot of salted water to a boil. Add the swiss chard and blanch for 2 to 3 minutes. Drain into a large colander and allow to cool completely.

Meanwhile, heat the olive oil in a large skillet over medium-high heat. Add the onion and green onion and sauté until soft and translucent, about 6 to 8 minutes. Add the garlic and cook for an additional minute or until fragrant. Remove mixture from the heat.

Once the swiss chard has cooled, place in a clean kitchen towel and squeeze and discard any excess moisture over a sink. Once squeezed dry, finely chop the Swiss chard.

Combine the finely chopped Swiss chard, cooked onion and green onion mixture, and crumbled feta in a large bowl and mix thoroughly. Add the lemon juice, nutmeg, and cayenne pepper. Season with salt and pepper to taste.

Assemble and Bake Purses: Preheat the oven to 375°F (190°C) with a rack in the center position. Line a half sheet pan with parchment paper. Set aside. Prepare a clean working surface and set the melted clarified butter (or melted butter) and a pastry brush within easy reach.

Remove the thawed phyllo dough sheets from the fridge. Stack the phyllo sheets on top of each other. Using a sharp knife, cut the sheets lengthwise in half. Cut each half crosswise into thirds, creating 6 separate sections of layered phyllo. Cover the phyllo dough with a barely damp kitchen towel to prevent it from drying while you work.

Place one square layer phyllo on a clean work surface. Brush lightly with the melted butter. Top with a second square of phyllo off-setting the corners. Brush lightly with melted butter. Top with a third square of phyllo, off-setting the corners again to form a rough star shape. Place two tablespoons of the Swisss chard and feta filling in the center of the phyllo. Enclose filling by bringing the opposite edges of dough together. Continue to gather the edges while gently twisting and pleating them slightly to form a purse. Brush the top and sides lightly with clarified butter. Set the assembled phyllo purse on the prepared sheet pan and continue assembling the remaining purses - setting them apart by an inch or two on the sheet pan.

Bake until tops of the purses are golden brown, roughly 18 to 25 minutes. Note: If baking in batches, use two separate lined half sheet pans or allow the baking sheet to cool completely between each batch.

Remove from oven and set on a wire rack to cool for 5 to 10 minutes. Serve hot.
Serving: 1serving, Calories: 118kcal, Carbohydrates: 4g, Protein: 3g, Fat: 10g, Saturated Fat: 6g, Polyunsaturated Fat: 4g, Cholesterol: 29mg, Sodium: 196mg, Fiber: 1g, Sugar: 2g
This post contains affiliate links, which means that I make a small commission off items you purchase at no additional cost to you. Please read my
privacy policy
for more information.