Swiss Chard and Feta Phyllo Purses (with video!)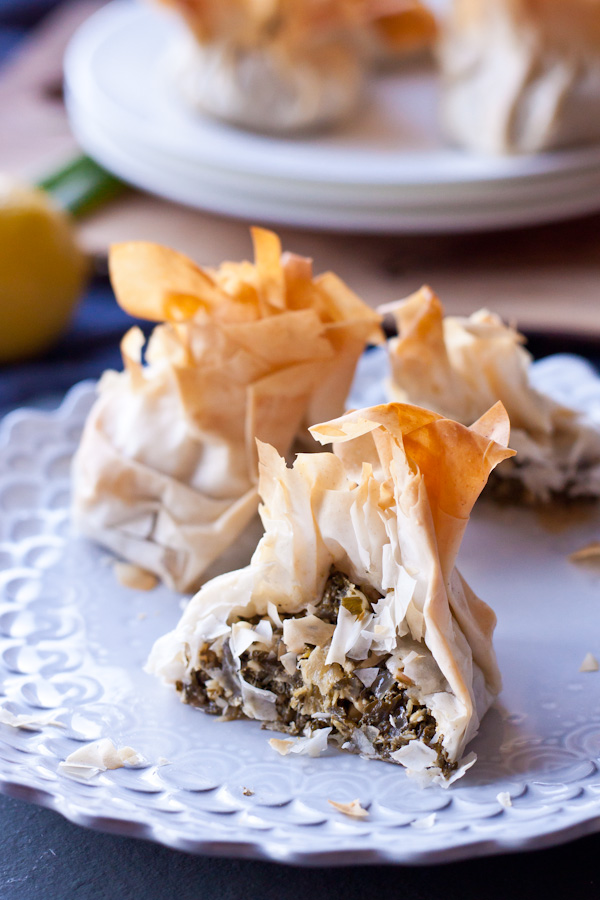 I'm so excited about these!  So excited that I couldn't wait until next week to share these with you.  There's even a video (below) with sound effects.  November is looking good, guys.
These swiss chard and feta phyllo purses were dreamt up a few weeks ago.  I just couldn't get the idea off of my mind.  In all honesty, recipe ideas come to me at the most random, unexpected times.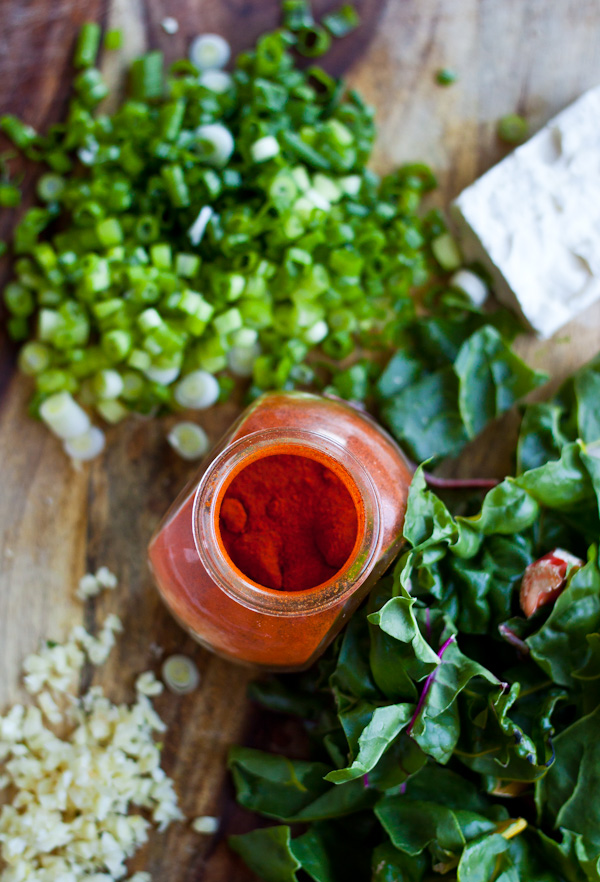 Sometimes I forget about ideas (this is what notebooks are for, but I seem to forget this as well), and other times, they just sort of stick with me.  This idea fit into the latter category.
This is saying a lot considering that I sort of have a love-hate relationship with phyllo dough.  If you've worked with it before, I'm sure many of you would agree.  It requires a bit of patience.
If you're feeling impatient and irritable, avoid phyllo dough at all costs.  Trust me.  It won't bode well for anyone.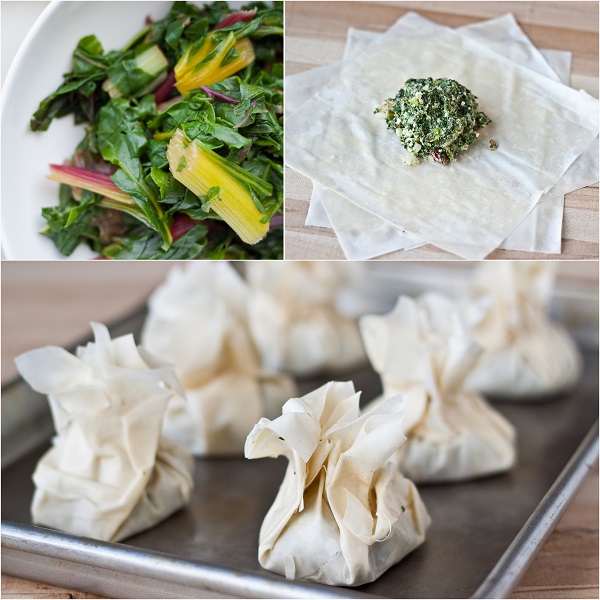 That being said, there are a few tips that I'll share that will make working with phyllo dough much more enjoyable…
Clean off a large working space, preheat the oven, and literally set everything you will need right in front you–a barely damp kitchen towel (to cover the dough and prevent it from drying), melted butter, a pastry brush, the prepared filling, a large baking sheet, and sharp knife.  Have a game plan.  Give yourself a little bit of a pep talk and get to work.  You've got this.
If you break or destroy a sheet of phyllo, don't panic.  There are a zillion of them in each package (actually, there are usually only 20, but that still gives you some wiggle room).  Everything will be OK.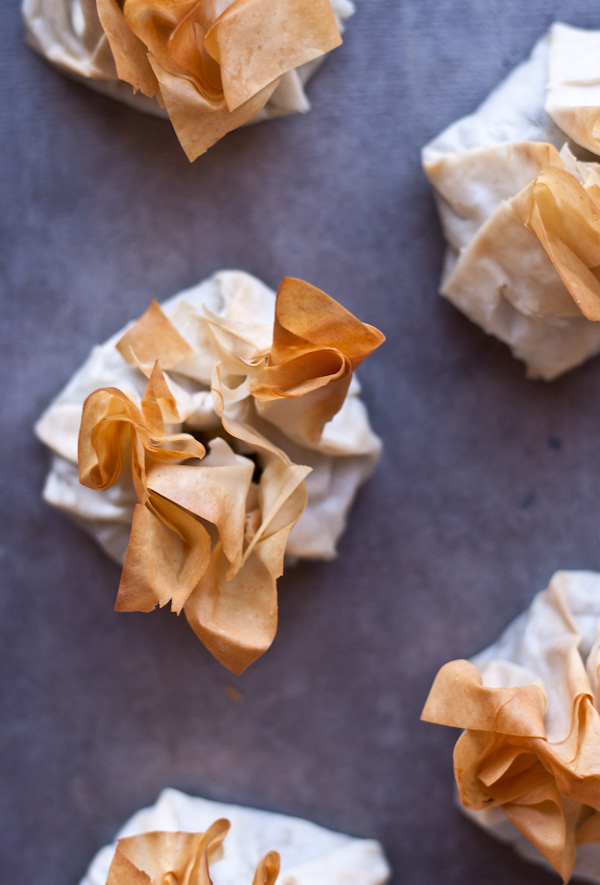 The filling was, as you can probably already guess, inspired by the classic spanokopita filling–which usually includes onion or spring onion, feta cheese, and lemon juice.
Instead of using delicate spinach, I chose to make my version with swiss chard, which is a bit heartier and goes a lot further.  To spice things up a bit, I added a few pinches of cayenne pepper for a touch of heat.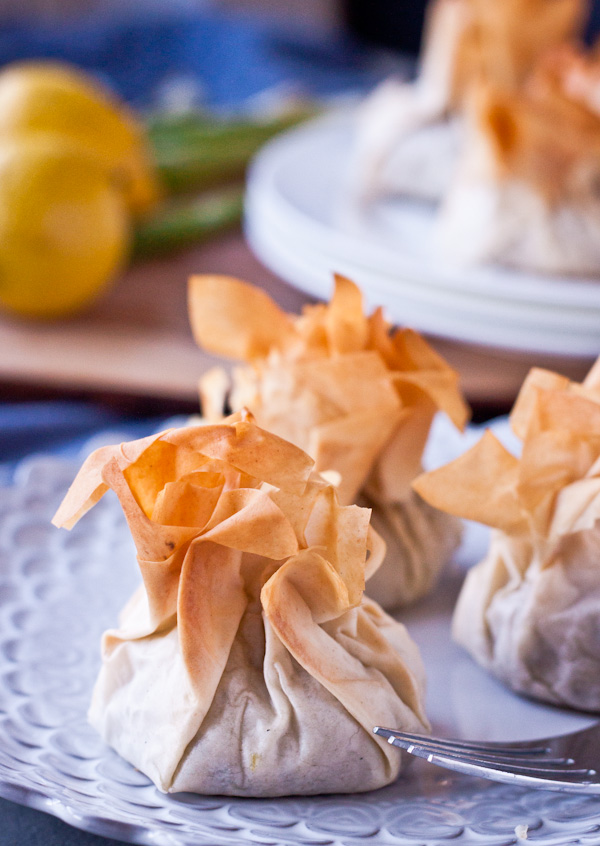 Of course, and this goes without being said, the most important part of this dish is the feta.  Lots and lots of feta.  You know what's better than straight up feta?  Hot, just-melting feta with sautéed greens, onion, and garlic–encased in a crunchy phyllo purse (again, see sound effects in video).
I messily ate three while taking pictures for this post.  In fact, I had to keep looking over my shoulder the whole time to make sure that Connor didn't inhale the rest of them while I wasn't looking.
While you really don't need an excuse to make these, these phyllo purses would make the perfect party snack or appetizer!  Enjoy..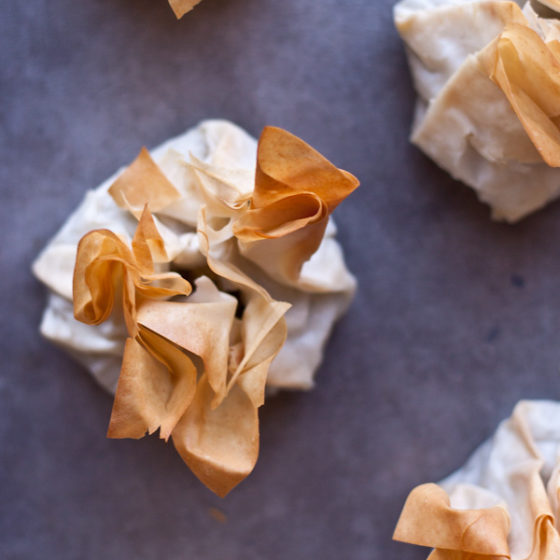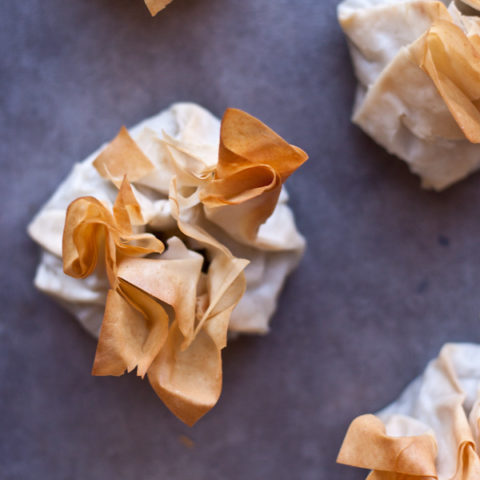 Swiss Chard and Feta Phyllo Purses
Yield: 16-18 Servings
Prep Time: 30 minutes
Cook Time: 45 minutes
Total Time: 1 hour 15 minutes
Ingredients
1 lb swiss chard (tough stems removed), roughly sliced
1 tablespoon extra virgin olive oil
1/2 small onion, finely chopped
5 large spring onions, finely sliced
3-4 garlic cloves, finely minced
7 ounces crumbled feta cheese
1 tablespoon + 1 teaspoon freshly squeezed lemon juice
1/8 teaspoon freshly grated nutmeg
2 pinches of cayenne pepper
kosher salt
1 package or specifically, 10 (18 x 13 inch) frozen phyllo pastry sheets, thawed
1/2 cup of clarified butter or ghee
Instructions
Prepare Filling (see video): Bring a large pot of salted water to a boil. Add the swiss chard and blanch for 2-3 minutes. Drain into a large colander and allow to cool completely.
Meanwhile, heat the olive oil in a skillet over medium high heat. Saute the onions until soft and translucent. Add the green onions and garlic and cook for an additional 2-3 minutes, stirring frequently. Remove from heat.
Once the swiss chard has cooled, place in a clean kitchen towel and squeeze out an excess moisture over a sink. Once squeezed dry, chop finely.
Combine chopped swiss chard, cooked onion mixture, and crumbled feta in a bowl and mix thoroughly. Add the lemon juice, cayenne pepper, and nutmeg. Season with salt and pepper to taste.
Assemble Purses: Preheat the oven to 375 degrees Fahrenheit. Set rack in center of oven. Line a large baking sheet with parchment paper–prepare a clean work surface and set the melted butter and pastry brush within easy reach before you start assembling the purses.
Remove the thawed phyllo dough from the fridge. Stack the phyllo sheets on top of each other.
Using a sharp knife, cut the sheets lengthwise in half and cut each length crosswise into thirds, making 6 sections per sheet of phyllo.
Cover phyllo with a barely damp kitchen towel to prevent from drying.
Place one square of phyllo on a work surface. Brush lightly with melted butter. Top with a second square of phyllo, off-setting the corners. Brush lightly with melted butter. Top with a third square of phyllo, off-setting the corners again to form a rough star shape.
Place two tablespoons of filling in the center of the phyllo. Enclose filling by bringing together two opposite sides. Continue to gather the edges while twisting and pleating them slightly to form a purse. Brush the top and sides lightly with clarified butter.
Place the purses on the baking sheet (leaving an inch or two of space around each one) and bake at 375 degrees until tops are golden brown, roughly 18-25 minutes–if baking in batches, allow baking sheet to cool completely between each one.
Remove from oven and place baking sheet on rack to cool for 5-10 minutes. Serve immediately.
Notes
Phyllo dough can be found in the frozen section of Whole Foods, Trader Joe's and other supermarkets.  The filling can be made up to a day in advance and kept covered in an airtight container in the refrigerator.
Nutrition Information:
Yield: 18
Serving Size: 1
Amount Per Serving:
Calories: 118
Total Fat: 10g
Saturated Fat: 6g
Trans Fat: 0g
Unsaturated Fat: 4g
Cholesterol: 29mg
Sodium: 196mg
Carbohydrates: 4g
Fiber: 1g
Sugar: 2g
Protein: 3g
A Beautiful Plate provides nutritional information, but these figures should be considered estimates, as they are not calculated by a registered dietician.
P.S.  On a side note, is there anything worse than hearing yourself on video?  Ugh.