Let's do this.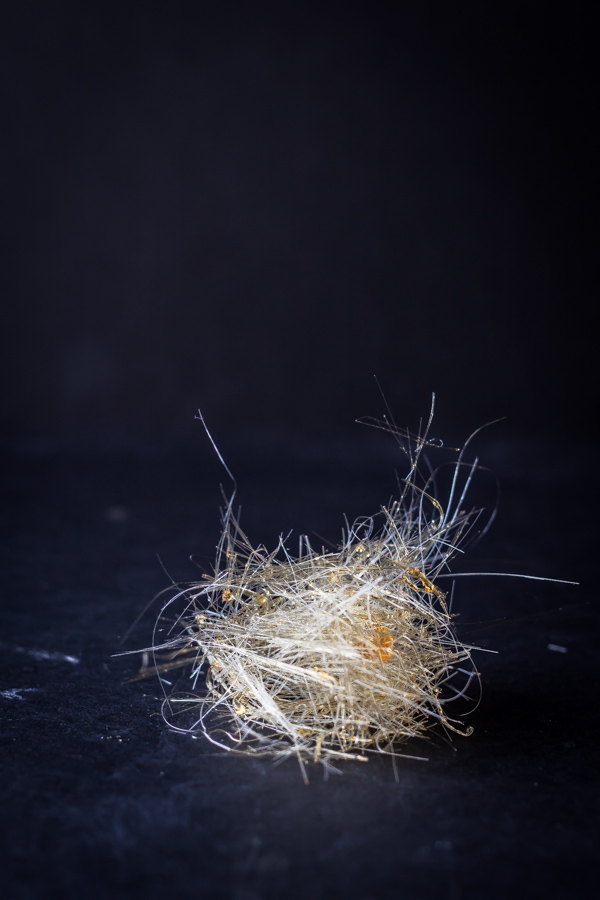 Today, I am going try my darnedest to teach you how to spin sugar.  As I mentioned yesterday, I really hate writing how-to posts, because I rarely feel like I have the authority or experience to tell you how to do anything, let alone do anything that involves sugar.  It is a whole different ballgame.
Unfortunately, I don't have many step-by-step photos (ok, basically zero) of the process.  Photography and burning hot sugar don't mix.  Bad things happen.  In fact, I had to awkwardly hold out that rolling pin with one arm, while awkwardly focusing the camera and pressing the shutter with the other (see third photo).  It was fairly uncomfortable and I don't recommend it.
I'll try to make up for it with words.  Lots and lots of words (sorry!).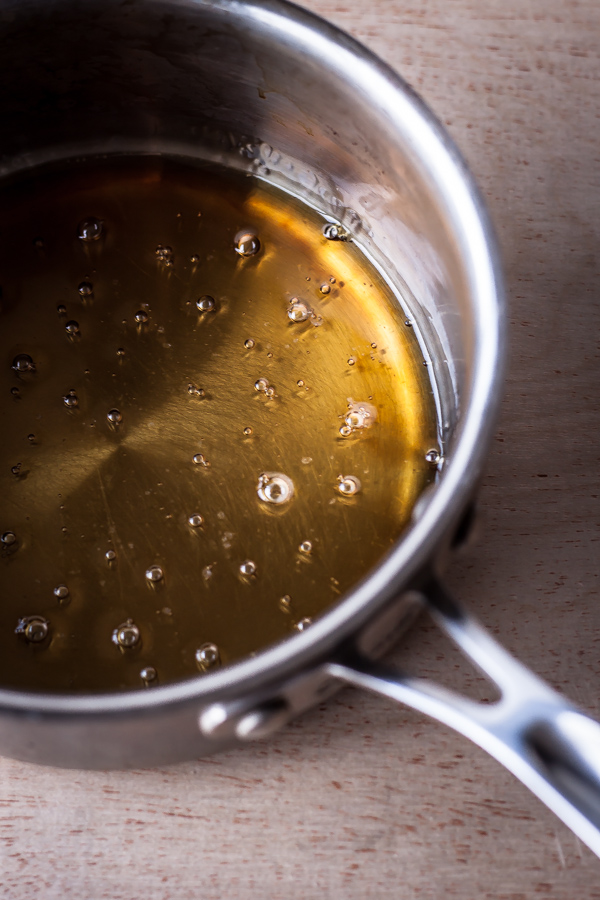 Spun sugar is essentially a thicker version of cotton candy (which is much more fine and requires a machine).
There are a few ways to spin sugar.  One method is to slowly drizzle caramelized sugar from a fork (in a very, very thin continuous drizzle) and repeatedly grab the strands towards yourself (as I learned how to do in culinary school).  This is not the method that I recommend, as it is a lot more terrifying (and potentially burn-inducing) and it is much more difficult to master.
Instead, I'm going to share a method that is much more user-friendly and is relatively straight-forward.  Did I mention that it is also kind of fun?  It involves quickly drizzling the sugar back-and-forth across a rolling pin.  Ideally, you want to create as thin of strands as possible, but don't worry too much if you have an occasional droplet.  [I had several as you can see.]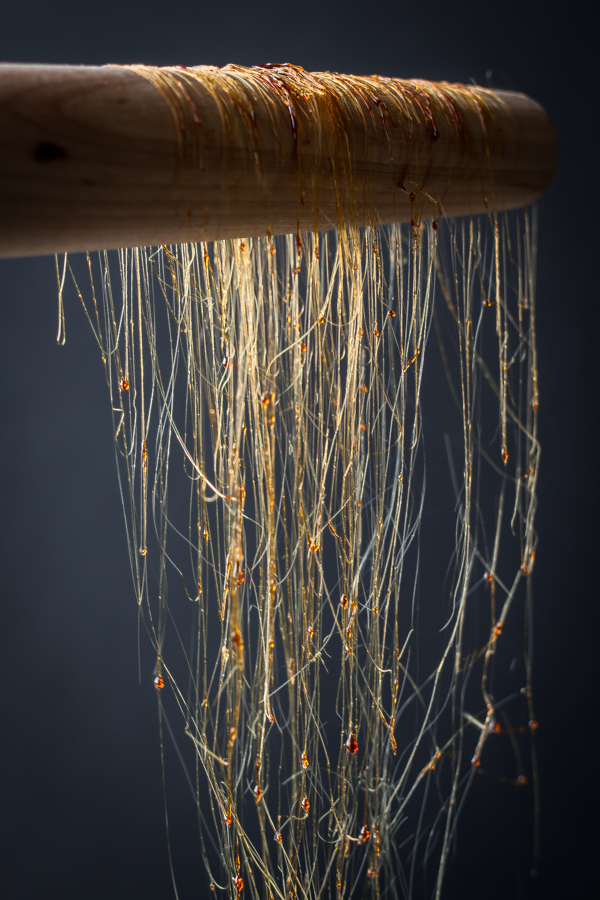 The best way to do this is to place a clean rolling pin on your kitchen counter–so that it hangs over half-way over the edge.  You can hold down the other half of the rolling pin with whatever you have on hand, I actually held it down with a bunch of upside-down bananas (it sounds ridiculous, but it worked brilliantly).  Alternatively, you could use pot handles or tape down wooden spoons, if that is easier.
Since you'll be drizzling sugar essentially over your kitchen floor, you'll want to cover the immediate surrounding area with newspaper or paper towels so that caramel doesn't become a permanent fixture in your kitchen floor.
The trickiest part of making homemade spun sugar is having the caramel at the right temperature.  Too hot and it won't drizzle properly (and will form large clumps).  Too cold and it won't drizzle at all.  It will take some practice, but I promise, eventually it will fall in a very thin drizzle from the fork and form sugar silk strands.
Sugar is pretty amazing.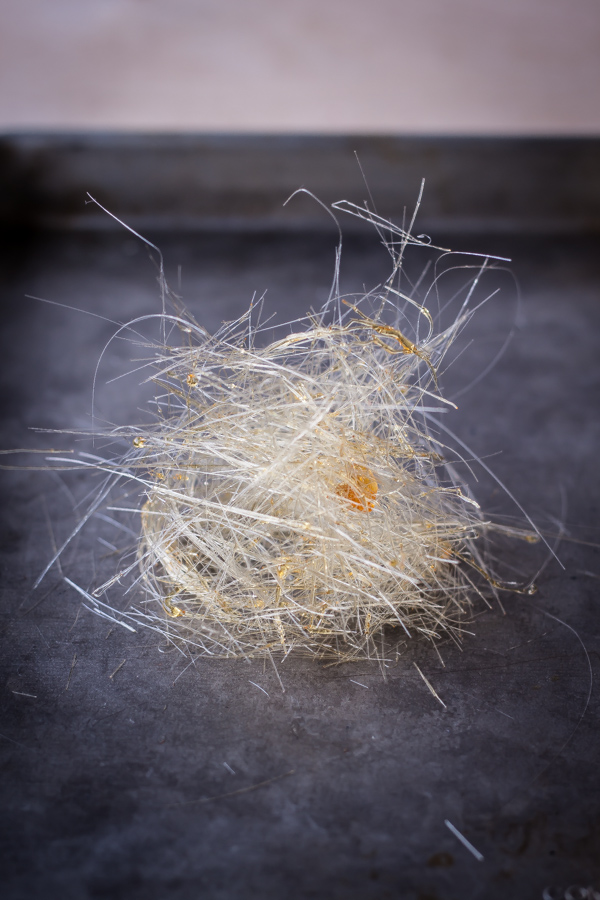 Once you have drizzled a fair amount of sugar over the rolling pin (this will depend on your preference for the size of the decoration), you'll want to slowly bring the ends together with your hands and form a loose ball of spun sugar.  Don't wait too long, as the sugar will harden and potentially break.  In the end, the shape and style is up to you.
If you need to spin more sugar and the caramel has hardened too much, just pop it back onto the stove for a quick second to warm it back up again.
Spun sugar is highly susceptible to humidity and heat, so I highly recommend making it at the absolute last second.  If you have an airtight container, it can be stored for a short amount of time, if necessary.   It will be at its lightest and best texture (it tends to get heavier, stickier, and loses height over time) immediately after it is made.  Whatever you do, have fun with it and don't take yourself too seriously.  You can always make another batch.
Spun Sugar Motto: If at first you don't succeed, try, try again!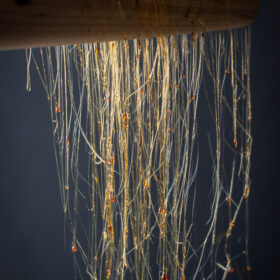 Homemade Spun Sugar
Ingredients:
1/2 cup granulated sugar
2 tablespoons water
Tools:
rolling pin (or long wooden spoons)
fork
Directions:
Place a clean rolling pin on your kitchen counter–so that it hangs half-way over the edge.  Hold down the other half of the rolling pin with whatever you have on hand (upside down bananas work ridiculously well) .  Alternatively, use pot handles or tape down wooden spoons.
Line the kitchen floor below with newspaper or paper towels.
Combine the sugar and water in a small, heavy saucepan.  Stir over low heat until the sugar dissolves.  Increase heat to medium and cook (without disturbing) until the caramel reaches a very light amber color (watch carefully, as this will happen very quickly).  Use a pastry brush to brush the sides of the pan with water to prevent crystallization.  Remove caramel from heat immediately.
Allow caramel to cool just until very, very thin wispy strands form when drizzled with a fork.  Dipping your fork repeatedly into the sugar mixture, whip the strands of sugar back and forth quickly across the rolling pin to form long, hanging strands of sugar.
Repeat until you have accumulated enough sugar to pick up with your hand.  While it is still pliable, grab the two ends of the sugar and bring together forming a fluffy, free-form shape.  If the caramel hardens too much as you work, place back over low heat just until it begins to loosen up a bit.
Use immediately or store in an airtight container.
To remove any hardened caramel from the pot or utensils once you are finished, fill the pot with water (and place the utensils in the pot) and bring to a low boil, until the caramel has dissolved.
Be extremely careful when working with any hot sugar, as you can burn yourself relatively easily.
All images and text ©
.