Tuna Tartare with Nori Chips
This post contains affiliate links.
Crunchy homemade nori chips are topped with tuna tartare prepared from diced ahi tuna, cucumber, lime juice, chives, sriracha, and mayonaisse.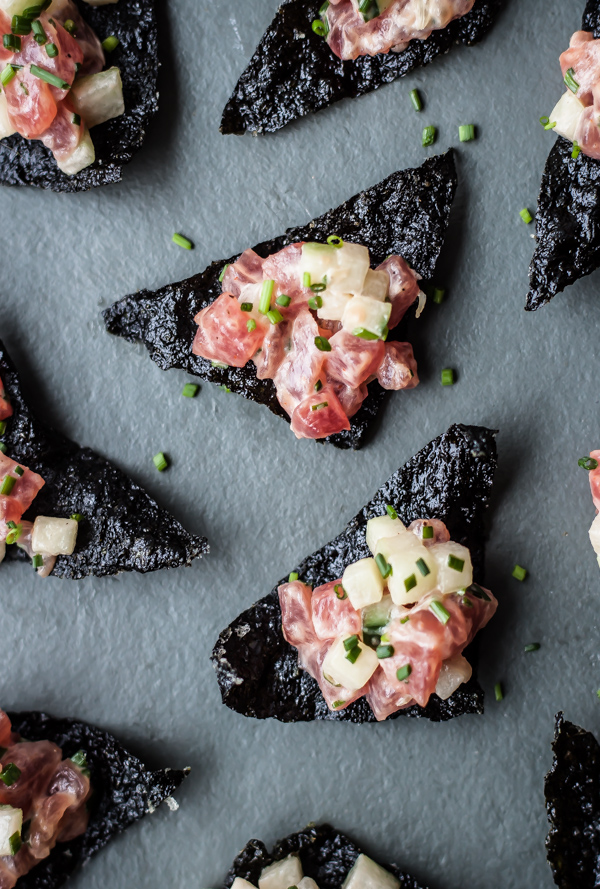 Remember that batch of frying oil I told you to save a few weeks ago? Well… it's time to break it out again. I told you that stuff would come in handy.
While you're doing that, please excuse me while I go stare out the window and shout expletives at all of the snow plows driving by right now. There is nothing worse than a snow plow on a could-be-please-please-let-it-be snow day.
Nothing.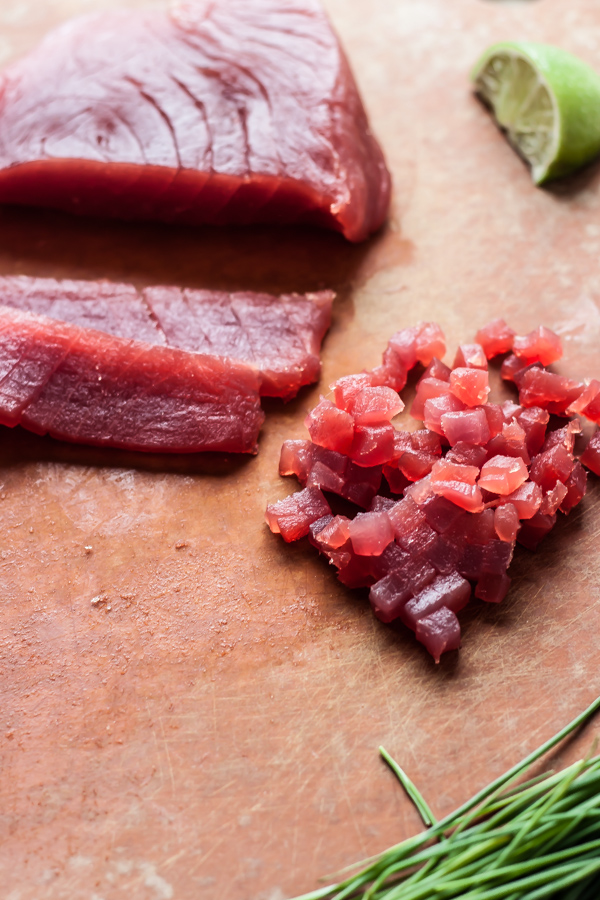 Anyway, back to the oil. You're definitely want to break it out, because these tuna tartare nori chips might be one of my favorite appetizers ever. I'm pretty sure you'll like them too.
They have everything: great texture, acid, a little bit of spiciness, a little bit of saltiness, and…their bite-size. You know how obsessed I am with foods that fit into that category.
Appetizers are my favorite part of any meal.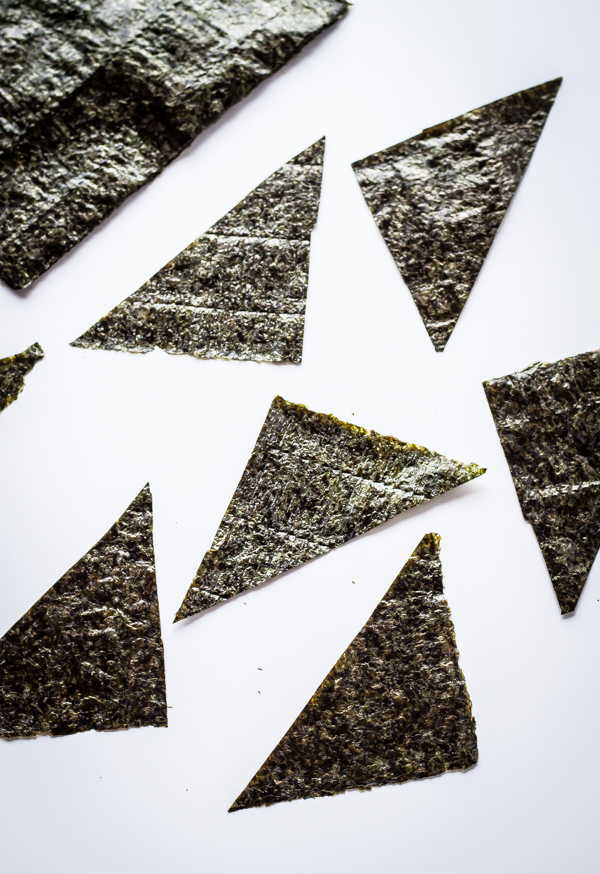 How to Make Nori Chips:
Let's discuss the crispy nori (seaweed) chips, shall we? If you're into nori, you will love these.
The trick to super crispy nori chips is dipping them in a slurry (cornstarch and water mixture) and then frying them briefly in batches. It results in a super light, crunchy, yet thin and delicate chip that is the perfect vehicle for pretty much anything.
This Asian-inspired tuna tartare is my favorite topping of all.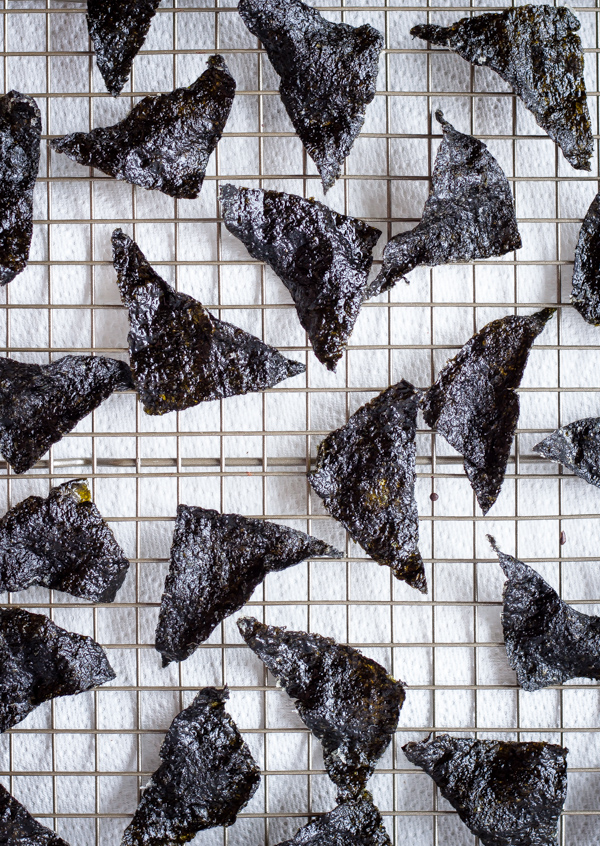 I learned the crispy nori trick during my time at the restaurant, and even though I quickly ended up despising the task (picture cutting, dipping, and frying 300 nori chips for multiple parties over and over again and you can quickly realize why), I still love them a lot.
For the tuna tartare, you'll want to buy the best-quality Ahi or Yellowtail tuna you can find, as you will be eating it raw. Go to a trusted fish monger–and remember that "sushi grade" or "sashimi grade" labels are not regulated or standardized at all.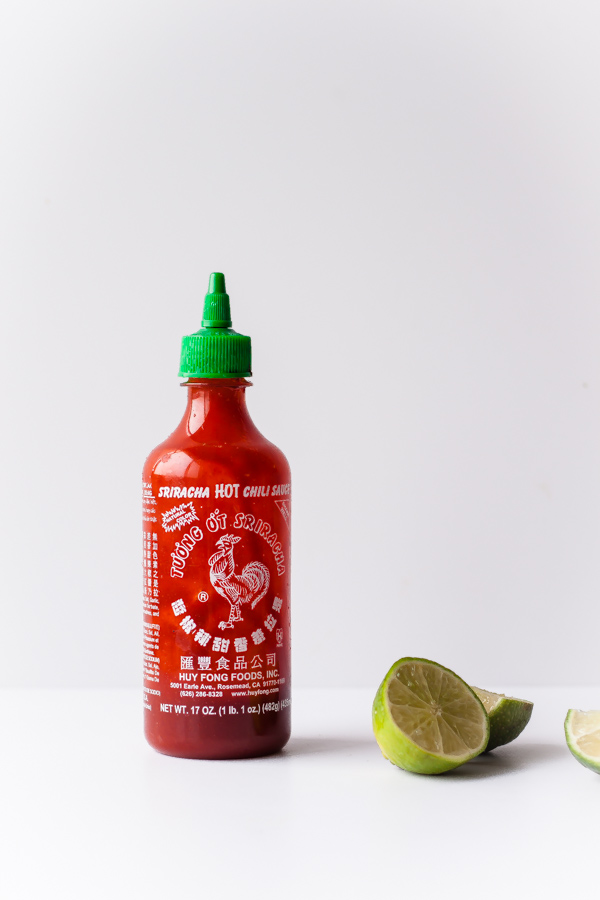 Although fresh tuna is generally on the expensive side, you will only need a half pound or less for this recipe (which makes 24 bites). Depending on how many people you're serving, you can adjust the recipe fairly easily too.
Plus, you'll have lots of nori sheets left over to make extra chips. And I sort of recommend doing so, because they are really tasty on their own and you might end up snacking on several of them along the way.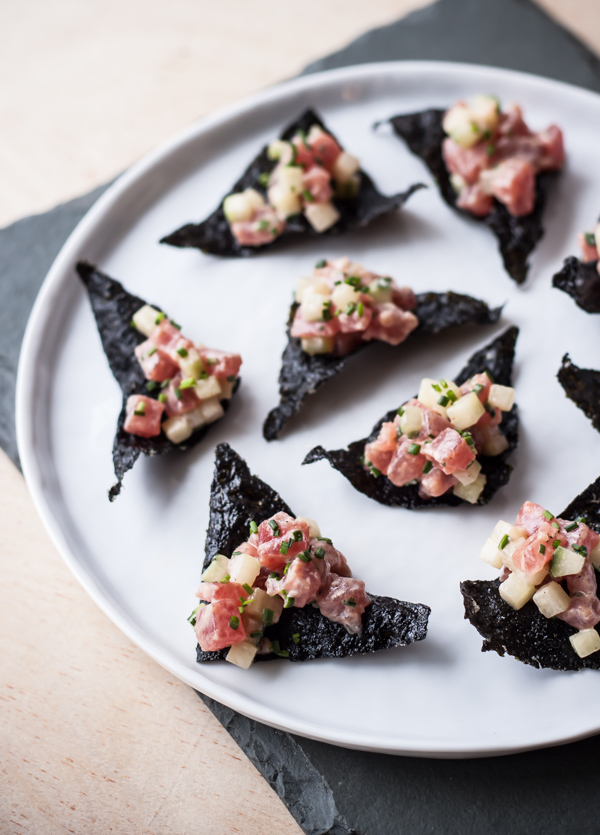 But what you'll really want to do is save them for this tuna tartare, which is a simple combination of diced tuna, cucumber, fresh lime juice, chives, sriracha, and a teensy amount of mayonnaise. Emphasis on the teensy part.
The kick of sriracha and saltiness of the nori totally take these over the top. Hope you love these as much as I do!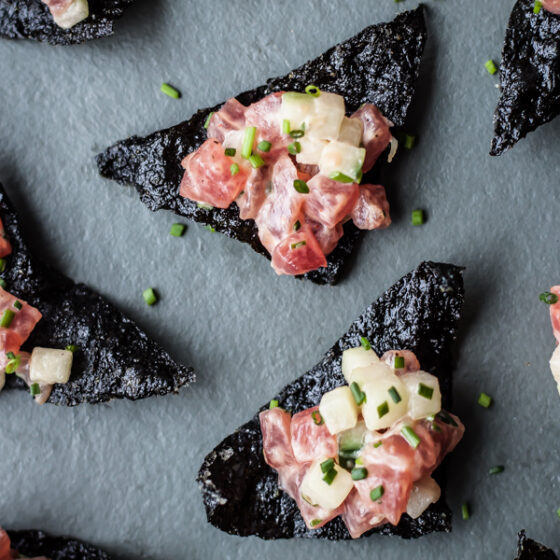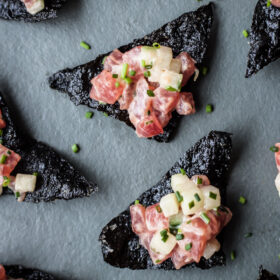 Tuna Tartare with Nori Chips
Deliciously crunchy homemade nori chips are topped with a simple tuna tartare, made from diced ahi tuna, cucumber, fresh lime juice, chives, sriracha, and a dash of mayonnaise. An elegant, crowd-pleasing appetizer! The trick to super crispy nori chips is dipping them in a slurry (cornstarch and water mixture) and frying them briefly in batches. It results in an incredibly light, crunchy, yet thin and delicate chip that is the perfect vehicle for lots of toppings.
Ingredients
Nori Chips:
6 cups (1.5 quarts) canola oil for frying
3 nori sheets
1 cup (240 mL) cold water
3 tablespoons cornstarch
kosher salt
Tuna Tartare:
8 ounces (½ lb) sushi-grade ahi tuna diced
⅓ English cucumber peeled, diced, and seeds removed (about ½ cup)
1 heaping tablespoon mayonnaise
1-2 teaspoons fresh lime juice
1 teaspoon sriracha hot sauce
1 tablespoon finely chopped chives
kosher salt
freshly ground black pepper
Instructions
Prepare Nori Chips: Using scissors, cut each nori sheet in half lengthwise.  Cut each half sheet into two equal sized squares.  Cut each square into two triangles.  Each sheet should yield 8 triangles. Set aside.

Whisk water and cornstarch together in a bowl to create a slurry and set aside.  Line a baking sheet with paper towels or a cooling rack and set aside.

Place the oil in a heavy, straight-edged sauté pan or pot.  Using a frying thermometer, heat oil to 375°F (190°C). Dip a nori triangle into the cornstarch mixture (whisk together occasionally if cornstarch starts to settle on the bottom of the bowl) and immediately transfer to hot oil, frying 5-6 triangles at a time. They should bubble immediately once they hit the oil. Be careful, as the oil may splatter a bit as you work.

Using tongs, flip the nori and continue to fry until oil becomes still and they no longer are bubbling.  Transfer the nori chips carefully with tongs to the baking sheet. Salt immediately. Repeat with remaining nori triangles.

Prepare Tuna Tartare (just before serving): Combine the ingredients in a bowl.  Season to taste, adding more salt, lime juice, or sriracha hot sauce as needed. Spoon the tartar onto the nori chips. Garnish with finely chopped chives. Serve immediately.
How to Prep Nori Chips Ahead:
The nori chips can be made 1 to 2 days in advance if needed. They should be stored in an airtight container with a layer of paper towels and a silica gel packets to help absorb any moisture - particularly if you live in a humid environment. 
Serving: 1serving, Calories: 508kcal, Carbohydrates: 3g, Protein: 1g, Fat: 56g, Saturated Fat: 4g, Polyunsaturated Fat: 51g, Cholesterol: 3mg, Sodium: 82mg
This post contains some affiliate links, which means that I make a small commission off items you purchase at no additional cost to you. Please read my
disclosure policy
for more information.