Summer Peach Yogurt Smoothie
When Vanessa, creative blogger behind Life Undeveloped, suggested a Secret Ingredient Challenge and invited fellow bloggers to join in, I was game.  Every week, she'll be announcing a new ingredient and challenging herself and others to come up with a new dish to highlight it.  This not only forces you to get more creative in the kitchen, but also mix up your routine a bit.  Similar to a blogger version of Iron Chef.  Fun!
When she  announced peaches as the ingredient for this week, I was thrilled, because I had had a recipe in mind for a few weeks now.  And it happened to be the perfect way to showcase all those fresh summer peaches I've been picking up at the farmer's market lately.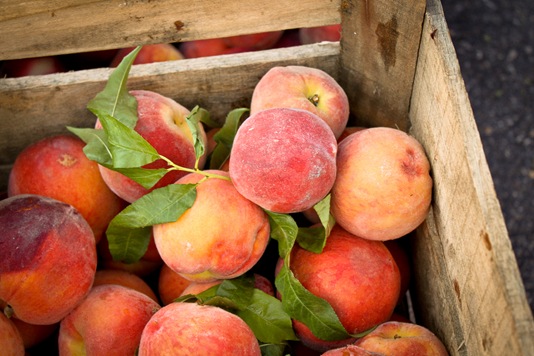 Well…to make a long story short, just as I was about to make it, I ending up craving something entirely different.  I blame the hot, humid weather and my love for smoothies.  Maybe not the most creative way to use the ingredient, but the end result was just as pleasing.
Make this as a post-workout smoothie, quick breakfast on the go, or easy snack after you get home from work.  It is a perfect trifecta–healthy, filling, and refreshing.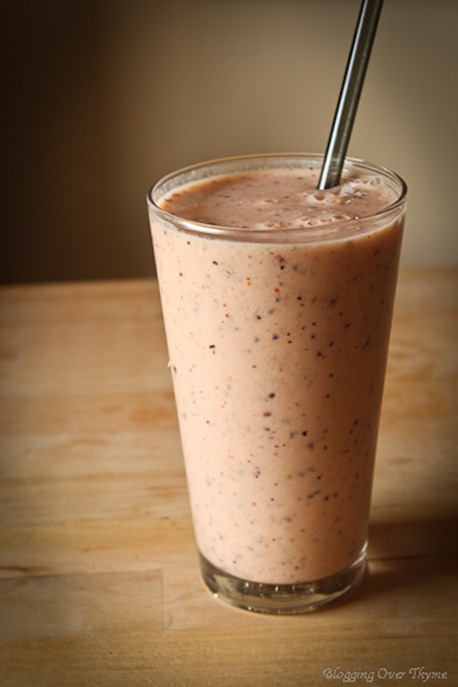 The addition of the banana and yogurt adds a bit of creaminess to thicken up the juicy peaches.  The vanilla adds a subtle sweet and flowery note at the end of each sip!  And the flax seeds add fiber, healthy fats, and protein without being overly noticeable.  Enjoy!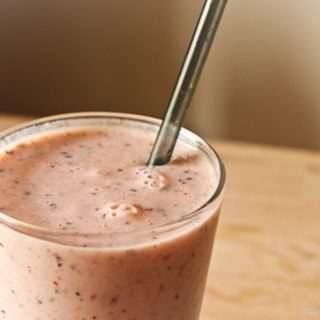 Summer Peach Yogurt Smoothie
Yield: 2 Servings
Prep Time: 10 minutes
Total Time: 10 minutes
Ingredients
5-6 ice cubes
3/4 cup orange juice
2 medium peaches, pitted (leave skin on!)
1/4 cup fresh blueberries
1/2 ripe banana, preferably frozen
1 teaspoon vanilla extract
1/2 cup low-fat organic yogurt
1/2 cup non-fat greek yogurt
1 tablespoon flax seeds
Instructions
Combine ingredients in blender. Place in ice and orange juice first to ensure that it blends smoothly. Blend until smooth.
Pour into large glass, top with a straw, relax, and drink up!
Nutrition Information:
Yield: 2
Serving Size: 1
Amount Per Serving:
Calories: 273
Total Fat: 5g
Saturated Fat: 1g
Trans Fat: 0g
Unsaturated Fat: 3g
Cholesterol: 10mg
Sodium: 104mg
Carbohydrates: 45g
Fiber: 5g
Sugar: 36g
Protein: 15g
A Beautiful Plate provides nutritional information, but these figures should be considered estimates, as they are not calculated by a registered dietician.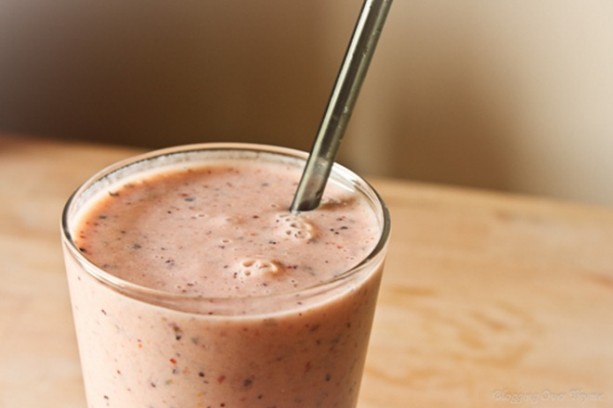 Check out the nutritional stats!  A great amount of protein, fiber, and potassium!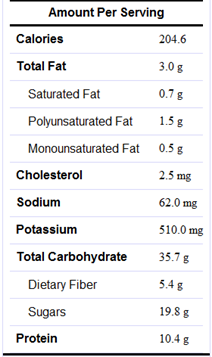 Thanks Vanessa!  Looking forward to the next challenge!