Citrus Sandwich Cookies
Citrus sandwich cookies infused with orange zest and filled with a homemade orange chocolate ganache.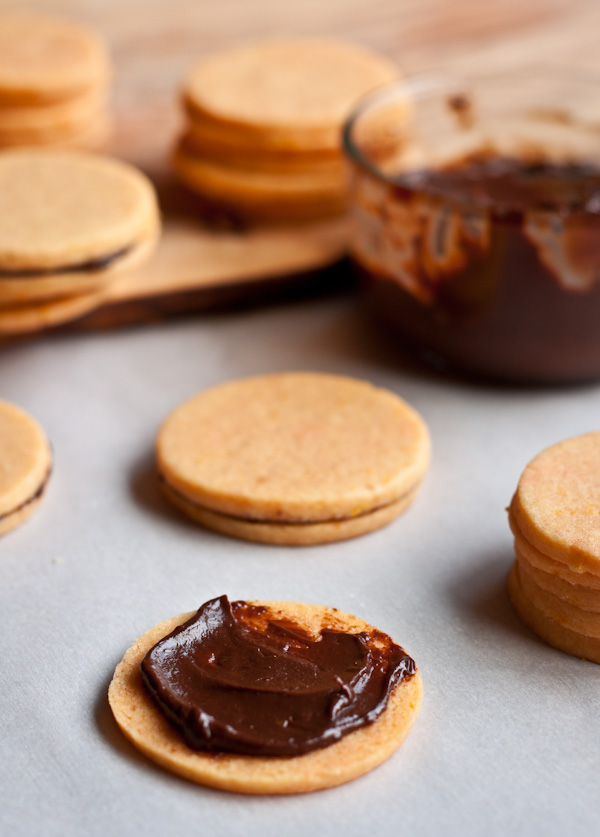 If you orange and chocolate, you will love these Citrus Sandwich Cookies!
These cookies were inspired by a similar cookie concept that I discovered at the back of a September 1989 issue of Chocolatier magazine.
These sugar cookies are soft, tender, and fairly fool-proof. The dough will be soft and almost sticky when you first prepare it. It is essential that this cookie dough be thoroughly chilled before cutting out the cookies. The best way to do this is to divide the dough into portions and roll it out thinly between sheets of wax paper.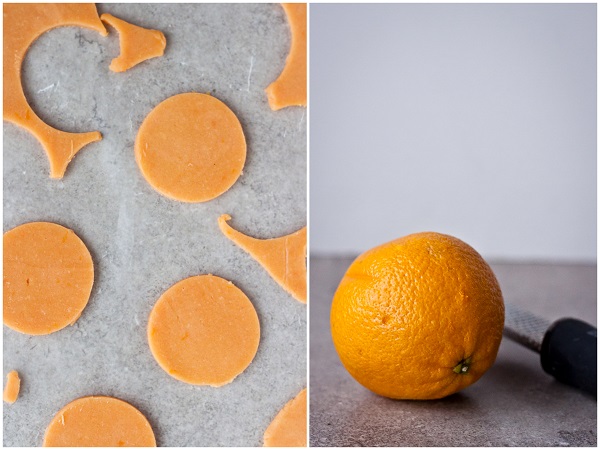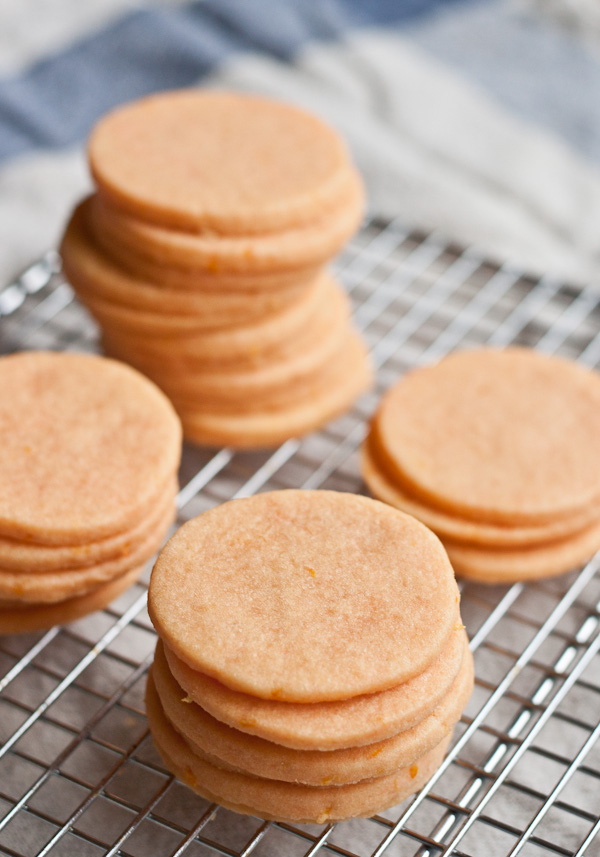 Once baked, the cookies are sandwiched together with a delicious orange chocolate ganache filling. In many ways, these cookies remind me of my favorite Orange Bundt Cake.
The chocolate ganache is a simple mixture of chopped semisweet chocolate, hot cream, and fresh orange zest. To create a thick, spreadable consistency, be sure to prepare and allow it to firm up in the fridge before assembling the cookies.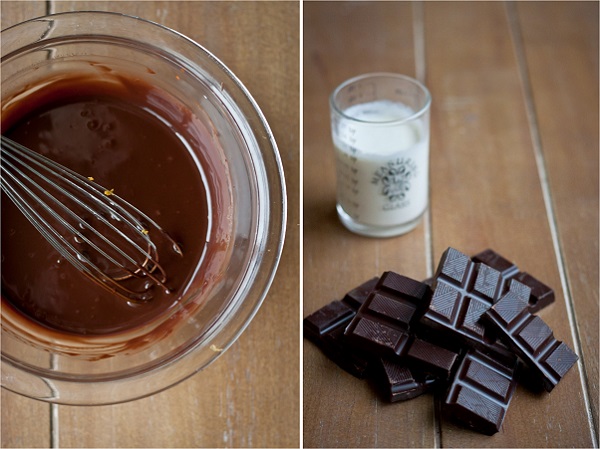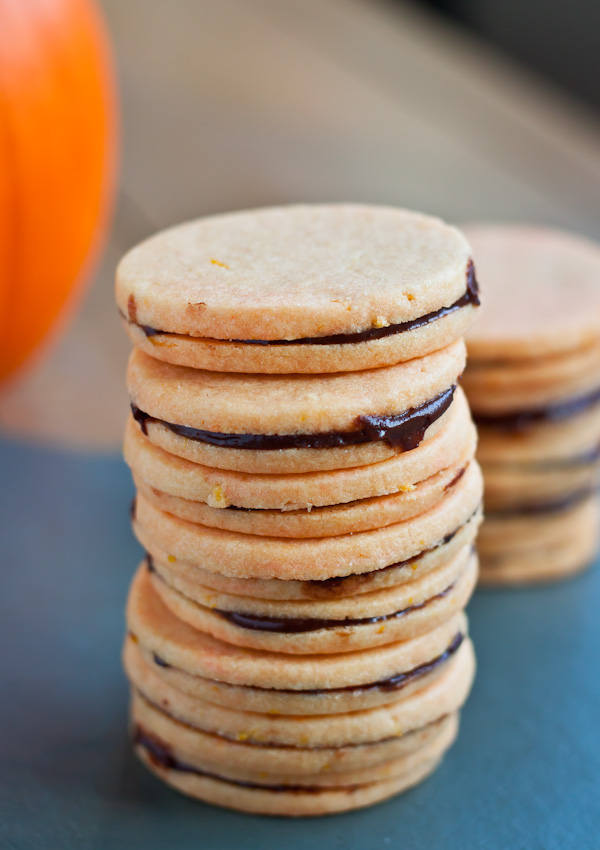 I recommend baking these cookies for no more than 8 to 9 minutes. Anything less will result in cookies that are too delicate.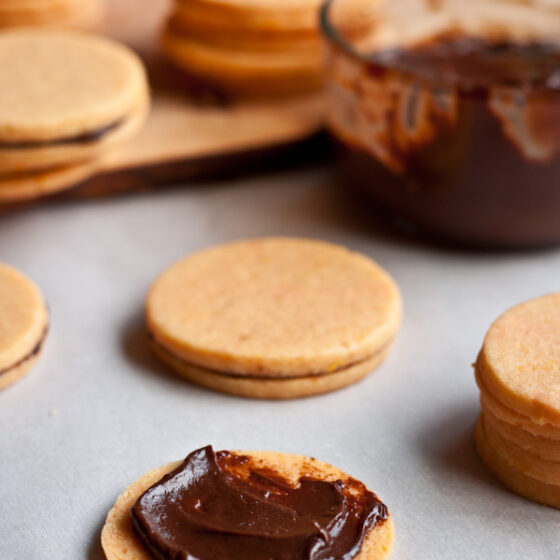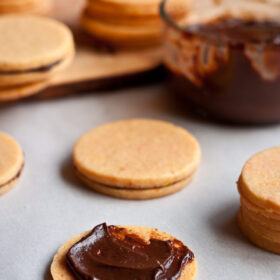 Citrus Sandwich Cookies
Citrus sandwich cookies infused with orange and lemon zest and filled with a homemade orange chocolate ganache.Leftover cookies can be layered between sheets of wax paper in a container and store in a cool kitchen for up to 4 days.
Ingredients
Orange Chocolate Ganache Filling:
1½ ounces (42g) semisweet chocolate finely chopped
3 tablespoons (45 mL) heavy cream
½ teaspoon finely grated orange zest
Citrus Cookie Dough:
1½ cups + 2 tablespoons (200g) unbleached all-purpose flour
¾ teaspoon baking powder
⅛ teaspoon kosher salt
4 oz (115g) unsalted butter softened
½ cup (100g) granulated sugar
½ teaspoon grated orange zest
¼ teaspoon grated lemon zest
1 large egg yolk
1 teaspoon whole or low fat milk
1¼ teaspoon pure anilla extract
2 drops red food coloring optional
6 drops yellow food coloring optional
Instructions
Prepare and Chill Ganache Filling: Place the finely chopped chocolate in a heat-proof bowl. Heat the cream in the microwave in 10 second intervals until almost boiling. Pour the hot cream over the chocolate and allow to sit undisturbed for 30 seconds.

Whisk the chocolate and cream together until shiny and very smooth. Stir in the orange zest. Cover the bowl with plastic wrap and allow mixture to chill in the fridge for 45 minutes to an hour or until firm enough to spread.

Prepare Cookie Dough: Combine the flour, baking powder, and salt in a small bowl and whisk together. Set aside. In the bowl of a stand mixer fitted with a paddle attachment, combine the sugar, orange zest, and lemon zest. Rub the zests into the sugar until very fragrant. Add the softened butter to the bowl. Beat the sugar and butter together over medium speed until creamy.

Over low speed, add the egg yolk, milk, vanilla extract, and food coloring (if using) and beat until just incorporated, scraping the bowl down with a spatula if needed. With the mixer over low speed, slowly add the flour mixture to the wet ingredients, beating until just absorbed. Scrape down the bowl and divide the dough in half.

Place each portion of dough between two sheets of wax paper. Using a rolling pin, roll the dough until it is ⅛ to ¼-inch thick. Chill the dough in the refrigerator for 30 to 45 minutes or until very cold and firm. If the dough is warm, it will not cut cleanly and the cookies will spread in the oven during baking.

Preheat the oven to 350°F (175°C) with a rack in the center position. Line a half sheet pan with parchment paper or a Silpat. Set aside.

Working with one sheet of chilled dough at a time, peel away the top layer of wax paper. Replace with a clean sheet of wax paper and flip the dough over - discarding the original bottom sheet of wax paper. Using a 2-inch round cookie cutter, cut out cookies and transfer to the lined sheet pan, spacing the cookies apart by at least one inch. Repeat with the remaining sheet of rolled cookie dough. If the dough gets warm, refrigerate the cut out cookies for at least 10 to 15 minutes before baking. They should be firm and chilled when you put them in the oven.

Bake the cookies for 8 to 9 minutes, or until the tops are just beginning to gain color. Set pan on a wire rack and allow the cookies to cool on the sheet pan for 5 to 10 minutes, then lift and transfer the cookies to a wire rack to cool completely. Note: Any leftover cookie dough scraps can be pressed together, layered between wax paper, rolled out, and chilled using the instructions above.

Add Filling and Assemble: Once the cookies have cooled completely, spread the bottom side of one cook with the thick chocolate ganache filling. Top with another cookie to create a sandwich. If needed, refrigerate the filled cookies for 10 to 15 minutes to set the filling. Leftover cookies can be layered between sheets of wax paper in a container and store in a cool kitchen for up to 4 days.
Depending on how much filling you add to each cookie, you will most likely have extra ganache.  Fear not, you can use it to make homemade truffles.
Cookie idea inspired by September 1989 issue of Chocolatier Magazine.
Serving: 1serving, Calories: 175kcal, Carbohydrates: 24g, Protein: 3g, Fat: 7g, Saturated Fat: 4g, Polyunsaturated Fat: 1g, Monounsaturated Fat: 2g, Trans Fat: 1g, Cholesterol: 28mg, Sodium: 37mg, Potassium: 41mg, Fiber: 1g, Sugar: 8g, Vitamin A: 210IU, Vitamin C: 1mg, Calcium: 19mg, Iron: 1mg
This post contains affiliate links, which means that I make a small commission off items you purchase at no additional cost to you. Please read my
privacy policy
for more information.