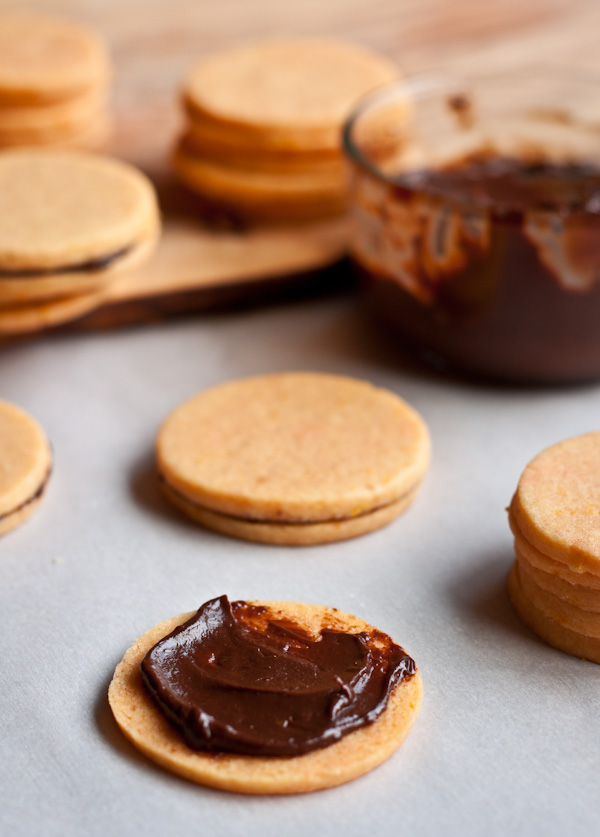 I know what you're thinking.  This girl is totally lame.  She's posting a Halloween cookie recipe on Halloween?!  That's not even remotely useful.  But hear me out…
You can make these citrus sandwich cookies at any time of the year.  In fact, the only thing that makes them (slightly) Halloween-y is that I ended up deciding to add a tiny bit of food coloring to the cookie dough to give them just the right amount of orange color, without totally overdoing it.  Because let's face it, bright unnaturally orange cookies don't sound all that appealing.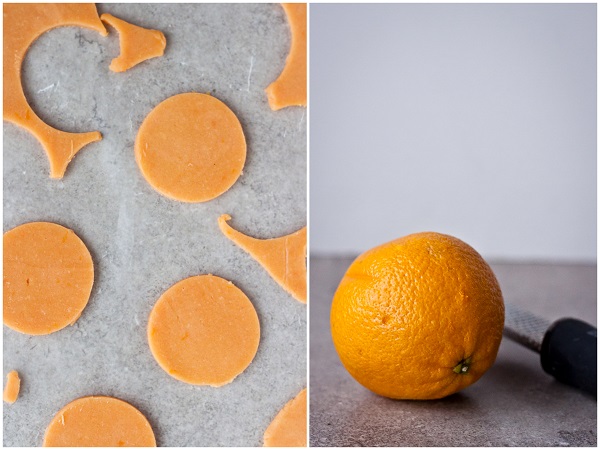 See all those orange flecks in the cookie dough?  That's the orange zest.  There's a little bit of lemon in there as well, but these cookies are all about the orange zest.
The orange zest and the orange chocolate ganache filling.  Please, please tell me that you guys love this classic combination as much as I do!  It is one of my all-time favorites, but I've met more than a few people in my life that seem to hate it.
It's like the chocolate version of the cilantro debate…I just don't get it.  But if you happen to be one of those people, you can totally leave the zest out and flavor these cookies in all sorts of ways (peppermint, etc.).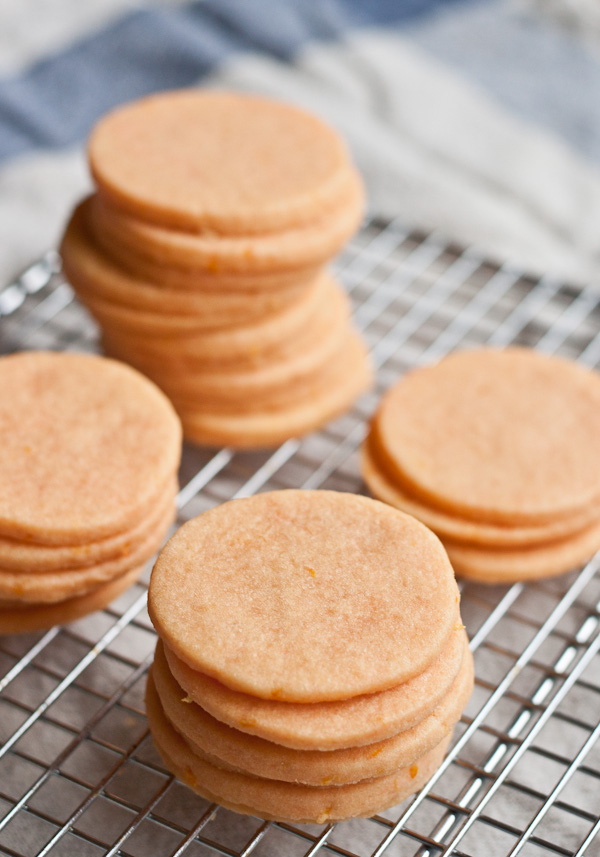 These cookies were inspired by some citrus sandwich cookies that I discovered way in the back of a September 1989 issue of Chocolatier magazine.  Inspired being the operative word.
My first trial didn't work out so well.  I ended up following the original cookie dough recipe from the magazine and let's just say, I sort of hated them.  In fact, I pretty much threw them in the trash within 10 minutes of taking them out of the oven.  They were tough, way too crunchy, and in hindsight, something about the flour-to-sugar-to-butter ratio was off.  

So I decided to forgo the original and tweak an old sugar cookie dough recipe that my family has been making for years and years…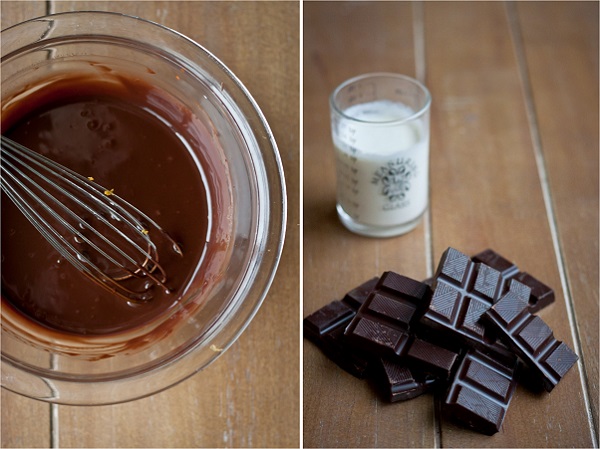 The results were night and day.  These sugar cookies are soft, tender, and fairly fool-proof.
The dough will be very soft and almost sticky when you first make it.  You'll think be thinking, "Surely, there is no way that I'll be able to cut these out and actually be able to pick them up without breaking them."   This is where the most important step of the recipe comes in…rolling out and chilling the dough.  The best way to do this is in batches between large sheets of wax paper.
The cookies should be firm and cold when you put them into the oven.  Warm dough and warm butter equals cookies that spread.  You should be able to space these cookies apart on a baking sheet, within about a half inch or inch of each other, without having an issue.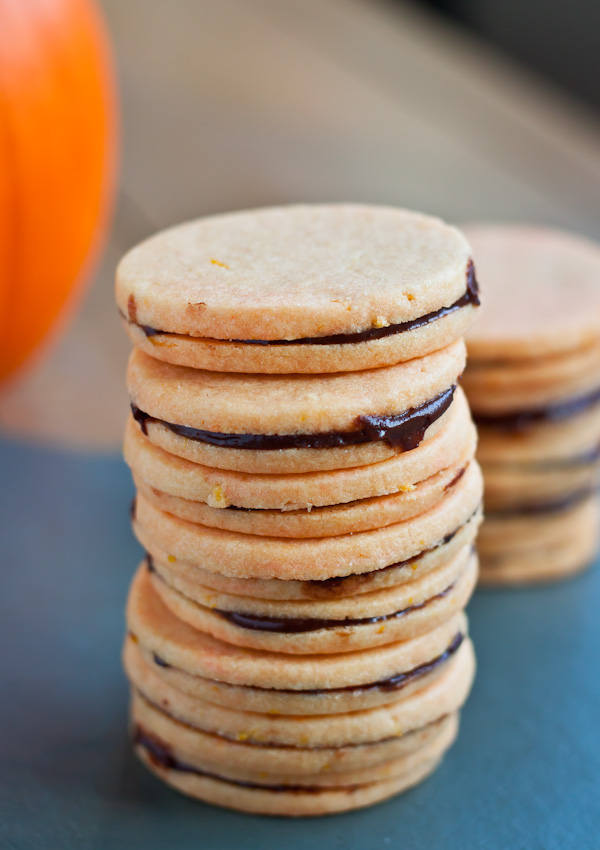 I recommend baking these cookies for no more than 8-9 minutes tops.  Anything less than that will result in even softer (and thus, more delicate) cookies.
The chocolate ganache is simply a mixture of chopped dark, semisweet chocolate, a little bit of hot cream, and more orange zest.  Be sure to prepare this first and allow it to firm up in the fridge, while you're preparing the cookies.
Once the cookies are cool, spread one half with firm orange chocolate ganache and sandwich them up!  After all, two cookies are always better than one.  Happy Halloween!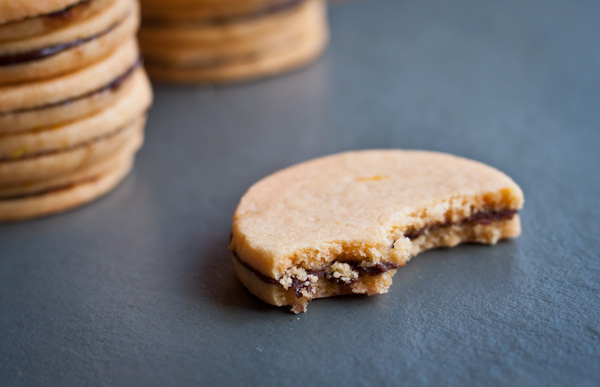 PS.  Be sure to come back and visit tomorrow!  I'll be sharing another bonus recipe (with video)…and I'm sort of excited about it.