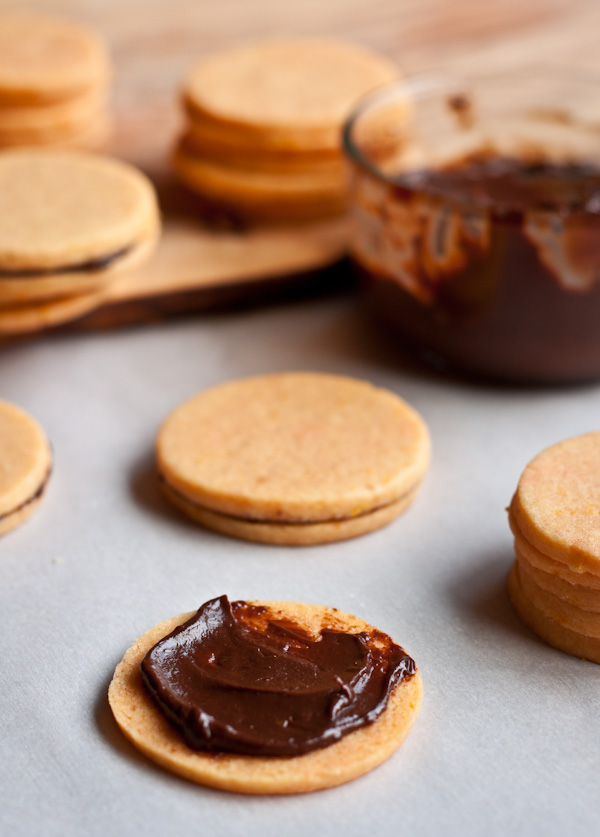 I know what you're thinking.  This girl is totally lame.  She's posting a Halloween cookie recipe on Halloween?!  That's not even remotely useful.  But hear me out…
You can make these citrus sandwich cookies at any time of the year.  In fact, the only thing that makes them (slightly) Halloween-y is that I ended up deciding to add a tiny bit of food coloring to the cookie dough to give them just the right amount of orange color, without totally overdoing it.  Because let's face it, bright unnaturally orange cookies don't sound all that appealing.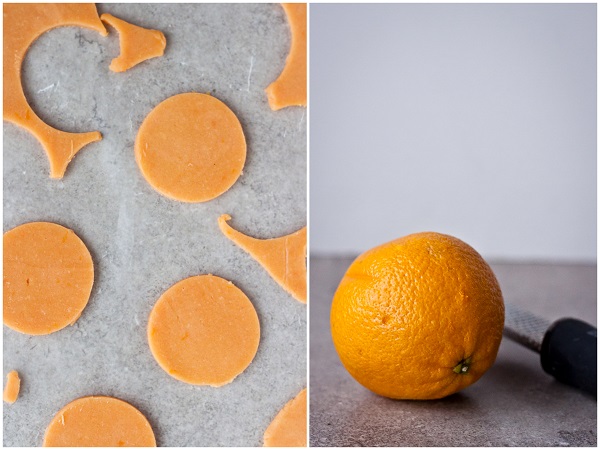 See all those orange flecks in the cookie dough?  That's the orange zest.  There's a little bit of lemon in there as well, but these cookies are all about the orange zest.
The orange zest and the orange chocolate ganache filling.  Please, please tell me that you guys love this classic combination as much as I do!  It is one of my all-time favorites, but I've met more than a few people in my life that seem to hate it.
It's like the chocolate version of the cilantro debate…I just don't get it.  But if you happen to be one of those people, you can totally leave the zest out and flavor these cookies in all sorts of ways (peppermint, etc.).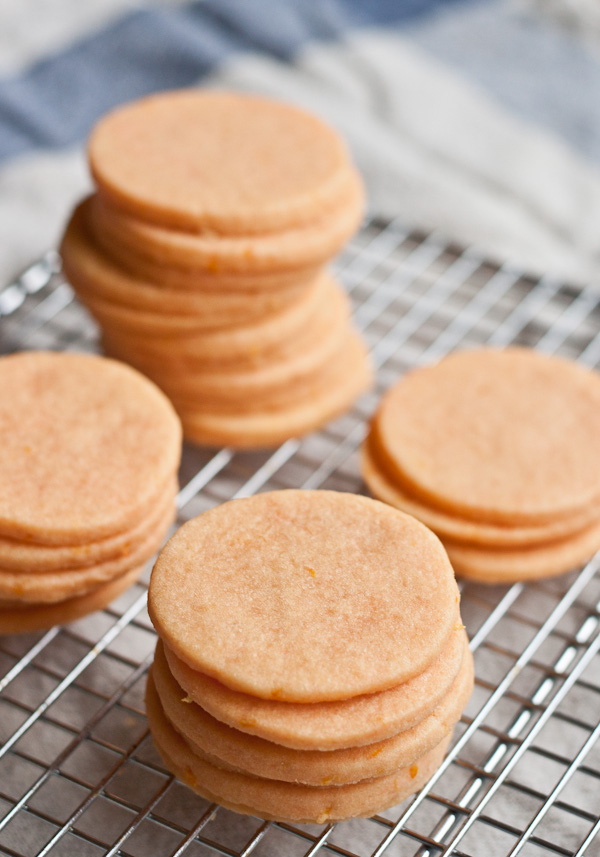 These cookies were inspired by some citrus sandwich cookies that I discovered way in the back of a September 1989 issue of Chocolatier magazine.  Inspired being the operative word.
My first trial didn't work out so well.  I ended up following the original cookie dough recipe from the magazine and let's just say, I sort of hated them.  In fact, I pretty much threw them in the trash within 10 minutes of taking them out of the oven.  They were tough, way too crunchy, and in hindsight, something about the flour-to-sugar-to-butter ratio was off.  

So I decided to forgo the original and tweak an old sugar cookie dough recipe that my family has been making for years and years…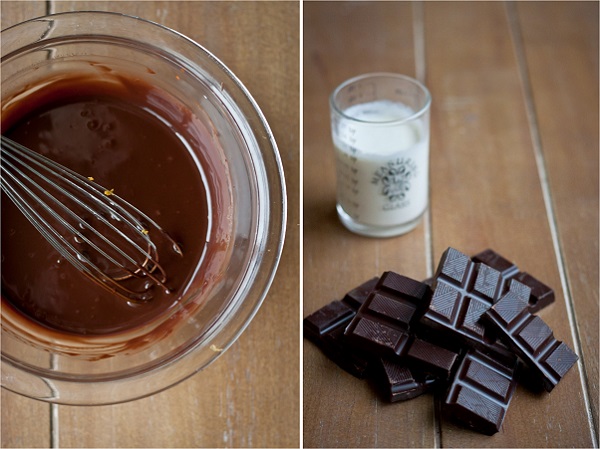 The results were night and day.  These sugar cookies are soft, tender, and fairly fool-proof.
The dough will be very soft and almost sticky when you first make it.  You'll think be thinking, "Surely, there is no way that I'll be able to cut these out and actually be able to pick them up without breaking them."   This is where the most important step of the recipe comes in…rolling out and chilling the dough.  The best way to do this is in batches between large sheets of wax paper.
The cookies should be firm and cold when you put them into the oven.  Warm dough and warm butter equals cookies that spread.  You should be able to space these cookies apart on a baking sheet, within about a half inch or inch of each other, without having an issue.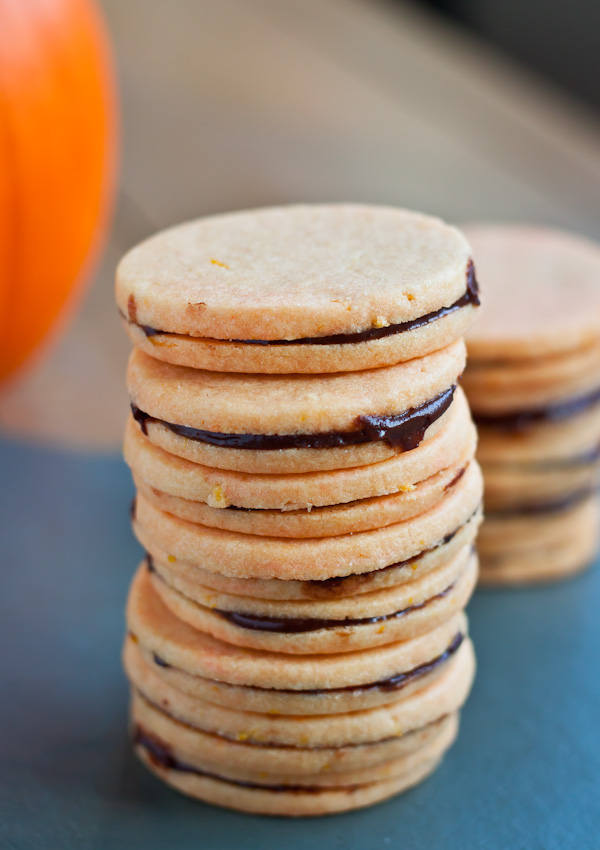 I recommend baking these cookies for no more than 8-9 minutes tops.  Anything less than that will result in even softer (and thus, more delicate) cookies.
The chocolate ganache is simply a mixture of chopped dark, semisweet chocolate, a little bit of hot cream, and more orange zest.  Be sure to prepare this first and allow it to firm up in the fridge, while you're preparing the cookies.
Once the cookies are cool, spread one half with firm orange chocolate ganache and sandwich them up!  After all, two cookies are always better than one.  Happy Halloween!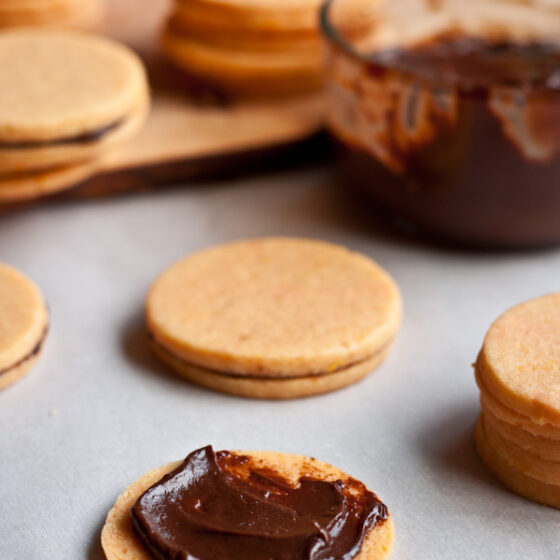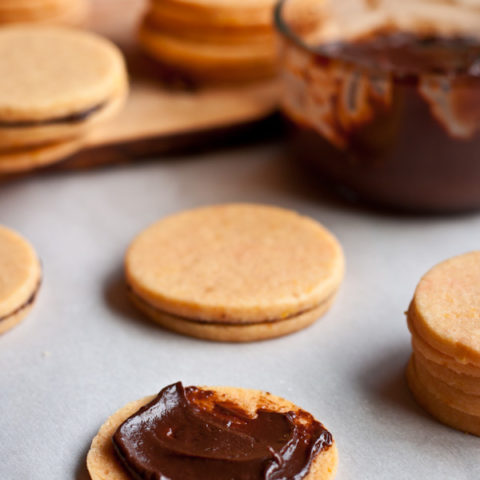 Citrus Sandwich Cookies
Yield: 18 Servings
Prep Time: 1 hour 30 minutes
Cook Time: 10 minutes
Additional Time: 20 minutes
Total Time: 2 hours
Ingredients
Cookie Dough:
1 stick (8 tablespoons) butter, softened
½ cup granulated sugar
½ teaspoon grated orange zest
¼ teaspoon grated lemon zest
1 egg yolk, separated
1 teaspoon milk
1 ¼ teaspoon vanilla extract
2 drops of red food coloring (optional)
6 drops of yellow food coloring (optional)
1 ½ cups + 2 tablespoons all-purpose flour
¾ teaspoon baking powder
1/8 teaspoon salt
Orange Chocolate Ganache Filling:
1.5 ounces semisweet (dark) chocolate, finely chopped
3 tablespoons heavy cream
½ teaspoon grated orange zest, finely chopped
Instructions
Prepare Filling: Finely chop chocolate and place in a heatproof small bowl. Heat the cream in the microwave in a very small bowl for 10 second intervals until just shy of boiling. Pour cream over chocolate and allow to sit for 30 seconds.
Whisk together slowly until shiny and smooth. Add finely chopped orange zest. Cover with plastic wrap and allow to chill in the fridge for 45 minutes to an hour, or until firm enough to spread.
Make Cookies: Combine the sugar and zests in a small bowl. Rub the zest into the sugar with your fingertips until fragrant.
Place softened butter and sugar into the bowl of a stand mixer (fitted with a paddle attachment). Beat over medium speed until well combined.
Over low speed, add the egg yolk, milk, vanilla extract, and food coloring and beat until just combined, scraping the bowl down with a spatula if necessary.
In a separate bowl, whisk together the flour, baking powder, and salt. Slowly add to the wet ingredients and mix over low speed until just combined.
Scrape down the bowl and divide the dough in half. Preheat the oven to 350 degrees Fahrenheit.
Place each half of dough between large sheets of wax paper. Using a rolling pin, roll the dough to 1/8-1/4 inch thickness (checking underside and top and removing any creases). Layer the rolled dough on top of each other on a baking sheet and refrigerate for 30-45 minutes or until firm and cold.
Working quickly with one dough portion at a time, peel away the top half of wax paper and replace one sheet of wax paper (flipping the dough over)—this will make it easier to lift the cookies). Using a 2 inch cutter, cut out the cookies. Transfer them to a parchment (or Silpat) lined baking sheet), spacing the cookies at least one inch apart—if the dough is cold, they will barely spread.
Combine dough scraps and continue cutting cookies until all the dough is used; if dough is too warm, refrigerate again briefly.
Bake for 8-9 minutes, or until dough is just beginning to color on the top. Place baking sheet on cooling rack and allow to cool for 5-10 minutes, until the cookies firm up a bit. Transfer cookies to rack to cool completely.
Once cookies are cool (and ganache has firmed up), spread the bottom side of one cookie with filling. Place another cookie, bottom side facing down, on top of filling to create a sandwich. If necessary, refrigerate cookies for 10-15 minutes to set filling. Store cookies at room temperature in airtight container for up to four days.
Notes
Depending on how much filling you add to each cookie, you will most likely have extra ganache.  Fear not, you can use it to make homemade truffles.
Cookie idea inspired by September 1989 issue of Chocolatier Magazine.
Nutrition Information:
Yield: 18
Serving Size: 1
Amount Per Serving:
Calories: 37
Total Fat: 1g
Saturated Fat: 1g
Trans Fat: 0g
Unsaturated Fat: 0g
Cholesterol: 13mg
Sodium: 36mg
Carbohydrates: 6g
Fiber: 0g
Sugar: 6g
Protein: 0g
A Beautiful Plate provides nutritional information, but these figures should be considered estimates, as they are not calculated by a registered dietician.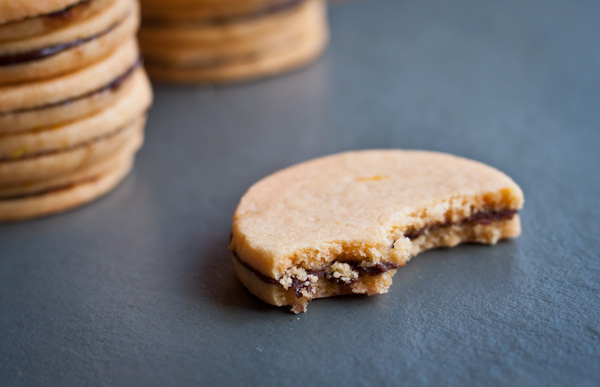 PS.  Be sure to come back and visit tomorrow!  I'll be sharing another bonus recipe (with video)…and I'm sort of excited about it.