Homemade Chickpea Flour Pasta
One of my favorite foods in the whole world is homemade pasta…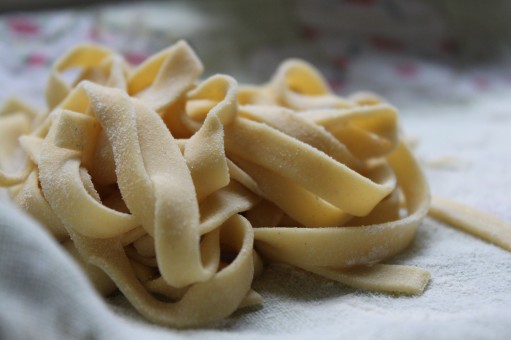 Most of the time, I'd be beyond thrilled to eat it just plain with a bit o' buttah and some Parmigiano-Reggiano cheese. Sound boring? It is. But it really allows the pasta to be the forerunner of the dish, rather than lurk in the background. And in all honesty, I could live on that cheese alone. But really now…since you put in the extra effort to make homemade pasta in the first place, you don't usually want to cover up its "homemade goodness" with a complex sauce. But the other day, I felt spontaneous…or at least, curious.
So I turned to one of my favorite cookbooks, The Modern Vegetarian by Peter Berley, for inspiration. And, inspiration I found. Chickpea flour pasta. Instead of using regular flour or semolina as the base, this pasta recipe calls for garbanzo flour. It sounds complicated, but garbanzo (or chickpea) flour is really not all that difficult to find. Bob's Red Mill sells it (the brand I used) or you can easily make your own. You just need dried chickpeas and a food processor!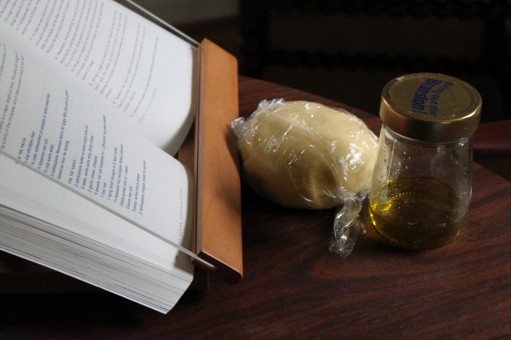 If you haven't made homemade pasta before, I highly recommend doing it for a special occasion or an everyday special meal. It sounds intimidating, but it's actually quite simple. Despite what you may think, you don't need any special equipment. Unlike some of those funky machines their selling at kitchen stores these days. Seriously, does anyone really need a daisy-shape egg mold? It really does exist, I swear.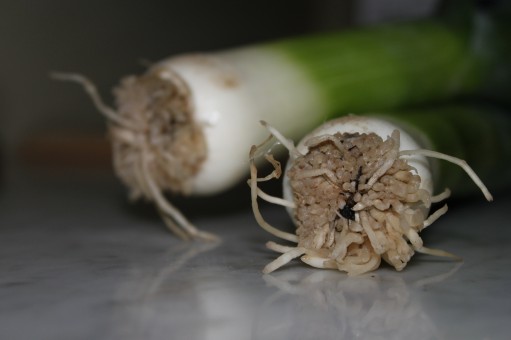 Back to the point…while I sometimes use an old-fashioned non-electric pasta machine, I've also cut the noodles by hand as well. A machine may offer some fancier shapes or more uniform pasta, but it all ends up tasting the same. Am I right?
Another positive? This pasta recipe is vegan! Due to the high protein content of chickpeas, you don't need an egg (usually needed in homemade pasta recipes–but not always) to get the dough to bind together. Since Peter so nicely paired up this pasta with a simple leek and tomato sauce, I decided to follow along and do just the same…If you prefer to use your own sauce, that's fine too!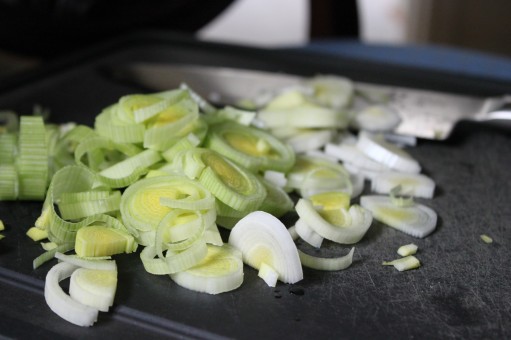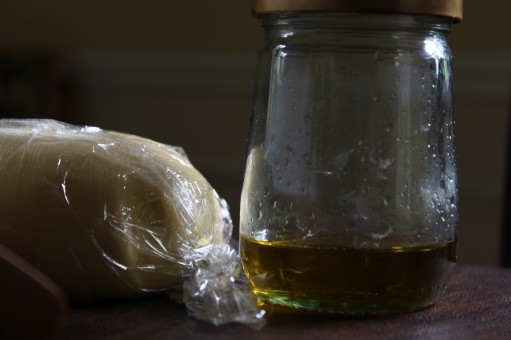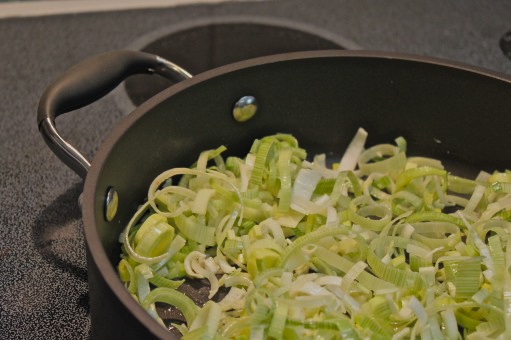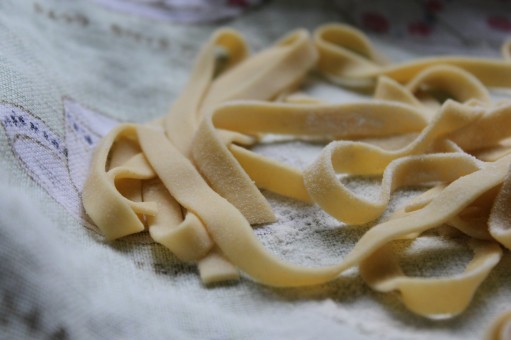 This recipe was a great alternative to my usual pasta recipes! The chickpea pasta with tomato sauce was a great combination. Due to the higher protein and fiber content, it was incredibly filling as well. One portion went a long way. If you prefer to have a large quantity of sauce, be sure to make twice the recipe amount.
Of course, now I'm inspired to make quinoa pasta (with quinoa flour!) with some flour left in my cupboard. I'll be sure to let you know my mishaps and successes! And, of course, the recipe.
With no further ado, here it is: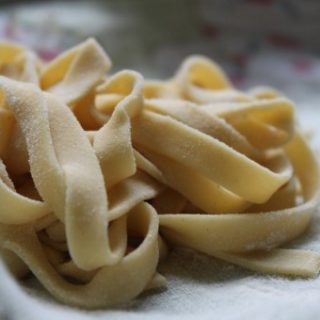 Homemade Chickpea Flour Pasta with Zesty Leek & Tomato Sauce
Yield: 3-4 Servings
A simple recipe for homemade chickpea pasta with a zesty lek and tomato sauce.
Prep Time: 50 minutes
Cook Time: 1 hour
Total Time: 1 hour 50 minutes
Ingredients
Rosemary Garlic Oil (Optional):
1/2 cup olive oil
4 cloves of garlic (peeled)
1 tablespoon dried rosemary
Homemade Chickpea Pasta:
3/4 cup chickpea flour
1 and 1/4 cups unbleached all-purpose flour
1/4 teaspoon salt
1/2 cup warm water
2 tablespoons Rosemary-Garlic Oil (*you could substitute regular olive oil!*)
Leek & Tomato Sauce:
2 tablespoons extra virgin olive oil
3 leeks (white parts), thinly sliced
2 garlic cloves, chopped
1 (28-ounce) can whole plum tomatoes
1 bay leaf
fresh tarragon or basil (at your discretion)
1/4 teaspoon red pepper flakes (optional)
zest of 1 lemon
chive garnish
Instructions
Make rosemary garlic oil (optional):
In saucepan, combine 1/2 cup olive oil, 4 cloves of garlic (peeled), 1 tablespoon dried rosemary (or one sprig, fresh). Bring to simmer, reduce heat as low as possible and simmer gently for 20 minutes or until garlic turns golden. Strain in jar and let cool. This stuff is fantastic and the extras could be used for vinaigrettes, on grilled bread, you name it!
Prepare Pasta:
Stir together chickpea flour, white flour, and salt. Create well and add in water and oil (Either your rosemary garlic oil OR just olive oil). Using fingers or a wooden spoon, mix together until liquid is absorbed.
Using clean countertop, cover the dough with plastic wrap and let sit for 5 minutes. Knead the dough (here's your workout!) for 10 minutes. If the dough is too dry, add a tablespoon of water. When the dough is smooth and resilient, wrap again in plastic and let sit for 30 minutes. Once done, the dough will be quite shiny!
Once rested, divide the dough into two equal parts. If using a machine, roll to desired thickness and cut whichever shape you desire. If making by hand, roll dough to 1/16 inch thickness. Let sit again for 5-7 minutes to let dry slightly. Dust pasta with flour roll into a loose cylinder. Cut the cylinder croswise into desired strip width and uncurl the noodles onto a clean dry towel. Repeat.
Prepare Sauce:
Warm olive oil in saute pan over medium heat. Add leaks and garlic and saute for 6-8 minutes, until lightly wilted. Do not brown.
Increase heat to high, add canned tomatoes, herbs, red peppers, and lemon zest. Bring to boil. Reduce heat to low and simmer for 30-40 minutes, until thick.
Bring water to boil (add salt once water begins to boil!), add noodles and cook for 3-4 minutes, until cooked through. Drain, drizzle with rosemary-oil and serve on plates. Top with sauce and sprinkle with chives (if desired).
Nutrition Information:
Yield: 4
Serving Size: 1
Amount Per Serving:
Calories: 512
Total Fat: 43g
Saturated Fat: 6g
Trans Fat: 0g
Unsaturated Fat: 35g
Cholesterol: 0mg
Sodium: 164mg
Carbohydrates: 30g
Fiber: 6g
Sugar: 5g
Protein: 6g