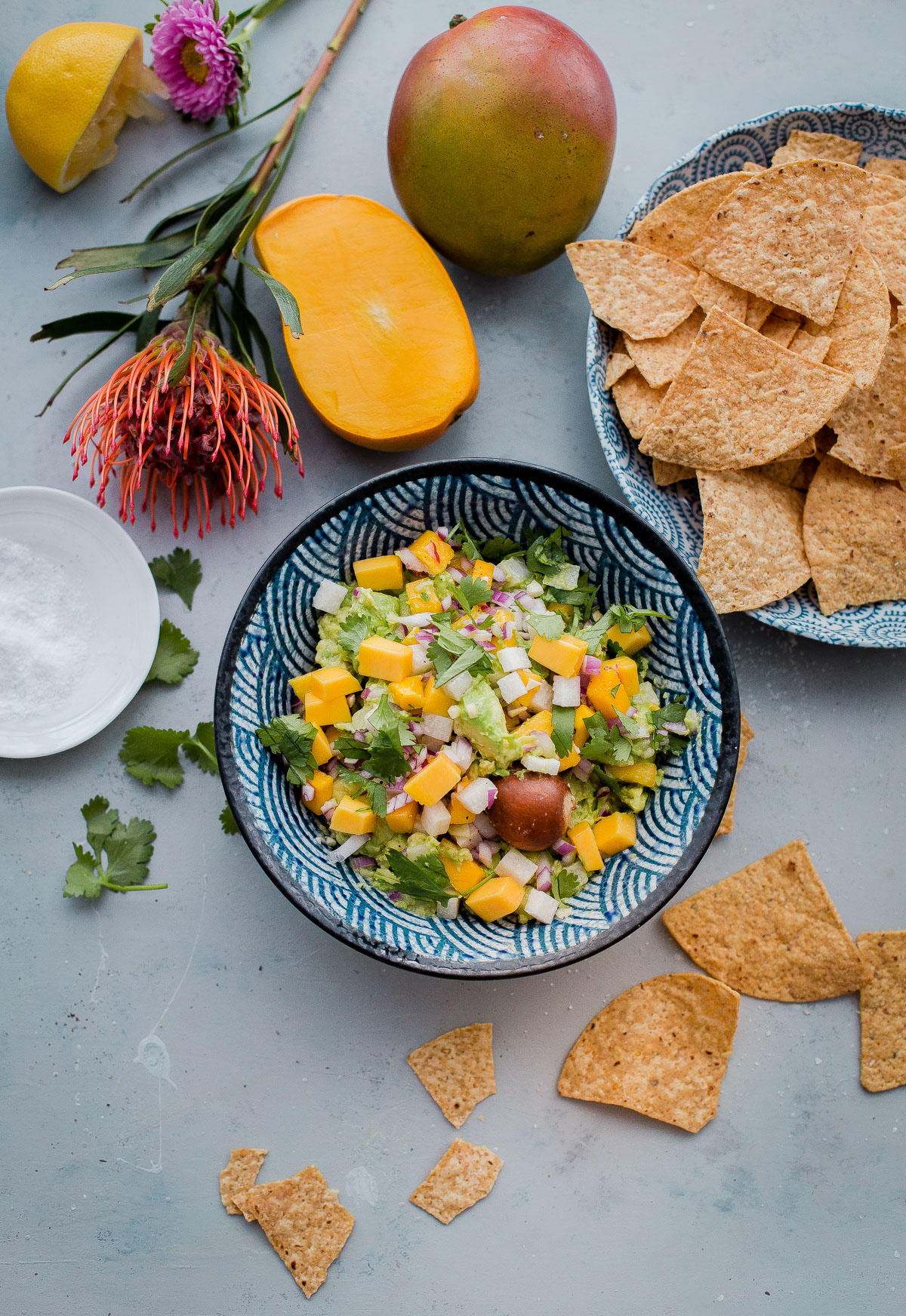 This recipe is in partnership with the National Mango Board.
Today is all about the guacamole. If you're finalizing your Cinco de Mayo plans, make sure this guacamole is added to your menu. We're adding a tropical twist with the addition of ripe, juicy mango and crispy jicama.
Tropical mango guacamole, if you will. I used honey mangos for this preparation (my personal favorite), but any mango variety will work just as well.
I've always been a huge fan of Mexican honey mangos, formerly known as ataulfo mangos. My mom used to buy a ton of them growing up. Not only are they are incredibly silky in texture, but they are also a high source of vitamin A and C, as well as potassium, fiber, and folate. They also have a higher flesh-to-seed ratio, which is always a win-win in my book.
As is the case for all mango preparations, it is very important to use ripe mangos. Unripe mangos are very tart in flavor (almost similar to a pineapple) and crunchy in texture. You want the mango to be ripe enough to melt in your mouth, but still be able to retain it's shape once chopped and added to the guacamole.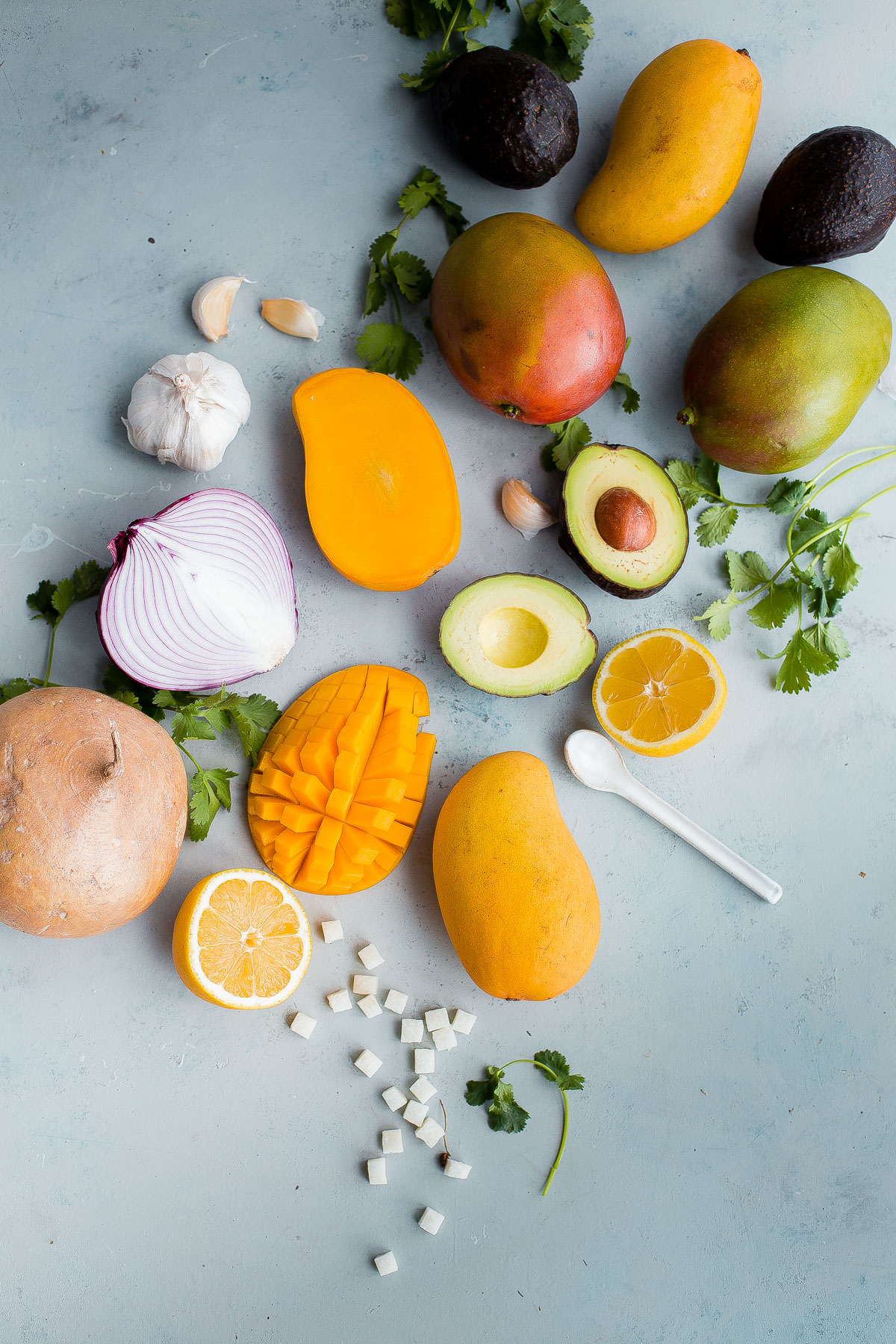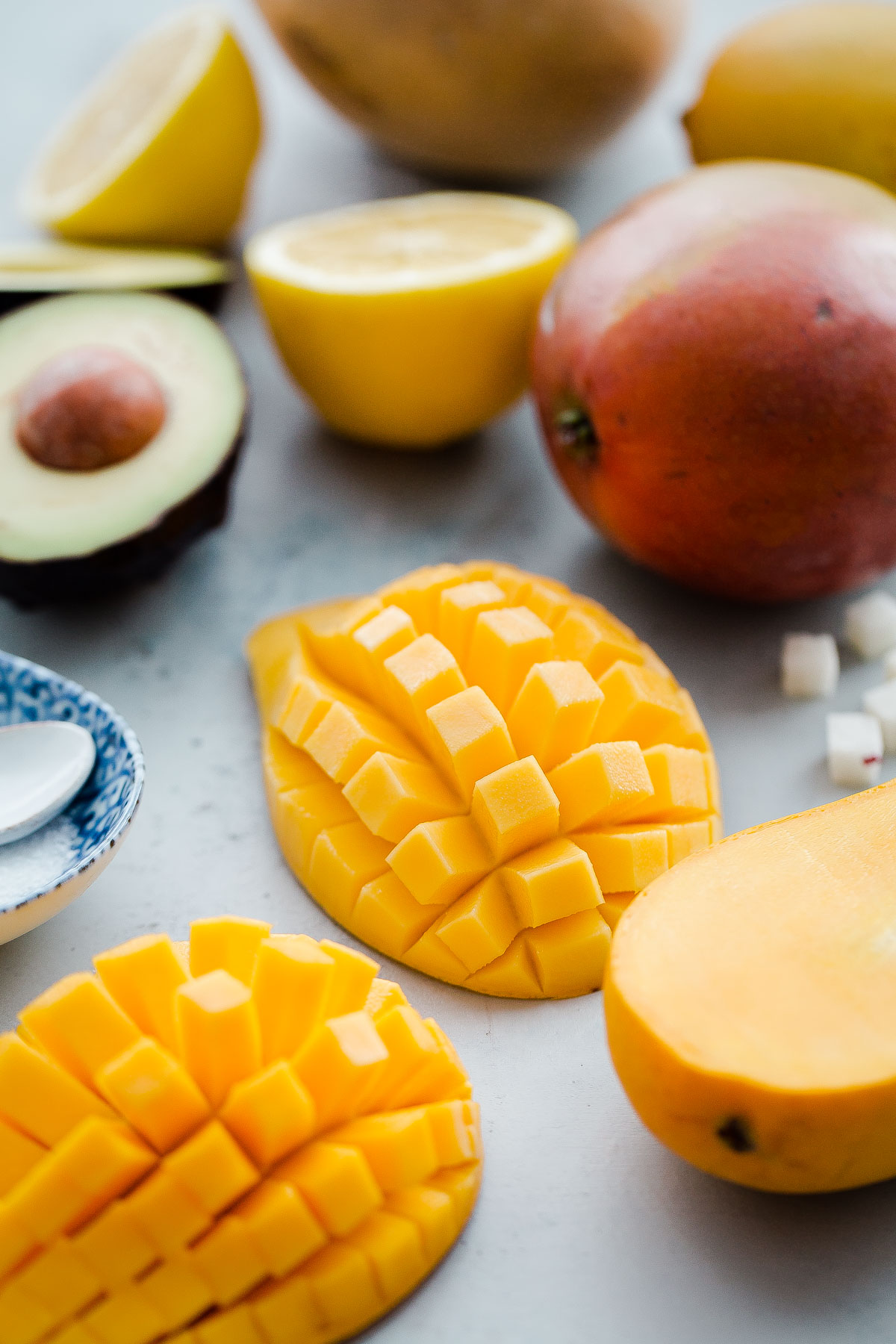 Whether you're buying mangos ahead of time or purchasing ripe mangos from the store, you want to pay attention to a few key things:
How to Choose and Store a Mango
most standard varieties of mangos should not be judged by color: red in certain varieties is not an indication or ripeness, nor is green an indication of unripeness; in contrast, honey mangos, will become slightly wrinkly and more golden yellow (less green) in color once ripe
similar to a peach or avocado, a ripe mango's flesh will give slightly when gently squeezed
mangos should be stored at room temperature until ripe; once ripe, mangos can be stored in the refrigerator to slow down ripening
if you're looking to speed up the ripening, try putting mangos in a brown paper bag (this works excellently for avocados as well, if you want to kill two birds with one stone!) on your countertop
In the spring and early summer months (when mangos are at peak availability), we often pick up a few each week and use them in everything from smoothies and yogurt bowls to savory applications, such as guacamole or salsa. If I have the self-control to resist eating them right away, I also like to cut and freeze them in chunks to enjoy in the winter months too.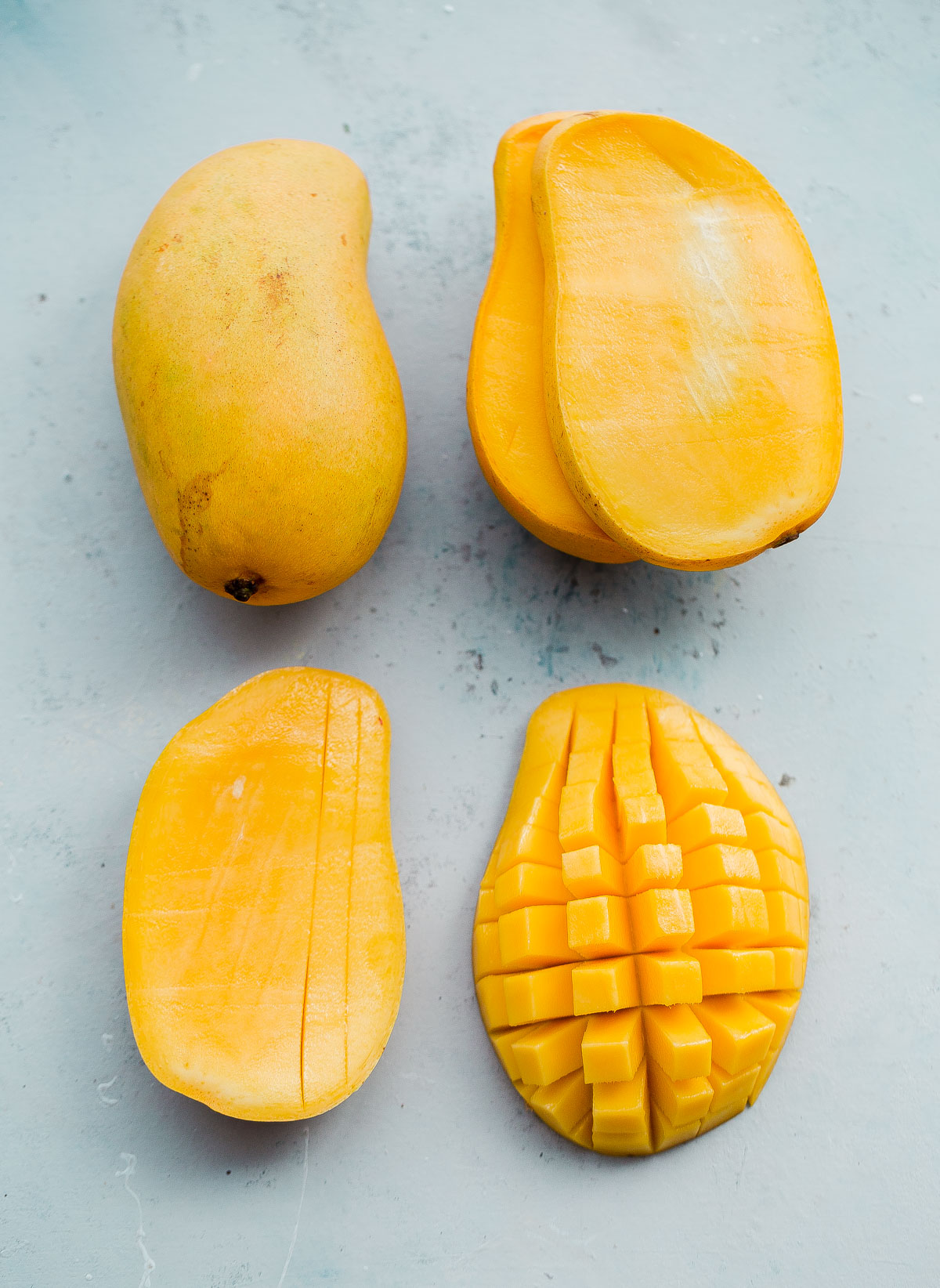 How to Prep and Cut a Mango
My go-to method for cutting mangos is to place it stem side up on a cutting board, align my knife in the center, move the knife just slightly off center, and slice off both sides, avoiding the large, narrow seed.
Leaving the skin intact, I will then slice or dice the flesh (avoiding puncturing the skin) with a pairing knife and scoop it out with a large spoon. I'll then try to remove as much edible fruit from the seed too.
I never peel mangos before cutting them, because I've nearly cut off my finger doing this in the past (is there anything more slippery than a peeled mango?!). Trust me. Don't do it.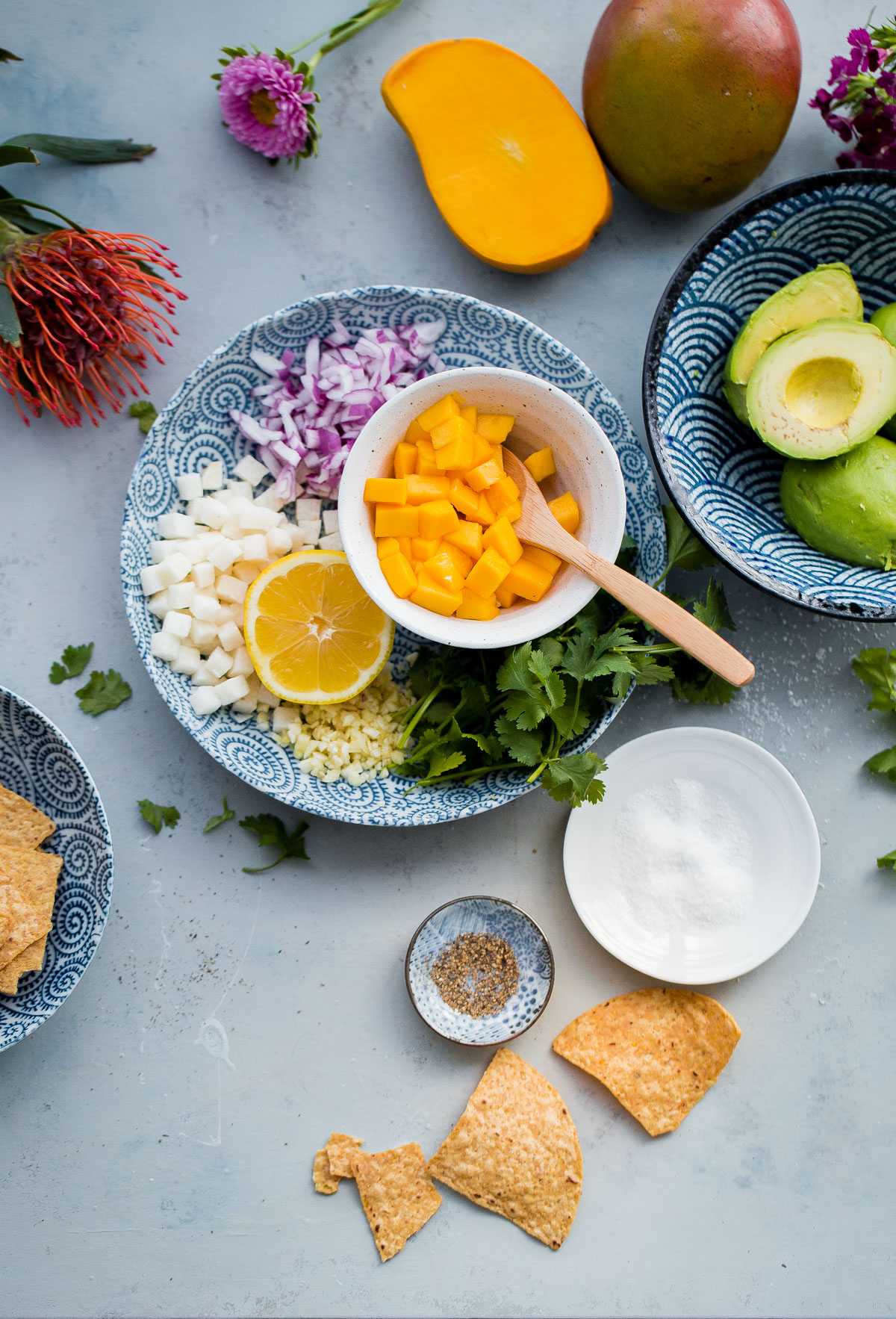 Along with creamy avocado and mango, this tropical mango guacamole is given a heavy dose of chopped red onion and cilantro, fresh chopped garlic, as well as acid in the form of fresh lemon juice (lime juice will work just as well). The mango adds a beautiful contrast and welcome burst of tropical sweetness to each bite.
The jicama adds an unexpected, but wonderful texture and crunch. I kept my guacamole on the chunky side, which is my personal preference, but prepare it to your liking.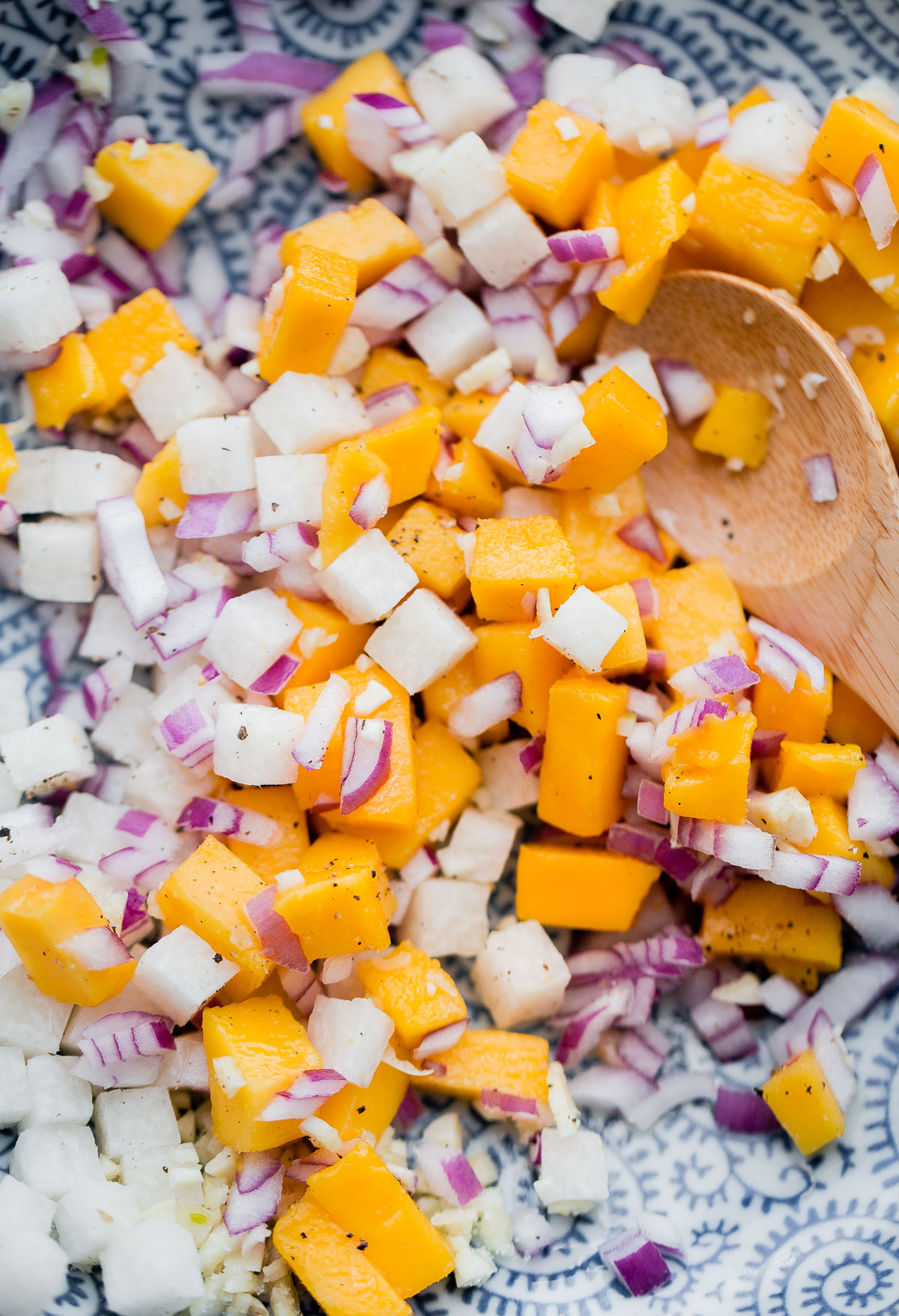 Though I've never met a bowl of guacamole that doesn't disappear within the hour, this guacamole actually held up surprisingly well when refrigerated overnight.
Whenever I'm making a guacamole with add-in's (like this fully loaded guacamole), I like to reserve a few pieces of chopped mango, red onion, and jicama to garnish on the top! It gives everyone a visual clue before dipping into the bowl.
Crispy corn tortilla chips are my vehicle of choice for guacamole, but this tropical mango guacamole would taste fabulous paired with grilled seafood (or fish tacos!) or meat as well.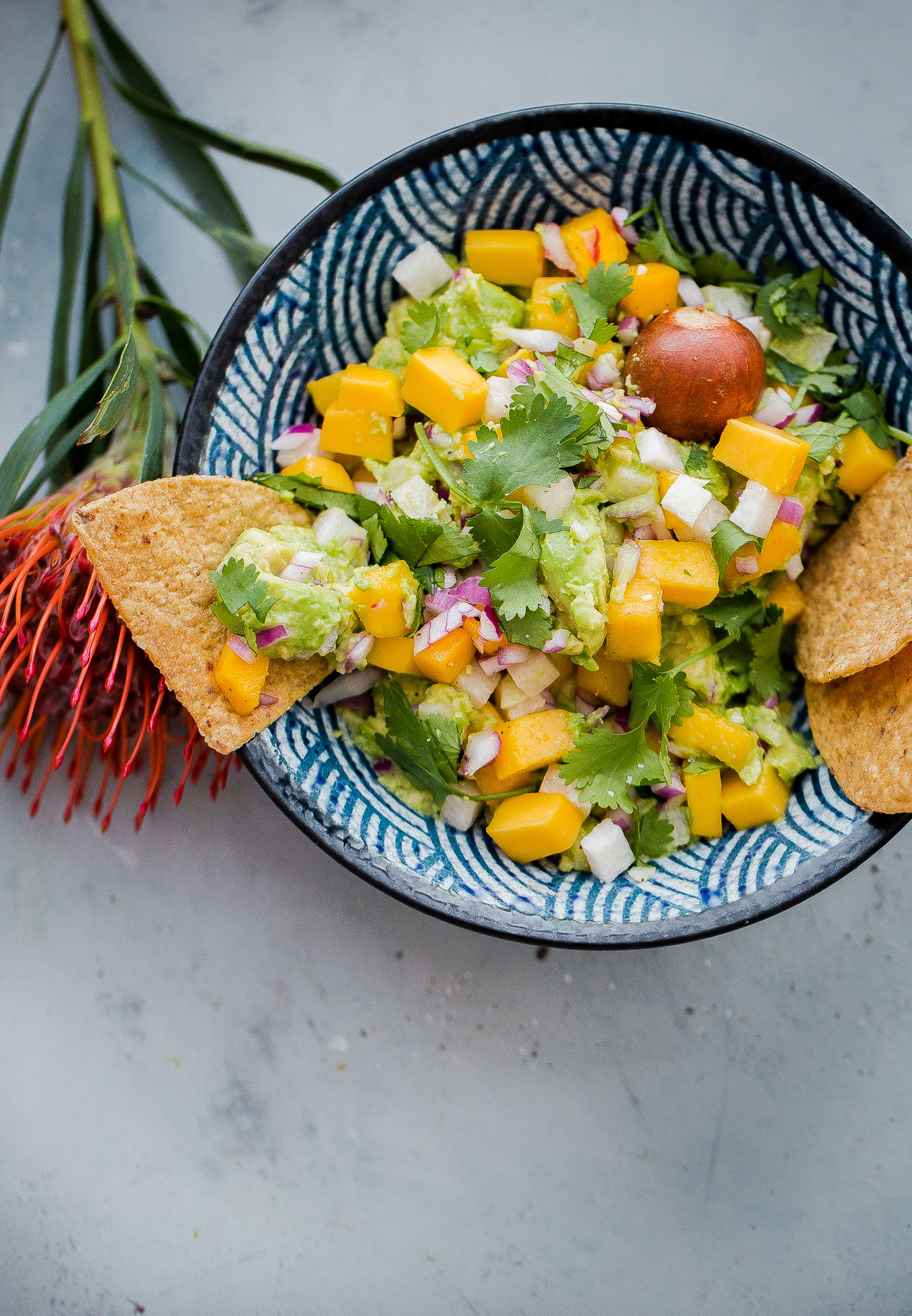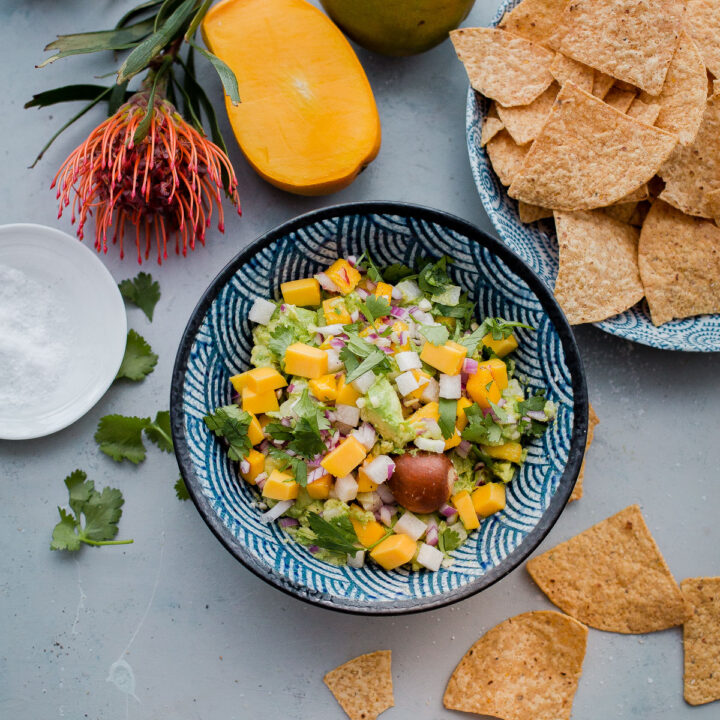 Tropical Mango Guacamole
Yield: 4 Servings
Tropical mango guacamole - traditional guacamole recipe is given a tropical twist with ripe, juicy mangos and crispy jicama. This mango guacamole recipe is perfect for Cinco de Mayo!
Prep Time: 10 minutes
Cook Time: 5 minutes
Total Time: 15 minutes
Ingredients
1 ripe mango, diced into 1/2-inch cubes
1/4 cup diced jicama
1/4 cup finely chopped red onion
1 large clove garlic, finely chopped
2 tablespoons freshly squeezed lemon (or lime) juice
2 ripe Haas avocados, pitted and peeled
2 tablespoons fresh cilantro leaves, roughly chopped
kosher salt
freshly ground black pepper
corn tortilla chips, for serving
Instructions
In a medium size bowl, mix the mango, jicama, onion, garlic, and lemon juice (set aside one tablespoon for garnishing, if desired). Set aside.
In another bowl, add the peeled avocado and mash just slightly. Add the mango mixture to the avocado and mix. Season to taste with salt and pepper. Top with cilantro and serve with tortilla chips.
Notes
Tips for Succcess:
If you're looking to speed up the ripening of your mangos (or avocados), place them in a brown paper bag on your kitchen countertop until ripe.
Nutrition Information:
Yield: 4
Serving Size: 1
Amount Per Serving:
Calories: 261
Total Fat: 15g
Saturated Fat: 2g
Trans Fat: 0g
Unsaturated Fat: 12g
Cholesterol: 0mg
Sodium: 193mg
Carbohydrates: 33g
Fiber: 9g
Sugar: 20g
Protein: 3g
This post was created in partnership with the National Mango Board. I was compensated for my time and work, and provided with mangos for recipe development purposes. Thank you for supporting the brands that keep ABP cooking!