Best West Loop Restaurants: Chicago Restaurant Guide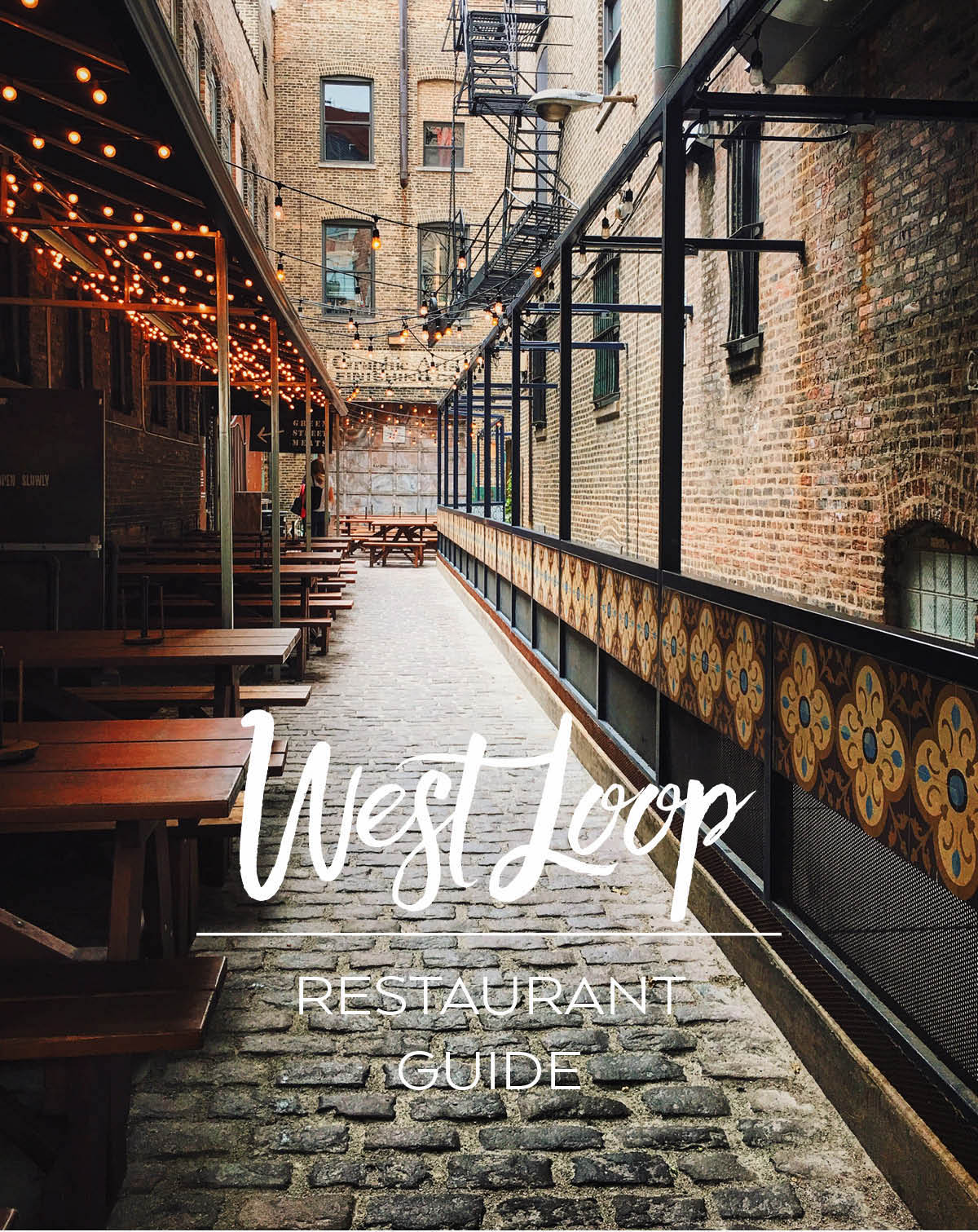 I've been meaning to share a Chicago restaurant guide for – oh, I don't know – over a year? So, that's what we're doing today.
To keep things simple, this guide focuses strictly on the West Loop neighborhood of Chicago (where Connor and I live), which happens to hold many of the best restaurants in Chicago. The plethora of options is overwhelming and wonderful all at the same time!
What this neighborhood lacks in retail shops, it makes up for in dining options. We're incredibly lucky to have some of the greatest restaurants this city has to offer within walking distance of our apartment. After living here for two years, I still haven't dined at half of them! But I have been to a lot and I've been wanting to share my recommendations with you.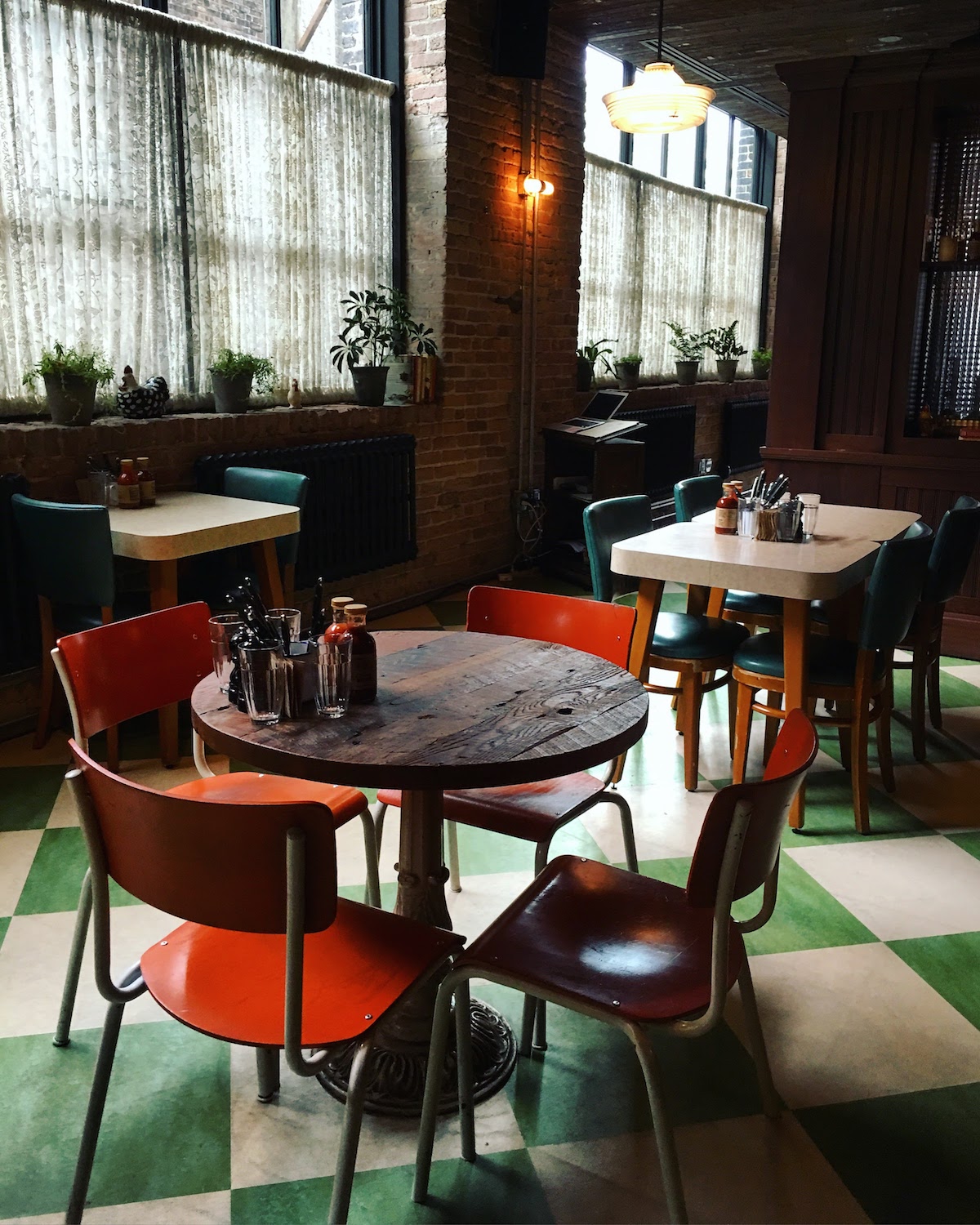 The character, abundance of great food, and old meatpacking buildings are one of the main reasons why we fell in love with this neighborhood two years ago. It's been incredible to watch this area transform in the time we've lived here, and nearly every other week a new spot is opening up or beginning construction.
Randolph Street, aka. Chicago's Restaurant Row, and Fulton Market are home to many of them. We've got casual taco spots, delicious burgers, incredible coffee, and three-star Michelin restaurants all within a three or four block radius of one another.
If you are planning a trip to Chicago (spring and summer is the best time of year to visit!), skip the deep dish and plan to enjoy at least one meal in this area.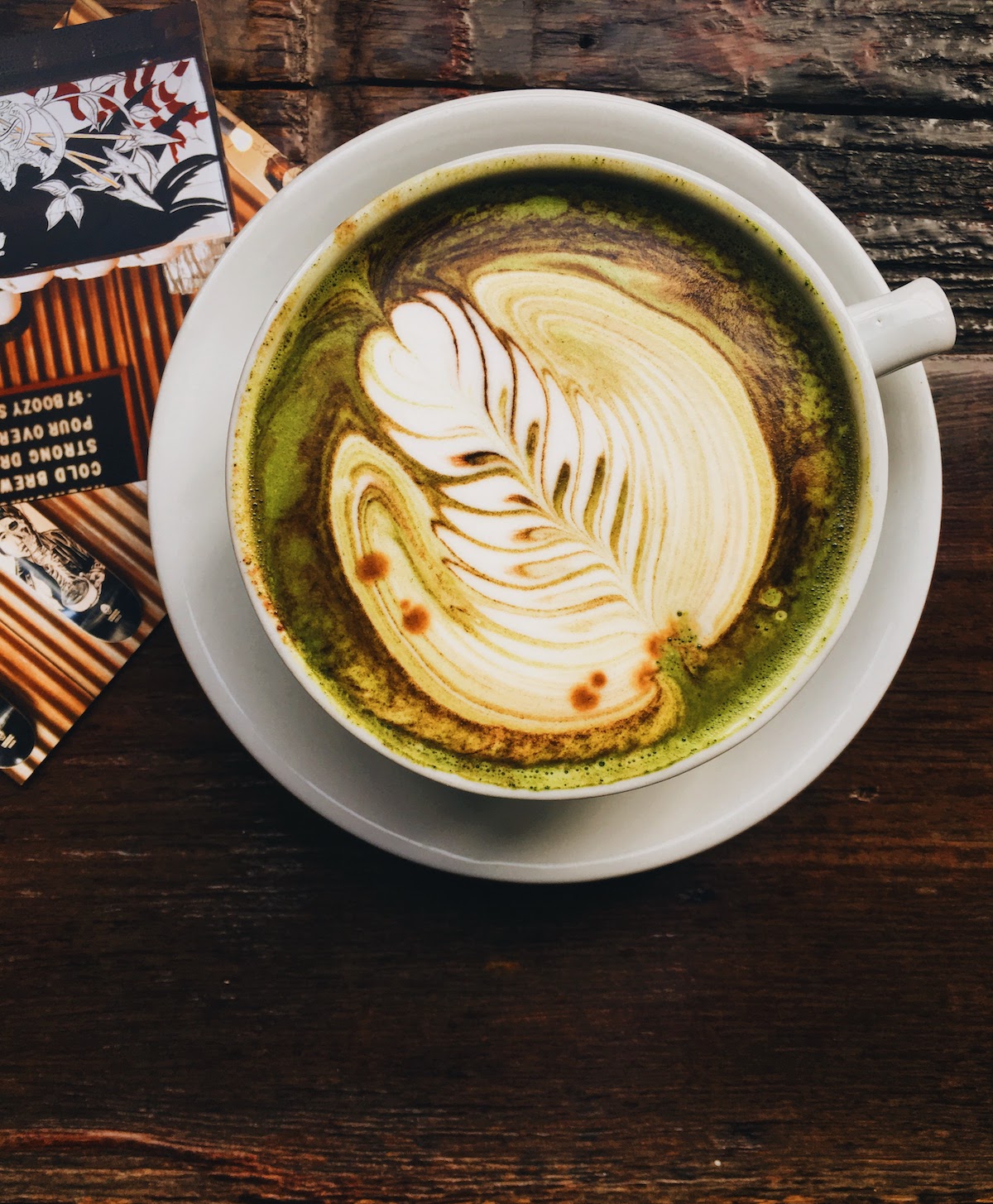 COFFEE SHOPS
Sawada Coffee – 112 N. Green Street – if you're looking for great, beautifully prepared coffee (or a fun spot to people watch), Sawada is my favorite coffee shop in the West Loop. Sawada is the first U.S. shop from Hiroshi Sawada, a renowned barista from Japan. This funky industrial location is actually home to two other restaurants in this guide, Green Street Smoked Meats and High Five Ramen. My favorite drink (warning: not wallet friendly) is the military latte, which is a combination of a classic latte, matcha, homemade vanilla syrup, and cocoa powder, but everything is good. They also sell old-fashioned doughnuts from Doughnut Vault. Be prepared for a major buzz.
Stumptown Coffee – 311 N. Morgan Street – located within the Ace Hotel, this has become one of our favorite coffee shops in the neighborhood. We regularly buy our beans from here, and they offer a great loyalty card system. One of the only dog-friendly spots in the West Loop, this coffee shop is modern, sleek, and reliably great place to hang out and stay for a while. They offer a small selection of pastries and baked goods from next door's City Mouse restaurant. While they have limited seating inside, the Ace Hotel has a huge selection of seating areas, free newspaper copies, and areas to hang out and stay for a while.
Limitless Coffee and Tea – 217 North Green – one of the newer coffee shops in the neighborhood, Limitless is gorgeously designed space filled with natural light from the skylight filled roof. They offer signature drinks ranging from the classic to the more unusual (mushroom elixir lattes, rose lattes, and charcoal lattes). While a bit overpriced, they do offer breakfast food, including a few varieties of specialty toasts, sandwiches, etc. featuring local Publican Quality Bread. Plug options are available at every seat and table, which makes this a great spot to grab a drink and some food, and do some remote work.
La Colombe Coffee Roasters – 955 W. Randolph – while La Colombe is actually a Philadelphia-based coffee roaster, this is a good classic coffee shop right on restaurant row. My favorite drinks are the on draft lattes or black and tans. This is definitely a spot to enjoy coffee with a small group (it's hard to snag a table that can fit more than three at most) and not work from home (they don't have wifi).
Groundswell Coffee Roasters – 1168 W. Madison – a relatively new coffee shop to open in the area, this slightly off-the-radar and quieter West Loop coffee shop is another good option for coffee, especially if you're exploring Madison Street (or that restaurant supply store mentioned below!).
BAKERIES + ICE CREAM SHOPS
Publican Quality Meats – 825 W. Fulton Market – if you follow along on Instagram, you've probably heard me mention Publican Quality Meats (the sister market/butcher shop to Publican restaurant) several times. The head baker, Greg Wade, was just nominated for a James Beard Award. If Publican is too busy for brunch, stop here for a casual breakfast instead – and be sure to be pick up a loaf of their fantastic bread (my favorite bread in the city), some charcuterie, or a few local products to take home!
Stan's Donuts – 1301 W. Lake – our favorite spot for doughnuts in the West Loop, Stan's Donuts offers some of the best homemade old-fashioned and classic doughnuts in Chicago. This particular location isn't anything special decor-wise, as it is connected to their main baking facilities, but is open early every day of the week and is a great spot to grab a few doughnuts to bring home or enjoy on the go.
Do-Rite – 181 N. Morgan – another great doughnut spot in the West Loop, just a few feet down from the Morgan Station. Do-Rite offers both classic and old-fashioned doughnuts, as well as vegan and gluten free options. We like the Michigan apple fritter, pistachio Meyer lemon, and blueberry crumb. They are famous for their spicy fried chicken sandwich served on a glazed doughnut (granted, this isn't my thing – so I have yet to try it!).
Princi – 1000 W. Randolph – one of the newest addition to the neighborhood, Princi is a beautifully designed Italian bakery featuring house-made pastries, pizza al taglio (get the rapini sausage or speck and scamorza), naturally leavened breads, soups, salads, pasta, sandwiches, small plates, cocktails, and Starbucks reserve coffee drinks.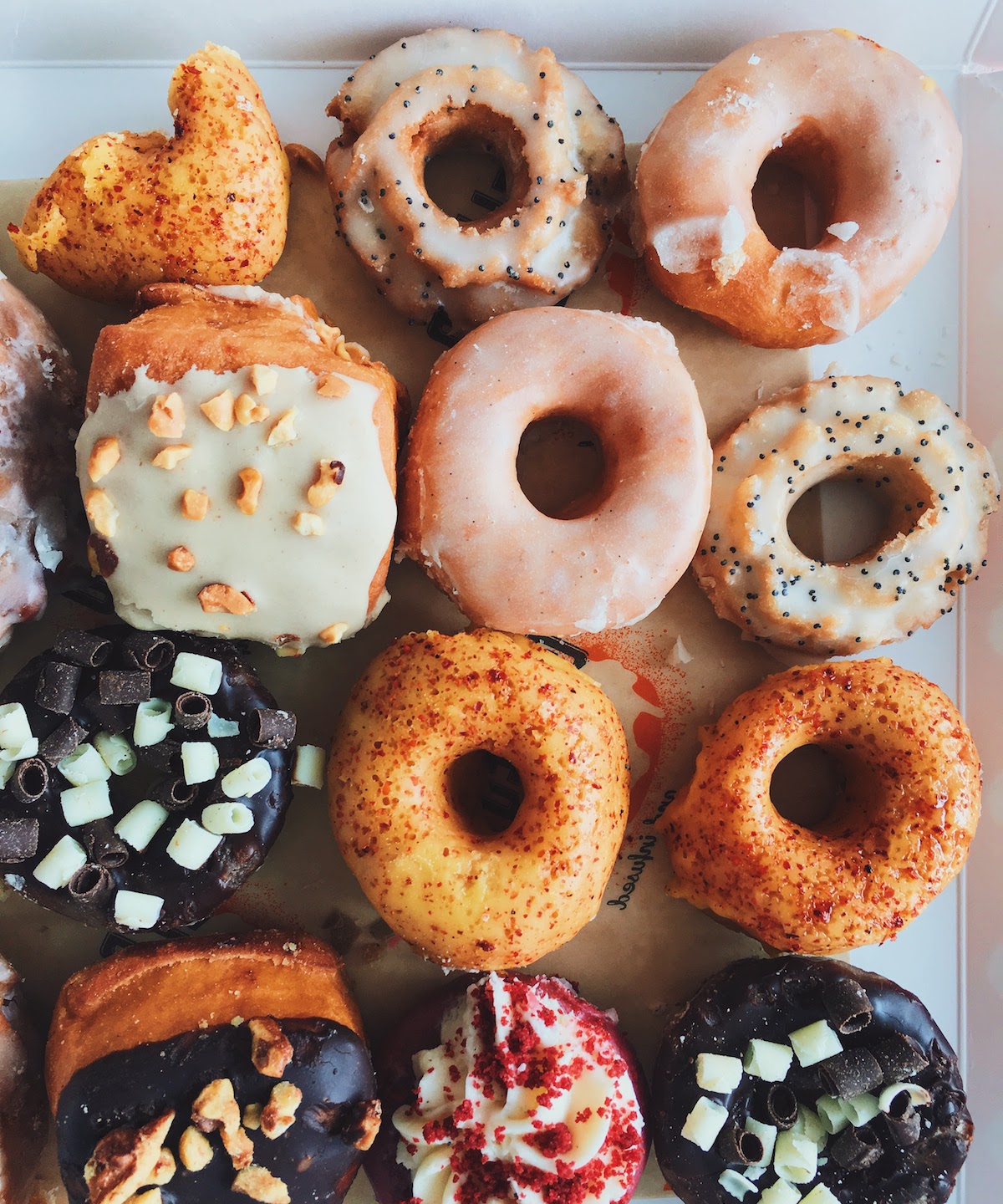 BREAKFAST + BRUNCH
The Allis at Soho House – 113-125 N. Green Street – for casual, light everyday breakfasts (they also serve lunch/afternoon tea/dinner) with great coffee, The Allis at Soho House is one of my favorite spots in the West Loop. If I'm treating myself, I'll go there with my laptop, grab coffee and lunch, and linger for a few hours. If you're not planning a meal here, take a minute to peek your head into this gorgeous, impeccably designed space and building! I want to live in it. P.S. The avocado toast (which inspired this fancy avocado toast) is my favorite.
Little Goat Diner – 820 W. Randolph Street – Little Goat is our most visited spot for breakfast or brunch on the weekends. It can get fairly busy on the weekends, so you should definitely plan for at least a 30 to 45 minute wait at peak times. We love to sit outside if the weather is nice. Little Goat has the classic feel of an old-school diner with a funkier, more creative menu. The portions are generous. They offer a blue plate special every day (some of my favorite dishes have been these), but it can sell out fairly early. Other favorites: corn beef hash, blueberry pancakes, parathas burrito, and the super crispy hash browns.
Publican – 837 W. Fulton Market – if we're looking for a more special brunch spot, we often head over to Publican. It's perfect for people that love brunch, but have a tendency to wake up early: brunch starts at 10 am on Saturdays and 9 am on Sundays. As long as you plan about a week out, you can often snag a reservation for a larger crowd too, especially if you go on the earlier side. Warning: the menu is smaller and Publican is known for it's meats/charcuterie, so it is not quite as vegetarian-friendly!
Meli's Cafe – 320 S. Halsted Street – located in Greektown, Meli's is more of an everyday spot for people that seek a traditional breakfast menu. It also offers a ton of dietary friendly options. If you have friends or family that are gluten-free or vegan, it can be a good spot for them. The space doesn't offer the charm or character of other West Loop restaurants, but we do enjoy going every now and then. I enjoy the vegetable heavy breakfast bowls (eg. farmland bowl) and fresh-pressed juices.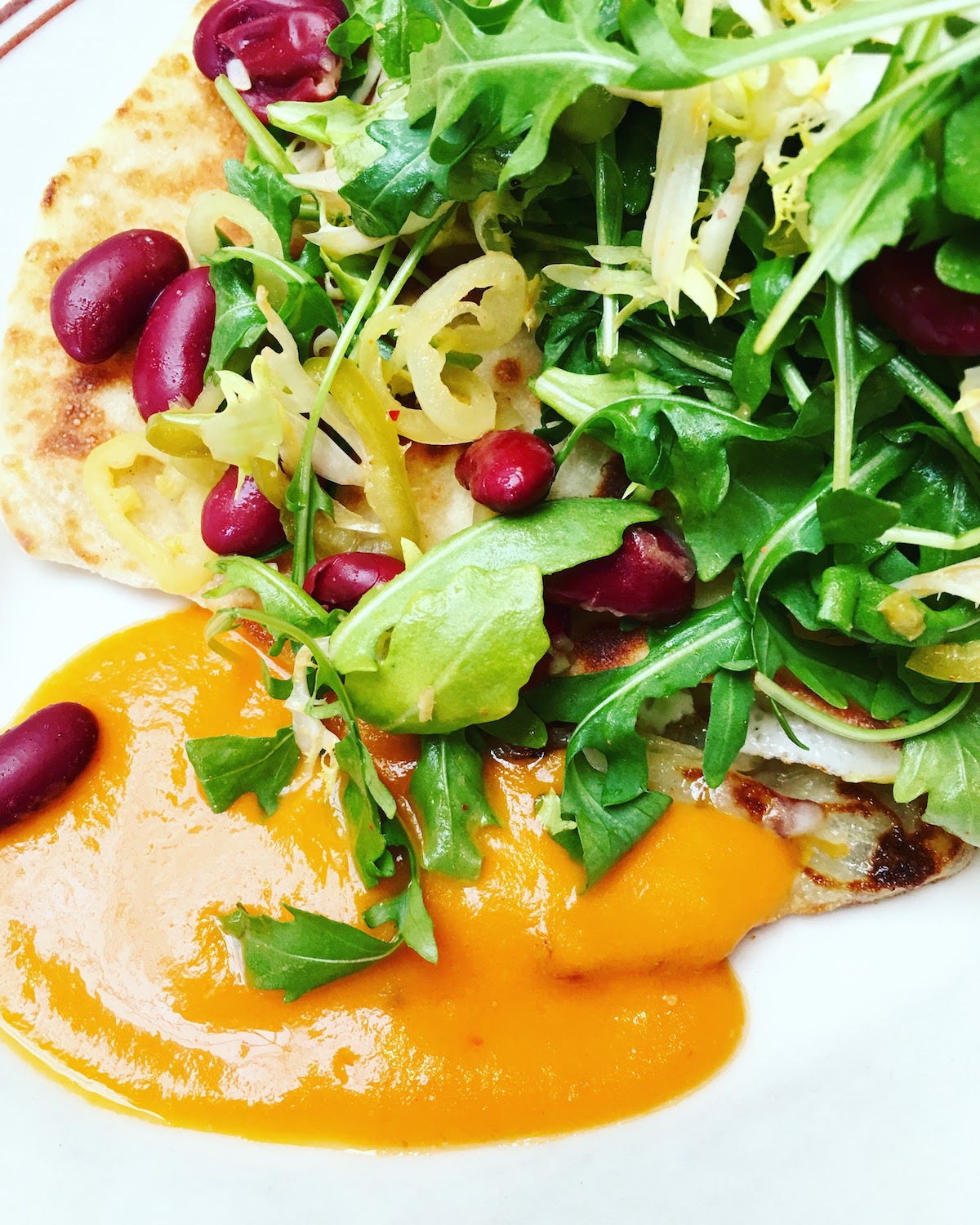 KITCHEN SHOPS
Herzog Design Co. – 1034 W. Madison Street – a few blocks away from restaurant row, you can find Herzog Design Co. – a restaurant supply and equipment shop that's been around for more than 100 years. If you're looking for cheap pots or kitchen equipment, it's worth a visit.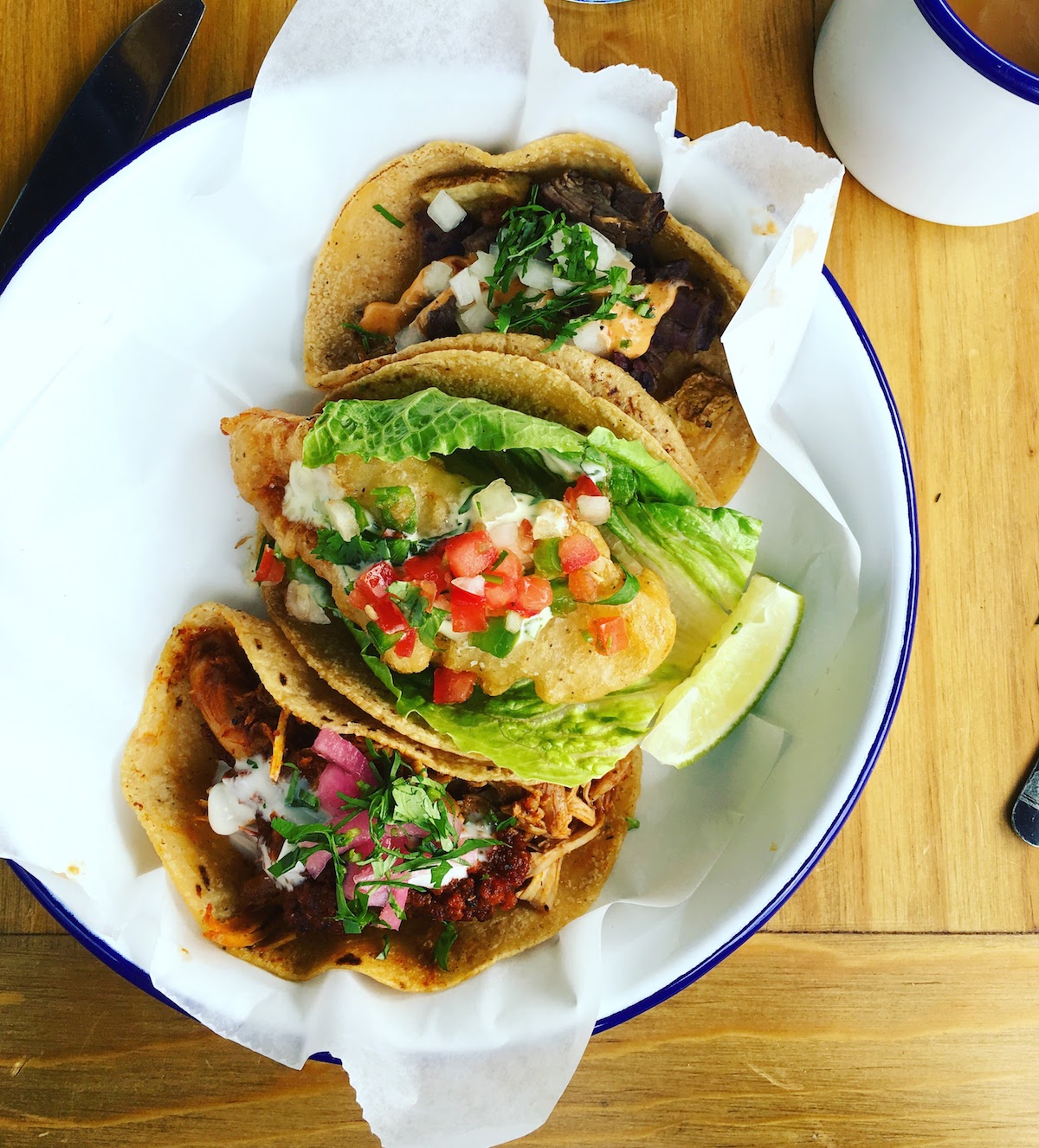 BURGERS, TACOS, BBQ + PIZZA
The Loyalist – 177 N. Ada – this casual-dining restaurant, located in the basement above Smyth (two star Michelin restaurant), offers one of the best burgers in Chicago, along with seasonal small plates. We actually prefer the Loyalist's dirty burg to Au Cheval's burger (see below). The atmosphere is lively, yet on the louder side, and takes reservations, which are generally easier to snag than other spots in the neighborhood. Insider Tip: On Tuesdays, they offer a great burger special featuring the Dirty Burg with fries, rotating beer, and shot for $15.
Au Cheval – 800 W. Randolph – (no reservations) – this famous spot won the title of best burger in Chicago (and the country) years ago and still has a line running out the door at all times of the day. Prepare for at least a two and a half hour wait unless you go at an off peak time. Try a super late lunch or very late dinner. If you love rich burgers and griddled thin-style patties, you will love it. This is not the place to stray off the menu or request off-the-menu toppings. Go very hungry. Order the single (technically, a double patty) cheeseburger with bacon and split an order of fries. If you love eggs, add an egg (they are gorgeously presented, but IMO the burger doesn't really need it). I don't even love bacon, but Au Cheval's super-thick bacon is fantastic!
Cruz Blanca Brewery + Taqueria Bar – 904 W. Randolph Street – the casual taco bar attached to Rick Bayless's Lena Brava. Unlike other taco spots, you order different grilled meats and actually assemble the tacos yourself. If you love beer, be sure to grab one of their signature brews.
Parlor Pizza Bar – 108 N. Green Street – if you're looking for a lively, loud sports bar (or super casual pizza), Parlor Pizza can be a fun spot to visit with a group, especially if you sit outside on their massive outdoor patio (or upstairs beer garden) in the spring or summer.
Green Street Smoked Meats – 112 N. Green Street – if you visit Sawada Coffee, you'll notice Green Street Smoked Meats just behind you. When you first walk in, you feel like you've been transported to a super trendy Wild West bar. I'm not a BBQ connoisseur (and have had better BBQ), but it can be a fun spot to visit with a large group for a casual, rowdy dinner.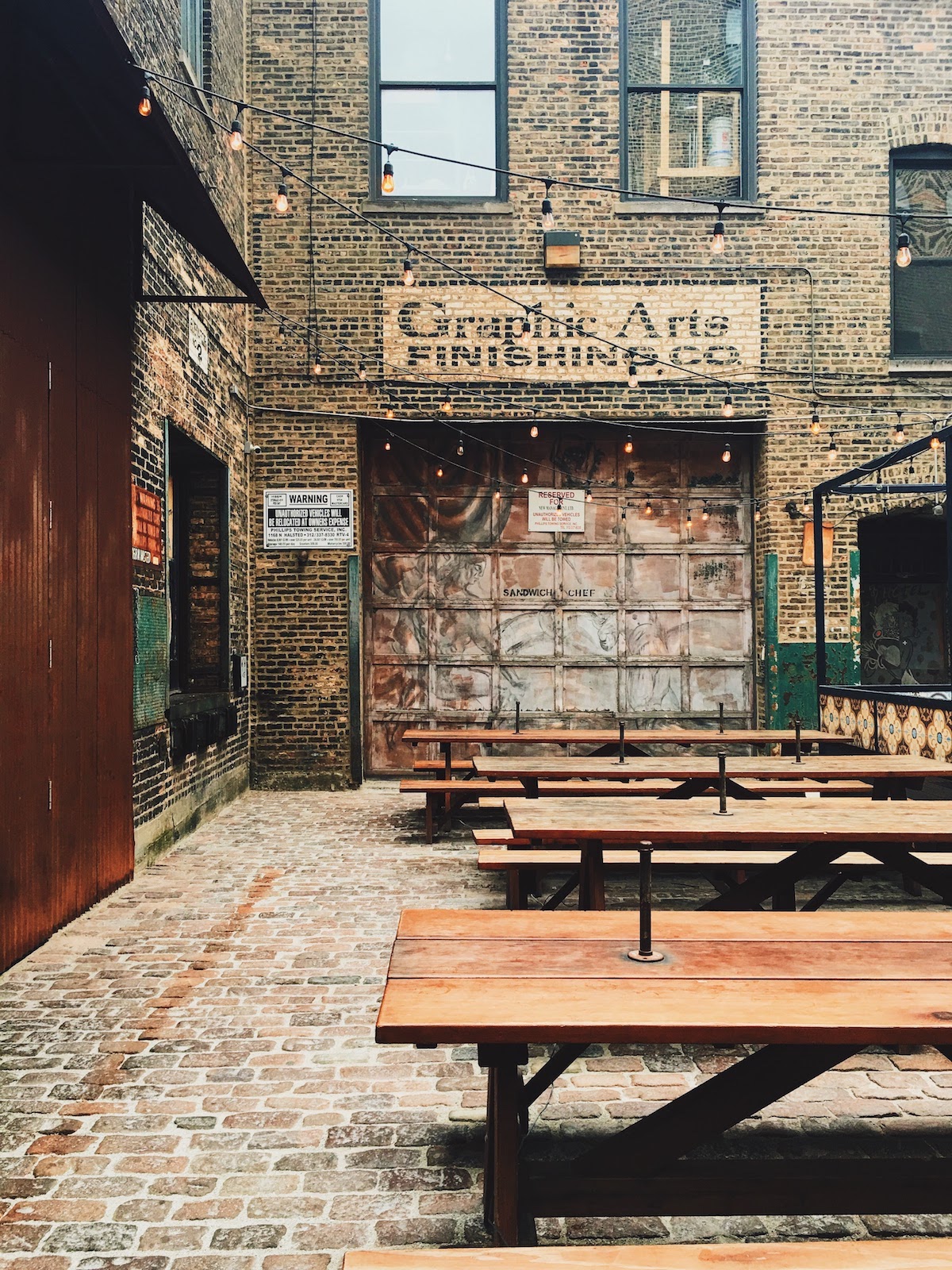 COCKTAILS + DRINKS
Lone Wolf Tavern – 806 W. Randolph Street – on the outside, Lone Wolf Tavern looks like an old-school bar from the 1980's, but the inside begs to differ. It's a fun spot to visit for a drink (especially if you are waiting for a table from a nearby restaurant), but expect to stand – as they have limited seats and the leather booths fill up early.
Bad Hunter – 802 W. Randolph Street – technically, Bad Hunter is a restaurant, but it is also a great place to grab a cocktail or drink too. They specialize in low-alcohol craft cocktails, which I sort of love. Favorites are the spicy carrot cooler and low and slowe cosmo.
RM Champagne Salon – 116 N. Green Street – located at the back of a cobblestone alley (also home to High Five Ramen, Green Street Smoked Meats, and Sawada), RM Champagne salon is a great place to visit in the summer and enjoy a drink and fresh oysters.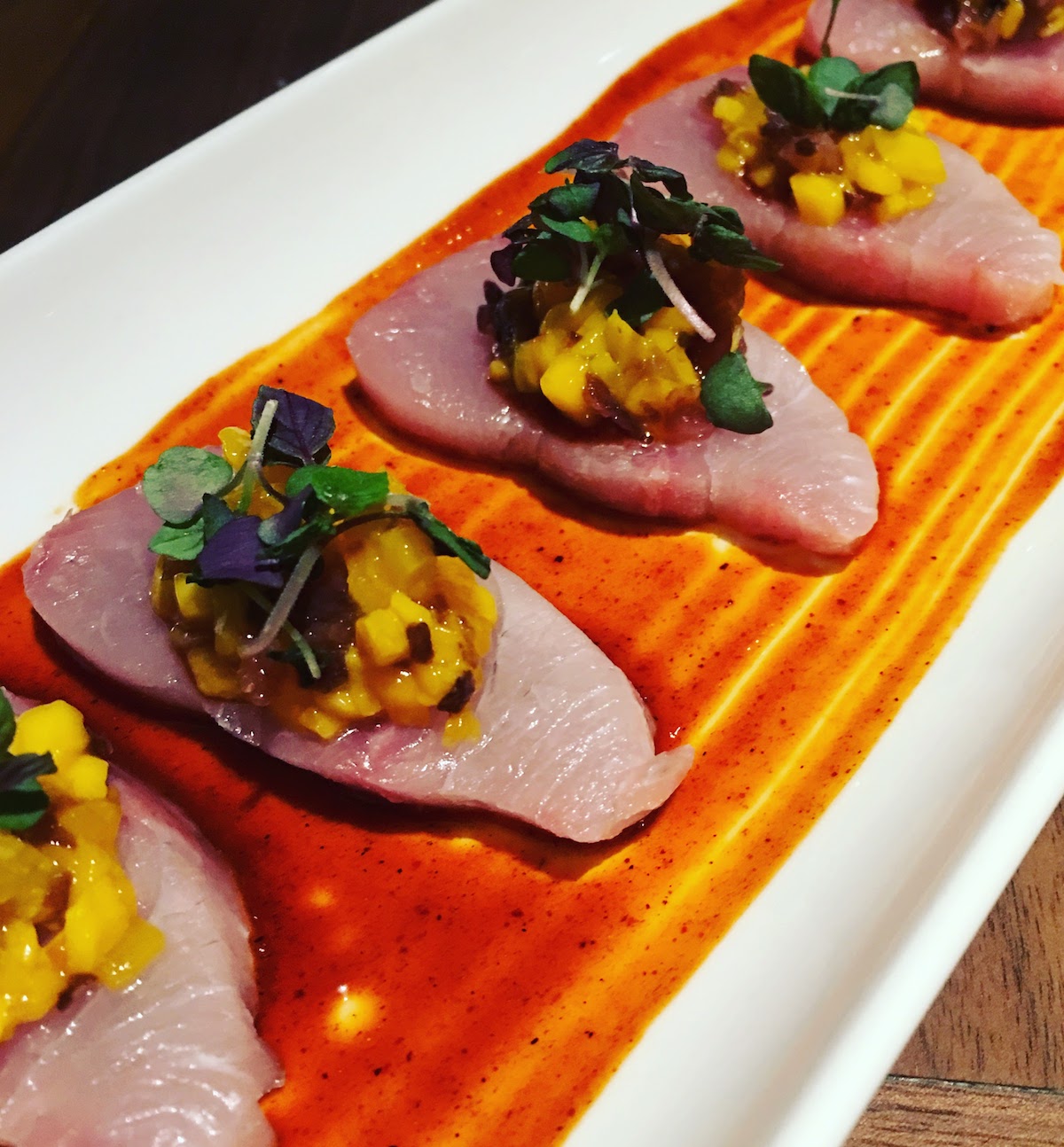 GREAT DINNER SPOTS
Monteverde – 1020 W. Madison – Monteverde has quickly risen become our favorite Italian restaurant in Chicago, and is one of the first places that I recommend to friends and family visiting the area. We've never been disappointed with a meal at this restaurant. While everything is delicious, they are well known for their housemade pastas (the wok friend arrabiatta and pesto gnocchetti are two tried-and-true favorites, but be sure to try their seasonal pasta dishes – they are some of the best!). We also love the skate schnitzel. If you wish to go at prime time on a weekend evening, I highly recommend booking a reservation at least 6 to 8 weeks in advance or longer. However, they do leave tables open for walk-in's – if going this route, I recommend arriving early and having a smaller party.
Avec – 615 W. Randolph Street – Avec continues to be one of our favorite go-to restaurants in the West Loop (and Chicago, in general). It is reliably great. We love going there for dinner, as well as for less traditional brunches on weekends. Share everything and always order at least one of the salads. Even on a busy night, we can generally get a table for two within 30 to 45 minutes at the most, especially if we go slightly earlier or later. Since the restaurant is very small (and only has communal tables) and takes limited reservations, I recommend avoiding it for groups larger than four people since it can be on the louder side. PS. If you see lamb tartare on the menu, order it immediately!
Publican – 837 W. Fulton Market – if you'd rather skip brunch, definitely plan ahead and make a reservation to visit Publican for dinner! It can get a bit loud – so it might not be the best spot for a huge crowd – and most of the tables are communal, but the food is fantastic. Great for meat and charcuterie lovers.
Duck Duck Goat – 857.W. Fulton Market – the descriptor for this restaurant is 'reasonably authentic Chinese food' and I love that. The restaurant (the newest addition to Stephanie Izard's empire) is beautifully designed, and the food is great and fun to share with a group. Our favorite dishes that we've tried: short ribe/bone marrow potstickers (jiazo), octopus salad, dan dan noodles, and mapo doufu.
High Five Ramen – 112 N. Green Street – (no reservations available) if you want spicy, rich ramen and want a trendy atmosphere that vaguely resembles the counter-style ramen shops of Japan – this is a great spot to visit. As someone who loves spicy food, I actually find their medium spiced ramen too hot, so I recommend going for light. High Five Ramen is not ideal for groups, because it is very dark and they have limited seating. Visit at off-times or weekdays, or be prepared for a very long wait. They don't take reservations and only have about 10-15 seats.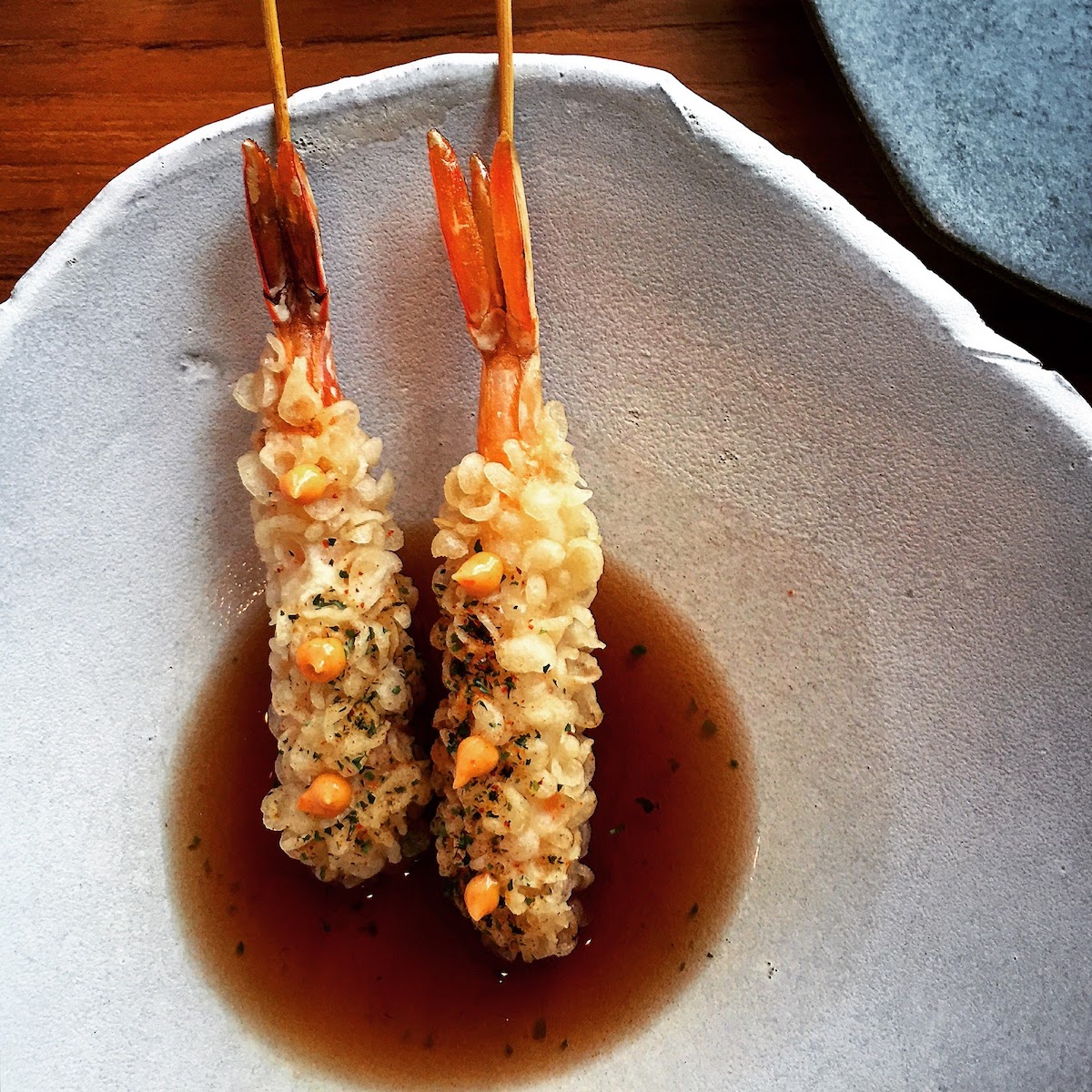 SPECIAL OCCASION RESTAURANTS
Momotaro – 820 W. Lake Street – our favorite sushi spot in West Loop! This beautiful restaurant is located just off restaurant row, and offers fabulous hot/cold dishes, unique sushi rolls (highly, highly recommend the Go Takara roll – which is actually about six completely different pieces), sashimi, and much more.
Blackbird – 619 W. Randolph Street – this Michelin-starred restaurant is a classic West Loop institution that has been around for years. We went a year ago for my birthday, and I still remember the corn gazpacho like it was yesterday. If you're looking for a classic, pre-fixe high end dining spot (and can't snag a reservation for Grace), this is a great option. They also offer a more afffordable lunch menu too.
Leña Brava – 904 W. Randolph Street – Rick Bayless's newest Chicago restaurant, Leña Brava is a Baja-style seafood-focused spot right on Randolph Street. They specialize in cold dishes (think crudos, aguachiles, ceviches, etc.) and wood-fire roasted dishes. If you love Mexican/Baja style food and seafood, this is a perfect place to plan ahead for a more upscale meal.
Girl + the Goat – 809 W. Randolph Street – Stephanie Izard's famous spot on Randolph Street. You might be lucky enough to walk in and be able to snag a table, but for the most part, you should plan on making a reservations months ahead. The food is great, but rich and slightly larger than tapas size, so if you prefer to share dishes (and try a bunch of them!), be sure to go with a group of three or four. You can't really go wrong with any of them, but the wood oven-roasted pig face – and anything goat-based – is worth a try.
The Aviary – 955 W. Fulton Market – if you are into cocktails, you can't write a West Loop restaurant guide and not mention The Aviary. I have not visited this spot personally, but I've always been curious and heard great things – but you really have to love cocktails and be willing to pay a pretty penny for them. Definitely an experience or special-occasion option!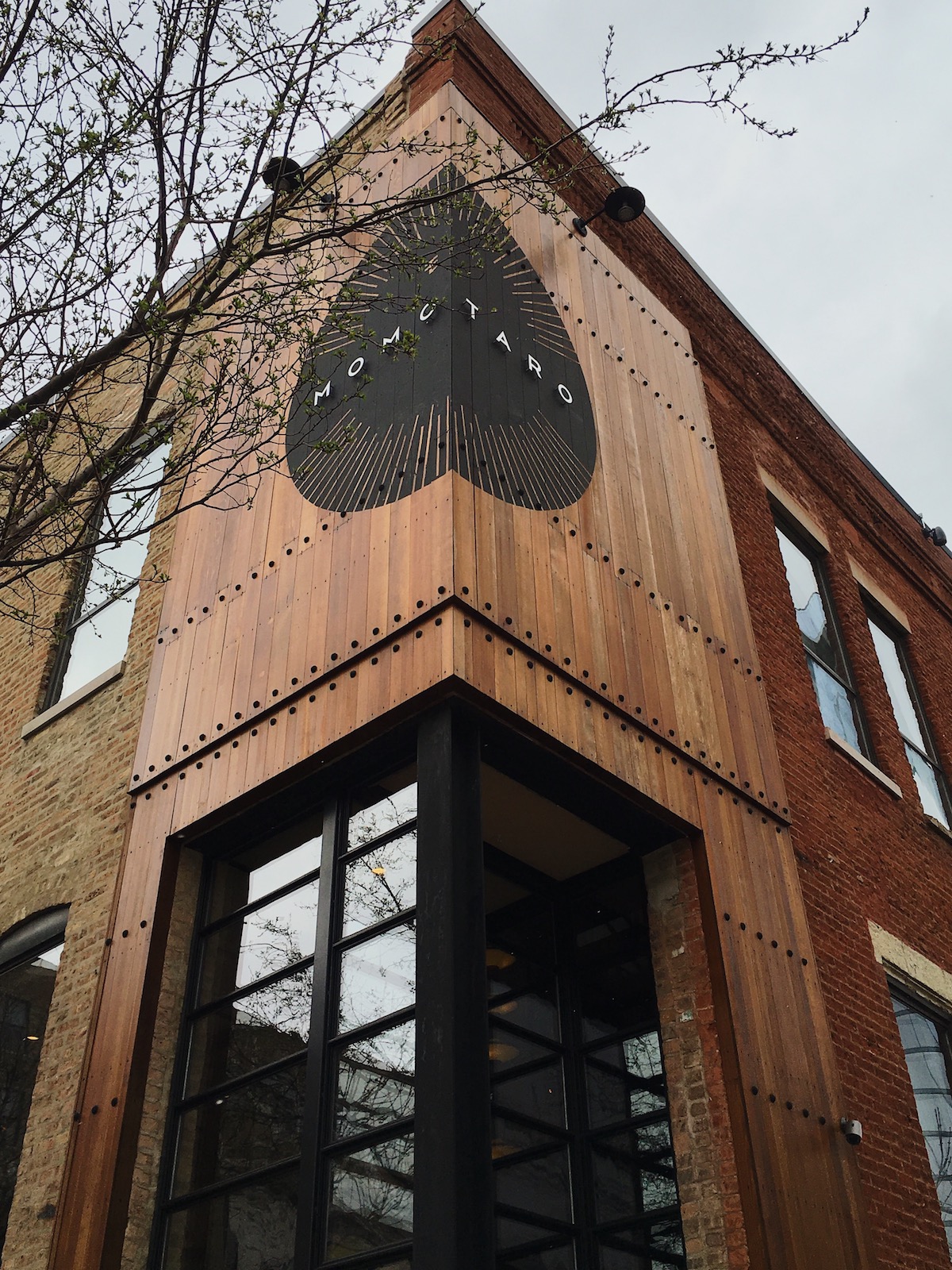 PLACES TO VISIT NEXT
Below, you can find a handful of spots that are on our list of places to try next. I'll continue to update this list as time goes on, and also add new spots as they open up!
Bad Hunter – 802 W. Randolph Street
La Sirena Clandestina – 954 W. Fulton Market

Next – 953 W. Fulton Market
Maude's Liquor Bar – 840 W. Randolph Street
Sepia – 123 N. Jefferson Street
Bar Takito – 201 N. Morgan Street
Gus's World Famous Fried Chicken – 847 W. Fulton Market
El Che Bar – 845 W. Washington Boulevard
Chicken Shop – 113-125 N. Green Street
Forno Rosso Pizzeria – 1048 W. Randolph Street
This post contains affiliate links, which means that I make a small commission off items you purchase at no additional cost to you. Please read my
privacy policy
for more information.