Eggplant with Roasted Garlic Yogurt Sauce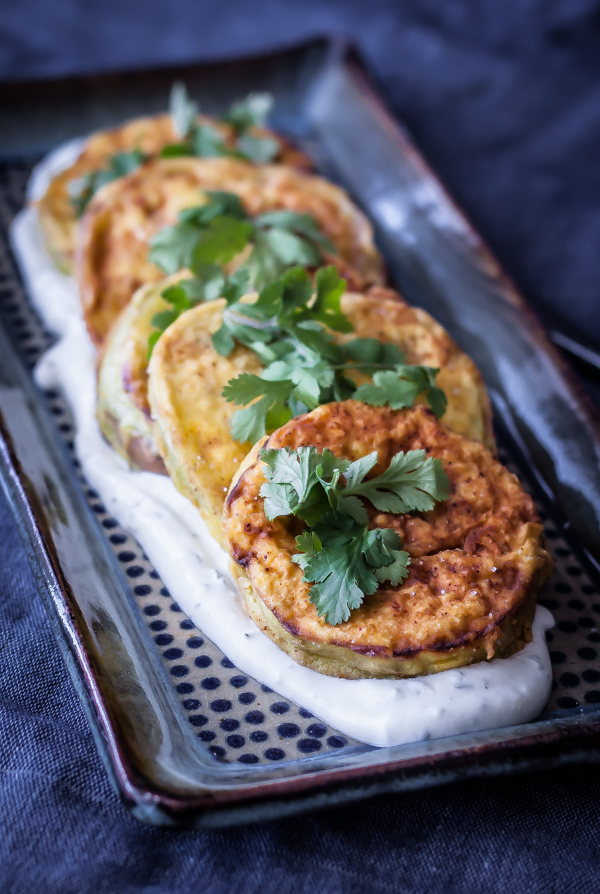 I'm fairly positive we've discussed my love of eggplant a million times before on the blog.  With this dip, soup, and side dish.
So instead, can you indulge me while I get real and talk about other life things?  Like wedding planning.  And how I officially suck at it.
To be fair, I'm incredibly good at fake wedding planning.  Like really, really brilliant at it.  I have planned the most beautiful wedding…on Pinterest.
The reception is brimming with rununculas and candles, a million lightbulbs are hanging from the (imaginary) ceiling, and I've DIY-ed all of my party favors.  Oh yeah, and my cake is homemade.  Because I was feeling extra ambitious.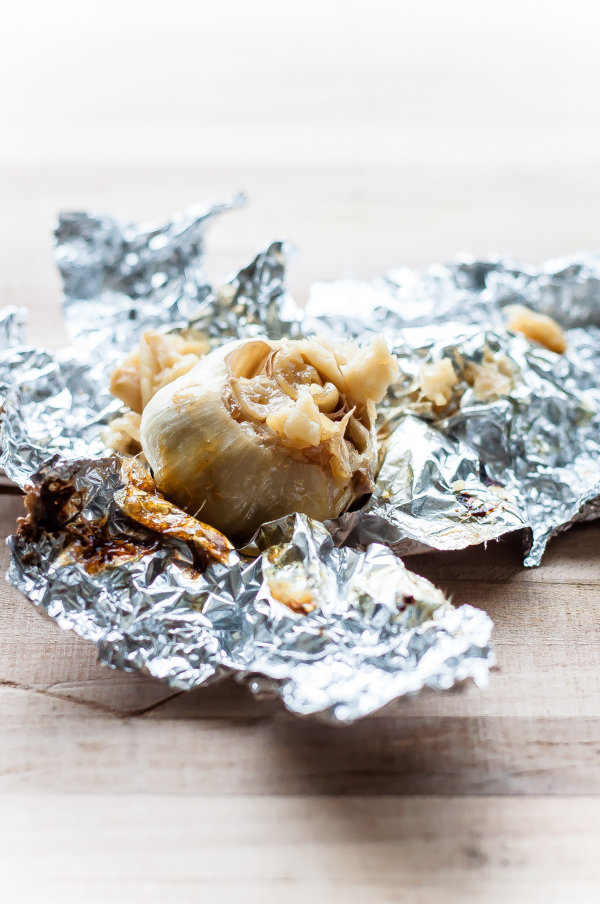 I'm pretty sure this is why brides go crazy.
To preface you a bit, I was never the girl who started planning her wedding at the age of five.  It was the furthest thing from my mind.  Instead, I was the girl who preferred to play in the mud, was obsessed with Teenage Mutant Ninja Turtles, and took offense to anything too girly or frilly.
On the other hand, I am incredibly picky.  Connor forced me to look at pictures of venues over the weekend, and I literally dismissed 75% of them with one word answers.  Nope.  Definitely not.  Too hotel-y.  Ugly carpet.  Ugly windows.  Too huge.  Too small.
We're totally screwed.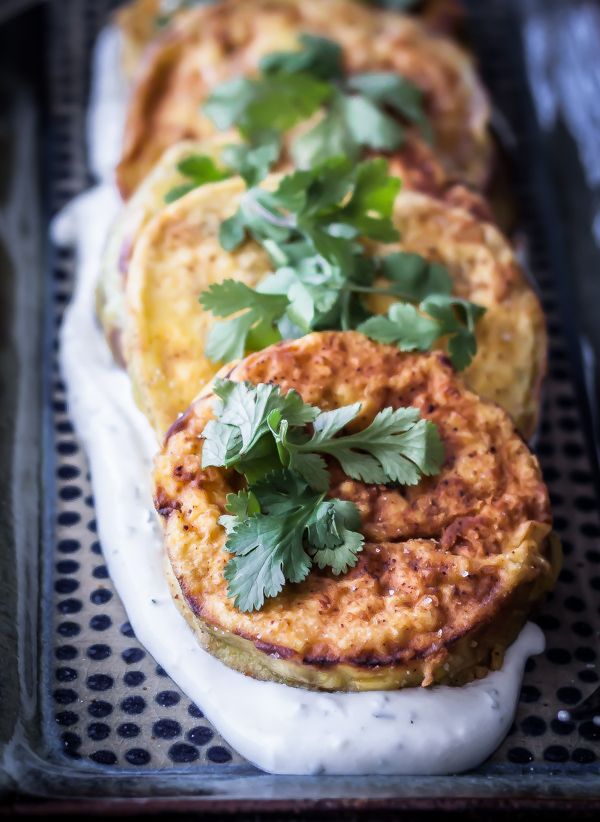 Wedding planning is not my forte.  Can't someone just do it all for me (for free, preferably) and I just show up?  That sounds much more fun.
As you can see from today's recipe, the stress of wedding planning (or realistically, the stress of thinking about wedding planning, because in all honesty, we've barely planned anything) is making me want to fry everything in sight.  These eggplant rounds were my latest victim.  This dish was inspired by one of my favorite Greek restaurants in DC.  Eggplant rounds are lightly coated in flour, seasoned with cumin and turmeric, lightly fried in olive oil and served with a delicious roasted garlic yogurt sauce.
Dreamy, creamy, and oh so good.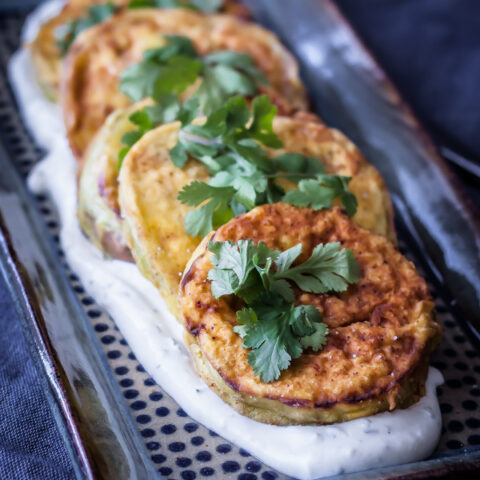 Eggplant with Roasted Garlic Yogurt Sauce
Yield: 4 Servings
Eggplant rounds are lightly coated in flour, seasoned with cumin and turmeric, lightly fried in olive oil and served with a delicious roasted garlic yogurt sauce.
Prep Time: 1 hour
Cook Time: 15 minutes
Total Time: 1 hour 15 minutes
Ingredients
Roasted Garlic Yogurt Sauce:
1 small head of garlic, roasted (see below)
1-2 teaspoons extra virgin olive oil
3/4 cup whole fat greek yogurt
1 teaspoon lemon juice
1-2 teaspoons finely chopped cilantro
kosher salt
freshly ground black pepper
Eggplant:
1 large eggplant, peeled and sliced into 1/2″ discs
3/4 cup flour
3/4 teaspoon ground cumin
1/2 teaspoon ground turmeric
kosher salt
freshly ground black pepper
olive oil, for frying
cilantro, for garnish
Instructions
Roast Garlic & Prepare Yogurt Sauce: Preheat oven to 400 degrees Fahrenheit. Peel the outer skin layer of the garlic and trim the top of the head (about 1/4″ inch) to expose the garlic cloves.
Place garlic in aluminum foil, drizzle with 2 teaspoons of olive oil, salt and pepper and pinch the ends of the foil together, creating a tent.
Roast for 45 minutes to 1 hour, or until garlic cloves are very tender and soft. Allow to cool until lukewarm (or comfortable to handle) and remove the roasted cloves into a small food processor.
Add the yogurt and lemon juice to the food processor, and pulse until smooth.
Place yogurt into a bowl and stir in the cilantro. Season with salt and pepper to taste. Set aside.
Prepare Eggplant: Place eggplant rounds in a colander, drizzle with salt, and allow to sit for 15-20 minutes. Pat dry.
Combine flour, cumin, turmeric, salt and pepper in a small, shallow bowl. Set aside another small bowl of water.
Heat 1/4″ of olive oil in a large sauté or frying pan over medium high heat.
Lightly coat the eggplant rounds in the flour mixture, then dip into the water (dripping any excess liquid off), and dip again into the flour mixture. Fry until golden brown on both sides. Avoid over-crowding the pan and change oil as necessary.
Remove and place on paper towel lined plate. Salt immediately. Serve eggplant with roasted garlic yogurt sauce and garnish with fresh cilantro.
Notes
Inspired by Zaytinya Restaurant.
Nutrition Information:
Yield: 4
Serving Size: 1
Amount Per Serving:
Calories: 227
Total Fat: 7g
Saturated Fat: 1g
Trans Fat: 0g
Unsaturated Fat: 5g
Cholesterol: 2mg
Sodium: 310mg
Carbohydrates: 36g
Fiber: 5g
Sugar: 7g
Protein: 8g