Walnut Streusel Pumpkin Muffins
I have had this muffin idea in my head for days.  It's been taunting me.  Well, yesterday afternoon, I finally got myself into the kitchen and acted on it.  Luckily, it was a great success and I'm here to share the recipe with you!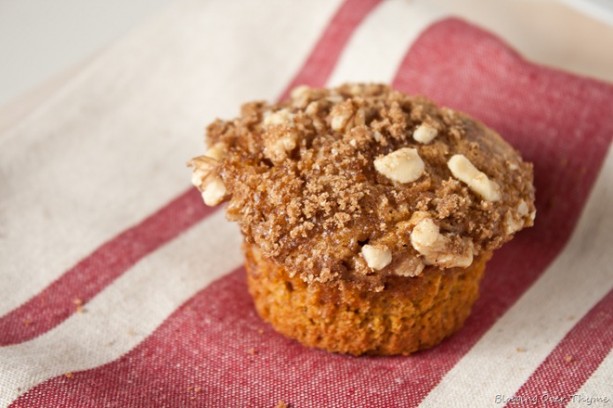 I have been meaning to share at least one Thanksgiving inspired recipe with you all before the big day next week.  Of course, this recipe involves pumpkin and cinnamon—two ingredients which scream Turkey Day, in my opinion.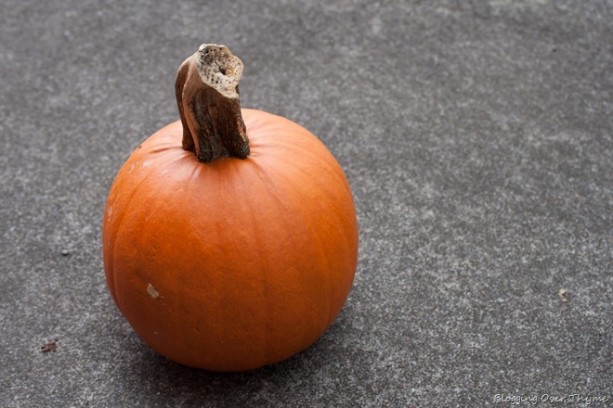 I haven't done a ton of baking since I've moved into the apartment (besides bread making, of course).  This is partially due to the frustration of working in a small kitchen and having only an extremely old hand-held mixer on hand.
Let's just say that the slowest setting would send ingredients flying everything.  I'm pretty sure it is from circa-1980 and it hasn't aged well, to say the least.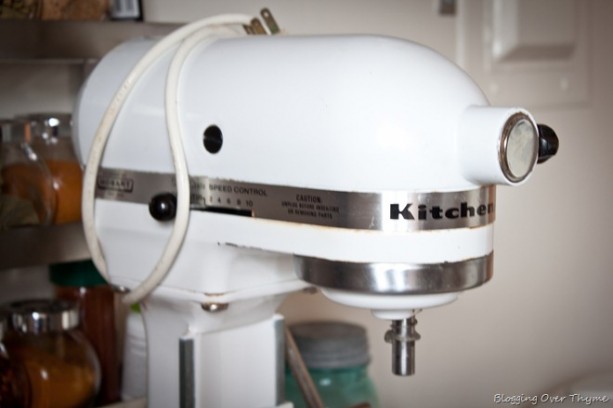 However, as of a couple days ago, I borrowed stole my mom's Kitchen Aid stand mixer from home, while my parents continue to live abroad.  Not sure why I didn't think of this months ago—I think I convinced myself I didn't have the space for it.  And I felt guilty, but there is no point in it just sitting there collecting dust, right?  Right.
Oh how I've missed thee!  You make baking so much more enjoyable and simple.  Of course, this muffin recipe is easy to make with a handheld mixer, so don't let that discourage you.  These muffins are worth making. right. now.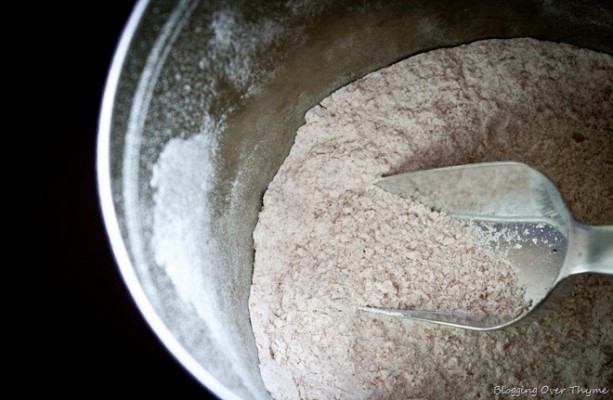 I even added in some whole wheat flour for a little nutritional boost!  But, you would never be able to tell!
These muffins are incredibly light and fluffy, and extra moist.  To make them extra special, I topped them with with a streusel.  Usually, streusels are packed with tons of butter, but this one is light and simple—with only three ingredients.
Dark brown sugar.  Walnuts.  Ground Cinnamon. 
So delicious, I gobbled one up the minute them came out the oven.   For taste-testing purposes, of course…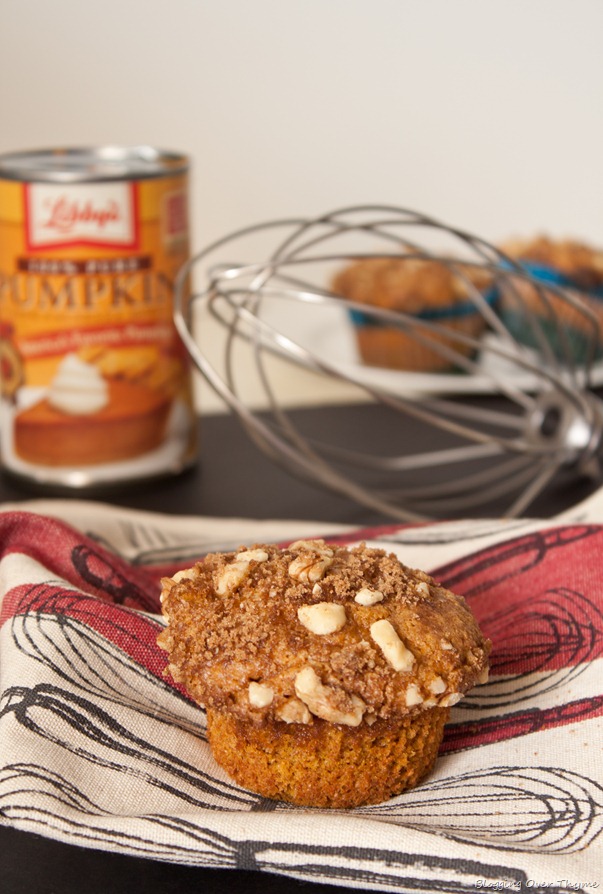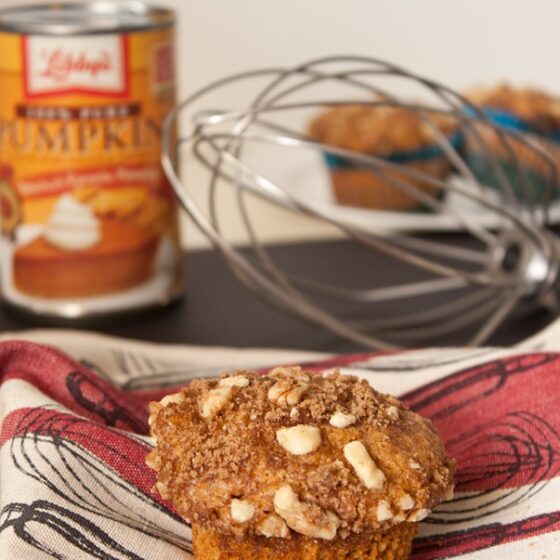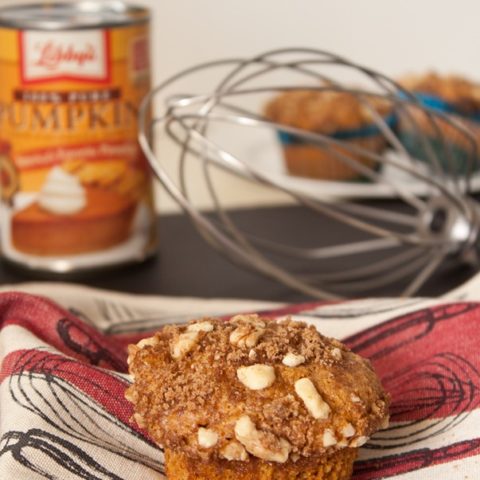 Walnut Streusel Pumpkin Muffins
Yield: 12 Standard Muffins
Prep Time: 20 minutes
Cook Time: 25 minutes
Total Time: 45 minutes
Ingredients
3/4 cup all-purpose unbleached flour
3/4 cup whole wheat flour
1 1/2 teaspoon ground cinnamon
1 teaspoon baking soda
1/4 teaspoon baking powder
1 teaspoon salt
1/2 teaspoon ground ginger
1/4 teaspoon ground cloves
1/3 cup skim milk
3/4 teaspoon vanilla extract
6 tablespoons unsalted butter, softened
1 1/3 cup granulated sugar
2 large eggs, room temperature
1 cup canned pumpkin puree
Walnut Streusel Topping:
1/4 cup packed dark brown sugar
1/3 cup finely chopped walnuts
1/2 teaspoon ground cinnamon
Instructions
Preheat oven to 350 degrees Fahrenheit. Line standard muffin pan with liners or grease with butter and set aside.
In medium sized bowl, whisk together flours, cinnamon, cloves, ginger, salt, baking powder, and baking soda. Set aside.
In small bowl, whisk together milk and vanilla extract. Set aside.
In another small bowl, mix together walnut streusel topping.
Using mixer, beat butter until creamy, about 30 seconds. Turn up mixer to high speed and slowly add granulated sugar until light in color—about 3-4 minutes. Beat in eggs one at a time.
Turn mixer to low speed and add in pumpkin puree until just blended.
Add flour mixture in 3 parts, alternating with 2 additions of milk/vanilla mixture. Beat at low speed until just combined.
Using spoon, divide batter evenly among muffin pan. Using hand or spoon, sprinkle on walnut streusel topping on top of each muffin batter. Lightly pat down with fingers.
Bake at 350 degrees (on center rack) for 22-25 minutes, or until toothpick inserted comes out clean.
Place muffin tin on cooling rack and let sit for 5 minutes. Remove muffins from pan, place on cooling rack, and allow to come to room temperature. Enjoy!
Nutrition Information:
Yield: 12
Serving Size: 1
Amount Per Serving:
Calories: 260
Total Fat: 9g
Saturated Fat: 4g
Trans Fat: 0g
Unsaturated Fat: 4g
Cholesterol: 46mg
Sodium: 310mg
Carbohydrates: 42g
Fiber: 2g
Sugar: 27g
Protein: 4g
A Beautiful Plate provides nutritional information, but these figures should be considered estimates, as they are not calculated by a registered dietician.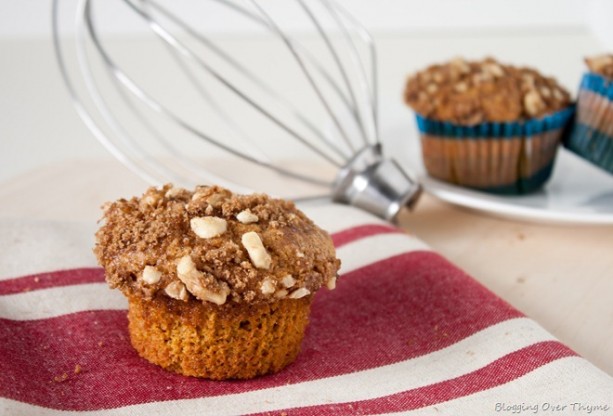 If you are feeling extra indulgent, you could always skip the streusel and whip up a delicious cream cheese frosting infused with a bit of cinnamon.  Instant cupcake!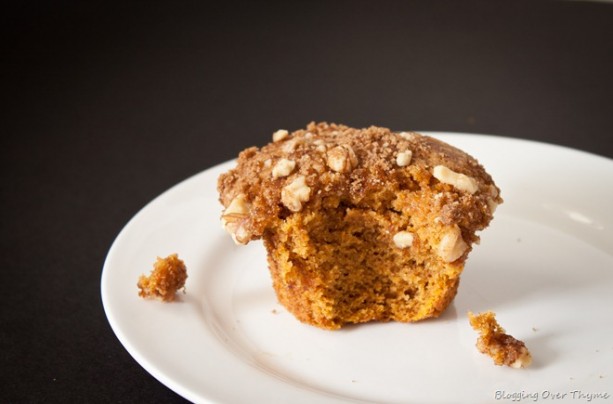 Bring these to your Thanksgiving feast next week!  They are sure to impress all your friends and family.