Zaytinya: Delicious Greek Tapas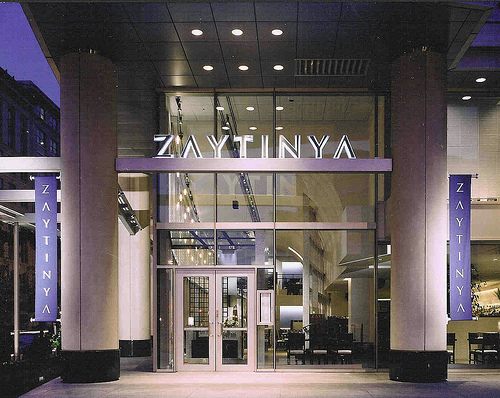 Located in downtown DC, near Chinatown and the Verizon Center (tip: nearest Metro stop–Gallery Place/Chinatown), Zaytinya offers a Greek, Turkish, and Lebanese inspired twist on tapas fare.  Opened in 2003 by popular Chef Jose Andres (recently featured in Bon Appetit magazine), Zaytinya has consistently been named one of the 100 Best Restaurants in the DC area by Washingtonian magazine.  Since its opening, it has continued to attract large crowds and lines throughout all days of week!  I personally have gone there to eat 4-5 times and, for this reason, would like to share with you my own personal likes and dislikes, as well other helpful tips and recommendations if you're planning on dining there in the near future!
Helpful Side Note: I'm in no way, shape, or form being compensated for saying nice things about any of the restaurants featured on this blog!  Therefore, these opinions are based purely on dining experience and general taste for great food–nothing else.  While we enjoy giving nice and complimentary reviews, we are not at all afraid to state our true opinion (good or bad).  After all, honesty is the best policy…right?
Likes:
The ambiance and general decor of the restaurant is very impressive!  Most of the tables are on the main floor, but there is an additional staircase to a small loft dining area.  This is beautiful to look at, but unfortunately creates a bit of noise within the restaurant due to the ceiling height and wood floors.
Several consistent and great dishes, including my personal favorites: hommus (this is not your average store-bought hummus), Bantijan Bil Laban (crispy eggplant served w/ yogurt-dill sauce—yum!), Spanakopita (home-made phyllo dough w/ spinach & feta—look out for Spanokopita specials), Seared Sea Scallops, Piyaz (warm giant beans with sauteed kale, roasted tomato, and garlic—see picture below).  In addition to these favorites, they also have 5-6 additional specials.
Great location if you happen to be catching a basketball game or hockey game at the nearby Verizon Center, or just want to pop into Chinatown for a quick visit.  It is also quite casual—so you won't feel completely out of place or get turned down if you're caught fashionably unprepared.
The complimentary homemade pita-style bread is incredible and always piping hot (literally, I think I almost got a steam burn once :))  It's great by itself or with many of the dips (hommus, Baba Ghannouge, etc.) they offer on the menu.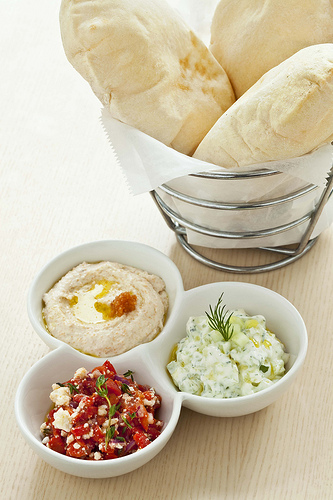 Dislikes:
They rarely, if ever, change their main menu!  This is why specials are a must choice.  Unfortunately, this leaves little room for creativity and change after the first dining experience at Zaytinya.  This can be great for people who like consistent and reliable dishes (like the ones I mentioned above), but also a downside for those who love change and creativity in their dining experiences (me ;)).
It is near impossible to find a parking spot in this busy, street corner location!  The valet parking offered by the restaurant costs $11 dollars (pretty hefty), so taking the metro is the cheapest option by far.
Long lines for table!  While this is good sign, it can also be incredibly frustrating if you're in the area and just want to eat already (again, me).  However, the restaurant now offers reservations! So definitely plan on booking a table if you know you will be in the area.
Depending on the occasion, I've also found several of the tapas dishes on the salty side (although I may be salt-sensitive, who knows?).  If this concerns you, ask the waiter to make sure the chef keeps your dishes on the un-salty  side—don't be shy, you're a paying customer!
Overall, I highly recommend heading over to Zaytinya for at least one meal—open for both lunch and dinner—and I can almost guarantee you won't be disappointed!  I hope this little pros/cons list and review has helps you choose your next dinner date in the big city.
Price:  Moderate—($4-$12/tapa dish)– depending on how many tapas your table orders! We recommend spreading the dishes out throughout the course of the meal by ordering 2-3 plates at a time, instead of all at once.  This allows each dish  to be enjoyed fresh from the kitchen, as well as allows you to make your dish choices as you go (your food cravings and hunger level will also probably change), rather than all at once at the very beginning.  Try to change up the kinds of dishes (maybe one seafood, one dip, and a fried option in one round, etc.) in each order to vary up the flavors and tastes!

Location:
701 Ninth St., NW
Washington, DC 20004
Phone: 202-638-0800
This post contains affiliate links, which means that I make a small commission off items you purchase at no additional cost to you. Please read my
privacy policy
for more information.