2016 Cookbook Gift Guide
My favorite new (and old) cookbooks for the holiday season, complete with fun pairing gift ideas. Perfect for beginner, intermediate, or experienced home cooks!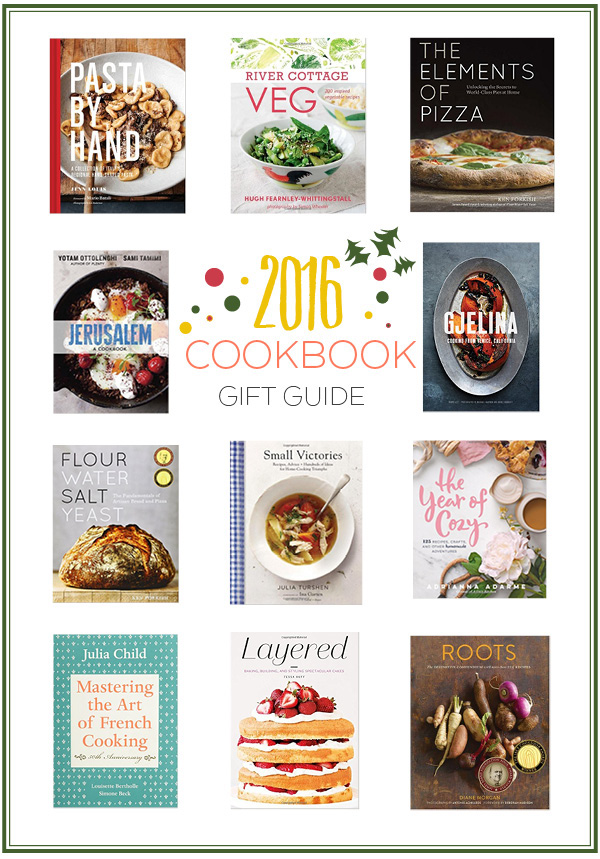 Cookbooks listed left to right, top to bottom
Despite skipping the craziness of post-Thanksgiving shopping (my least favorite thing), I've been looking forward to sharing my second annual gift guides all season. We're starting with cookbooks! Some new, some old, and several in between. As someone with a rapidly growing cookbook collection, I can't get enough of them. Cookbooks are huge sources of cooking, styling, and photography inspiration and in my humble opinion, one of the best holiday gifts. They're meaningful, useful and with a few simple additions, can be transformed into a very special gift for anyone who loves to cook.
One of my favorite things ways to gift cookbooks is to pair them with other useful kitchen items specific to that cookbook. It requires a bit more care and effort, but it will inspire your friend or family member to start cooking right away! Eg. For a baking cookbook, this might entail your favorite non-stick cake pans, spatula, and a fancy bottle of vanilla extract. If you're searching for ideas, be sure to check out the introduction (pantry or source pages) of a cookbook. Often times, they will often include detailed information on equipment or ingredients most often used within the cookbook itself. Below I've included a list of my new (and some old) favorite cookbooks below and fun pairing ideas specific to each book:
Pasta by Hand by Jenn Louis – this cookbook is one of the newest in my collection, and I'm so excited to cook more recipes from it. The book itself is all about pasta. Specifically, Itay's regional hand-shaped pastas and the history behind them. None of the recipes require special pasta making equipment, and most were completely foreign to me. You just need your hands, a love of pasta, and an appreciation for scratch cooking. This cookbook is perfect for pasta lovers or Italophiles. Pairing Ideas: bottle of Chianti, Brunello, or other Italian red wine, chunk of parmigiano-reggiano cheese (temperature sensitive), and potato ricer (to create perfect homemade gnocchi).
River Cottage Veg by Hugh Fearnley-Whittingstall – a few years old, this cookbook continues to be my go-to cookbook for vegetable-centric cooking! The recipes are fantastic, creative, approachable, and nearly every recipe is accompanied by a full-page image. It also happens to be written by a non-vegetarian. This is a great book for vegetarians or anyone who loves vegetables or wants to cook more of them. Pairing Ideas: Whole Foods or local whole food store gift certificate, 7-inch Santoku knife (for chopping), and a bag of high-quality French green lentils.
The Elements of Pizza by Ken Forkish – my new pizza bible. Not only does this cookbook break down the basics of making great homemade pizza at home, but it includes a variety of pizza dough recipes for all different occasions and time frames. Pairing Ideas: pizza stone or baking steel, bag of great-quality 00 flour, and bottle of extra-virgin olive oil.
Jerusalem by Yotam Ottolenghi and Sami Tamimi – this cookbook needs no introduction, but continues to be one of my favorite cookbooks of all-time. All of Ottolenghi's books are fantastic, and I've never made a bad recipe out of any of them. Jerusalem is my go-to book out of all of them. If you have a friend or loved one who loves to cook (and isn't afraid of harder-to-find ingredients), this is one of the best cookbooks out there! Pairing Ideas: preserved lemons, tahini paste,  jar of ground cardamom, and bag of dried chickpeas.
Gjelina by Travis Lett – another new cookbook to join my collection, and it is has quickly risen to the top! If you love Southern California style cuisine (and Mediterranean-inspired dishes), you will love the recipes in this book. It has a great mixture of simple and more challenging (yet doable!) recipes, and very few require hard-to-find ingredients. I'm literally considering cooking my way through this entire cookbook, that is how great everything looks! It also happens to be stunning. Pairing Ideas: bottle of Californian red or white wine, high-quality extra virgin olive oil, and aged balsamic vinegar.
Flour Water Salt Yeast by Ken Forkish – I've already waxed poetic about this book several times this year, but it is my favorite bread baking book to date. It is far more approachable and understandable than other bread baking cookbooks, and the results have always been fantastic. My go-to recipe is the overnight 40% whole wheat bread. Pairing Ideas: pizza stone or baking steel, bag of SAF instant yeast, 4-quart Staub Dutch oven (Le Creuset, Lodge, or Emile Henry are other great options), and baking scale.
Small Victories by Julia Turshen – one of my favorite cookbooks that has come out this year (as evidenced by these rolls)! I love the recipes, layout, and overall theme of this book. There isn't a single recipe in this book that I don't want to try. Pairing Ideas: 8-inch chef's knife or pairing knife, microplane grater, wooden spoons or holiday kitchen towels.
The Year of Cozy by Adrianna Adarme – I first wrote about this cookbook here, and it continues to be one of my favorite gifting cookbooks because it is perfect for the holiday season. It has an incredible mix of cozy recipes, crafts, and DIY projects that make it perfect for girlfriends. Adrianna just came out with a beautiful, fun coloring cookbook too! Pairing Ideas: monogrammed coffee mug, cable-knit blanket, and chocolate bar for baking.
Mastering the Art of French Cooking by Julia Child – a timeless classic! This is perfect for anyone that loves to cook, wants to learn how to cook, or simply loves French cooking. Pairing Ideas: non-stick skillets, linen apron, and mortar and pestle.
Layered by Tessa Huff – the source of my favorite cake recipe of all time! This cookbook is perfect for baking enthusiasts, and anyone who wants to learn how to master layer cakes. The recipes are incredibly well-written, thorough, and easy to follow, and great for beginners and masters alike. Pairing Ideas: 8-inch non-stick cake pans, jar of pure vanilla bean paste, revolving cake stand, and baking scale.
Roots by Diane Morgan – another new cookbook to grace my shelves, and one that I can't wait to explore more. This is the comprehensive, definitive cookbook about winter root vegetables (making it perfect for this season!). It is divided up into chapters focused on root vegetable (think more familiar things like beets, carrots, and potatoes and the more unfamiliar such as yuca, jerusalem artichoke, and galangal). Each chapter includes an introduction on the root vegetable, including nutritional information, varieties, availability, sorage, basic preparation, as well as creative recipes in which they shine. Pairing Ideas: 8-inch chef's knife, wood cutting board, and vegetable peeler.
Some of the links above are affiliate links. This means I will earn a small commission if you purchase items through my links (at no cost to you!). Thank you for supporting ABP! For more gift guide ideas, check out these posts. 
This post contains affiliate links, which means that I make a small commission off items you purchase at no additional cost to you. Please read my
privacy policy
for more information.