Fresh cranberries and orange zest add a tart zip to this homemade Apple Cranberry Pie, which is packed with apples, and prepared with my go-to flaky, all-butter pie crust.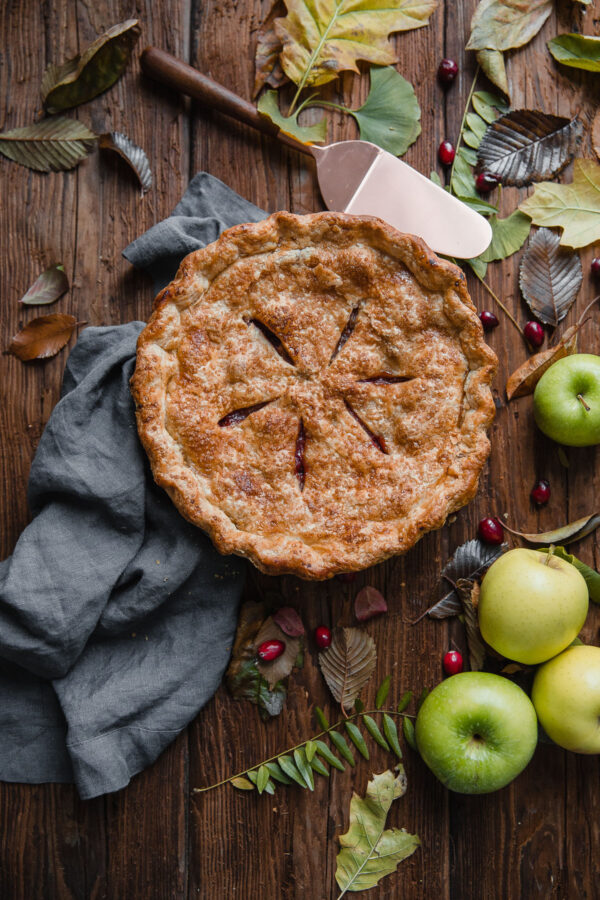 This post was created in partnership with Bob's Red Mill. 
If you haven't finalized your Thanksgiving Day dessert menu yet, I'm here to help. As I'm sure many of you agree, this holiday would not be complete without pie. It's essential!
You'll want to go easy on the first half of the meal to make room for this incredible Apple Cranberry Pie. Some type of apple pie makes an appearance at my table every year, but this version might be my favorite yet.
Baking apples are combined with warm cinnamon, regular and light brown sugar, fresh orange zest, and orange juice, and combined with fresh cranberries for some zip. The natural tartness of the cranberries, which soften during baking, complements the sweetness of the apple mixture and gives the pie filling a beautiful pink hue.


While the apple cranberry pie filling is fantastic, let's talk about the real star of this pie: the homemade all-butter double pie dough. While I totally understand the rationale behind using store-bought pie doughs (Thanksgiving is a crazy day!), the flavor and texture will never match that of a homemade crust. Trust me.
I've made countless pie doughs, some far more complicated and fussy than others. The all-butter pie dough recipe below is my new go-to method and recipe.
It requires minimal steps and produces an incredibly flaky, tender pie crust that holds up well to various fillings.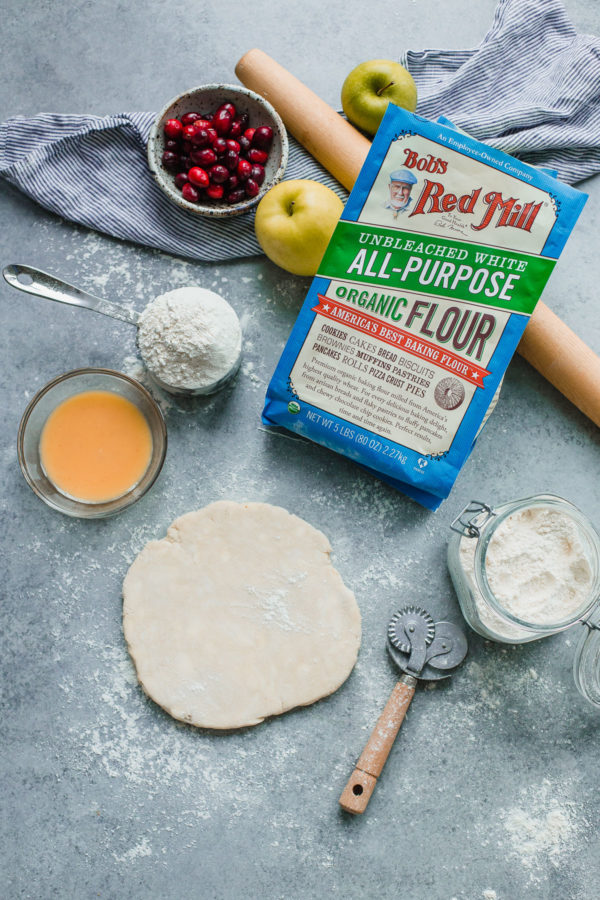 If you're making your own pie dough from scratch, I strongly encourage you to seek out high-quality flour and butter. After all, pie dough is usually comprised of only a handful of ingredients. Using the best will produce exceptional flavor and reliable results.
For this recipe, I turned to my go-to everyday baking flour, Bob's Red Mill Organic Unbleached All-Purpose Flour. It is produced from certified-organic, hard red wheat and is unbleached, unbromated (did you know bromate is banned in most countries outside the United States?), and unenriched unlike other conventional all-purpose flours.
Unbleached all-purpose flour, which has mid-level protein percentages, lends itself extremely well to homemade pie crusts and countless other baking tasks. If you're interested in learning more about different types of flour and when to use them, check out my Flour 101 baking reference post for more information.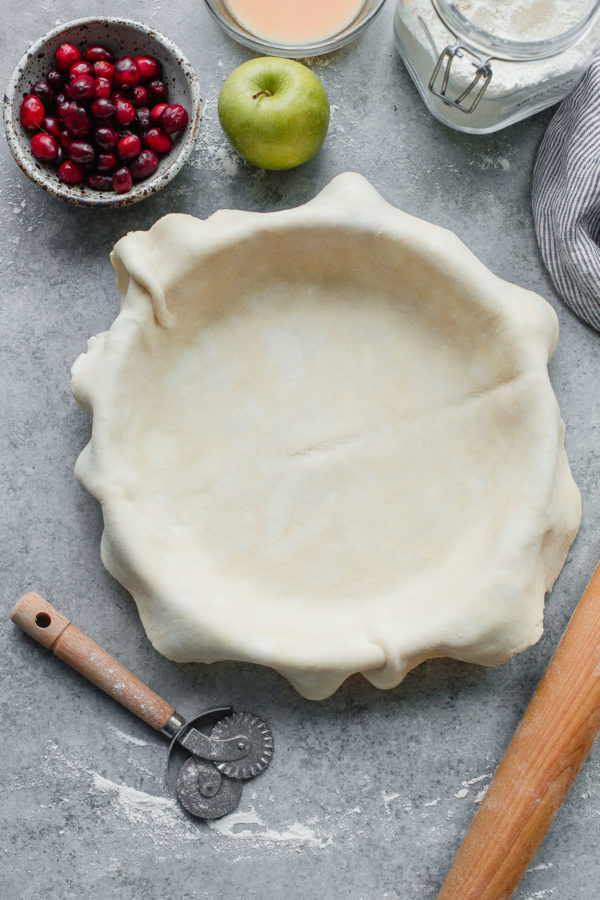 How to Make Pie Dough in A Stand Mixer
As is the case with most things in my life (particularly pastries), practice, patience, and a basic understanding is essential for homemade pie dough. Why am I here? Well, I'm here to make the process a bit less stressful.
Similarly to this blackberry peach pie, we'll be making this homemade pie dough using our stand mixer and paddle attachment. Over the years, I've experimented and prepared pie dough in every method possible (pastry cutter, food processor, etc.) and this is my favorite method yet. While you can certainly prepare this dough using other methods, I've found the stand mixer to produce the most consistent results.
Here's why I prefer it over the other methods:
pastry cutters require the highest level of skill, speed, and practice. if your kitchen is warm or you are not quick, the butter and flour mixture can easily get too warm (pie dough's worst enemy is heat)
the metal bowl of a stand mixer can be chilled far longer and more efficiently than the plastic bowl of a food processor
the paddle attachment provides more control at breaking up the butter into larger and smaller chunks than the sharp, fast pulsing action of a food processor
the slow mixing speed allows for more precision when slowly adding the water, ensuring that you don't overmix or add too much at a time.
If you're new to homemade pie dough, I highly recommend checking or printing out my 9 tips for fool-proof pie dough before you get started.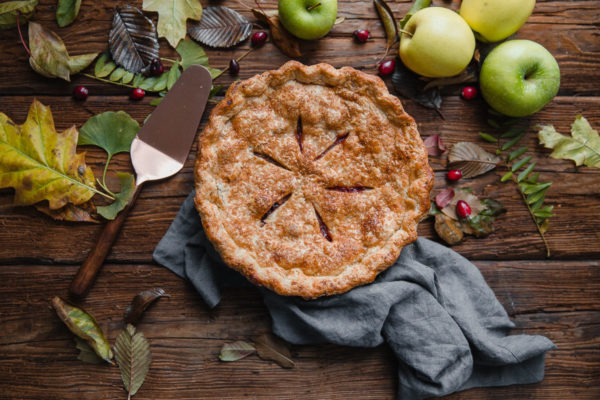 What Makes This Apple Cranberry Pie Different
There are a few areas in which this apple cranberry pie differs from most of the rest. Unlike other pie fillings, which simply require you to mix the fruit and sugar mixture together before assembling, this recipe requires one extra step. It is a very important one.
If you've ever made fruit pie, you know that fruit can release a lot liquid, particularly when mixed with sugar. This is the process of osmosis. If you don't account for this when preparing the fruit filling, this can lead to the dreaded soggy bottom pie (although, in my opinion, there are worse things in life).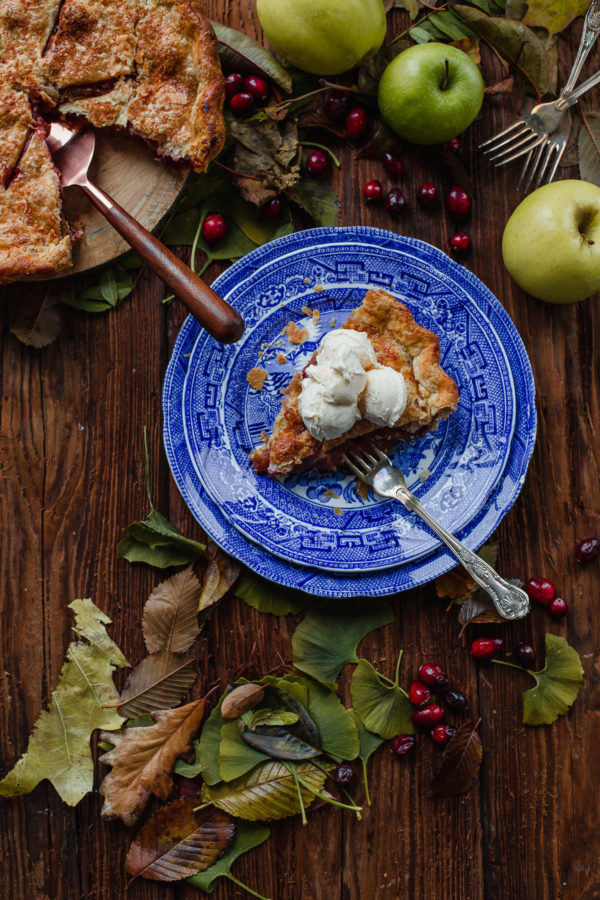 Why Macerating the Apples Works
To avoid a runny pie, I turned to one of my favorite tricks inspired the Rose Levy Beranbaum's Pie and Pastry Bible, which recommends macerating the apple slices in the sugar mixture for 30 minutes, draining the liquid, and reducing it on the stovetop to produce a thick syrup.
This method concentrates flavor, as well as reduces the moisture in the pie (resulting in a thicker filling and crisper bottom crust) and discourages gaps from forming between the pie crust and filling during baking. All good things!
Note: Since the apples will lose volume during macerating, I highly recommend slicing the apples on the slightly thicker side (just over 1/4-inch thick) to ensure they don't become too soft during baking.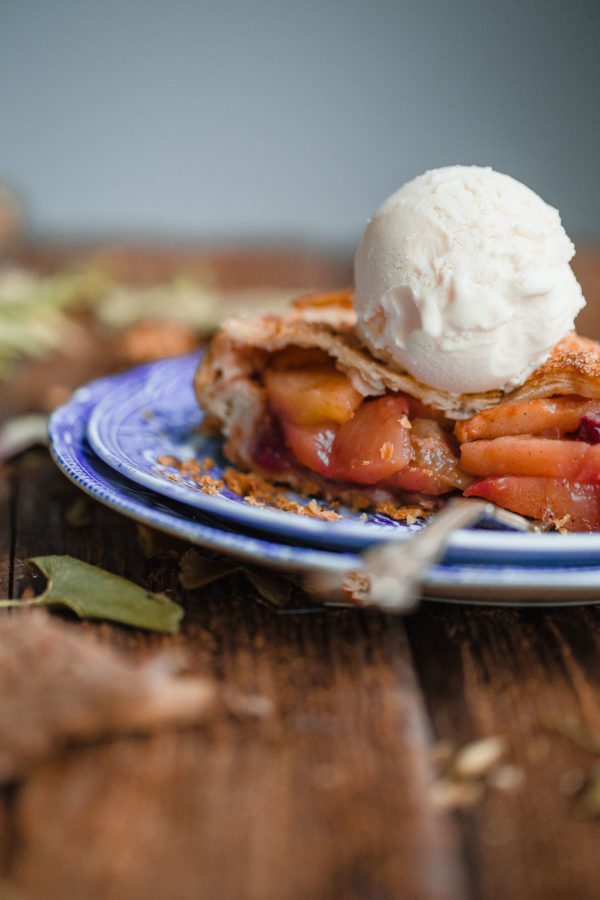 Baking Notes:
I highly recommend using a scale to measure dry ingredients for pastries, as this will yield the most consistent results. If you do not own a scale, be sure to fluff the flour before measuring.
Last, but not least, I prefer to bake my pies at a relatively high temperature (425 degrees Fahrenheit) for the entirety of baking. This produces a pie crust with a deep golden color. By baking in the bottom portion of your oven and setting the pie pan on a sheet pan, we'll concentrate heat on the bottom crust, ensuring that it becomes flaky and cooked through completely.
If you're looking to elevate your pie game on Thanksgiving, this is how you do it!
Ways to Prep This Recipe:
pre-measure your pie dough dry ingredients (flour, baking powder, and salt) several days before and store in the freezer to make for easy assembly the day of
prepare and refrigerate your pie dough the day up to 2 days before baking
This post is sponsored by Bob's Red Mill. Check out more delicious healthy recipes, snag coupons and find stores near you at BobsRedMill.com! Thanks for your supporting the brands that I love and use in my own kitchen!