2018 Favorite Black Friday Deals Gift Guide
My favorite Black Friday deals of the day!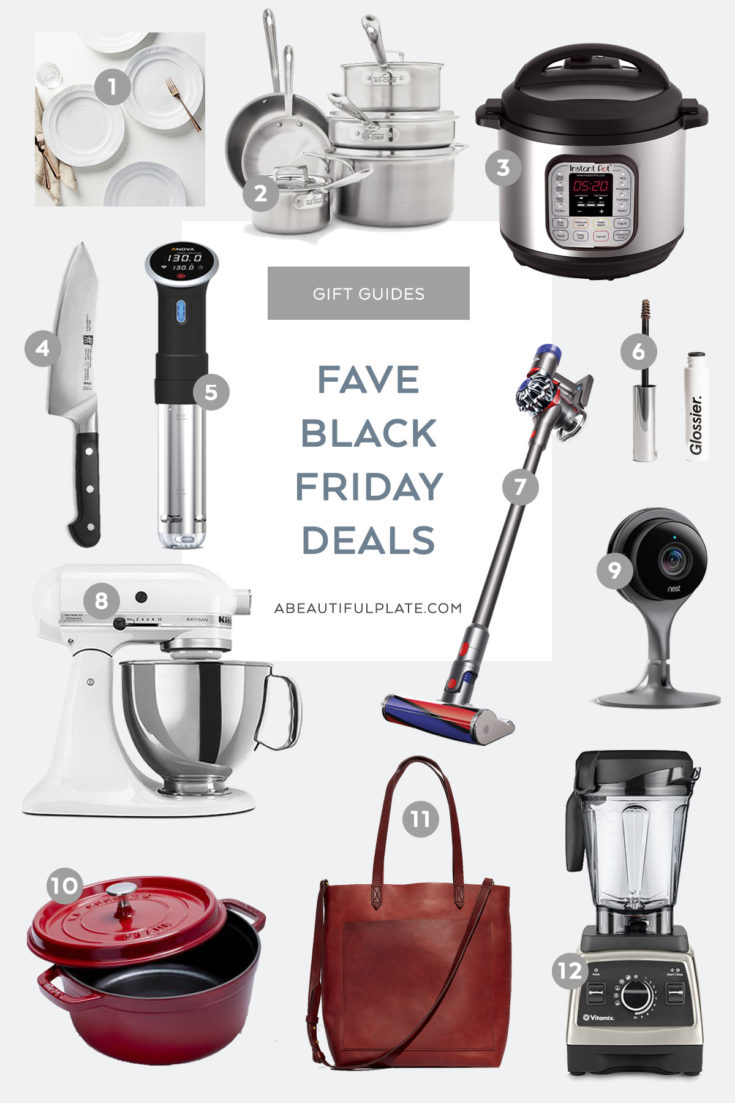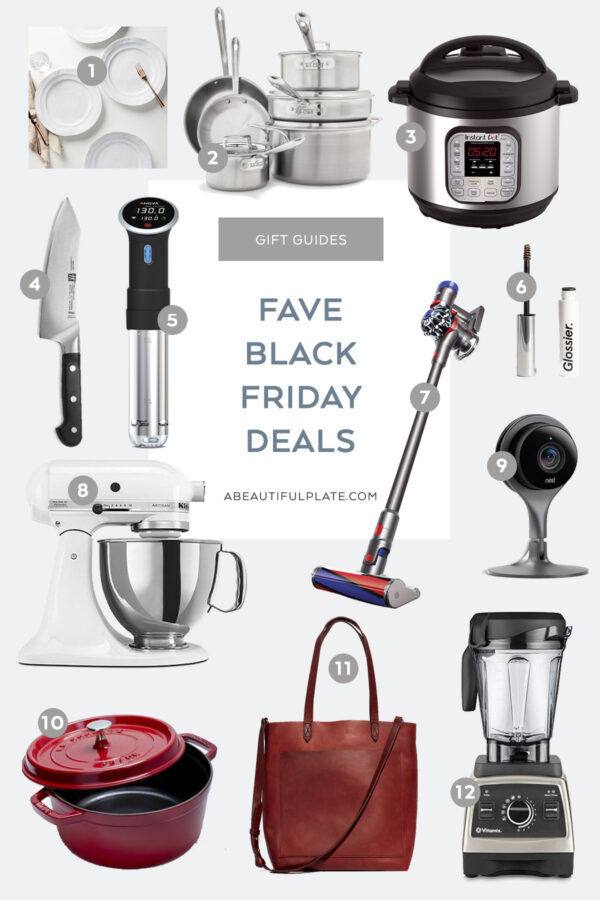 This post contains affiliate links. This means I may earn a small commission, at no cost to you, if you purchase items using these links.
Hope you all had a wonderful, safe, and joyful Thanksgiving yesterday! I'm back with one more gift guide for the week – my favorite Black Friday deals of the day!
There are some incredible sales happening today, and wonderful opportunities to snag some amazing kitchen tools, home goods, and gifts for family, friends, and perhaps even yourself. I've rounded up several of my favorites below.
Anthropologie – 30% OFF everything – I love this particular set of dishes, but everything on their site is on sale today! Such a great resource for gifts, home goods, and cute kitchen decor.
All Clad D5 10-Piece Set – $799 (ends today) – a great value set of my favorite cookware.
8 Quart Instant Pot – $69 (ends Sunday) – this is the best price that I've ever seen on an Instant Pot of this size!
Zwilling 7-Inch Rocking Santoku Knife – $49 (ends today) – one of my favorite everyday cooking knives
Anova Sous Vide Wifi Machine – $99 (ends today) – this is one of the best sous vide machines on the market, and it is the same model that I own! There are so many uses for this machine (keeping items warm over the holidays, perfectly cooked meat and seafood, vegetables, and so much more), and I'm determined to share some recipes (and methods) in the coming year.
Glossier – 20% OFF everything – popular boy brow and all other products are all 20% off.
V8 Dyson Cordless Vacuum – $349 (ends today) – I've been eyeing this vacuum for well over a year, and might just have to snag one for our house toady. Dyson is having several huge sales today, so be sure to check out their website.
KitchenAid 5 Quart Artisan Stand Mixer – $279 (ends November 26) – such a good value! This is the same machine that I own, and included in my kitchen gadget guide.
Nest Cam Indoors – $129 (ends November 28) – Connor and I are thinking of investing in one of this to keep an eye on Marley when we're out of the apartment, and Nest is having incredible sales on many of their products for the next week.
Staub 4-Quart Cocotte – $99 (ends today) – another wonderful, versatile sized Dutch oven from my favorite brand. This is the best price that it will ever be!
Madewell Tote – $129 (use code DEALWITHIT for another 25% off) – a wonderful, versatile tote for travel and everyday. I love all of the colors this comes in!
Vitamix Professional 750 – $299 (ends Sunday) – another wonderful Vitamix high-powered blender at a fabulous price.
For more gift ideas, check out my 2018 most loved kitchen gadgets gift guide, 2018 cookbook gift guide, 2018 favorite things gift guide, and gift guides from previous years.
This post contains affiliate links, which means that I make a small commission off items you purchase at no additional cost to you. Please read my
privacy policy
for more information.