Cranberry Christmas Cake
Cranberry Christmas Cake! This incredible one layer celebration almond cake is infused with fresh cranberries, almonds, and orange zest.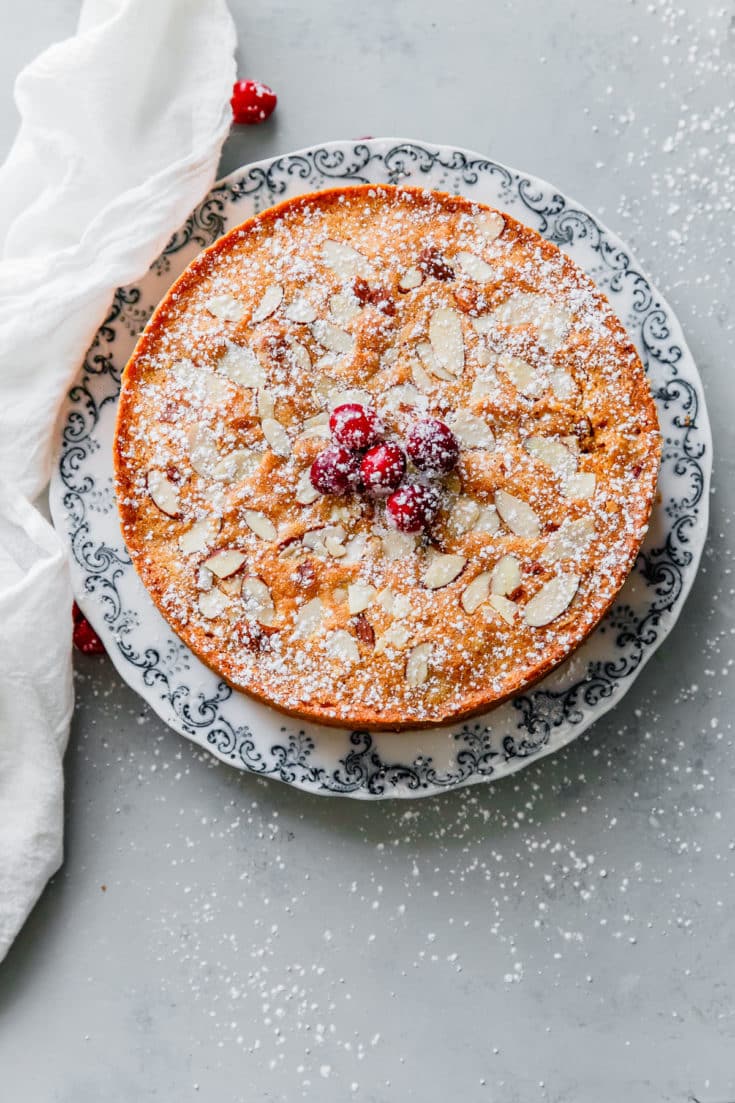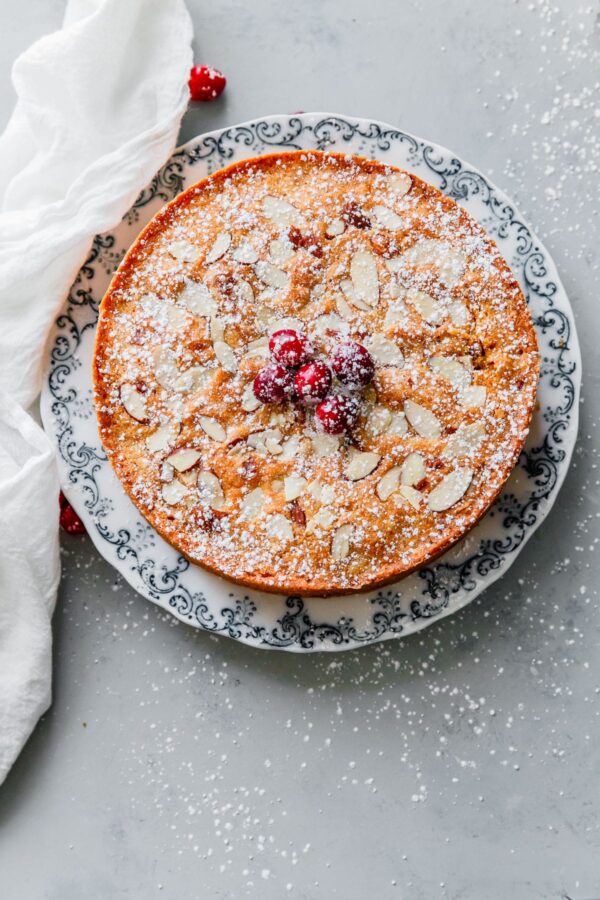 It's the most wonderful time of the year! We're kicking off my favorite season with this fragrant, flavorful, and buttery cranberry Christmas cake.
I made this a few weeks ago when my parents were visiting from out of town, and we demolished it in less than two days. I can't wait to make it again!
If you've made this blueberry almond cake, you will love today's recipe. It is simple, yet sophisticated and festive.
To give it a holiday twist, I've added fresh orange zest (lots of it!) and fresh cranberries. The almond, orange, and tart cranberries complement each other so well. The texture is light, buttery, and very hard to resist.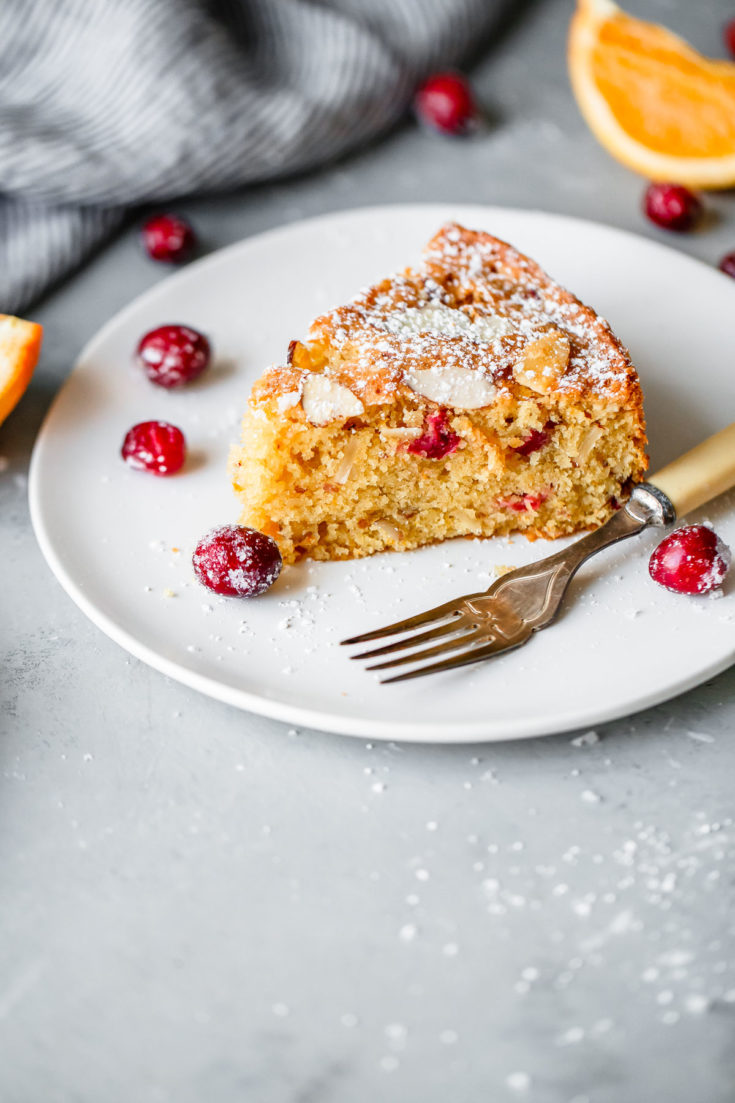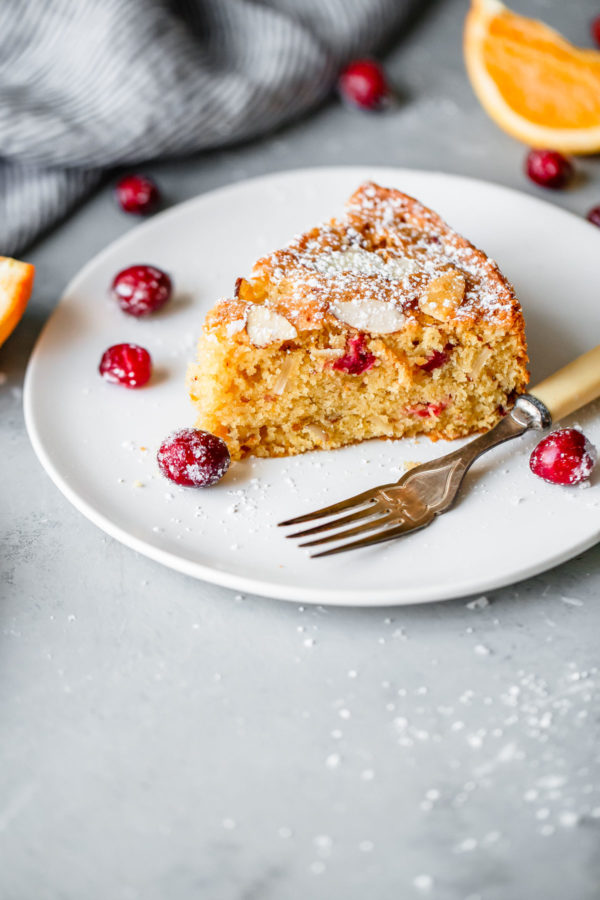 Cranberry Christmas Cake: Ingredient Breakdown
The cake itself is a butter-based almond cake. The batter uses almond flour, crushed almond slices, and almond extract. We're not skimping on the almond flavor!
The almond meal makes for a moist, tender crumb, the sliced almonds add texture throughout the cake, and the almond extract pulls everything together. Before baking, we'll garnish the top of the cake with sliced almond pieces!
This recipe makes one 8-inch cake layer. While I've made this cake both ways, I highly recommend lining your greased cake pan with a round of parchment paper to ensure that the cake can invert and be removed easily.
Here is my easy go-to method for how to line a cake pan with parchment paper.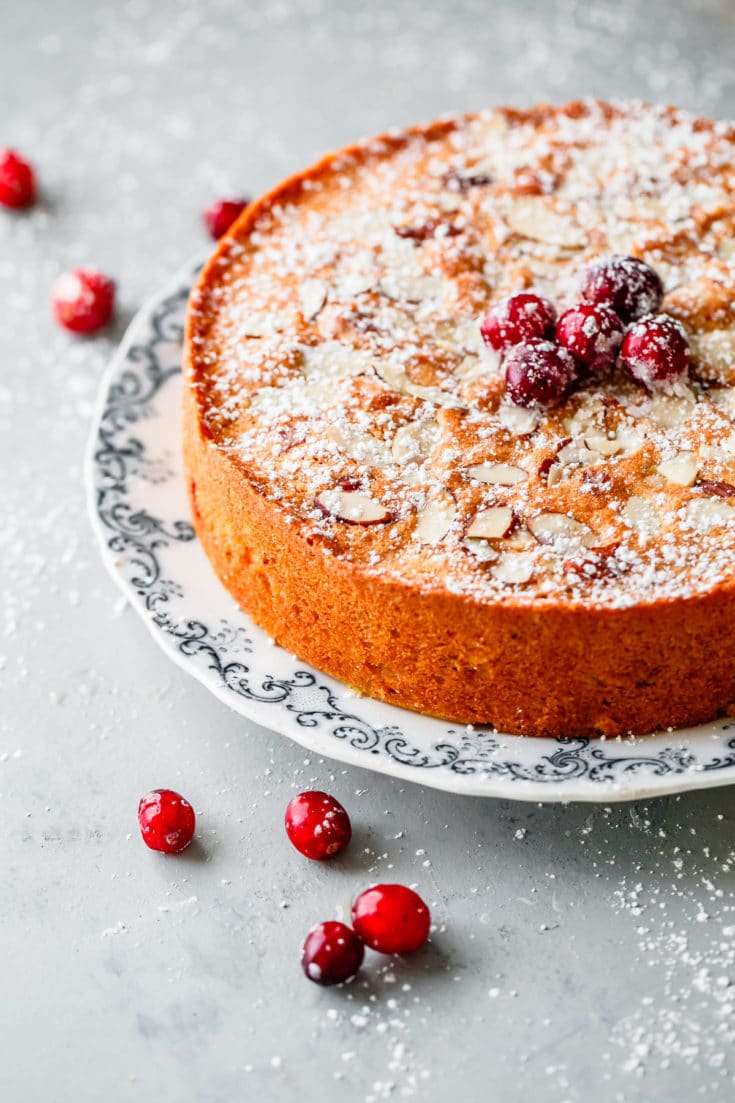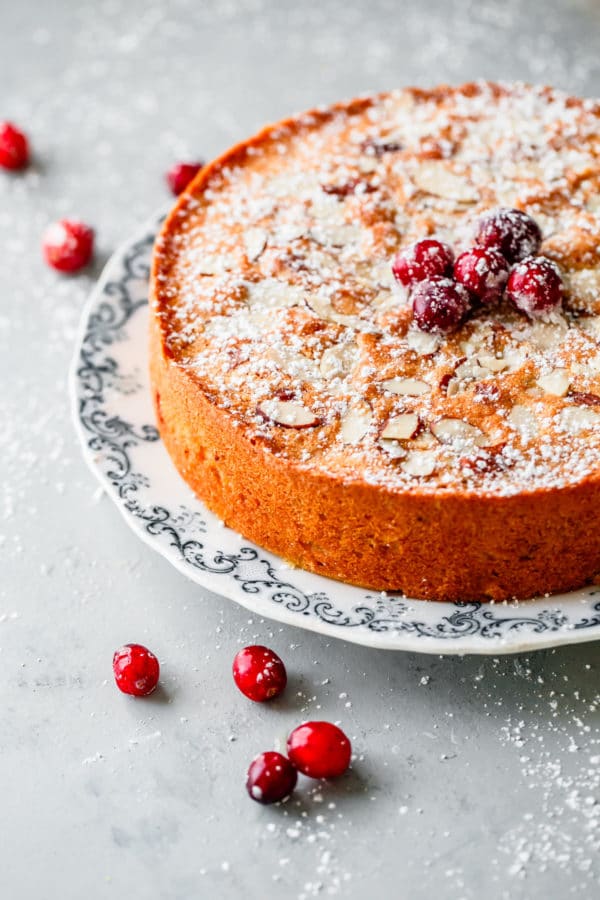 Baking with Fresh Cranberries:
To distribute the fresh cranberries more evenly throughout the batter, I recommend slicing them in half for this cake. I use a pairing knife, and it adds just a few minutes to the prep time. If your cranberries are on the smaller size, you can definitely keep them whole!
Cutting the cranberries in half ensures even distribution throughout the cake. You'll get small bursts of ripe, fresh cranberry with each bite without overpowering the orange and almond flavor.
If you're using frozen cranberries, I recommend leaving them whole to prevent color bleeding.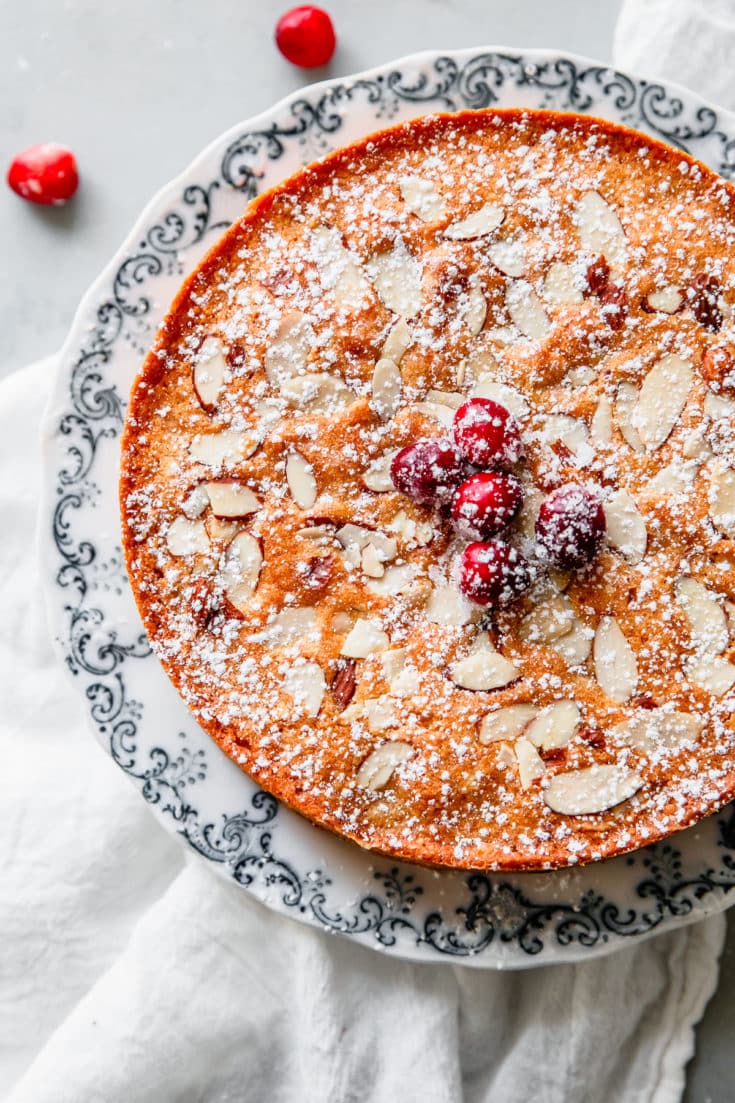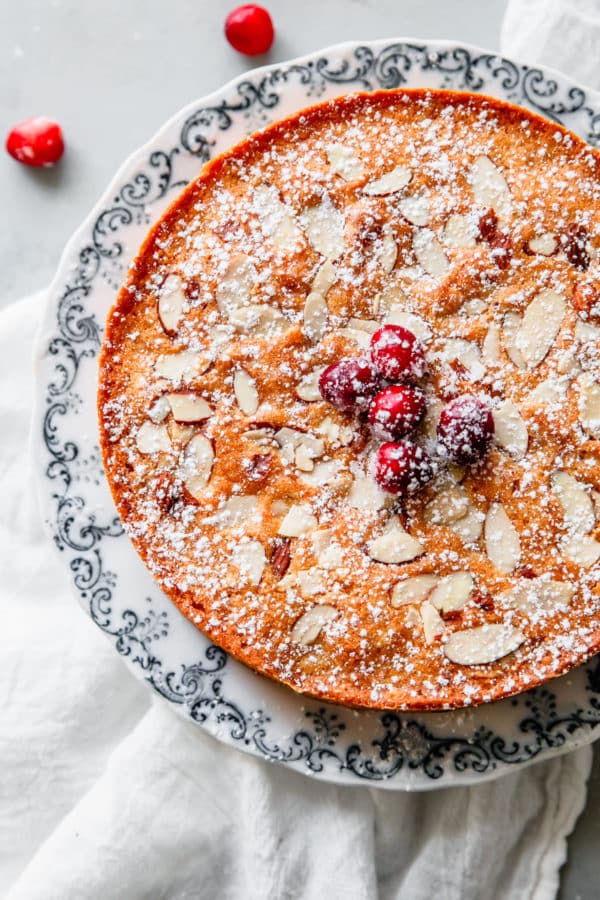 How to Serve this Cranberry Christmas Cake:
The batter for this cake is thicker than most standard cake batters – think crumb cake batter consistency – so you will need to reserve about an hour for baking.
To give it a bit of a festive look, I like to lightly dust it with powdered sugar before serving. However, be sure to allow the cake to cool completely before doing this. Otherwise, this cake tastes fabulous slightly warm!
This would make a lovely cake to enjoy casually with tea or coffee around the holidays (it will hold up well wrapped tightly in plastic for an additional 2-3 days!) or served with breakfast or brunch.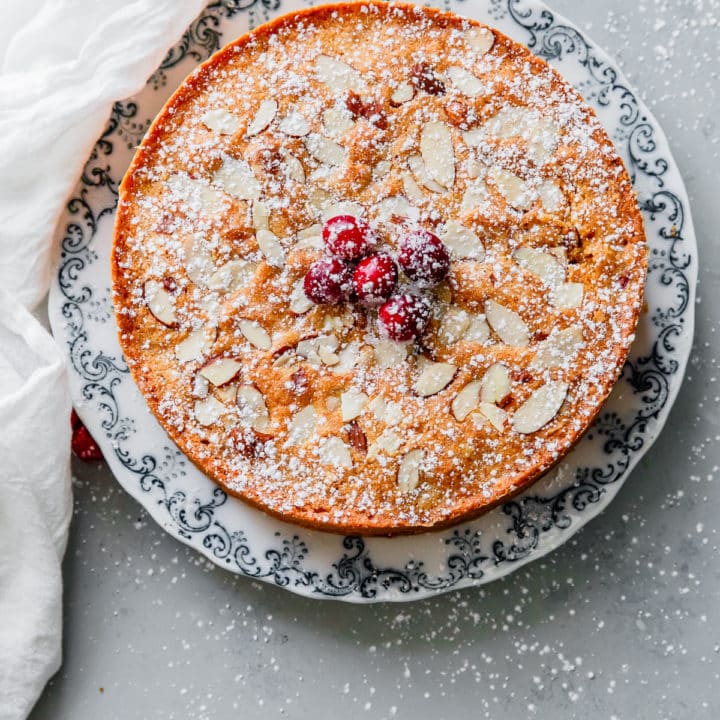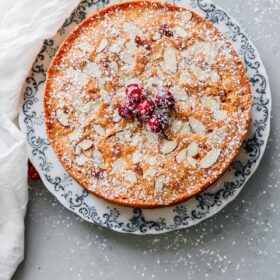 Cranberry Christmas Cake
As much as this Cranberry Christmas Cake is for cranberry and orange lovers, it is a true almond lover's dream. A festive twist is added with the addition of fresh cranberries and orange zest. Garnish with a light dusting of confectioner's sugar, this simple celebration cake tastes fabulous slightly warm from the oven!
Ingredients
¾ cup (100 g) whole wheat pastry flour or unbleached all purpose flour
¾ cup (100 g) almond meal/flour
1¼ teaspoons baking powder
½ teaspoon kosher salt
¾ cup (50 g) sliced almonds
¾ cup (150 g) granulated sugar
zest of one orange
¾ cup (6 oz; 170 g) unsalted butter softened
½ teaspoon pure almond extract
½ teaspoon pure vanilla extract
3 large eggs, lightly whisked room temperature
2 tablespoons whole or low-fat milk
¾ cup (70 g) fresh cranberries sliced in half
powdered sugar (optional) for serving
Instructions
Preheat the oven to 325°F (160°C) with a rack in the center position. Generously grease an 8-inch cake pan (at least 2-inches deep) with baking spray or butter and line the bottom with a round of parchment paper (here's an easy tutorial!), grease again, and set aside.

In a medium bowl, whisk together the whole wheat pastry flour, almond meal, baking powder, and salt. Reserve and set aside roughly one tablespoon of sliced almonds. Break the remaining almonds with your hands and stir them into the flour mixture.

In a stand mixer bowl, combine the sugar and orange zest. Using your fingertips, rub the orange zest into the granulated sugar until fragrant and moist. Add the softened butter, almond extract, and vanilla extract. Using the paddle attachment, cream the butter and sugar mixture over medium-high speed until light and fluffy, about 3 to 4 minutes. Scrape down the bowl halfway through to ensure all of the ingredients are incorporated evenly. Reduce the speed to medium and slowly add the eggs. Beat until incorporated (it may look slightly broken). Over low speed, slowly add the flour mixture in two additions, alternating with the milk. The batter will be relatively thick.

Using a large spatula, gently fold the fresh cranberries into the cake batter. Transfer the batter into the greased cake pan, and smooth the top with a small offset spatula. Top with the remaining sliced almonds.

Bake for 55 minutes to 60 minutes, or until a toothpick inserted in center comes out clean. Allow the cake to cool in the pan on a wire rack for 10 to 15 minutes. Using a knife, run along the sides of the cake pan to release the sides of the cake and carefully invert onto a wire rack. Flip and allow the cake to cool right-side up. Serve slightly warm or at room temperature, dusted lightly with confectioner's sugar as desired.
Notes: Any leftover cake can be wrapped well in plastic wrap and kept at room temperature for 2 to 3 days.
Serving: 1serving, Calories: 245kcal, Carbohydrates: 45g, Protein: 7g, Fat: 4g, Saturated Fat: 2g, Polyunsaturated Fat: 2g, Cholesterol: 62mg, Sodium: 176mg, Fiber: 3g, Sugar: 15g
This post contains affiliate links, which means that I make a small commission off items you purchase at no additional cost to you. Please read my
privacy policy
for more information.