30 Minute Beef Bourguignon
30 Minute Beef Bourguignon offers all the heartiness and flavor of traditional bourguignon, but comes together in a fraction of the time.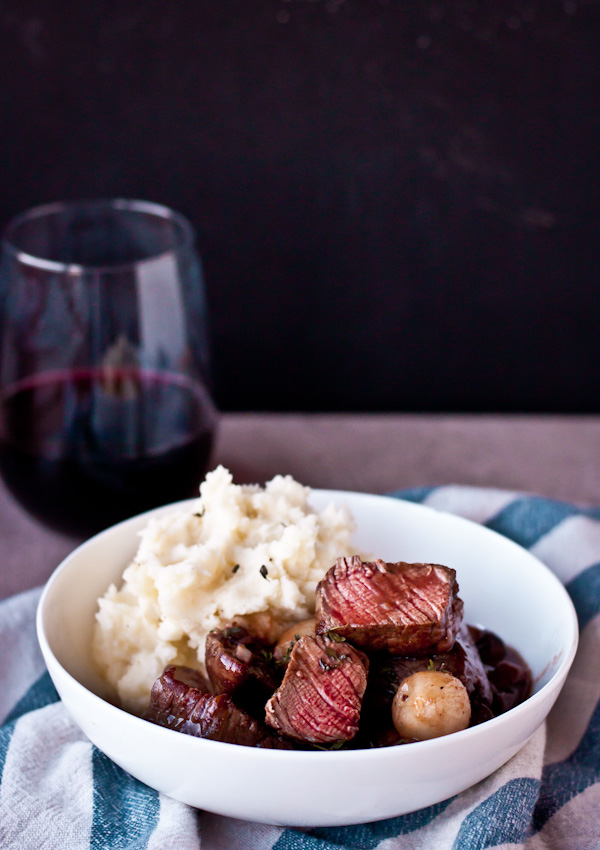 Despite the short cook time, this 30 Minute Beef Bourguignon has almost all of the flavor of a traditional beef bourguignon. And we're all in need of more quick incredibly flavorful dinners that can be thrown together on a whim.
I'd be lying if I wasn't skeptical of a quick-cooking beef bourguignon. The concept itself is antithesis to traditional beef bourguignon.
With that said, my fears were dissuaded when I got started and was quickly enveloped in the familiar, rich, and soul-warming smells of the traditional beef bourguignon that we all know and love.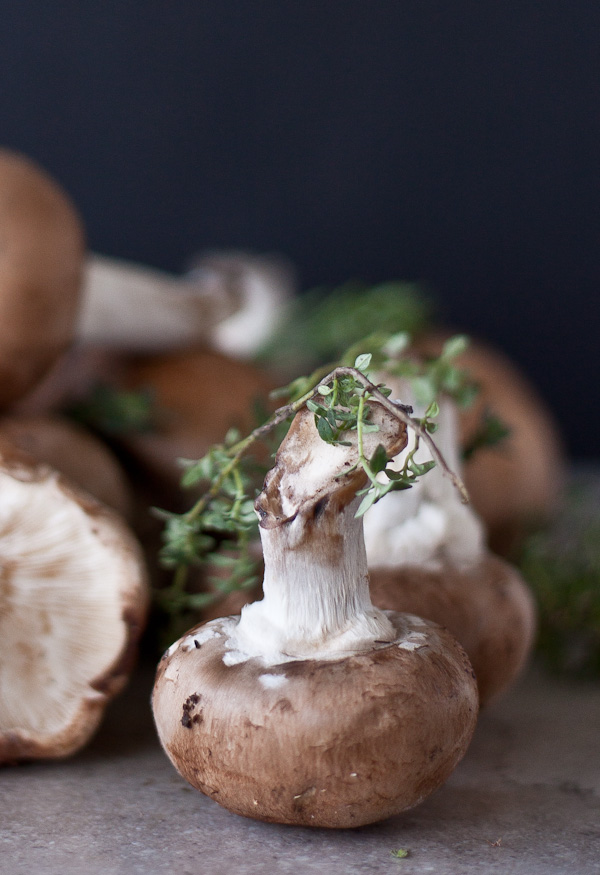 What is Traditional Beef Bourguignon?
The first time I made traditional beef bourguignon was in culinary school. On that day, we made a classic, no-frills version of the dish. I was surrounded by French chefs and that is just how things are done.
Traditional beef bourguignon is a stew prepared from tough cuts of beef, such as chuck, which come from the shoulder of the cow.
The stew is flavored with red wine, beef stock, garlic, pearl onions, bacon lardon, and mushrooms, and cooked over low heat for at least 1 to 2 hours until the meat is extremely tender.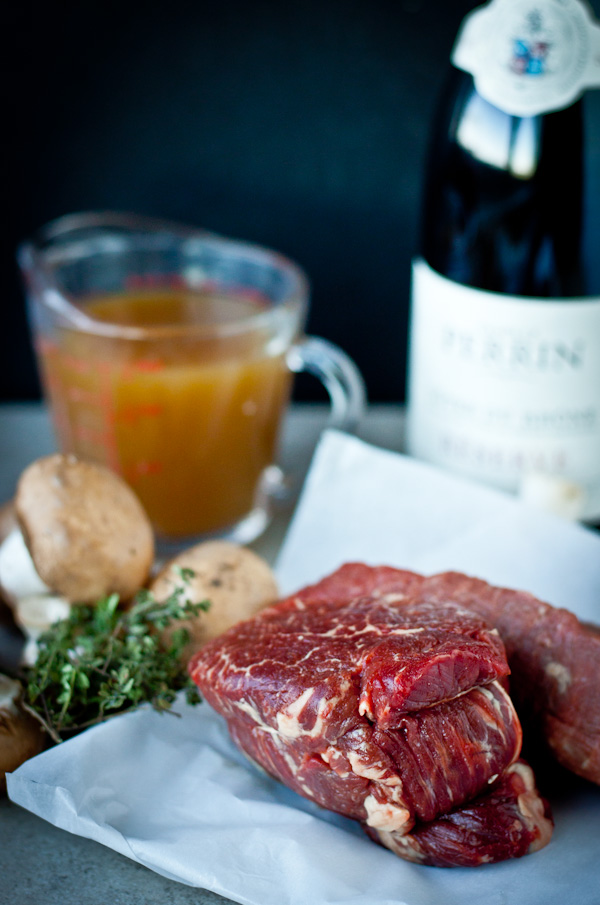 How to Make 30 Minute Beef Bourguignon:
Today's easy beef bourguignon includes all of the traditional components, but comes together in just 30 minutes. Is this dish traditional? Absolutely not. However, it is delicious and so much easier to prepare.
How do you make 30 minute beef bourguignon? Well, for this variation, we'll be using beef tenderloin, the most tender cut of beef, to cut the cooking time significantly. We'll also use other shortcuts like frozen pearl onions.
To add more flavor, a tiny portion of beef tenderloin is sacrificed in the cooking process and used to help flavor the sauce. This idea initially appalled me (tenderloin is the most expensive cut of beef!), but it does add significant flavor to the sauce and is a trick worth repeating.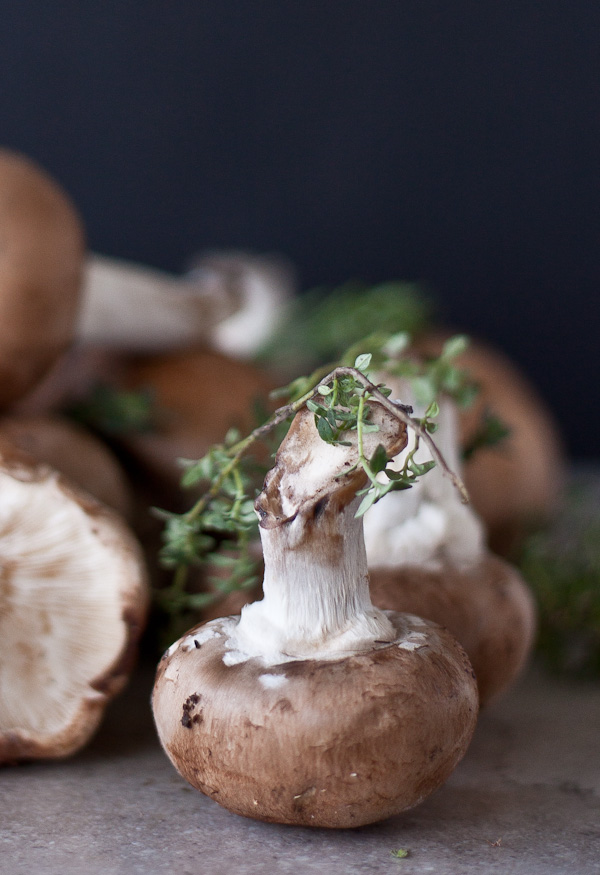 How to Serve 30 Minute Beef Bourguignon:
I recommend serving this dish with Yukon Gold mashed potatoes or another starchy side for soaking up all of the delicious cooking sauce.
A side of steamed green beans or green beans almondine would be another lovely addition.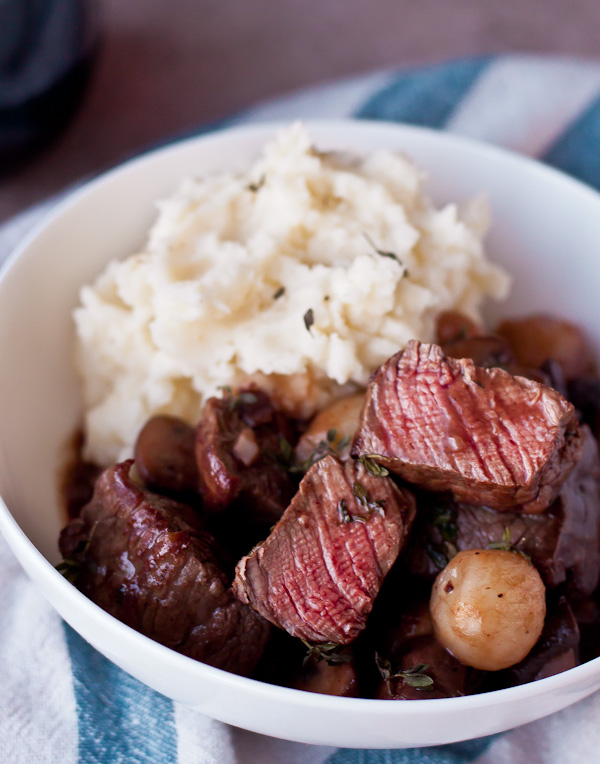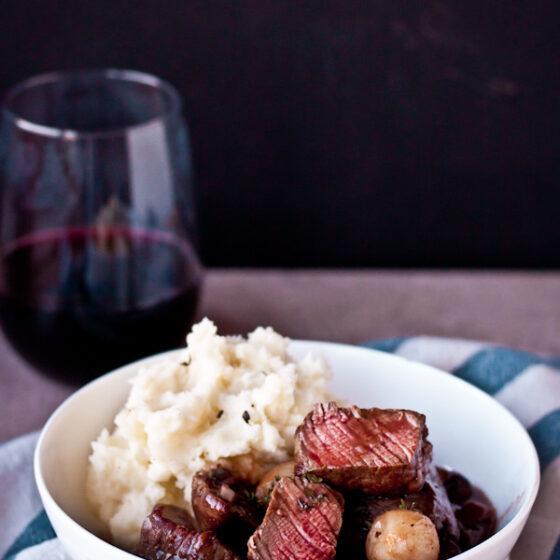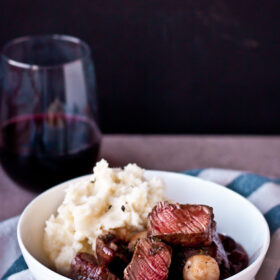 30 Minute Beef Bourguignon
This 30 Minute Beef Bourguignon offers all the heartiness and flavor of traditional bourguignon, but comes together in a fraction of the time. The trick? Substituting the traditional tough cuts of beef with tender beef tenderloin. Spoon on top of Yukon Gold mashed potatoes with a side of steamed green beans or green beans almodine for a delicious special occasion meal.
Ingredients
1 cup frozen pearl onions
1 lb (16 ounces) beef tenderloin cut into roughly 2-inch chunks
freshly ground black pepper
1 tablespoon clarified butter or vegetable oil for searing
1 bacon slice (roughly 1 ounce) finely diced
1 (10-ounce) package cremini (Baby Bella) mushrooms stems trimmed and quartered
2 large garlic cloves finely chopped
1 teaspoon chopped fresh thyme leaves
pinch granulated sugar
1 tablespoon tomato paste
½ cup (120 mL) earthy red wine such as Cote du Rhone, Burgundy, or Pinot Noir
1 cup (240 mL) low-sodium beef broth
2 tablespoons (30 mL) water
1 tablespoon unbleached all-purpose flour
fresh thyme sprigs to garnishing
Instructions
Place the pearl onions in a small microwave-proof bowl and cover lightly with a paper towel. Microwave for 3 to 4 minutes, or until cooked all the way through. Set aside for later.

Remove the tenderloin from the refrigerator and rest at room temperature for at least 30 minutes before cooking. Cut the tenderloin into 2-inch chunks - setting aside one small chunk. Finely chop the reserved piece of meat and set aside in a small bowl. Pat the remaining pieces of beef well with a paper towel to soak up any moisture. Season with salt and pepper on all sides.

Heat a large, wide Dutch oven or heavy-bottomed saucepan over medium-high heat. Add the clarified butter (or oil) to the pan and swirl to coat the bottom of the pan. Once the butter is hot, add the beef to the pan and quickly brown on all sides. Note: Avoid over-crowding the pan, cooking the beef in batches as needed. Once seared, set the pieces of beef on a large rimmed plate.

Once all the beef has been browned, add the reserved finely diced beef tenderloin and bacon to the pan and cook for 1 to 2 minutes, stirring constantly. At this point, the bottom of the pan should have a nice fond layer. Add the mushrooms and sauté until lightly brown, for roughly 4 to 5 minutes, stirring occasionally. Add the minced garlic, thyme, and pinch of sugar and stir until fragrant. Add the tomato paste and cook for an additional 1 to 2 minutes, stirring constantly, until thickened.

Remove the pan from the heat and pour in the wine. Place the pot back on the heat and bring to a boil, stirring and scraping the bottom of the pan with the back of a wooden spoon to release all the browned bits. Reduce the wine by half.

Add the pearled onions and broth and bring to a boil for a minute or so. In a separate bowl, whisk together the flour and water in a small bowl. Add the flour slurry to the pot, stirring constantly, until the mixture begins to thicken. Season the stew with salt and pepper to taste. Add the browned beef tenderloin (and any juices) to the pan and continue to cook over medium heat until the beef is medium-rare, roughly 2 to 3 minutes.

Spoon over mashed potatoes (or another starchy side dish of your choice) and garnish with fresh thyme leaves. Serve immediately.
Recipe lightly adapted from the November 2012 issue of Cooking Light.
Serving: 1serving, Calories: 542kcal, Carbohydrates: 12g, Protein: 32g, Fat: 36g, Saturated Fat: 14g, Polyunsaturated Fat: 18g, Cholesterol: 107mg, Sodium: 247mg, Fiber: 1g, Sugar: 4g
This post contains affiliate links, which means that I make a small commission off items you purchase at no additional cost to you. Please read my
privacy policy
for more information.