Pecan Spiced Buttermilk Pancakes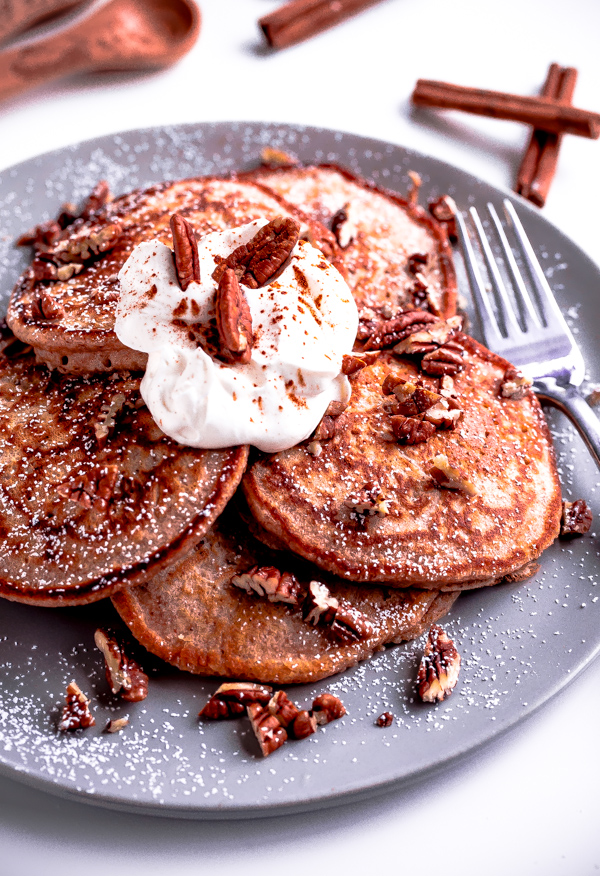 It has been way too long since my last pancake recipe.
In a world brimming with pumpkin and squash pancake recipes, I figured everyone needs a change of pace. You know, pancakes that are equally as perfect for fall or winter, but a bit different than the standard.
These pecan spiced pancakes are a twist on traditional buttermilk pancakes. Pecans scream fall to me, so it was about time that I made some pecan pancakes! Instead of just adding chopped pecans to the batter, I decided to grind the pecans in the food processor.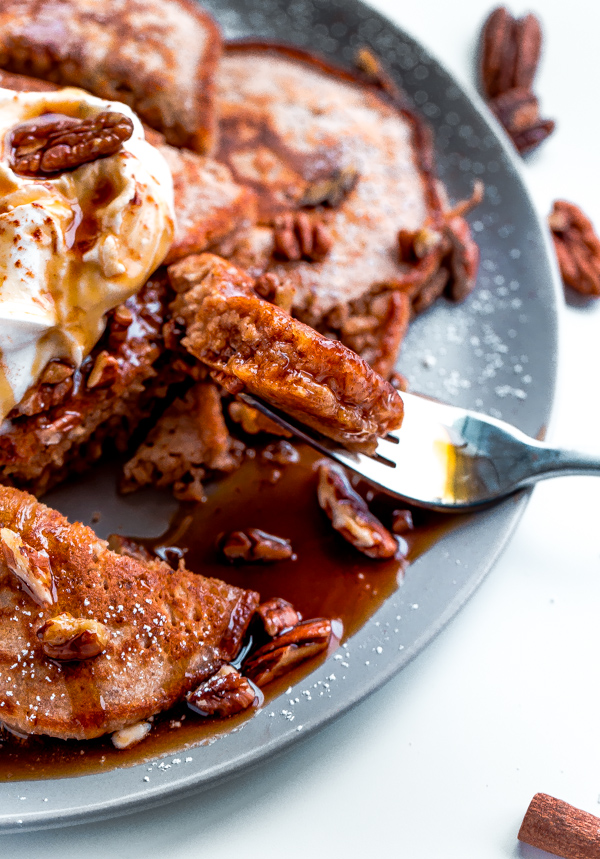 The ground pecans have a similar consistency to a coarse almond meal or any other homemade nut flour (just be sure not to over process them, or you will quickly find yourself with pecan butter!).
The pecans add a delicate, yet noticeable richness, to the pancakes and provide just the right amount of texture. I love the texture of these pancakes.
Ground cinnamon and other cozy spices make it the perfect fall or winter breakfast. Top the pancakes with warm maple syrup and whipped cream for a treat.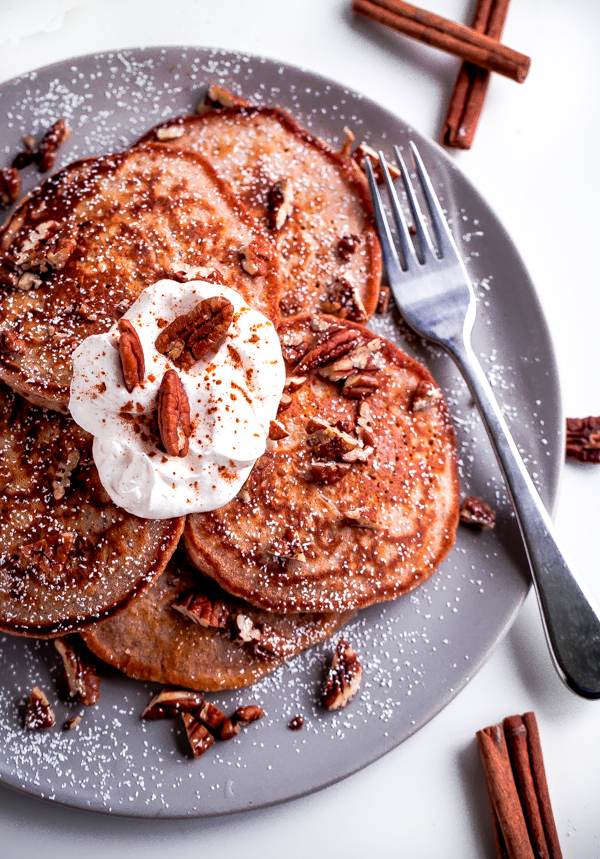 These pancakes should definitely make an appearance on your weekend breakfast menu.
If you're looking for some even more indulgent, try these chocolate raspberry swirl pancakes.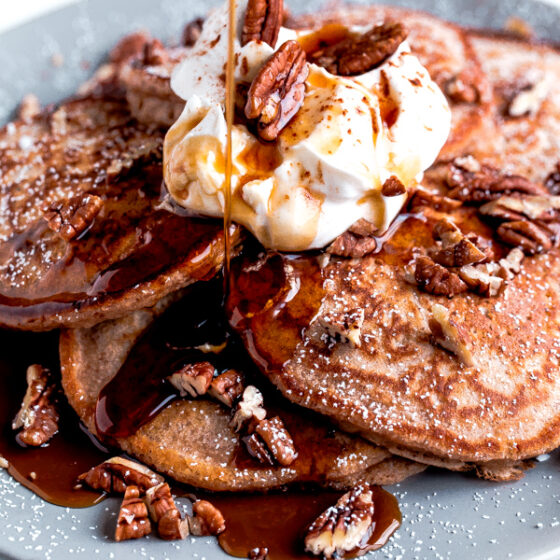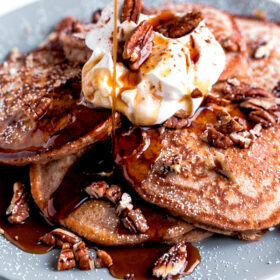 Pecan Spiced Buttermilk Pancakes
These pecan spiced pancakes are a twist on traditional buttermilk pancakes. Topped with chopped pecans, they make for a perfect, cozy fall or winter breakfast. Finish with warm maple syrup and whipped cream!
Ingredients
½ cup whole pecans
1 cup (120g) unbleached all-purpose flour
1 tablespoon (12g) granulated sugar
1 teaspoon baking powder
½ teaspoon baking soda
¼ teaspoon kosher salt
1 teaspoon ground cinnamon
⅛ teaspoon ground allspice
pinch ground ginger
pinch ground cloves
1 cup (240 mL) buttermilk
¼ cup whole or low-fat milk
1 large egg
1 tablespoon (15g) unsalted butter, melted and cooled slightly plus more for cooking
For Topping:
chopped pecans for garnishing
warm pure maple syrup
whipped cream optional
Instructions
Place the pecans in a food processor, and pulse repeatedly until the the pecans are ground (do not over process or you will start to make pecan butter). Set aside.

In a large bowl, whisk together the all purpose flour, sugar, baking powder, baking soda, salt, cinnamon, allspice, ginger, and cloves. Set aside.

In a large measuring cup, whisk together the buttermilk, milk, egg, and melted butter. Add the liquid ingredients to the dry ingredients, and stir together with a spatula until just combined. Stir in the ground pecans and allow the batter to sit for 10 minutes before proceeding.

Heat a tab of butter in large non-stick skillet over medium heat. Once the butter begins to sizzle, add the batter to pan (you can always a test coin-sized pancake to check whether the pan is ready). Once bubbles begin to form on the top of the pancake, flip carefully and continue to cook on other side until brown. I recommend keeping the pancakes pancakes no larger than 4 to 5 inches in diameter as they will be easier to make this way. Adjust heat as needed.

Top pancakes with chopped pecans, warm maple syrup, and whipped cream (optional), and serve immediately.
Serving: 1serving, Calories: 499kcal, Carbohydrates: 41g, Protein: 11g, Fat: 35g, Saturated Fat: 5g, Polyunsaturated Fat: 27g, Cholesterol: 59mg, Sodium: 555mg, Fiber: 5g, Sugar: 11g
This post contains affiliate links, which means that I make a small commission off items you purchase at no additional cost to you. Please read my
privacy policy
for more information.