Asparagus Potato Soup with Chive Cream
A creamy asparagus potato soup to ring in the spring season! This silky smooth pureed soup has a base of fresh asparagus, Yukon gold potatoes, sweet leeks and onions, and is topped with a elegant homemade chive cream.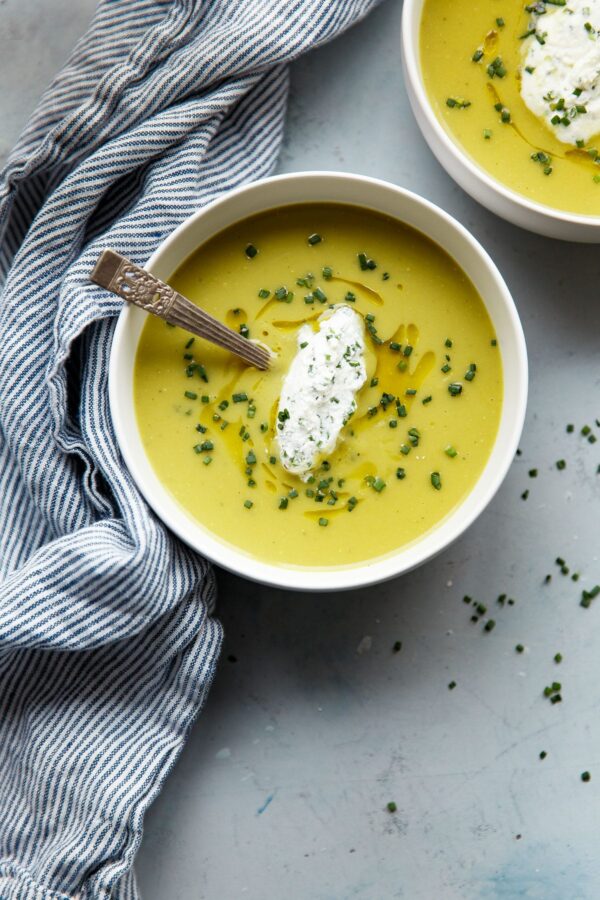 This recipe post is sponsored by Imagine®. 
I'm calling it! Spring is finally making its appearance in the Chicago area. The robins are chirping, the daffodils are beginning to show their beautiful green stems, and fresh asparagus has arrived in full force!
As much as I enjoy cozying up in our apartment on chilly days, I can say that I have been looking forward to this day for a while. It has been a long time coming!
To celebrate the beginning of one of my favorite seasons, I've partnered with my friends at Imagine® to bring you the latest in a series of seasonal soup recipes: a creamy asparagus potato soup topped with decadent chive cream!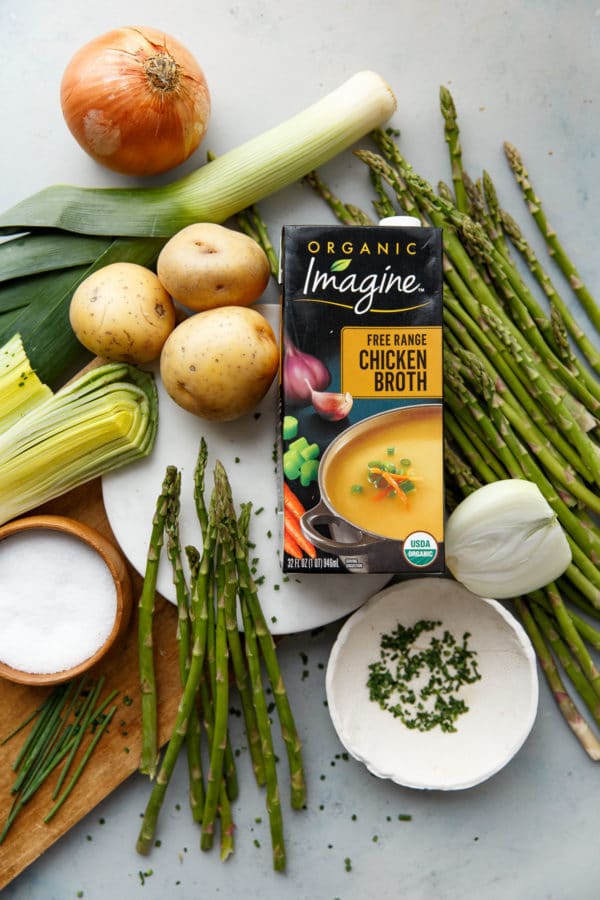 Ingredient Breakdown:
If you're unfamiliar with their products, Imagine® produces a wonderful line of organic broths and soups. Their flavor is excellent and well-rounded, and all of their products are made with certified organic, non-GMO ingredients.
You'd be very surprised how many store-bought broths contain sugar or other unnecessary filler ingredients – even the so-called good ones!
I've been a customer of their products for years and I've loved working with them to brainstorm new recipes to share with you. Soups have always been one of my favorite types of dishes to develop, so this partnership has been really fun!
We started with this exotic slow cooker curried lentil soup and moved onto this hearty vegetarian chili. We're ending with a creamy and incredibly smooth pureed asparagus potato soup – inspired by the season – made from sweet leeks, onions, fresh asparagus, and Yukon gold potatoes.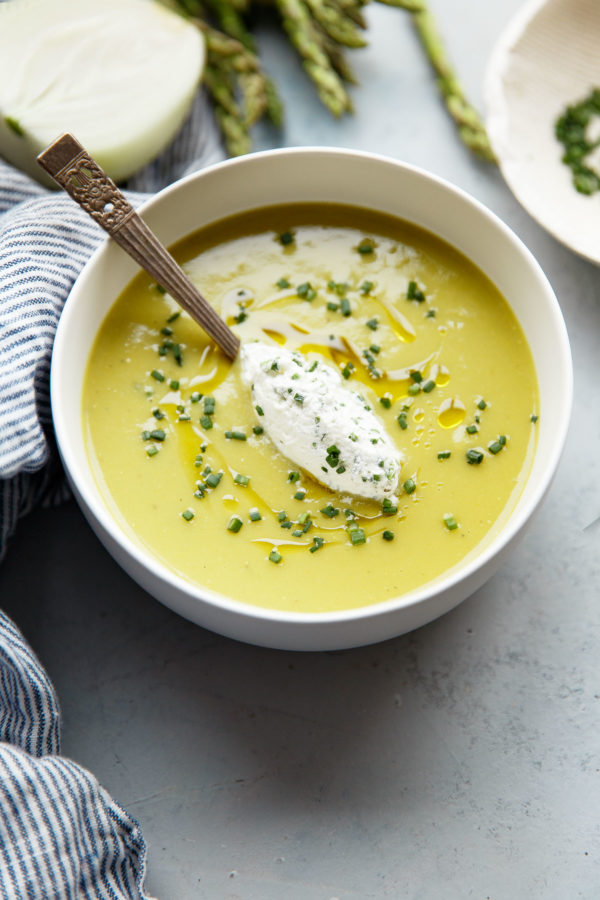 Why You'll Love This Asparagus Potato Soup:
The asparagus flavor is front and center in this soup, and the leeks and onions balance everything out. The Yukon gold potatoes, which have a signature buttery texture and flavor, add a natural, yet lighter creaminess to this soup.
For this recipe, we'll be using Imagine® Organic Free Range Chicken Broth. It has a hearty and classic flavor, which I prefer in pureed vegetable soups, such as this one, that have a small ingredient list. The soup comes together quickly – less than 45 minutes total – making it ideal for weeknights too.
It might seem kind of blasphemous to blend up fresh spring asparagus in a soup, but it is one of my favorite ways to use this spring vegetable!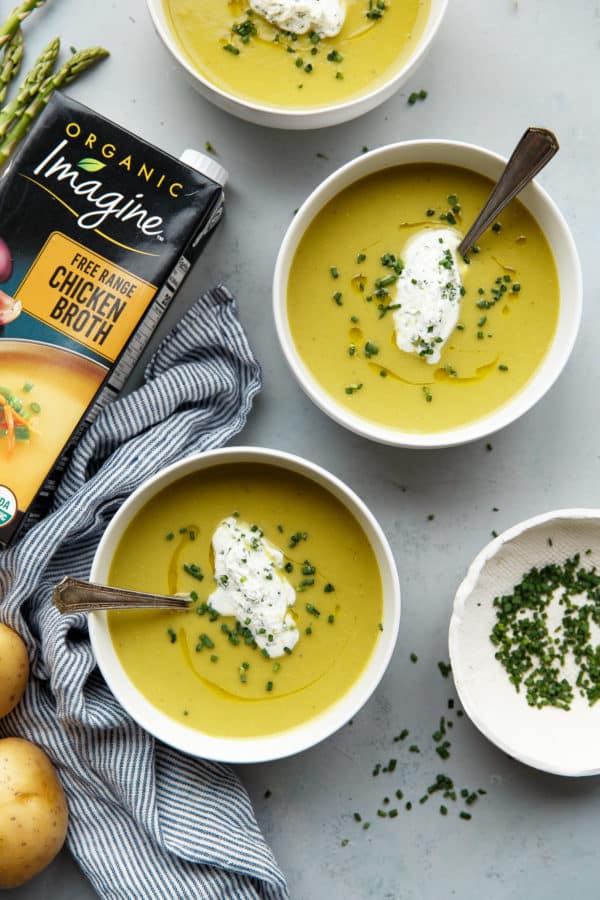 How to Make Chive Cream:
Last, but certainly not least, let's talk garnishes! We're going to be topping this asparagus soup with homemade chive cream! If you're wondering how the heck to make chive cream, let's discuss in detail.
Chive cream is essentially whipped cream, beaten until stiff, with finely sliced chives folded in it. Yes, it's really that simple, complements the asparagus soup incredibly well, and gives it that wow factor. Yet, it takes almost no time to prepare.
Since the cream is whipped, the chive cream will float in the soup – I like to shape it into 'quenelles' using two spoons – and looks absolutely beautiful (and deceptively fancy, which I absolutely love!).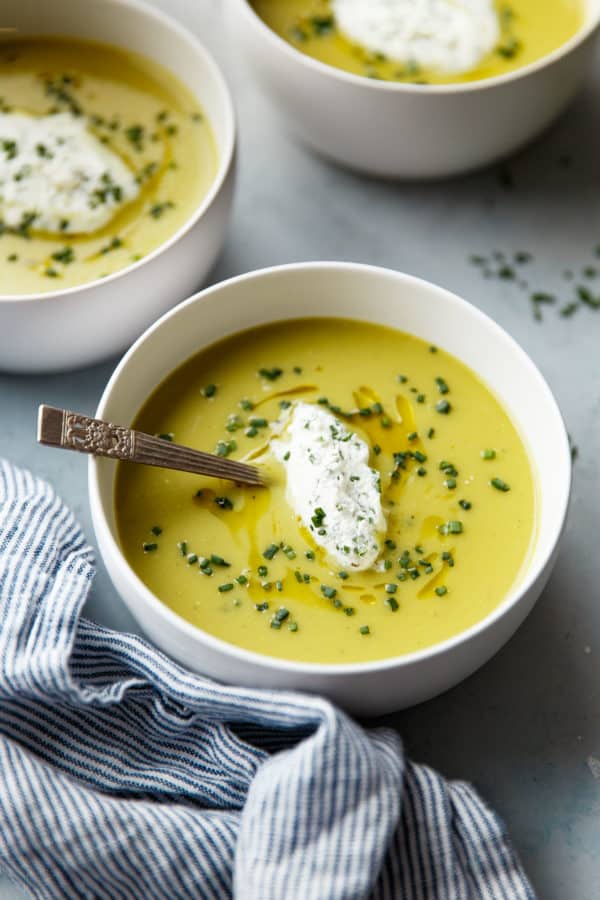 As you might guess, the cream melts slowly with each spoonful of soup! It adds a decadence without making the soup overly rich or indulgent.
If you'd like to skip the chive cream, I recommend adding a splash of cream into the soup to give it a similar effect! Enjoy!
This post is sponsored by Imagine®. For more information on their products and where to find them, please visit their website or use their store locator. Thanks for supporting the brands I love and use in my own kitchen!