Roasted Beet Peach and Burrata Salad with Basil Oil and Candied Pistachios
This stunningly simple roasted beet peach and burrata salad is garnished with basil oil and candied pistachios.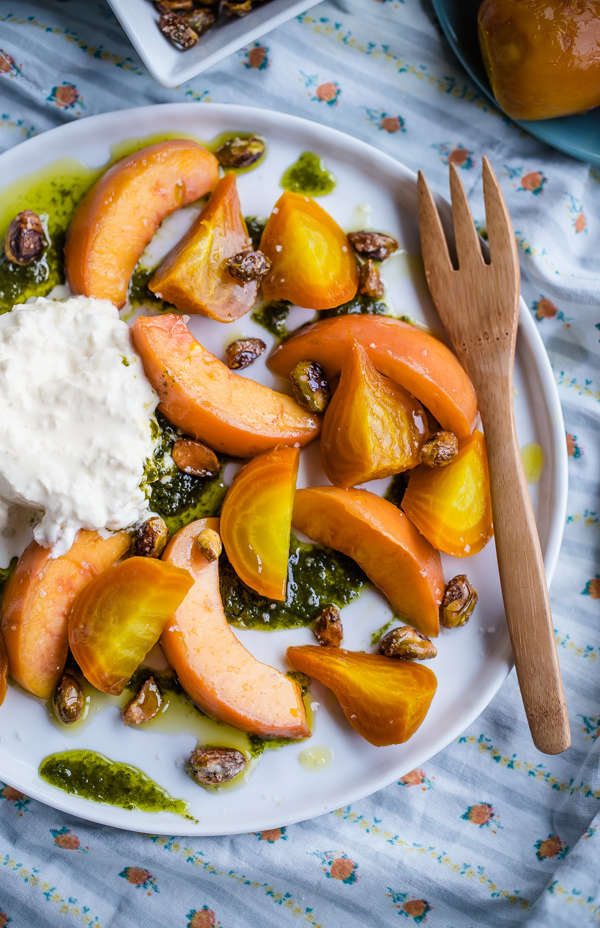 Can I ask a big favor of you all? Go out and buy peaches. Like now, and then go home and make this beet, peach and burrata salad.
This is the one summer recipe that you still have to make–and I don't know how much longer good peaches will be available (maybe another week or two?), so you might need to move quickly.
I mean, beets, peaches, burrata, candied pistachios, and basil oil. It does not get better than this.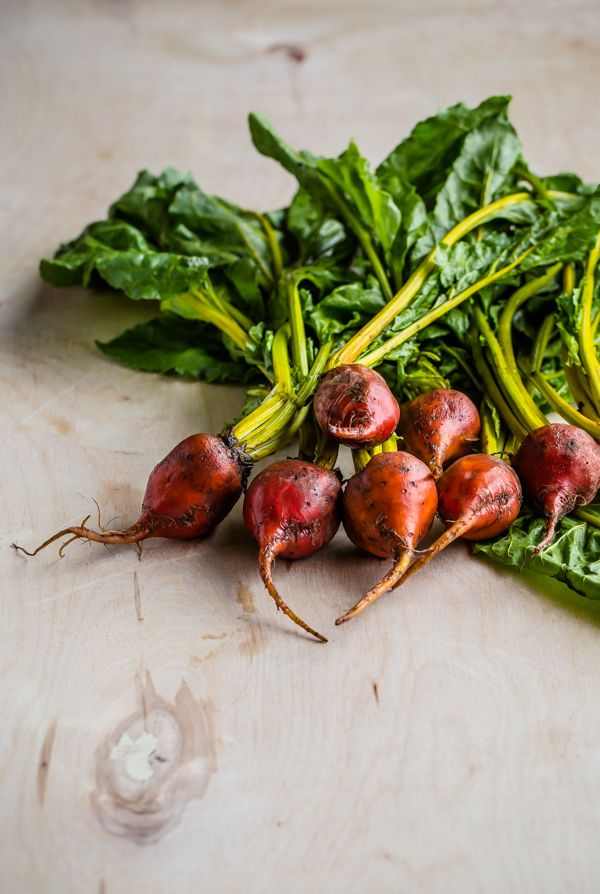 Also, I realize this is the third recipe that I've asked you to make that calls for basil oil (first, these shrimp skewers and then, this hash), but I love that stuff. It totally makes this salad. I could also survive on candied pistachios, but that is besides the point.
To be perfectly honest, I can't take credit for the creativity behind this salad. This dish was inspired by the lovely Joe Yonan (food editor of the Washington Post and author of the recent cookbook Eat Your Vegetables).
I was lucky enough to be introduced to him last year, and recently helped him with a private dinner event, where we served a salad very similar to this one. I ended up recreating and serving it a few weeks ago for a fancy dinner at home with Connor and my soon-to-be in-laws, where it was met with rave reviews, and eventually decided I needed to share it with you all as well.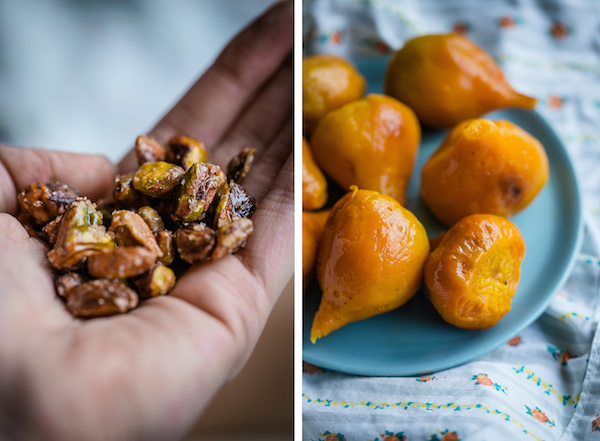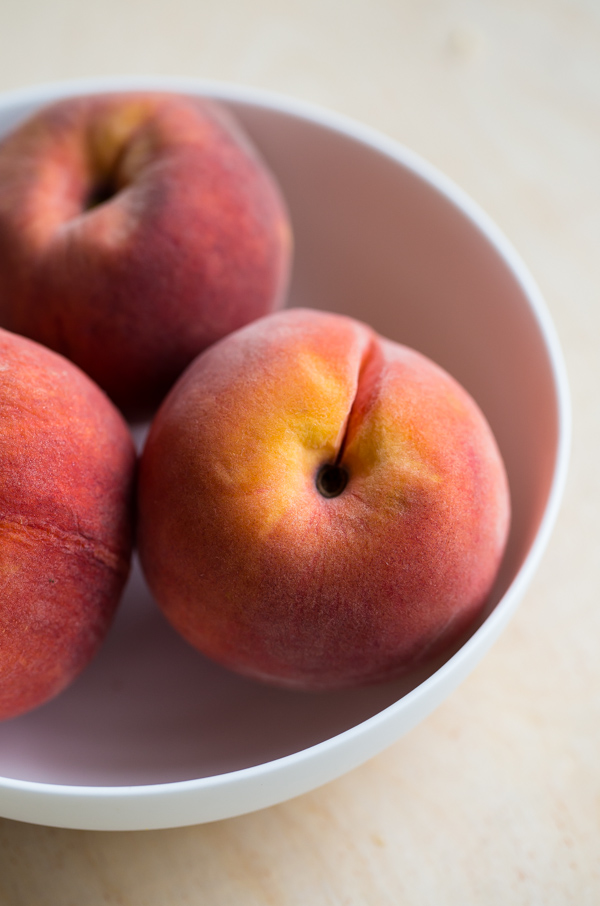 The best part of this dish is that it comes together so quickly. The most time consuming step is roasting the beets–my favorite method is to simply scrub them very well, wrap them tightly in foil, and roast them at 375 degrees for 45 minutes to one hour.
The peaches are blanched and peeled very easily by scoring and placing them in a bowl, and pouring over boiling water (I used my kettle). I'm not a huge fan of peach skin, especially in salads, and this step almost helps to bring out the flavor of the peaches even more, if that makes any sense at all.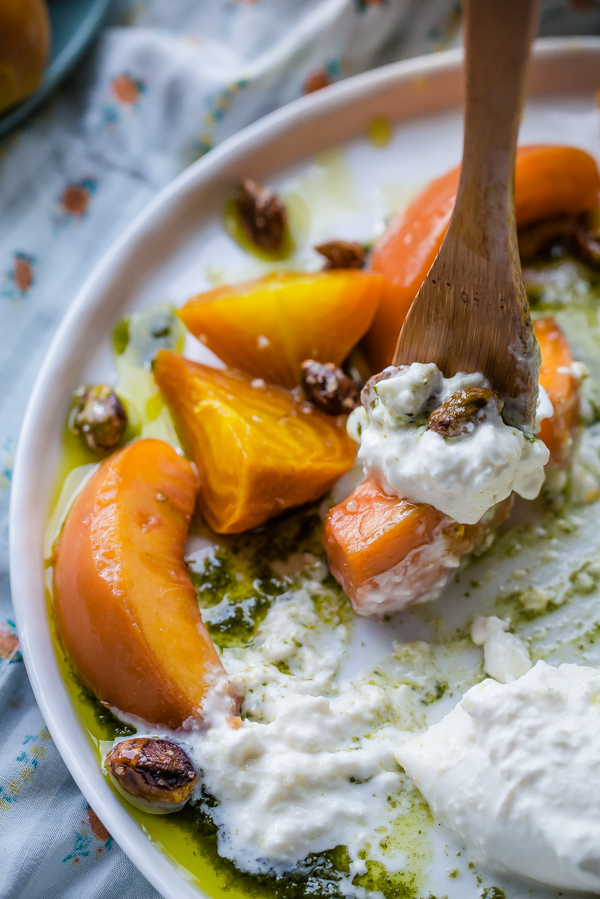 The icing on the proverbial cake is the creamy burrata cheese. If you've never tried burrata, it is essentially mozzarella that has been stuffed with cream. It is creamy, decadent, and best served at room temperature.
It is one of my absolute favorite cheeses (or ingredients, for that matter), and although it is expensive and a little hard to come by, you will not regret the decision at all.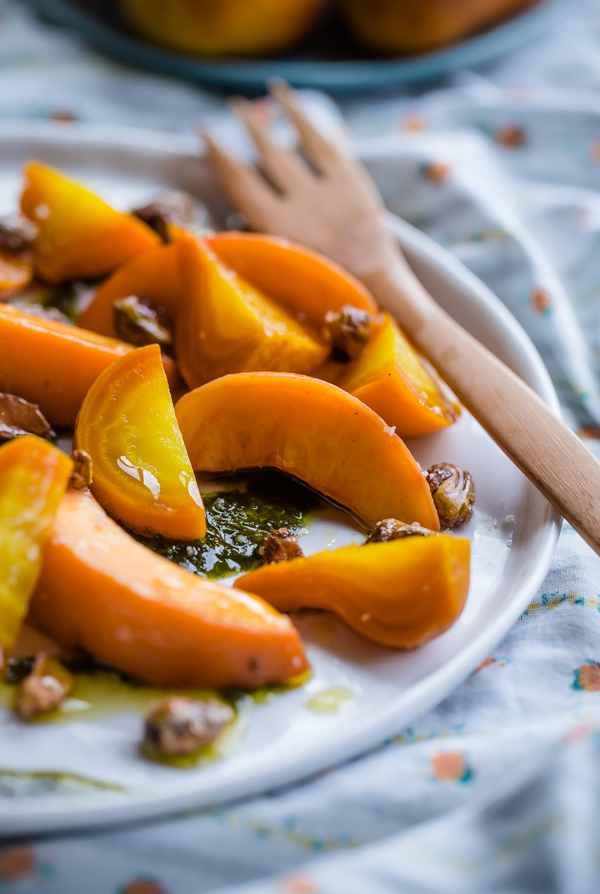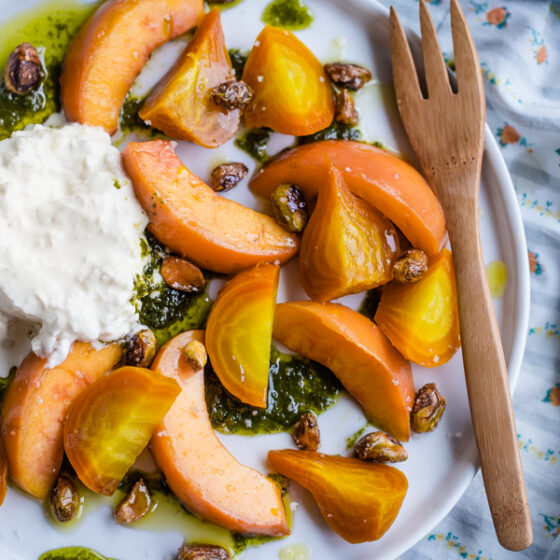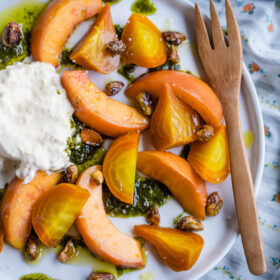 Roasted Beet Peach and Burrata Salad with Basil Oil and Candied Pistachios
Serving: 1serving, Calories: 318kcal, Carbohydrates: 22g, Protein: 15g, Fat: 20g, Saturated Fat: 8g, Polyunsaturated Fat: 10g, Cholesterol: 45mg, Sodium: 719mg, Fiber: 3g, Sugar: 19g
This post contains affiliate links, which means that I make a small commission off items you purchase at no additional cost to you. Please read my
privacy policy
for more information.