Broken Farro Porridge with Coconut Milk, Almonds, & Roasted Plums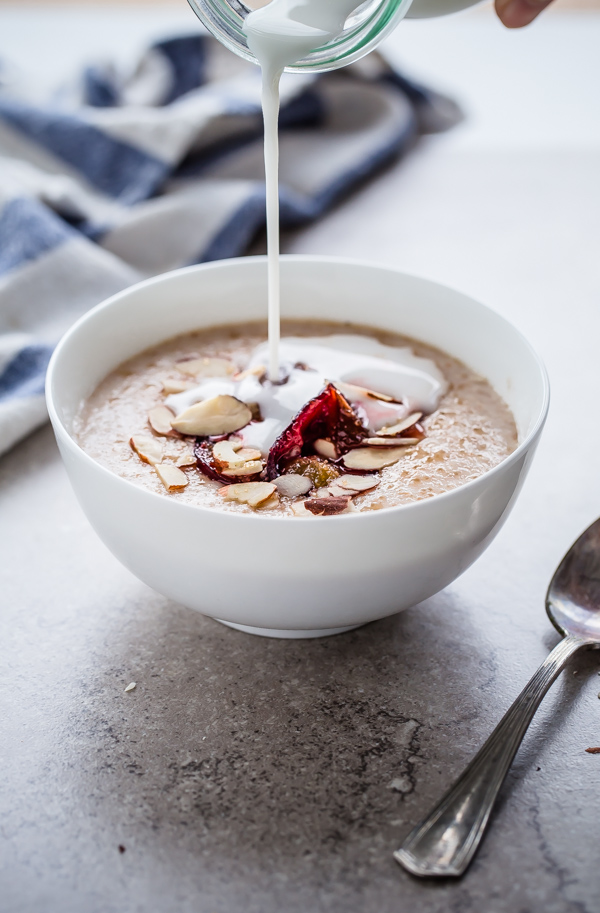 If I were going to list my all-time favorite breakfasts ever, this broken farro porridge would definitely be near the top of the list. Top five, for sure.
And that is saying a lot, because I don't normally consider myself an oatmeal or porridge person. I'm not even sure if oatmeal or porridge fanatics love it that much. Omelettes? Definitely. Waffles and pancakes? Of course! Runny eggs? Yes, the answer is always yes.
Porridge better be really special if it wants to compete with all of the other amazing breakfast foods out there, and you guys, this farro porridge is special.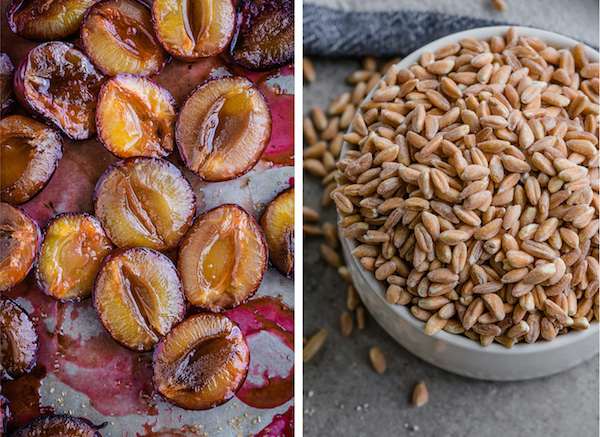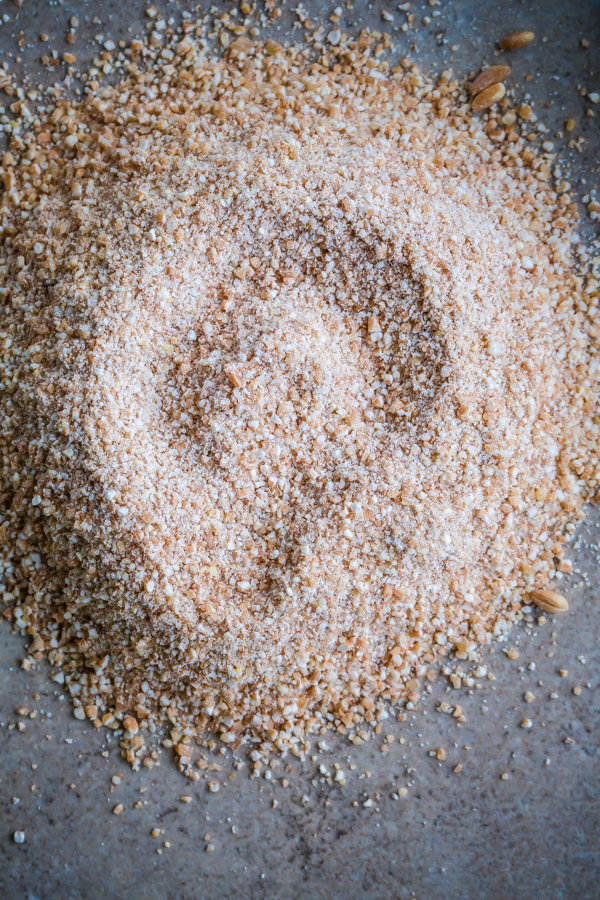 As is the case with many of the recipes on the blog, this one was inspired by a meal at a restaurant. Broken farro porridge is a dish served at Il Cane Rosso, a small order-at-the-counter cafe in San Francisco's Ferry Building. It is one of their signature items, and rightly so.
Truth time? I only spent one full day in the city on my trip to San Francisco in August, and had a mini breakdown when we almost missed their breakfast window (breakfast is only served before 10:45 AM, and we arrived at the Ferry Building exactly five minutes before that).
I'm really not kidding. Ask my friend.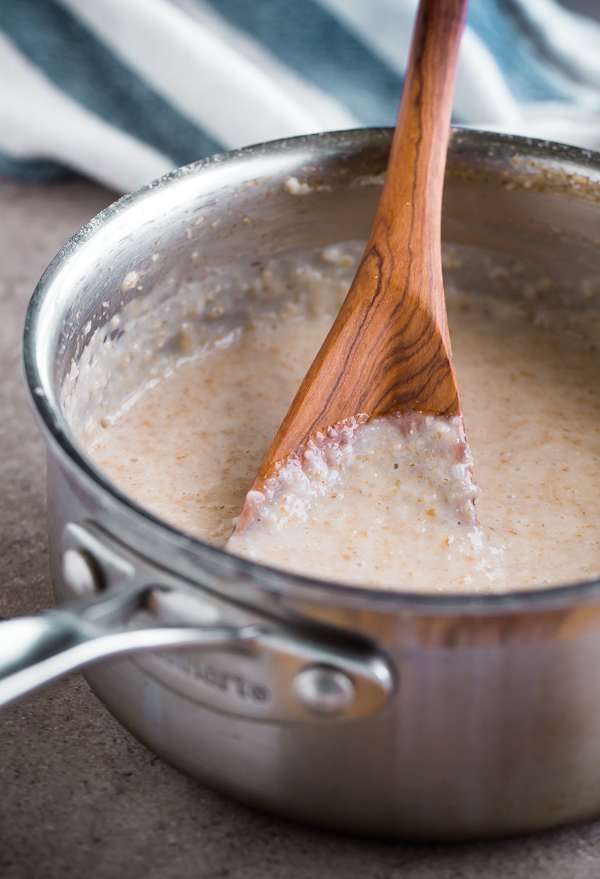 Thankfully, we got there just in time and I savored every spoonful of the stuff. The trick to this amazing porridge is the broken farro. If you're unfamiliar with it, farro is a variety of wheat that has become relatively popular over the last few years.
As the name suggests, it is literally broken. Ground to a relatively fine grain, which allows it to gain the creamiest of textures when cooked, but not so much so that it still retains great texture.
Since farro is only available in whole grain form, I've found that the best way to grind the farro yourself at home is using a high power blender (I used my Vitamix) or food processor. The good news? You don't need to travel to San Francisco anymore to try it yourself.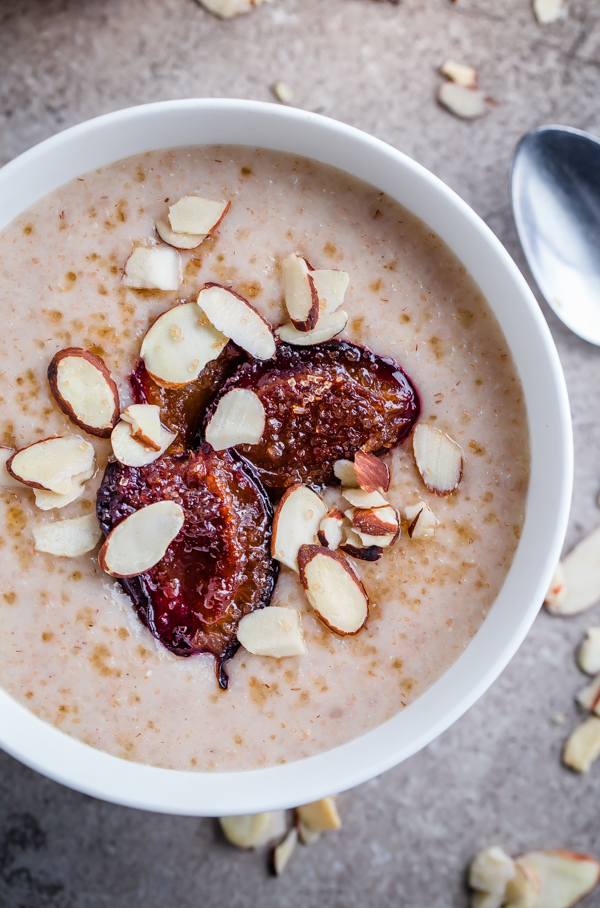 Il Cane Rosso's broken farro is served beautifully, but very simply. The original comes with raisins and is topped with chopped toasted almonds. Although I love that version and would gladly have it every day of the week, I decided to change a few things myself without messing with the integrity of the dish.
The porridge itself is made by boiling water and slowly pouring in the broken farro, similarly to how you make polenta or grits. After the farro is completely cooked, you whisk in light coconut milk, a touch of maple syrup, and lots of vanilla extract. The coconut milk helps make the porridge extra creamy, and the vanilla and maple syrup add just enough sweetness and flavor. (Also, it's vegan!)
I decided to top the whole thing off with roasted Damson plums, which are only available a few weeks out of the year, and are showcased best as a preserve, roasted, or stewed. I'm clearly on a plum streak, but in all honesty, the tartness of the plums complements the porridge really well.
If you can't find them, free to leave this part of the recipe out (or substitute with regular roasted plums or any other roasted fruit). It tastes just as good either way!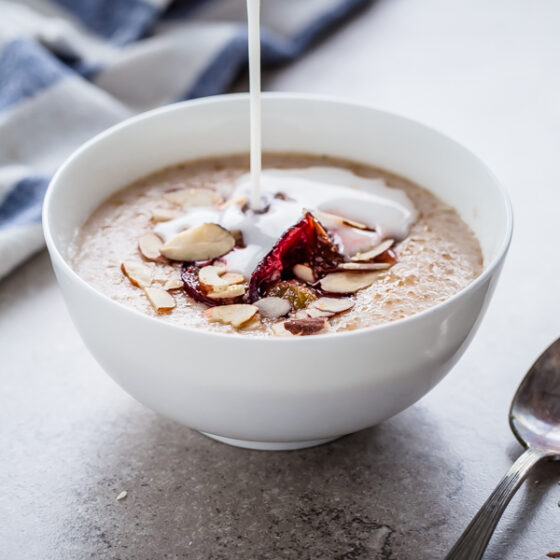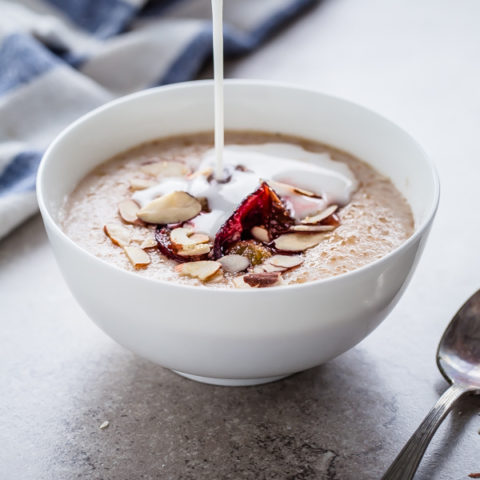 Broken Farro Porridge with Coconut Milk, Almonds, & Roasted Plums
Yield: 2 Servings
Prep Time: 5 minutes
Cook Time: 15 minutes
Total Time: 20 minutes
Ingredients
Roasted Plums (3-4 Servings):
8-10 small Damson plums (~1/2 lb)
2 tablespoons turbinado (or granulated) sugar
Broken Farro Porridge:
1/2 cup farro
2 cups water
1/4 teaspoon kosher salt
3/4 cup light coconut milk
1 tablespoon pure maple syrup
1 and 1/2 teaspoon vanilla extract
toasted sliced (or chopped) almonds
turbinado sugar, for sprinkling
Instructions
Roast Plums: Prepare the oven to 425 degrees Fahrenheit. Halve and pit the plums and place on a small baking sheet. Sprinkle the plums with the turbinado sugar, and roast them for 10-15 minutes or until the plums are soft and lightly caramelized. Cool the plums on a rack as you prepare the farro porridge.
Prepare Farro Porridge: Place the farro in a high-power blender (or food processor) and process until mostly ground (you want very small pieces of farro to still be visible). Set aside.
In a small saucepan, bring the water and salt to a rolling boil. Slowly pour in the farro, whisking continuously with your other hand to prevent any lumps from forming. Reduce the heat to low, and continue to cook the farro, whisking continously, for another 10-12 minutes, or until the mixture has thickened substantially and it is completely cooked.
Whisk in the coconut milk, maple syrup, and vanilla extract and remove from the heat to cool slightly. Serve the porridge and top with toasted sliced almonds, roasted plums, and a sprinkling of turbinado sugar.
Notes
Inspired by Il Cane Rosso in San Francisco. Farro porridge can be made up to a week in advance and kept in an airtight container in the fridge (and reheated in the microwave to serve).
Nutrition Information:
Yield: 2
Serving Size: 1
Amount Per Serving:
Calories: 396
Total Fat: 8g
Saturated Fat: 6g
Trans Fat: 0g
Unsaturated Fat: 1g
Cholesterol: 0mg
Sodium: 286mg
Carbohydrates: 81g
Fiber: 7g
Sugar: 58g
Protein: 7g