Farmers Market Hash with Poached Eggs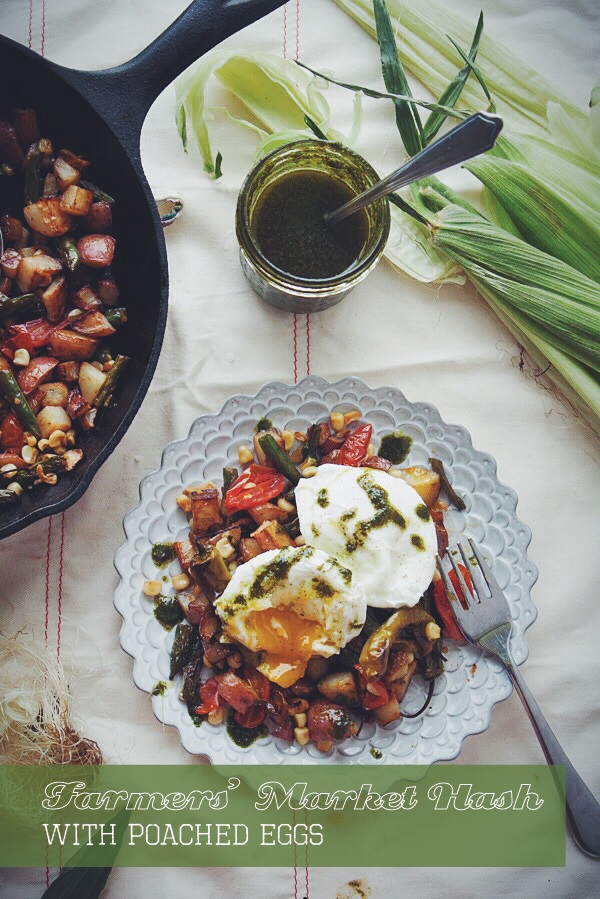 Sometimes the best dishes come together at the most unexpected times. When you're least expecting it, when you barely have anything in the fridge and just have to throw something together, or when you are simply…not thinking about it. This farmers' market hash is one of those dishes.
Not thinking can be such a great thing. I'm totally guilty of over-thinking most things in life (to the nth degree). Hello! Wedding planning!
When you spend close to four hours (ok, more like seven) trying to figure out what type and size pots and pans to register for, you know you have a serious problem.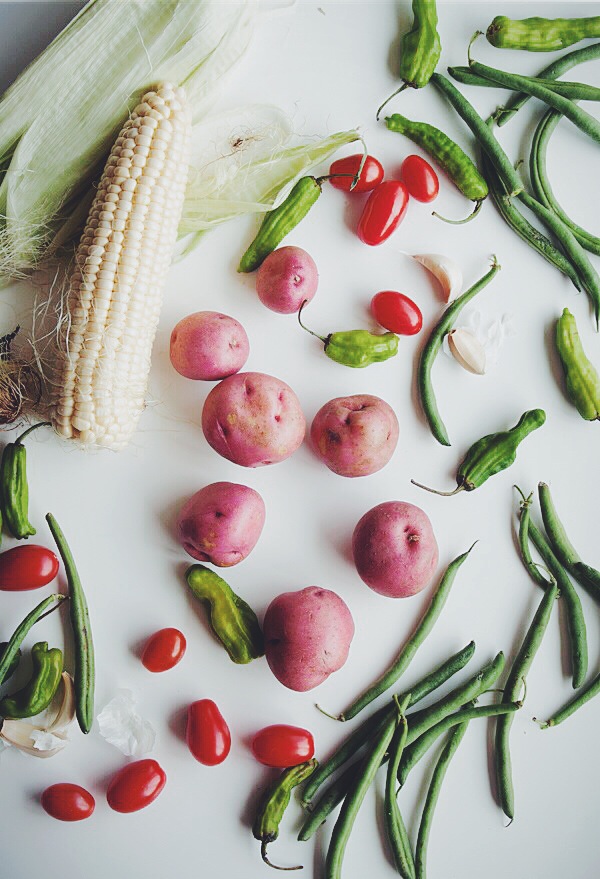 But there is one area of my life where I consider myself to be a relatively successful 'non-thinker'.
Food and cooking. I'm not gonna lie, food blogging has definitely made this a little bit more difficult. It is really easy to want to add one.more.thing to practically every dish that comes out of my kitchen (and makes itself onto this site). This can be a great thing, because sometimes it really is just that one little extra thing that takes a dish from good to great.
It has made me a more creative cook in so many ways!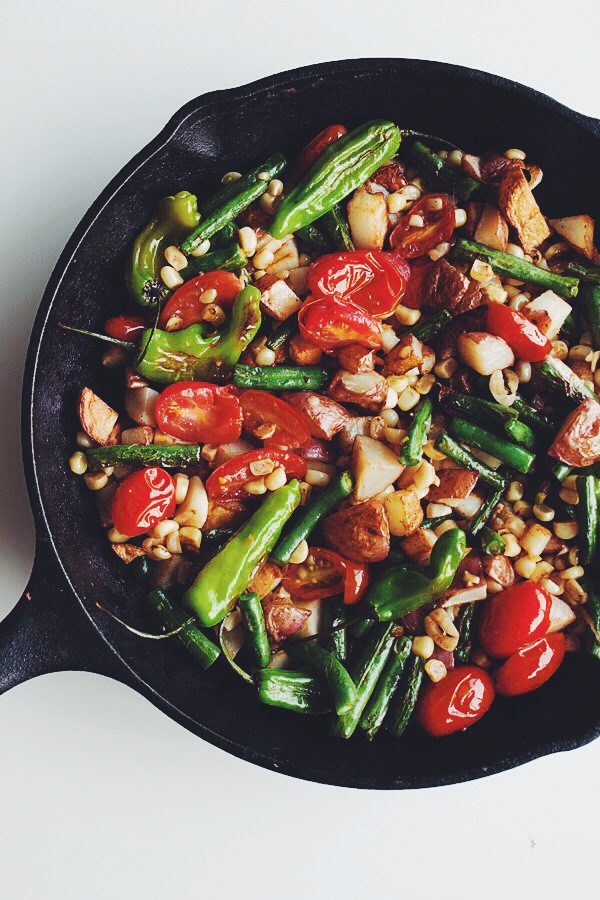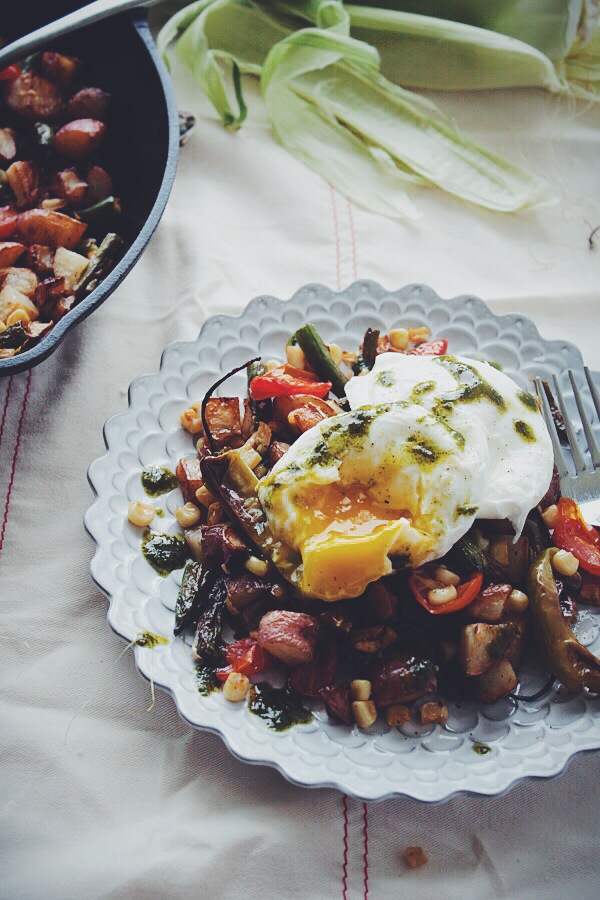 But for the most part, I really just strive to make yummy food without the frills, and just the teeniest amount of flair. Food that makes me want to do a happy dance all over my little apartment. And more importantly, food that will hopefully make you want to do a happy dance all over your home!
That is always (and will forever be) my end goal. I definitely fall off the bandwagon every now and then, but I hope that is how you feel when you take the time to visit this site (and for that, I pretty much love your guts).
And if you get inspired to get in the kitchen and make your own version of a dish, well, that's even better.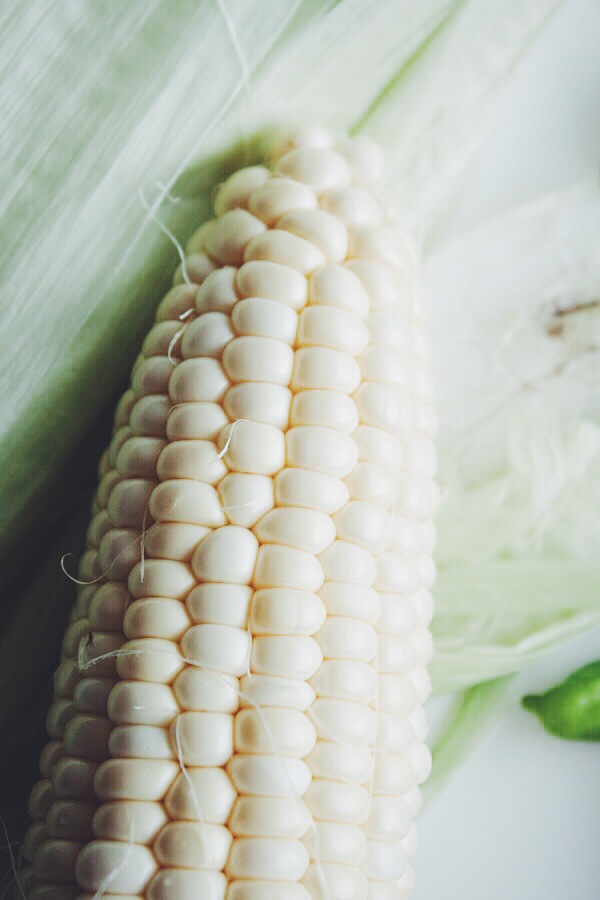 Woh, who knew hash could bring out all the mushy love stuff?!?
Hash tends to have that effect on me (and I'm pretty sure, most people). Throw together a skillet of crispy potatoes full of farmers' market veggies (in this case, green beans, tomatoes, fresh corn, and mini sweet peppers), top it with perfectly runny poached eggs, and I guarantee that people will love you just a little bit more.
There are heavier, meatier hashes (like this one) and lighter, summer-y hashes. This dish is definitely the latter. It is hearty enough to fill you up for hours, but not food-coma inducing either.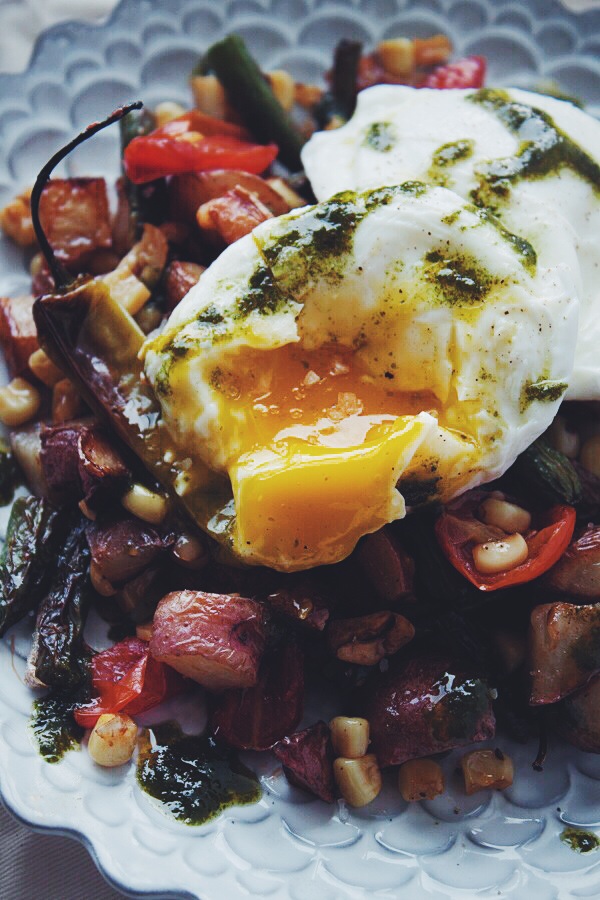 If you can't find mini sweet peppers, feel free to substitute with chopped bell peppers, cubanelle, or even poblano peppers (just remember, poblanos can vary in spiciness and the seeds should be removed prior to cooking).
Oh yeah, and remember that basil oil recipe I shared the other day? You're going to want to drizzle the extras all over this. Cheese isn't a bad idea either!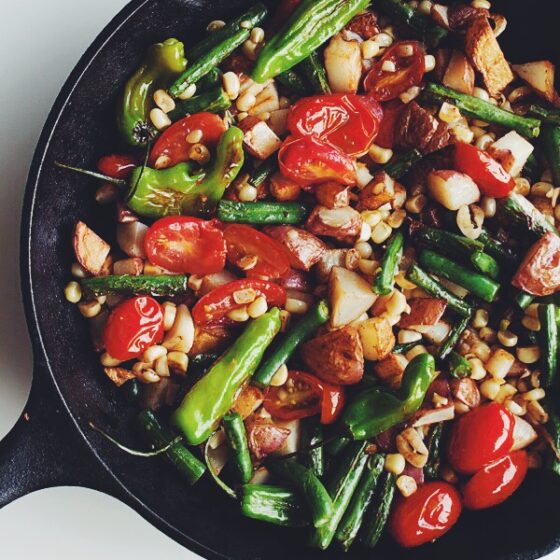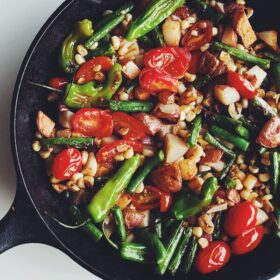 Farmers Market Hash with Poached Eggs
A simple farmer's market breakfast hash prepared in a skillet with potatoes, assorted vegetables, and finished with perfectly poached eggs, and a drizzle of homemade basil oil.
Ingredients
3 tablespoons vegetable oil divided
12 ounces (¾ lb) small red potatoes
3 ounces (¼ lb) green beans sliced into 1-inch pieces
1 ounce (6-7) mini sweet peppers stems removed
1 ear of corn stripped of kernels
½ cup (¼ lb) grape or cherry tomatoes, sliced in half
2 medium garlic cloves finely minced
4 eggs
basil oil for drizzling
microplaned parmigiano-reggiano cheese optional
Instructions
Preheat the oven to 425°F (218°C) with a rack in the center position.

Chop the potatoes, leaving the skin on, into ½-inch chunks. Pat them lightly with a paper towel or clean kitchen towel to remove any excess starch. Heat 2 tablespoons of oil in a large (10-inch) cast-iron skillet over medium-high heat. Sauté the  potatoes, tossing every few minutes, until golden brown on all sides. Season with salt and pepper and set aside on a plate for later.

Heat the remaining tablespoon of oil to the skillet and add the green beans and mini sweet peppers. Sauté over medium-high heat for 2 to 3 minutes, stirring frequently, until lightly charred. Add the corn kernels and tomatoes and sauté for an additional 2 to 3 minutes, stirring often. Add the garlic, and sauté for an additional 30 seconds or until fragrant. Add the potatoes back into the pan. Season the hash to taste with salt and pepper. Using a spatula or spoon, distribute the hash evenly in the pan in one layer.

Place the skillet in the oven and bake for 15 to 20 minutes, or until golden brown.

Meanwhile, fill a small saucepan with several inches of water, salt heavily, and bring to a boil. Reduce the heat so that that the water is barely simmering (small bubbles are visible on the bottom of the pan).

Crack the eggs, one at a time, into a small sieve set over a bowl. Discard any loose egg whites that drain into the bowl–and carefully transfer each egg into individual ramekins or bowls with a tight lip. Tip the eggs gently, try to do them simultaneously or quickly one after another, into the barely simmering water. Using a slotted spoon, gently make sure they are not sticking to the bottom of the pan. Cook them, turning them once, for 3 to 4 minutes, or until the whites are cooked through and the yolk is soft to touch. Lift with a slotted spoon and drain lightly on a paper-towel lined plate.

Remove the hash from the oven, distribute it evenly among plates, top the hash with the poached eggs and drizzle with basil oil, if using. Top with grated cheese, as desired. Serve immediately.
Tips for Success
Since the hash is cooked all the way through on the stove, you can skip the oven step in this recipe, but I love that it helps brown all the vegetables evenly (it helps make them a little bit more crispy) and keep the hash warm and out of the way while you prepare the eggs!
Serving: 1serving, Calories: 743kcal, Carbohydrates: 138g, Protein: 27g, Fat: 14g, Saturated Fat: 3g, Polyunsaturated Fat: 10g, Cholesterol: 187mg, Sodium: 855mg, Fiber: 18g, Sugar: 24g
This post contains affiliate links, which means that I make a small commission off items you purchase at no additional cost to you. Please read my
privacy policy
for more information.