Grilled Harissa Shrimp Skewers with Basil Oil and Cilantro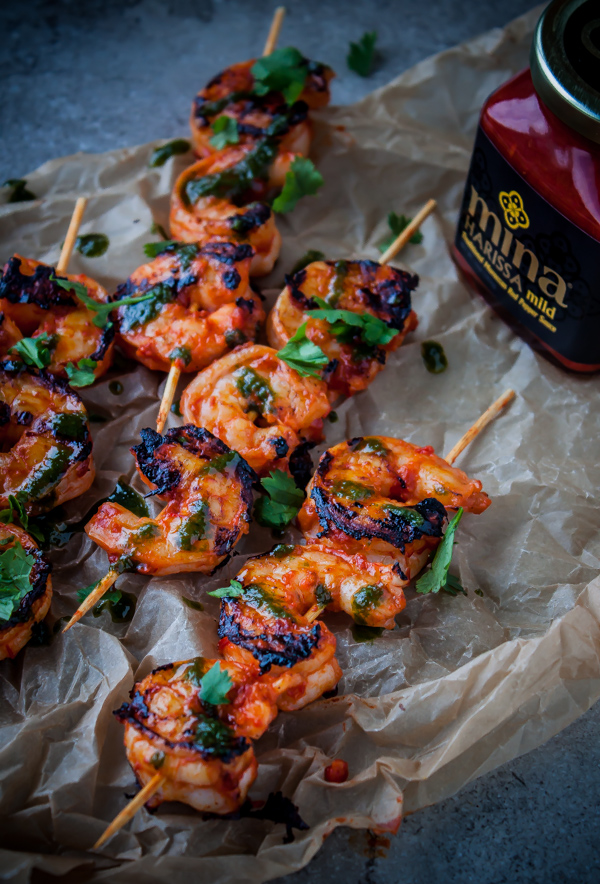 Majorly excited today for two reasons:
1) It is Friday. Enough said.
2) I've teamed up with the wonderful people over at Mina Harissa to share another recipe for their delicious, good-enough-to-eat-straight from-the-jar harissa sauces.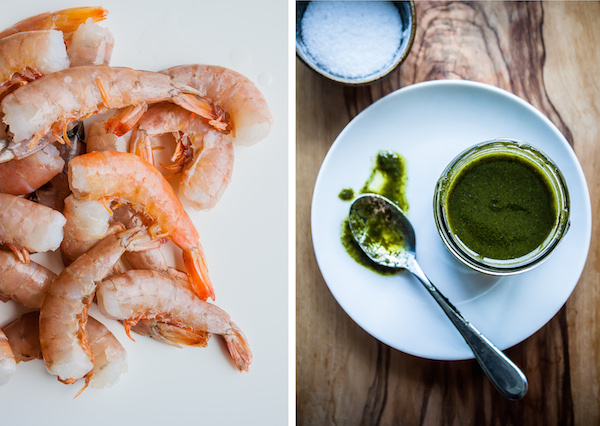 I know I can be a little dramatic when it comes to describing food (my mom has accused me of using the word 'obsessed' far too many times on the blog, oops!), but I could literally eat about fifteen of these grilled harissa shrimp skewers in one sitting. And this recipe only makes six of them, so yeah.
That is truly how good they are!
[Also, check out my fancy shrimp deveining knife! Cool, huh?]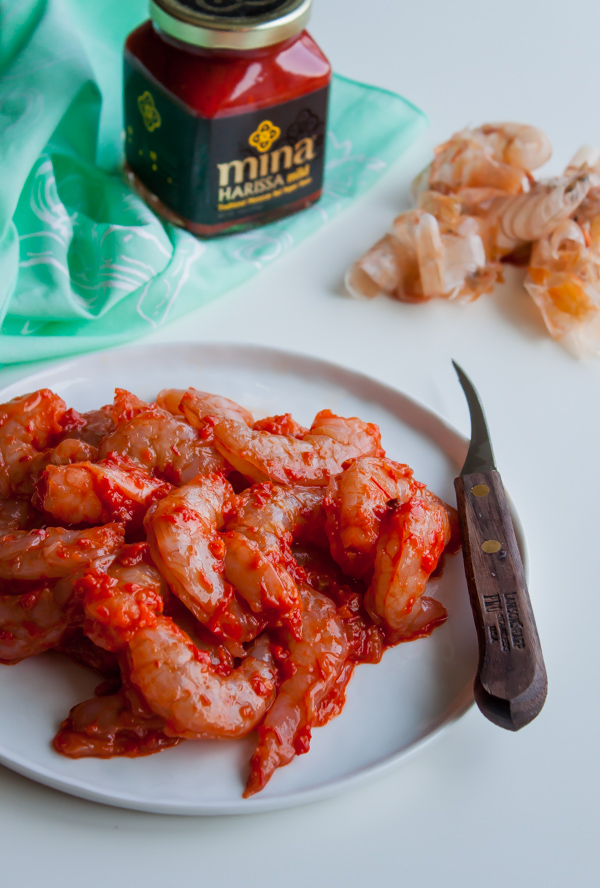 As I've mentioned before, I'm a huge fan of harissa and specifically, Mina harissa sauces. They are bold in flavor and can be used in so many different ways–as a condiment and topping, or as a flavor boost in almost any dish (like these spicy harissa lamb meatballs with feta).
One of my biggest pet peeves in life to having to buy an ingredient for only one cooking application–so trust me, I would not be saying this otherwise.
You will never run out of uses for this stuff.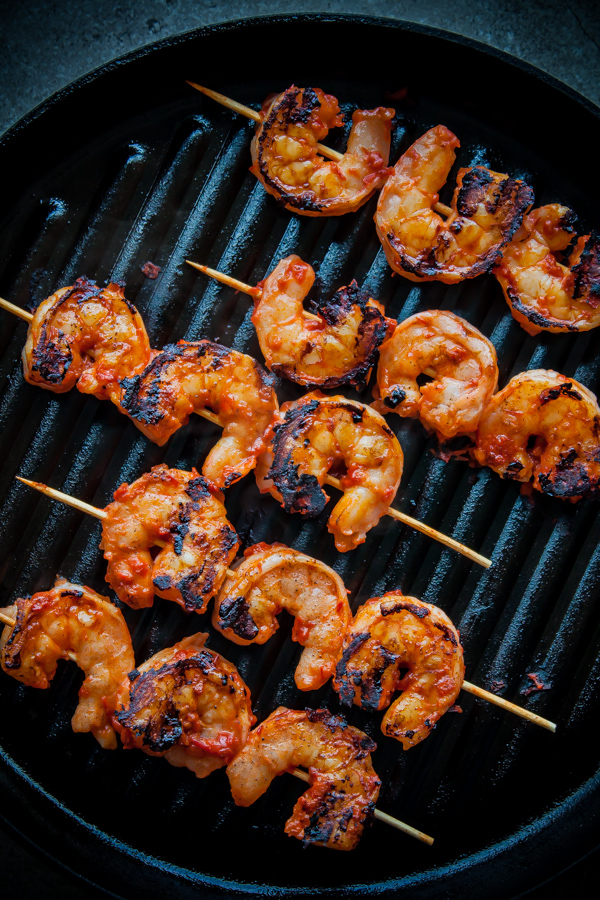 Traditionally, harissa is extremely spicy because it is made almost entirely from red chili peppers. I happen to love spicy food (the more, the merrier!), but if you do not, guess what? You're in luck!
Mina Harissa makes a mild harissa. It is delicate and flavorful with just the slightest hint of spice. It also lends itself extremely well to marinating seafood and meat as you can be extremely liberal with it and not have to worry about numbing your (or your friends) taste buds before the meal even begins.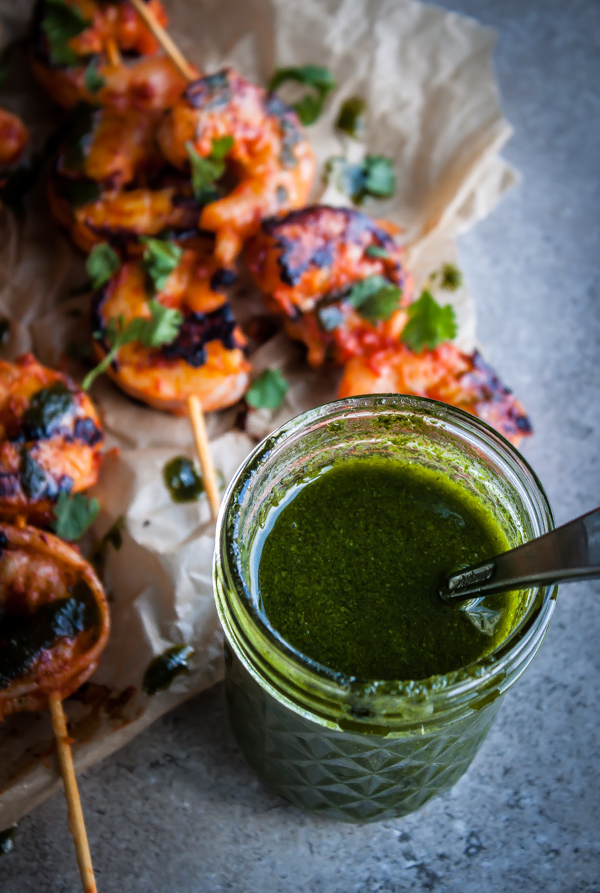 And this is the perfect entertaining recipe (such as those upcoming Labor Day parties!) because it is simple and quick to prepare, yet elegant enough to have your friends 'oohing' and 'aahing' over every bite.
Seriously. Just grab some shrimp, toss them with mild harissa, and let them hang out and marinate in the fridge for an hour or two! Thread them on some wooden skewers and grill away.
Nothing is better than crispy shrimp grill marks.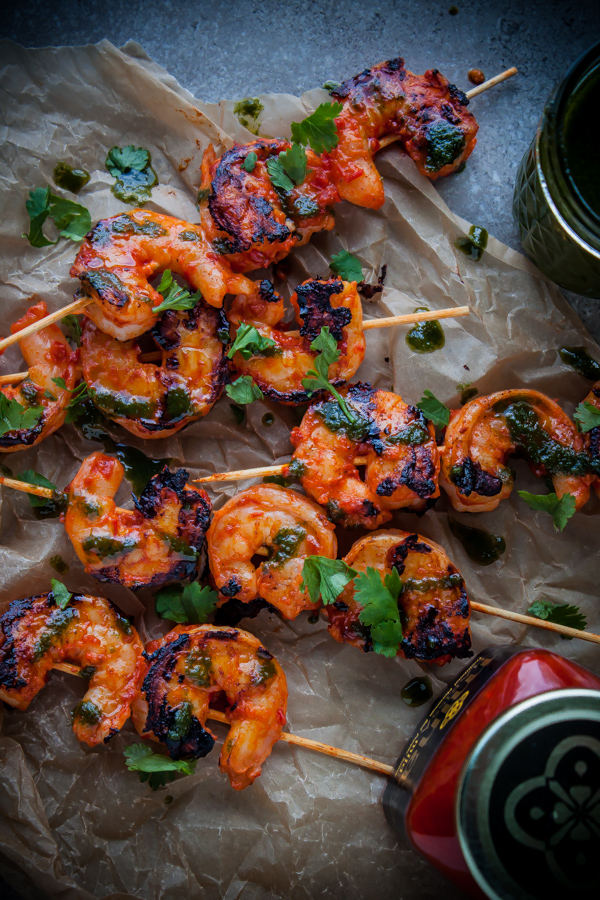 My favorite way to serve these grilled shrimp skewers is with a generous drizzle of homemade basil oil—simply basil leaves, olive oil, and sea salt pureed in a blender–and fresh cilantro leaves.
The freshness of the herbs pairs extremely well with the harissa. Plus, the contrast in color with the vibrant grilled shrimp is beautiful!
Go get your shrimp on!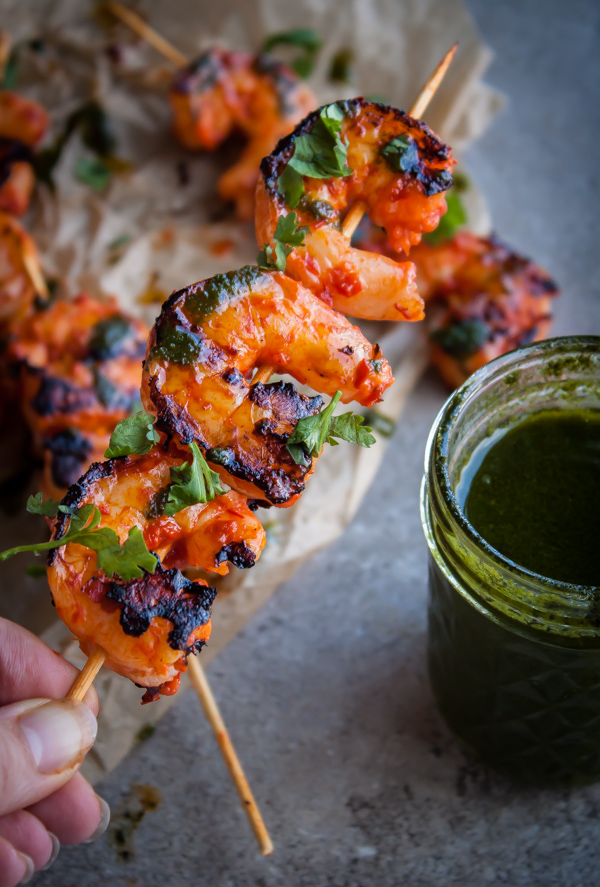 Today's post and recipe development project was sponsored by Mina Harissa. Thank you for supporting the brands I love and use in my own kitchen!