Grilled Harissa Shrimp Skewers with Basil Oil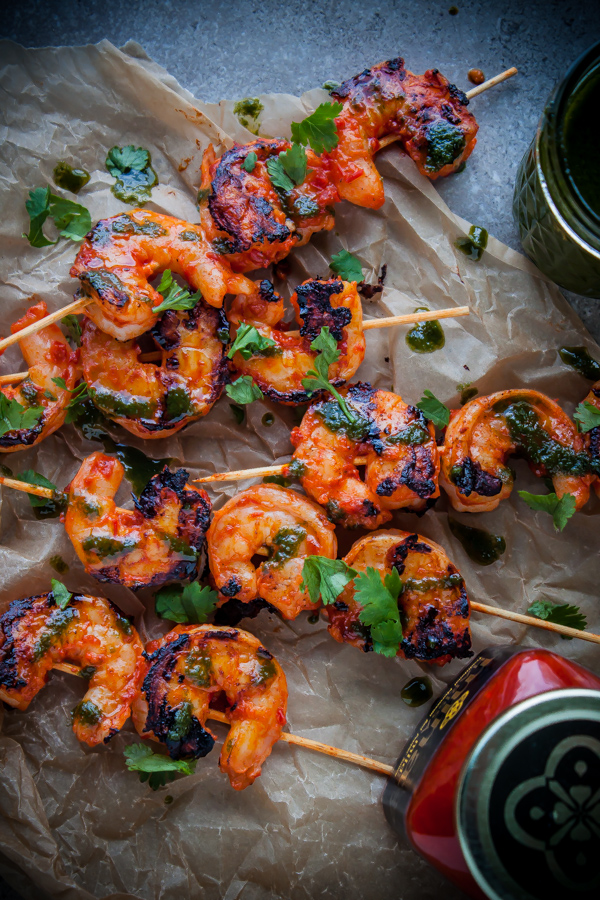 This post is sponsored by Mina Harissa.
I've teamed up with the wonderful people over at Mina Harissa to share another recipe for their delicious, good-enough-to-eat-straight from-the-jar harissa sauces.
I can be a little dramatic when it comes to describing food, but I could eat about fifteen of these Grilled Harissa Shrimp Skewers in one sitting.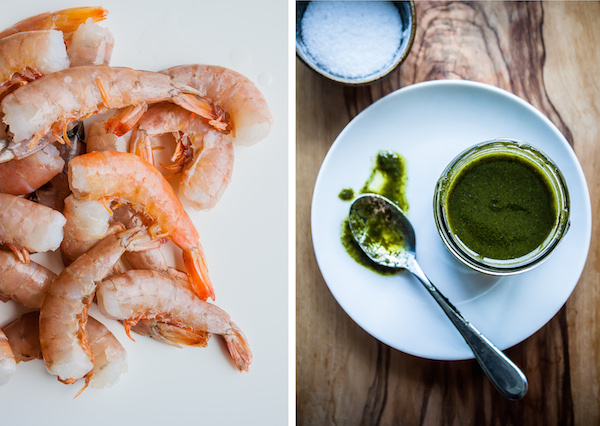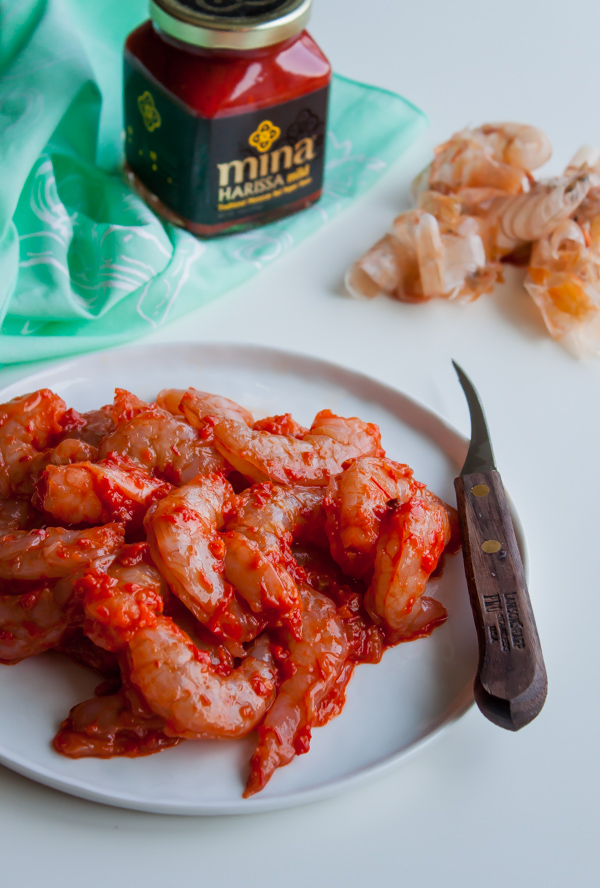 As I've mentioned before, I'm a huge fan of harissa and specifically, Mina harissa sauces. They are bold in flavor and can be used in so many different ways. Use as a condiment and topping or as a flavor boost in almost any dish, like these spicy harissa lamb meatballs or egg puff pastry squares.
You will never run out of uses for it.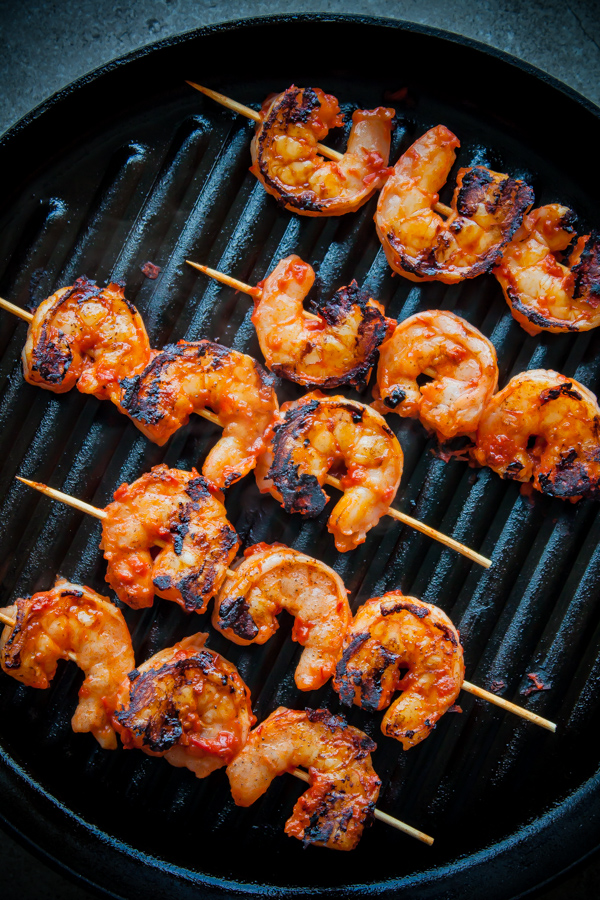 Traditional harissa is extremely spicy because it is made almost entirely from red chili peppers. I happen to love spicy food (the more, the merrier!), but if you do not, guess what? You're in luck!
Mina Harissa makes a mild harissa. It is delicate and flavorful with just the slightest hint of spice. It makes a wonderful easy marinade too.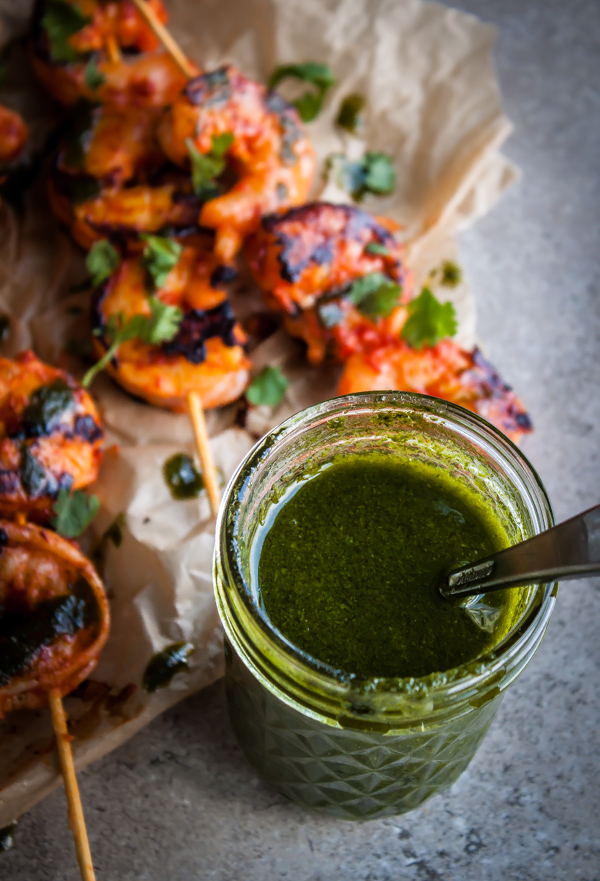 This is the perfect entertaining recipe because these Grilled Harissa Shrimp Skewers are simple and quick to prepare, yet elegant. I love to top them with homemade basil oil (see recipe below).
The freshness of the herbs pairs extremely well with the harissa. Plus, the contrast in color with the vibrant grilled shrimp is beautiful!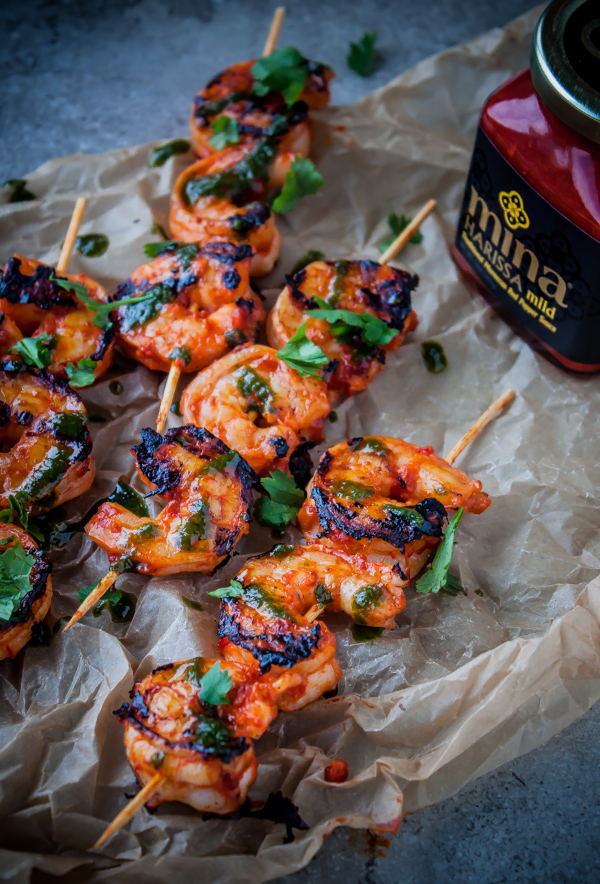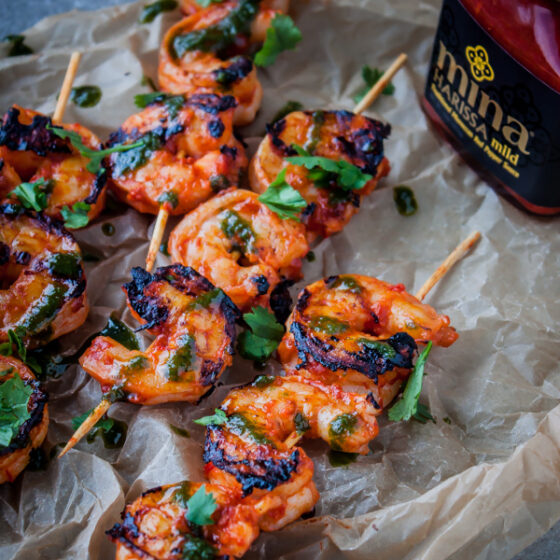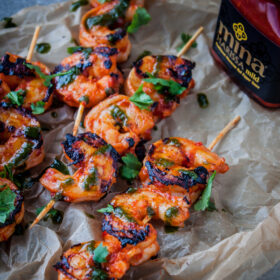 Grilled Harissa Shrimp Skewers with Basil Oil and Cilantro
These Grilled Harissa Shrimp Skewers can be served as an appetizer or main course! While they can be served on their own, I highly recommend topping them with a generous drizzle of homemade basil oil (recipe below) and fresh cilantro leaves.Mina Harissa is available at some Whole Foods and grocery store locations, and can also be ordered online on Amazon.
Ingredients
Grilled Harissa Shrimp Skewers
1 lb (16 oz) large raw gulf shrimp shelled and de-veined
¼ cup Mina Mild Harissa plus more for basting
kosher salt
freshly ground black pepper
cooking spray
Basil Oil
1 cup (240 mL) extra virgin olive oil
1½ ounces (45g) fresh basil leaves
¼ teaspoon kosher salt or more to taste
Instructions
Marinate Shrimp: Place the shelled and deviled shrimp in a medium bowl. Toss with Mina mild harissa. Cover the bowl with plastic wrap and allow the shrimp to marinate in the fridge for 1 to 2 hours. Allow the shrimp to rest at room temperature for 20 to 30 minutes before grilling.

Prepare Basil Oil:  Combine the oil, basil leaves, and salt in a blender container and blend until smooth. Place the oil in a small leakproof jar or container and store in the refrigerator until ready to use.

Using metal or wooden skewers (be sure to soak the skewers in water if using on an outdoor grill), thread 3 to 4 shrimp horizontally onto each skewer (see photos above for demonstration). Lightly season the shrimp with salt and pepper. Place a small spoonful of Mina mild harissa in a separate small bowl - we will use this to baste the shrimp during cooking.

Heat an outdoor gas grill to medium-high heat or heat a large (10 to 12-inch) cast iron grill pan over medium-high heat, and lightly spray with cooking oil. Grill the shrimp for 2 to 3 minutes per side, brushing the shrimp with additional harissa during cooking.

Transfer the shrimp skewers to a large serving platter. Shake the basil oil and drizzle it over the shrimp. Garnish with fresh cilantro leaves and serve immediately.
Tips for Success: 
Mina Harissa is available at some Whole Foods and grocery store locations, and can also be ordered online on Amazon.
Serving: 1serving, Calories: 430kcal, Carbohydrates: 1g, Protein: 17g, Fat: 40g, Saturated Fat: 6g, Polyunsaturated Fat: 33g, Cholesterol: 160mg, Sodium: 856mg
Today's post and recipe development project was sponsored by Mina Harissa. Thank you for supporting the brands I love and use in my own kitchen!
This post contains affiliate links, which means that I make a small commission off items you purchase at no additional cost to you. Please read my
privacy policy
for more information.