Grilled Harissa Shrimp Skewers with Basil Oil and Cilantro
This post contains affiliate links.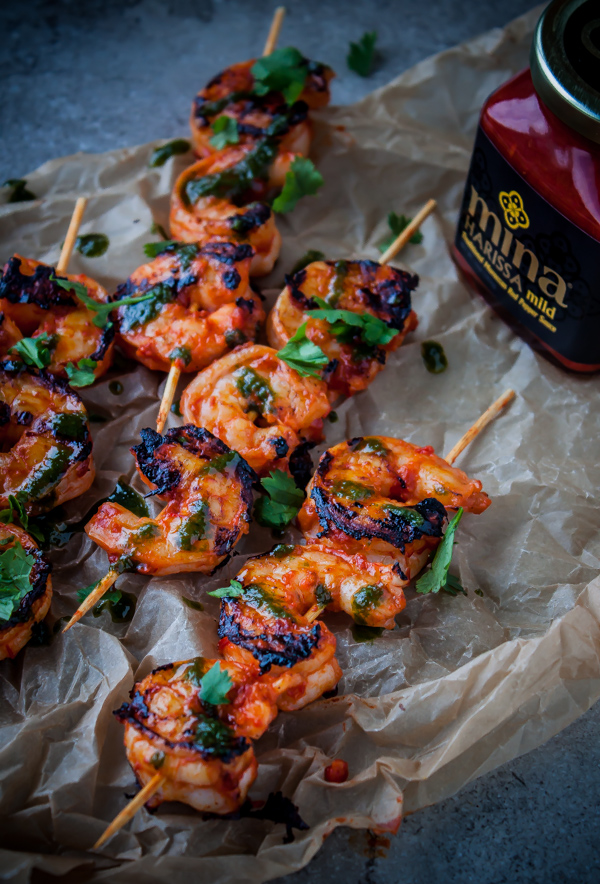 Majorly excited today for two reasons:
1) It is Friday. Enough said.
2) I've teamed up with the wonderful people over at Mina Harissa to share another recipe for their delicious, good-enough-to-eat-straight from-the-jar harissa sauces.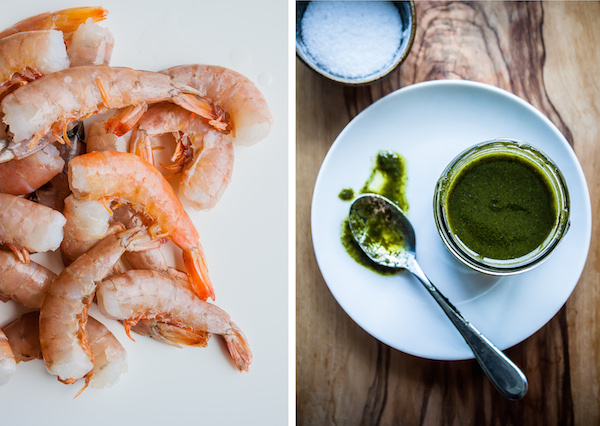 I know I can be a little dramatic when it comes to describing food (my mom has accused me of using the word 'obsessed' far too many times on the blog, oops!), but I could literally eat about fifteen of these grilled harissa shrimp skewers in one sitting. And this recipe only makes six of them, so yeah.
That is truly how good they are!
[Also, check out my fancy shrimp deveining knife! Cool, huh?]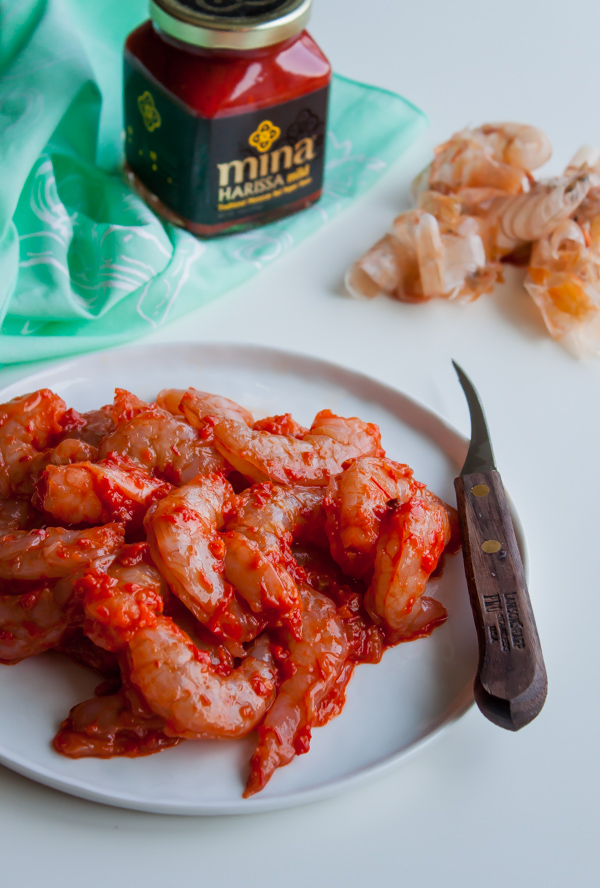 As I've mentioned before, I'm a huge fan of harissa and specifically, Mina harissa sauces. They are bold in flavor and can be used in so many different ways–as a condiment and topping, or as a flavor boost in almost any dish (like these spicy harissa lamb meatballs with feta).
One of my biggest pet peeves in life to having to buy an ingredient for only one cooking application–so trust me, I would not be saying this otherwise.
You will never run out of uses for this stuff.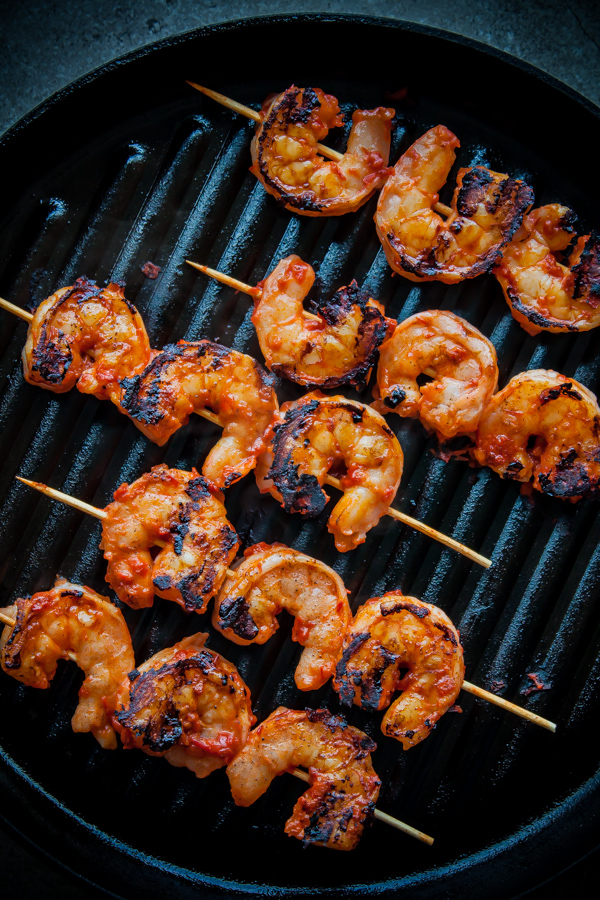 Traditionally, harissa is extremely spicy because it is made almost entirely from red chili peppers. I happen to love spicy food (the more, the merrier!), but if you do not, guess what? You're in luck!
Mina Harissa makes a mild harissa. It is delicate and flavorful with just the slightest hint of spice. It also lends itself extremely well to marinating seafood and meat as you can be extremely liberal with it and not have to worry about numbing your (or your friends) taste buds before the meal even begins.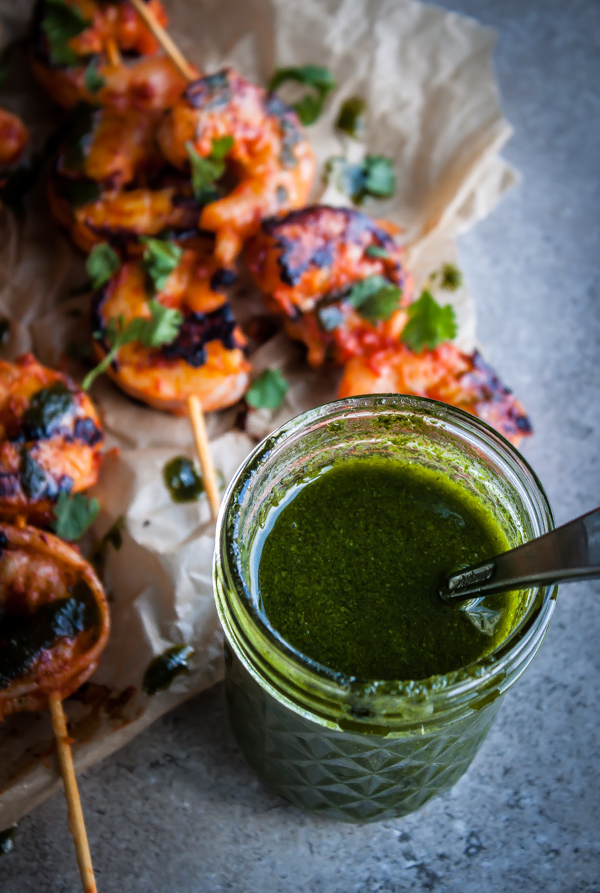 And this is the perfect entertaining recipe (such as those upcoming Labor Day parties!) because it is simple and quick to prepare, yet elegant enough to have your friends 'oohing' and 'aahing' over every bite.
Seriously. Just grab some shrimp, toss them with mild harissa, and let them hang out and marinate in the fridge for an hour or two! Thread them on some wooden skewers and grill away.
Nothing is better than crispy shrimp grill marks.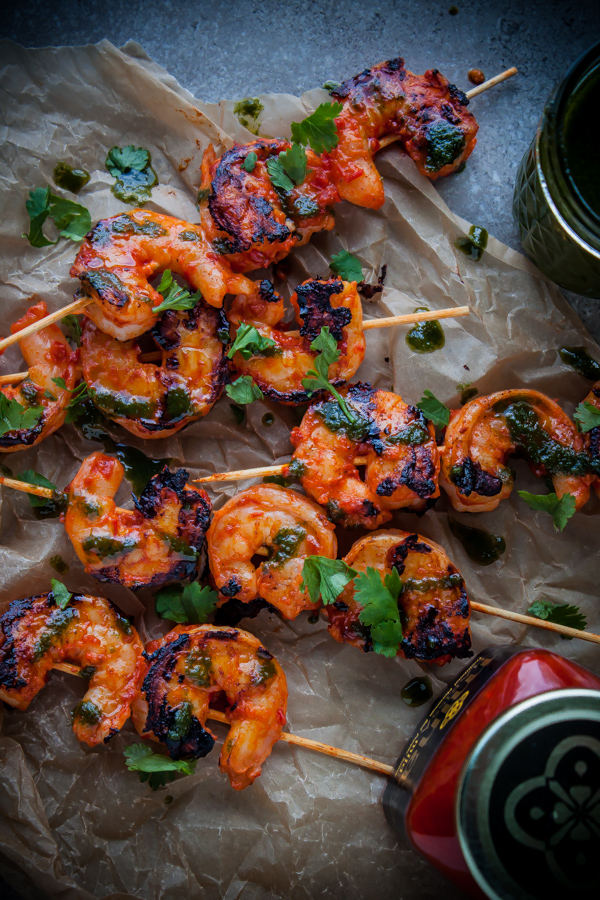 My favorite way to serve these grilled shrimp skewers is with a generous drizzle of homemade basil oil—simply basil leaves, olive oil, and sea salt pureed in a blender–and fresh cilantro leaves.
The freshness of the herbs pairs extremely well with the harissa. Plus, the contrast in color with the vibrant grilled shrimp is beautiful!
Go get your shrimp on!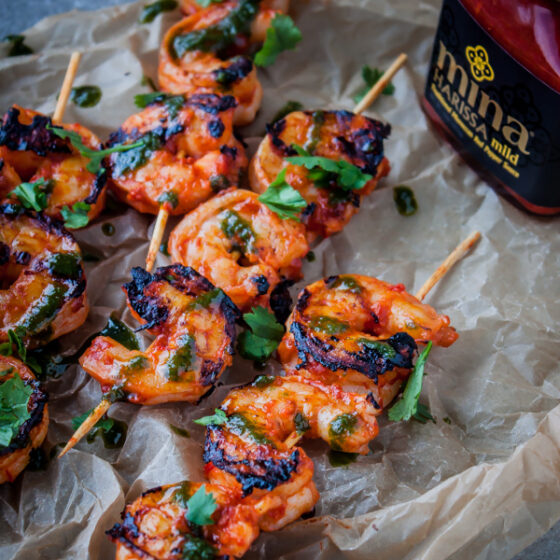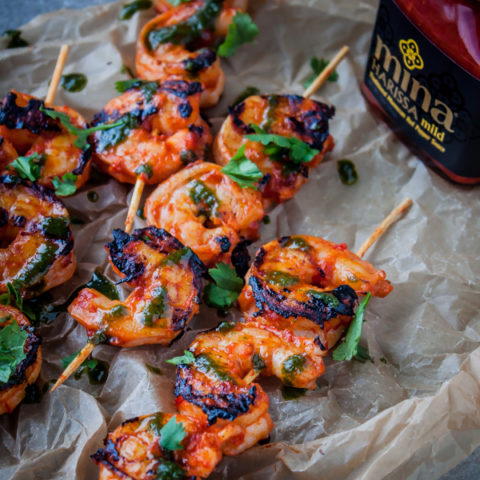 Grilled Harissa Shrimp Skewers with Basil Oil and Cilantro
Yield: 4-6 Servings
My favorite way to serve these grilled shrimp skewers is with a generous drizzle of homemade basil oil—simply basil leaves, olive oil, and sea salt pureed in a blender–and fresh cilantro leaves.
Prep Time: 1 hour
Cook Time: 5 minutes
Total Time: 1 hour 5 minutes
Ingredients
Grilled Harissa Shrimp Skewers
1 lb wild raw unshelled shrimp (or 3/4 lb raw, shelled and de-veined shrimp)
1/4 cup Mina Mild Harissa, plus more for basting
kosher salt
freshly ground black pepper
cooking oil spray
fresh cilantro leaves
Basil Oil
 1 cup extra virgin olive oil
1 and 1/2 ounces of fresh basil leaves
1/4 teaspoon + 1/8 teaspoon kosher salt
Instructions
Marinate Shrimp: Shell and de-vein the shrimp and place in a medium bowl. Toss with Mina mild harissa, cover the bowl with plastic wrap, and allow the shrimp to marinate in the fridge for 1 to 2 hours. Allow to rest at room temperature for 20-30 minutes before grilling.
Prepare Basil Oil: Place the oil, basil leaves, and salt in a blender container, and puree/blend until smooth. Place the oil in a small airtight container and store in the refrigerator until ready to use (oil can be stored in the fridge for up to 3 weeks).
Using small wooden skewers (soak the skewers in water if using on an outdoor grill), thread 3-4 shrimp on each skewer, running the skewer through the neck and once near the tail (see photos above). Lightly season the shrimp with salt and pepper. Place a small amount (2-3 tablespoons) of Mina mild harissa in a small bowl (do not use the marinade for this step) for basting and set aside.
Heat a large (10 to 12-inch) non-stick grill pan over medium-high heat, and spray with cooking oil. Lay the shrimp skewers in the grill pan (do not over crowd the pan) and grill on for 2-3 minutes on each side–brushing the shrimp with additional harissa as you grill them–or until the shrimp are opaque and cooked through
Drizzle the shrimp skewers with basil oil and garnish with fresh cilantro leaves. Serve immediately.
Notes
Mina Harissa is available at some Whole Foods and grocery store locations, and can also be ordered online on Amazon.
Nutrition Information:
Yield: 6
Serving Size: 1
Amount Per Serving:
Calories: 430
Total Fat: 40g
Saturated Fat: 6g
Trans Fat: 0g
Unsaturated Fat: 33g
Cholesterol: 160mg
Sodium: 856mg
Carbohydrates: 1g
Fiber: 0g
Sugar: 0g
Protein: 17g
A Beautiful Plate provides nutritional information, but these figures should be considered estimates, as they are not calculated by a registered dietician.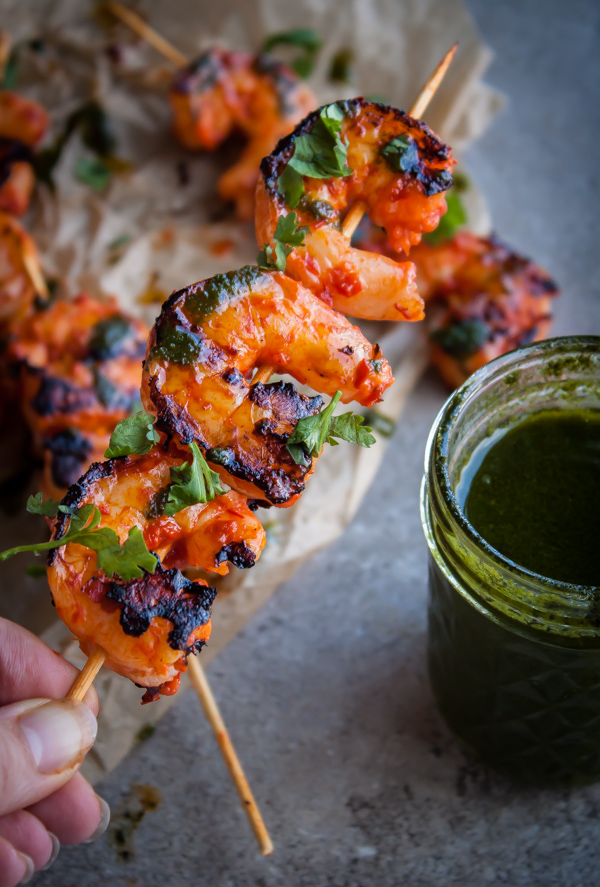 Today's post and recipe development project was sponsored by Mina Harissa. Thank you for supporting the brands I love and use in my own kitchen!
This post contains some affiliate links, which means that I make a small commission off items you purchase at no additional cost to you. Please read my
disclosure policy
for more information.