Homemade blackberry peach pie. An incredibly flaky all-butter pie crust filled with ripe summer peaches and tart blackberries!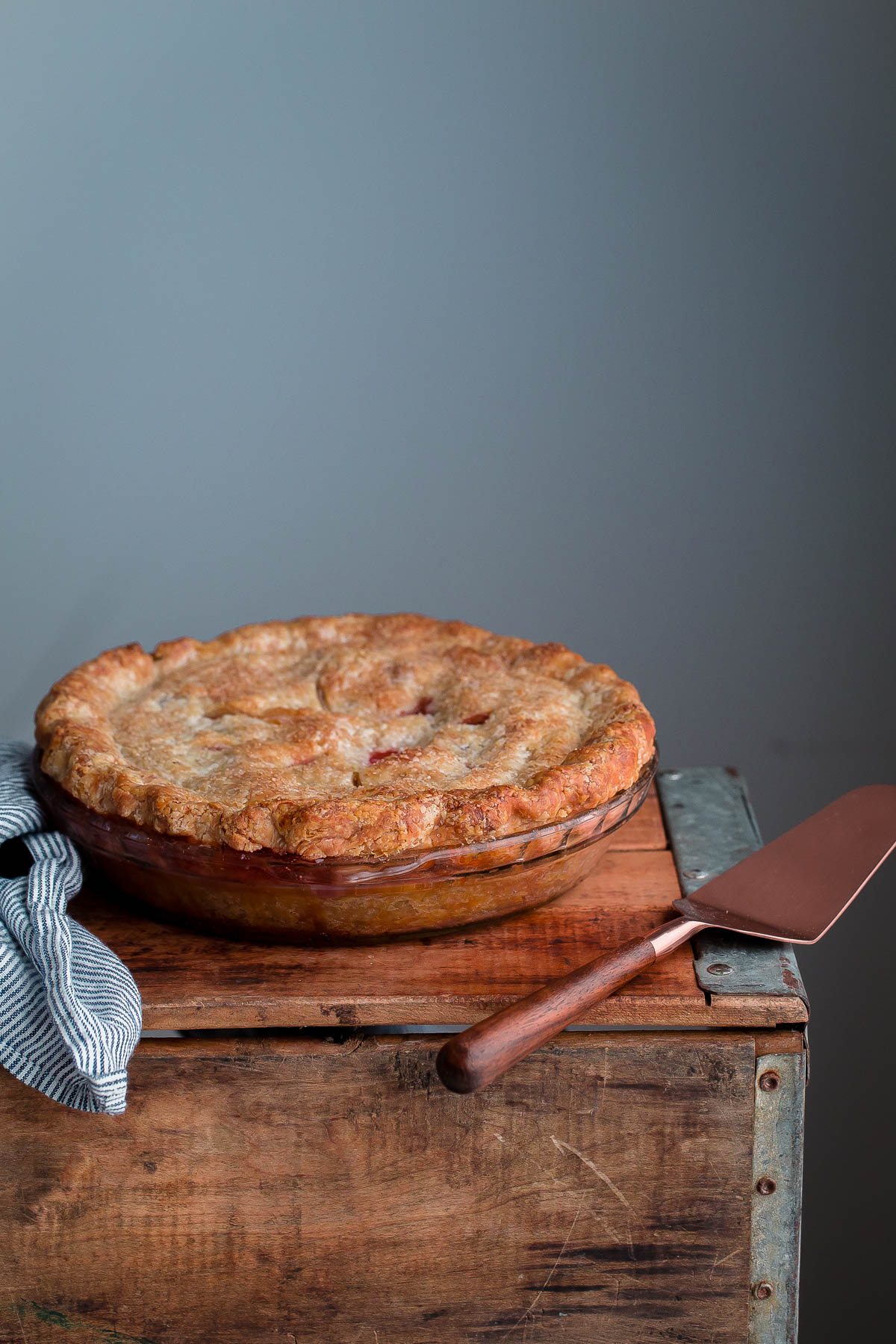 Today's blackberry peach pie provided me with a very important life lesson: make more homemade pie!
If there was ever a time to get over a fear of pie-making (and more importantly, homemade pie crust!), let this summer be it. There is no better time to tackle it. Add homemade pie to your bucket list. Your hard work and effort will be rewarded ten fold. Promise.
In fact, this blackberry peach pie might be the best dessert that's come out of my kitchen all year! I can turn down dessert any day of the week, but homemade pie? Nope. It's my kryptonite. I have a particular affinity towards peach pie, but any pie will do the trick. The addition of fresh blackberries give a touch of tartness in each bite and improves it for the better.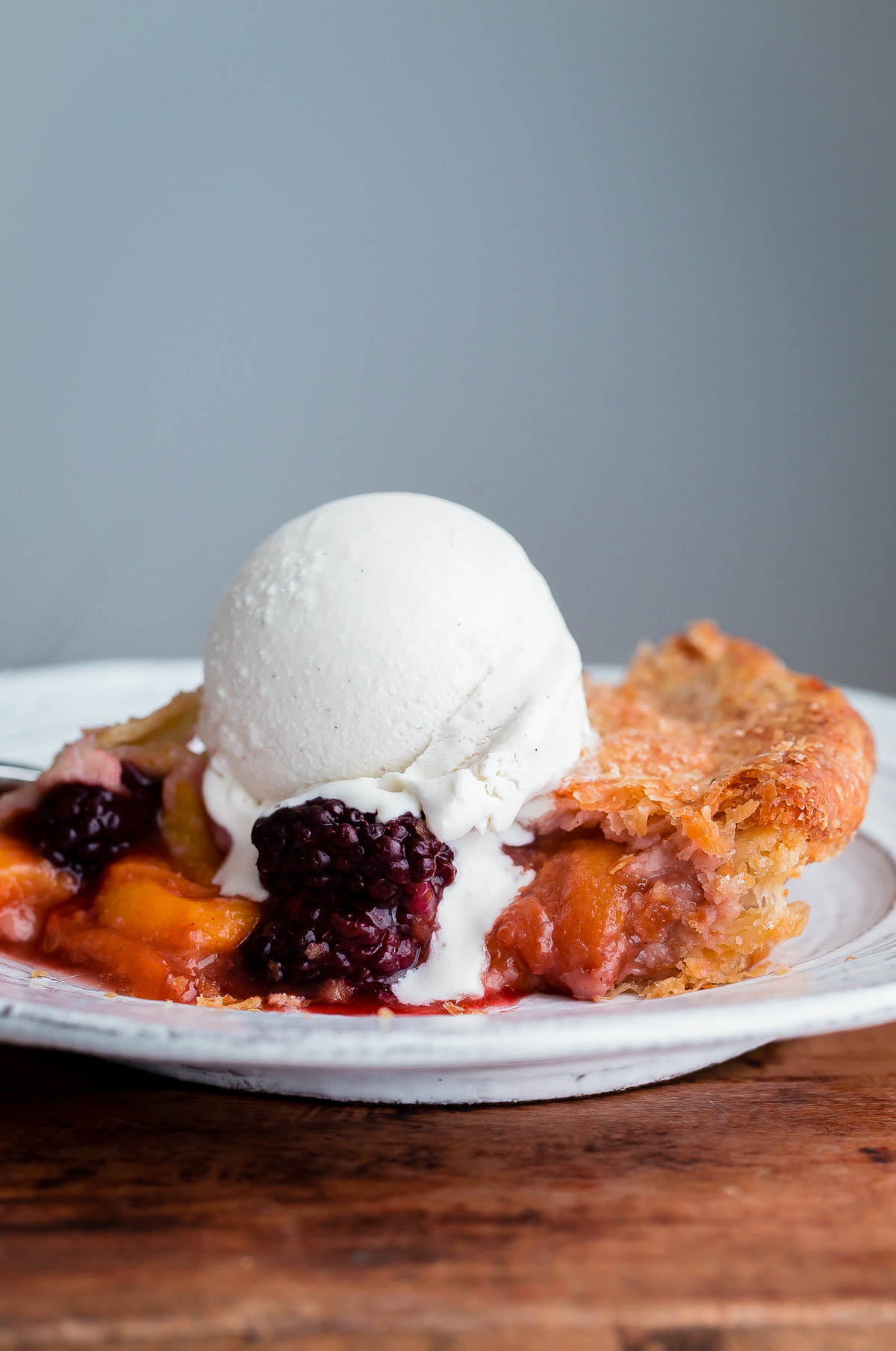 If this recipe sounds familiar, you're right! I shared a similar blackberry peach pie almost five years ago to this day. Sadly, the pictures did not do it any justice.
So, I turned back to the very same recipe, changed my technique a bit, added further instruction, made a few tweaks here and there, rewrote the recipe, and took new photos.
The end result? A new-and-improved blackberry peach pie recipe that you'll want to make time and time again! Just check out that flaky pie crust.
[If you're in a mood for a higher crust-to-fruit ratio, this blueberry peach slab pie is another great option.]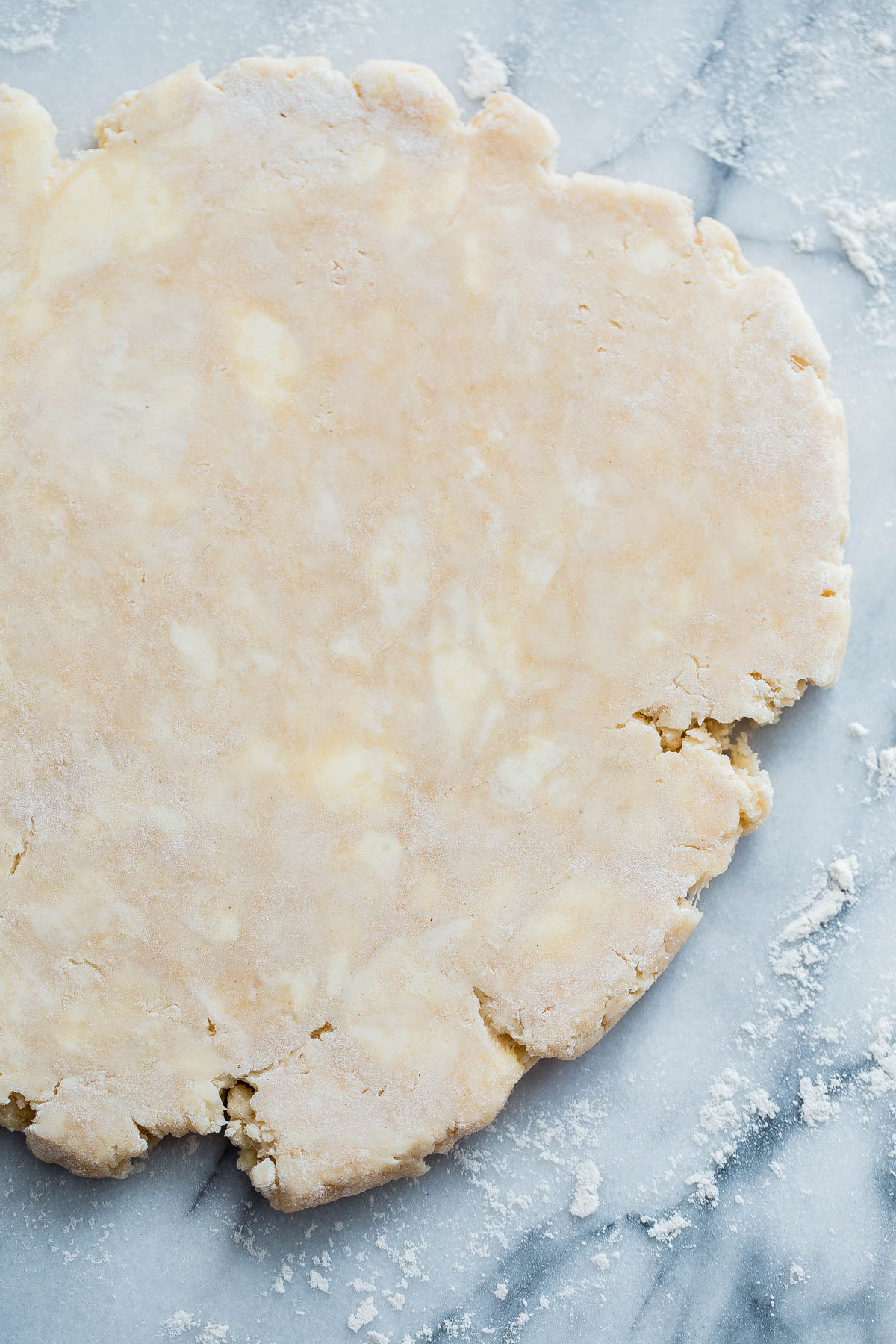 As is the case with most things in my life (particularly pastries), practice, discipline, and a basic understanding is key for great homemade pie. While you're at it, re-read these tips for fool-proof pie dough.
As a relatively impatient person, I've learned this lesson the hard way. Trust me. These lessons usually have come in the form of lackluster crust texture or shrunken pie crust.
I repeat, homemade pie is not a spontaneous affair. Or rather, great homemade pie is not a spontaneous affair! If you're in a rush and need to make dessert for a last-minute dinner party or gathering, pie is not the right choice.


Pie requires planning, time, and patience. Lots of time. It's mostly inactive time, but time all the same. Time for chilling, resting, and cooling. Some of the steps might seem repetitive and perhaps even a little excessive at times. But I promise, all of these steps are essential if you want to make a fabulously flaky homemade pie.
These steps are even more essential if you wish to forgo shortening (my life rule) and want to make a flaky all-butter pie crust!
The most important factor to keep in mind when making homemade pie is temperature. It is of the utmost importance that all of your ingredients, tools, and kitchen (if possible!) be as cold as possible before you start preparing homemade pie dough. Heat is your worst enemy.
Cold butter, in particular, helps discourage gluten formation during mixing. It is essential that the butter stay chilled, in large and small pieces, in the final shaped pie as it hits the hot oven as this is what enables it to produce a flaky texture.
[If you do wish to make more spontaneous pies, set aside a half day and prep and freeze several batches of pie dough in advance. As long as you thaw the pie dough in advance, this will shave off a substantial amount of recipe time.]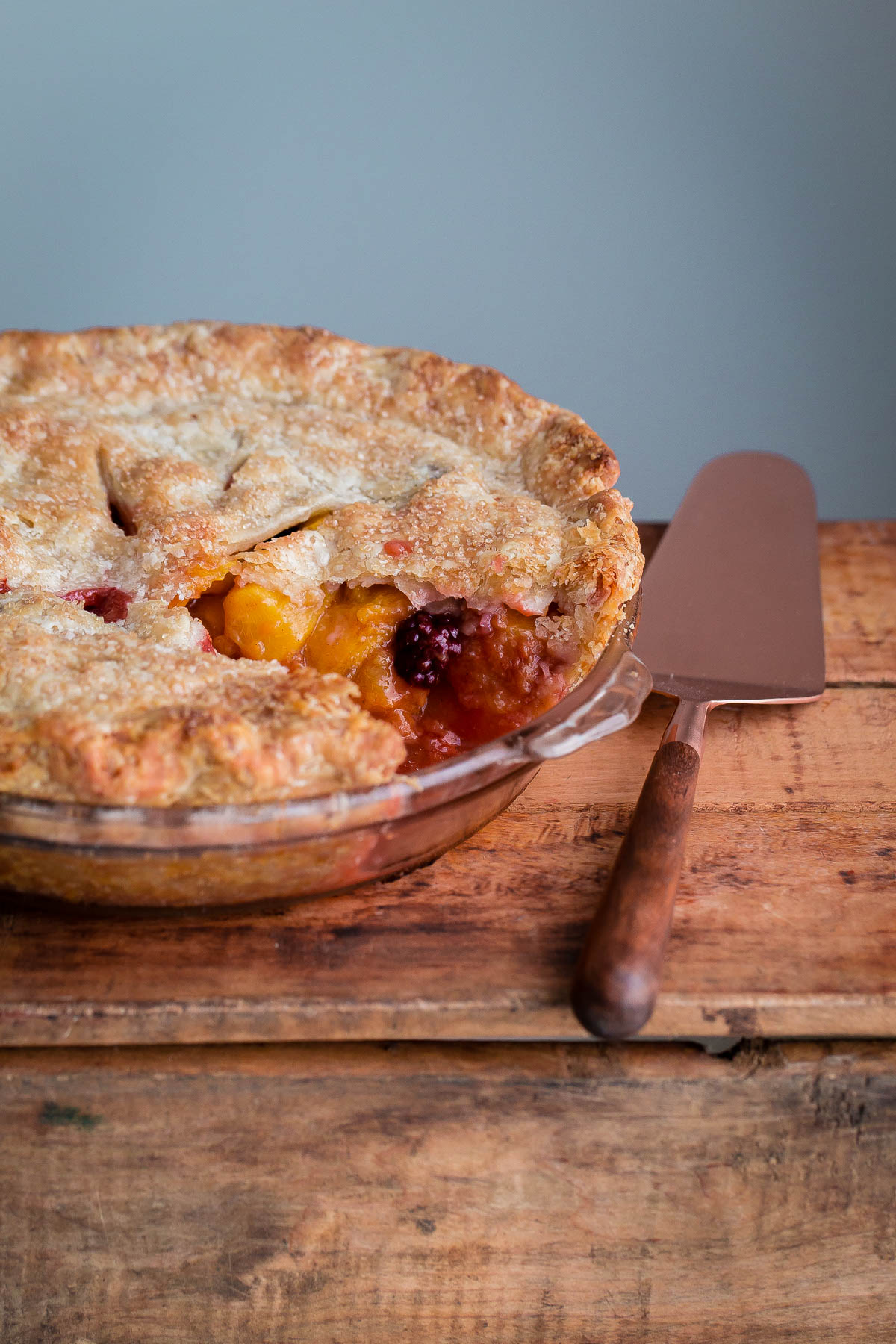 Over the years, I've experimented and prepared pie dough in every method possible: by hand using a pastry cutter (takes the most time – therefore, be even more careful with the temperature of your ingredients), my old go-to method using the food processor, and most recently, a stand mixer and paddle attachment at the suggestion of Samin Nosrat's excellent cookbook Salt, Fact, Acid, Heat. 
If you have one on hand, the stand mixer is my new favorite tool for preparing pie dough for several reasons: (1) the metal bowl can be chilled far longer and more efficiently than the plastic bowl of a food processor, (2) the paddle attachment provides more control at breaking up the butter into larger and smaller chunks than the sharp, fast pulsing action of a metal blade, (3) allows for more precision when slowly adding the water.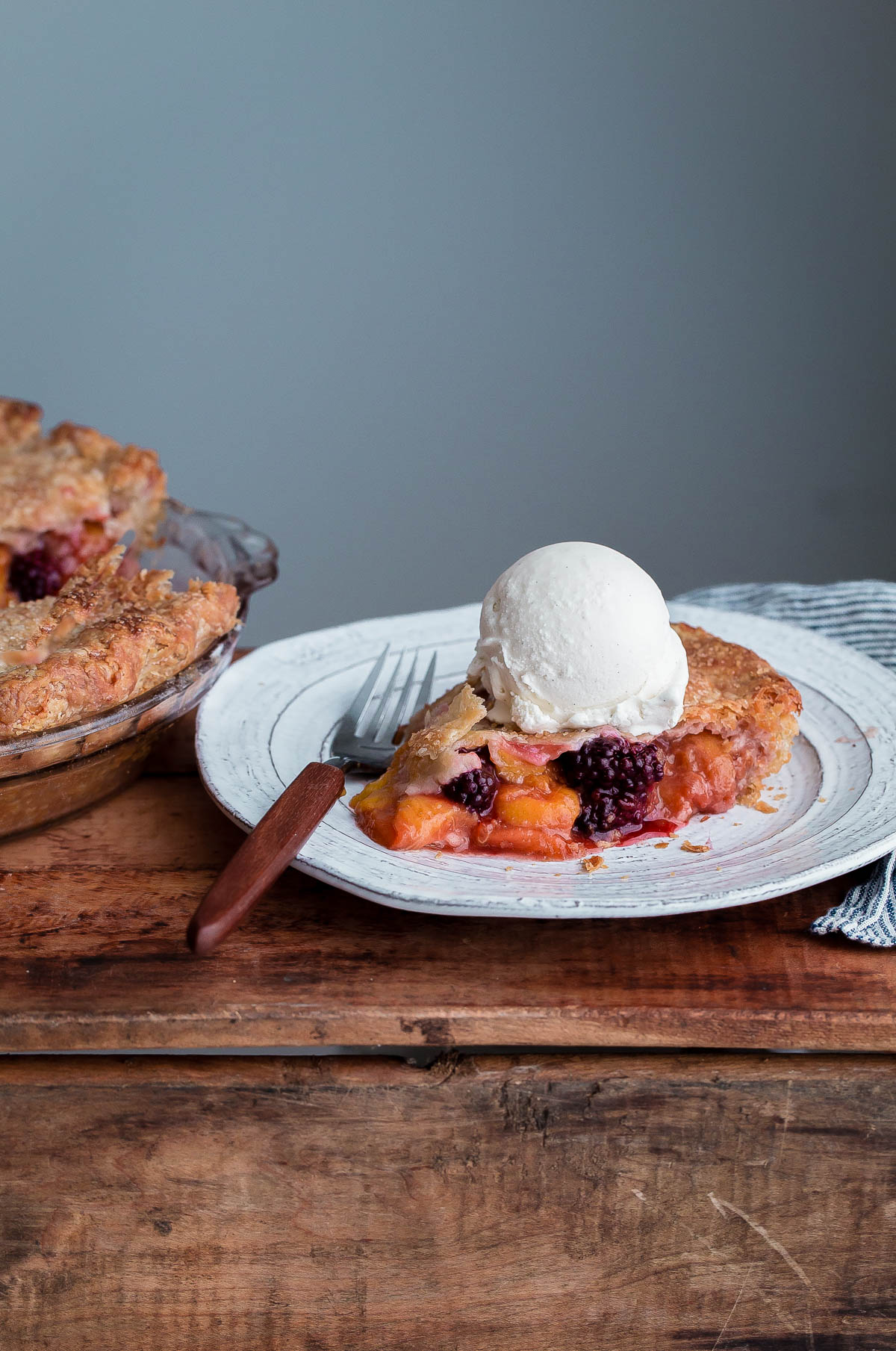 The filling for this blackberry peach pie is a combination of ripe, peeled yellow (or white) peaches, fresh blackberries, lemon juice, brown sugar, granulated sugar, a touch of cinnamon and nutmeg, and cornstarch.
I'm not usually a huge fan of cornstarch, but it has an important role in this pie: thickening the filling just enough to prevent excessive weeping. The flavor is absolutely undetectable once baked, promise.
PS. Don't forget the vanilla ice cream!