Blackberry Peach Pie
This delicious Blackberry Peach Pie is filled with fresh peaches and tart blackberries. Serve warm with vanilla ice cream for a summer treat!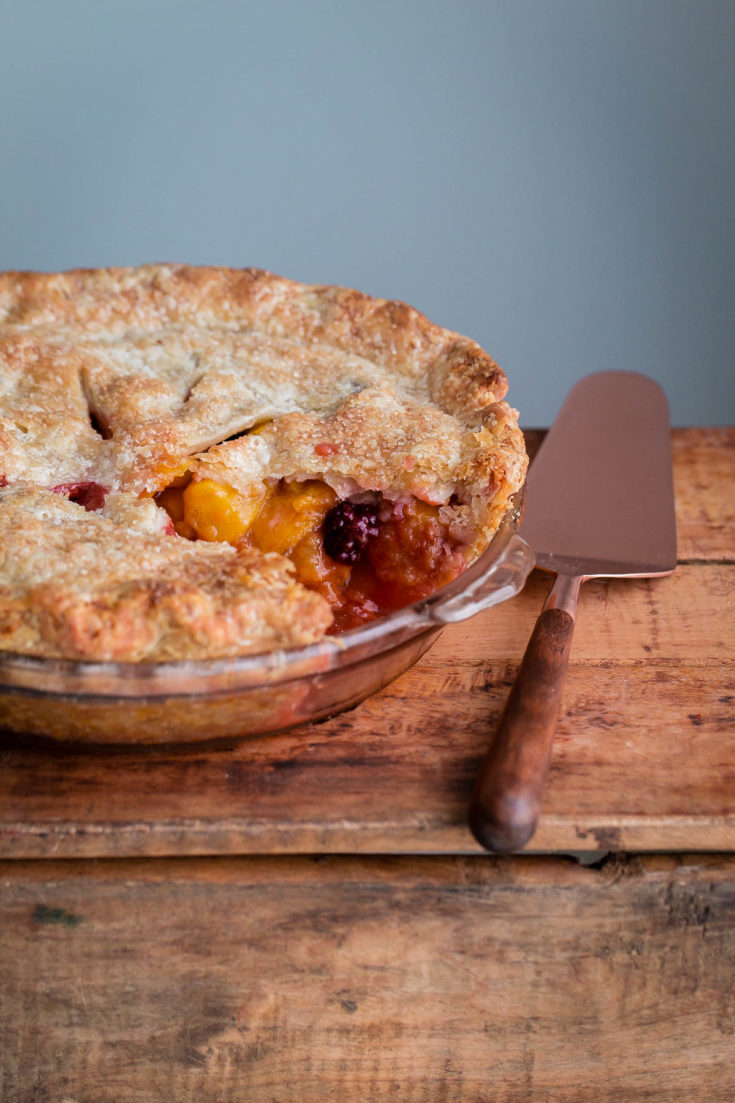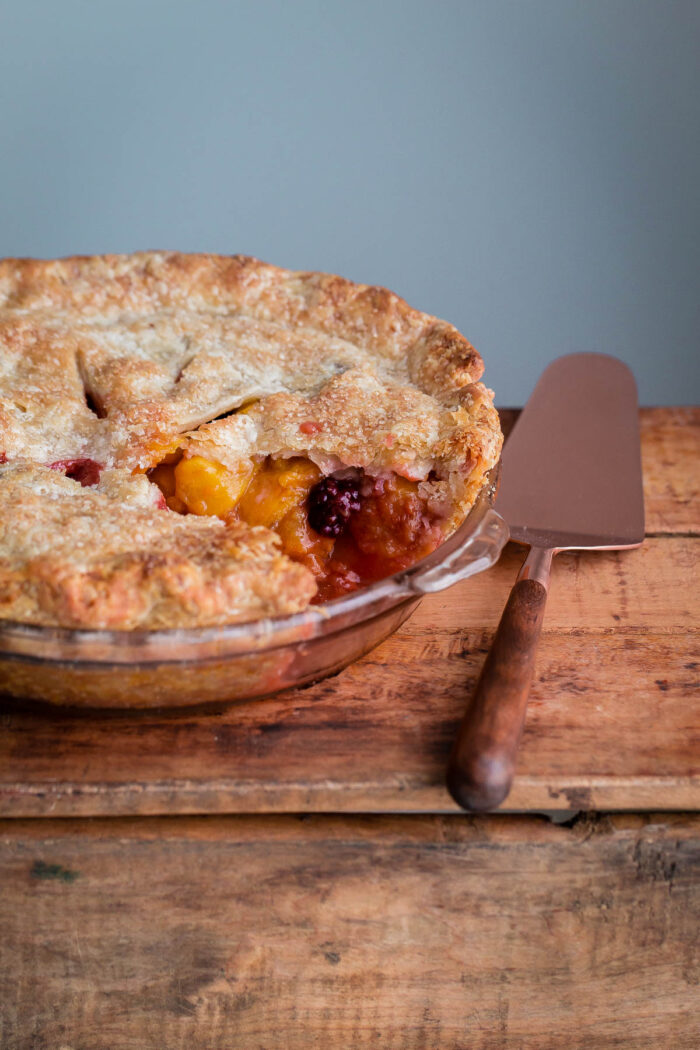 Today's Blackberry Peach Pie provided me with a very important life lesson: make more homemade pie!
If there was ever a time to get over a fear of pie-making (and more importantly, homemade pie crust!), now is the time. Your hard work and effort will be rewarded ten fold.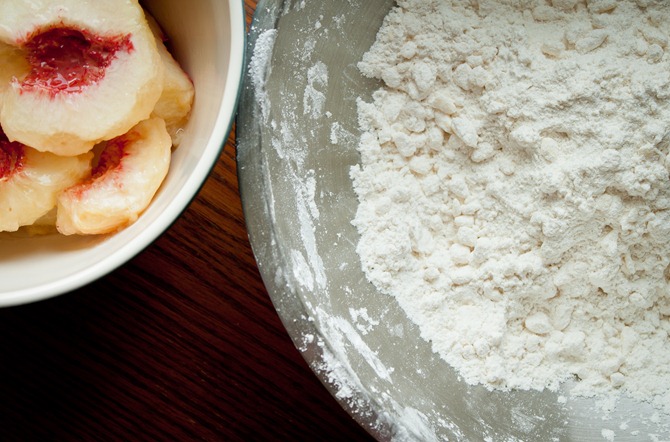 This summer pie might be the best dessert that has come out of my kitchen all year! I have a particular affinity towards peach pie, but any pie will do the trick.
The addition of fresh blackberries give a touch of tartness in each bite and improves it for the better.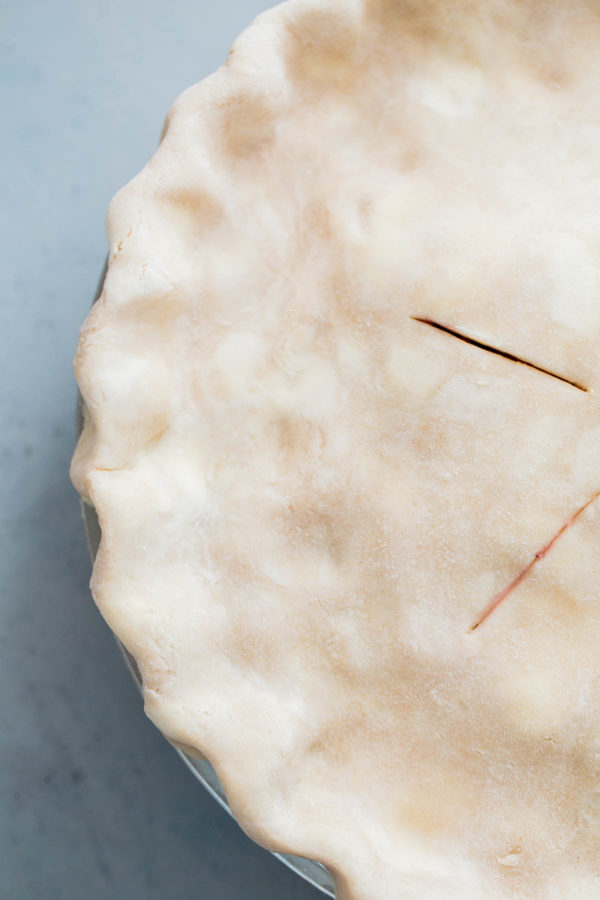 This pie is similar to a blackberry peach slab pie that I shared almost five years ago to the day. This recipe is a slight variation of that recipe, but with a few changes and improvements.
As is the case with most things in my life (particularly pastries), practice, discipline, and a basic understanding is key for great homemade pie. While you're at it, re-read these tips for fool-proof pie dough.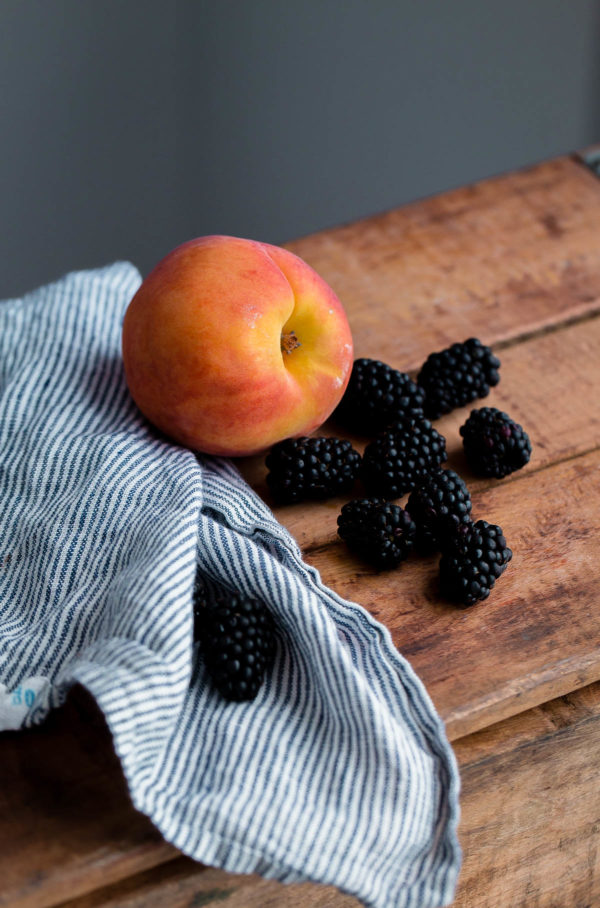 The most important factor to keep in mind when making homemade pie is temperature.
It is of the utmost importance that all of your ingredients, tools, and kitchen (if possible!) be as cold as possible before you start preparing homemade pie dough. Heat is your worst enemy.
Cold butter, in particular, helps discourage gluten formation during mixing. It is essential that the butter stay chilled, in large and small pieces, in the final shaped pie as it hits the hot oven as this is what enables it to produce a flaky texture.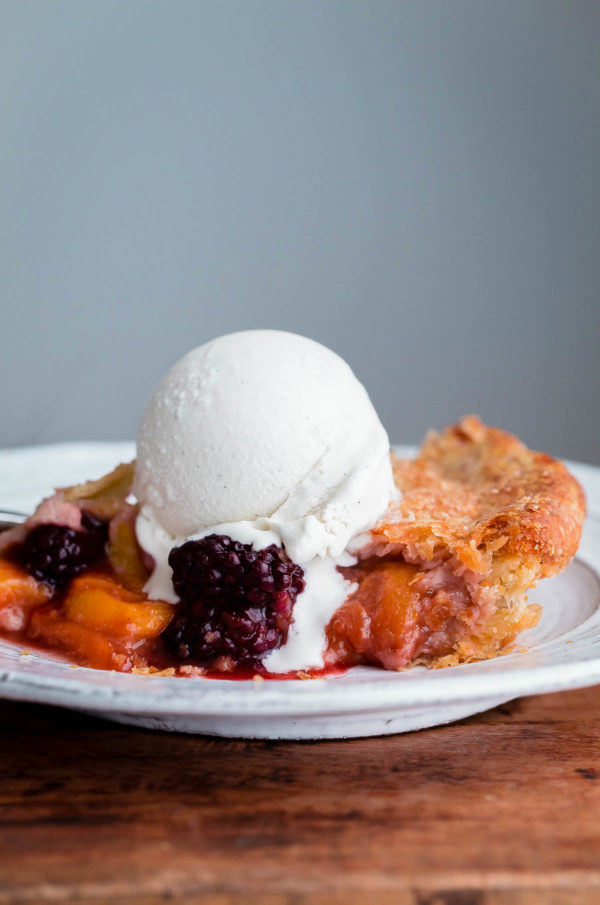 Over the years I've experimented and prepared pie dough in every method possible: by hand using a pastry cutter, the food processor, and most recently, a stand mixer and paddle attachment.
I learned this new method at the suggestion of Samin Nosrat in her excellent cookbook Salt, Fact, Acid, Heat.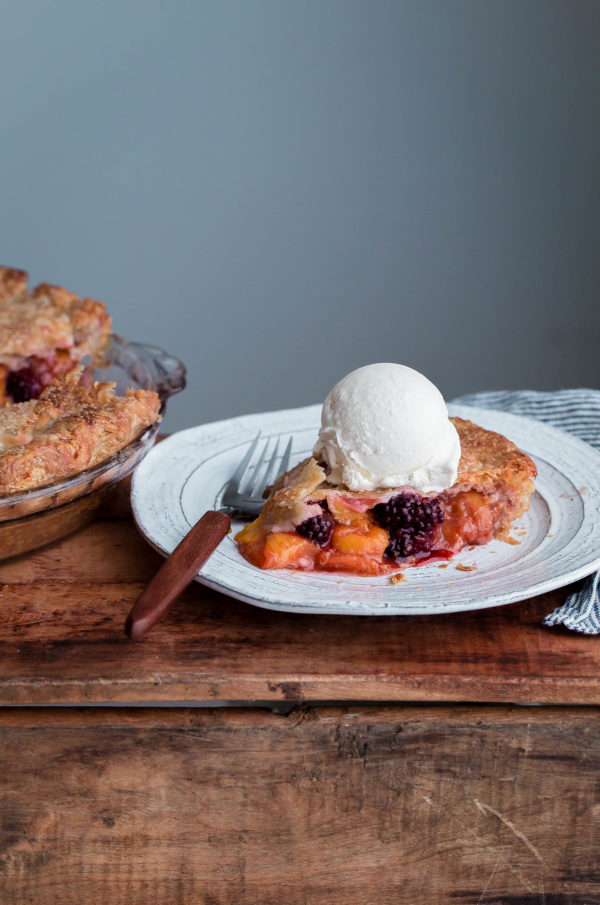 The filling for this blackberry peach pie is a combination of ripe peeled yellow (or white) peaches, fresh blackberries, lemon juice, brown sugar, granulated sugar, a touch of cinnamon and nutmeg, and cornstarch.
I'm not usually a huge fan of cornstarch, but it has an important role in this pie: thickening the filling just enough to prevent excessive weeping. The flavor is absolutely undetectable once baked, promise.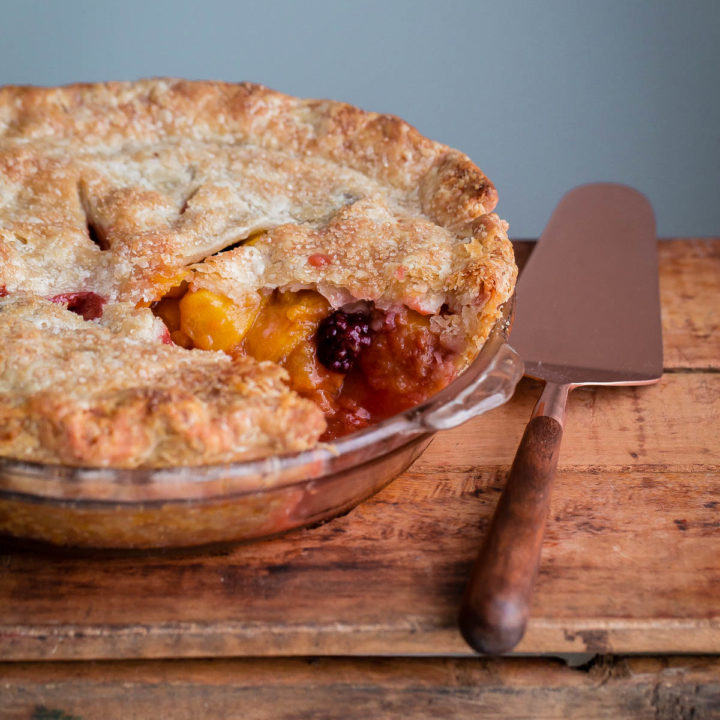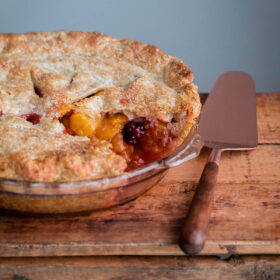 Blackberry Peach Pie
This delicious Blackberry Peach Pie is filled with fresh peaches and tart blackberries. Serve warm with vanilla ice cream for a summer treat!
Ingredients
Double Crust Pie Dough:
2¼ cups (300g) unbleached all-purpose flour fluffed, scooped, and leveled
1 tablespoon (12g) granulated sugar
large pinch kosher salt
8 ounces (230g) cold unsalted butter cut into ½-inch cubes
1 teaspoon white vinegar or fresh lemon juice
½ cup (120 mL) ice water less or more as needed
Peach Blackberry Filling:
3 lbs fresh peaches (ripe, but firm) roughly 6-7 large peaches
8 ounces (1½ cups) fresh blackberries
¼ cup (50g) lightly packed light or dark brown sugar
3 tablespoons (36g) granulated sugar
3 tablespoons cornstarch
1 tablespoon fresh lemon juice
1 teaspoon ground cinnamon
large pinch ground nutmeg
⅛ teaspoon Diamond Crystal kosher salt
Assembly:
1-2 tablespoons heavy cream for brushing
white sparkling sugar optional
For Serving:
vanilla ice cream or whipped cream
Instructions
Prepare the Pie Dough (Morning Before Serving or Prepped the Day Before): Combine the all-purpose flour, sugar, and salt in the bowl of a stand mixer. Note: If you do not own a stand mixer, you can prepare the dough in a large food processor or by hand using a pastry cutter.

Using the paddle attachment, mix the dry ingredients for 5 to 10 seconds over low speed. Over low speed, slowly add the cold cubed unsalted butter, a few pieces at a time, until the butter has broken into a mixture of larger and smaller size pieces (similar to 'broken walnut pieces'). Add the vinegar and slowly add the ice water (you will most likely need to use all of it or a touch more, but this will depend on humidity) until the dough just barely holds together. It will look relatively dry and shaggy in the bowl, but if the dough can hold together when squeezed with your palm, it is ready.

Transfer the pie to a large gallon-size Ziplock bag (this helps lessen the warmth from your hands from transferring to the dough) and using the open ends and sides of the bag, press the dough together into a ball using the heels of your hand.

Remove the pie dough from the bag and using a sharp knife, cut the dough into two equal-sized pieces. Flatten each piece into a round disc and wrap tightly in plastic wrap. Refrigerate for at least 2 hours or, ideally, overnight.

Blanch the Peaches, Shape Pie Dough, and Preheat the Oven: Preheat the oven to 425°F (220°C) with a rack in the center position. Line a half sheet pan with parchment paper or foil. Set aside.

Bring a large pot of water to a boil. Set aside a large ice bath near the stove. Using a paring knife, make a small shallow 'X' incision onto the bottom of each peach and carefully drop into the boiling water. Allow the peaches to blanch for roughly a minute (depending on the ripeness of your peaches) or until the skins begin to slightly peel away from the flesh. Using a skimmer or large spoon, transfer the peaches to the ice bath (this will prevent them from cooking any further) until cool enough to handle. Transfer to a paper towel-lined plate and set aside.

Meanwhile, remove one disc of chilled pie dough from the fridge. Allow it to sit at room temperature for 5 to 10 minutes. On a well-floured countertop and using a lightly floured rolling pin, roll the dough until it roughly a 12-inch disc that is roughly ⅛-inch thick. Lift and transfer to a 9-inch pie pan (equipment note: I recommend heavy ceramic) pressing it into the edges of the pan without stretching the dough. Using a knife or kitchen scissors, trim any remaining dough overhang to just one inch. Brush off any excess flour with a pastry brush and place the pie pan in the freezer for 10 minutes or cover tightly with plastic wrap and refrigerate for up to 30 minutes. Remove the remaining pie dough disc from the fridge, unwrap, and roll into a 12-inch diameter disc that is roughly ⅛-inch thick or less. Place the dough between two sheets of plastic wrap or parchment paper and chill in the fridge while you prepare the pie filling.

Prepare the Pie Filling: Using a pairing knife, carefully peel the skin from the blanched peaches, remove the pits, and cut into ½-inch thick wedges. Transfer the peach wedges to a large mixing bowl and add the blackberries, brown sugar, granulated sugar, cornstarch, lemon juice, cinnamon, nutmeg, and salt. Toss gently to combine.

Remove the pie pan from the freezer and add the peach blackberry filling. Remove the rolled top crust pie dough from the refrigerator and place over the fruit filling, tucking the overhang of the top crust over and then under the bottom crust overhang. Press and crimp the edges of the crust as desired.

Using a sharp paring knife, cut several 2-inch slashes into the top crust. Set the assembled pie in the freezer to chill for 20 minutes (or alternatively, cover with plastic wrap and refrigerate for up to 1 hour). This will allow the pie dough to relax, the butter to chill, and helps prevent shrinking during baking.

Bake: Brush the top crust with heavy cream and sprinkle with sparkling sugar and set the pan on top of the lined sheet pan. Bake for 15 minutes. Reduce the oven temperature to 400°F (205°C) and bake for an additional 15 to 20 minutes or until the pie crust is lightly golden. Reduce the heat to 350°F (175°C) and continue to bake until deeply golden brown, an additional 25 to 35 minute. The filling should be lightly bubbling. Transfer the pie to a wire rack and allow to cool for at least 2 to 3 hours before slicing. Serve slightly warm or at room temperature with vanilla ice cream or whipped cream.
Tips for Success:
It is essential that your pie dough ingredients start/stay as chilled as possible! This ensures minimal gluten development (tenderness) and allows the butter to remain cold as it hits the hot oven (producing flaky layers). Butter that starts to melt or soften will produce a tougher crust with very little flakiness.
A small addition of white vinegar (aka. acid) helps discourage additional gluten formation as well. If you do not have white vinegar on hand, you can substitute it with apple cider vinegar or freshly squeezed lemon juice for a similar effect. It is not an essential ingredient by any means, but doesn't hurt!
Pie dough recipe and method adapted very lightly from
Salt Fat Acid Heat
by Samin Nostrat. Filling inspired by
Smitten Kitchen
.
Serving: 1serving, Calories: 356kcal, Carbohydrates: 30g, Protein: 2g, Fat: 27g, Saturated Fat: 16g, Polyunsaturated Fat: 9g, Cholesterol: 73mg, Sodium: 170mg, Fiber: 2g, Sugar: 22g
This post contains affiliate links, which means that I make a small commission off items you purchase at no additional cost to you. Please read my
privacy policy
for more information.