Blueberry Rye Pancakes with Molasses Syrup
This post contains affiliate links.
Extra fluffy whole grain pancakes made with whole wheat pastry and rye flour, filled with plump fresh blueberries, and topped with an easy two-ingredient molasses maple syrup!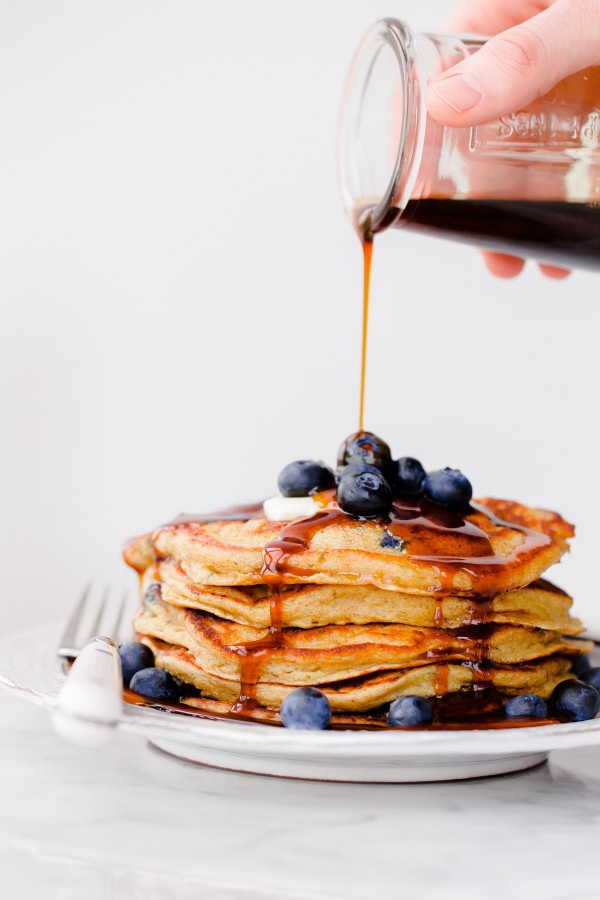 These aren't just any old blueberry pancakes. They are Blueberry Rye Pancakes! Not only are they extra fluffy (thanks to my favorite trick of folding in whipped egg whites), but they are made with equal parts whole wheat pastry flour and rye flour.
In other words, they are 100% whole grain! This means that we're allowed to eat more of them, right?
These blueberry rye pancakes are finished an easy two-ingredient molasses syrup made from unsulfured dark molasses and pure maple syrup. Combine the two ingredients, pop it in the microwave to warm, and that's it.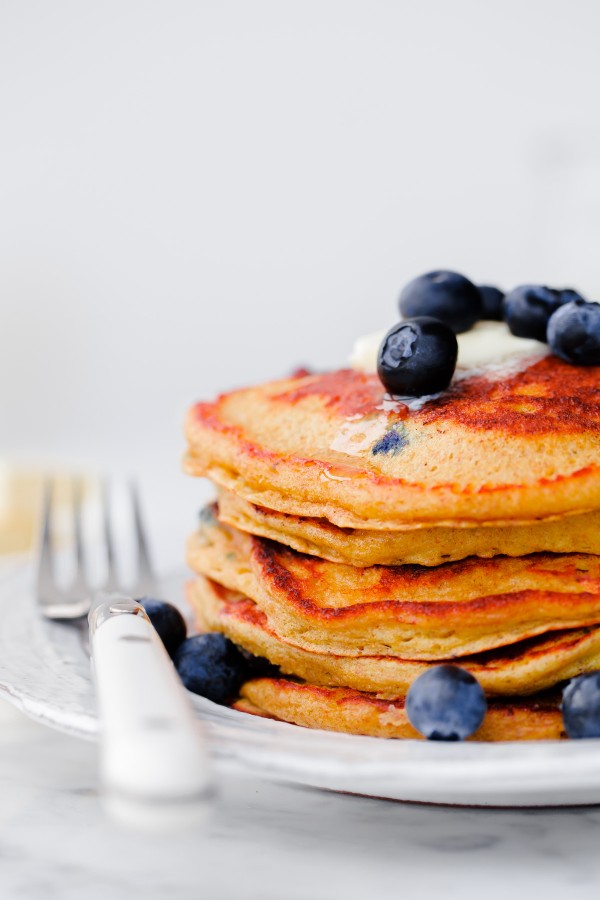 As much as I love maple syrup (Grade B, please), I might love this molasses syrup more. A few weeks ago, Connor and I met for brunch with family at a spot in Lakeview called SIP, which serves their pancakes and beignets with house made molasses syrup.
It immediately inspired me to attempt to create my own, and while their version might be a bit more complex than this method (maybe not, who knows?), the taste is nearly identical.
The dark molasses gives the syrup an earthier flavor and makes it a lot more nuanced. It's hard to describe, but incredibly tasty! Plus, it adds only five seconds of prep to any normal syrup situation and I can live with that.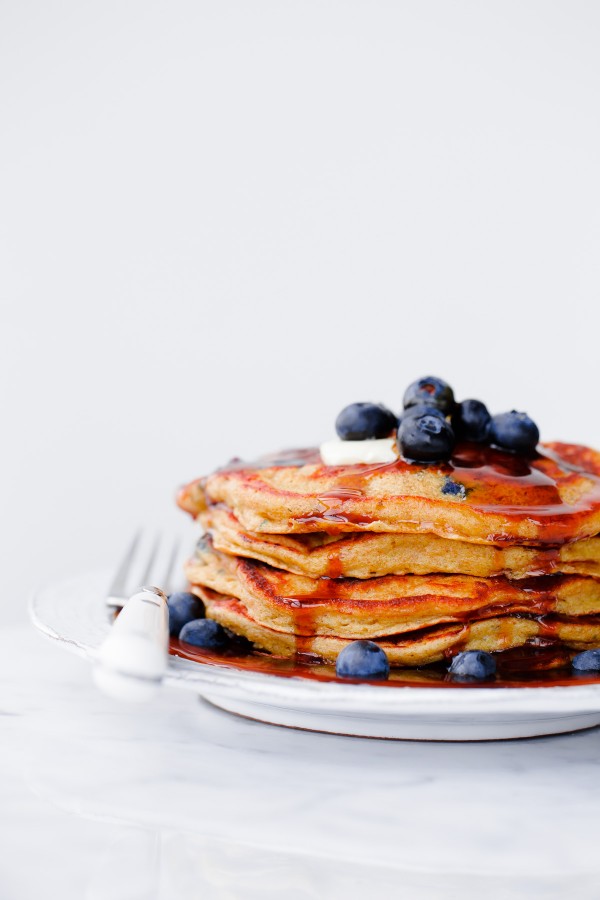 If you've never cooked with it before, rye flour generally comes in two forms: light rye flour and dark rye flour. This recipe uses light rye flour, which I found in the bulk bin of my local grocery store.
Rye is a wonderful whole grain to use for pancakes and other baked goods – although I don't recommend substituting 100% of your normal flour with it – as it is significantly lower in gluten than traditional wheat flour. Less gluten = lighter, more tender baked goods and pancakes.
One important note: These pancakes do not taste like traditional rye bread, so don't be alarmed. Traditional rye bread is loaded with caraway seeds, whose flavor is often mistakenly associated with rye flour. Trust me, rye flour (sans caraway seeds) tastes nothing like normal rye.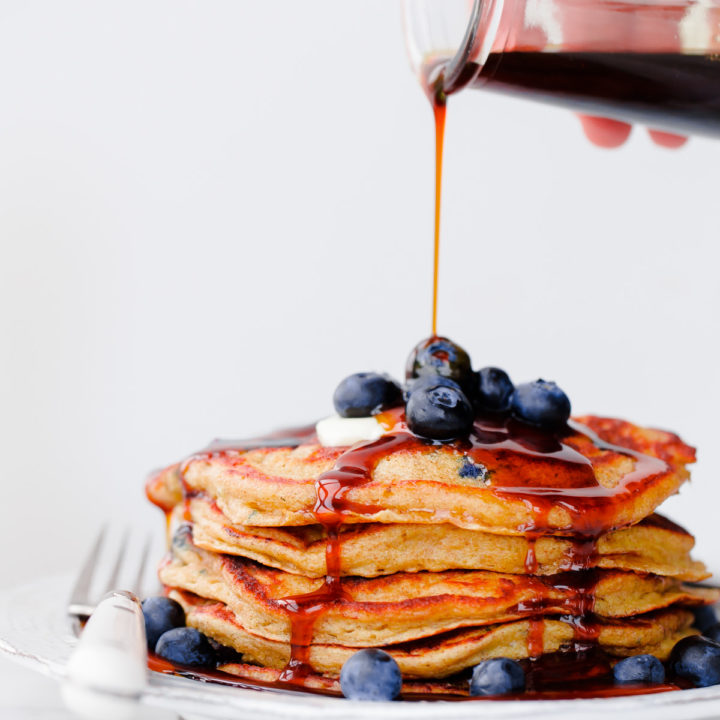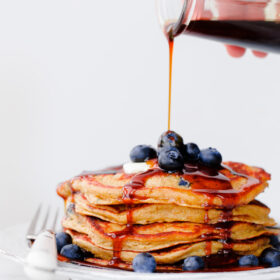 Blueberry Rye Pancakes with Molasses Syrup
Extra fluffy whole grain pancakes made with whole wheat pastry and rye flour, filled with plump fresh blueberries, and topped with an easy two-ingredient molasses maple syrup!
Ingredients
Blueberry Rye Pancakes:
½ cup (70 g) whole wheat pastry flour
½ cup (60 g) light rye flour
2 tablespoons (24 g) granulated sugar
½ teaspoon baking soda
½ teaspoon baking powder
¼ teaspoon Diamond Crystal kosher salt
1 cup (240 mL) buttermilk
1 large egg yolk and white separated
1 large egg white
1 tablespoon (15 g) unsalted butter, plus more for cooking melted
½-¾ cup fresh blueberries
Molasses Syrup:
¼ cup (60 mL) pure maple syrup
1 teaspoon unsulfured dark molasses
Instructions
Prepare the Pancake Batter: In a medium mixing bowl, whisk together the whole wheat pastry flour, rye flour, granulated sugar, baking soda, baking powder, and salt. Set aside.

In a large measuring cup, whisk together the buttermilk, 1 egg yolk, and melted butter – setting both egg whites in a separate large mixing bowl. Gently stir the buttermilk mixture into the dry ingredients until the dry ingredients are just absorbed. Set aside.

Using a large whisk or hand-held mixer, whisk the egg whites until they are fluffy and reach soft peaks. Gently fold the egg whites, in two separate additions, into the pancake batter. Fold in the fresh blueberries.

Heat a tab of butter in large non-stick or cast-iron skillet over medium heat. Once the butter begins to sizzle, add batter to pan (you can always a test coin-sized pancake to check whether the pan is ready). Once bubbles begin to form on the top of the pancake, flip carefully and continue to cook on other side until golden brown. This step is easier if you keep pancakes no larger than 5 inches in diameter. Adjust heat as needed.

Make Molasses Syrup: Meanwhile, combine the maple syrup and molasses in a heatproof pitcher. Stir together well and heat in the microwave for 20 to 30 seconds until hot.½

Serve the pancakes with warm molasses syrup and garnish with fresh blueberries as desired.
Tips for Success:
Rye flour generally comes in two forms (light and dark). I found mine in the bulk bin of my favorite grocery store! If you cannot find rye flour – or do not wish to use it – you can substitute the rye flour with 1/2 cup (70 g) of additional whole wheat pastry flour.
Syrup inspired by
SIP
.
Serving: 1serving, Calories: 560kcal, Carbohydrates: 92g, Protein: 18g, Fat: 14g, Saturated Fat: 6g, Polyunsaturated Fat: 8g, Cholesterol: 114mg, Sodium: 580mg, Fiber: 6g, Sugar: 31g
This post contains some affiliate links, which means that I make a small commission off items you purchase at no additional cost to you. Please read my
disclosure policy
for more information.