Pomegranate Moscow Mule
This Pomegranate Moscow Mule is prepared with pure pomegranate juice, lime juice, ginger beer, and vodka.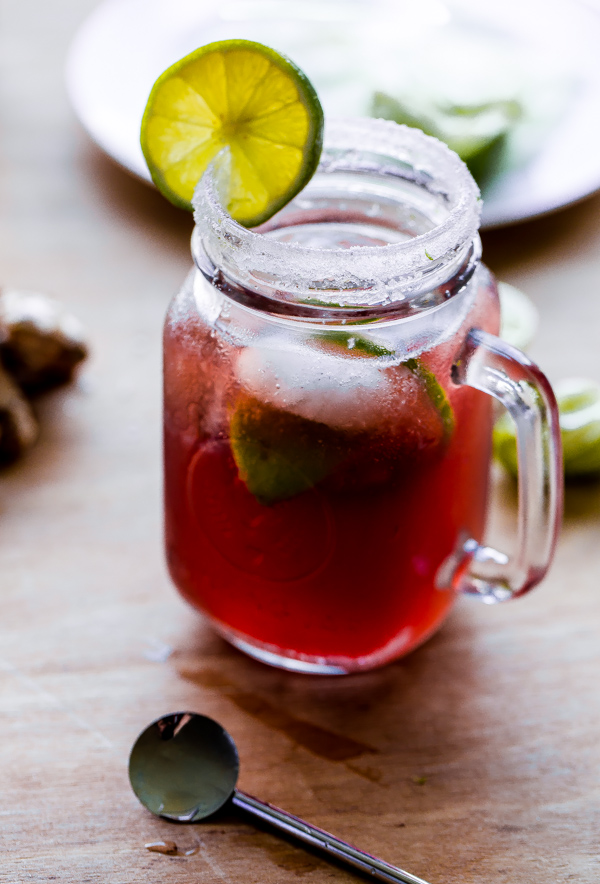 Friday calls for a cocktail! All that is missing is some cute copper mugs.
Remember when I mentioned that I had recently tried my first Moscow mule, and how I've never had an official cocktail? Well, after making these pomegranate Moscow mules and taste-testing far too many of them, I've officially decided that Moscow mules are my cocktail.
Why I find that concept to be so exciting, I really have no idea, but I'm genuinely excited. This version has a little fall flair with the addition of tangy pomegranate juice, and the optional (but oh so fun!) lime ginger sugar rim.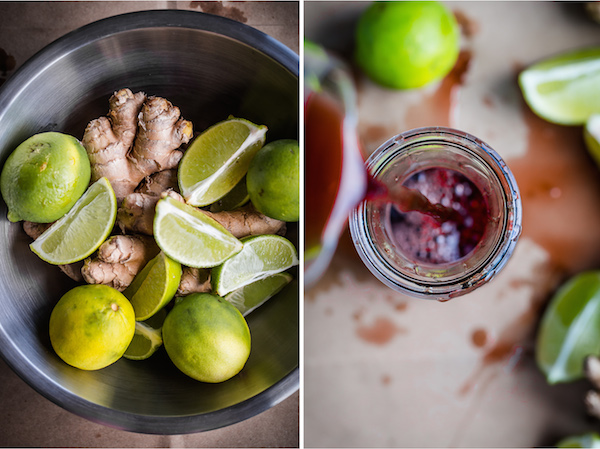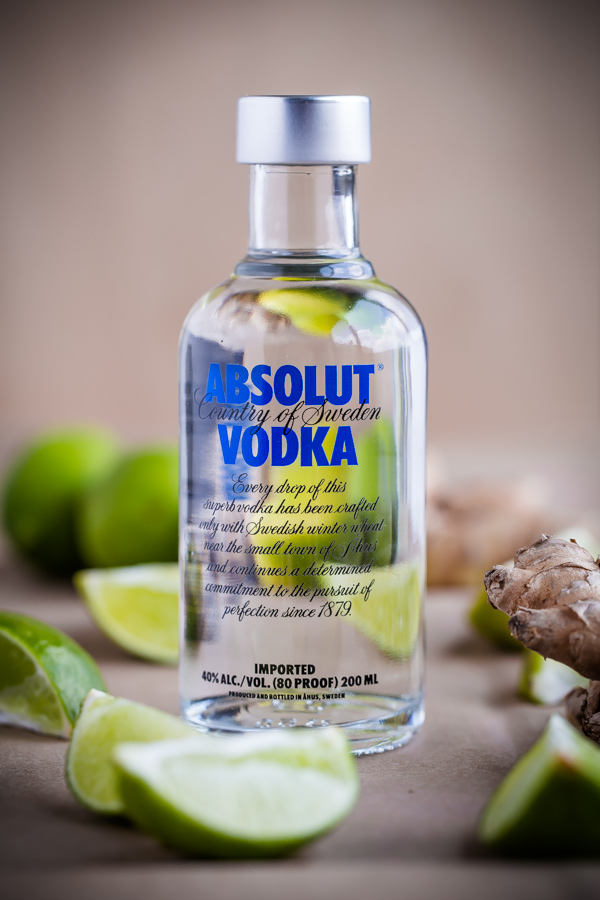 By the way, the only reason why I bought (and subsequently photographed) Absolut vcdka to due to my obsession with all of their labels and commercial print ads. Remember those amazing ones from years ago? My older sister has a binder collection full of them. Marketing: 1; Laura: 0.
Anyway, the addition of the pomegranate juice was spontaneous (and a little premature, since the real ones haven't appeared to hit the stores just yet), but I decided to go with it. Honestly, since Moscow mules are really all about the ginger beer and lime, the pomegranate is not very noticeable in flavor. You could easily substitute it with pure cranberry juice (not cocktail!) and achieve the same effect.
However, it does add the prettiest pink hue to these cocktails, which is great if you're missing the copper mugs and need to serve these in regular Tom Collins or in my case, mason jar mugs.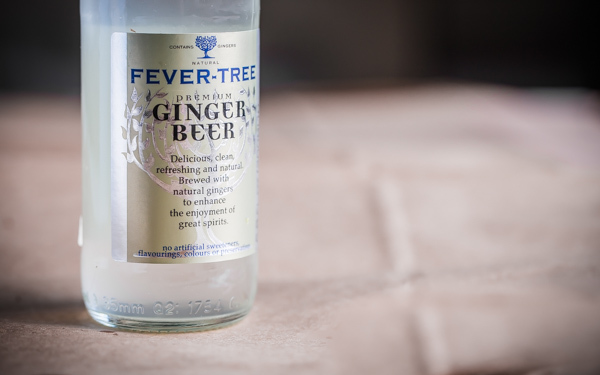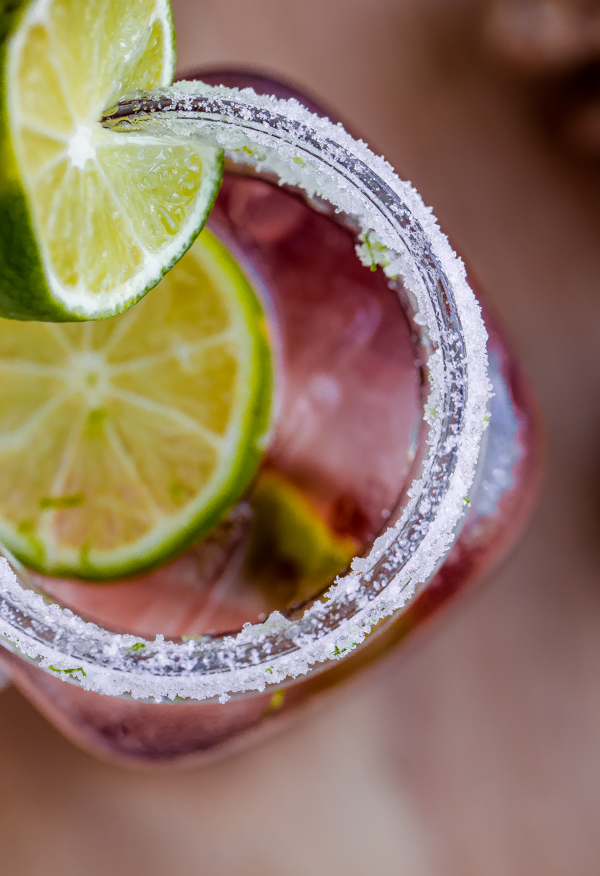 The lime ginger sugar rim is made by mixing and infusing granulated sugar with fresh lime zest and grated ginger. I liked the extra dose of lime and ginger flavor, but feel free to skip it! Fresh pomegranate arils would be a great garnish as well!
The most important component of any Moscow mule boils down to the ginger beer. Just like with any traditional beer or wine, they are not all created equal. My first Moscow mule experience happened to be amazing, because the restaurant that I had it at made their own draft ginger beer.
Since draft ginger beer is not on my culinary agenda any time soon, I ended up stumbling across Fever-Tree Premium Ginger Beer at Whole Foods, and couldn't recommend it more! It has a pronounced and natural ginger flavor, was not overly sweet, and had just enough carbonation.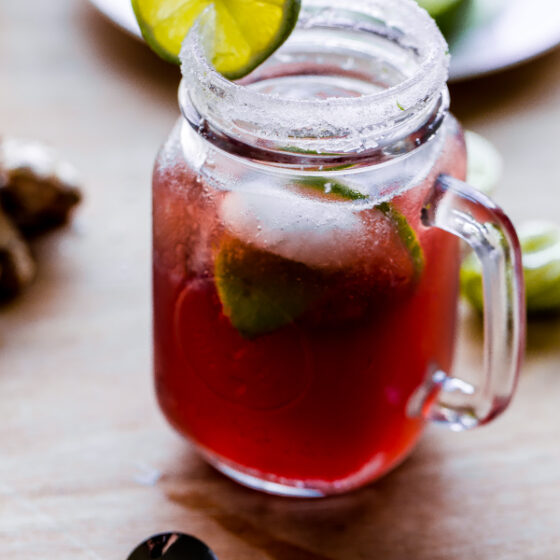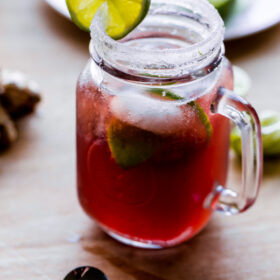 Pomegranate Moscow Mule
This Pomegranate Moscow Mule is prepared with pure pomegranate juice, lime juice, ginger beer, and vodka.
Ingredients
Ginger-Lime Rimming Sugar (Optional):
¼ cup (50 g) granulated sugar
zest ½ lime
¼ teaspoon freshly grated ginger root
Pomegranate Moscow Mule:
2½ ounces (75 mL) 100% pomegranate juice
1 ounce (30 mL) vodka
1 tablespoon, plus 1 teaspoon (40 mL) fresh lime juice plus wedges for serving
ice cubes
6 ounces ginger beer I recommend Fever-Tree brand
pomegranate arils for garnishing (optional)
Instructions
Rimming Sugar: Combine the sugar, zest, and grated ginger in a shallow, wide bowl. Using your fingertips, rub the zest and ginger into the sugar until moist and fragrant. Moisten the rim of the glass with a lime wedge and coat the rim in the sugar.

Prepare the Moscow Mule: Add the pomegranate juice, vodka, lime juice, and ice cubes to the glass. Top the drink off with ginger beer and stir well. Garnish with lime wedges and fresh pomegranate arils (optional).
Serving: 1serving, Calories: 160kcal, Carbohydrates: 35g, Protein: 1g, Fat: 1g, Sodium: 8mg, Fiber: 3g, Sugar: 31g
This post contains affiliate links, which means that I make a small commission off items you purchase at no additional cost to you. Please read my
privacy policy
for more information.