Brown Butter Chocolate Chip Scones
Homemade flaky scones made with brown butter, filled with chocolate chips, and topped with a simple brown butter glaze.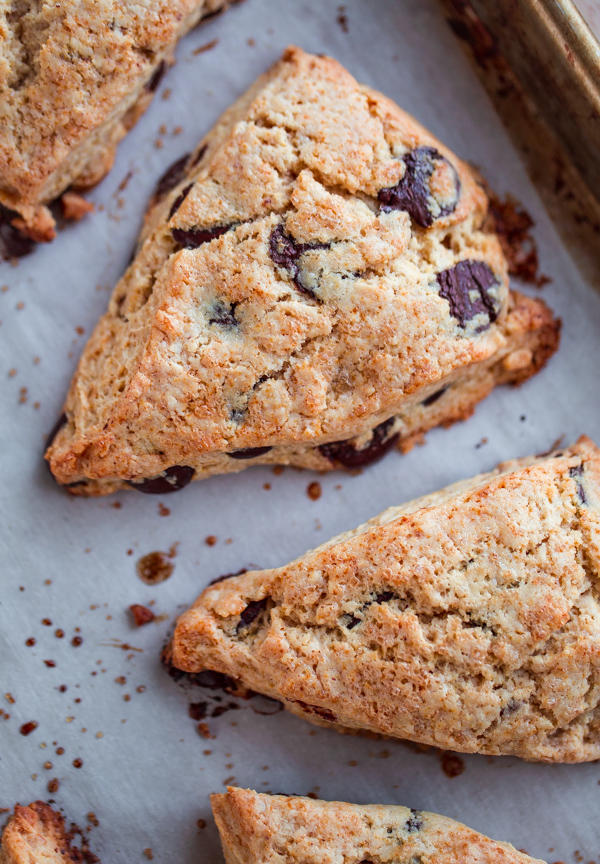 Brown butter. Baked goods. It was bound to happen, right? Especially after this post. I practically gave this one away.
I know I've totally slacked on Halloween baked goods this year. Wait, I think I do that every year. These citrus sandwich cookies sort of worked. Sort of.
Halloween baked goods are not my forte. I would probably have a lot of fun making them, but as far as consuming, I'm not generally a fan. After all, you (usually, not always!) can't get around the holiday without using a lot, and I mean a lot, of artificial coloring, and let's be honest, I'd rather just buy a bag of Reese's peanut butter cups to celebrate the occasion.
Life of the party, right?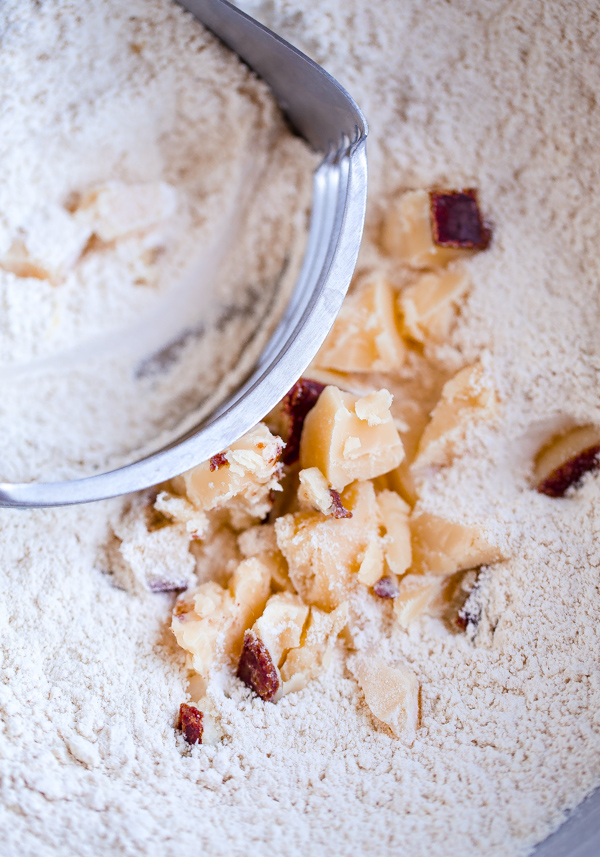 Obviously, these brown butter chocolate chip scones have absolutely nothing to do with Halloween. But wanna hear the best part of that happy coincidence?
You can make them any day of the year! That is so much better, right? And trust me, you will want to make these every day of the year.
They are that good. Incredibly flaky, light in texture, and full of flavor.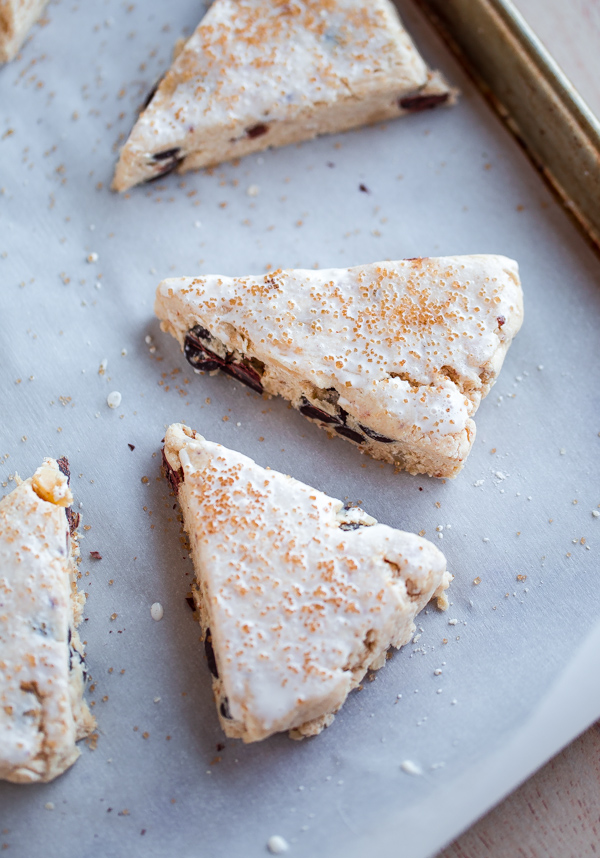 I don't consider myself one to go weak at the knees when it comes to scones, but these ones produced an uncannily similar reaction. Brown butter and good-quality semisweet chocolate wrapped up in a buttery scone can do that to you.
This scone is a traditional cream scone. In scone world, there are cream scones and buttermilk scones. Buttermilk scones use a combination of butter and buttermilk, and produce scones with a biscuit-like texture, flaky and fluffy! Cream scones, which use a combination of butter and heavy cream, produce a slightly denser, more compact scone. They have much more tender, fine crumb.
Granted, these scones are the complete opposite of dense! To offset the butter and cream a bit, I used half whole wheat pastry flour. You would have no idea based on the texture, and the whole wheat adds some extra flavor.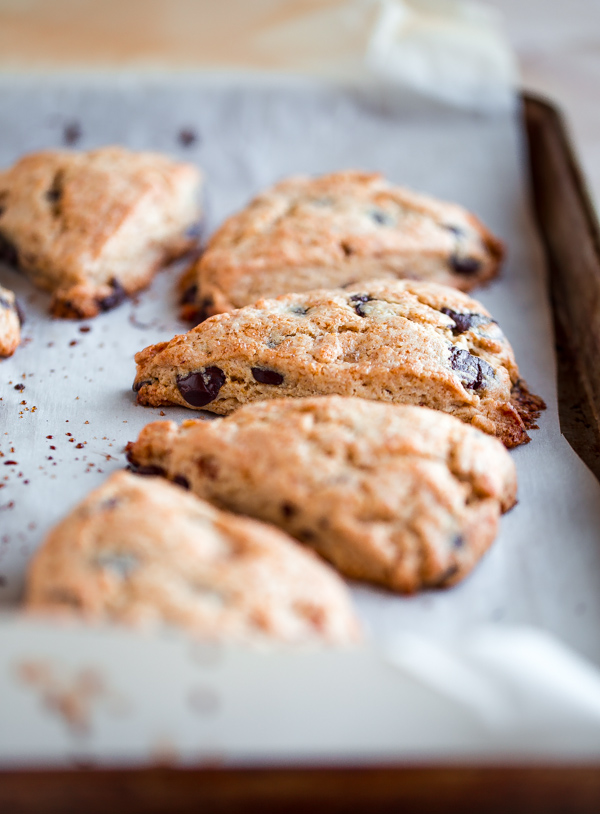 Since this recipe does require that you make brown butter and chill the brown butter completely before proceeding, I decided to reward the extra effort required by incorporating the deliciously nutty and fragrant brown butter in two ways.
Traditional butter is substituted entirely with brown butter in the scone dough. Then, a tablespoon of melted brown butter is used for a quick and easy powdered sugar glaze, which is drizzled on top of the scones once they have cooled! This step is entirely optional. Honestly, I loved both versions equally!
If you prefer sweeter baked goods and want a stronger punch of brown butter flavor, add the glaze! If you want something a bit lighter, skip the glaze entirely. Or make a half batch of glaze, and only drizzle half of them.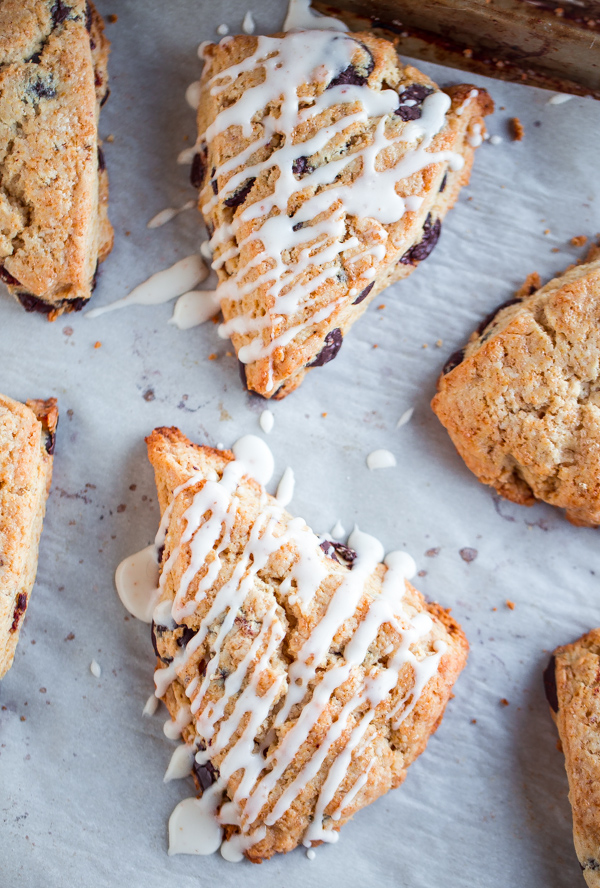 *Note: Please note that the recipe calls for five tablespoons of browned butter. This is not the same volume as five tablespoons of unsalted regular butter, which has then been browned on the stove. Butter volume decreases substantially (generally by 25% in volume) once browned! I recommend browning at minimum  1 and 1/2 sticks of butter for this recipe, just to be safe! There is nothing wrong with having a little extra browned butter in your fridge.
Weighing the brown butter on a scale makes the process much easier and more accurate.