Orange Salted Pistachio Chocolate Chunk Cookies
Chewy salted pistachio chocolate chunk cookies infused with fresh orange zest.These cookies are packed with flavor and take less than 45 minutes to prepare!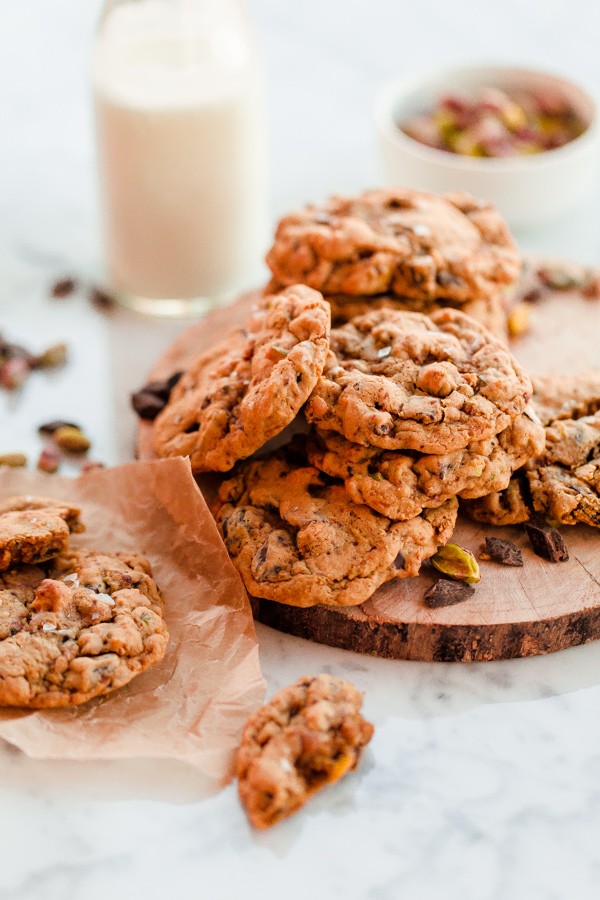 I'm having a moment with these cookies. A major cookie moment.
This is saying a lot, because while I love a good cookie (ex: homemade Tim Tams), I'm generally more of a pie and pastry kinda gal, especially during the holiday season.
That being said, today's salted pistachio chocolate chunk cookies are making me reconsider my position. The original recipe is from my friend Laurie's brand new cookbook Simply Scratch: 120 Wholesome Homemade Recipes Made Easy.
I love this book, because it is all about celebrating whole-food ingredients and scratch cooking, two subjects that I'm extremely passionate about!
Since I can't leave well enough alone, I made a few small changes to the original recipe: I halved the recipe (which yields the perfect amount for a household of two!), added fresh orange zest (a cookie game-changer) and some extra chocolate chunks (life rule).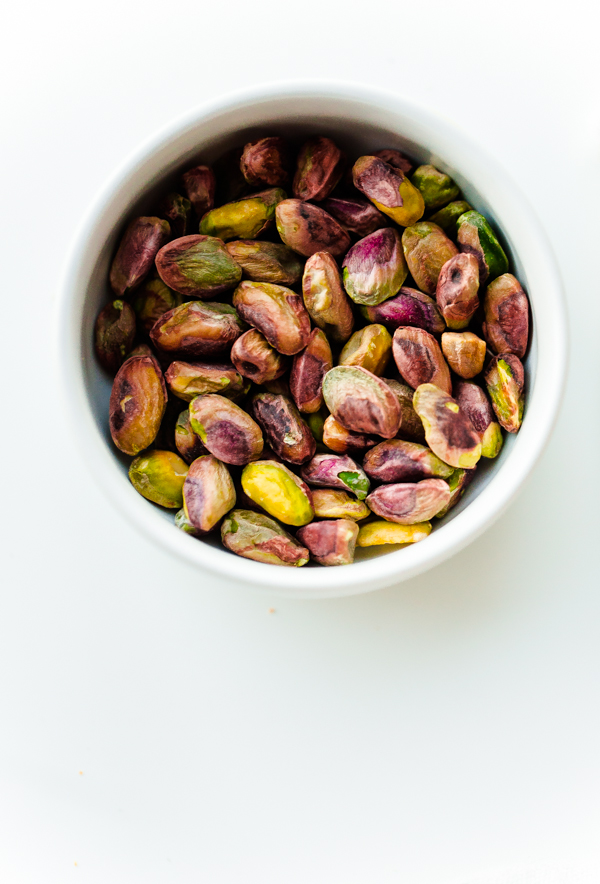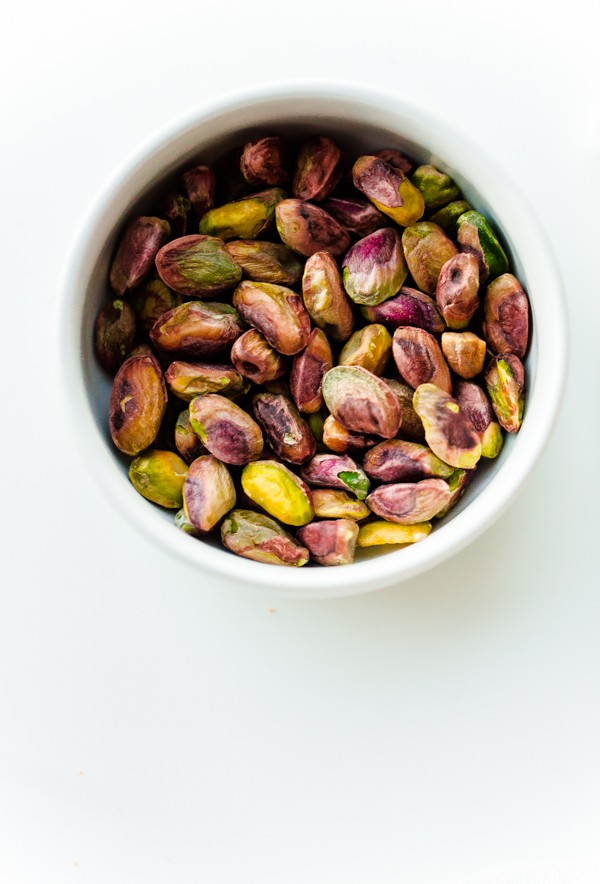 Let's talk cookies though.
These cookies are incredibly chewy (chewy cookies are a must for me!), have great texture from the chopped pistachios, are loaded with dark chocolate chunks (the original recipe called for chopped dark chocolate, but I used Trader Joe's semi-sweet chocolate chunks with no issues!), and can be prepared in less than 45 minutes.
I'm 99.99% sure that almost all cookie baking stems from cookie cravings, and this is the perfect amount of time to turn a cookie craving into an actual cookie. No need to let the batter rest or free up space in your fridge.
You simply prepare the cookie batter, scoop it out, place it on a sheet pan, and start baking. The sprinkling of Maldon sea salt on top of each cookie seals the deal!
Salty-sweet perfection right here.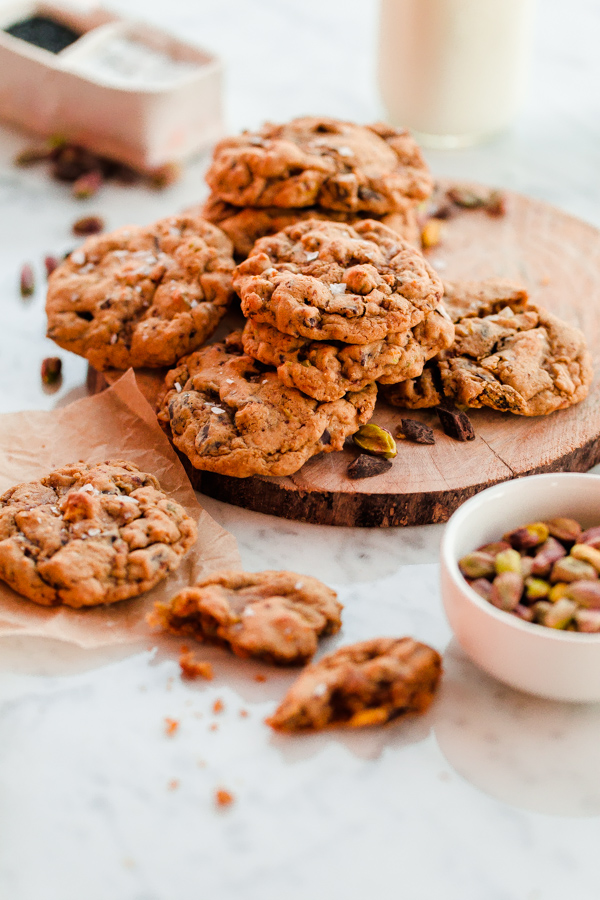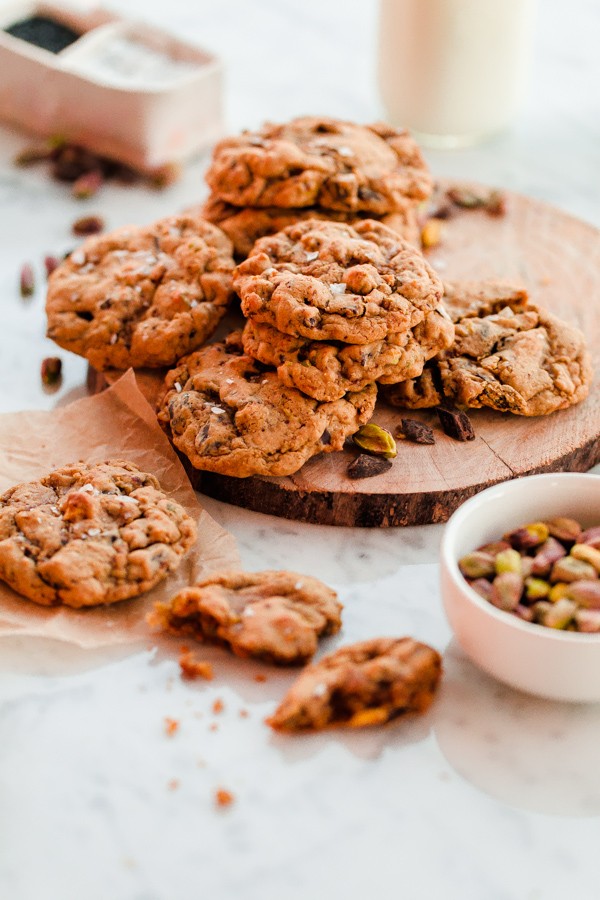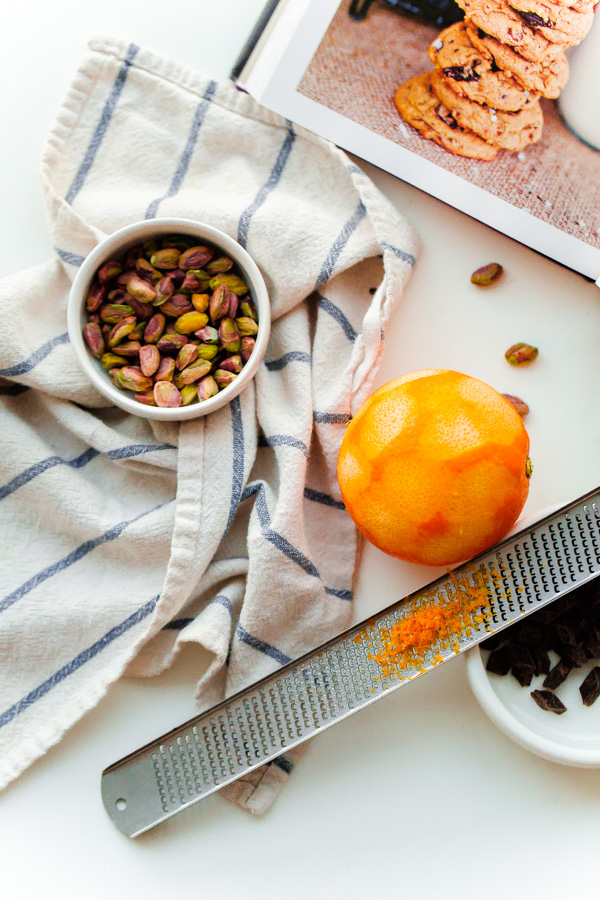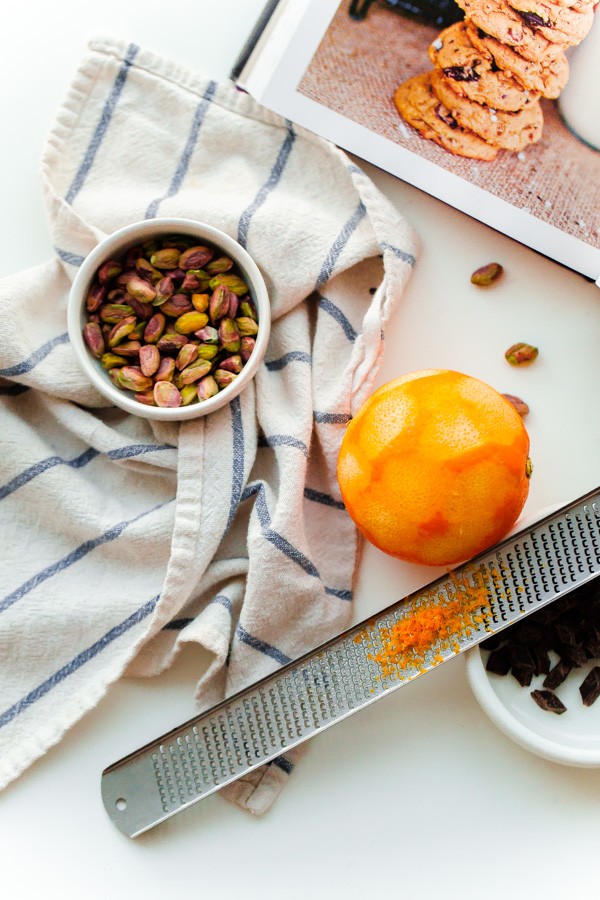 If you're looking for a new cookie recipe for the holiday season or for future holiday swaps, add this recipe to your list!
If you're a fan of chocolate and orange together, you will love these even more. They were so fragrant and flavorful. To make them extra festive, you could even add dried cranberries to the batter!
Pistachios and cranberries with a little burst of fresh orange flavor?
Doesn't get prettier or tastier than that.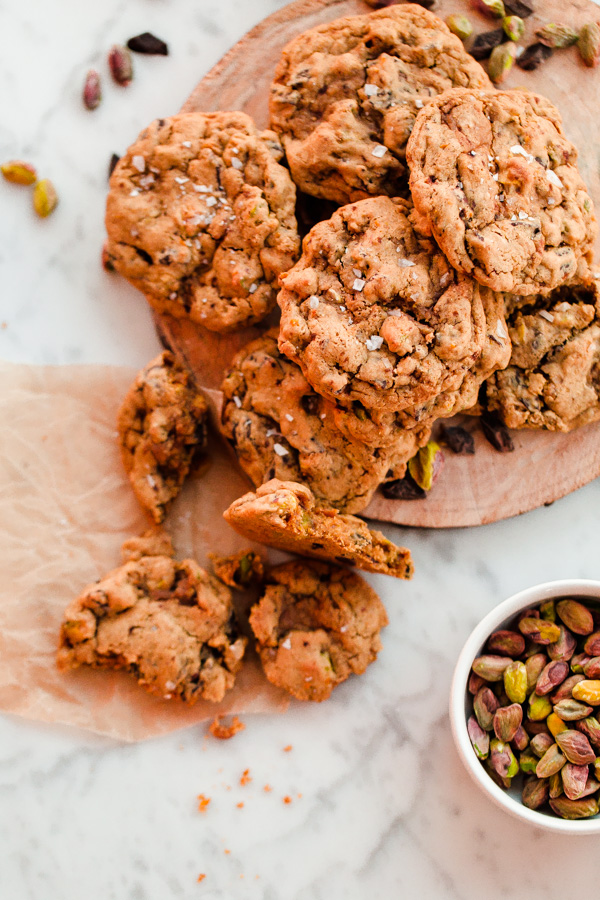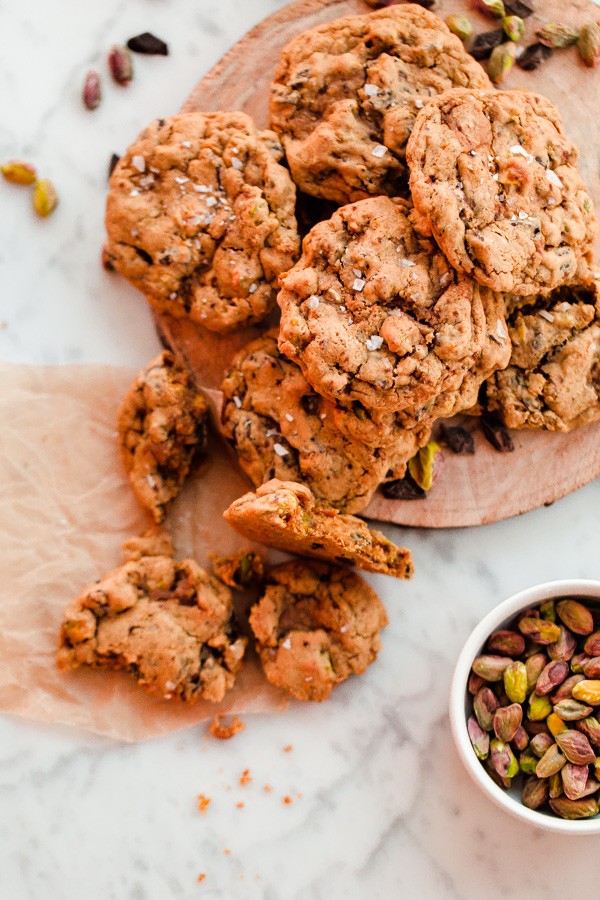 I can't wait to prepare more recipes from this cookbook over the coming months!
There are so many dishes that I can't wait to make, and Laurie's signature stories and instructions (as demonstrated on her blog!) guides you through each one with ease.
The book includes everything from homemade staples (think condiments, sauces, dressings, and seasoning blends!) to breakfast and brunch recipes, salads, soups, sides, main courses, and desserts. So many ideas and approachable recipes for all occasions.
It is a comprehensive and approachable cookbook that I can see turning to time and time again over the years! Exactly what made with fall in love with Laurie's blog years ago.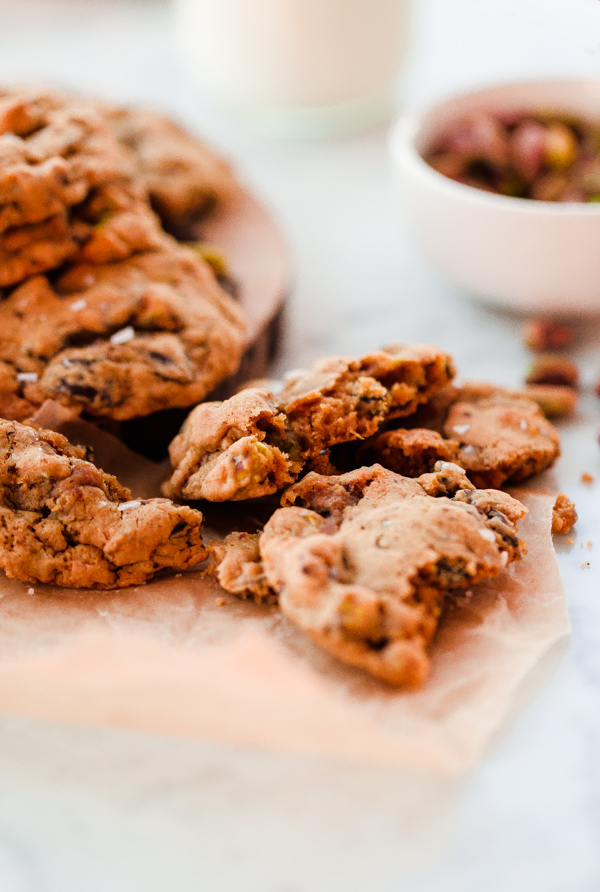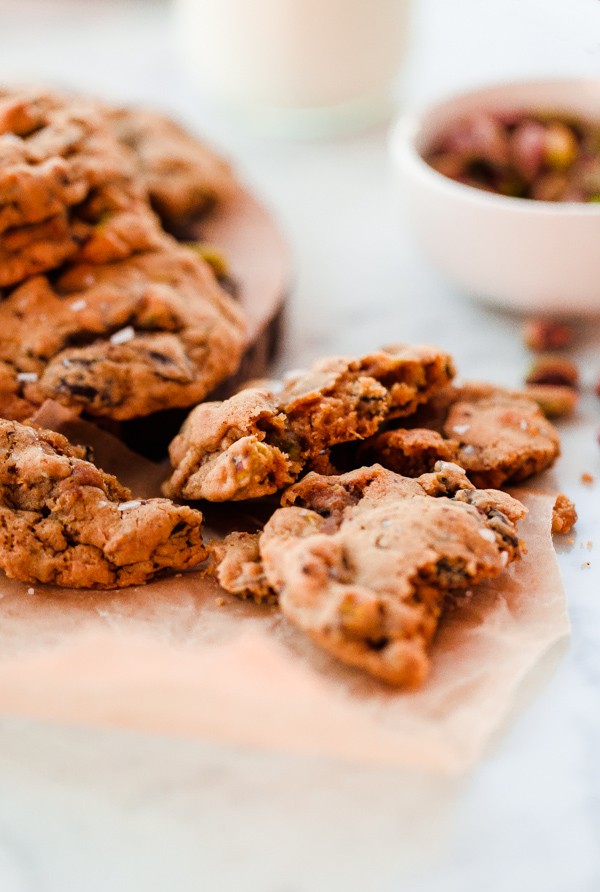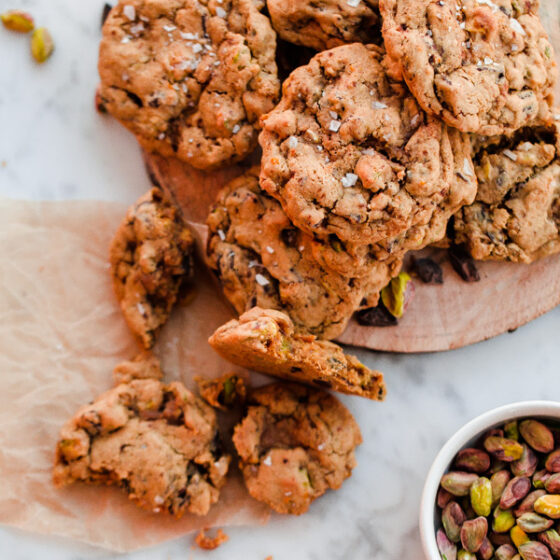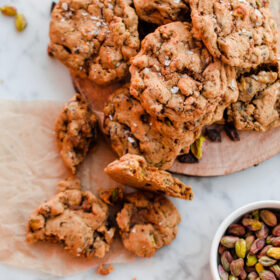 Orange Salted Pistachio Chocolate Chunk Cookies
Chewy salted pistachio chocolate chunk cookies infused with fresh orange zest.These cookies are packed with flavor and take less than 45 minutes to prepare!
Ingredients
1 cup + 2 tablespoons (135 g) unbleached all-purpose flour
½ teaspoon baking powder
¼ + ⅛ teaspoon baking soda
¼ + ⅛ teaspoon Diamond Crystal kosher salt
4 tablespoons (2 oz; 60 g) unsalted butter softened
⅓ cup (70 g) packed dark brown sugar
⅓ cup (65 g) granulated sugar
1 teaspoon fresh orange zest
1 large egg room temperature
½ teaspoon pure vanilla extract
3 ounces semi-sweet dark chocolate chopped
⅓ cup coarsely chopped pistachios
flaky salt for finishing
Instructions
Preheat the oven to 375°F (190°C) with a rack in the center position. Line a half sheet pan with parchment paper or a silicone baking mat. Set aside.

In a medium bowl, whisk together the flour, baking powder, baking soda, and salt. Set aside. In the bowl of a stand mixer fitted with the paddle attachment, cream together the butter, brown and granulated sugars, and orange zest on medium-low speed for 2 to 3 minutes or until fluffy. Add the egg and mix until evenly incorporated. Scrape down the sides and bottom of the bowl with a spatula. Add the vanilla and blend until combined.

With the mixer running on low speed, gradually add the flour mixture and mix until the flour is incorporated. Add the dark chocolate chunks and chopped pistachios to the batter. Mix on low until combined, scraping the sides and bottom of the bowl one last time.

Using a spoon, scoop out the cookie dough (roughly 2 to 3 tablespoons per cookie) onto the prepared baking sheets, spacing the scoops an inch or so apart. Sprinkle the top of each cookie with flaky salt.

Bake for 8 to 10 minutes, rotating the baking sheet halfway through. Let the cookies cool on the pan on a rack for 5 minutes and then transfer them to a wire rack to finish cooling.
Seasonal Flavor Variations: 
To make these cookies extra festive for the holiday season, try adding dried unsweetened (or sweetened, your choice!) cranberries to the batter.
Recipe adapted slightly and printed with permission from
Simply Scratch: 120 Wholesome Homemade Recipes Made Easy
by Laurie McNamara (Avery Books, 2015).
Serving: 1serving, Calories: 160kcal, Carbohydrates: 19g, Protein: 2g, Fat: 9g, Saturated Fat: 5g, Polyunsaturated Fat: 4g, Cholesterol: 26mg, Sodium: 344mg, Fiber: 1g, Sugar: 16g
I received a copy of Simply Scratch for review purposes only! This post may contain Amazon affiliate links, thanks for supporting the blog!
This post contains affiliate links, which means that I make a small commission off items you purchase at no additional cost to you. Please read my
privacy policy
for more information.