Orange Salted Pistachio Chocolate Chunk Cookies
Chewy salted pistachio chocolate chunk cookies infused with fresh orange zest.These cookies are packed with flavor and take less than 45 minutes to prepare!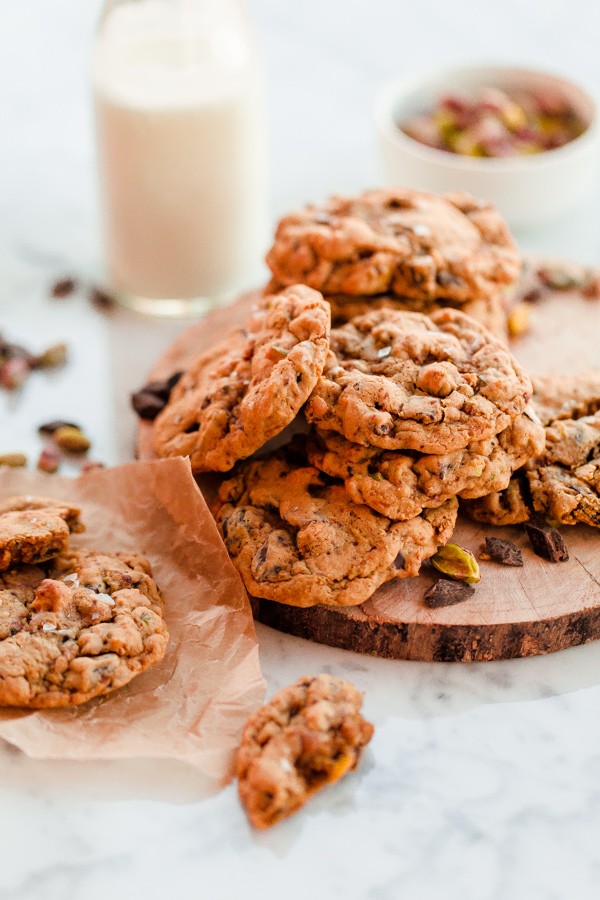 I'm having a moment with these cookies. A major cookie moment.
This is saying a lot, because while I love a good cookie (ex: homemade Tim Tams), I'm generally more of a pie and pastry kinda gal, especially during the holiday season.
That being said, today's salted pistachio chocolate chunk cookies are making me reconsider my position. The original recipe is from my friend Laurie's brand new cookbook Simply Scratch: 120 Wholesome Homemade Recipes Made Easy. 
I love this book, because it is all about celebrating whole-food ingredients and scratch cooking, two subjects that I'm extremely passionate about!
Since I can't leave well enough alone, I made a few small changes to the original recipe: I halved the recipe (which yields the perfect amount for a household of two!), added fresh orange zest (a cookie game-changer) and some extra chocolate chunks (life rule).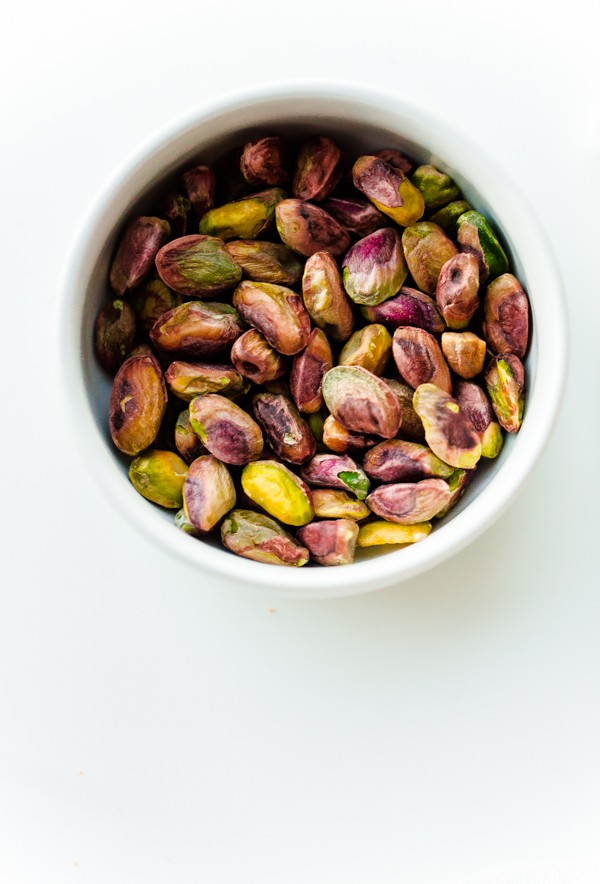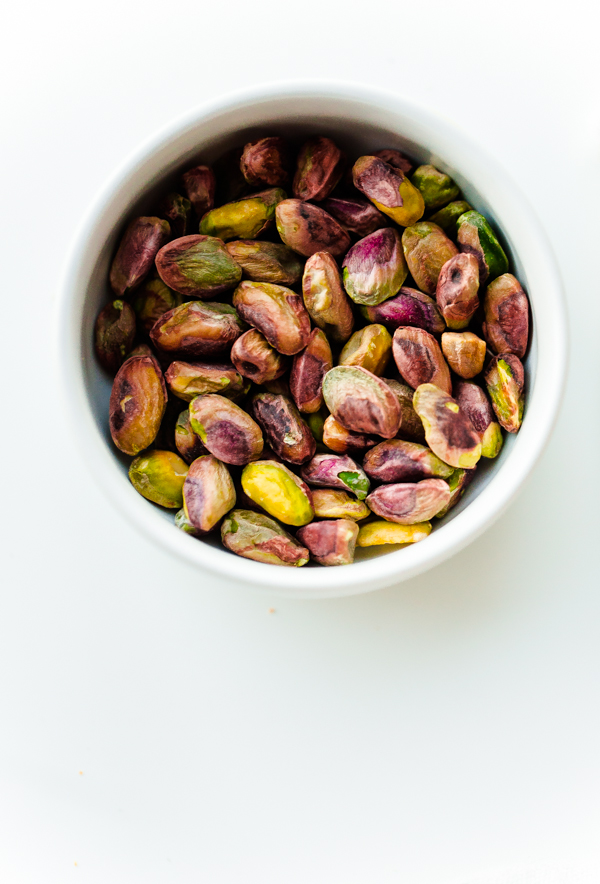 Let's talk cookies though.
These cookies are incredibly chewy (chewy cookies are a must for me!), have great texture from the chopped pistachios, are loaded with dark chocolate chunks (the original recipe called for chopped dark chocolate, but I used Trader Joe's semi-sweet chocolate chunks with no issues!), and can be prepared in less than 45 minutes.
I'm 99.99% sure that almost all cookie baking stems from cookie cravings, and this is the perfect amount of time to turn a cookie craving into an actual cookie. No need to let the batter rest or free up space in your fridge.
You simply prepare the cookie batter, scoop it out, place it on a sheet pan, and start baking. The sprinkling of Maldon sea salt on top of each cookie seals the deal!
Salty-sweet perfection right here.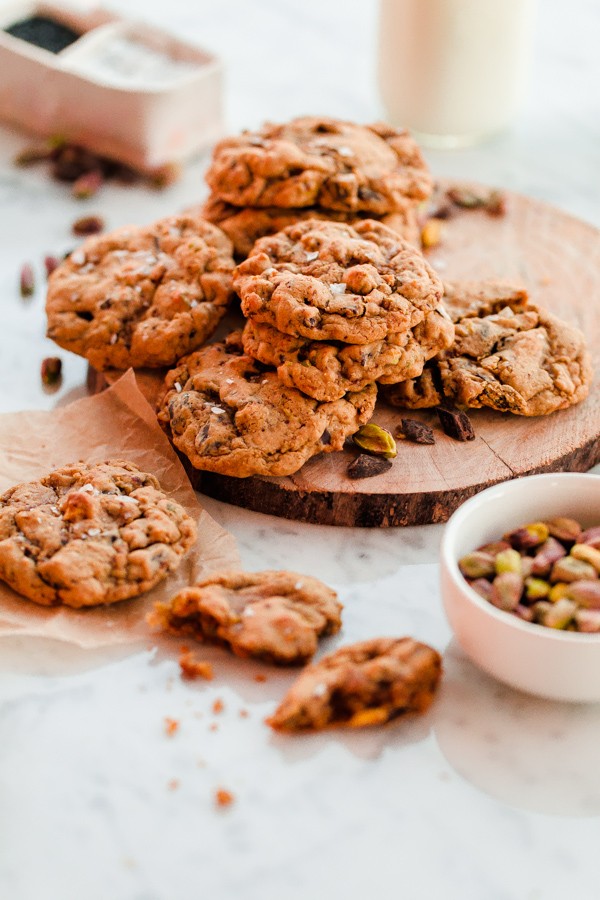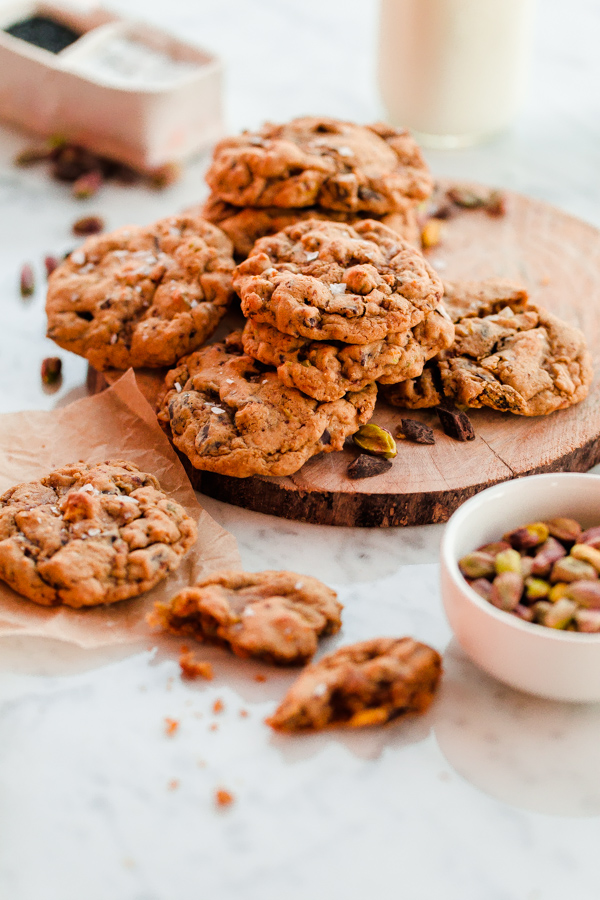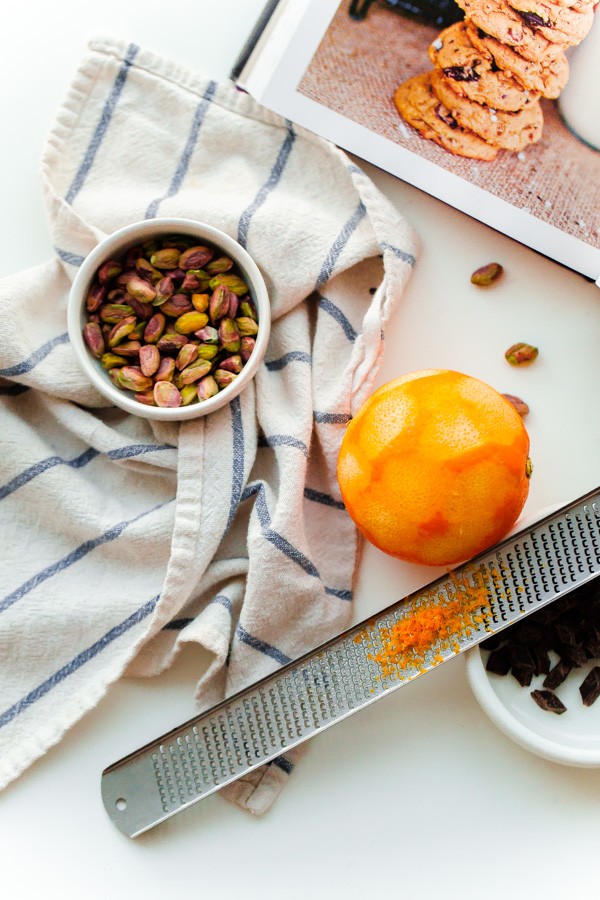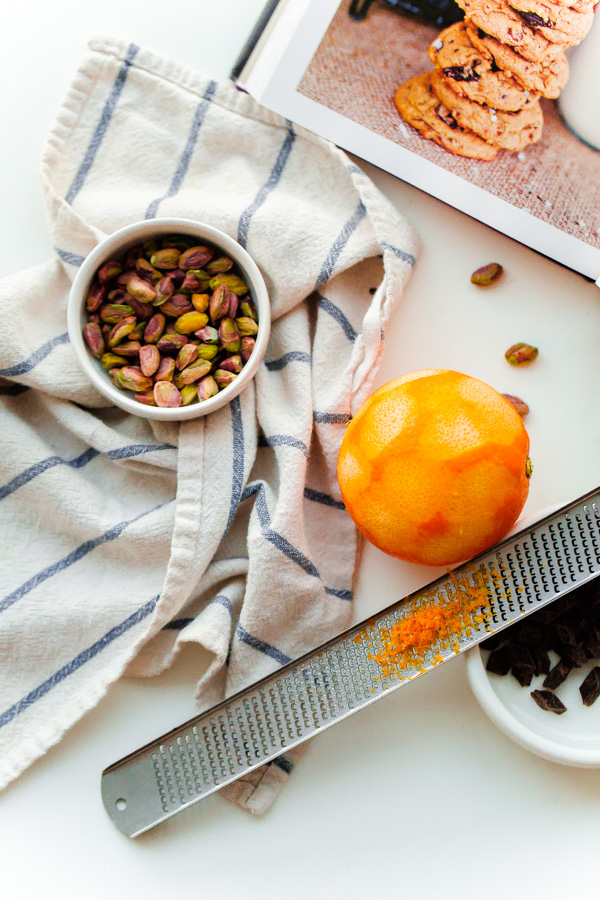 If you're looking for a new cookie recipe for the holiday season or for future holiday swaps, add this recipe to your list!
If you're a fan of chocolate and orange together, you will love these even more. They were so fragrant and flavorful.  To make them extra festive, you could even add dried cranberries to the batter!
Pistachios and cranberries with a little burst of fresh orange flavor?
Doesn't get prettier or tastier than that.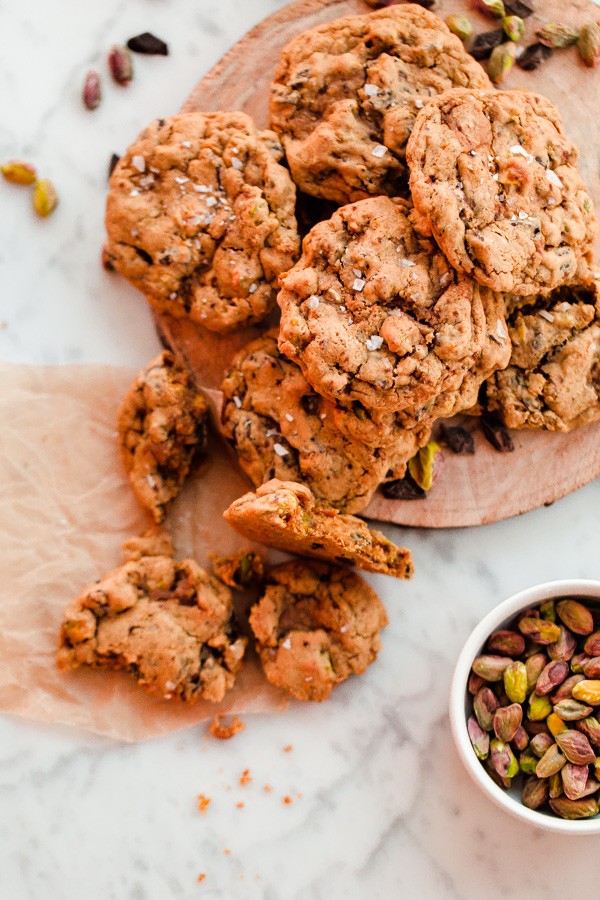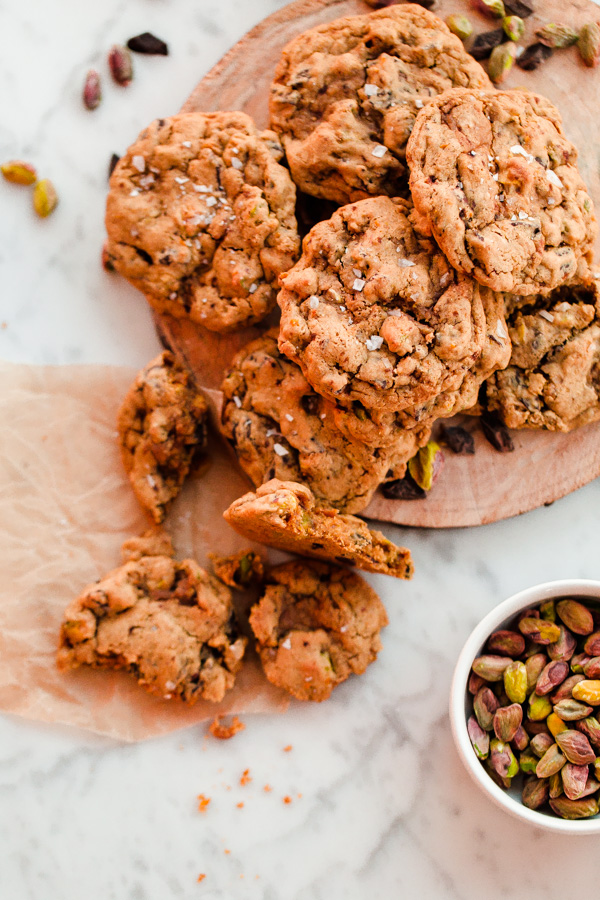 I can't wait to prepare more recipes from this cookbook over the coming months!
There are so many dishes that I can't wait to make, and Laurie's signature stories and instructions (as demonstrated on her blog!) guides you through each one with ease.
The book includes everything from homemade staples (think condiments, sauces, dressings, and seasoning blends!) to breakfast and brunch recipes, salads, soups, sides, main courses, and desserts. So many ideas and approachable recipes for all occasions.
It is a comprehensive and approachable cookbook that I can see turning to time and time again over the years! Exactly what made with fall in love with Laurie's blog years ago.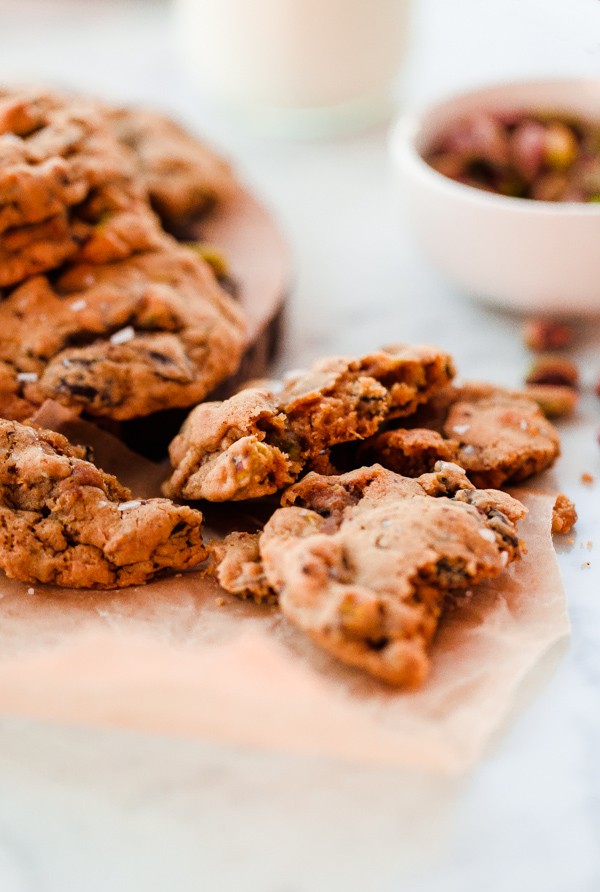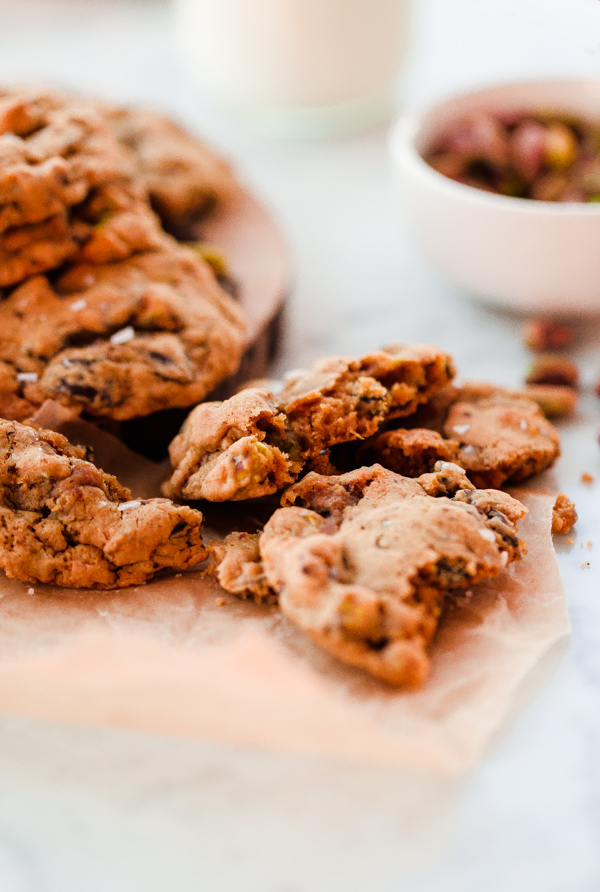 Luckily, I'm giving away one free cookbook of Laurie's Simply Scratch cookbook to a lucky reader today! [Open to U.S. residents only, sorry!]
This giveaway will be open until 12:00 AM (CST) Sunday, November 22nd. Enter below by leaving a comment telling me what your favorite holiday dessert or cookie is! [Giveaway closed.]
This giveaway is sponsored by Avery (an imprint of Penguin Random House). I received a copy of Simply Scratch for review purposes only! This post may contain Amazon affiliate links, thanks for supporting the blog!