Orange Bundt Cake with Chocolate Glaze
This orange bundt cake has a tender moist crumb and is topped with a dark chocolate glaze. Unfussy and not too sweet, it's ideal for sharing with a large gathering of friends and family!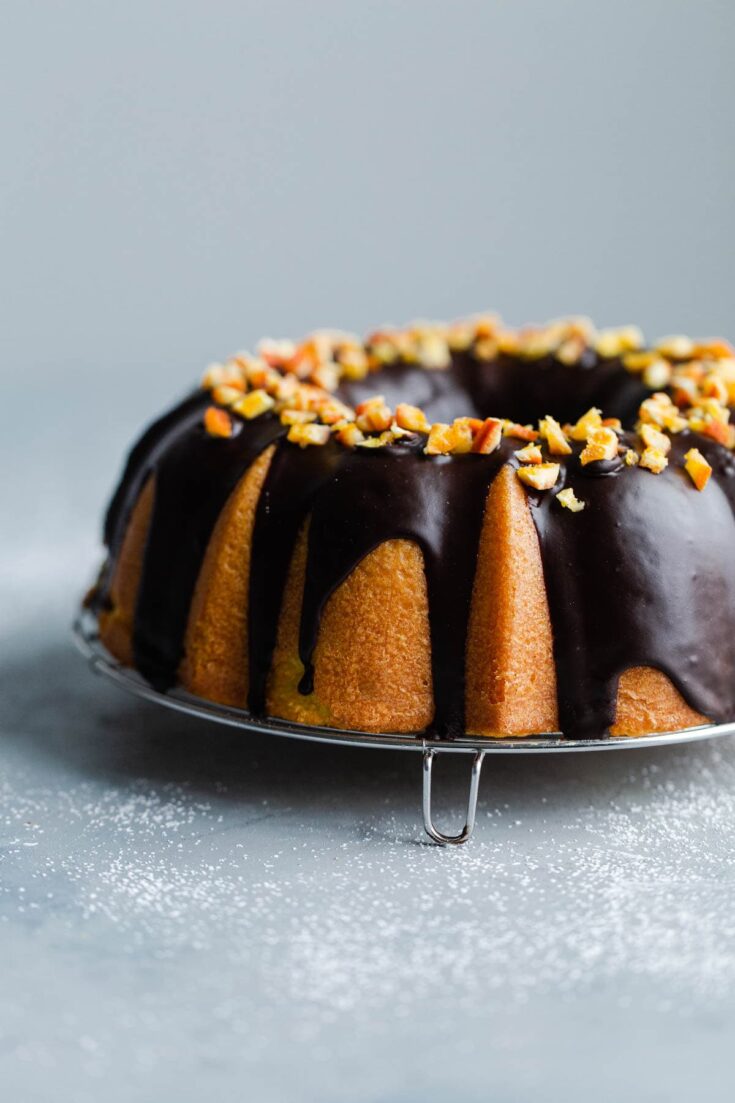 This post is sponsored by Bob's Red Mill.
Bundt cakes are always my answer for transforming a simple cake into a showstopper. They make a statement, without any precise pastry techniques or fuss.
Similar to my Gingerbread Bundt Cake, as long as you butter and flour the bundt pan well, you'll be rewarded with a beautiful centerpiece for your holiday table.
This Orange Bundt Cake is easy enough to bake all winter long, but celebratory enough to serve during the holidays. It isn't too rich, but incredibly moist and decadent. The batter is infused with orange zest, as well as with lemon zest, which adds such a nice brightness. The zest is rubbed into sugar and dispersed throughout the cake, making it extra fragrant.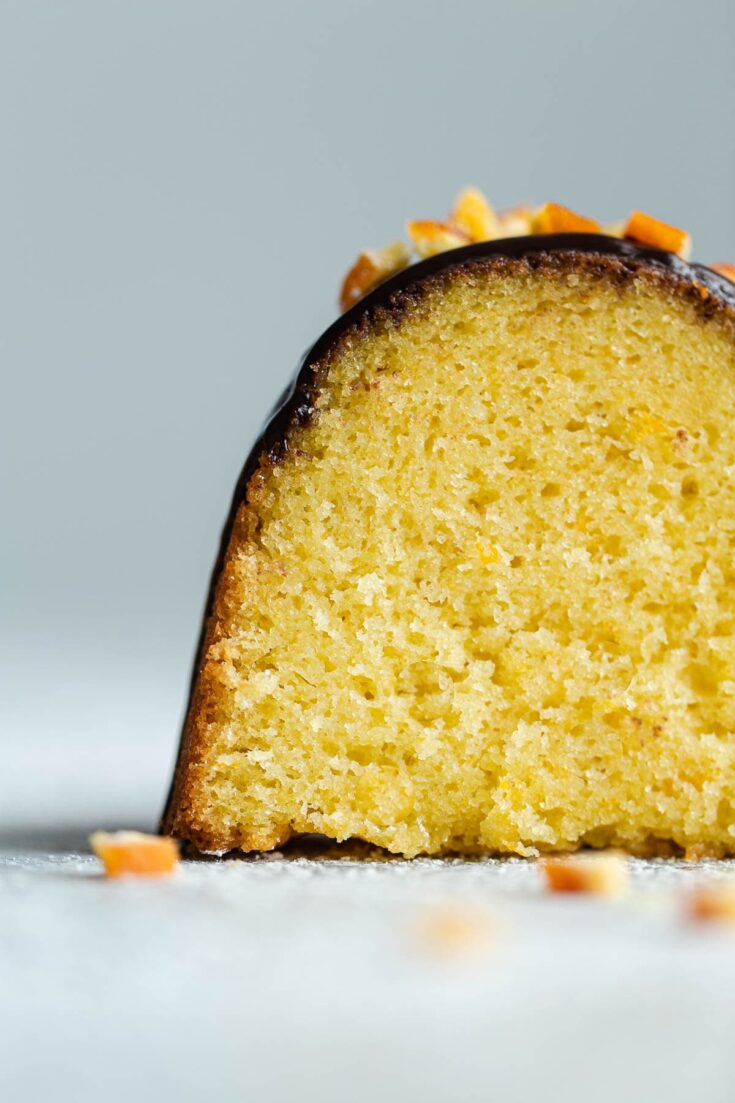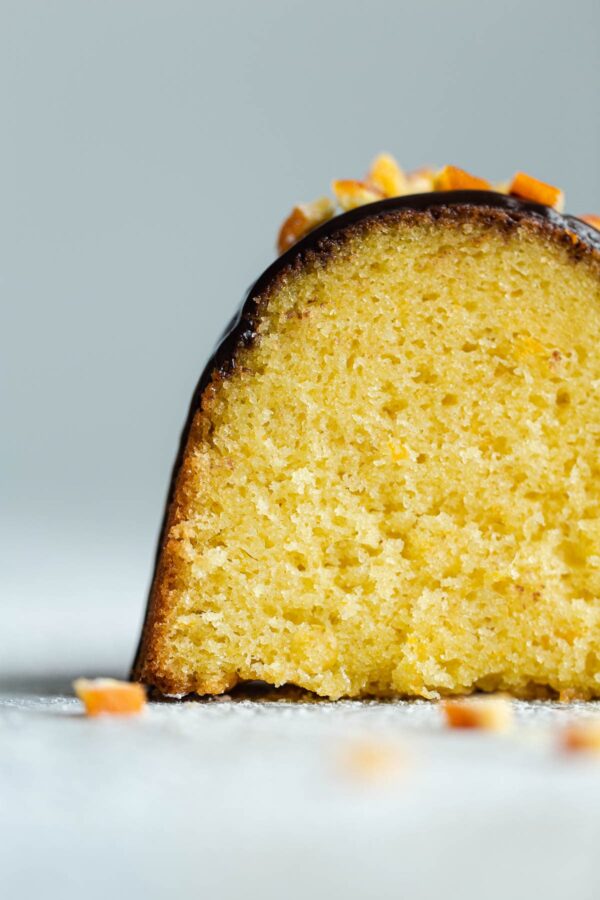 Why you'll love this orange cake:
This orange bundt cake was inspired by classic holiday flavors. Do you remember those Terry's Chocolate Oranges? I loved them growing up! It is a flavor pairing that I can't get enough of.
As a result, it has inspired many of my dessert recipes over the years, including these Orange Pistachio Chocolate Chunk Cookies and Candied Orange Slices with Chocolate.
What can I say? I unapologetically love chocolate and orange together. And baking this bundt cake, I think you will too. Of course, you can forgo the chocolate ganache glaze and opt for a simpler cake dusted with powdered sugar or a basic orange glaze. But chocolate makes it more celebratory during the holiday season!
Storage Note: For me, this time of year is all about preparation. Although this cake is best the day it's baked, it holds up well and remains moist two or three days after baking.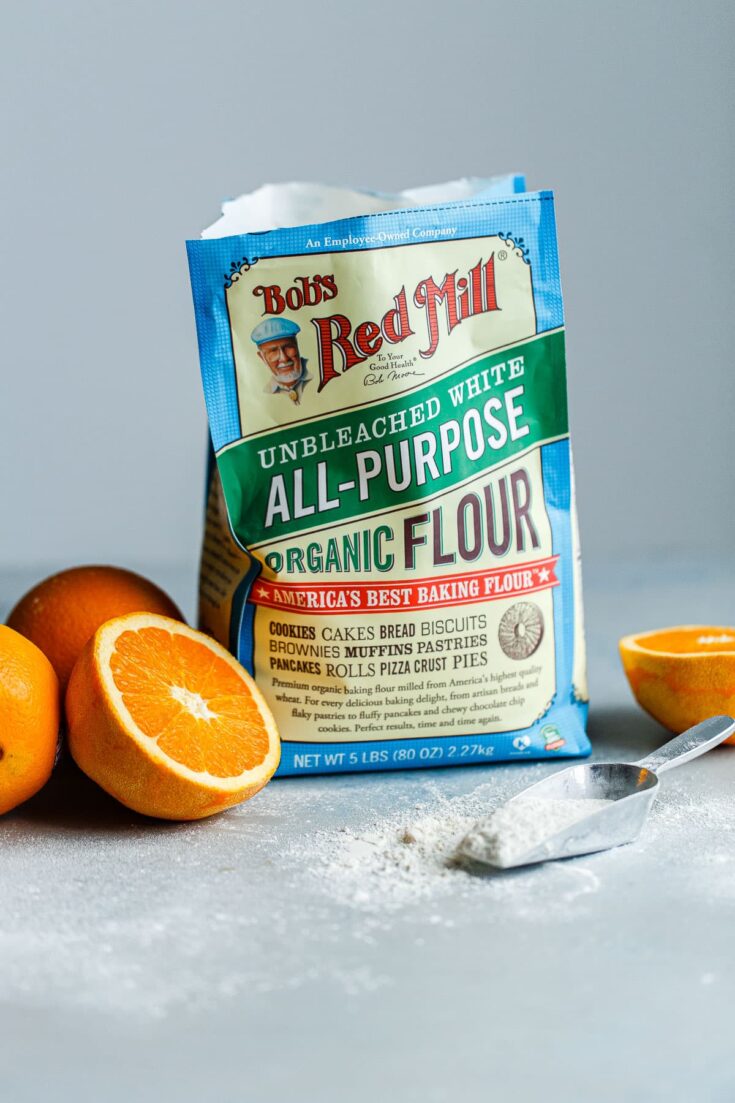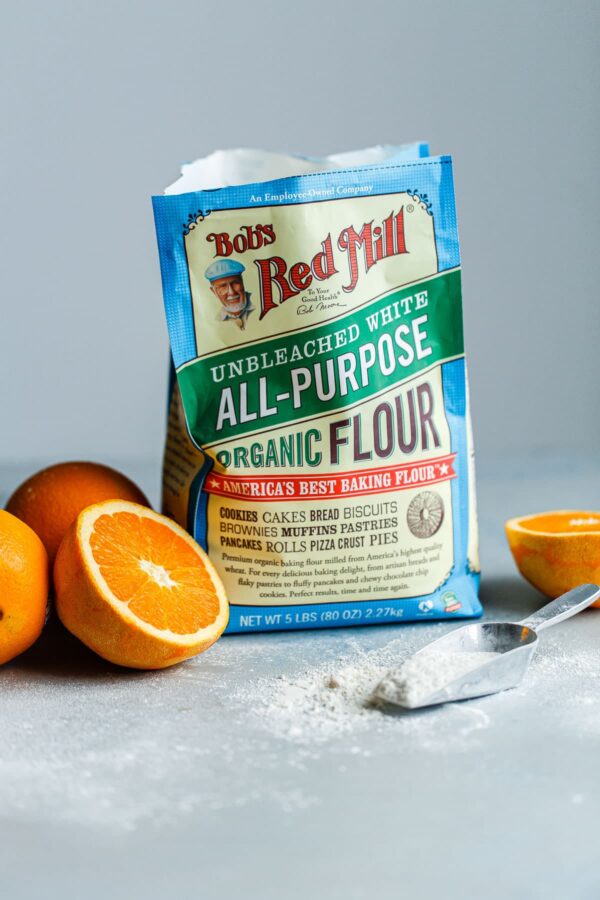 Baking with Quality Flour:
There's no doubt that it's the season for baking and using high-quality ingredients is important. I always keep my pantry stocked with Bob's Red Mill Organic Unbleached All-Purpose Flour, but I like to have an extra bag or two on hand this time of year.
It's my go-to flour for holiday cookies, breads, and cakes alike. Why do I love Bob's Red Mill so much? Their flour is unbleached, unbromated, and milled from the highest quality organic certified North American wheat.
It's important to understand the different types of flour. In my day-to-day baking, I prefer Bob's Red Mill Organic All-Purpose Flour, which is refined, meaning the bran and germ are removed during the milling process. Their all purpose flour has a mid-level protein content which yields a versatile baking flour, perfect for this orange bundt cake.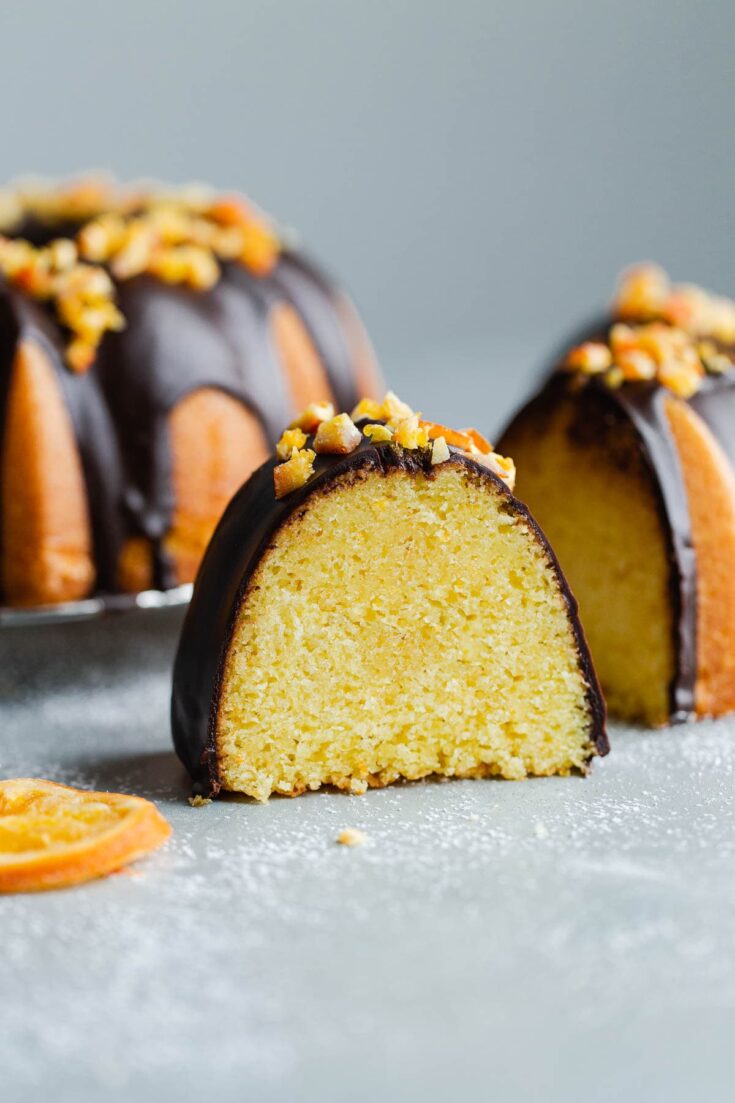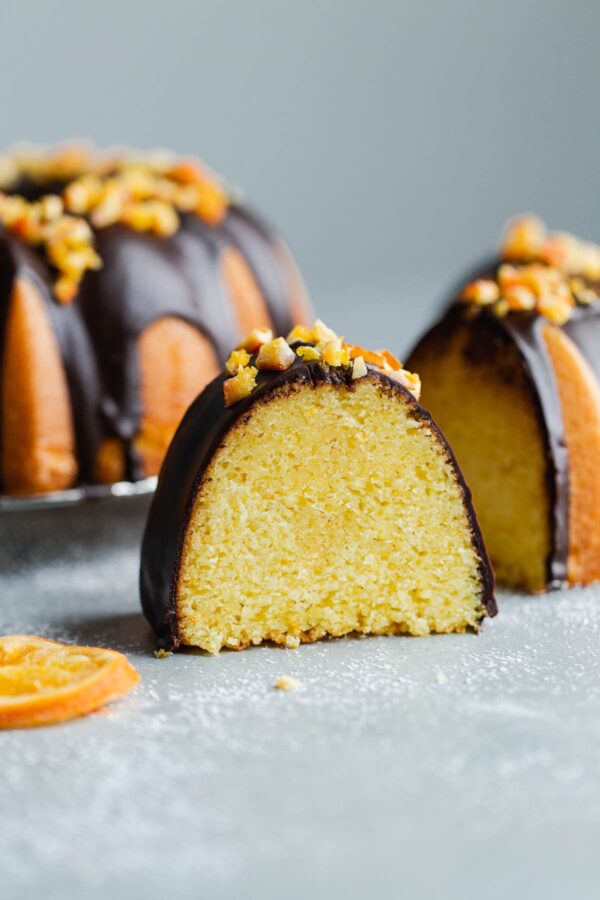 Orange Bundt Cake Ingredients:
UNBLEACHED ALL-PURPOSE FLOUR –Bob's Red Mill Organic Unbleached All-Purpose Flour is my go-to for cakes.
ORANGE AND LEMON ZEST – adds both a brightness and complexity. We'll also add freshly squeezed orange juice and lemon zest for another boost of flavor.
EGGS – we use six eggs here, which may seem like a lot, but they create stability while adding moisture.
WHOLE FAT GREEK YOGURT – the batter will be thicker, but the extra fat helps create a tenderness, while the extra protein will provide more structure.
GLAZE – the chocolate ganache glaze is made by melting bittersweet chocolate and gently stirring in heavy cream for a decadent topping. I recommend a high-quality chocolate bar that is roughly 72% cocoa solids.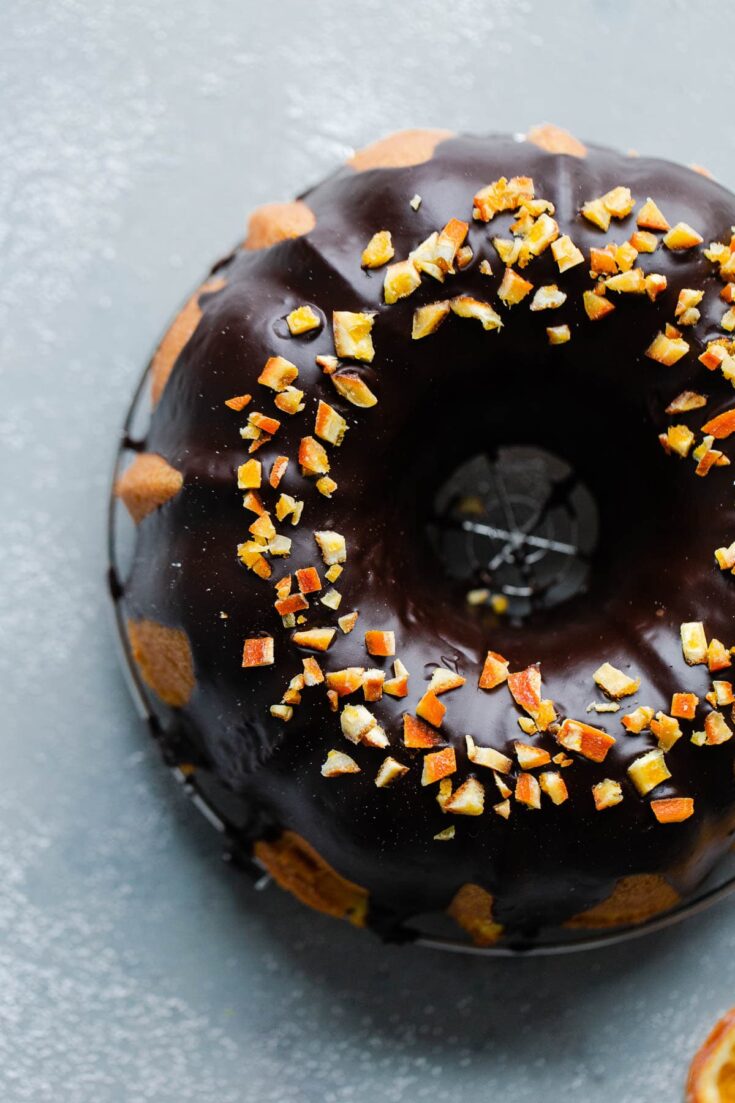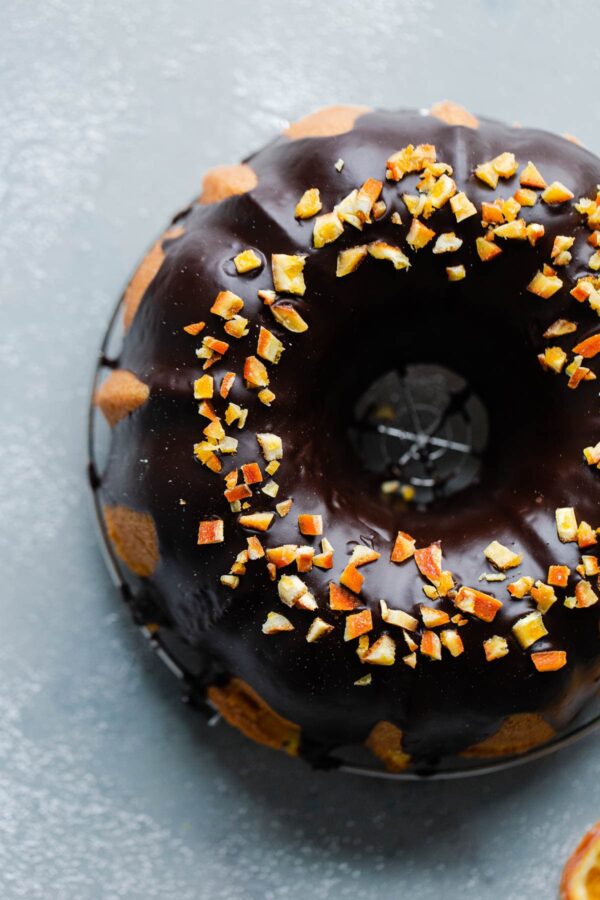 TIPS FOR SUCCESS:
It's worth repeating here: please ensure your bundt cake pan is well-greased with butter and lightly floured. Simply using baking spray won't work…trust me on this one.
While this Orange Bundt Cake is lovely for an afternoon treat, it would also be lovely for gifting.
If you're feeling inspired, you can garnish with store-bought candied orange peel, or for an added treat, top it with homemade candied blood orange slices. Simple orange zest is wonderful too.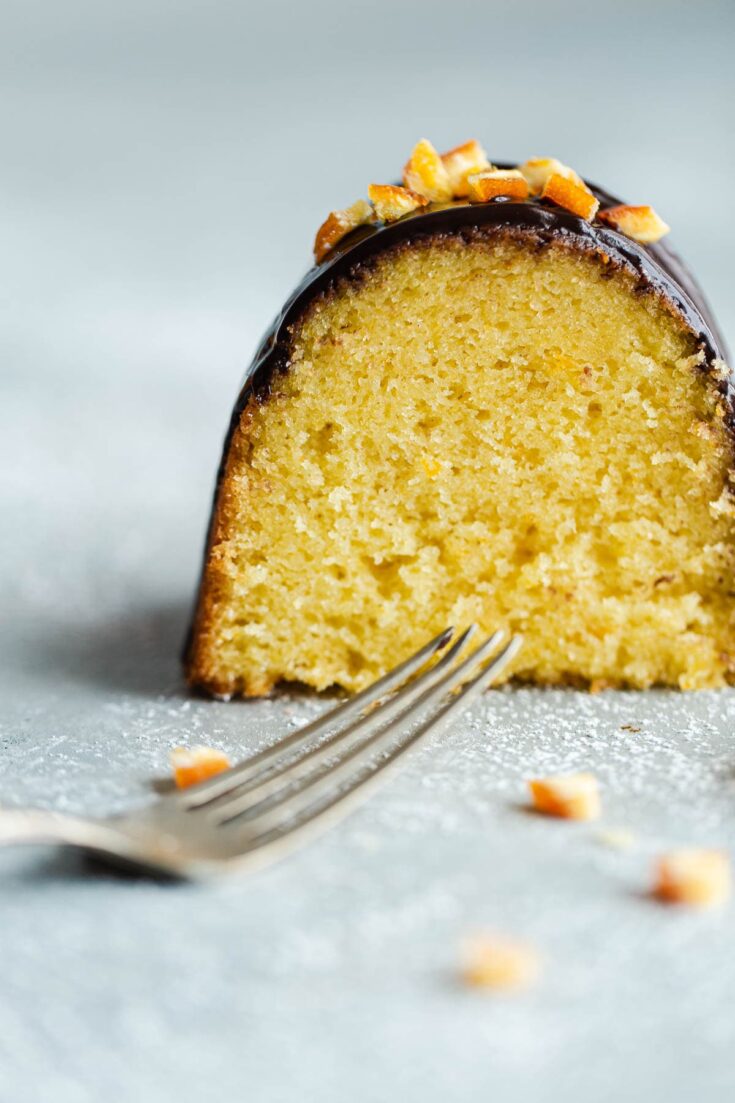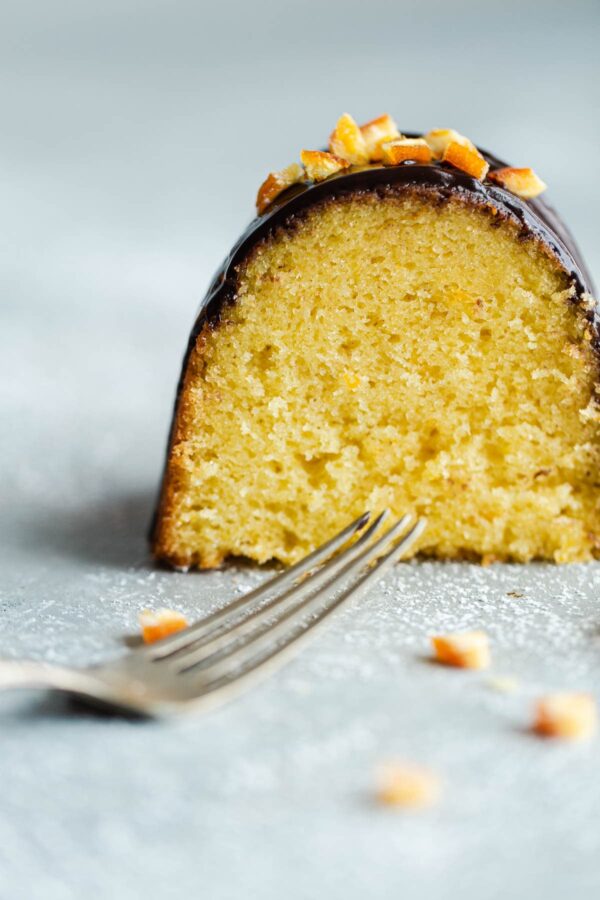 Other Recipes You'll Love:
If you enjoy this orange and chocolate desserts, try some of these festive treats next!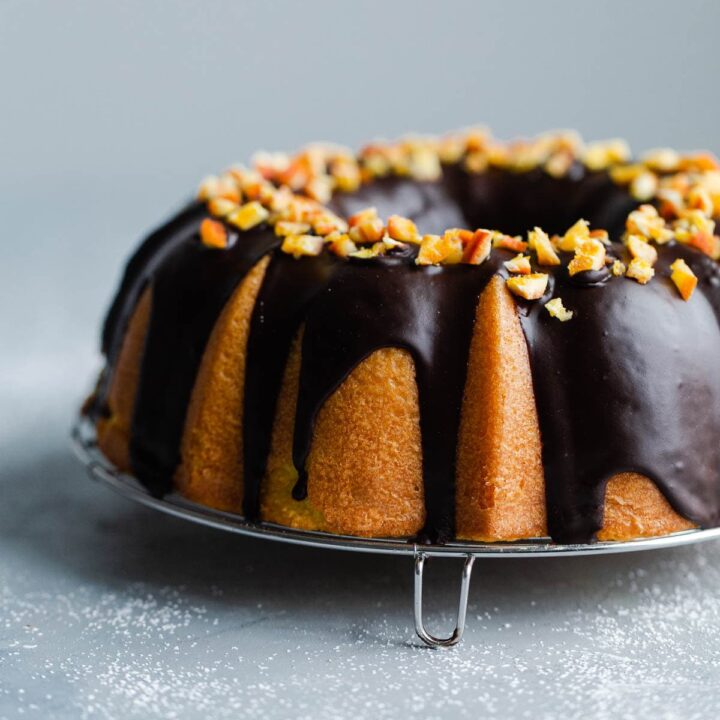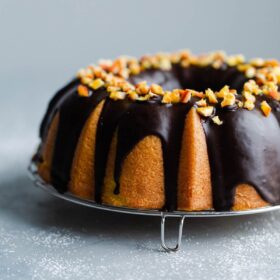 Orange Bundt Cake with Chocolate Glaze
This orange bundt cake has a tender moist crumb and is topped with a dark chocolate glaze. Unfussy and not too sweet, it's ideal for sharing with a large gathering of friends and family! Be sure to generously butter and lightly flour your pan to ensure the cake releases easily (baking spray is not sufficient for this recipe!).
Ingredients
Orange Bundt Cake:
2½ cups (300 g) Bob's Red Mill Organic Unbleached All Purpose Flour plus more for dusting
1 teaspoon Diamond Crystal kosher salt
½ teaspoon baking soda
½ teaspoon baking powder
1¾ cups (350 g) granulated sugar
1 cup (8 oz; 226 g) unsalted butter softened, plus more for greasing
2 tablespoons grated orange zest
1 teaspoon grated lemon zest
¼ cup (60 mL) freshly squeezed orange juice roughly 1-2 oranges
1 tablespoon freshly squeezed lemon juice
1 teaspoon pure vanilla extract
6 large eggs room temperature
1 cup (226 g) whole fat plain Greek yogurt room temperature
Chocolate Glaze:
4 ounces (115 g) bittersweet chocolate (roughly 72% cocoa) finely chopped
4 ounces (120 mL) heavy cream
½ teaspoon pure orange extract optional
Optional Decoration:
finely diced candied orange peel or finely grated orange zest
Instructions
Prepare the Bundt Cake: Preheat the oven to 325°F (163°C) with a rack in the center position. Generously butter (the layer should be visible) and flour a 12-cup bundt pan. Be sure to reach every crevice of the pan. Tap the pan over the sink to remove any excess flour. Do not skip this step or substitute with baking spray.

In a medium bowl, whisk together the unbleached all purpose flour, salt, baking soda, and baking powder. Set aside.

In a stand mixer bowl fitted with a paddle attachment, combine the granulated sugar, orange zest, and lemon zest. Using your fingertips, rub the sugar and zests together until the mixture resembles wet sand and is very fragrant. Add the softened butter and beat over medium-high speed for 5 minutes or until light and fluffy. Add the orange juice, lemon juice, and vanilla extract and mix until incorporated. Reduce the speed to medium and add the eggs one at a time, beating until each egg has incorporated, scraping down the bowl once or twice.

Over low speed, add the flour mixture in three additions, alternating with two additions of yogurt. Scrape down the bowl as necessary, but be careful not to over mix.

Transfer the batter to the greased bundt pan, using a small offset spatula or knife to smooth the batter into an even layer.

Bake for 55 minutes to 65 minutes or until lightly golden and a toothpick inserted in the center comes out clean. Cool cake in the pan on a wire rack for 15 minutes, then invert onto a rack and allow the cake to cool completely before glazing.

Make the Chocolate Glaze: Place the cake with rack inside a sheet pan (this will catch any excess glaze) or set over a piece of parchment paper. Set aside.

Place the finely chopped chocolate in a medium bowl. Microwave the heavy cream in 20-second intervals in the microwave until it is very hot and lightly steaming. Pour the cream over the chocolate and allow the mixture to sit for a minute. Add the orange extract (if using) and gently whisk together until smooth and shiny.

Pour the chocolate glaze evenly over the cooled bundt cake, allowing it to drip generously over the sides. Once glazed, gently tap the cake to remove any air bubbles or wrinkles in the glaze.

If decorating with candied orange peel or zest, allow the glaze to mostly set before adding. Once the glaze has set, the chocolate will be matte in appearance - this will make for cleaner slicing.

Serving Tip: Run a large sharp knife under very hot water. Dry with a clean towel and slice. Repeat before each cut - this will ensure clean slices with very little chocolate glaze transfer.
Tips for Success:
This cake tastes best the day it is baked, but stays very moist for up to 2 to 3 days. Cover (avoid directly covering the glaze surface) and keep out at room temperature.
Inspired and adapted from this
Lemon Yogurt Bundt Cake
.
Serving: 1serving, Calories: 255kcal, Carbohydrates: 10g, Protein: 12g, Fat: 18g, Saturated Fat: 10g, Polyunsaturated Fat: 7g, Cholesterol: 259mg, Sodium: 725mg, Fiber: 1g, Sugar: 7g
This post is sponsored by Bob's Red Mill. Thank you for supporting brands I love and use in my kitchen. Check out more delicious healthy recipes, snag coupons, and find stores near you at BobsRedMill.com!
This post contains affiliate links, which means that I make a small commission off items you purchase at no additional cost to you. Please read my
privacy policy
for more information.