Fancy Avocado Toast
Fancy avocado toast! Basil, lemon, and chili flake infused avocado toast topped with a runny soft-boiled egg.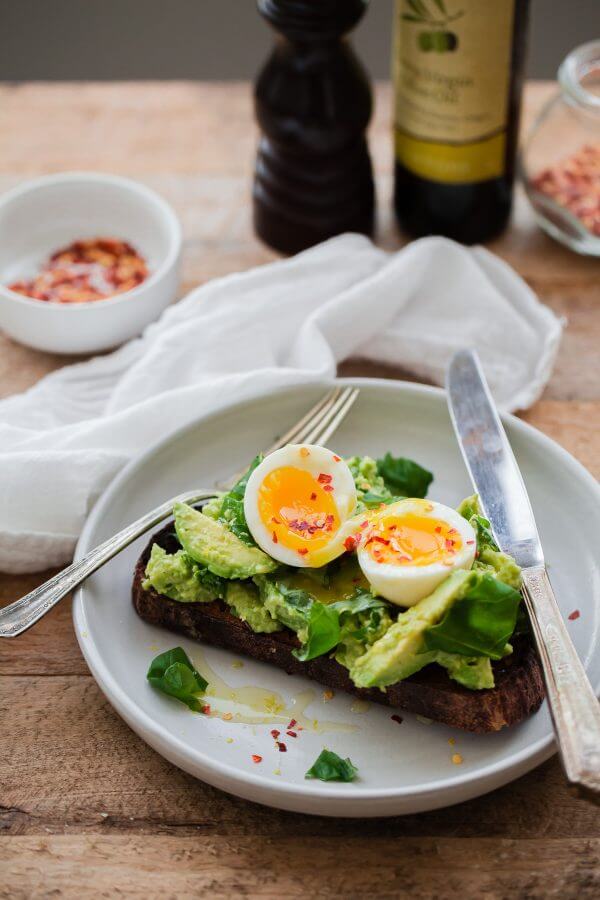 It's Wednesday, the Cubs are heading to game seven of the World Series, and I was this close to calling this high-maintenance avocado toast. Oh, and we're celebrating my friend Ashley's (Edible Perspective) virtual baby shower with all things breakfast today. Life is good.
As many of you know, I enjoy making high-maintenance recipes time to time. On the flip side of the coin, I also have minimal tolerance for complicated weekday breakfasts (as last week's slow cooker steel cut oats can attest). This avocado toast isn't actually high-maintenance, it just looks like it could be. Fancy avocado toast, if you will!
It takes about five minutes longer than it takes to literally pit and cut up an avocado, and I think we can all muster up the strength to do that, especially if it results in a deliciously satisfying breakfast like this one. The flavor trifecta for this toast is the thick, but runny soft-boiled egg, as well as a generous touch of lemon juice, fresh basil, and red chili flakes.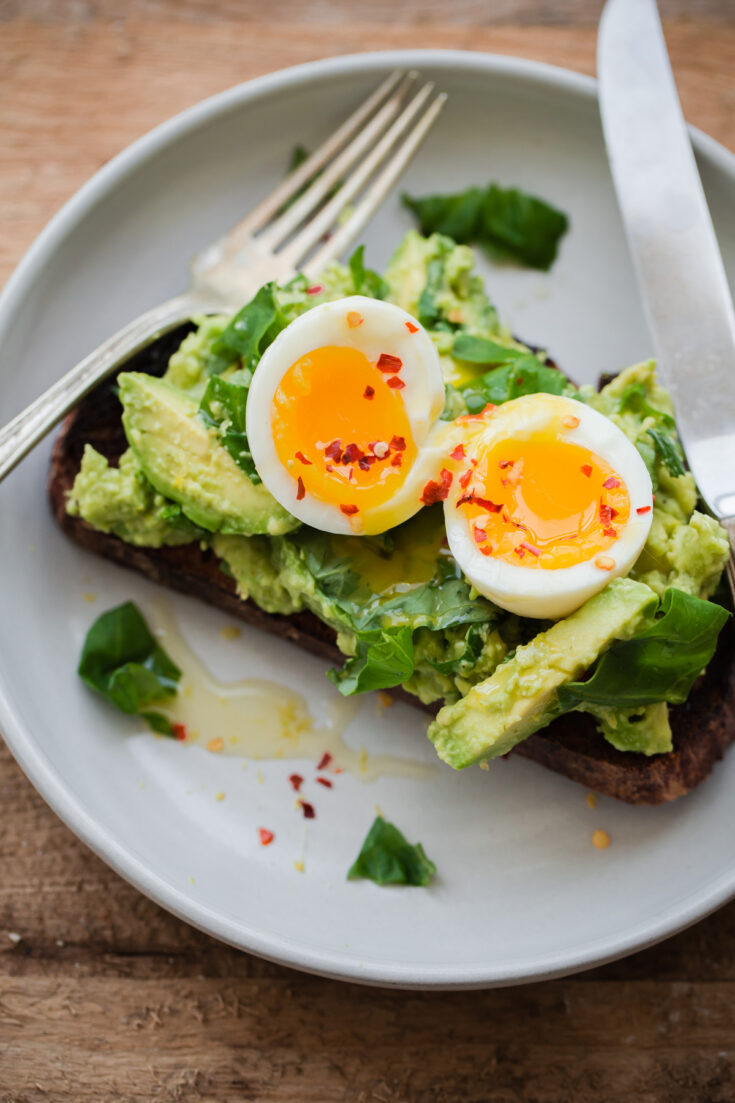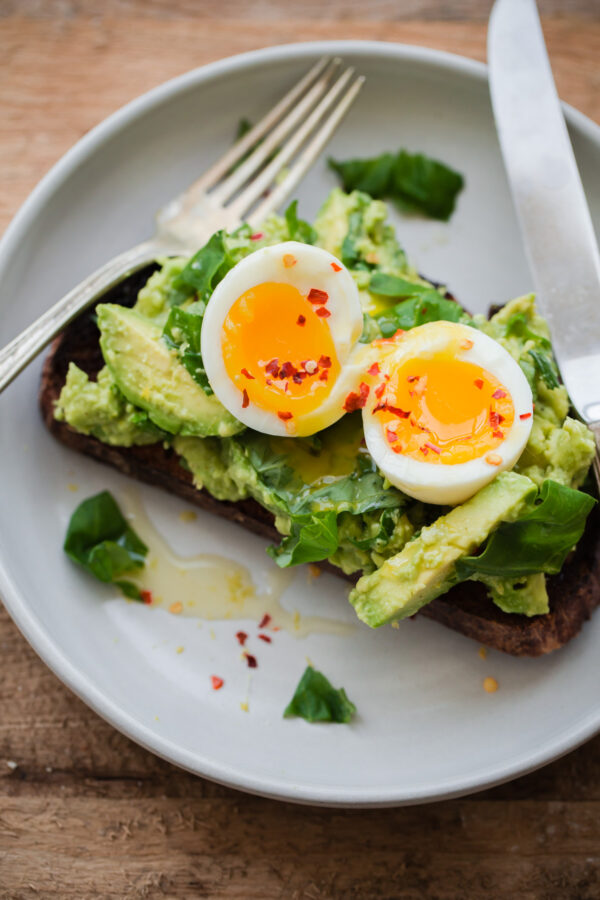 First, let's talk about Ashley and her baby girl (who is due this coming December!). I'm sure many of you are familiar with Ashley's blog, Edible Perspective. I've been reading her blog for years (it literally was one of the first food blogs I stumbled across!) and am honored to join in on her virtual baby shower celebration today. [Be sure to check out the rest of the amazing breakfast recipe links at the bottom of the post.]
Somehow, Ashley and I have still yet to cross paths in person (still holding out!), but we have exchanged many emails. Ashley has always been so kind, helpful, and generous with her advice and support in the blogging community – and she has been a such source of inspiration for me over the years!
For those reasons (and countless others), she is going to make an amazing new mama to her baby girl! Aside from being an incredible recipe-developer, food photographer and stylist, Ashley also happens to share my passion for breakfast foods. She's the unofficial, yet official breakfast queen.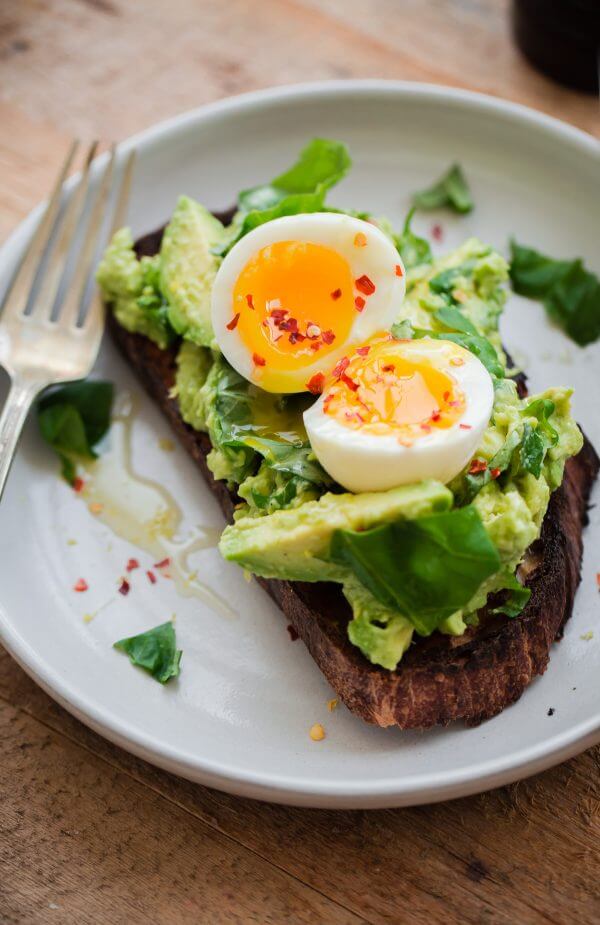 It only made sense to share one of my favorite breakfasts inspired by one of my go-to spots, The Allis, in our West Loop Chicago neighborhood.
You're actually going to be using one entire avocado for this toast! I know, I know. Avocados are ridiculously expensive right given the recent drought (poor timing Laura), but you'll be making an entire breakfast out of it. Plus, avocados are literally one of the healthiest foods you can put in your body.
Fresh torn basil leaves take this toast over the top – and really makes it extra special – but if you can't find any or don't care to buy it, you can leave it out. It will still be delicious either way. Not negotiable? The bread! Great-quality bread makes or breaks avocado toast, so get your hands on the best loaf you can find.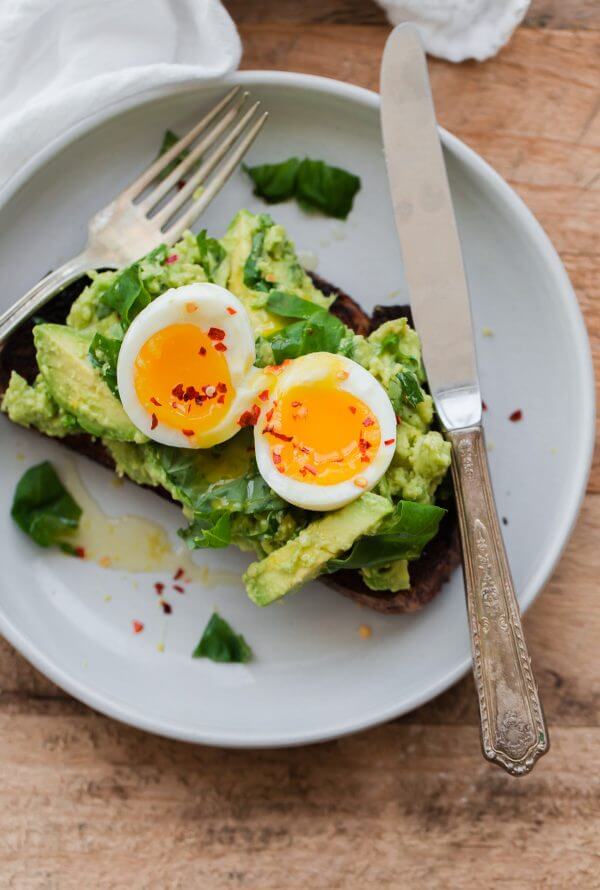 P.S. Make this for your friends (or people you want to be friends with!). It's magical like that.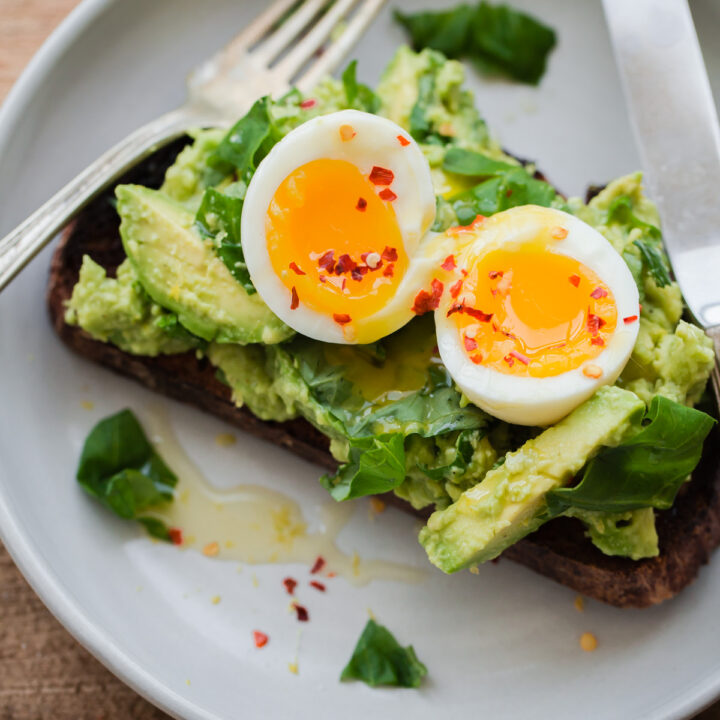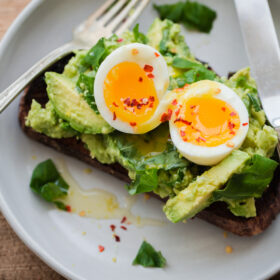 Fancy Avocado Toast
My favorite avocado toast recipe! Toasted bread topped with chunky avocado mixed with red pepper flakes, basil, and lemon juice, and garnished wtih a soft boiled egg.
Ingredients
1 small ripe avocado pitted and cut into large slices or chunks
2 teaspoons fresh lemon juice
2-3 basil leaves freshly torn
dried red pepper flakes plus more for garnishing
kosher salt
freshly ground black pepper
1 large egg
1 large thick slice great-quality sourdough bread toasted
extra virgin olive oil for drizzling
Instructions
In a small bowl, combine the avocado, lemon juice, torn basil leaves, and a pinch of red chili flakes. Using a fork, lightly mash one or two pieces of avocado and mix with the remaining chunks. You want the avocado to be very, very chunky – and preferably have a few whole slices intact. Season to taste with salt and pepper, and set aside.

Place the egg in a small saucepan and cover with cold water until the water covers the egg by about an inch. Bring to a rolling boil. Immediately remove the pan from the heat, cover, and set a kitchen timer for 4 minutes. This will produce an egg with a completely set white and a thick, but runny yolk. Set up a small bowl of ice water. After 4 minutes, transfer the egg to ice water until it is just cool enough to handle. Gently tap the egg on a countertop all over to break the shell and carefully peel - peeling eggs is much easier under running water or in bowl of lukewarm water - being careful not to pierce or accidentally break the yolk, as it will be delicate.

Spoon the avocado mash onto the slice of toasted bread, drizzle lightly with olive oil, add the soft-boiled egg (split with a knife right before serving), and garnish generously with red pepper flakes. Serve immediately.
Tips for Success:
Take this fancy avocado toast up a notch by rubbing the toasted sourdough bread with the cut end of a garlic clove before topping. 
Serving: 1serving, Calories: 590kcal, Carbohydrates: 33g, Protein: 13g, Fat: 49g, Saturated Fat: 8g, Polyunsaturated Fat: 38g, Cholesterol: 186mg, Sodium: 788mg, Fiber: 15g, Sugar: 3g
This post contains affiliate links, which means that I make a small commission off items you purchase at no additional cost to you. Please read my
privacy policy
for more information.