Citrus Salad with Bitter Greens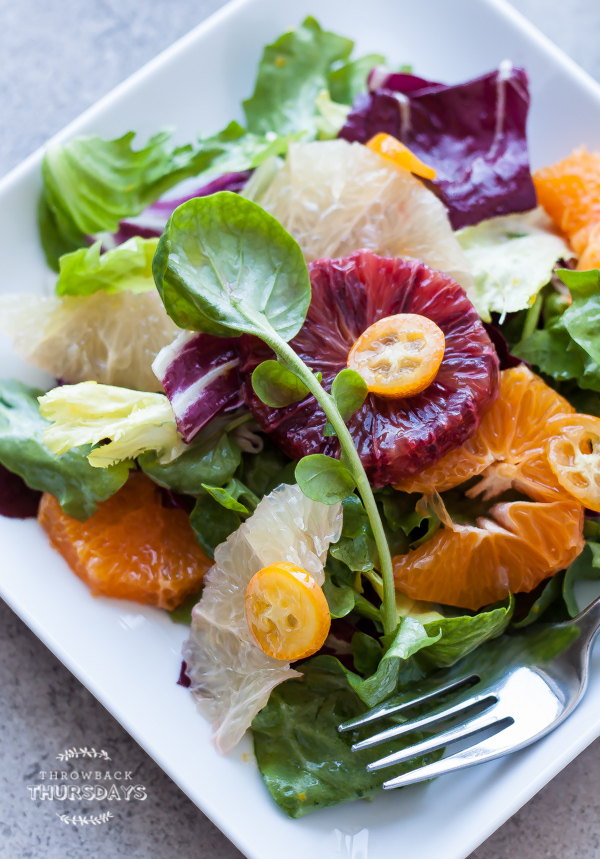 There are only a handful of foods that make winter worthwhile.  Pomegranates, pears, brussels sprouts, squash, and citrus.  Just to name a few.  Citrus wins in my book.  My fridge is brimming with Cara Cara oranges, and I have to physically stop myself from eating about twenty clementines a day.
It's been a good year for citrus, don't you think?  I'm thankful to say that I've had more than my share of perfect clementines, grapefruits, and oranges this winter.  And by perfect, I think we can all agree that I mean: juicy, perfectly sweet but tart, and containing as little seeds as possible.
[My patience level with citrus directly correlates to how many seeds are involved in the eating process.  Zero is optimal.  One to two is acceptable.  Three to five is tolerable.  Five or more is unacceptable.  I kid, I kid.  Except not at all.]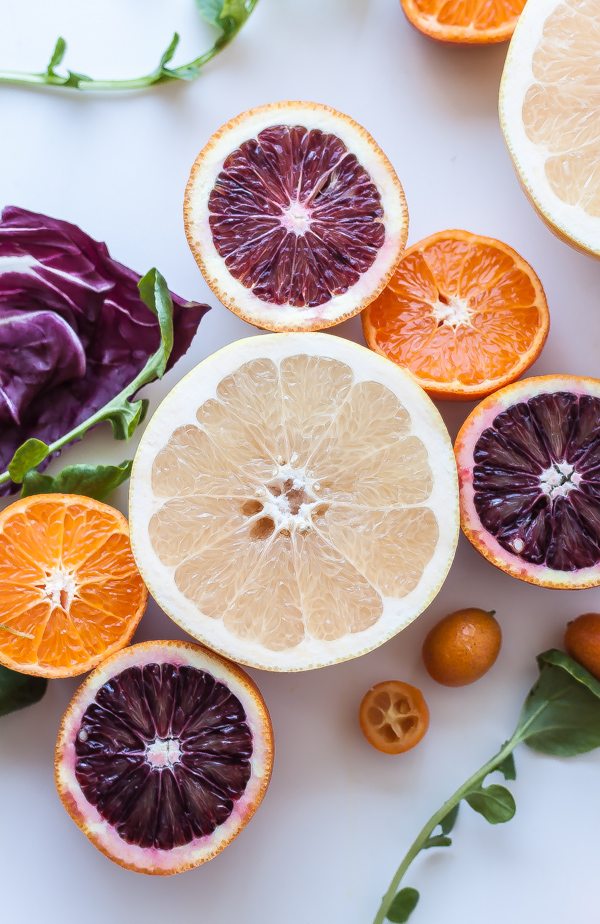 I'm the weirdo at the grocery store picking up each fruit and neurotically testing the thickness of the peel.  I take citrus really seriously.  Plus, is there anything prettier than a blood orange?  No.  Nope.  Definitely not.  Kumquats aren't shabby either.
Even though this salad is definitely a winter salad, it's bright, peppy, and vibrant enough to make you feel like spring and summer is just around the corner.  Eating is believing?
This recipe is from one of my favorite, old-but-well-loved (hence the throwback post) cookbooks, Fields of Greens, by Annie Somerville (based on recipes from San Francisco's Greens Restaurant).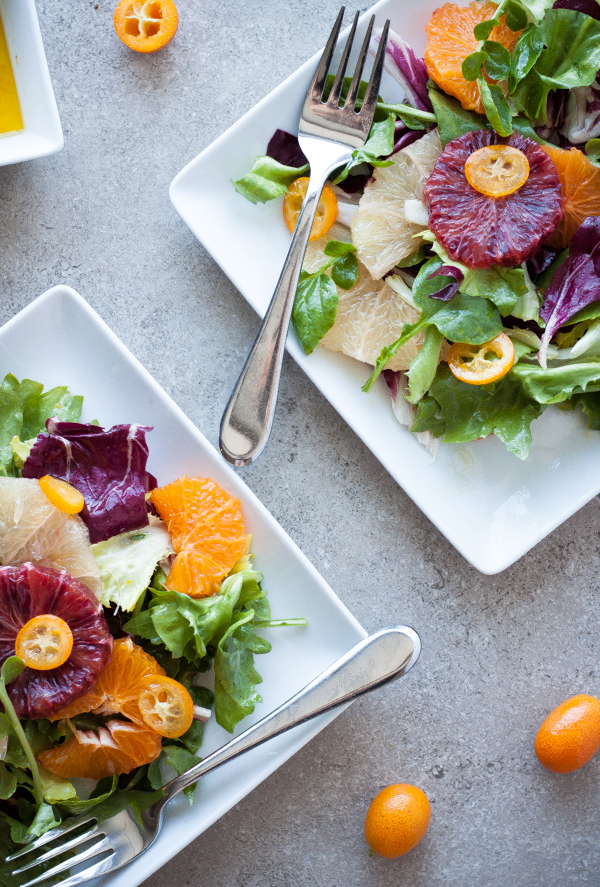 And let me tell you, this lady knows her salads.  I know there are some people who might think, "Umm…it's a salad, how mind-blowing can it really be?"  Those people have never had excellent salads.
To this day, one of the best salads I've ever had in my life was from this restaurant.  It was a wilted spinach salad tossed with hot olive oil–and I ate it almost ten years ago and still remember it to this day.  From someone who has a horrible, embarrassingly bad memory, that is saying a lot.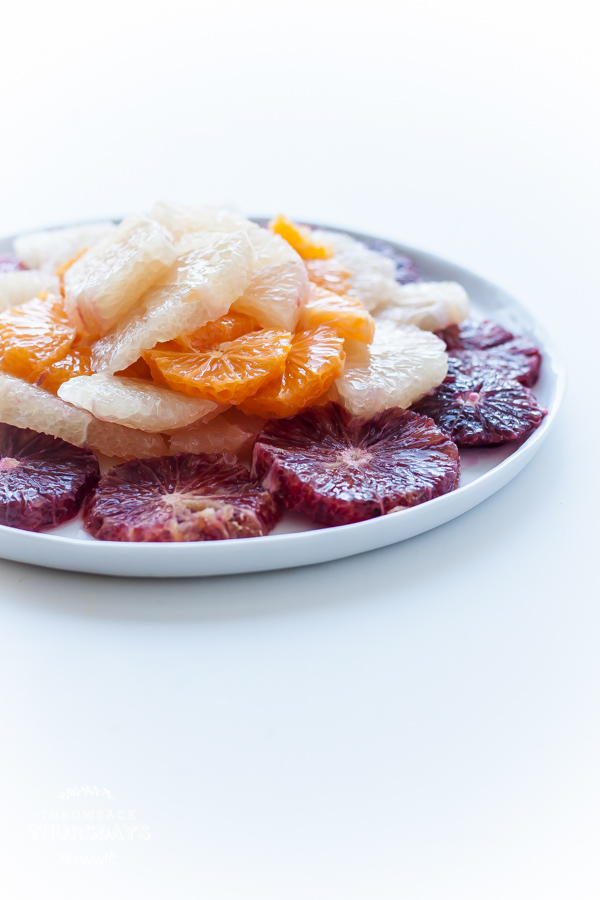 This citrus salad is not for the faint of heart.  It's…well for lack of better words, bitter.  You toss bitter greens (escarole, watercress, and raddichio are all bitter in varying degrees) with sour and bitter citrus slices.  And then you take it to the next level by adding sliced kumquats.  Kumquats are the very definition of bitter.  Eat one plain and your face will do that scrunched up thing.
The dressing, a simple mixture of fresh orange juice, zest, champagne vinegar, and light olive oil, and blood oranges and clementines add just a bit of sweetness to help balance the flavors.
Again, if you're not a fan of bitter foods, than this is probably not your kind of salad!  Then again, don't let that stop you from trying it.  You never know!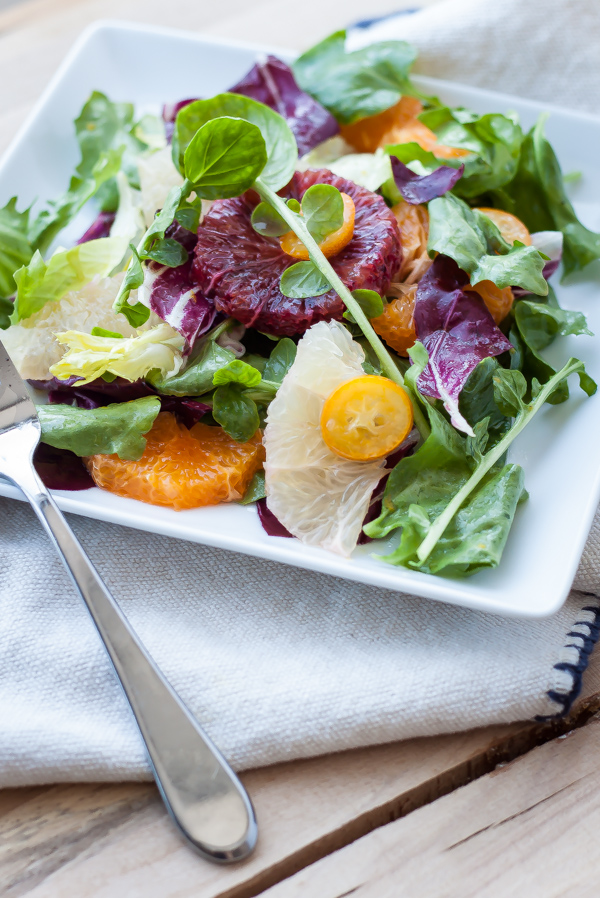 The thing I love the most about this salad is that it is incredibly light, healthy and refreshing–the dressing is delicate and simple–and the grapefruit, clementines, and blood oranges shine.  It is definitely feel good food at its very best.  If you can't find escarole (which can be a little tricky, depending on where you live), feel free to substitute with endive or frisee.
Back tomorrow with something…sugar-y.  Gotta keep things balanced around here!