Blueberry Almond Tea Cake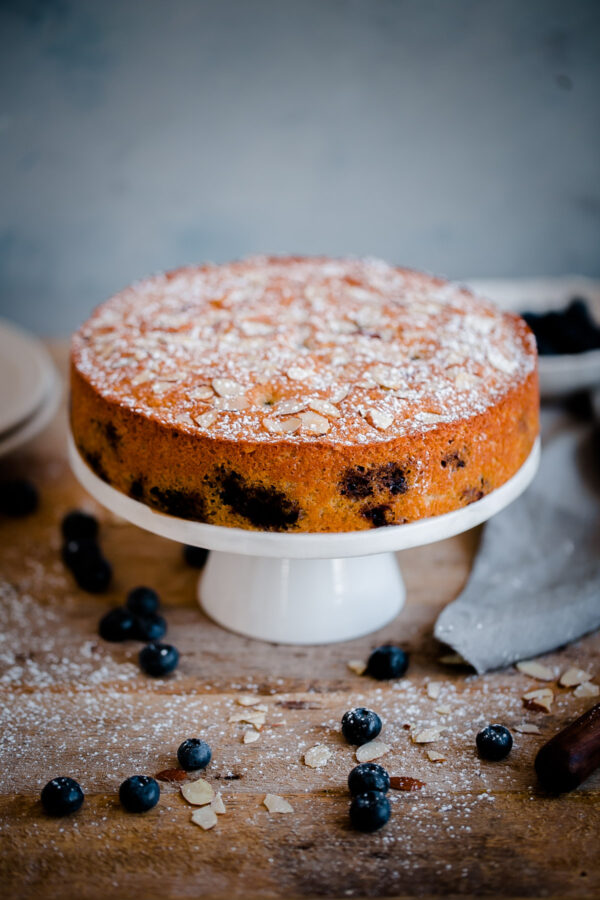 If last summer was all about the fresh tomatoes, this summer has been all about berries. Strawberries, raspberries, blackberries, blueberries – all of 'em. Today's blueberry almond tea cake is my latest creation and it's a good one!
If you can't tell, I'm basically throwing berries into everything. I've even gone as far as buying them in bulk (just the other day, I hauled over five pounds of fresh blueberries home from the market) to freeze them for the months ahead. There are only a few short months to stock up on the best ones, and I'm not letting the opportunity pass me by.
In doing so, I've also discovered that freshly frozen blueberries make the best snack, particularly when paired with a heavy dose of Olympic watching. A slice of tea cake doesn't hurt either. The more you know…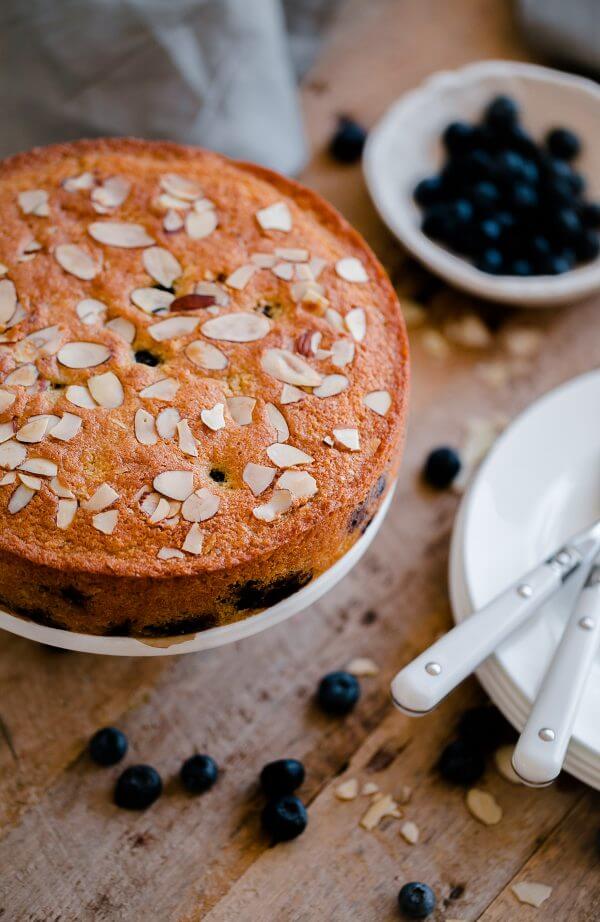 As much as this blueberry almond tea cake is for berry lovers, it is a true almond lover's dream. The almond flavor comes through strongly with each bite, and is the true champion of this simple one layer cake.
There is no skimping of almonds in this cake! Almond meal, sliced almonds, pure almond extract – this cake has got all of it in there. The almond meal makes for a moist, tender crumb, the sliced almonds add texture, and the almond extract helps pull everything together.
The blueberries are the supporting act, if you will. You could certainly substitute the fresh blueberries with frozen blueberries during the winter months. Frozen raspberries would be another great option!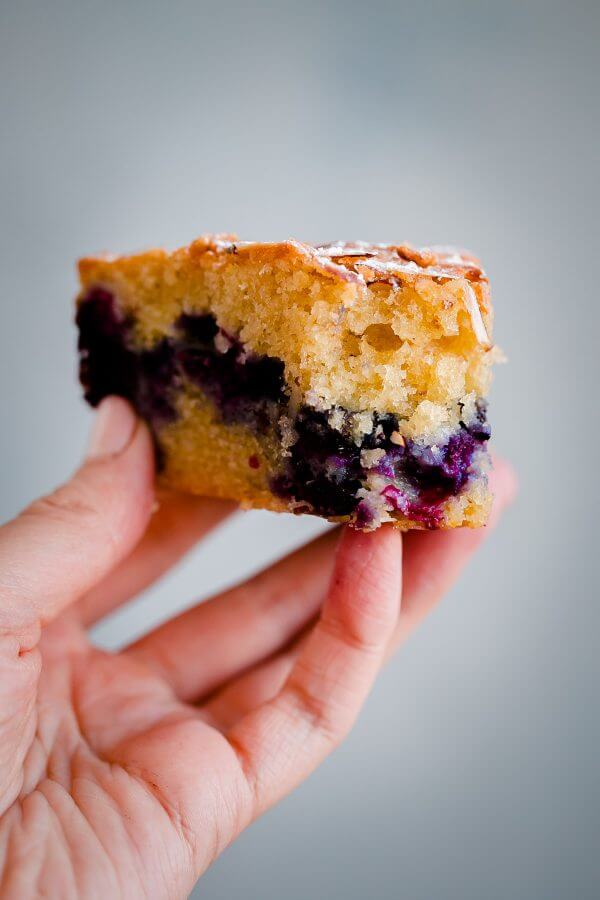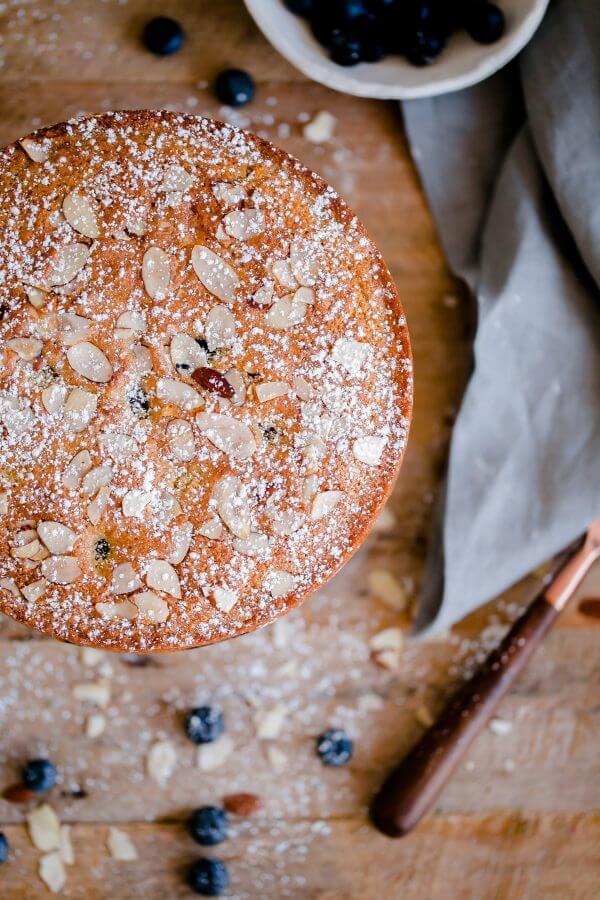 Perhaps the best part about this blueberry almond tea cake is just how simple it is to prepare and bake. Tea cakes are one of my favorite baked goods, because they are all about simplicity.
One layer, easy preparation, and simple garnishes. On that note, you will need a standard 8-inch cake pan (2-inches deep to be safe) to make this cake. I've acquired several good-quality cake pans over the years, and they are worth the investment!
The batter for this cake comes together very quickly and easily. The batter is thicker than most standard cake batters – think crumb cake batter consistency – so you will need to reserve about an hour for baking. If you're dusting the cake with confectioner's sugar, be sure to allow it to cool completely. Otherwise, this cake tastes fabulous slightly warm from the oven!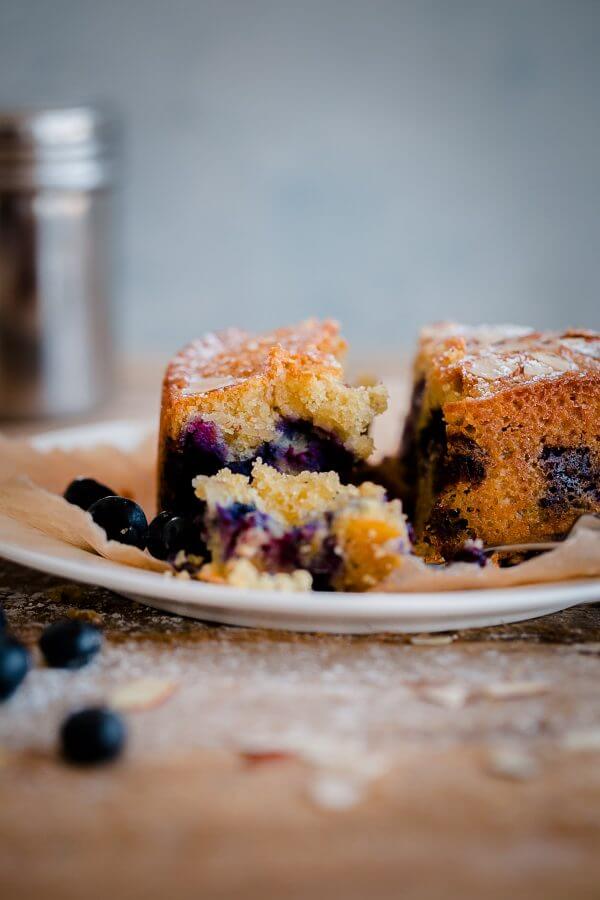 Oh, oh, oh! And this cake is made with 100% whole grain flour. You'll be using equal proportions of almond meal (I use my favorite Bob's Red Mill brand and swear by it!) and whole wheat pastry flour.
I can't exactly call this cake health food since it calls for a stick and a half of butter, but this certainly makes me feel a little bit better about that second slice.
And yes, you'll most definitely be going back for that second slice.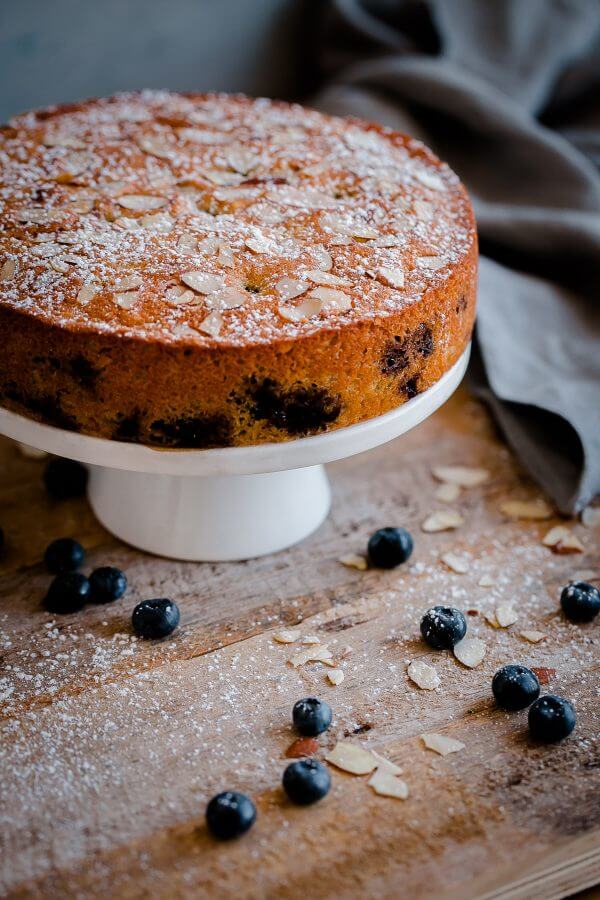 Accompanying cup of tea optional, but recommended.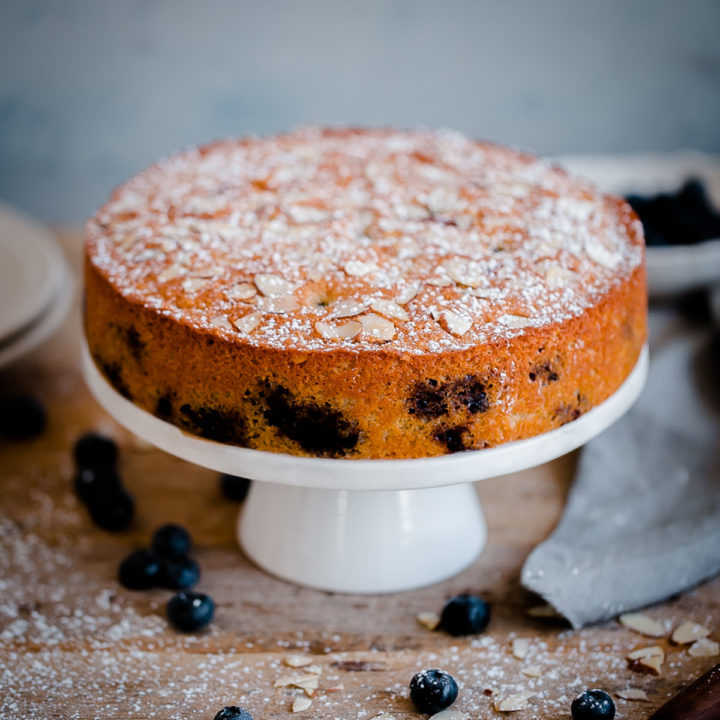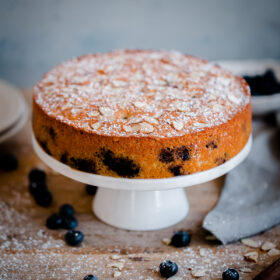 Blueberry Almond Tea Cake
As much as this blueberry almond tea cake is for berry lovers, it is a true almond lover's dream. The almond flavor comes through strongly in each bite. The batter for this one layer cake comes together quickly.Garnished with a light dusting of powdered sugar, this simple celebration cake tastes fabulous slightly warm from the oven!
Ingredients
¾ cup (100g) whole wheat pastry flour or unbleached all-purpose flour
¾ cup (75g) almond meal/flour
1¼ teaspoons baking powder
½ teaspoon kosher salt
¾ cup (50g) sliced almonds
¾ cup (150g) granulated sugar
zest of 1 lemon
¾ cup (6 oz; 170g) unsalted butter softened
½ teaspoon pure almond extract
½ teaspoon pure vanilla extract
3 large eggs, lightly whisked room temperature
2 tablespoons (30 mL) whole or low-fat milk
1½ cups (8 oz) fresh blueberries
powdered sugar (optional) for decorating
Instructions
Preheat the oven to 325°F (160°C) with a rack in the center position. Generously grease an 8-inch cake pan (at least 2-inches deep) with baking spray or butter and line the bottom with a round of parchment paper (here's an easy tutorial!), grease again, and set aside.

In a medium bowl, whisk together the whole wheat pastry flour, almond meal, baking powder, and salt. Reserve and set aside roughly one tablespoon of sliced almonds. Break the remaining almonds with your hands and stir them into the flour mixture.

In a stand mixer bowl, combine the sugar and lemon zest. Using your fingertips, rub the lemon zest into the granulated sugar until fragrant and moist. Add the softened butter, almond extract, and vanilla extract. Using the paddle attachment, cream the butter and sugar mixture over medium-high speed until light and fluffy, about 3 to 4 minutes. Scrape down the bowl halfway through to ensure all of the ingredients are incorporated evenly. Reduce the speed to medium and slowly add the eggs. Beat until incorporated (it may look slightly broken). Over low speed, slowly add the flour mixture in two additions, alternating with the milk. The batter will be relatively thick.

Reserve a small handful (8 to 10 blueberries) of blueberries for later. Using a large spatula, gently fold the remaining blueberries into the cake batter. Transfer the batter into the greased cake pan, and smooth the top with a small offset spatula. Distribute the remaining blueberries on top, gently pressing them into the batter. Top with the remaining sliced almonds.

Bake for 55 minutes to 60 minutes, or until a toothpick inserted in center comes out clean. Allow the cake to cool in the pan on a wire rack for 10 to 15 minutes. Using a knife, run along the sides of the cake pan to release the sides of the cake and carefully invert onto a wire rack. Flip and allow the cake to cool right-side up.

Serve slightly warm or at room temperature, dusted lightly with confectioner's sugar as desired.
Notes: Any leftover cake can be wrapped well in plastic wrap and kept at room temperature for 2 to 3 days.
Serving: 1serving, Calories: 424kcal, Carbohydrates: 59g, Protein: 11g, Fat: 18g, Saturated Fat: 5g, Polyunsaturated Fat: 11g, Cholesterol: 72mg, Sodium: 223mg, Fiber: 5g, Sugar: 30g
This post contains affiliate links, which means that I make a small commission off items you purchase at no additional cost to you. Please read my
privacy policy
for more information.