Creamy Leek and Pancetta Pappardelle for Two
This creamy leek and pancetta pappardelle for two is incredibly easy to prepare. Perfect for a weeknight dinner or special occasion!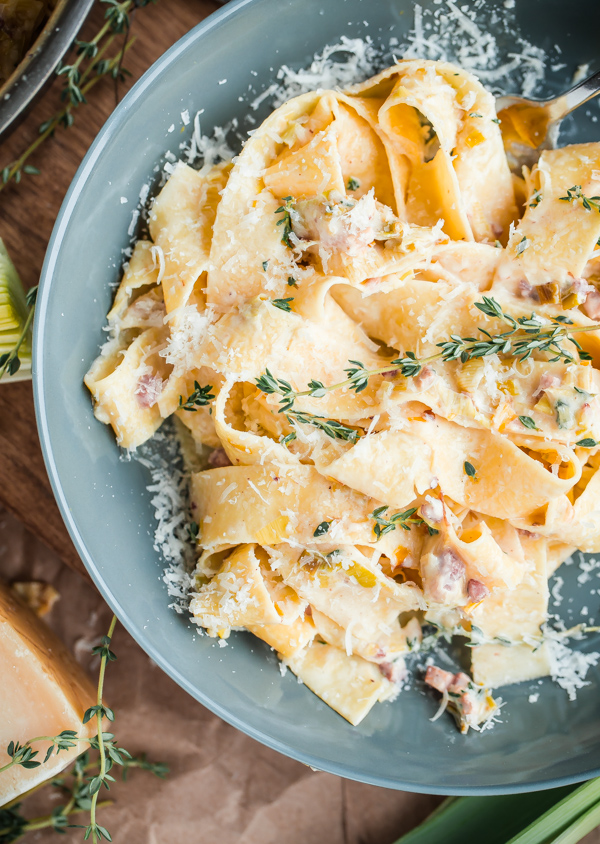 I kind of feel like curling up in this bowl of creamy pappardelle and taking a nap. A wonderfully long nap filled with heavy cream, crispy pancetta, caramelized leeks, and a fluffy pile of parmigiano-reggiano for a pillow. Parmigiano-reggiano pillows! That should be a thing.
Here's the part where I'm supposed to tell you that this recipe would be perfect for your upcoming *cough* Valentine's Day *cough* dinner. It really would be. It's pretty dreamy. For that reason, I scaled the recipe down for two!
Don't worry though! This recipe makes two (very) generous servings. Stingy pasta servings are not allowed around these parts.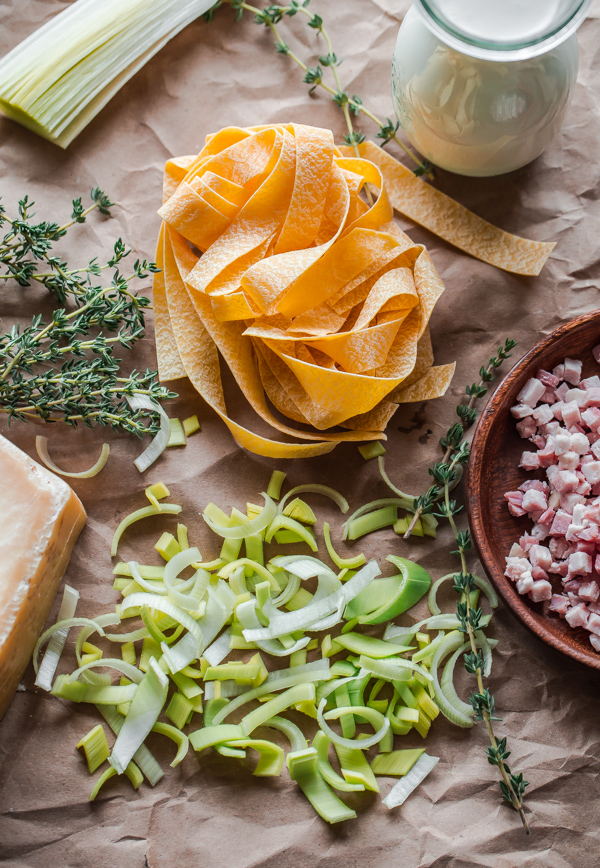 But umm….let's be real for a second. You may not want to share this pasta with anyone else.  Your significant other might not even be worthy of this pasta, and I would totally understand. Really, it's that good.
In fact, I challenge you to find someone who doesn't enjoy egg pappardelle pasta, particularly when tossed and coated with a cream-based sauce, such as this one. Pappardelle, cream, and pancetta. It doesn't get better.
I don't like to play favorites (especially when it comes to pasta!), but it might just be the most universally loved pasta of all time. Rich, perfectly twirlable, and delicious. My go-to brand is DeCecco, which sells  a wonderful extra wide egg pappardelle that holds its shape extremely well!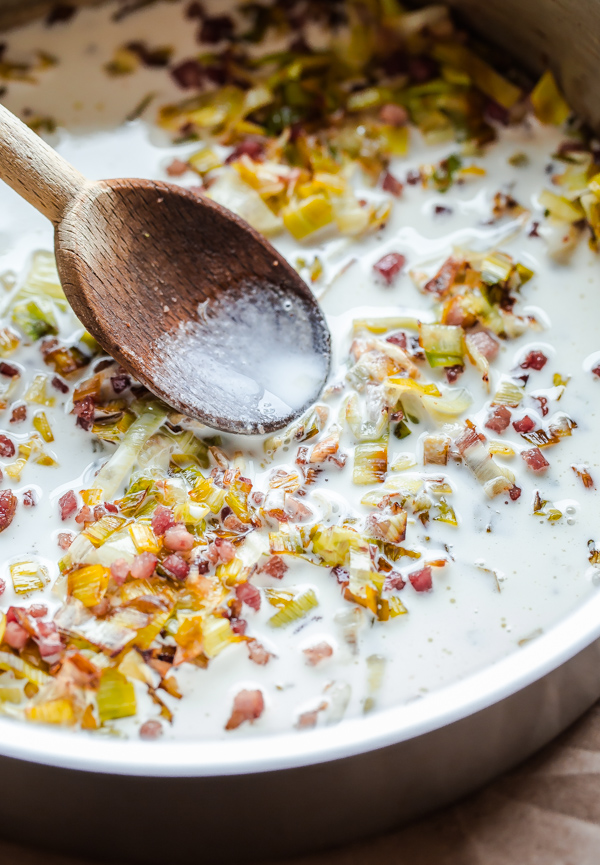 This pasta is totally elegant and impressive, yet could not be easier to throw together! I love when that happens. As is the case with most cream sauces, this dish takes very little time (30 minutes or less) to prepare.
The first step is to saute the pancetta and sliced leeks in olive oil and butter. I can't get enough leeks during this time of year! Be prepared for more leek appearances on the blog. They blow regular onions out of the water, and while they can be a little pricey depending on your store (Trader Joe's sells them for a good price!), they are totally worth the extra indulgence.
You can save the stalks and scraps for homemade stock too!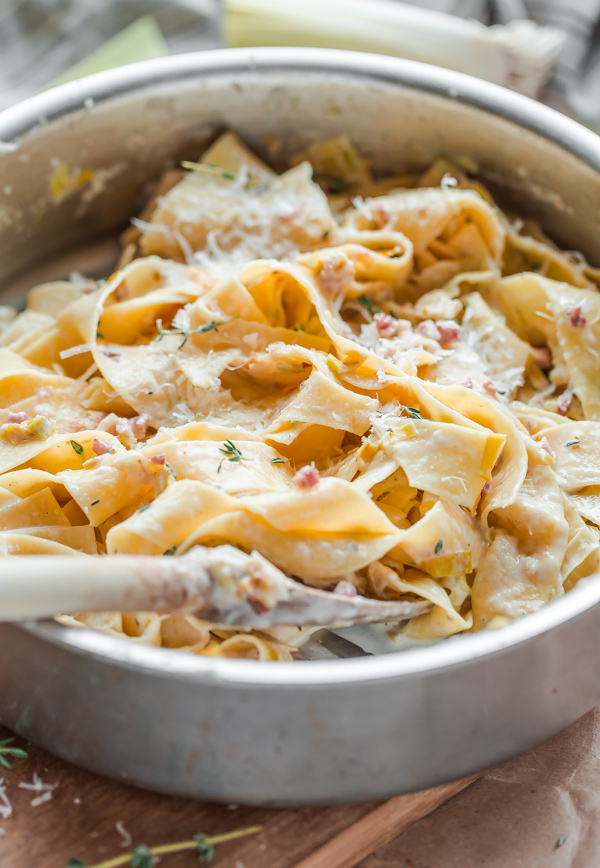 The next step is to add the heavy cream, thyme, and a touch of water to help thin everything out. Special occasions call for heavy cream. Just do it. No guilt allowed.
While you're doing all of this, cook the pappardelle just until it is al dente, add it directly to the cream sauce, and finish it off with a heavy hand of freshly grated parmigiano-reggiano (or grano padano) cheese.
Pat yourself on the back, grab a fork, enjoy the compliments, and dive in!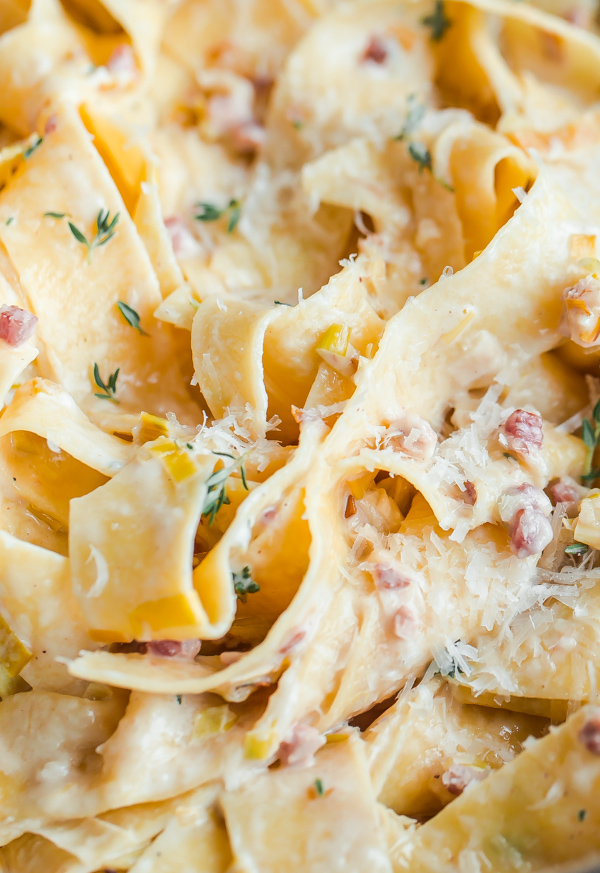 Seriously though,  don't you just want to DIVE in?!
This post contains an Amazon affiliate link! Thank you for your support!