Creamy Leek and Pancetta Pappardelle Pasta
This creamy leek and pancetta pappardelle pasta (for two) is incredibly easy to prepare. Perfect for a weeknight dinner or special occasion!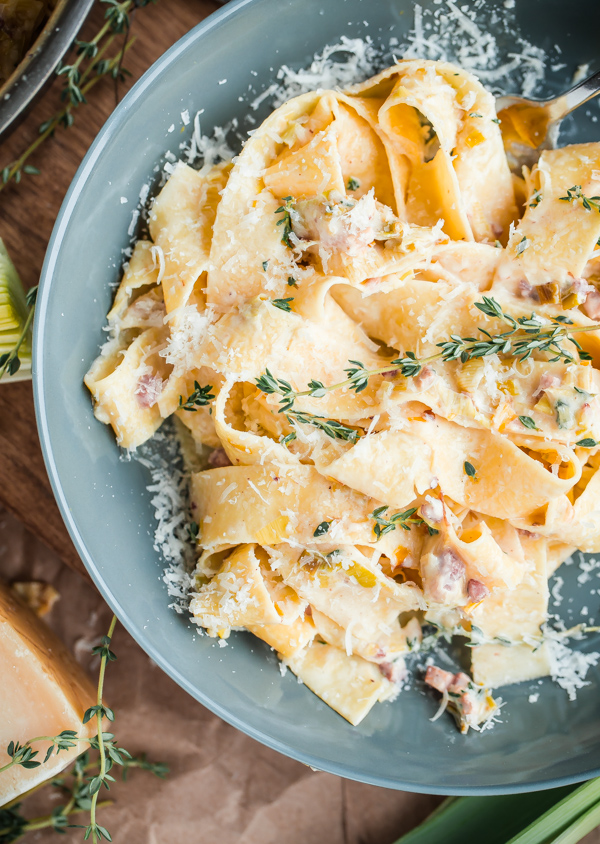 I feel like curling up in this bowl of creamy Leek and Pancetta Pappardelle and taking a nap. A wonderfully long nap filled with heavy cream, crispy pancetta, caramelized leeks, and a fluffy pile of parmigiano-reggiano cheese.
Here's the part where I tell you that this recipe is perfect for Valentine's Day dinner. I've even scaled the recipe down to yield two (very) generous servings. pasta is indulgent, rich, and creamy.
If you don't eat pork or are looking for a vegetarian option, this Creamy Mushroom Pasta is a great choice. And if you're looking for hearty, cream-free pasta sauces, Marcella Mazan Bolognese or Pasta Amatriciana are fantastic options.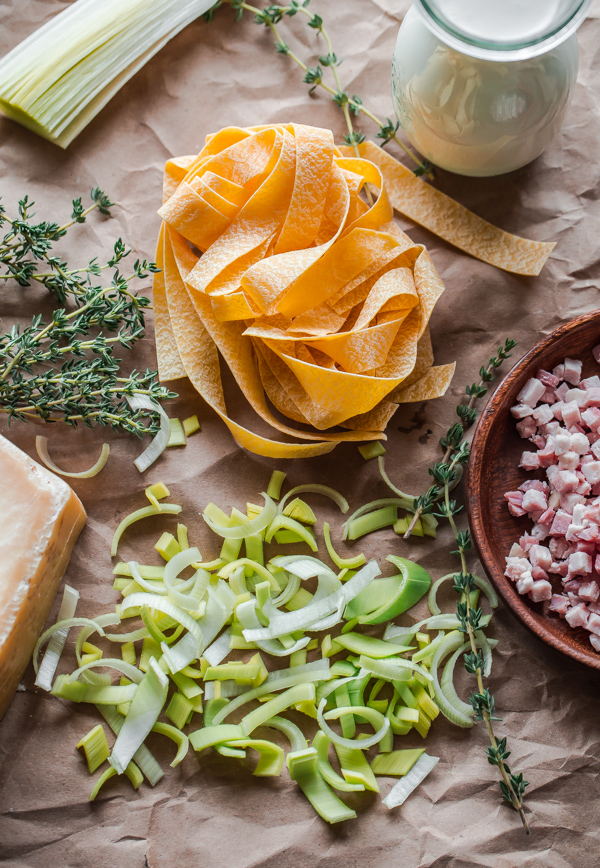 But let's be real for a second. You may not want to share this pasta with anyone else. Really, it's that good.
I challenge you to find someone who doesn't enjoy egg pappardelle pasta, especially when it is tossed with a creamy leek and pancetta sauce. It doesn't get much better than this.
For maximum ease, you can use store-bought dried egg pappardelle pasta. My favorite brand is DeCecco, which sells a wonderful extra wide egg pappardelle that holds its shape extremely well.
If you're feeling ambitious, you can also use homemade pappardelle pasta for this recipe.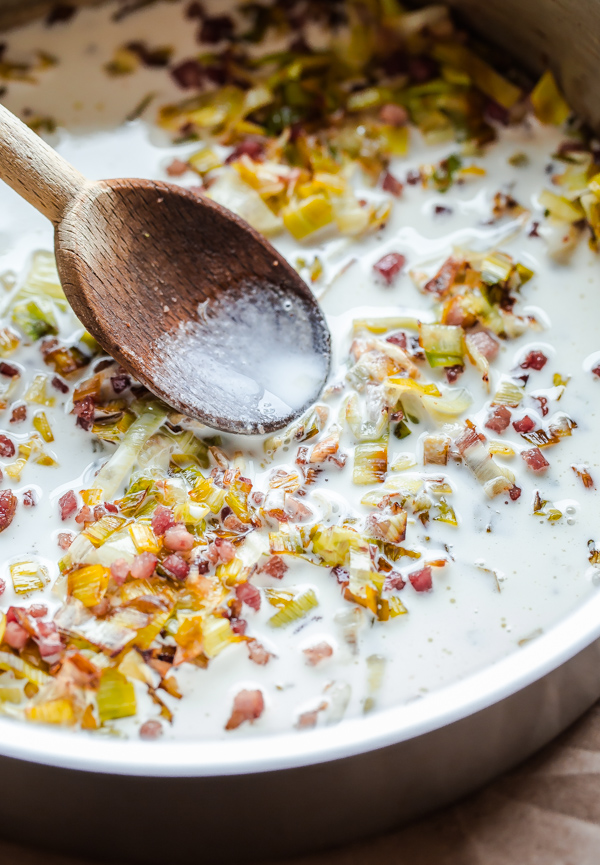 This pappardelle pasta is elegant and impressive, yet could not be easier to throw together. As is the case with most cream sauces, this dish takes very little time (30 minutes or less) to prepare.
The first step is to sauté the pancetta and sliced leeks in olive oil and butter. Leeks are more delicate and nuanced in flavor than regular yellow onions and while they can be more expensive, they are worth the spurge.
Save the tough green stalks and use them in homemade chicken stock.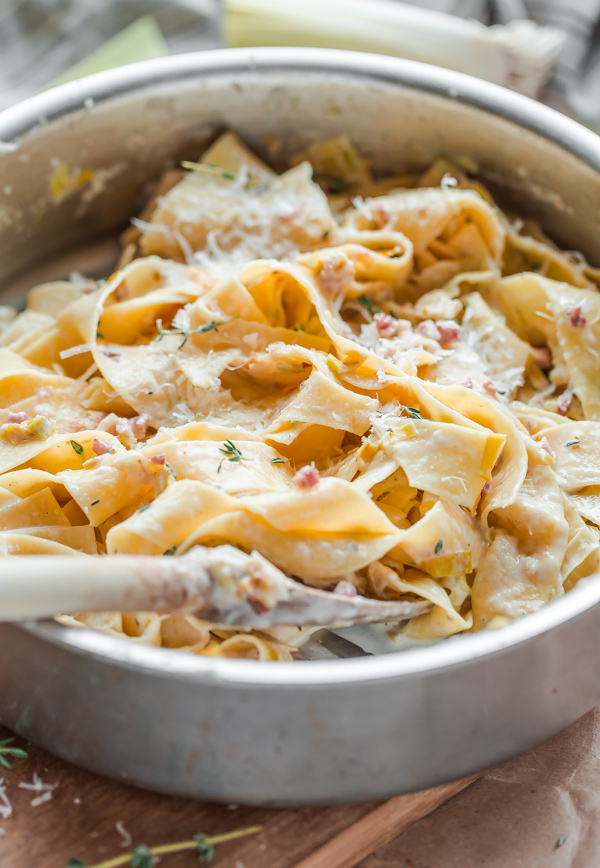 The next step is to add the heavy cream, thyme, and a touch of water to help thin everything out. Special occasions call for heavy cream. No guilt allowed.
Meanwhile, cook the pappardelle in salted boiling water until just shy of al dente, add directly to the cream sauce, and finish the dish off with a heavy hand of freshly grated parmigiano-reggiano cheese.
Pat yourself on the back, grab a fork, enjoy the compliments, and dive in!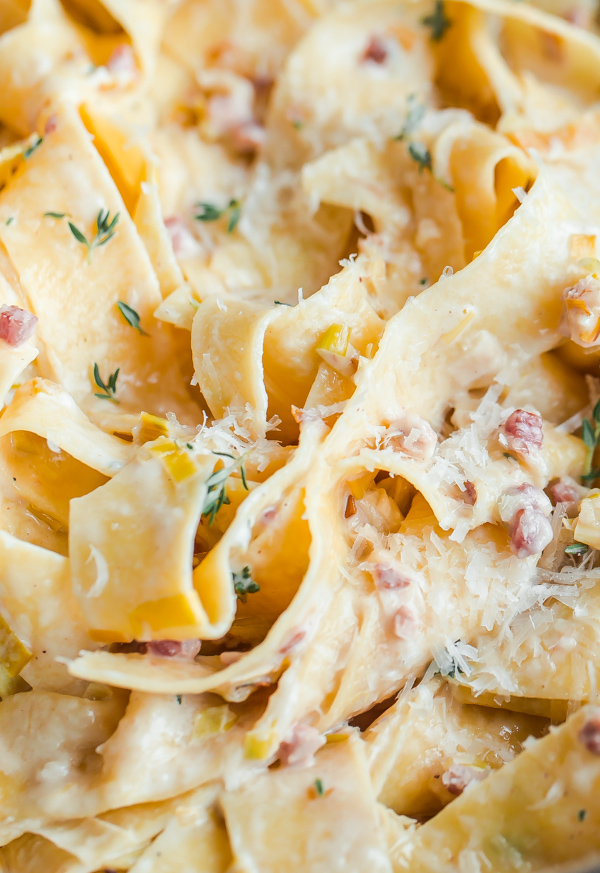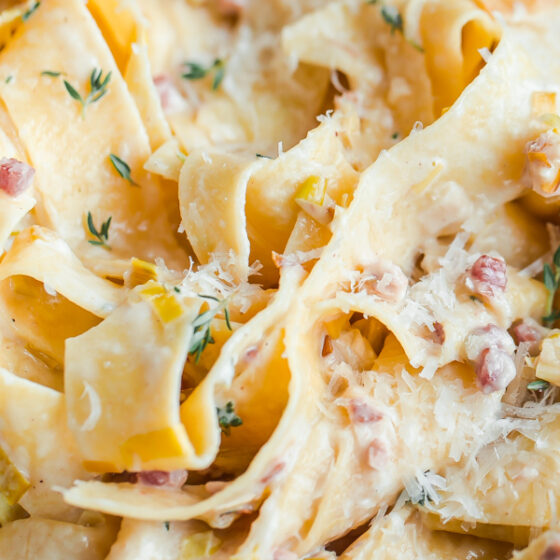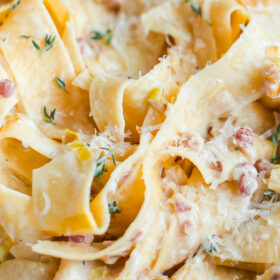 Creamy Leek and Pancetta Pappardelle Pasta
This creamy leek and pancetta pappardelle pasta is elegant and impressive, yet could not be easier to throw together! The stars of this pasta recipe are the crispy pancetta pieces, sautéed leeks, fresh thyme, and parmigiana reggiano cheese. An indulgent and comforting recipe for all occasions!
Ingredients
1 tablespoon extra virgin olive oil
1 tablespoon (15 g) unsalted butter
2 ounces pancetta finely diced
1 large leek, white and light green parts only halved lengthwise and thinly sliced crosswise (roughly 5 oz)
½ cup (120 mL) heavy cream
2 teaspoons chopped fresh thyme leaves
freshly ground black pepper
6 ounces dried egg pappardelle pasta
1½ ounces finely grated parmigiano-reggiano cheese
Instructions
Heat the olive oil in a large (preferably, straight-sided) sauté pan over medium-high heat. Add the pancetta and cook until golden brown and crispy, 4 to 5 minutes, stirring frequently. Reduce heat if necessary.

Add the unsalted butter to the pan and add the sliced leeks. Sauté the leeks for 6 to 8 minutes over medium-high heat until they are lightly caramelized and soft. Add the heavy cream, chopped thyme, and ¼ cup of water to the pan, and stir ingredients together. Bring to a simmer and reduce the cream mixture for 2 to 3 minutes, or until thick enough to coat the back of a wooden spoon. Season to taste with salt and freshly ground black pepper.

Cook the pappardelle in a large pot of boiling salted water, stirring every few minutes, until al dente. Reserve ½ cup of pasta cooking water. Using tongs, transfer the pasta directly from the pot to the pan with the cream sauce. Don't worry if you transfer some pasta water along with it, as this will help thin the sauce and help it coat the pasta.

Turn off the heat. Stir the pasta gently in the sauce until it is evenly coated, add the grated cheese, and add pasta liquid as necessary. Serve immediately and garnish with fresh thyme leaves and grated cheese.
Serving: 1serving, Calories: 558kcal, Carbohydrates: 19g, Protein: 19g, Fat: 46g, Saturated Fat: 22g, Polyunsaturated Fat: 21g, Trans Fat: 1g, Cholesterol: 316mg, Sodium: 615mg, Sugar: 2g
This post contains affiliate links, which means that I make a small commission off items you purchase at no additional cost to you. Please read my
privacy policy
for more information.