Homemade Pappardelle Pasta (two ways!)
Homemade Pappardelle Pasta. A simple traditional egg pasta dough made with all-purpose flour, semolina, and eggs! Made traditionally or naturally colored (pink!) with beet puree.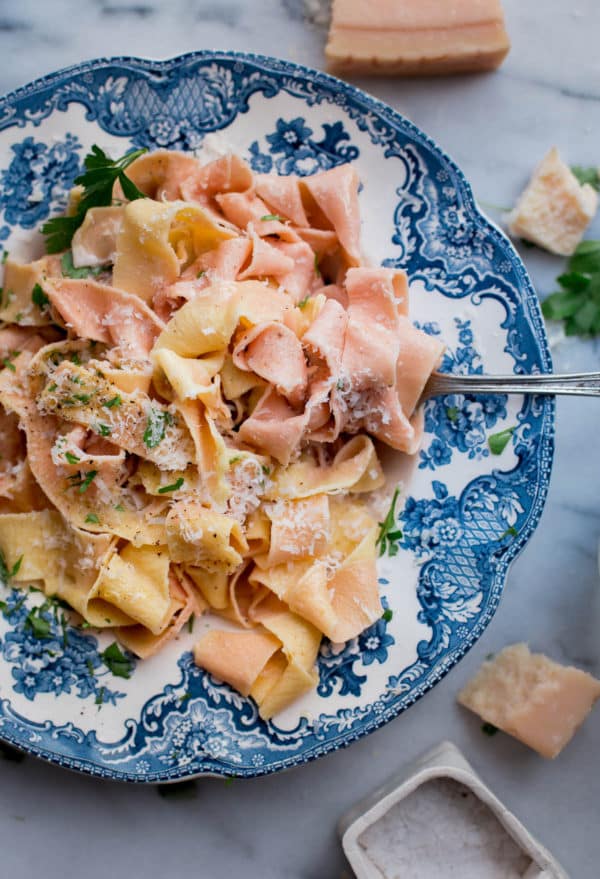 Pasta is my love language. 
I can't remember the first time my mom made me pasta (probably the ripe age of six months or somewhere around there), but it was love at first sight. Unequivocal, unconditional love. The kind of love that made me swear off practically every other food group for years. Let's all take a moment and pretend that we have a giant vat of this in front of our faces right now. Aaah.
This homemade pappardelle pasta speaks to me. It is so dreamy and wonderful. Oh, oh! And it is pink. Or at least, it can be pink if you wish to make homemade colored pasta. The best kind of pastelle pink. I took Valentine's Day very seriously this year. It also happened to be a fabulous excuse to break out the pasta machine and get cranking. I can't think of a better way to celebrate a special occasion than with a giant bowl of homemade pasta. It is one of life's greatest pleasures and I mean that with all of my pasta-loving heart.
Ok, so here's the deal. Four years ago, I shared a recipe for homemade 'red' pasta and well…it was in dire need of a face-lift. This pasta dough is different in a few ways: we're using a different base recipe, we're tinting the pasta dough with beet puree (*I have a beet problem), and we're going to cut it by hand into wide pappardelle strands. Homemade egg pappardelle is one of my all-time favorite pastas, particularly in the winter months and for special occasions, as its wide strands lends itself extremely well to richer cream or meat-based sauces.
Let's get started. [PS. If you don't feel like making your pasta from scratch, you can buy the dry packaged variety and make this leek and pancetta pappardelle. It just happens to be scaled down for two.]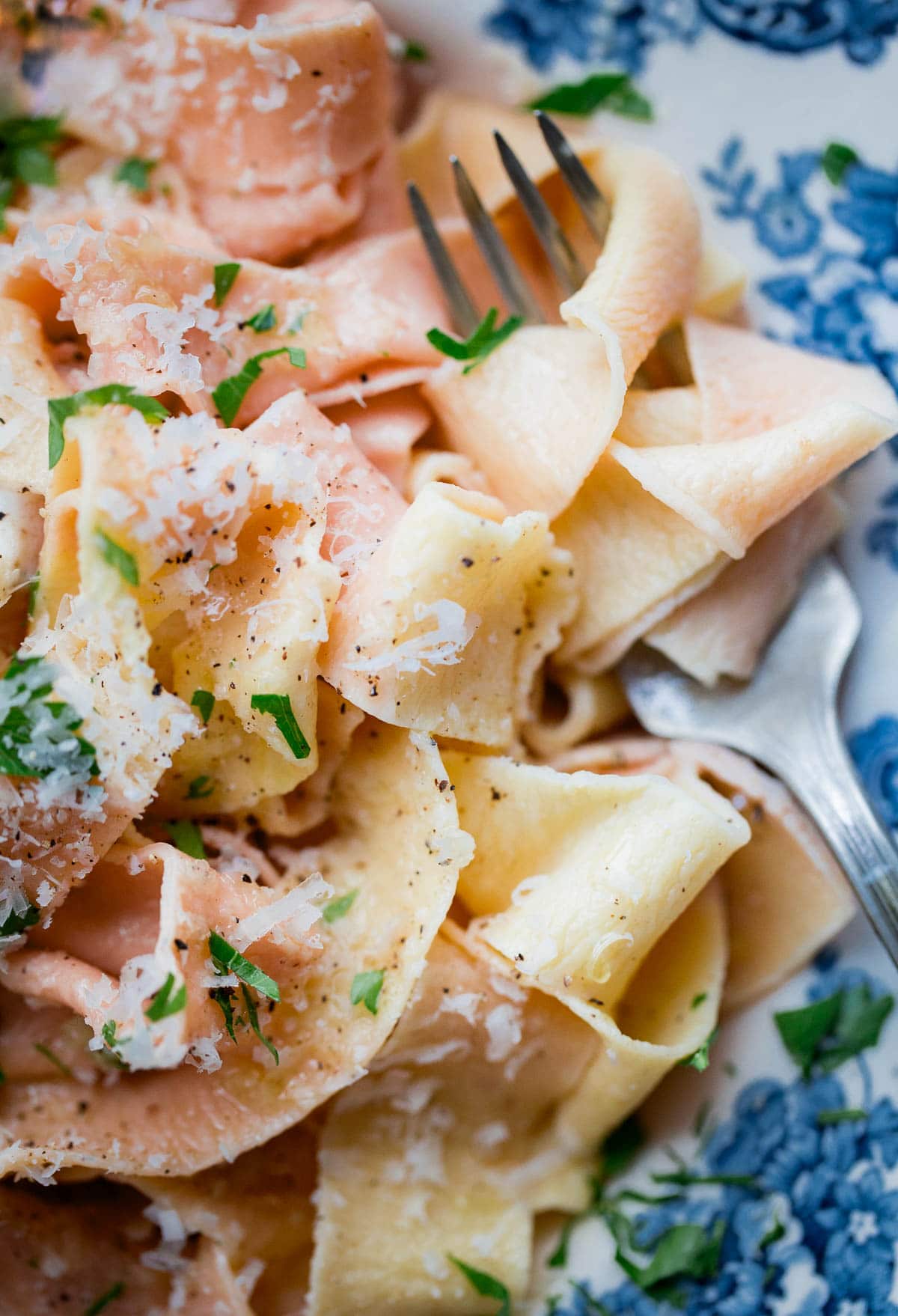 If you've never made homemade pasta before, you're going to feel like an Italian superhero after you make this. Promise. Technically, this pasta can be made without a pasta machine or roller. To do this, you'll need a rolling pin, a touch more enthusiasm, and a bit of arm muscle – but it is possible!
With that said, I used a pasta machine for this pasta. If you love pasta and own a KitchenAid stand mixer, I highly recommend this attachment. It frees up both of your hands and makes homemade pasta much more time-friendly and fun.
After making a lot of homemade pasta back in the day (both for fun, in culinary school, and at the restaurant where I worked), I've come to realize that I greatly prefer homemade pasta doughs made with a combination of all-purpose flour and semolina flour. Preferably, a 50/50 ratio of both.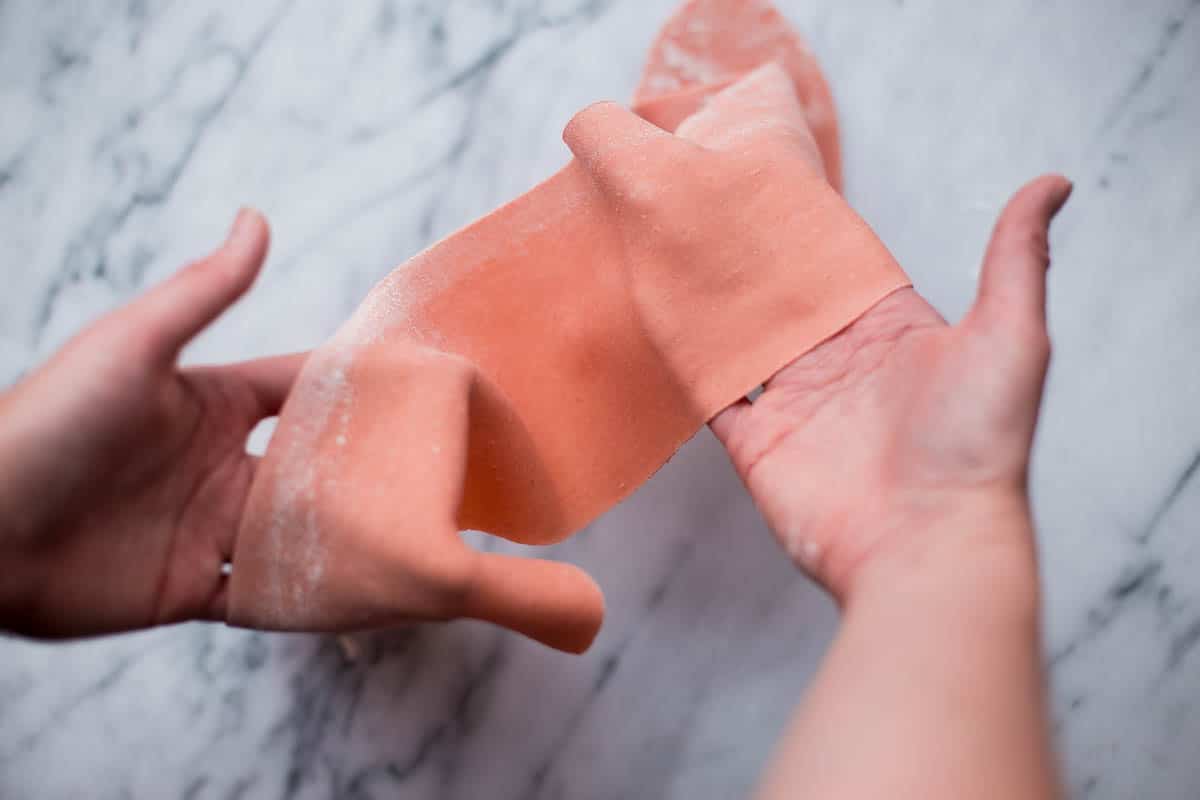 Semolina (durum wheat) is a coarse grain made exclusively from the endosperm of wheat kernels. It is lightly golden in color and contains a higher amount of gluten and protein than other standard flours. My partner Bob's Red Mill happens to sell a wonderful semolina flour if you can't find any. Due to its higher gluten properties, semolina provides pasta with great structure and that slight chew that we've all come to appreciate and love. I prefer the texture of semolina-blend homemade pastas over strictly all-purpose or type 00 flour based pastas, which tend to be almost too delicate in my opinion. It comes down to preference!
Gather your ingredients (eggs, semolina, all-purpose flour, salt – and beet puree, if you're in the mood for some color!). Keep a container of all-purpose flour close for easing grabbing. Here's what we're going to do: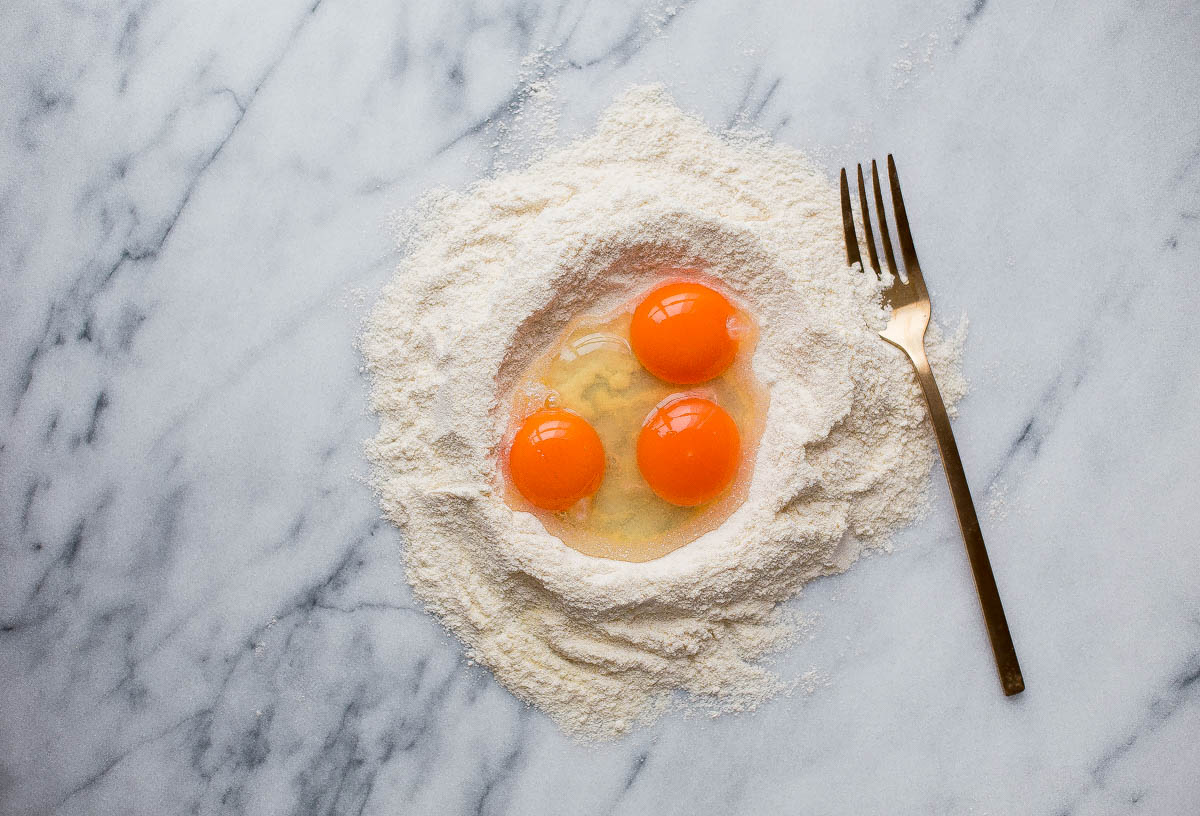 Whisk together the flour, semolina, and salt in a small bowl. Dump the flour mixture into a pile on your clean countertop (yep, we're going to make the dough by hand – it is much easier than dirtying up a machine, promise!).
Create a large well in the center of the dry ingredients and add the eggs (and beet puree, if using!). Using a fork, start to whisk the eggs.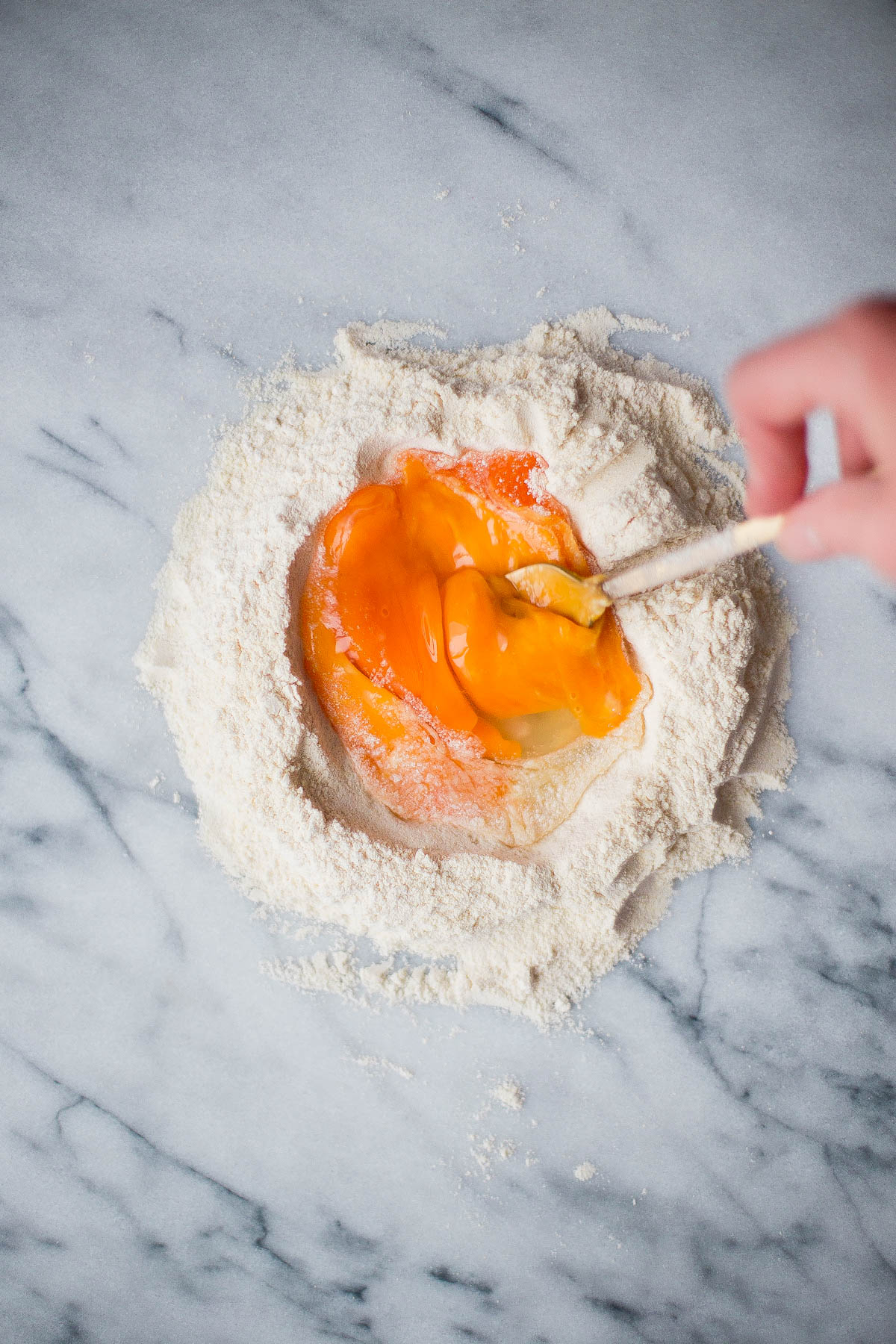 Keep whisking, slowly bringing the dry ingredients into the eggs, until the dough slowly begins to form. It will be very shaggy and wet. As you continue bring in more dry ingredients, it will get easier to handle. At this point, leave the fork behind and use your hands (and a bench scraper, if you have one!).
Gather the dough together and start to press it together. It will be fairly sticky and scraggly at this point.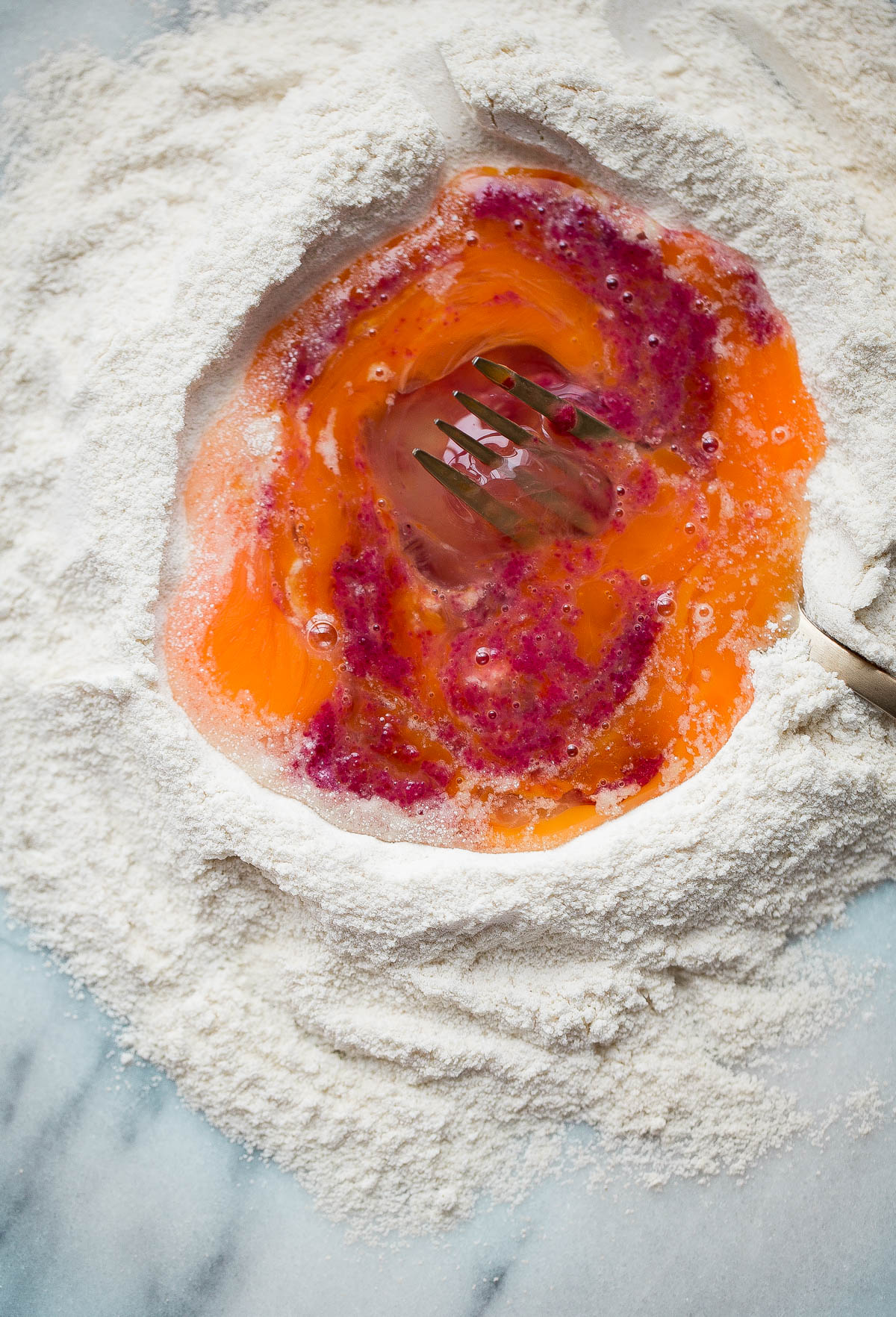 Knead the pasta dough – it will be firm and dense – for about 10 minutes. Set a timer. Dust the dough lightly with all-purpose flour if it is sticking to your countertop. You want it be slightly tacky, but not sticky. The dough will get smoother and more elastic as you continue to knead it.
Get your arm workout in for the day. Once kneaded, divide the dough into two portions and pat it into a thick disc. Wrap it in plastic wrap and allow it to rest at room temperature for at least 30 minutes (or up to one hour!). This allows the gluten to relax, making it easy to roll and shape, and allows the pasta dough to absorb the dry ingredients. Don't be tempted to skip this step.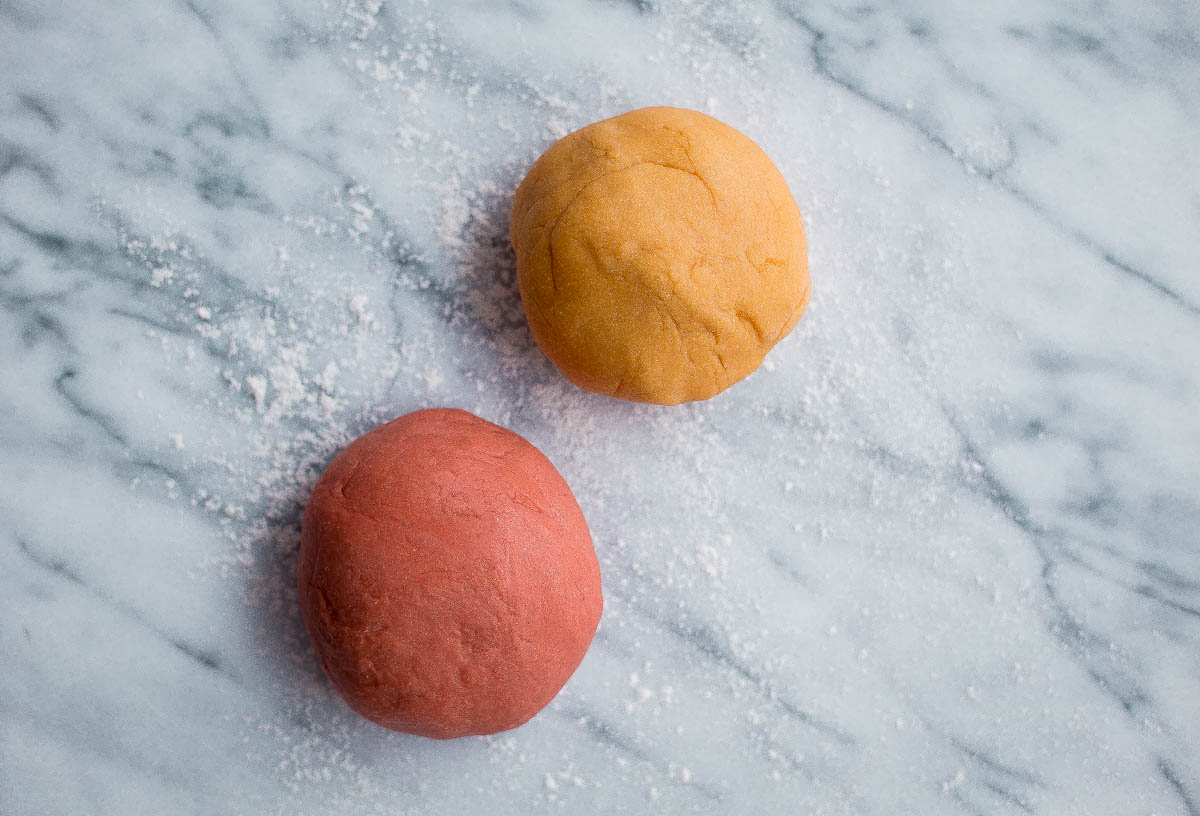 Set up your pasta machine and start rolling your dough! Turn on some great music and enjoy the process. Marvel at your skills. Homemade pappardelle is right around the corner.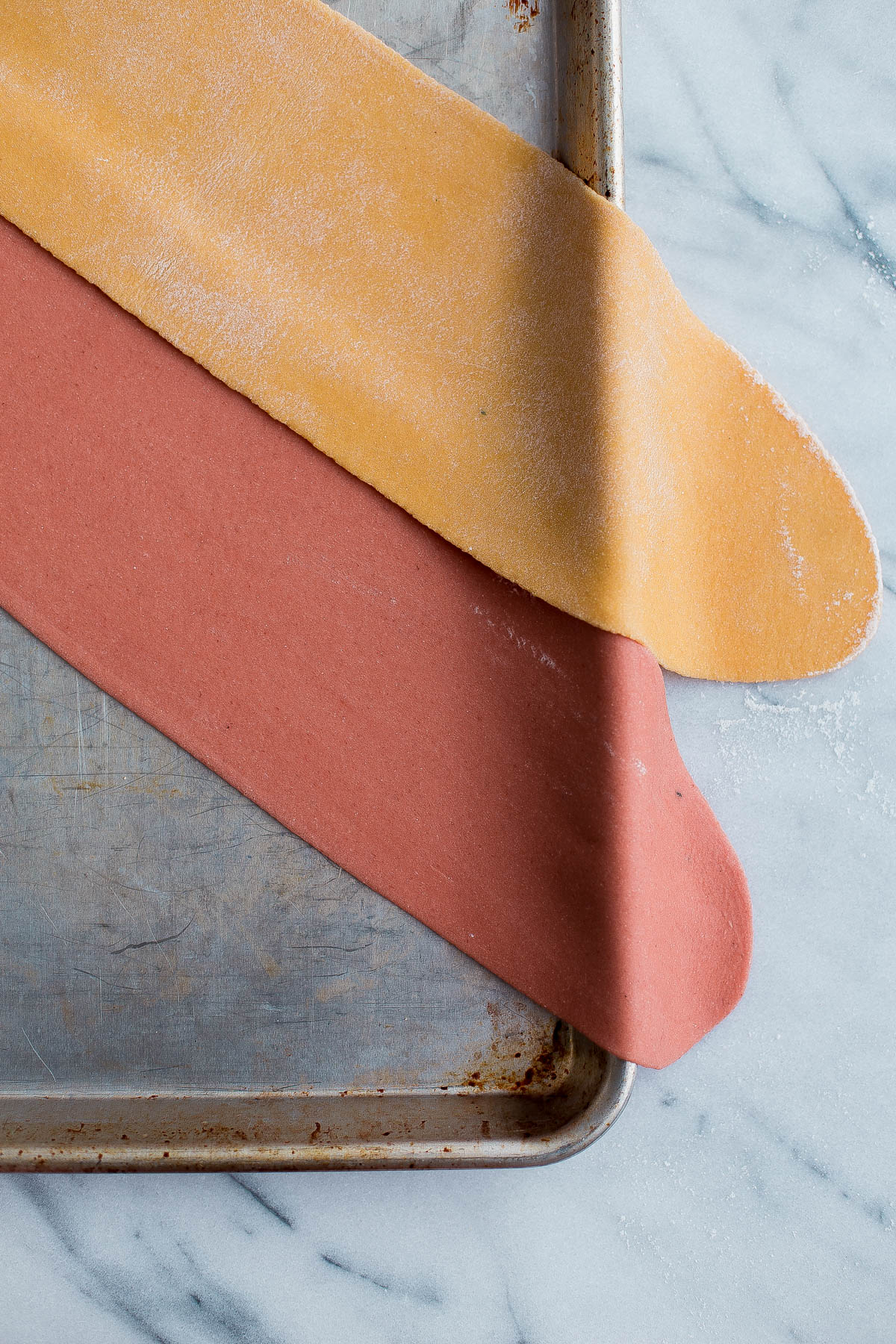 Continue rolling the dough until you reach setting '4' on your pasta machine. For pappardelle, I prefer a slightly thicker noodle. But this is up to you and your own preference!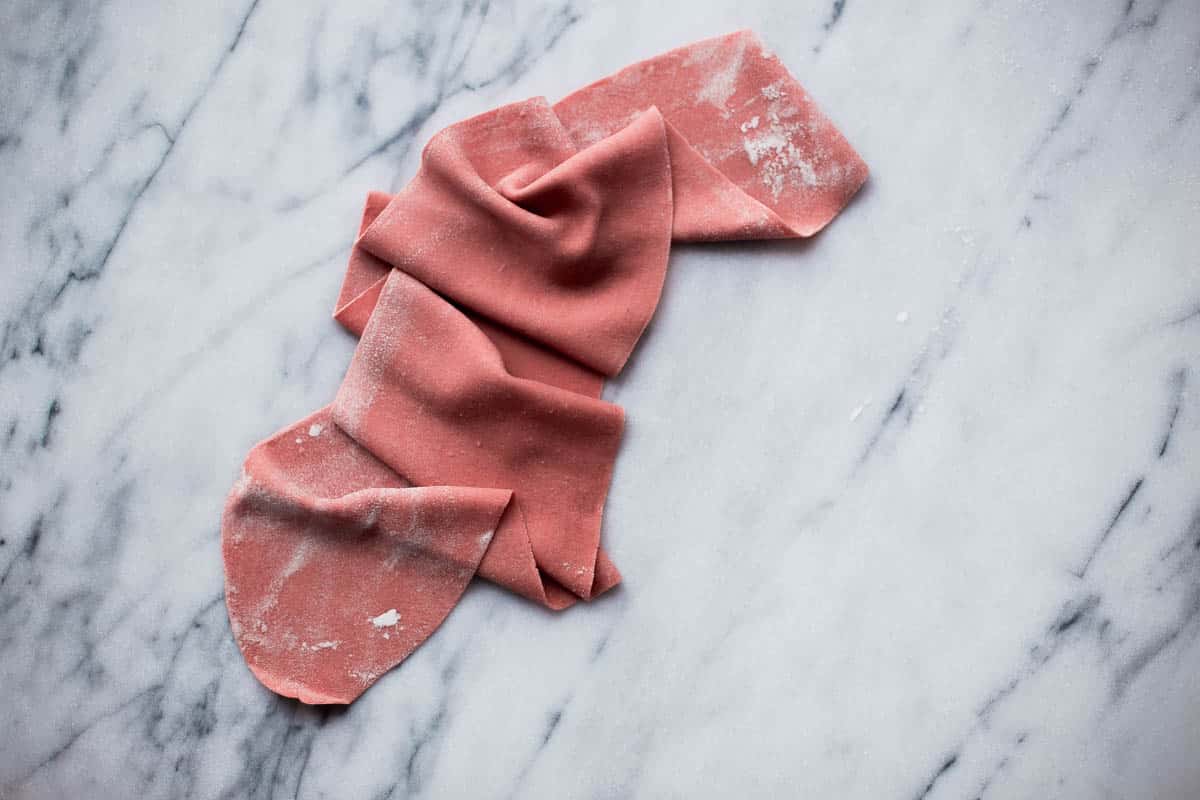 If you add even more beet puree than this recipe calls for, you can achieve a very dark, hot pink colored beet pasta. Similar to this! I chose not to do this, because I wanted more a muted pink color once cooked. You won't taste the beet. I loved the look of both the traditional yellow and pink pappardelle pasta paired together in one bowl.
Alternatively, you can skip the beet pasta altogether and just make a double batch of the traditional pasta. Once the dough is rolled, we're going to fold the long pasta strips like an envelope and cut them into 1/2-inch wide ribbons. Don't worry if they're not perfect.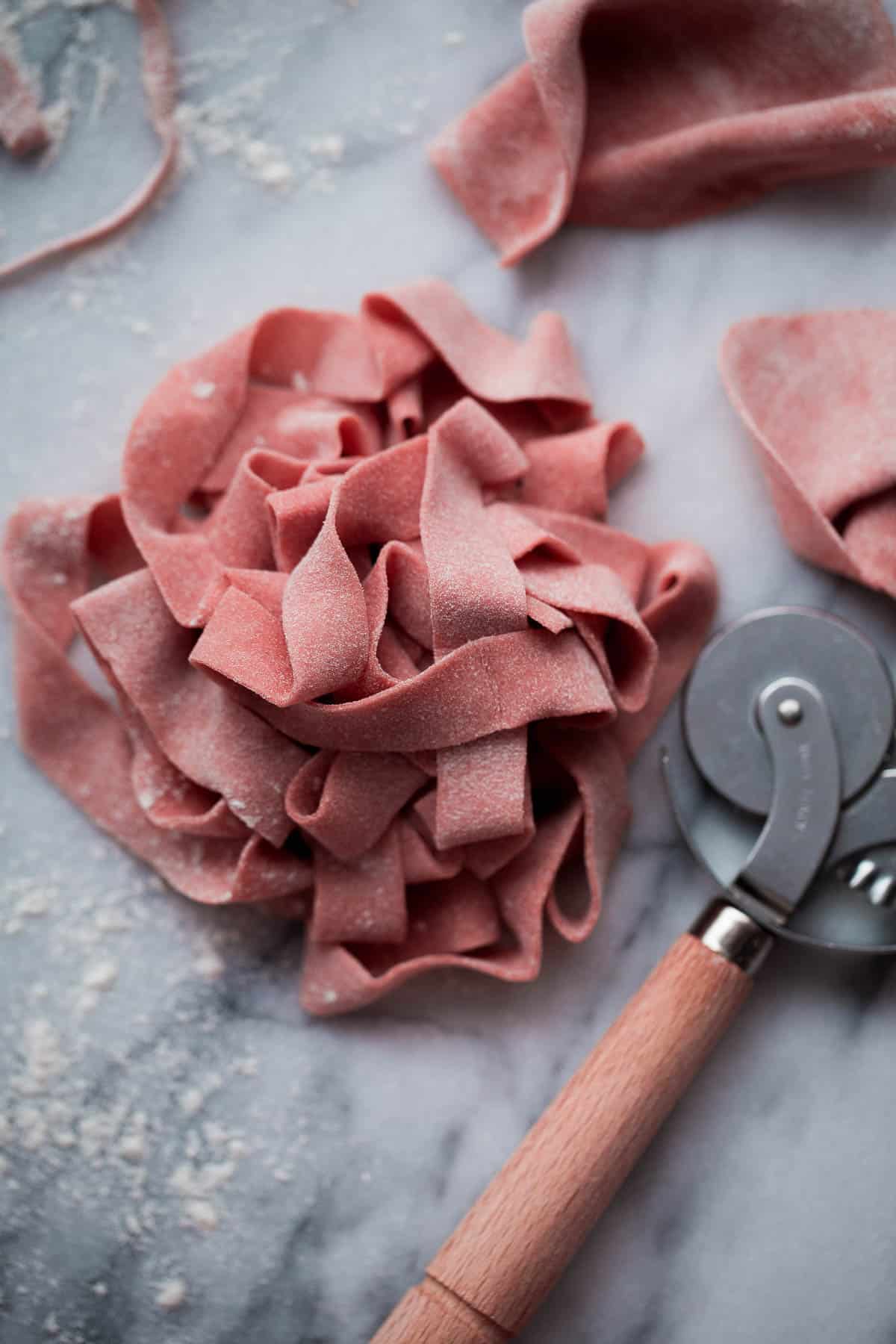 Once all of your pappardelle pasta is prepared, bring a lot pot of salted water to a boil. You want the pot to be big enough for the pasta noodles to have ample room to spread out and cook evenly (*the pasta will also expand as it cooks, so avoid using a small pot).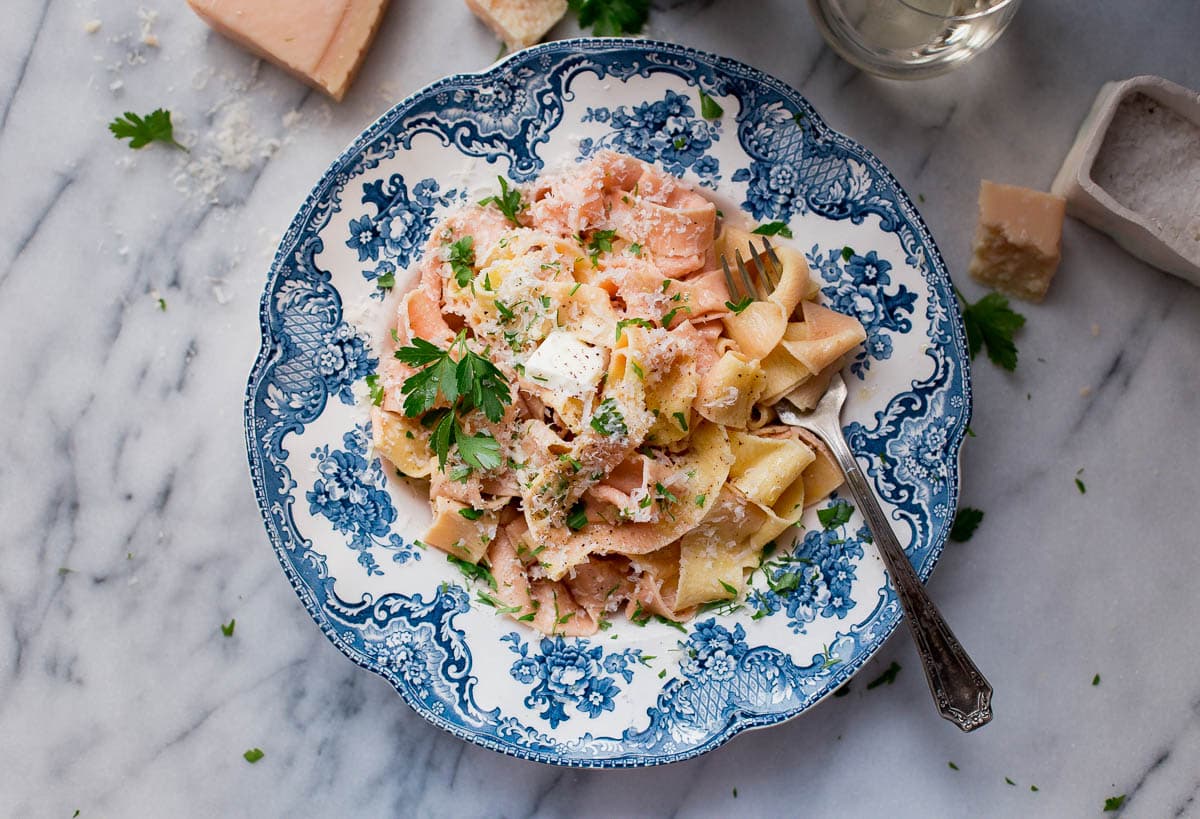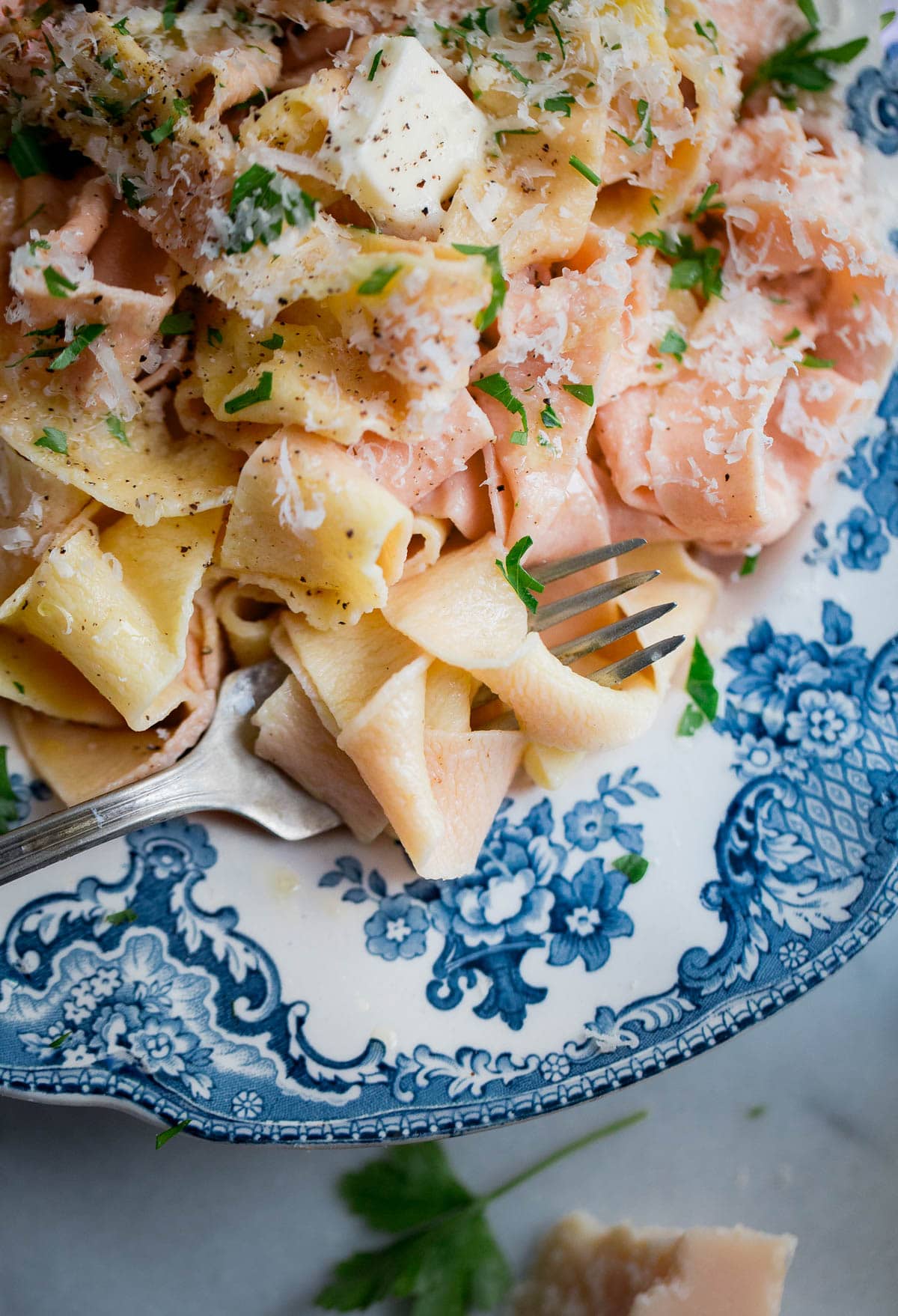 Prepare whatever sauce you are using (this creamy leek and pancetta sauce would be great for this!) or toss with a tab of butter, freshly ground pepper, a touch of pasta cooking water, and a generous dusting of parmigiano-reggiano cheese.
Heaven in a bowl!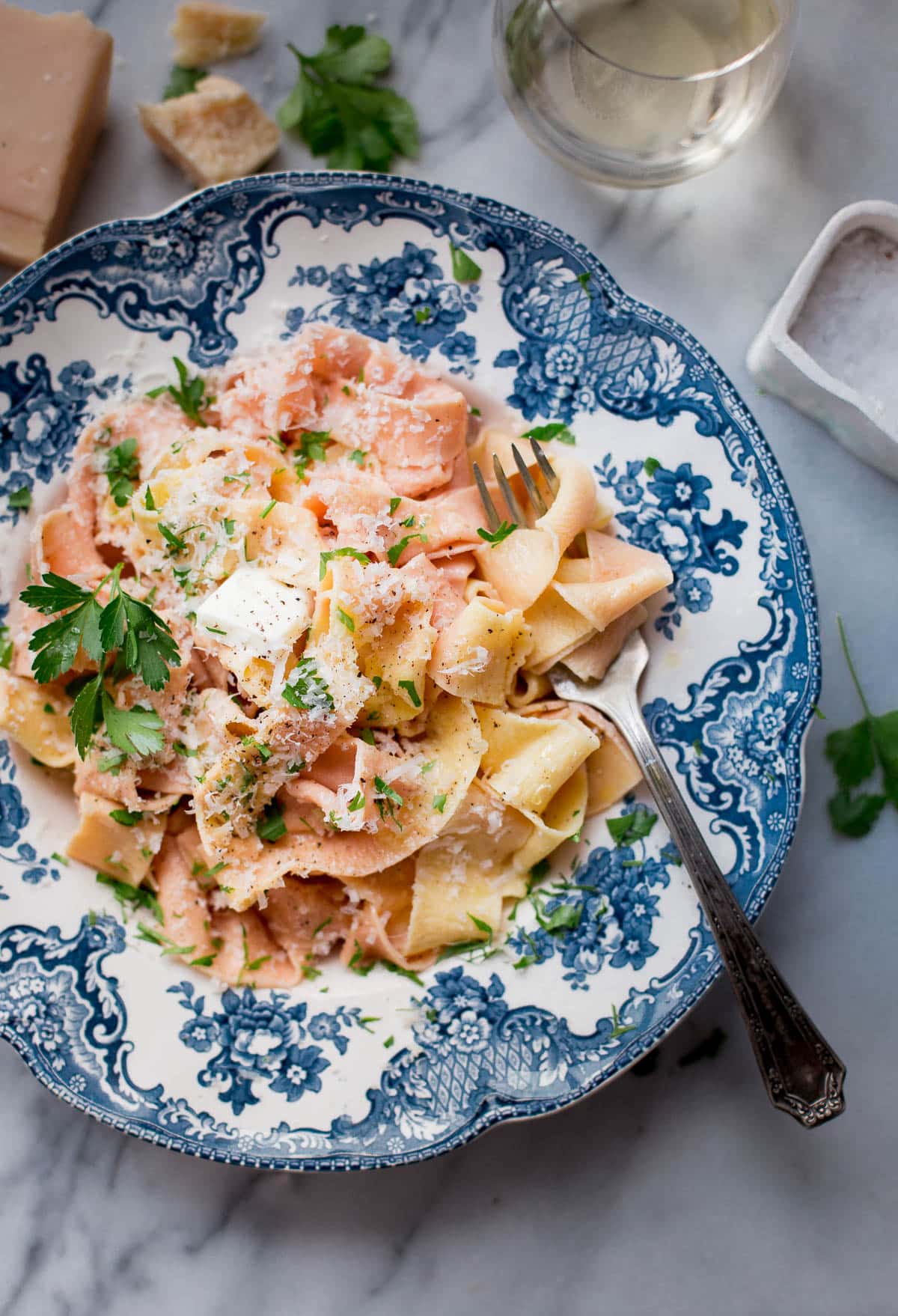 Products Used for this recipe:
(may include affiliate links)