Classic Spaghetti Amatriciana
An easy classic Italian tomato sauce flavored with crispy pancetta, sautéed onion and garlic, and dried red pepper flakes.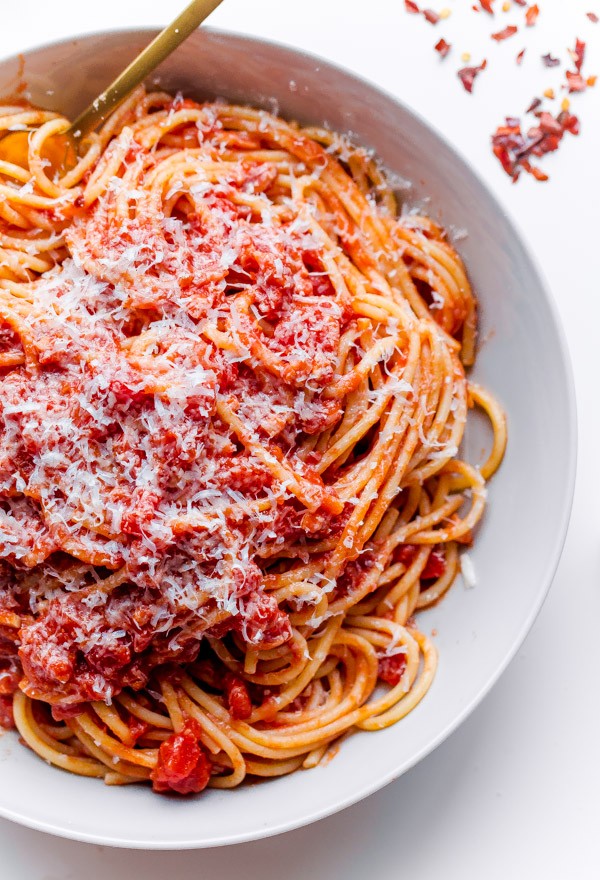 You know how people say that your wedding day is the fastest day of your entire life? Well, I'm starting to think that same logic applies to the entire week leading up to your wedding as well.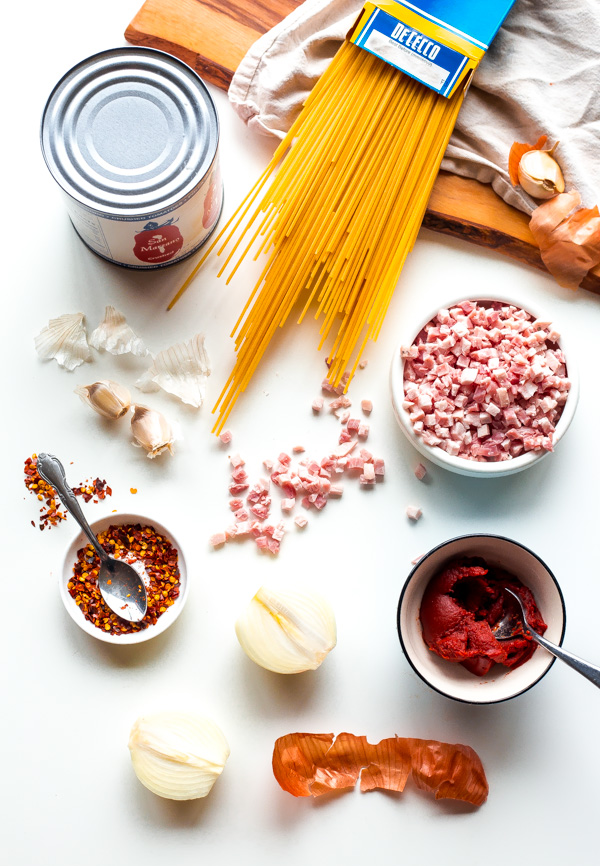 Yesterday was filled with printing welcome letters, alphabetizing place cards (umm, alphabetizing is not fun), checking the weather for the umpteenth time (we are hoping to have the ceremony outdoors!), sending emails, and drinking far too many cups of Starbucks iced coffee to be considered healthy.
Oh, and we also started speaking to a real estate agent in Chicago about potential neighborhoods to live in. No big deal.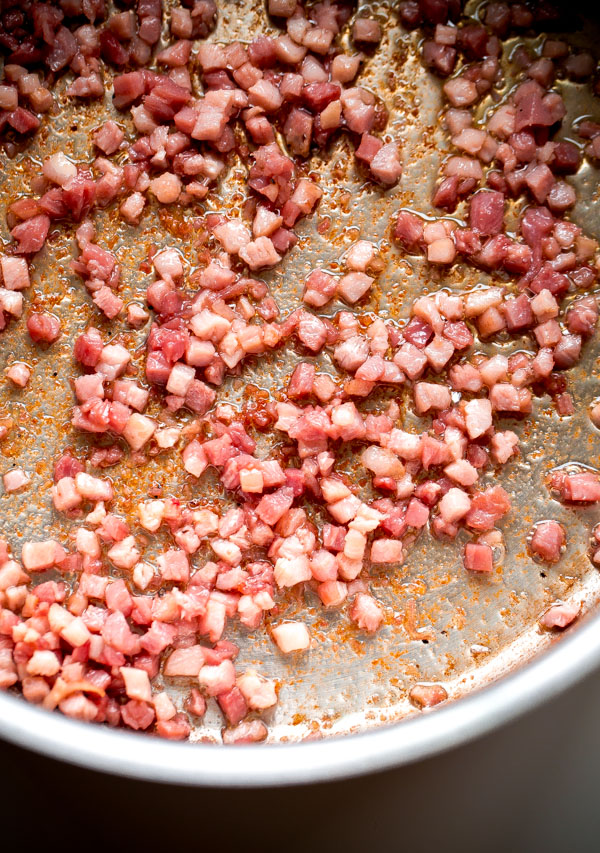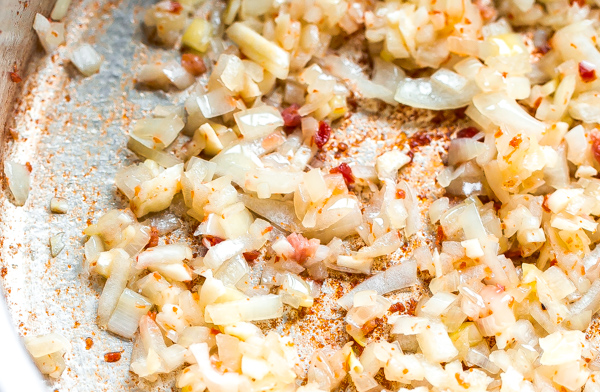 Everything aside, things are in pretty good shape and we really don't have that many huge things left to do, or freak out about. Most of the freaking out has already happened.
But I would be lying if I didn't say that I've never craved a massive bowl of pasta more in my entire life. Really, though. I want all the pasta.
So I figured since I can't quite indulge at the moment, I might as well share this ridiculously delicious, weeknight-friendly pasta dish with you! Please eat extra helpings in my honor, ok?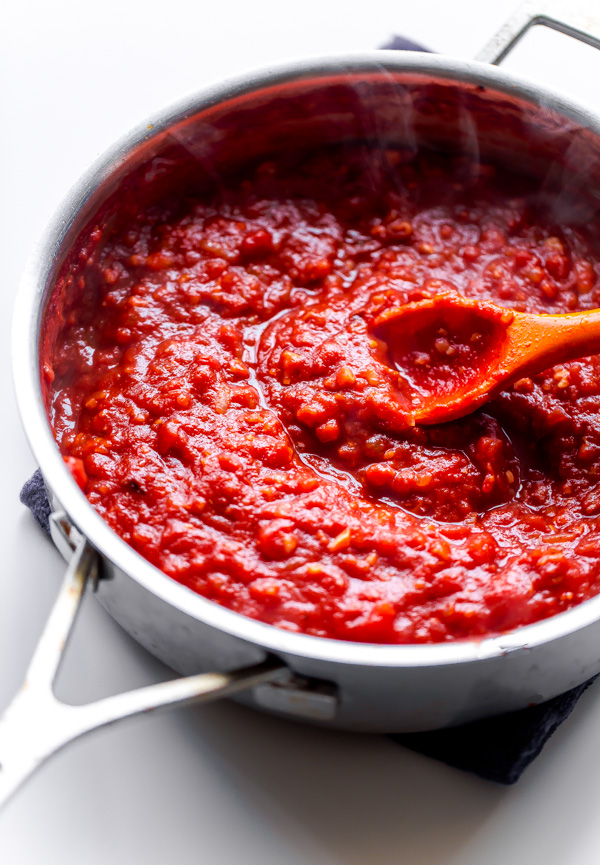 All'amatriciana is one of the most classic Italian pasta sauces. Although there are a lot of different versions out there, for the most part, the sauce is made with a combination of tomatoes, pork, cheese, and red pepper flakes.
My variation is made with crispy pancetta (you can easily substitute this with thick-cut bacon!), sautéed onion and garlic, crushed San Marzano tomatoes, lots of red pepper flakes, and finished with a hefty grating of parmigiano-reggiano cheese (pecorino is a bit more traditional, but I generally prefer parmigiano!).
Don't skip the grated cheese step! It totally takes the sauce to the next level.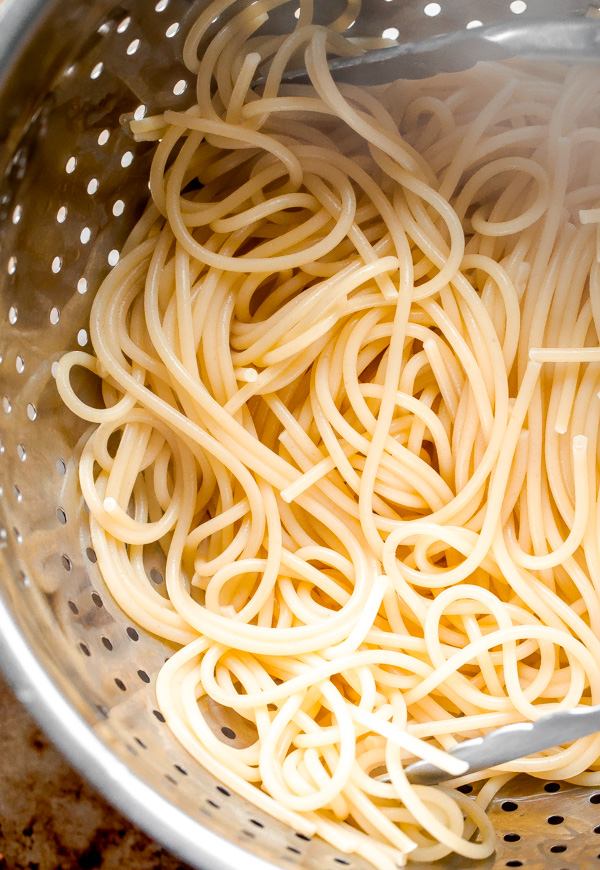 I know what you may be thinking, "Do I really need to use San Marzano tomatoes? They are like three times more expensive than normal canned tomatoes."
My answer to that is: "YES!!!! Yes! Yes! Yes! [If you have access to them of course]." Excuse my obnoxiousness.
Unfortunately, they are a million times more expensive (and I'm the first one to cringe at the price tag), but I promise the return in flavor makes up for it ten fold. Really, I wouldn't lie about these things.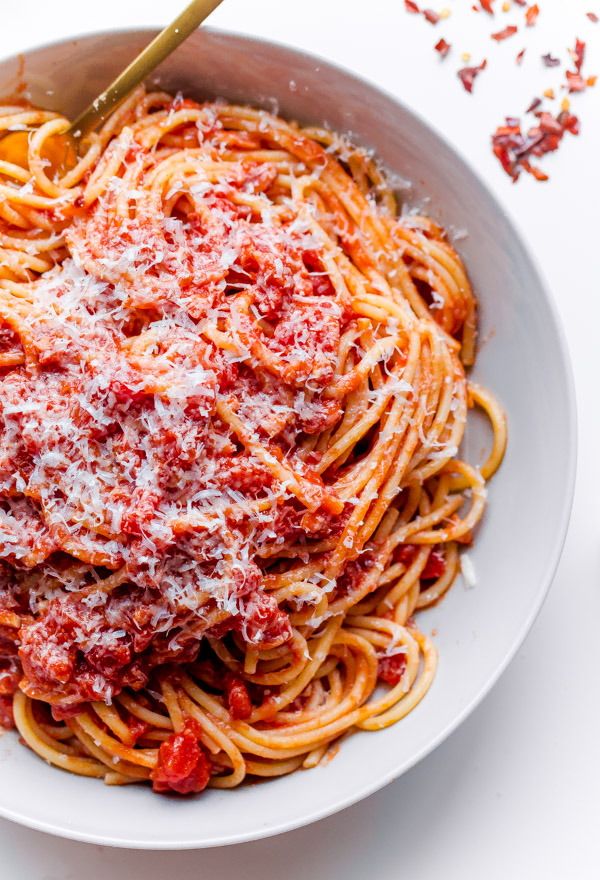 The best part about this rich and spicy pasta sauce? Aside from the wonderful crispy pancetta and sweet San Marzano tomatoes?
It literally comes together in less than 30 minutes. So, you can totally prepare it on a weeknight after work, especially if you're craving a change from your standard tomato sauce, or serve it to a crowd of friends.
I promise that everyone will be fighting over the leftovers!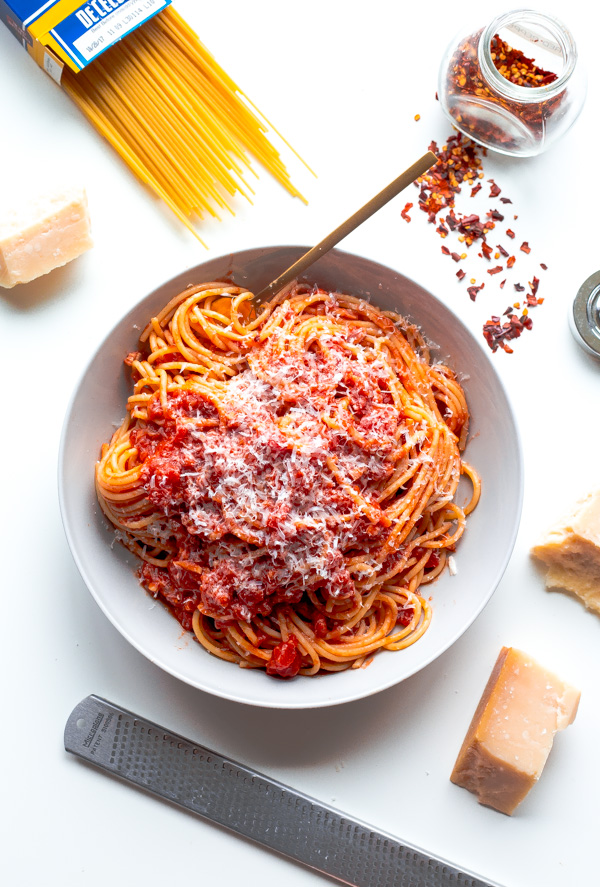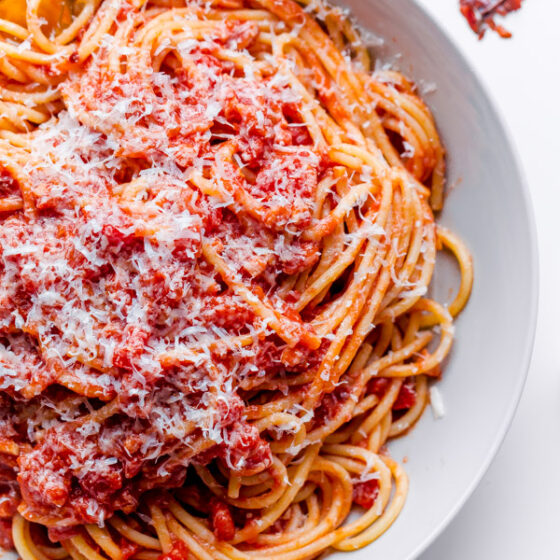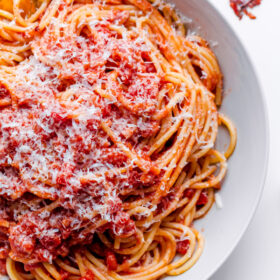 Classic Spaghetti Amatriciana
Classic Spaghetti Amatriciana. An easy Italian tomato sauce flavored with crispy pancetta, sauteed onion and garlic, and dried red pepper flakes. A delicious everyday pasta recipe!
Ingredients
1 tablespoon extra virgin olive oil
8 ounces thick-cut pancetta diced
1 small white onion finely diced
3 large garlic cloves finely minced
2 tablespoons tomato paste
1-2 teaspoons dried red pepper flakes depending on heat preference level
1 (28 oz) can crushed San Marzano tomatoes
¾ ounce finely grated pecorino romano or parmigiano-reggiano cheese (or combination) plus more for serving
kosher salt
freshly ground black pepper
1 lb (16 oz) dried spaghetti, bucatini, or rigatoni
1 tablespoon (15 g) unsalted butter
Instructions
Heat the olive oil in a large (preferably, straight-sided) skillet over medium heat. Add the diced pancetta and cook, stirring frequently, until most of the fat has rendered into the pan and the pancetta is crispy and caramelized slightly. Using a slotted spoon, remove the crispy pancetta and place in a seperate small bowl, leaving any fat behind in the pan.

Over medium-low heat, add the diced onion and sauté in the rendered fat for 3 to 5 minutes, stirring frequently, until the onions are soft and lightly caramelized. Add the garlic and continue to sauté for an additional 2 to 3 minutes, being careful to avoid burning the garlic or onion. If needed, deglaze the pan with a tablespoon of water to scrape any bits of crispy pancetta or bits from the bottom of the pan.

Add the tomato paste and 1 to 2 teaspoons dried red pepper flakes (if you are unsure, use the smaller quantity and increase to taste), and continue to cook, stirring frequently, over medium heat for 1 to 2 minutes, or until the paste has thickened slightly.

Add the pancetta and any extra rendered fat back into the skillet, along with the crushed tomatoes. Bring the sauce to a low simmer, and cook, stirring every few minutes, for 15 to 20 minutes. The sauce should be relatively thick. Add the grated cheese to the sauce and season to taste with salt and pepper. Place over low heat while you cook the pasta.

Meanwhile, bring a large pot of salted water to boil. Add the pasta and cook until al dente. Reserve 1 cup (240 mL) of the starchy pasta cooking water and drain the pasta. Return the drained pasta back into the pot, toss with a tablespoon of unsalted butter, and add the sauce, adding pasta water as necessary until the pasta and sauce are well incorporated. Serve pasta with extra grated parmigiano-reggiano cheese on the side.
Tips for Success:
If you're hesitant about the spiciness of this dish, feel free to reduce the red pepper flakes to 1 or 1½ teaspoons, and add more to taste!
Serving: 1serving, Calories: 568kcal, Carbohydrates: 41g, Protein: 14g, Fat: 39g, Saturated Fat: 14g, Polyunsaturated Fat: 22g, Cholesterol: 53mg, Sodium: 273mg, Fiber: 3g, Sugar: 4g
This post contains affiliate links, which means that I make a small commission off items you purchase at no additional cost to you. Please read my
privacy policy
for more information.