Day 13: Homemade Pasta, Omelets, & Le Paris Brest!
I'm back with the full details of Wednesday's class!  Day 13 was probably one of my favorite days of the program thus far.  Most likely because it was our first day making homemade pasta.  Pasta is officially one of my favorite foods, so I was excited to officially learn how to make great pasta from scratch.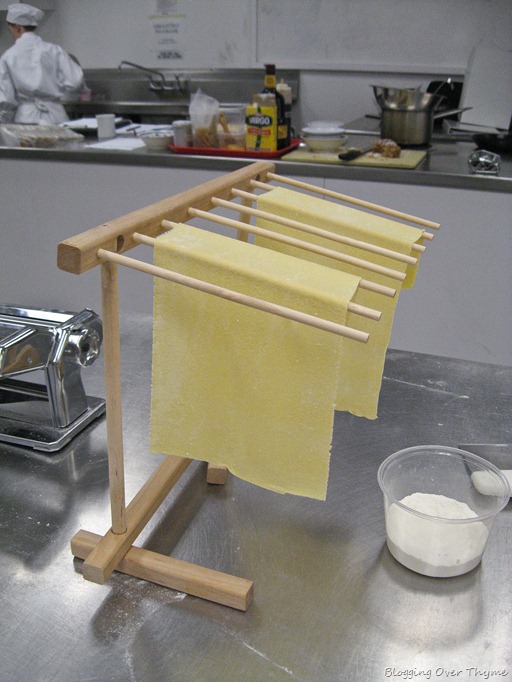 Though I've made homemade pasta before at home (as well as chickpea flour pasta!), and even ravioli, I was never quite sure of my technique.  I've only made pasta with part all-purpose flour and half semolina flour.  In class, we learned how to make pasta dough from pasta flour, which is a combination of hard (high-gluten) and soft wheat (low-gluten) flour.  The hard wheat gives the pasta the classic chewy texture and the soft wheat flour lends a delicateness to the final product.
Eventually we will be learning how to make pasta using food processors (which obviously helps with time-constraints), as well as use a mechanical roller.  However, since Phase I emphasizes techniques and skill, we learned how make it by hand and on our work tables.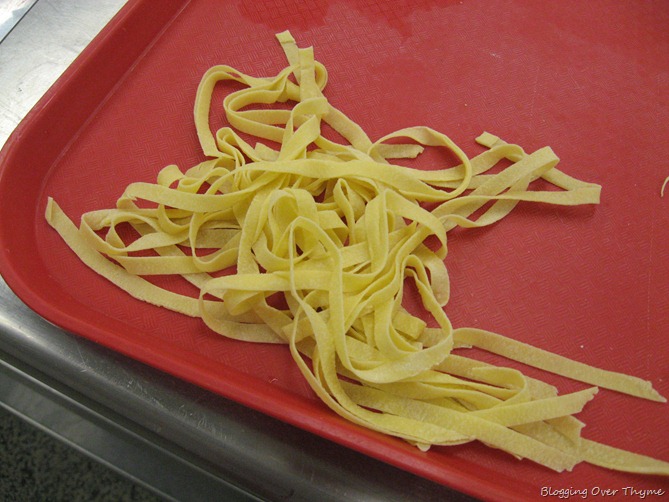 We started with a small amount of pasta flour (with salt added in) and created a very large well in the center.  To this, we added an egg yolk and a minute amount of olive oil (not too much, as this can give it a greasy feel and will make it impossible to roll).  Using a whisk, we started mixing the egg, slowly incorporating more and more of the flour as we went.  Eventually, once the mixture was no longer wet, we used a bench scraper to incorporate more of the flour, pressing the dough as we worked.  You do not want to knead the pasta, or it will activate more of the gluten and will make it very elastic, which we didn't want.
As our chef instructed, we wanted to make a dough that was dry enough that if you grabbed the dough and squeezed, it wouldn't stick to your hand.  But not dry enough that it would crack and not hold its shape during rolling.  Once the dough was made, we let it rest for 10-15 minutes, which allows it to relax and absorb more of the flour.  At this point, we used classic and old-fashioned pasta rollers (Impalia brand) to roll it into very thin sheets.
Chef Brian told us that if the thin sheets were made perfectly and allowed to dry to the right degree (not too tacky, but not too dry), we should be able to roll the pasta and have it be able to sit on a tray (with no additional corn meal or flour) and the strands would not stick to each other at all!  I have to admit, I clearly was not making my pasta perfectly at home, because this has always been an issue for me.  Once the sheets were sufficiently dry, we shaped them into linguini.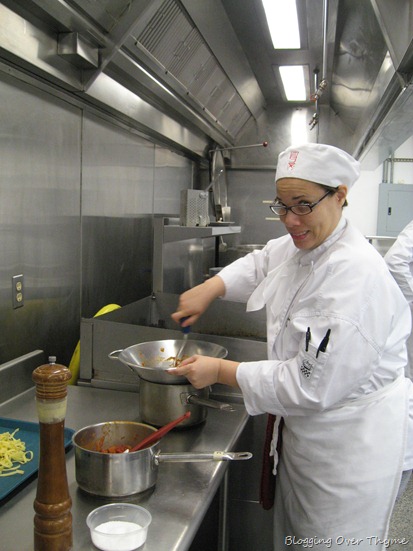 Fellow classmate and friend, Tasha, using the food mill!
To go with our pasta, we made a very simple tomato and onion sauce, where we sauteed onions in olive oil and added in canned San Marzano plum tomatoes.  Once this had simmered and cooked for a bit (we added in paste and juice to thicken or thin), we put this mixture through a food mill, which essentially removes all the fiberous parts of the vegetables.
We deliberately made it very simple sauce, because to it, we added in a large amount of homemade basil pesto.  Another major weakness of mine!   I could eat pesto every day and be perfectly content with life.  Because we were adding it to the tomato sauce, we made the pesto very thick and added very little oil, with a decent amount of garlic to pack a punch.  It was so delicious!
I always worry about "ruining" the perfection of pesto by adding (or tainting, in my opinion) it to things, but this was really delicious.  I definitely will make this again!   The pasta also came out perfectly, and didn't stick together at all.  I ate the whole plate with no problem.
In addition to our pasta, we also made omelets for the first time, the classic L'Academie way.  Though we will make omelets in the future, using other methods, today we made a omelet filled with gruyere cheese.  If you season your pans properly, you can make omelets perfectly in a stainless steel saute pan.  As we've learned in class, as you heat metal, it becomes porous and can absorb fat–so you can essentially make any pan a "non-stick" surface by seasoning it properly!
However, for today's purposes, we used our special chef's non-stick pans to practice our technique.  While my partner, Blanca, was in charge of finishing the pasta, I made to-order omelets on a table-top burner at my station.  To prep, we whisked together roughly 14 eggs (we served 5 total) and strained them.  We basically strain everything!!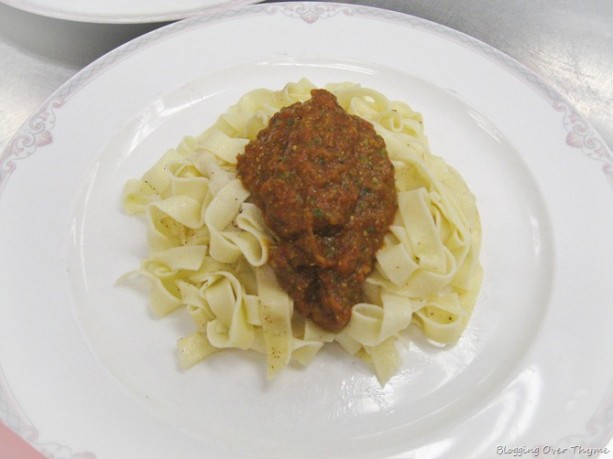 To make a three-egg omelet (an egg is approximately 2 ounces), we used a 6 ounce ladle to portion them out!  Kinda cool, right?
We added the egg to a non-stick tiny pan (which we seasoned with clarified butter).  At this point, we were instructed to use a spatula to agitate the eggs and essentially scramble them in the pan, lay it all out, sprinkle on gruyere cheese, and then using a special technique, flip it perfectly into an envelope type shape on the plate.
A perfect omelet should be totally yellow and not be brown at all.  I ended up cooking my omelets really well and was happy with the results!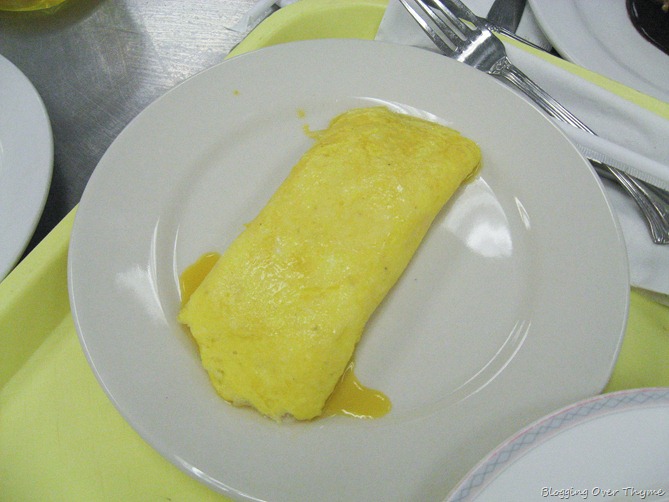 To add to our delicious meal, we added in more pate a choux to perfect our technique.  Except today, we changed it up and made a LE "PARIS BREST", which is pate a choux piped in a wreath type shape, topped it with raw sliced almonds, and eventually filled with pastry cream.
As opposed to our traditional or coffe pastry creams from the previous days, we added in hazelnut paste and small amount of rum to make it praline pastry cream.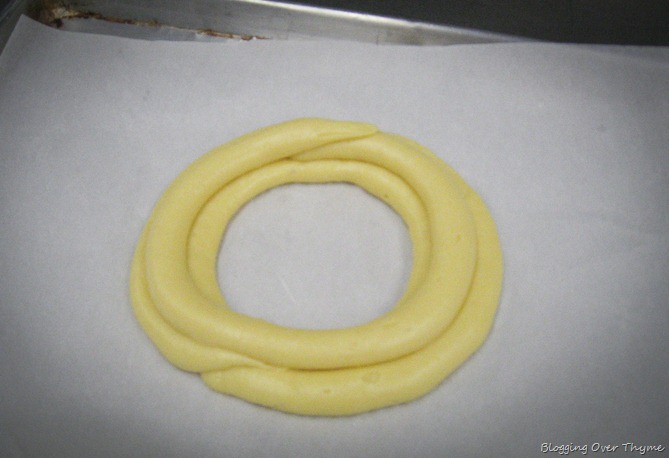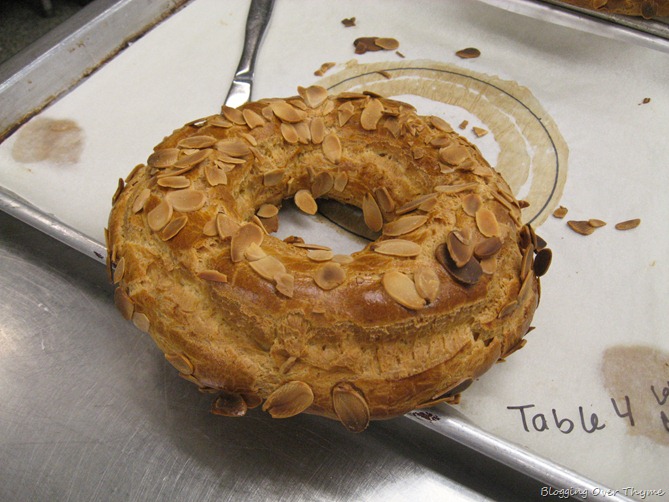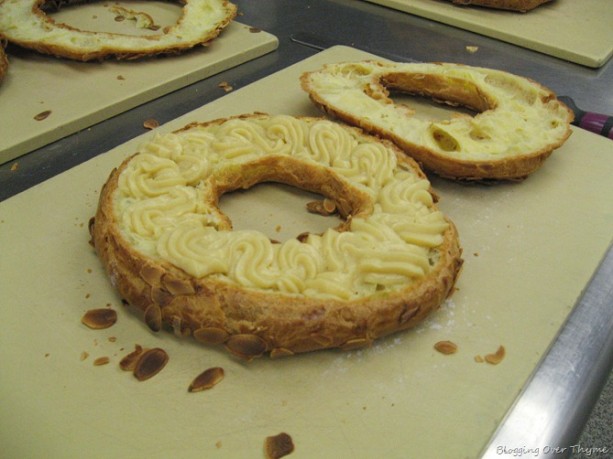 The dessert is named after a bicycle race between Paris and the town of Brest in France—because it resembles the shape of a wheel!  We served it in slices on top of homemade chocolate sauce (made of semisweet chocolate, water, and a small amount of sugar).
Can I just say that despite making pate a choux three times this week, I am not sick of it at all?!  I was totally surprised by my apparent love for this dessert.  I'm not a huge dessert person either, but I couldn't resist this at all.  The chocolate sauce definitely took it up a notch too.  And it was so pretty and fun to plate!  I can imagine making this dessert for a special dinner party or for a fun birthday celebration.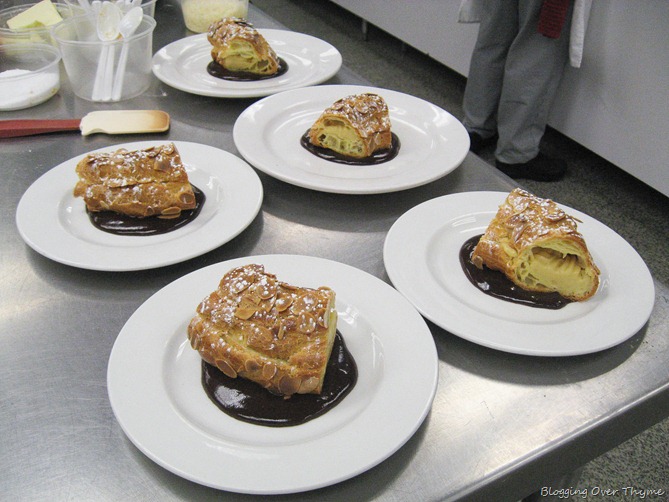 After eating lunch and cleaning the kitchen, the afternoon was spent in the classroom having a quick exam review and starting our presentations on our papers, which we have had to keep postponing for lack of time.  Unfortunately, we only got through three people, and I was not one of them, so I will have to do this at some point next week.  I'm starting to forget all my saffron facts!
Back tomorrow with an recap on yesterday's first practical and theory exam!  
This post contains affiliate links, which means that I make a small commission off items you purchase at no additional cost to you. Please read my
privacy policy
for more information.