Day 27: Seared Duck Breasts, Risotto, & Sponge Cake
fter having our open house on Saturday, this past weekend disappeared and by the time I arrived at school this morning, I felt like I had never left!  Which was probably a good thing, because today's menu was very ambitious.
And by ambitious, I really mean crazy.  Here's what we had to do…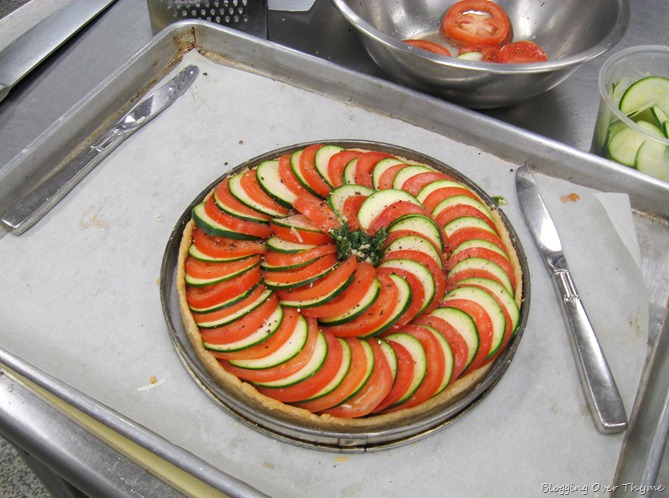 Our appetizer for the day was a Zucchini & Tomato Tart, which I was excited to make and will appear on an exam in the future.  Despite its appearance, it is actually a very simple tart to put together, because all the filling ingredients are raw.  However, we still had to make pate brisee dough by hand, have enough time for it to chill, plus blind bake it! 
I'll definitely post a recipe post about this tart, because it is one of my favorite things we've made so far.  My kind of food!  Not to mention, it tasted very fresh and light.  This tart must be even more delicious in the summer months when tomatoes are in season! 
The tart is assembled with basil, garlic, zucchini and tomato and then topped with a small amount of gruyere and parmesan cheese.  I almost didn't want to top it with anything because it was so pretty!!  Here was the final product once it was out of the oven: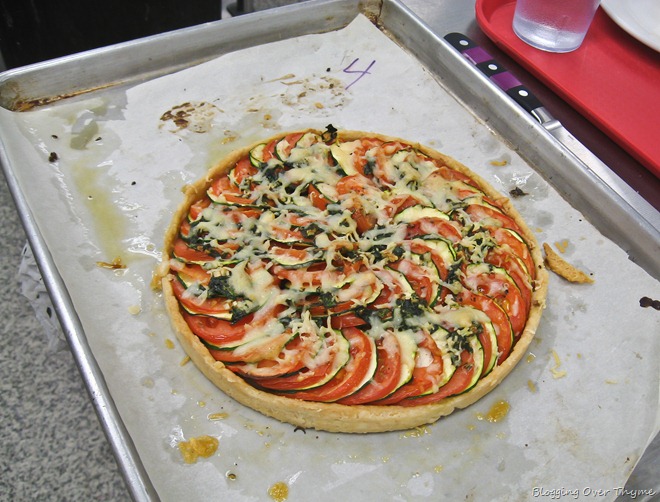 Our main course was also very involved, because we basically had two main dishes to produce:  Mushroom Risotto & Seared Duck Breast with Orange Gastrique Sauce.  I've made risotto at home before a few times, so I felt fairly confident about this dish.  However, our method at school was slightly different than my at home versions.  We used four different types of mushrooms for ours, which each had to be sautéed separately beforehand. 
Today was also our first day cooking with duck!  I'm pretty sure this is Duck Week actually.  To make our seared duck breasts and gastrique sauce, we each broke down a whole duck (slightly trickier than a chicken).  We then used the spine, back and neck bones (chopped) to make a jus—by searing them over high heat, deglazing with mirepoix, and adding veal stock.  This simmered away until we were ready to start our gastrique….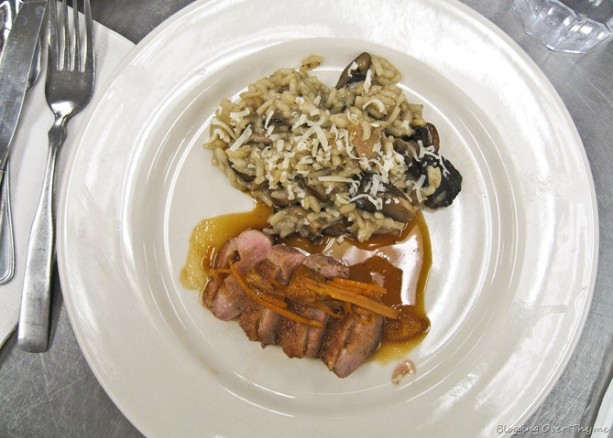 A gastrique is a classic vinegar sauce and is often paired with rich, fatty meats (ie. duck).  The acidity of the vinegar not only helps cut the fat, but also was thought to help aid in digestion. 
The process starts off with making caramel (sugar & water) and adding in acid, we used sherry wine vinegar.  Once this was put together, we combined the gastrique and strained duck jus.  Because we were making an orange gastrique, we also added in orange juice, julienned orange peel (which we had to finely julienne and blanched three times), and eventually garnished with orange segments. 
The final sauce has a slightly bitter, sweet, and acidic bite to it.  By itself, I wasn't a huge fan, but it paired with the duck breast really well actually.  I was surprised I liked it!  
As for the duck…the breasts were placed skin-side down in a sauté pan and cooked over low-medium heat to slowly render the fat and get it crispy.  Keeping the heat low is key, because otherwise the fat will get trapped and it won't become crispy at al!  We then seared the other side quickly (so that was slightly pink inside) and let it rest, before thinly slicing.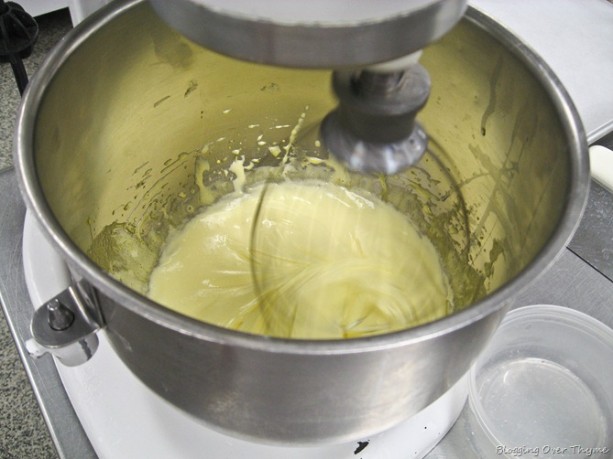 And last, but certainly not least, each of us were responsible for making a roll cake.  See what I mean by there being a lot to get done?! 
Our sponge roll cake, known as a ROULADE, will also make an appearance on a future exam, so I paid close attention and tried to make sure I was doing it properly.  My mom used to make us sponge roll cakes for our birthdays and special occasions all the time!  I love them—I think this recipe was slightly different than my mom's but still quite good.  To make it simple and practice our rolling technique, ours were simply brushed with simple syrup and filled with raspberry preserves.  Eventually we will fill them with buttercreams, whipped creams, and lots more!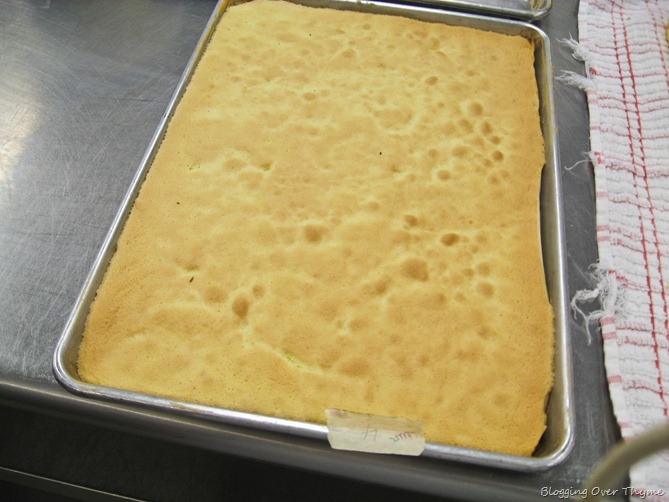 Roulade Cake starts off by whisking together egg yolks and sugar (slightly warm from a bain marie) until they ribbon and become very pale in color.  In a separate bowl, you put together a French soft meringue, by beating egg whites and slowly adding sugar. 
At this point, you slowly start folding the egg white mixture into the egg yolk mixture.  To this, you gradually fold in well-sifted cake flour and a very small amount of melted (clarified) butter.  This has to be done carefully to avoid losing the incorporated air! 
After baking for barely 5-7 minutes, you get a sponge cake!  The trick is not to over bake, because it will become impossible to roll up if it is dry.  We placed our baked roll cakes on a kitchen towel, lightly brushed them with simple syrup, and spread on a very thin layer of thick raspberry preserve.  Then it was rolling time!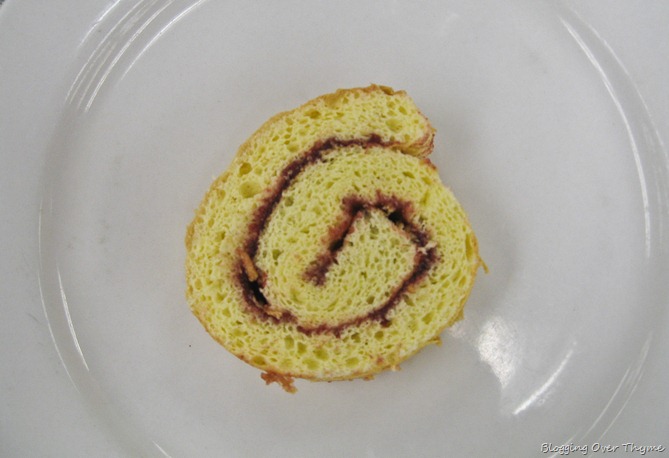 The cake was tastier than it appears!  And I love the versatility of a sponge cake—the possibilities are endless and I'm looking forward to making more at home in the future. 
Somehow, we managed to serve all of this and get it plated (seven plates of everything!) by around 12:30, which was technically late. 
The afternoon was filled with a quick lecture on preparing duck confit,, which I will talk about in a future post!  It basically involves curing duck legs and cooking them in rendered duck fat—which we started grinding in the massive meat grinder (seen below) today.  It was an interesting and slightly disgusting process! 
As Chef Brian says, "No duck fat left behind!"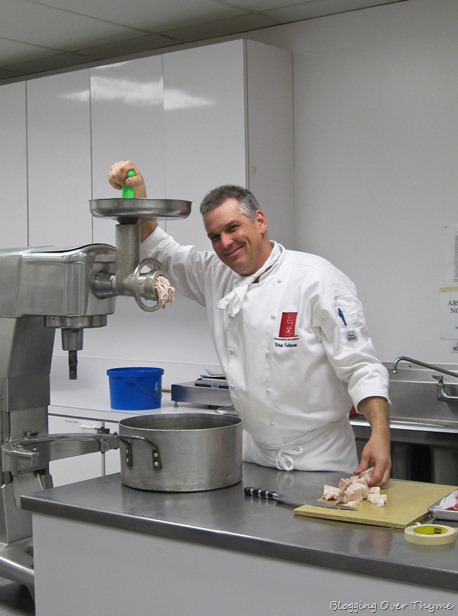 On that note, I am off to go study for my second practical and theory test, which is this coming Thursday!
This post contains affiliate links, which means that I make a small commission off items you purchase at no additional cost to you. Please read my
privacy policy
for more information.