Day 32: Lamb Stew, Pasta & Layer Cake
Yesterday started with a special treat!  The Phase II students put on a special bakery challenge in the morning before lecture, during which we were allowed to go sample the goods.  Imagine plates and plates of fresh croissants, quick breads, quiches, danish, and even cakes!  Life is tough…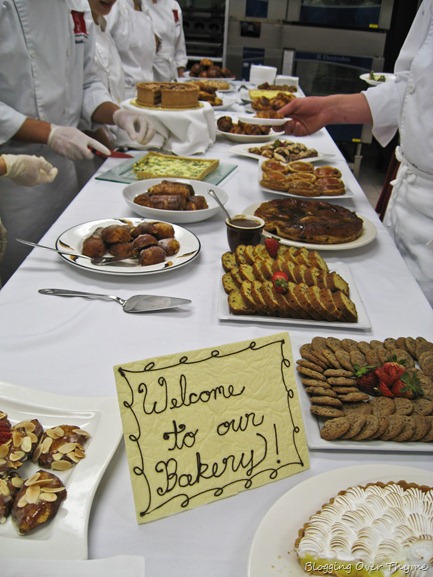 In all honesty, though, yesterday was kinda tough.  We had to deal with a few unexpected bumps in the road throughout the day due to food delivery, equipment, and other issues.  The main dish of the day was a lamb stew, which unfortunately we weren't able to start until the the very end of production because the company delivered the wrong meat the first time around! 
To make matters worse, we also had issues turning on the fryer, which was going to be used for our appetizer.  Regardless, Chef Brian told us that we handled everything well and finished as strong as we could have given the circumstances. 
Since our day was a little screwed up, food production wise, we got started on our dessert first.  To practice our piping skills, we each made individual layer cakes!  This was a really fun dessert, because I feel like I never have excuses to make this sort of food at home.  And I think it may be only the second cake I've ever made in my life?!  How is that possible?!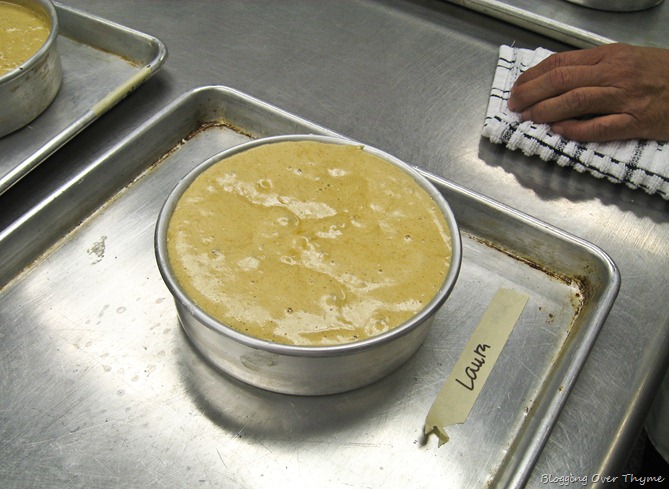 To make this, we made genoise cake by hand.  Let me tell you, genoise cake—which basically is a very dry sponge cake—requires a lot of arm muscle.  Normally, most people would make this in a stand mixer, but not us.  Yesterday, we decided to flavor our cakes with coffee paste and vanilla extract.  Yum!
For our filling, we also learned how to make Italian meringue buttercream.  Italian meringue is a hot meringue made by making caramel (to soft-ball stage) and slowly adding it to egg whites, as they whisk at high speed.  This slowly cooks the egg whites and becomes very fluffy and light in texture.  Once the meringue is made, you beat in a lot of butter!  And by a lot, I really mean A LOT.  We also put vanilla and coffee paste into this as well!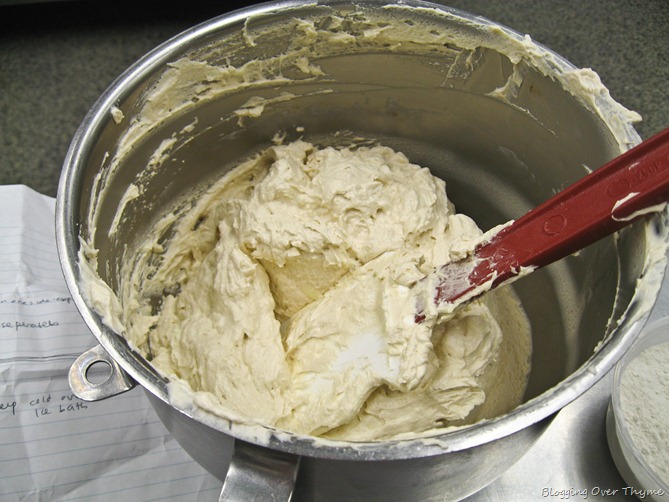 To assemble the cake, I sliced the genoise into three layers—and brushed it with flavored simple syrup, to which we added Kahlua.  This is an important step, because genoise is an extremely dry cake, so you need to add in a lot of moisture and flavor.  After that, I spread buttercream between each layer before decorating the sides and top.  Between each small layer, I refrigerated the cake to let it set a bit.
Then came the fun decoration part!  We also got to try our hands at using cornets (homemade parchment cones for fine piping) to pipe writing chocolate.  I was pretty happy with the results considering it was my first time doing this!  I think all my practice piping at the bakery has definitely come in handy…
Since it was Tasha's upcoming birthday, I decided to dedicate my cake to her!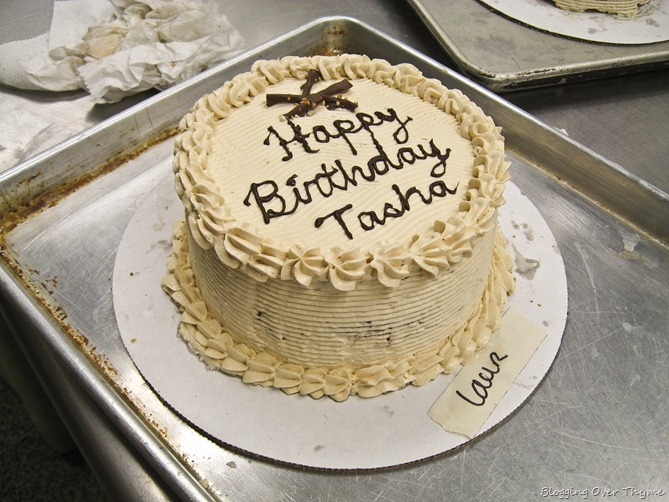 On a completely unrelated note, our lamb stew dish was served with fresh pasta.  This was our third time making pasta dough in class!  Our stew was cooked very similarly to others we have made, except we added in lots of vegetables garnishes.
This was probably the most time consuming part of the dish, because it required tourneeing potatoes, carrots, yellow squash and zucchini, as well as prepping green beans, pearl onions, mushrooms, and peas.  And each of those needed to be cooked completely separately before adding them at the last minute.  It sure made it look pretty at the end though!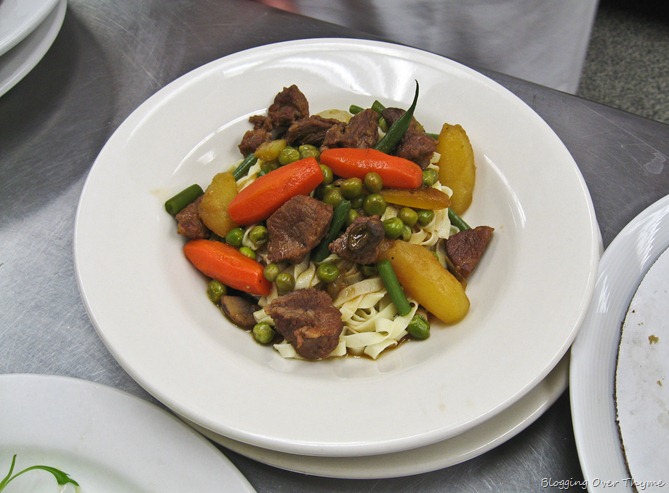 And lastly, we finally put our duck confit—which we made last week—to use in our appetizer.  We hadn't forgotten about it!  As if cooking duck legs in their own fat wasn't enough, we decided to up the ante (and fat content) by placing them in beignet batter and frying the pulled meat!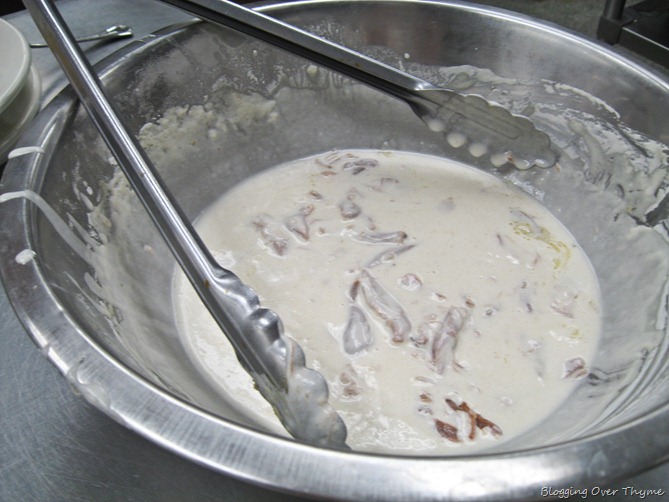 The result is seriously crunchy and rich!  I can't say I was a huge fan of the fried duck confit on its own (I just couldn't get past how rich it was), but pairing it with a lightly tossed frisee salad (with vinaigrette) definitely made it taste much better and cut the fat a bit.  We also made a remoulade (derivative of mayonnaise) to go along with it as a dipping sauce. 
Not necessarily my favorite preparation, but apparently there will be lots more duck confit in our future!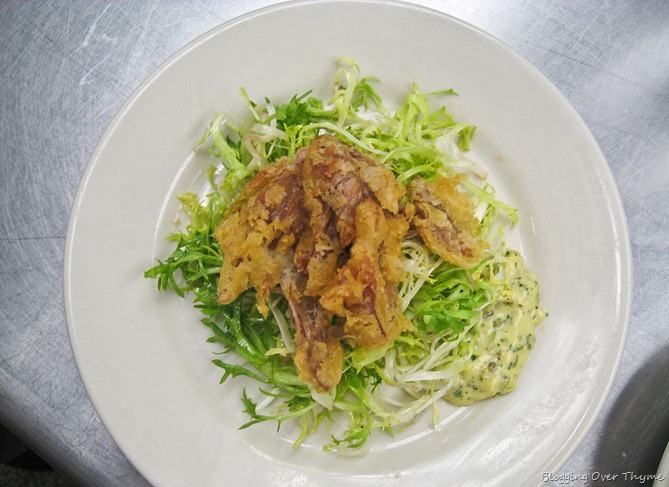 After serving lunch late (as a result of the fryer issues & meat delivery delay), we stayed in the kitchen to start production for making the next day's dessert and main course.  After this came the daily deep clean.  Due to all the delays, we ended up finishing the day an hour late! 

Back soon with details of today's fun and creative class!  Tomorrow, we have our class trip to the farm for our private tour.  Should be lots of fun!
This post contains affiliate links, which means that I make a small commission off items you purchase at no additional cost to you. Please read my
privacy policy
for more information.