Day 43: French Baguettes, Bordelaise, & Cheese Soufflés
Today we got to try our hands at making two different types of bread—and traditional French baguettes.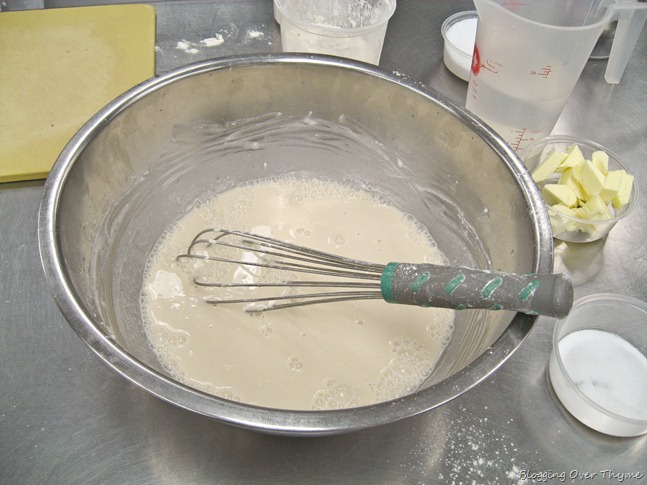 We started making our French baguettes right away in the morning by proofing yeast in warm water and gradually adding bread flour until it formed a nice dough.  At this point, we needed it until it came together, flattened it down into a disc, placed it in a bowl, and covered it tightly with plastic wrap, before allowing it to rest and double in size.
After it rose, we portioned the dough into 13 ounce pieces, which we began to form into baguette rolls…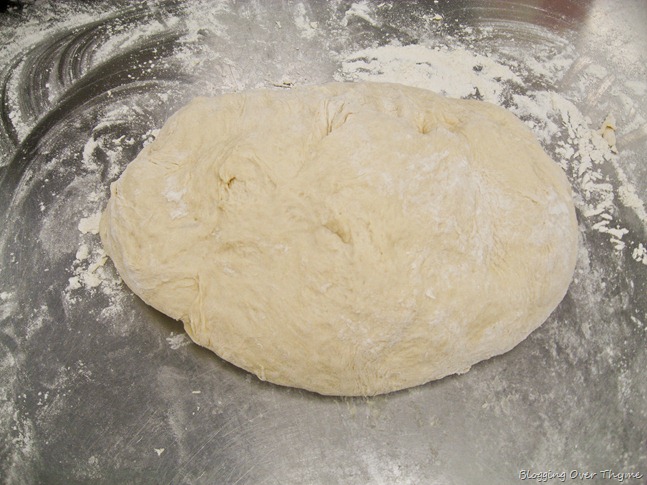 Once the dough was placed into special baguette mold pans, we let them rise again, before eventually baking at 450 degrees. 
When they came out of the oven, they looked like this.  Beautiful!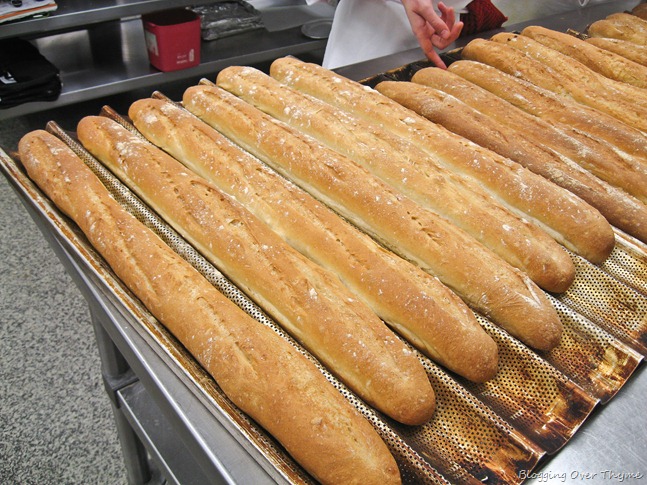 We made four baguettes in total and were allowed to bring two home with us at the end of the day!  They will definitely make an appearance during dinner.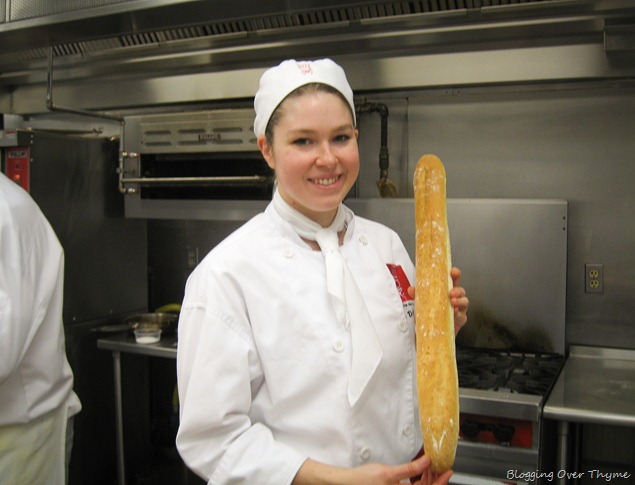 From left to right:  Lyndsay, Blanca, Hannah, Chef Somchet, and Hadley.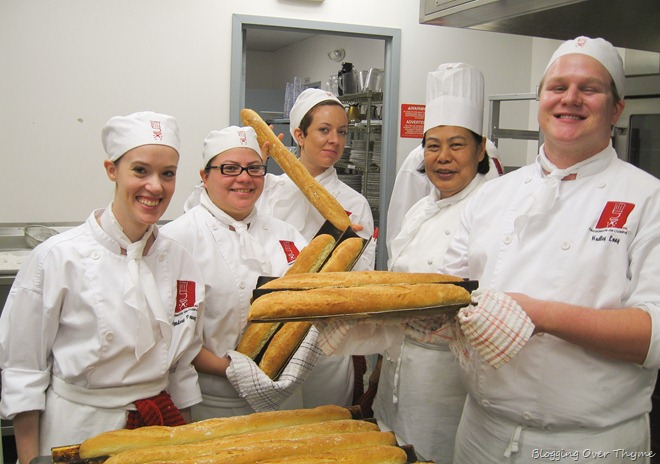 Since we still had dough leftover after forming our baguettes, we used the rest to make focaccia to which we added whatever toppings we wanted.  I went simple with fresh basil, sundried tomatoes, and a little bit of parmesan cheese. 
We got to take this home with us too!  It's a dangerous thing to have all this bread sitting around on my kitchen countertop, that's for sure.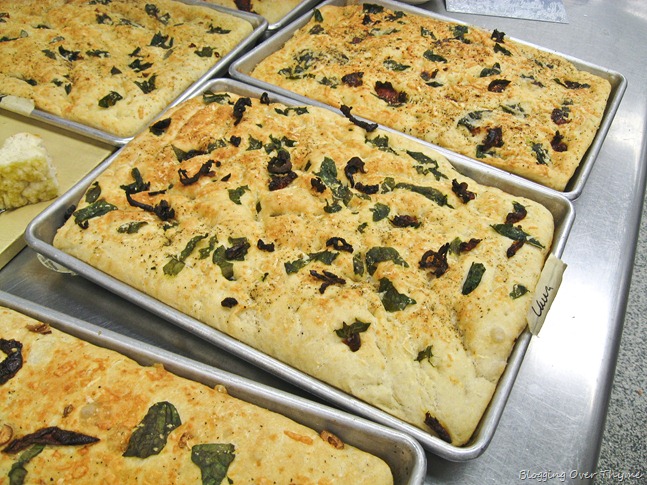 In addition to our bread-making, we also had a full menu of dishes to make for lunch. Today's main dish was flank steak, which we served with bordelaise sauce.  Traditionally, bordelaise is made with bone marrow, but we used leftover lean meat scraps to make ours, along with other additions of shallots, red wine, mushroom stems, a small amount of diced carrot, and demi glace.  It's a very good, rich pan sauce! 
With our steak, we served tourneed glazed carrots and pommes bollangere.  Unfortunately, I completely forgot to take pictures of our main dishes at lunch, so I don't have any to share of the main course. 
Pommes Bollangere is another new-to-us potato dish!  It involved layering a well-butter sautoir pan with thick slices of potato, adding a small amount of chicken stock, topping this with caramelized onions and finishing it in the oven (it takes about an hour).  The essence of French onion soup with potato goodness, basically!  It was delicious.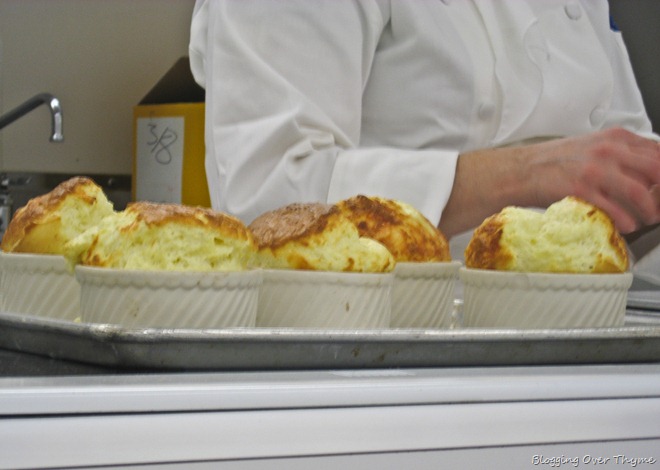 Our appetizer of the day was a savory cheese souffle (seen above).  Unlike the souffles we made a week or two ago, this was made by preparing a mornay sauce (cheesy bechamel) and thickening it with egg yolks.  Right before we baked the soufflés, we folded in whipped egg whites. 
Yum!
And since most our baking involved bread-making, we made a very simple cookie dessert.  These cookies are called Kipferlins (or Kipfers) and are simply moon shaped cookies made by combining softened butter,all-purpose flour, almond flour, and a small amount of powdered sugar.  You then roll the dough into small balls, which you shape into crescents.  After chilling the cookies for 20-30 minutes, you can bake them in the oven for only 8-10 minutes and you're done!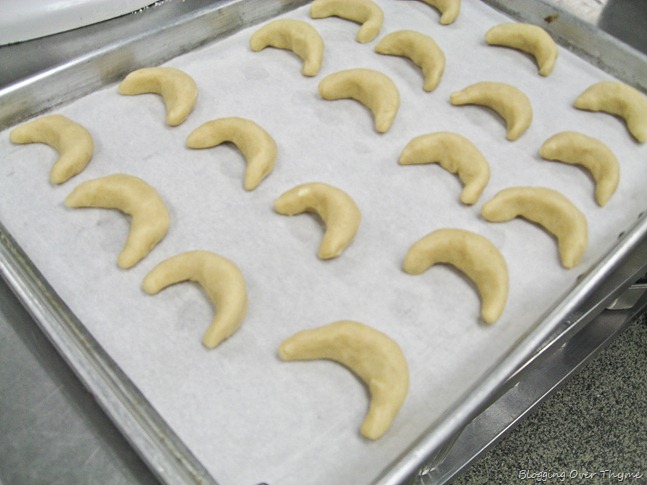 These were buttery, light, and had a great texture. Once they were cool, we rolled them in a powdered sugar and cinnamon. They were hard to resist!
The afternoon was filled tons of chicken bone trimming for stock!  Once we enter Phase II, we no longer do any stock-making.  So, we have to make a lot in anticipation for class next week, as the next Phase I won't be starting until two weeks from today. 
Off to study for Practical #3, which is this coming Thursday! 
This post contains affiliate links, which means that I make a small commission off items you purchase at no additional cost to you. Please read my
privacy policy
for more information.