Day 44: Chicken Roulade, Pommes Duchesse, & Marjolaine
Due to lack of time, today's post will be short and sweet! Literally…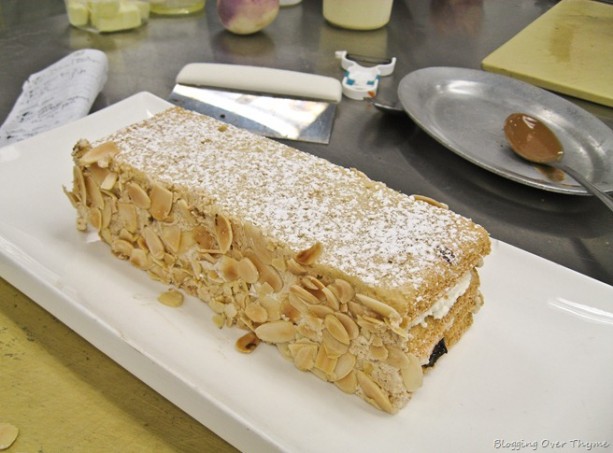 I'll start with the highlight of the day, which was our dessert. We made a classic Marjolaine cake, which is a dacquoise cake (mixture of French meringue and ground nuts—in our case, almond flour) with alternating fillings of ganache, hazelnut cream, and vanilla cream.
Topped with powdered sugar and decorated with sliced, toasted almonds. This cake was so good and moist! And the hazelnut flavor was incredibly noticeable, which I loved. Definitely my favorite dessert so far in Phase I! I'm positive I will be making this cake again sometime in the future.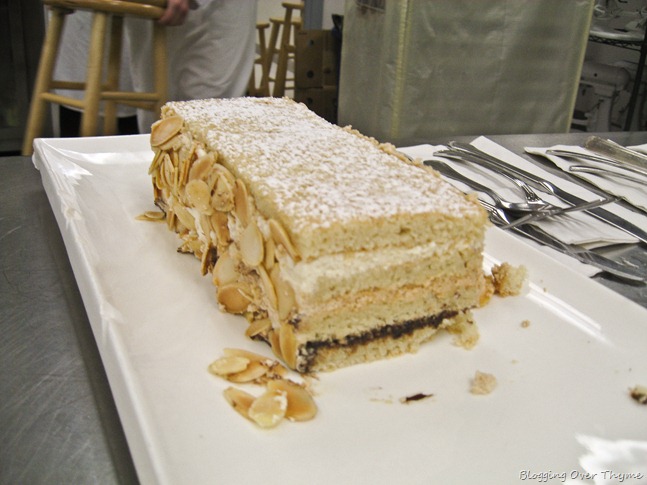 Our appetizer was a repeat of one of our first dishes in Phase I, Quiche Lorraine, which is a classic pate brisee crust filled with custard, gruyere and bacon. This might be making an appearance on our upcoming exam this Thursday!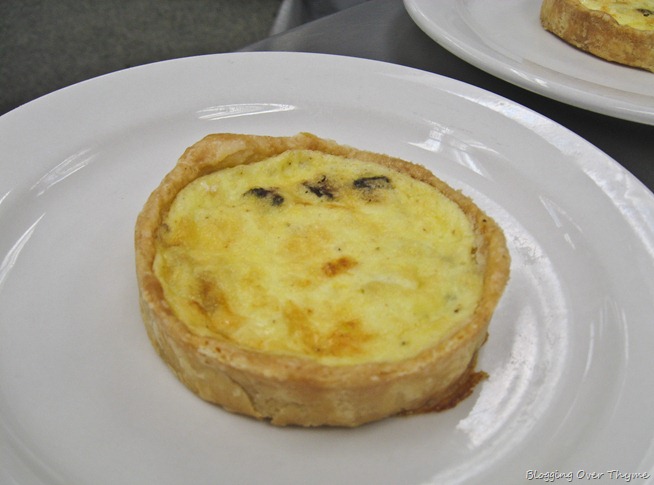 As for our main course, we made a roulade of chicken, using tenderized chicken breasts, filled with roasted pepper, sautéed spinach, and chicken mousse. However, today's chicken mousse was made with chicken leg meat, as opposed to breast. Which is much more time-consuming! If you're thinking it seems a bit redundant to stuff chicken with chicken, I'm right there with you.
Although even our Chef admitted this dish is a little bizarre and would in no way be served in most restaurants, it is full of a lot of different techniques and required some skill to put together well.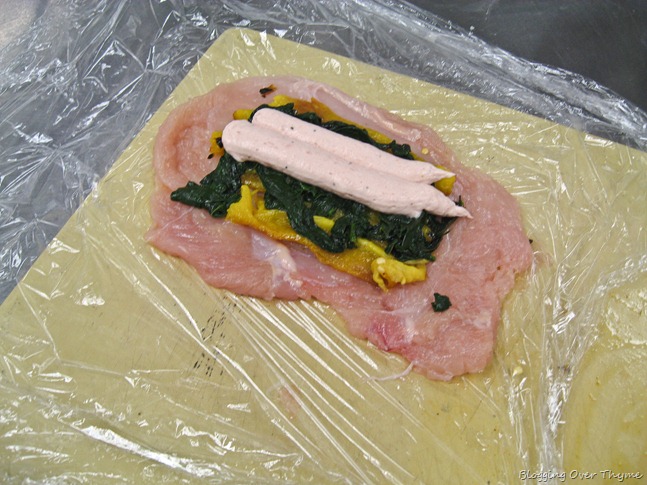 We rolled it up carefully in plastic wrap (and very tightly) and twisted the ends to form a sort of fat sausage roll. Then we poked the plastic a few times with a knife and poached it in barely simmering water until it set.
After this, we unwrapped it and pan-seared in a sauté pan to add color and finish the cooking process. Unlike our other chicken mousse dishes, this was a lot better and you barely noticed the mousse in all honesty. Once it was sliced, it looked like this:
We served it with a simple, thin jus made with chicken bones, mirepoix, and stock. And also made pommes duchesse (another new potato dish!) to go alongside it.
Pommes Duchesse are basically cooked potatoes (which are riced) and combined with a little bit of whole egg + yolk, as well as seasoning and a small amount of butter. This is then piped in little rosettes, chilled, and eventually baked in the oven. Pretty! It reminded me of frosting all those cupcakes back in the day…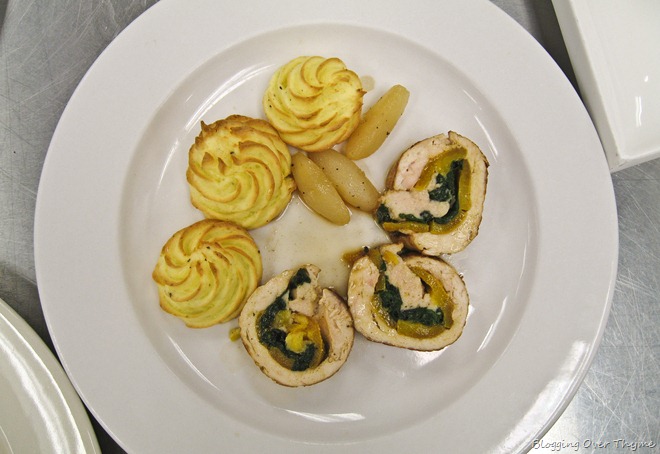 We also made simple, glazed (tourneed) turnips, cooked in the same way we have done with many other vegetables, like potato, carrot, etc. You add them to a pan with a small amount of butter, salt, pepper, and a very thin layer of chicken stock, cover it with a parchment lid and cook it over very low heat until they are tender and almost all the liquid has been absorbed.
It's a very famiiliar process at this point, but the tourneeing still can take quite a bit of time, even though it has become exponentially easier. Obviously I made more than you see below–haha!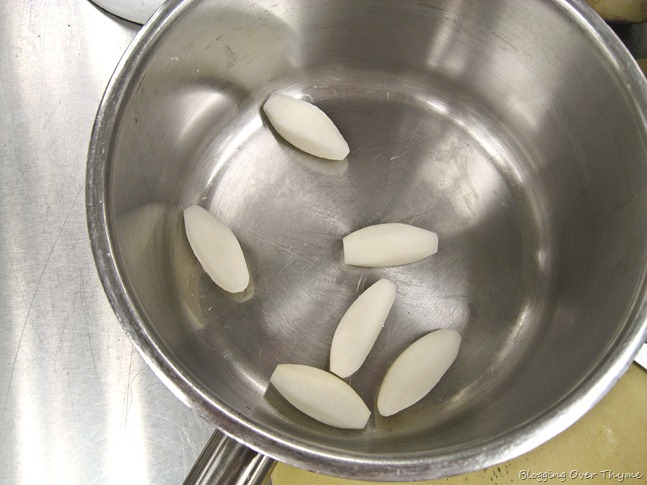 And that pretty much sums up today's menu! Doesn't look like a whole lot just from the pictures, but it was definitely a fast-paced, hectic day in the kitchen. But pretty tasty too!
I don't even want to think about what next week (the beginning of Phase II) will be like. Yikes!
Lots more studying to do before Thursday's exam! Look for another update this weekend…
This post contains affiliate links, which means that I make a small commission off items you purchase at no additional cost to you. Please read my
privacy policy
for more information.