Day 45 & 46: Roasted Duck, Court Bouillon & Practical Exam 3
This post is going up a bit later than I originally intended, partially due to a surprise-filled trip down to Charlottesville, Virginia yesterday through today!  The past two days have been full of bakery visits (a warm welcome to anyone visiting from Kath's blog!), wineries, farms, and exploring downtown Cville.
My last official full day in Phase I was fun, but also very bittersweet.  The past three months have whizzed by and I can't believe I am halfway done with the program, before embarking into my 6-month long externship in a restaurant (the where will be determined over the upcoming weeks!).  It is amazing how far our class has come from the days of French Onion Soup…and how much more we can accomplish now, as well as how much more comfortable I (and I'm sure we) all feel in the kitchen.
Our last Phase I menu included roasted duck, court bouillon, and a few new sauces, as well as some other dishes thrown in there as well.  To make our roast duck, we dried it thoroughly, stuffed it with mirepoix (onion, carrot, & celery), and seared in in a pan on all sides, before popping it in the convection oven to cook until it was nice, tender, and had deliciously crispy skin.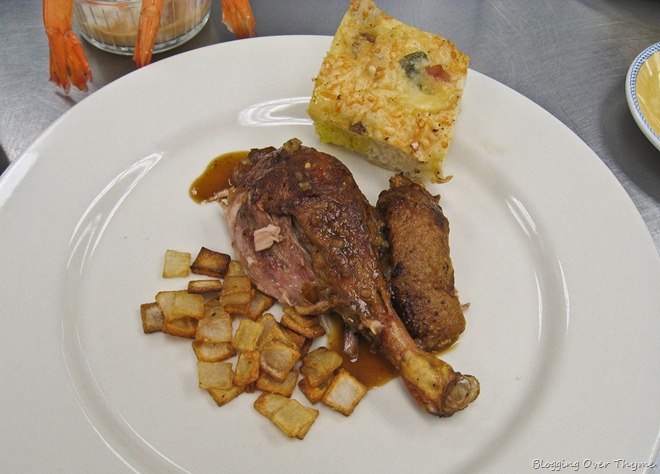 We served our duck with sauce cumberland, which is made by combining currant jelly, ginger, garlic, mustard, port (splash!), a pinch of cayenne, blanched shallots, and orange/lemon zest and juice.  It sounds very weird, but it is known for going well with roasted or smoked meats.  We combined this with reduced duck jus to make a variation of a brown sauce.
We also made our 15th official potato dish—pommes sautees—which are simply sauteed potatoes that are cut into paysanne, which are 1/2" x 1/2" x 1/8" thin cubes.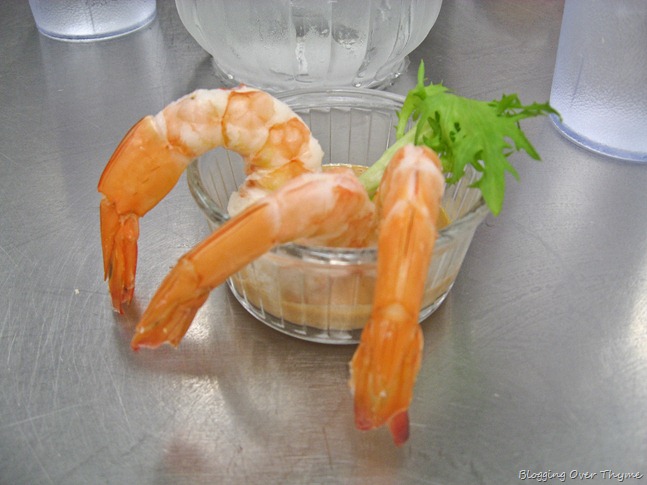 Our appetizer was shrimp served with calypso sauce (cocktail sauce)—it sounds very old-school, but it involved learning a few new techniques, such as making court bouillon, which is a quick stock made by combining mirepoix, vinegar (we used lemon slices), bouquet garni, salt, and water and allowing it to simmer and develop flavor. 
It is traditionally used as a poaching liquid to cook shellfish!  Which is exactly how we cooked our shrimp. 
We also made mini-serving size swiss chard gratin, made by blanching rainbow chard and combining it with a mornay sauce, which we have made several times at this point.  It is a very cheesy, bechamel sauce and pretty much negates the purpose of eating the vegetables, but is tasty nonetheless.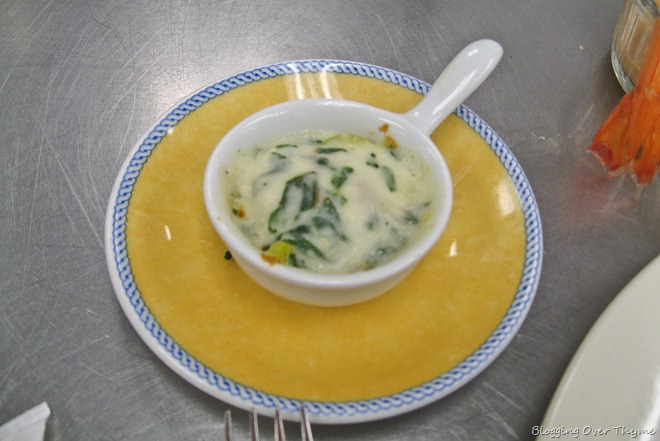 For dessert, we made a roulade (sponge) cake filled with raspberry preserves.  At this point, having made this dessert several times in the previous weeks, we all knew that it was going to be part of our practical exam the following day!  It was nice to get the extra practice though!  Here is my roulade from exam day: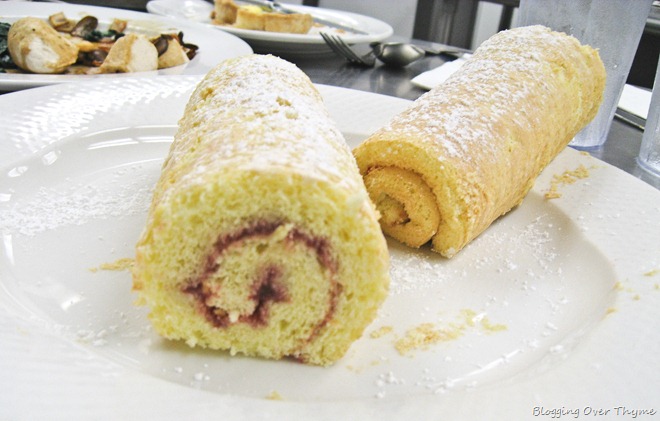 After finishing class on Wednesday, I went home to finish studying for the next day's practical and theory exam (our last official day).  I was definitely nervous leading up to it because I knew we would be responsible for making even more dishes—as well as more time-intensive ones.  My biggest fear is always not finishing in time, but I ended up the second person in class to plate everything with maybe 5-6 minutes to spare.
Our exam involved making a bunch of different dishes, but all those dishes involve a lot of components!  Based on our chef's comments, I was happy with my performance though.  I guess I'll find out my grade in the upcoming week!
Back soon with a post, as well as lots of pictures, from my trip to Charlottesville!
Thanks for reading everyone!  It's been so much fun to share my culinary school journey with all of you throughout the past couple months.
This post contains affiliate links, which means that I make a small commission off items you purchase at no additional cost to you. Please read my
privacy policy
for more information.