Day 50: Grilled Rockfish, Potato Risotto, & Blueberry Tartlets
Yesterday's menu was delicious!  It was also our class's best day in the kitchen this week, as far as communication, plating and getting our dishes out on time.
Although Chef Patrice mentioned that we should not get too comfortable, since next week will be super busy.  Either way, it was a nice way to end a pretty stressful, albeit informative first week.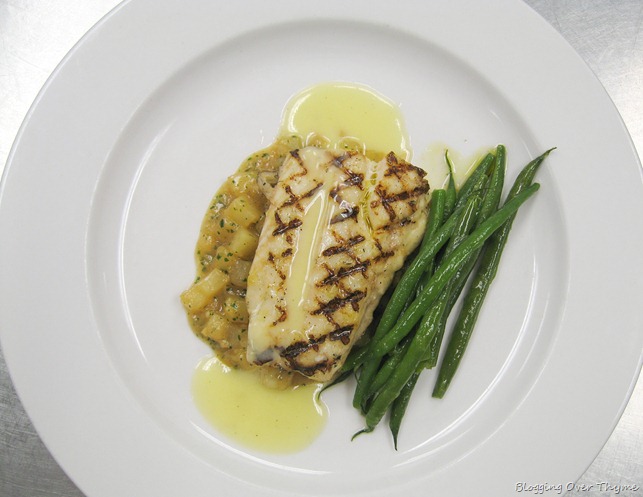 Almost every day so far, we have worked with either a new technique or machine!  Friday's main course was a delicious grilled rockfish served with potatoes—"risotto style" and beurre fondu sauce.  As well as some plain green beans on the side.  Above is our final dish plated for service!
While we have worked with round fish in the past—such as trout and mahi mahi—it was our first day breaking one down.  We were each given our own rockfish to work with and filet, as well as remove the skin.  Although its pretty much the same concept as filleting a flat fish, such as flounder, it was a bit trickier.  I definitely need to practice, but I think breaking down fish is one my favorite things to do, as weird as that may sound!
Since we were grilling our rockfish (on a grill plate, not a flame grill), we decided to marinate it with some simple herbs—rosemary sprigs and thyme—as well as some sliced garlic and olive oil.  To help it marinate in such a short time, we used a cryovac machine—which essentially vaccum packs the fish with the marinade.  So cool!
Despite the fact that this machine says "professional"—it is not an industrial or restaurant quality machine, but it did the trick pretty well. Obviously, these machines are involved in other techniques, such as sous vide applications.  But apparently the school is most likely going to invest in a 'real deal' one ($5,000!) soon.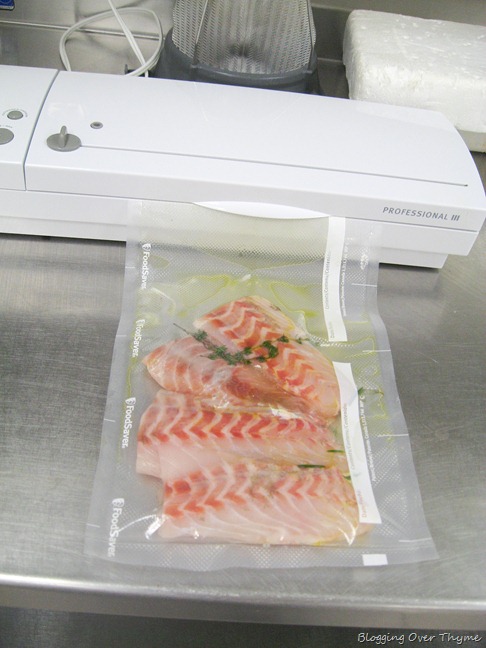 By removing all the oxygen, you can impart a lot more flavor into a meat, as well as preserve it for a long time.  And you can package single-serving amounts, which can save you a lot of money in a restaurant.  I secretly want one of these machines now…
Once we made the special grill marks, we finished the fish in the oven to prevent them from drying out, followed by brushing the filets with small amount of olive oil for shine. 
The potatoes "risotto" style that we served the fish with were delicious!  We cut potatoes into a small dice—to help prep them ahead of time without them oxidizing, Chef Patrice has given us the tip of sprinkling a small amount of powdered Vitamin C on them, which is flavorless (as opposed to another acid, like lemon juice) and doesn't have any negative effect on the dish.  And it's cheap!  Meanwhile, we sauteed very finely chopped onions, while adding chicken stock and white wine, and then added the potatoes and cooked them similarly to a traditional risotto.  We finished it with a little bit of mascarpone, parmesan cheese, and finely chopped parsley.
The beurre fondu is a very simple sauce (made at the last minute) that involves emulsifying a very small amount of lemon juice and drop of water with lot of butter.  To make it a bit interesting, we also added a drop (literally, if that) of vanilla extract.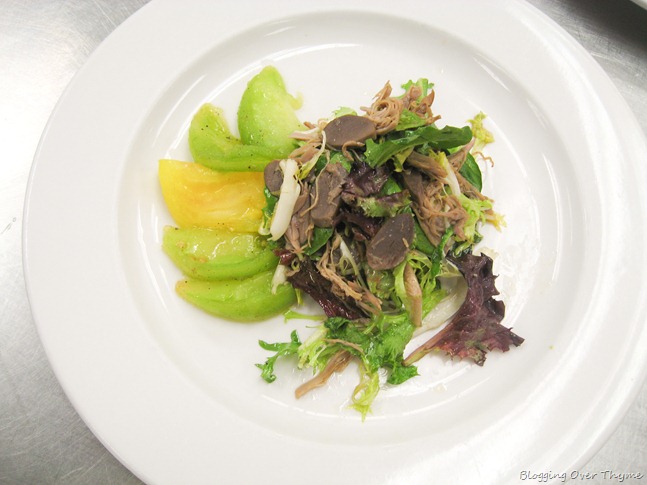 For our first course, we served a salad with duck and gizzard confit, alongside heirloom tomatoes, which we had to blanch and peel (this task is already the bane of my existence).  We have used duck confit for dishes in Phase I, but I had never had gizzard confit before now.  Since ducks have no teeth, gizzards are basically the organs (basically a second stomach) that help the birds process and grind down their food, along with other things they eat like rocks, etc.  Since they are all muscle, they have to be cooked for a long time at a low temperature to make them tender.  I wasn't sure what to expect, but they really just tasted like any other meat, with a slightly different texture.  Not necessarily my favorite thing in the world, but not bad either.
We shredded up the duck confit and gizzards and sautéed them before service, while adding some olive oil and sherry vinegar to the pan to make a warm vinaigrette and put this directly on top of frisee greens for our salad.
Lastly, we made blueberry tartlets for dessert!  Another one of my favorite desserts so far and I'm sure they would be even more delicious in the summer when blueberries are more in season.  To make these, we formed tartlets using pate sucree (sweet dough) and layered the bottom with an extremely thin layer of frangipane (almond filling).  Once this baked, we added in raw blueberries and topped it with a small spoonful of whipped up egg yolks, sugar and a splash of Kirschwasser (fruit brandy), before baking them again.
It was really delicious and not too heavy, but full of blueberry flavor.  Hmm…
Our afternoon was filled with a 2-hour lecture by Chef Sam, the Phase II pastry chef, on tempering chocolate.  While we will mostly be working with tempered chocolate purely for plate decorations, the pastry students spend about two weeks on chocolate alone, so we obviously got an abbreviated version on it. 
Tempering chocolate will come into play next week—details to come!  I found it incredibly interesting (it's very scientific, obviously) and it's always been something I've wanted to learn more about.  However, the whole lecture really deserves its own post.  But here's a sneak peek at what were shown how to do!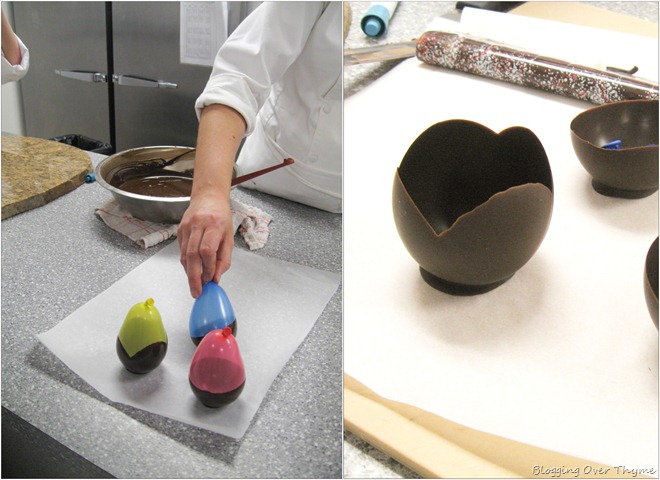 So glad to have survived the first week!  Even if it has only just begun…
Hopefully I'll be back again at some point this weekend with a new recipe post.  As always, thanks for reading!
This post contains affiliate links, which means that I make a small commission off items you purchase at no additional cost to you. Please read my
privacy policy
for more information.